Risk-on vs. risk-off trading: Which is better?
Risk-on/Risk-off trading is a trading situation wherein the market reacts to a particular economic or financial event. In other words, traders are at the forefront of the move, driving the market toward a sharp bearish or bullish direction.
Traders take higher-risk trades when risk is relatively low and lower-risk trades when the risk is high.
What is a risk-on/risk-off environment?
Risk-on environments often carry a combination of an optimistic economic outlook, gainful central bank policies, speculation, and accommodative central bank policies. In such a scenario, most traders believe strong essential fundamentals will back the market and they usually identify less risk in the market and its overall view.
In contrast, risk-off environments often carry a combination of slowing economic data, uncertain bank policy, corporate earnings downgrades, hasty investments, and other factors. In such situations, traders are always cautious because the risk on the market is higher.
In periods when risk-on sentiment reigns, the S&P 500 Index increases and the yield on the U.S. Treasury Note and bond prices rise. The Euro also appreciates against the U.S. dollar, and the U.S. Dollar appreciates against the Japanese Yen. In a risk-off period, the opposite happens.
Live example of risk-on/risk-off trading days
A recent study looked at trading days in June 2019. The survey identified days on which different sentiments reigned and combined the sentiments to events that happened either before or during trading.
These events included data releases from critical policymakers and social media comments. Risk-on was seen on 13 straight days, and risk-off days were noted on 14 days.
Traders can identify risk-on days when they see positive tweets about the progress of trade deals by President Donald Trump.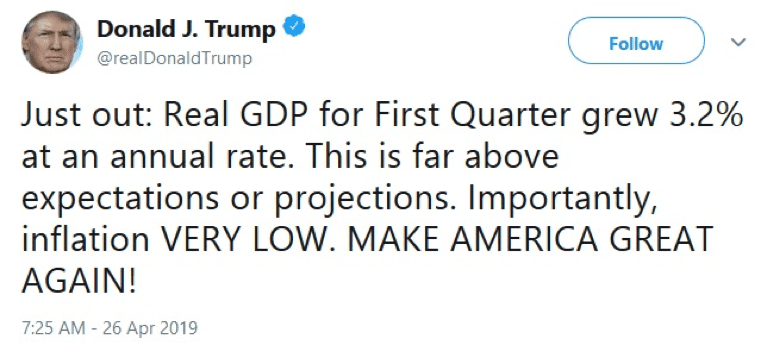 In the above image, we see a progressive tweet from Trump that affected the market positively.
In contrast, can traders spot risk-off days when Trump announces new tariffs, the ECB and IMF are forecasting lower global GDP, or Fed officials comment hawkishly.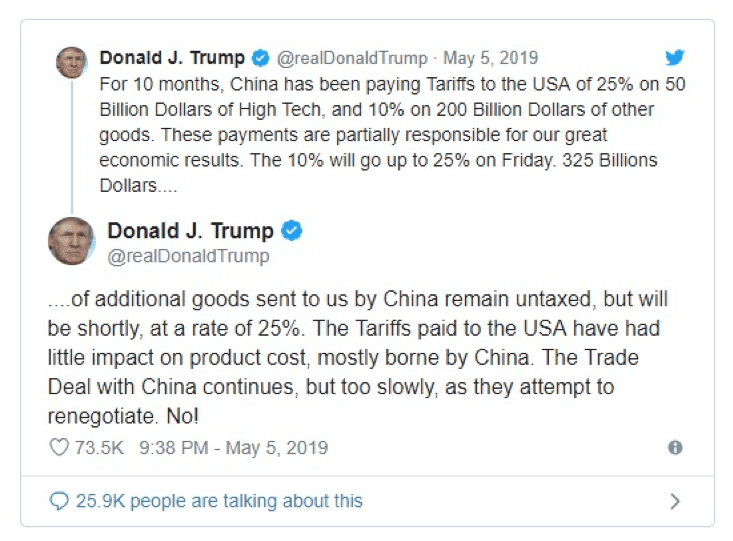 In the above image, we see a real example of tweets by Trump that affected the forex market after being published online.
How traders identify risk-on/risk-off in trading
One clear way traders identify the underlying trend in the market is by looking at the risk appetite of investors. Traders who understand the market's mood channel their trade in the direction of the market sentiment.
How can traders identify the risk-on environment?
Traders can identify a risk-on environment when forex market volatility and buying increase significantly. This environment shows the mood of the market when traders feel good about the prospect of the economy. On such occasions, traders speculate in the forex market with a high-yielding currency pair.
As a result, we see the value of the currency rise. An excellent example is the New Zealand Dollar (NZD) and Australian Dollar (AUD).
Concurrently, low-yielding currency pairs tend to gain less, and they are sold to buy a higher-yielding currency. The selling of a low-yielding currency to purchase a high-yielding currency is known as a carry trade.
The effect of a risk-on sentiment is an increase in demand for high-yielding currency pairs. As a result, traders benefit from the carry trade strategy.
How can traders identify the risk-off environment?
Traders identify a risk-off environment when the forex market declines, spurring a sharp sell-off. In such situations, traders are again taking a risk. In a risk-off environment, the carry trade strategy will not work.
Traders' daily investments or entire accounts can be wiped out from an adverse movement in exchange rates. In a risk-off environment, traders still make a profit buying stable currencies like the U.S. Dollar (USD) or Japanese Yen (JPY).
For example, in August 2011, financial authorities classified the Swiss Franc as a stable currency, but the Swiss National Bank has been trying to cut down on the purchasing of the currency.
Which is better: Risk-on or risk-off?
Professional traders harness risk-off trading to meet their investment objectives. They add more confirmation to their trades when they leverage safe haven currencies that work best in a risk-off trading environment.
Here is a look at some of the benefits the risk-off trading environment has over the risk-on environment.
The risk-off trading environment is easier to spot than the risk-on environment.
The risk-off trading environment escapes any form of market manipulation because it focuses more on safe haven currencies with no risk.
The USD is currently the highest carry currency in the G-10, and there is a strong dollar risk-off trading environment. There would have to be a purposeful rebound in global growth to increase the Euro.
The bottom line
By understanding the basics of risk-on and risk-off trading in combination with economic news that triggers activities that influence different currency pairs, traders can make significant profits.
1
77