The AskTraders team spends a lot of time evaluating and comparing brokers – you can read our reports on our broker comparison pages and guides. But we think it's just as important to hear from you, our readers, to see how your experiences compare and what you've learned from trading with individual brokers.
That's why we created our Readers' Choice Awards – to give you a chance to sound off and let our AskTraders community know how you feel about the brokers we recommend (and even those we don't). We think it's a valuable contribution to our AskTraders team and to our readers. We hope you'll participate and tell us what you think!

[all_top_awards]
How we determine Readers' Choice Award winners
Although the professional team at AskTraders is completely independent – we don't accept incentives from brokers to review or recommend them – we know we have our own opinions. It comes with the territory. One team member may really love Broker A's trading platform while another thinks Broker B's platform is the absolute best. So much about the trading experience depends on personal opinion.
That's why we think it's so important for our readers to share their experiences, to leave reviews and testimonials, and to rate and vote for their favourite online brokers. It adds an extra dimension to the service we provide for our readers – you get our opinions plus the opinions of real traders from a variety of backgrounds who use these platforms every day.
Voting is open all year-round, so new brokers launching mid-year have an opportunity to win based on reader reviews. We continually update rankings, so every vote counts. You get a chance to cast your vote for your favourite broker once each year in every category – and our Readers' Choice Awards carry a lot of weight. Every broker on our site possesses an AskTraders team review and the ratings and reviews of our readers. Your experience helps other traders make the right broker choice.
We encourage you to leave a review and vote for your favourite broker in each category you're trading. For each broker category, we give you some suggestions to consider in your rating, but ultimately, we're after your honest opinion and your real experiences.
Rating criteria for Readers' Choice Awards
Over the years, the AskTraders team has figured out what matters most in an online broker to our readers. Not every reader prioritises these in the same way, but they all tend to care about each of the following criteria in one way or another. We encourage you to consider them when you cast your vote for the best broker.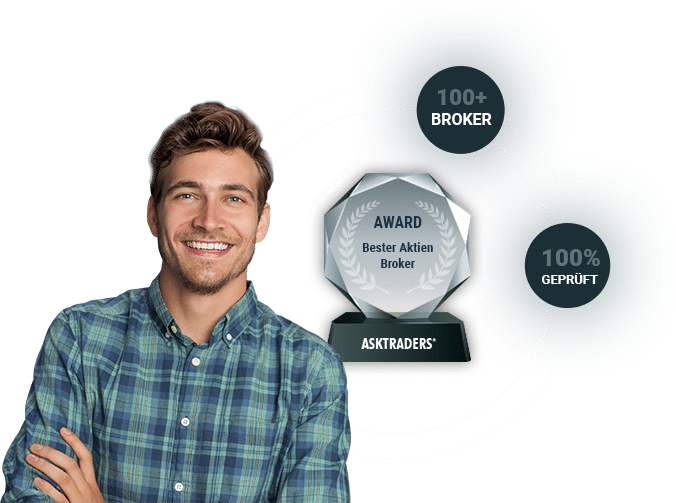 [feature_box_big label="Trading options" icon="ask-onlinekurse-icon" enabled="true"]What instruments are traded – and are there a good selection of underlyings? In other words, does your Forex broker offer a suitable number of currency pairs?[/feature_box_big]
[feature_box_big label="Fees and commissions" icon="ask-search-icon" enabled="true"]Fees can make the difference between winning and losing, especially for day traders. But spreads and data charges, and account management fees also add up fast.[/feature_box_big]
[feature_box_big label="Account types" icon="ask-demokonto-icon" enabled="true"]Investors and traders need different types of accounts, so a quality broker will offer a good variety of account types. Bonus points if the broker offers simulated trading with a demo account.[/feature_box_big]
[feature_box_big label="Trading platform" icon="ask-brokereigene-software-icon" enabled="true"]The platform should be powerful, quick and easy to use. Bonus points for a mobile trading platform providing trading on the go.[/feature_box_big]
[feature_box_big label="Customer support" icon="ask-live-chat-icon" enabled="true"]Are questions and issues handled promptly and courteously? Is support available 24/7? Is there both phone and chat support available?[/feature_box_big]
[feature_box_big label="Education and resources" icon="ask-video-icon" enabled="true"]Are there videos, webinars, and a comprehensive knowledge library? Does the broker offer tools to help you become a better trader?[/feature_box_big]
[feature_box_big label="Regulation and deposit insurance" icon="ask-link-icon" enabled="true"]It's important to know who oversees the broker's operations and who protects your account.[/feature_box_big]
[feature_box_big label="Awards and peer reviews" icon="ask-laurel-icon" enabled="true"]These aren't definitive, but they can be helpful in narrowing down your choice. After all, of thousands of other users have the same positive experience you do – it's a good sign you're dealing with a quality broker.[/feature_box_big]
Overview of the award categories and our readers' award winners
Vote for your favourite Forex broker
The currency market is the largest and most liquid market in the world – some $5 trillion is traded every day. That's one reason why it's a favourite for beginners and experienced traders alike.For most Forex traders, the number of tradable currency pairs is the number one consideration, closely followed by trading costs. The major currency pairs, those traded against the USD, are favourites, especially for beginners, due to their high liquidity and low trading fees.
[tradingcategory_box category="forex"]
More experienced traders may prefer minor pairs and exotics, and even other trading instruments such as CFDs and options.What features do you appreciate most in your Forex broker? Share your rating and cast a vote.
[icon_btn text="Go to Forex award" link="/awards/best-forex-broker/" icon="ask-forex-icon"]
Vote for your favourite CFD broker
CFDs have grown increasingly popular with retail traders – and as the market for CFD trading has grown, so has the number of CFD brokers. There are many to choose from and finding the best one can be a bit of a challenge.The best CFD brokers offer a number of trading instruments:IndicesETFsCommoditiesForexCryptocurrenciesEquitiesOptionsYou also want a broker with tight spreads, small minimum position sizes, and low or no commissions.
[tradingcategory_box category="cfd"]
With CFDs, it's very important to have multiple account types and a user-friendly trading platform. A demo account is a huge plus, because CFDs, like Forex and other instruments, can be leveraged. Testing your trading strategy when your trading on leverage is definitely recommended.
What do you like most about your CFD broker? We'd love to hear your views on what makes a great CFD broker and what you like most about yours. Why not share your opinion with our AskTraders readers today?
[icon_btn text="Go to CFD award" link="/awards/best-cfd-broker/" icon="ask-cfd-icon"]
Vote for the best stock broker
Stocks appeal to both traders and investors, so a good stock brokerage needs to have account types and tools to satisfy both. The AskTraders team tends to focus on fees and customer service – plus a variety of account types. Custodial accounts, retirement accounts, individual trading accounts, VIP accounts – a good stock broker offers every customer the account type they need to achieve their goals.
Depending on your trading style, fees may be a major factor in your choice of broker. If you're a buy-and-hold investor, your needs are different from a day trader when it comes to transaction costs.
[tradingcategory_box category="stock"]
The AskTraders community also favours brokers with easy to use trading platforms, mobile apps and rapid order execution. It's also an advantage if your stock broker offers other instruments such as ETFs and index funds.Do you have a preferred stock broker? Share your experience with our AskTraders community and cast your vote for our Readers' Choice Awards.
[icon_btn text="Go to Stock award" link="/awards/best-stock-broker/" icon="ask-stock-icon"]
Vote for the best ETF broker
There's no doubt that passively managed funds are experiencing a surge in popularity. Inflows to ETFs have hugely outpaced flows to actively managed investments over the past decade, and in the current bull market environment, it doesn't appear likely to change any time soon.
Given ETF's prominent role in investment portfolios – as well as a tool for short-term and day traders – it's important to find an ETF broker that meets your needs. Competition amongst ETF brokers means traders and investors can take advantage of perks and bonuses. Some pay attractive premiums for transferring your deposit. Others offer savings plans and model portfolios you can copy to get the best returns for your investing goals.
[tradingcategory_box category="etf"]
ETFs are an ideal beginner's choice, so the AskTraders team likes to see brokers with a strong educational support system and robust customer service. Low trading costs are also important.Key factors for ETF brokers:A wide range of available ETFsLow transaction feesSavings plans and model portfoliosRobust customer serviceGovernment oversight and deposit insuranceIf you have a favourite ETF broker, now's the time to sound off. Share your opinions and cast your vote for our Readers' Choice Awards.
[icon_btn text="Go to ETF award" link="/awards/best-etf-broker/" icon="ask-etf-icon"]
Vote for the best social trading broker
Social trading is a relatively new phenomenon and there's a lack of broker information compared to other trading types. That's why the AskTraders team goes the extra mile to help you find the right social trading broker to help you achieve your goals. Social trading, more so than many other types of trading, is highly individualised. What works for one trader won't work for another, but there are some things every trader should consider in a social trading broker.
[tradingcategory_box category="social_trading"]
How many top traders can you follow and what is the quality of their trading experience and history?What are the performance fees of top traders?Is the trading platform user-friendly? What are the account minimums and funding options?
What type of support and trader education is available?Is my account protected?Social trading brokers rely on user scores more than most other types of brokers, so if you've had experience with social trading brokers, our readers will benefit from your opinions. Let us know which social trading broker wins your vote – and why.
[icon_btn text="Go to social trading award" link="/awards/best-social-trading-broker/" icon="ask-social-trading-icon"]
Vote for the best cryptocurrency broker
Cryptocurrency has had a crazy ride over the last year or two – quadruple-digit gains and massive sell-offs. The good news is that crypto is emerging as a resilient and viable alternative to fiat currencies, which means it's a great place for traders to profit if they understand the market.Of course, that's the real issue – understanding the crypto market and the ICOs, and how digital currencies trade against major currencies. This is one area where a broker with demo accounts has a huge advantage.
Crypto is volatile, fraught with security issues, messy to own, but potentially hugely profitable for knowledgeable traders. Look for brokers with crypto-related instruments such as CFDs and ETFs, and even blockchain-related products.
[tradingcategory_box category="crypto_broker"]
Cryptocurrency is a relatively new market; Bitcoin only came on the scene 10 years ago. Finding a good crypto broker depends on professional AskTrader team reviews – as well as reader reviews from people like you. If you trade cryptocurrencies and you love your broker, let us know.The crypto community is in its infancy compared to other assets and instruments, so we want to hear your voice. Share your thoughts on crypto brokers in our AskTraders Readers' Choice Awards.[icon_btn text="Go to crypto broker award" link="/awards/best-crypto-broker/" icon="ask-bitcoin-icon"]
Vote for your spread-betting broker
If you live in the UK, spread-betting offers a tax-free way to bet on price movements of your favourite financial instruments. Spread-betting frees you from owning the underlying assets; you can profit off even tiny movements in price.Some traders love a pure spread-betting broker, while others prefer to have more options. Again, it's entirely an individual thing. But you should always consider the trader offer – what instruments are available?
[tradingcategory_box category="spread_betting"]
From there, you definitely need to consider account minimums and trading costs. Spread is huge; every pip counts. Volatility is much higher in spread-betting than in other markets. For that reason, you need an extremely user-friendly platform and uncomplicated registration and verification processes. The AskTraders team also prioritises transaction speed and account funding methods.If you're an experienced spread-better, our readers would love to know more about your experience with spread-betting brokers. It only takes a minute – why not submit your rating and vote for the best spread-betting broker?
[icon_btn text="Go to spread betting award" link="/awards/best-spread-betting-broker/" icon="ask-star-icon"]
Vote now:
Your opinion matters
AskTraders is unique; we give our readers an equal opportunity to influence broker ratings and reviews. You don't have to rely on our team of professional traders and industry professionals – you benefit from the honest opinions of people just like you who use these brokers on a daily basis.
We rate brokers on our own criteria and experience as professional traders and reviewers, but we rely on our readers to share their experiences to give a more complete picture of the brokers we recommend.
If you've found a broker you really love in any of the above categories, we'd love to know why you chose it – and more importantly, why other readers would, too. Share your knowledge and experience to help others make the best choice for online brokers. Cast your vote now for the best broker in your favourite category.