Since bookmakers first entered the online space a decade or so ago, the aim has largely been to replicate the experience given by a traditional bookmaker. This has meant giving users access to a virtual bookmaker terminal, where bets can be placed on a range of sporting events across the world in real-time. Other functionality has been added to this, such as live streaming of sporting events and user accounts with loyalty schemes, in an effort to add some innovative features to the core product. For the most part, however, the core product remains the same across the vast majority of online betting websites — never straying far from the classic formula.
Despite this, Betfair has proved itself to be not just one of the largest players operating in this space, but also one of the most innovative. One of its largest innovations has been the Betfair Exchange platform, which has revolutionised the way in which would-be punters place bets on live sporting events. By allowing users to define and select odds and wagers, players can back and lay a selection in the market in an environment that closely mimics a live trading exchange. In this sense, Betfair is a cross between a traditional online bookmaker and a live trading exchange.
This format has revolutionised the online sports betting space and breathes new life into an industry that has been struggling to innovate over recent years. However, despite the innovation it represents, it remains to be seen whether or not it delivers. This Betfair review will give a brief overview of the platform, including a thorough dissection of its strengths and weaknesses.
Betfair Review Navigation
#1

Betfair sports trading review
| | |
| --- | --- |
| Min Deposit | App Support |
| £0.10 | Good |
Betfair's product range can be split into two distinct sections: its betting side (sportsbook, casino, poker, bingo), and its trading platform (Betfair Exchange).
On the Exchange, you can place back and lay trades on a wide variety of sports, with all of the common key sub-markets present and correct.
You can also trade on the outcome of financial markets (interest rates, Bitcoin value, etc.) and political markets.
What did our traders think after reviewing the key criteria?
Fees
The fee structure at the Betfair Exchange is based upon commission paid on winning trades — there are no fees for closing losing trades.
Rate of commission can be chosen in 'My Rewards' via the dashboard, where for higher percentages Betfair will give perks such as free bets, and free spins on the casino. Opting for a lower rate of commission gives nothing in return.
If a user does not opt into 'My Rewards', their commission charge is calculated by a formula that takes into account net winnings, the market base rate, and the user's discount rate (based on the number of Betfair loyalty points earned).
Typically, most traders will be charged between 2–5% on winning trades.
Account types
There are no distinct account types at Betfair. You simply sign up and trade in a standard way.
Platforms
With mobile devices being more powerful than ever, and with high-speed mobile internet readily available, websites such as Betfair have been putting an increasing amount of effort into their mobile offerings. As such, the vast majority of platforms have mobile versions available for users, which typically come in the form of dedicated mobile websites or standalone mobile apps.
In this regard, Betfair is no different. Both a dedicated mobile version of the website and an app are provided at no extra cost to users of the platform. The mobile website features a scaled-down and simplified version of the desktop website, which allows for access to the Betfair website without having to download a standalone app. This is a good option for those who dislike the clutter associated with mobile apps or simply do not have the space to run the graphics-heavy mobile app. One benefit of the mobile website is that it is automatically optimised for any device used to access it, meaning that the scalability and optimisation issues common to Android devices are avoided.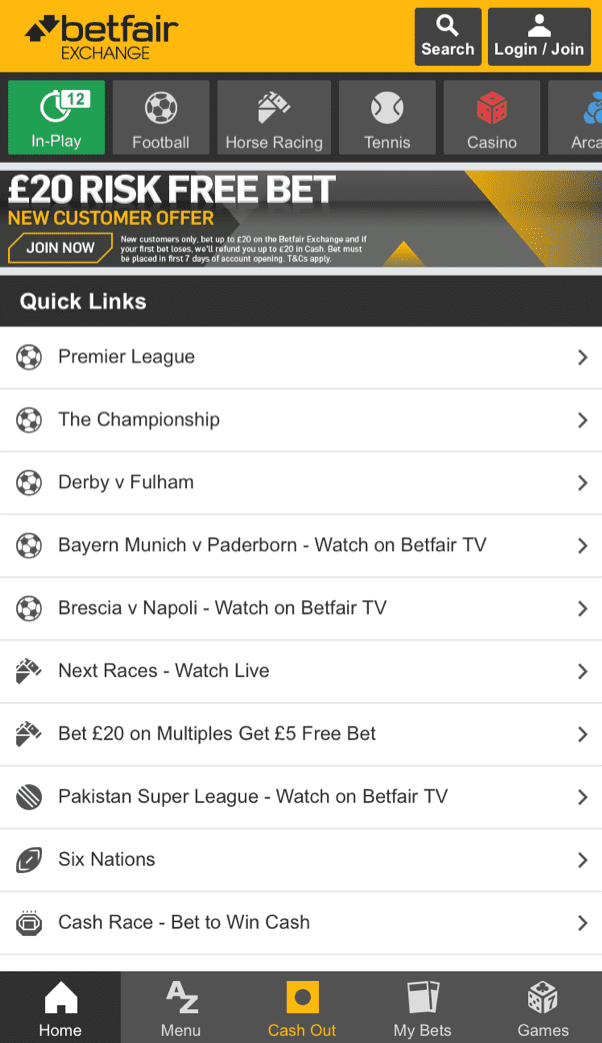 The standalone app is available on both Android and iOS devices. These can be downloaded either straight from the Betfair website, or by searching for Betfair in the Android and iOS app stores respectively. For the most part, the mobile apps do well to scale down the experience provided on the desktop website, and do not appear to suffer from any of the slowdown that might be expected. Thankfully, the Betfair website itself is light on graphics, which helps in that regard.
It is also important to note that there are separate apps for the Betfair Sportsbook and Betfair Exchange, meaning that both apps must be downloaded for access to both account features. While this is understandable given the specific requirements of each, an all-in-one app would certainly be preferable. The mobile version of the website does, however, give access to all account features at once. In general, there are no features missing from the mobile offerings that are available on the desktop versions of Betfair.
Usability
When it comes to online bookmakers and betting exchanges, website providers can often be overly-concerned with packing new features into the website, at the expense of the design and overall usability of the platform. From a player perspective, this approach leaves a lot to be desired, with websites often feeling cluttered and difficult to navigate. This Betfair review will now explore whether or not the Exchange platform suffers the same fate.
For the most part, the Betfair Exchange website is reasonably well-designed. Although there is a lot of information on display at once, you can still just about manage to find everything you need, without too much effort. The website also features a striking yellow and black colour palette, which works surprisingly well at allowing certain aspects to stick out.
Buying or selling bets is a relatively effortless process on the Betfair Exchange. Once you are logged into your account, you may easily switch between the 'Sportsbook', 'Exchange', 'Casino', 'Live Casino' and 'Exchange Games' tabs with minimal effort. Within this, if you navigate to the 'Exchange' tab, you can quickly find your desired sport, and view the live markets for it in an instant. The live exchanges are generally well laid out, and it is clear that the design team at Betfair has put a lot of effort into ensuring that players can quickly and easily figure out the meaning of each market position. This is good to see as, given the size of the Betfair platform, we would imagine that quite a large number of newer players might find their way to the platform and could potentially be put off by a complex website.
However, usability does not just cover website design and platform layout — it also covers how fast and responsive the website itself is. Although there is quite a lot of graphics-heavy information to display at once, not to mention the demands of showing market fluctuations in real-time, the Betfair website is responsive for the most part. Unlike other platforms, Betfair uses graphics sparingly and only where necessary, which increases the responsiveness of the website. This helps to avoid the frustrations and slowdown you might have experienced elsewhere.
Customer support
One of the most important, and most frequently overlooked, aspects of any website these days is the level of customer support on offer. In the digital age, where user reviews can be posted online within a matter of minutes for all to see, reputations can be built and destroyed very easily. This is particularly true in the space Betfair operates in, which deals with potentially sensitive personal financial information. As such, if you run into an issue with your account, getting effective help in a responsive and efficient manner is incredibly important.
How well does Betfair actually perform when it comes to customer support, and how does it impact its overall review score?
Thankfully, the level of customer support is generally pretty good. As you would expect from a platform operating in so many different markets across the world, customer support is offered in a number of different languages — so no matter what language you speak, you should be able to have ready access to help with your issue.
The live chat function is available through the website and is staffed 24 hours a day, which makes sense given the many different time zones in which Betfair customers might be playing. On average, it takes between 30 seconds and one minute for a member of the customer support team to respond to queries submitted through the live chat feature. Although this sounds impressive, it is around the industry average for platforms of Betfair's size. When it comes to actually answering your query, this will obviously take quite a bit more time. In general, Betfair customer support staff were able to provide thoughtful, effective answers without too much delay. Email queries generally take longer to resolve, with most responses taking one or two hours.
Although Betfair does have a phone line that operates in conjunction with the live chat feature, its opening hours are more limited than the live chat. Additionally, the phone and email contact details are quite difficult to find on the website, which gives the impression that the live chat is being pushed as the primary way to get in contact. While this is understandable, customer queries can often be solved far more quickly over the phone.
Beyond contacting the customer support team directly, you can also use the FAQs section of the website to address any issues you may have. To access the FAQs, simply navigate to the 'Help' section of the website located on the top left-hand side of the front page, and then use the search bar to find a topic relevant to your query. In general, the quality of the answers is very high, and they are all kept fully up to date.
Payment methods
There are a number of methods available for topping up your Betfair account.
Deposits can be made using traditional payment methods such as Visa and Mastercard, as well as Visa-Delta, Switch, Solo, Electron and LaserCard. If you choose either of the first two methods, you may be required to undergo some additional verification through either 'Verified by Visa' or 'Mastercard SecureCode.' Betfair also accepts deposits made by users via cheque, though the time that it takes for these to clear will be significantly longer than with credit/debit cards or e-payment services. Bank transfers are also an accepted method of payment. Users can transfer to a number of different bank accounts, depending on where they are transferring from, and it takes between two and three working days to process once initiated.
Of the available deposit methods, e-payment services are by far the most efficient and cost-effective option, with deposits being processed in under 12 hours once initiated by the user. Currently, Betfair accepts online transfers from PayPal, Neteller and Skrill. If you do choose to use one of these services, however, you need to be aware of any fees that may be added to the transaction, as well as any deposit limits that might be in place.
Withdrawals are processed using any of the above methods. However, it should be noted that if you are using Betfair Exchange, you will have to use the same withdrawal method that you used to originally make the deposit. This is in compliance with financial services regulations and is a standard process across all platforms. When making a withdrawal, generally speaking, you should not be charged any additional fees, save for express bank transfers and cheques. You will, however, need to ensure of this yourself. Unfortunately, Betfair makes it quite difficult to access this information through the website, so some digging may be required.
Best offers
The educational side of Betfair's offering has started to improve. You can now, for example, enjoy a range of training videos presented by actor Clive Owen.
This content is not exhaustive by any means, and it might be thought that Betfair would produce more advanced strategy guides for more experienced traders, given that these are the lifeblood of the Exchange.
There is, also, only a limited range of tools to help you with your trading — although each selection in a market does have a chart that depicts price movements over time and displays the weight of money at any given time.
Regulation and deposit protection
As one of the biggest betting platforms in the world, we would expect Betfair to meet all the regulatory requirements placed on online betting and trading exchanges.
Although the regulations might seem very stringent, platforms are required to stick to them with customer protection in mind. Being fully licensed and regulated by an appropriate regulator ensures that websites such as Betfair operate with customer protection at the forefront, meaning that customers are fully protected from loss, should anything go wrong.
As such, if you want to figure out how trustworthy a particular website is, one of the easiest ways to do this is to check which organisations it is regulated by and what sort of licenses it operates under.
We can happily say that Betfair has one of the strongest regulatory reputations of any platform. Having undergone a merger with Paddy Power in 2016, Betfair now operates under 'Paddy Power Betfair' and is licensed and registered in Malta, which is one of the most popular jurisdictions to be regulated in. Its operations are overseen by the Malta Gaming Authority and, additionally, a number of its casino games are regulated by the Alderney Gambling Control Commission. Both of these regulators are some of the most stringent out there, which means that customers can expect a high level of protection from Betfair when it comes to running the platform and protecting user accounts.
Additionally, the Betfair website is secured by 'Norton Secured' antivirus and web security software, adding another layer of customer protection to the service.
Awards
Betfair tends to get overlooked in the major industry awards, such as Bookmaker of the Year, with other, arguably more innovative sites winning out. Furthermore, there are not many awards categories dedicated to betting exchanges. It is the opinion of this review, however, that the Betfair Exchange outperforms competitors like Betdaq and Smarkets.