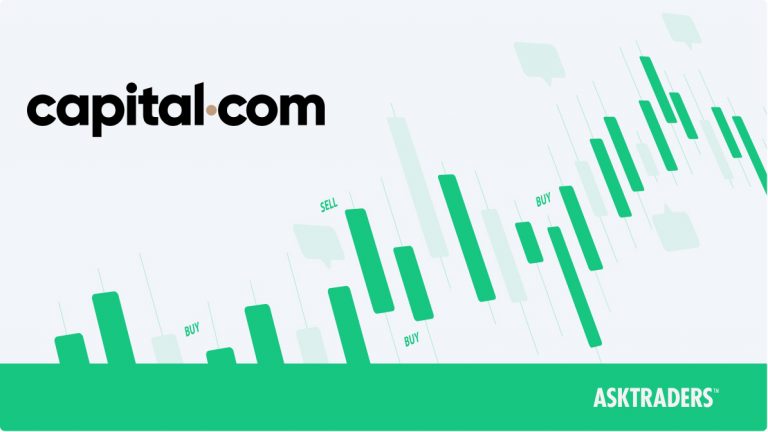 Occasionally, when reviewing the vast landscape of brokerage offerings across the globe today, you suddenly come across one broker that stands out far above the pack in every conceivable way. Capital.com is just such a broker, and, amazingly, this broker has achieved top-shelf status in only four years. It has quickly garnered industry awards for every aspect of its business and grown its customer base to an incredible level of nearly 2m registered accounts.
A cursory review of its strengths and weaknesses detailed below is impressive in its own right, but the management team, 800+ staff and six global offices are continually striving for excellence and innovation. Capital.com's founder, Viktor Prokopenya, has several degrees in finance, computer science, business management and marketing and has founded, grown and sold off several successful technology and software businesses. He founded VP Capital in 2012, and it owns 100% of Capital.com.
Mr. Prokopenya is passionate about every endeavour he undertakes, and for Capital.com, he has assembled a management group of professionals inspired to achieve greatness. Its website also has a detailed "whitepaper" that expands upon the goals of the brokerage, and its "About Us" section, presents the bios and pictures of 13 senior management individuals. As stated by its founder: "We focused on three strategic enablers to achieve our goal – education, fair and transparent pricing, and cutting-edge technology."
Take the time to review this broker's website, download its whitepaper, and do a test run with its free demo system. You will be impressed.
Capital.com Review Navigation
#1

Forex
| | | | |
| --- | --- | --- | --- |
| Min Deposit | App Support | Max Leverage | Trading Fees |
| $100 | Good | 1:30 | Low |
Want to trade the world's largest market? Capital.com gives you access to major currency pairs, but also minor, commodity and exotic pairs as well, 138 in all. Spreads are tight and highly competitive. The website also provides a quick, real-time guide of most traded, top risers, top fallers and most volatile pairs, together with a snapshot of a 2-day chart to pinpoint opportunities for your chosen strategy.
#2

CFDs
| | | | |
| --- | --- | --- | --- |
| Min Deposit | App Support | Max Leverage | Trading Fees |
| $100 | Good | 1:20 | Low |
For CFD trading accounts, the entire portfolio of Capital.com offerings are available for trading. A CFD is a contract between you and your broker and does not require ownership in the underlying asset. At present, the firm's website details its portfolio as including 3,899 shares, 22 indices, 378 cryptocurrencies, 22 commodities and 138 currency pairs. In other words, you have 6,000+ tradable market offerings at your fingertips with this brokerage, more than enough to suit the discriminating tastes of any beginner, as well as any veteran or professional trader.
#3

Stocks
| | | | |
| --- | --- | --- | --- |
| Min Deposit | App Support | Max Leverage | Trading Fees |
| $100 | Good | 1:5 | Mid |
With CFDs, you may speculate on shares for upwards of 6,000 individual companies. As with forex, the website provides a quick real-time guide of most traded, top risers, top fallers and most volatile, together with a snapshot of a 2-day chart to pinpoint opportunities for your chosen strategy. For FCA clients and certain CySEC client jurisdictions, a new service has recently been introduced that allows for traditional investing in a smaller pool of stocks for a minimum deposit of $2,000 with no leverage if long-term investing is more up your alley.
#4

Social Trading
| | | | |
| --- | --- | --- | --- |
| Min Deposit | App Support | Max Leverage | Trading Fees |
| $100 | Good | 1:30 | Low |
Capital.com does not have a social or "copy" type trading feature, although that is not to say that one is not under development. For users of MT4, however, there is access to the social trading platform environment supported by MetaTrader.
#5

Crypto
| | | | |
| --- | --- | --- | --- |
| Min Deposit | App Support | Max Leverage | Trading Fees |
| $100 | Regular | 1:2 | Mid |
Capital.com acknowledges that trading with cryptos is extremely risky. Regulators have also restricted leverage for similar reasons, and at this time, national compensation schemes exclude cryptos from their coverage definitions. Cryptos are now into their second decade of trading, but challenges remain. However, Capital.com provides access to 207 digital currencies, an incredibly high number considering that most brokers do not offer more than a dozen or two.
What did our traders think after reviewing the key criteria?
Fees
Most of its services are free. Most of its revenue is earned from spread charges, which are also tight and very competitive. For example, the spread on a EUR/USD pair trade is 0.6 pips. The company has a transparency policy, which states that if any fees are necessary, like overnight fees in the forex arena, they will be disclosed before they are incurred. Capital.com specifically states that there are no fees for deposits, withdrawals, real-time quotes, opening/closing of trades, educational material, or dynamic charts and indicators.
Type of accounts
Customers are asked when signing up to select a CFD Trading or Spread Betting (only for FCA clients) account. Within this framework, you may be a professional if you qualify according to regulatory dictates. Features do not vary based on your deposit, as with most other brokers. If you are a professional, you may access higher leverage levels, up to 500:1 in some cases, but Negative Balance Protection stops after leverage of 1:50. For forex accounts, leverage is typically 1:30, but can be as low as 1:2 for cryptos and zero for direct share purchases. You may also sign up for up to 10 demo and 10 trading accounts, a benefit if you would like to experiment with different strategies.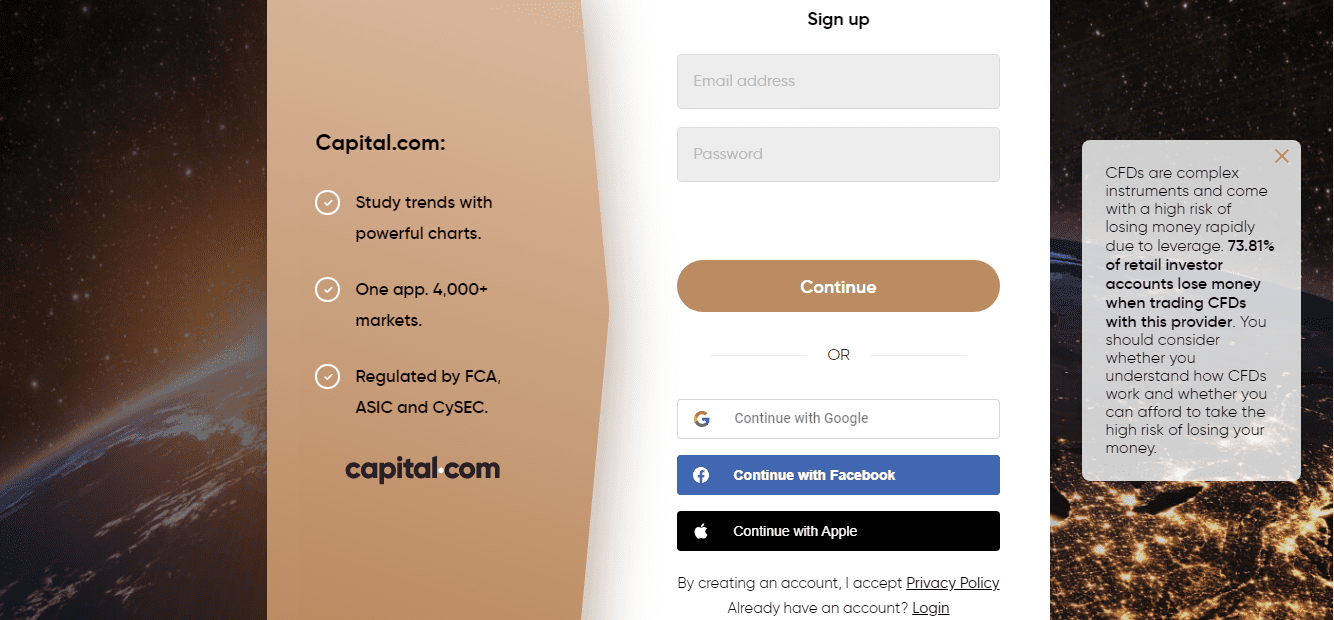 Platforms
Capital.com has ensured that traders have the option to use the popular industry standards for managing their trading experience. However, it has also won awards for the excellence of its innovative AI-driven proprietary platform.
Metatrader4 (MT4): Capital.com provides an easy interface for the highly popular MT4 platform. Traders love its real-time charts, range of indicators, live quotes, order management tools, in-depth analysis and the ability to employ Expert Advisors for automated trading. If you prefer a social trading approach, then you may always access that environment with the MT4 family of traders.
com Web Trading Platform: Capital.com is extremely proud of its proprietary online-trading platform, dubbed "Emotional Quotient" of "eQ". It was "designed for traders searching for the intuitive trading experience". AI-based algorithms analyse your trading behaviour to detect the existence of 20 biases and then provide feedback. The process is designed to assist traders in reaching their highest potential in whatever market is chosen. The platform has garnered numerous awards in 2020 and is setting the standard for other brokers to follow.
CFD Trading App: Capital.com has a support app for those on-the-go traders that want to trade, anytime or anywhere that they have an internet connection. Its interface is straightforward, includes research and alerts, and can be downloaded to your mobile device in matter of minutes.
TradingView: The firm has inked a partnership deal with TradingView to permit Capital.com clients to avail themselves of this popular trading platform, as well. TradingView's platform has also won awards.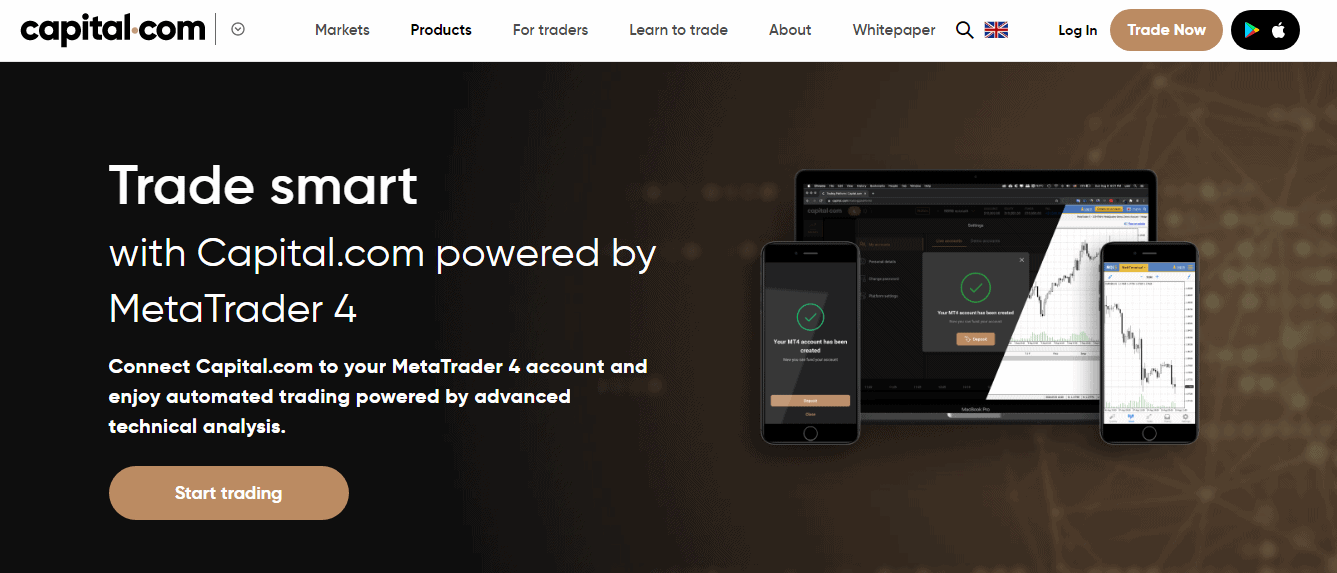 Usability
Industry reviews of this broker are very complimentary regarding the usability of its various platform options. With two major industry-trading platforms, along with its own AI-based intuitive feedback system, Capital.com has every base covered. Any feature or option that any level of trader might desire can be found in the current environment, and if not, then it is more than likely under development. Management is committed to making you a better trader and enhancing your experience with cutting-edge technology.
Customer Support
One of the primary tenets of Capital.com is to provide top-of-the-line educational and support materials for their clients. Judging from the awards and complimentary reviews of their support, Capital.com has satisfied their clientele with its broad array of videos, webinars, Capital.com TV and a host of guides and training courses. Sections of their website also focus on the economic news, analysis, insights and explainers to ensure that every customer is prepared for each day of trading. Customer service is available 24/7 and has won many awards too. There does not appear to be a live-chat service or dedicated account managers, but these shortcomings may soon disappear when more upgrades are unveiled.
Payment Methods
Funding of your account only occurs after your account documentation has been received and verified in compliance with regulatory requirements and international law, typically a copy of your passport and a current utility bill with your address. You will also choose your base currency when you sign up, which normally may be GBP, EUR or USD. All account dealings will be carried out in this currency going forward. As for funding methods, the standard is Visa, MasterCard or banking wire transfer, but the broker also supports WorldPay, Apple Pay, PayPal and an assortment of other global and local payment methods depending on your country of residency. The firm is always adding new methods as time progresses.
Best Offers
Since Capital.com complies with local regulatory restrictions in the UK, Europe and Australia, it is restricted from making certain incompliant marketing offers to attract you to its CFD or Spread Betting (only for FCA clients) services.
Regulation
As with other top-tier brokers, Capital.com does ensure deposit protection by segregating customer deposits from operating accounts by maintaining customers' accounts with Tier One banks, such as the Royal Bank of Scotland and Raiffeisen Bank in Austria. Your safety net is also expanded by various national compensation schemes designed to offer an additional layer of protection should the broker be in default for any financial reason. Negative Balance Protection is another plus at Capital.com, and all data is encrypted to the highest standards in full compliance with PCI Data Security Standards. Lastly, Capital.com also complies with regulatory oversight provided by the FCA in the UK, CYSEC for Europe, ASIC for Australia and NBRB for Belarus.
Awards
Capital.com opened its doors for business in mid-2017 after filing founding documentation in 2016. In short order, the firm began receiving top industry awards, a testament to the professionalism, transparency and consumer acceptance of this outstanding broker. At the time of writing, the broker had received 15 awards. It won UK Forex Awards and Share Awards in 2018, Best Online Trading Company at the 2019 Share Awards, and won European's Global Business Awards in 2019 for Most Innovative and Most Transparent Brokerage Service. Such success also garnered more awards for its customer support and its innovative proprietary trading platform.
FAQs
Capital.com was founded in 2016 and began to offer its services in July of 2017. In just four years, it recorded over 2m registered customers, who conducted $81bn in trades in Q1 of 2021. Its staff of 800+ employees is housed in its 5 global offices in the UK, Cyprus, Gibraltar, Australia, and Belarus. It is also licensed and regulated by several of the top-of-the-line regulators in the world – the FCA in the UK, CYSEC and ASIC. It is also in compliance with the NBRB in Belarus.