If you are a fan of football and have plenty of knowledge to call upon, Football Index could be an interesting way for you to make your love of the beautiful game count.
This is the world's first stock exchange for footballers from around the globe, and in this Football Index review we will discover if that is as exciting as it sounds.
If a player is in sparkling form and their team is doing well in the league or cup, their stock will rise. Conversely, if a player suffers a serious injury or becomes embroiled in some kind of off-the-pitch scandal, their value will fall.
The traditional 'buy low, sell high' mantra prevails with Football Index as it does with any other market, and prices are governed by the supply and demand curve as normal.
The choice that traders have to make is the same as in any other asset class or stock exchange. They may decide to invest heavily in a share that has already matured, creaming smaller profits off the top, or to take a punt on a 'young' share with plenty of growth potential.
Football Index is a site that traders can really sink their teeth into, with plenty of market indicators offering insight into good and bad trading opportunities. Of course, the best indicator is your own knowledge of the game, your understanding of the fixture list and ability to predict which players will grow in value both in the short and long term.
What is most exciting about the platform is that there are a number of different ways to make money. Ideally, you would sell your stock at a profit when you feel that it has fully matured, in the traditional capital appreciation model.
You may also benefit from your players' performances on the pitch via dividend yields, which offer a chance to accumulate consistent green numbers.
As of March 2019 — one of its most recent reporting periods — Football Index had witnessed more than £200m in trading activity for the 2018/19 season, with more than £2m paid out in dividend yields to the smartest traders.
There is plenty of liquidity and interest in Football Index. It will be discovered, in this review, whether the product is merely a short-term 'gimmick', or whether it is a genuine trading platform with long-term potential for interested parties.
Compiling a Football Index review is not easy, given that there are no other similar trading sites with which to compare it.
Whether or not it is a platform that interests you will ultimately depend on your interest in football. It is, at the very least, a legitimate product, well backed by private investment, meaning that Football Index looks to be here for the long haul.
Arguably, Football Index constitutes betting rather than trading, however, there are certain fundamental skills that you can acquire that will greatly increase your chances of success on the platform.
Football Index Review Navigation
#

Football Index sports trading review
| | |
| --- | --- |
| Min Deposit | App Support |
| £10 | Good |
The company was founded back in 2015 and was designed to be a direct opponent to traditional sports betting sites.
Clearly, the most successful traders will be those who can combine a knowledge of football with basic market fundamentals.
Football Index is certainly a platform like no other — a mechanism for trading footballers whose values rise and fall based on their current and future performances.
By that token, there is an element of guesswork involved, and that is perhaps why Football Index is so keen to affirm that it is a sports betting platform — albeit one in which a basic trading mentality can be applied.
In short, users 'bet' on a certain player by taking a share interest in them — the idea being to buy a player at a low price, watch them perform well out on the pitch, and sell them on for a profit at the right time. Such buy and sell transactions are, however, not the only way to profit with Football Index.
There are a series of daily payouts, known as dividends, that may also boost your bankroll. These are split into three broad categories:
Match Day Dividends
In-Play Dividends
Media Dividends
Match Day Dividends are earned by players across each of the top leagues (English Premier League, La Liga, Bundesliga, Serie A and Ligue 1), as well as the Champions League and Europa League. Performances in the World Cup and European Championship are also taken into consideration. Points are earned based on the usual metrics — goals, assists, clean sheets, and so on. The yield for quality performances is low, but across multiple shares, this can accumulate quite nicely.
In-Play Dividends are earned for the first 30 days that a user owns a share in a player. Again, this is a small yield for completing certain acts on the pitch, but it is a useful way to start building a profit into your shares at the beginning.
Media Dividends are slightly different. Each day, Football Index checks its UK online news algorithm to see which players are taking up the most column inches. Each player earns a score, with the player who tops the media rankings on a matchday — and the three footballers most written about on non-match days — earning their owners a dividend.
What did our traders think after reviewing the key criteria?
Fees
You may buy or sell up to 300 shares in any player in a single transaction, and all sales are subject to a 2% commission charge — putting Football Index in line with many of the more popular betting exchanges that are available.
There are no joining fees and no fees for having an active account.
Account types
There is just one account type available at Football Index, with no VIP or premium options.
Platforms
As well as being able to trade on your chosen browser, there are dedicated Football Index apps available for both iOS and Android devices.
The iOS app is compatible with most versions of the operating system later than iOS 9.0, which means that trades can be executed via an iPhone or iPad pretty much immediately.
The app is very easy to use and navigate, with the dedicated player pages featuring a useful graph that shows price fluctuations across a given period in a visual format that is easy to understand.
Conducting trades is very simple. The app features all of the tools that are available on the browser platform.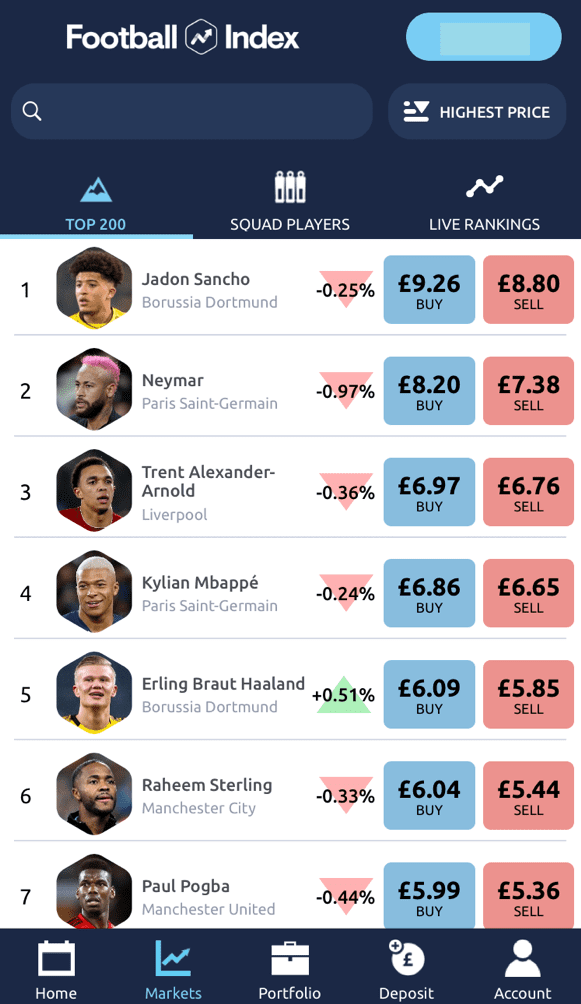 The Android app has been built with the same principles of user experience in mind. The developers are continually listening to user feedback, and bugs and issues tend to be ironed out with each new update. The last of these came just one week prior to the writing of this review, which shows the platform's attitude to regular and consistent improvement.
There are, however, some changes that could be made to both versions of the Football Index app. A notifications system could be implemented to alert traders to their players' movements, and indeed to 'buzz' players who are experiencing fluctuations in their value.
A more tailored search function beyond the typing of a player's name would also be useful, especially to avoid difficulties in spelling players' names.
Usability
One of the most obvious perks of Football Index is the simplicity of the website.
Both the buy and sell prices are clearly displayed and colour coded in a fashion similar to the Betfair Exchange. Each player also has a useful movement graph to show how their price has changed across a specified time period.
Monitoring your dividend payments and the value of your stock is easy enough, courtesy of the account functions.
There are a number of different strategies that you may employ in your trading, and the simple user interface of the Football Index site allows you to carry these out with ease. They are:
Asset Flipping — buying shares in a player or players, and then flipping them for a couple of pips profit.
Performance Related — buying the best players in the world and taking an easy profit.
Media Related — targeting the media dividends by buying stock in players who are consistently in the news.
Futureproof — targeting low-cost, high-reward youth stars for long-term holding.
Of course, if you are an experienced trader used to investing in other assets and instruments, then you may find the tools available at Football Index to be basic — particularly in using technical analysis to predict future trends. After all, nobody quite knows what is going to happen in football from one week to the next.
However, as far as site usability is concerned for novice traders and those who come from a betting background, Football Index commands respect for its simplicity. In short, it is a very easy way to make some money from your football knowledge.
Customer support
If you have done some of your own independent research about Football Index, then you may have read some negative views on the effectiveness and responsiveness of its customer support team.
It is apparent that Football Index has made significant efforts to change its customer support services in light of these complaints.
It has added a dedicated phone support team to its portfolio, with staff available 12 hours per day from Monday to Friday, and also for a shorter period on the weekends. This is not true for all trading or betting platforms.
You can send Football Index a direct message through the ZenDesk platform, or contact the dedicated customer support account on Twitter for a social media response.
Alternatively, the answer to your question may be listed on the comprehensive Help Centre webpages.
From the number of options available now, it is clear that Football Index has taken its original customer support feedback very seriously.
Payment methods
There are not many bugbears about Football Index, but one of them is the scarcity of accepted payment methods.
At the time of writing, Football Index only welcomed deposits and withdrawals made via Visa or Mastercard.
The absence of other debit or credit card providers, PayPal, Skrill, Neteller and bank transfers will be something of a deal-breaker for many traders. If you do not have an active Visa or Mastercard, then you are at a significant disadvantage.
Quite why this is the case remains to be seen — other 'betting' providers accept a far broader array of payment methods, so it can only be assumed that Football Index will add more options in due course.
Furthermore, withdrawals can take up to 10 days to appear through your chosen payment method.
Best offers
To help improve your experience, especially in the early stages, there is an Academy page on the Football Index site. This is a resource that offers hours of reading on how to make the most of your trading opportunities. Anybody interested in becoming a trader with Football Index would find this resource useful.
One of the things that might deter some traders, however, is the absence of a free play mode. Yes, there is a welcome bonus that mitigates risk somewhat, but for traders who first want to learn how to use what is quite a unique platform, this is certainly a source of frustration.
Regulation and deposit protection
Football Index is registered as a business under the name of BetIndex Ltd, which is headquartered in Jersey.
Because Football Index is classified as a betting platform, it has had to secure a licence to operate from the UK Gambling Commission.
The company's acquisition of this license is a sign of how seriously it takes its responsibilities in terms of trader welfare, privacy and security.
The UK Gambling Commission is an authority not known for handing out licences easily, so traders interested in signing up for an account with Football Index can have peace of mind knowing that it is regulated and monitored by a stringent governmental agency.
There is clear scope for the brand to be expanded into new international markets, while other sports will surely be of interest in the near future. There would, for instance, likely be demand for an American football version in the US.
As far as deposit protection is concerned, all client funds are ringfenced and held in a secure third-party account.
Awards
It is rather difficult for Football Index to win awards given that, due to the uniqueness of its product, it does not feature in any standard award categories.
If awards were handed out for originality of ideas and quality of execution, however, Football Index would be at the front of the queue.