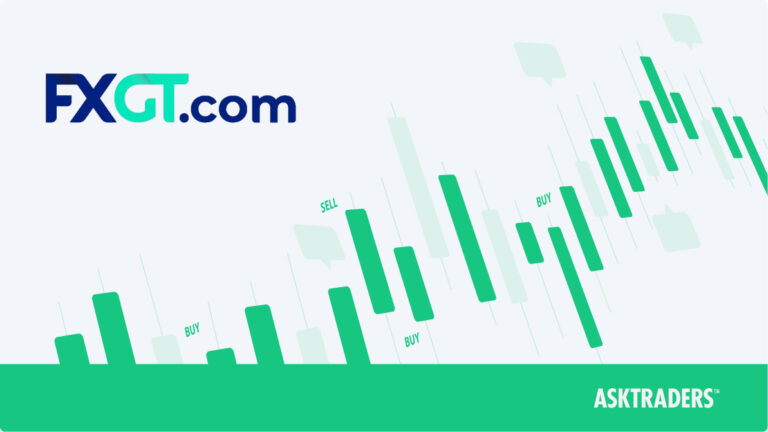 FXGT.com is something of a newcomer to the broker sector, but it is using this to its advantage, as it has adopted an approach that means that it offers a range of innovative tools and markets, some of which are unique to the broker. Founded in 2019, FXGT.com has swiftly developed a committed following from a global client base and picked up a number of impressive industry awards.
There is an emphasis on ease of use, and new clients can choose from a selection of different account types to ensure that they get the best fit. Funding and base currency options include crypto as well as fiat currencies, and trading costs are low. While the broker might not offer the widest range of markets in traditional asset groups, the number and range of different crypto asset instruments can only be described as groundbreaking.
Forex
| | | | |
| --- | --- | --- | --- |
| Min Deposit | App Support | Max Leverage | Trading Fees |
| $5 | Mid | 1:1000 | Low |
FXGT.com provides markets in more than 50 currency pairs. This means that traders can access and trade markets in major, minor and exotic forex pairs. Trading spreads are tight, and during our FXGT.com review, we found that the PRO account was offering spreads as low as 0.0007, 0.0006 and 0.010 in EURUSD, AUDUSD and USDJPY, respectively.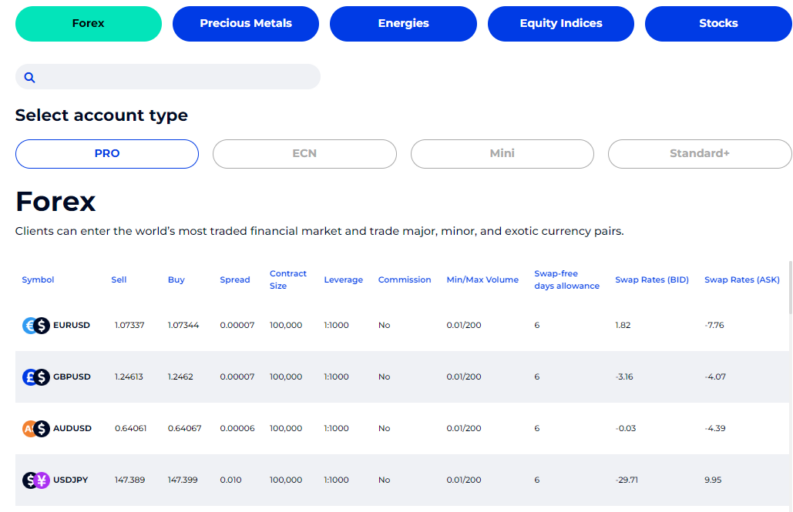 The ECN account allows traders to execute trades in the heart of the international currency markets. This ensures access to good market flow, and as a result, spreads on that account are even tighter than on the other three accounts. The variable spreads on the ECN account adjust to market conditions but can be as low as 0.00 pips. Unlike the other accounts, there are 'round lot' commissions associated with ECN trading, so the choice of which account to use will depend on your trading style.
CFDs
| | | | |
| --- | --- | --- | --- |
| Min Deposit | App Support | Max Leverage | Trading Fees |
| $5 | Mid | 1:1000 | Low |
FXGT.com offers CFD markets in a wide range of instruments. It's possible to use the functionality of CFDs to sell short and use leverage when trading forex, stocks, indices and commodities. The number of markets in each sector is not large, but there are enough options available for traders to gain some exposure to a wide range of asset types.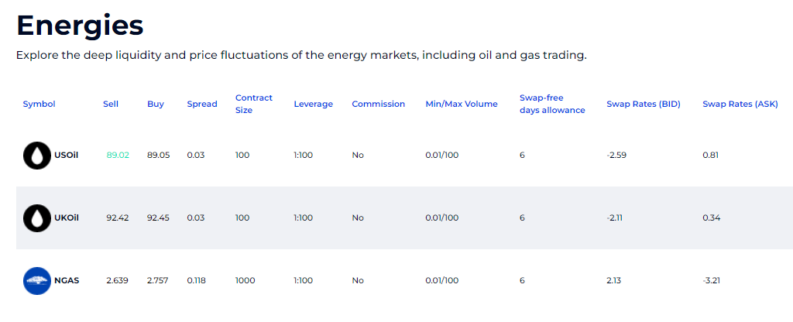 Stocks
| | | | |
| --- | --- | --- | --- |
| Min Deposit | App Support | Max Leverage | Trading Fees |
| $5 | Mid | 1:10 | Low |
FXGT.com might not be the natural home for buy-and-hold stock investors, but there are enough markets available to tick the box for most traders. The stocks on offer include large-cap titans listed on US exchanges, such as Apple, Microsoft, JP Morgan, Disney, Netflix and NVIDIA. The spreads in these markets are more than competitive, and leverage is capped at 1:10.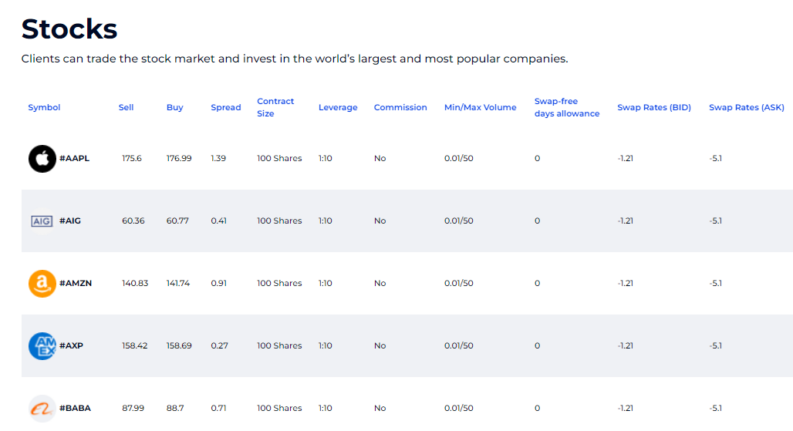 Social Trading
| | | | |
| --- | --- | --- | --- |
| Min Deposit | App Support | Max Leverage | Trading Fees |
| $5 | Mid | 1:1000 | Mid |
There is currently no in-house social or copy trading service on offer at FXGT.com. It is possible to trade using the signals of others by accessing the Expert Advisors service, which comes as part of the MetaTrader package.
Crypto
| | | |
| --- | --- | --- |
| App Support | Max Leverage | Trading Fees |
| Regular | 1:1000 | Low |
Crypto markets aren't available in all jurisdictions, but those who can access them using FXGT.com will benefit from the broker's commitment to a new way of doing things. It's possible to trade not only the big coins such as BTC and ETH but also a wide number of altcoins and meme coins. Trading commissions are low, and spreads are tight.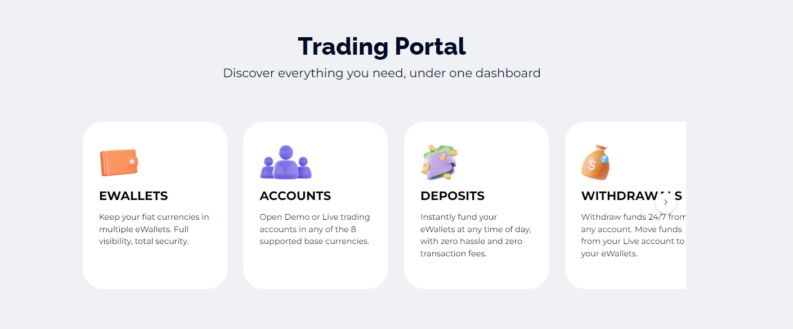 The Synthetic Crypto Pairs instruments allow you to trade crypto markets without owning the underlying asset. They have additional functionality features, including leverage of up to 1:1000, and reflect the relative price of pairs of underlying assets, which can come from the crypto and non-crypto sectors. There is also a healthy offering of De-Fi markets and NFT instruments, including LNKUSD, ZRXUSD and RENUSD, and the GTi12 crypto index, which is unique to FXGT.com, is something to consider if you're looking to use CFDs to diversify your positions in the sector.
What did our traders think after reviewing the key criteria?
Broker Fees
The fee structure at FXGT.com is transparent, but as the broker offers four types of accounts, there is some work required if you intend to run a comprehensive cost comparison over many markets.
The situation is simplified to some extent by the PRO, Mini, and Standard+ accounts not charging any commissions or fees on trades. In those markets, the broker makes its money on the difference between the bid and offer spread. The ECN account can see spreads reach as low as zero, but there are individual trade commissions associated with that account. In the currency markets, the ECN commissions go up to $6 per round turn, and in precious metals markets, commissions on the ECN account are $5 per round turn.

Overnight financing fees also need to be factored into any cost-benefit analysis. These vary across accounts and instrument types, but during our testing, the bid and ask swap rates on EURUSD were 1.82 and -7.76, which is in line with the peer group.

Charges on deposits and withdrawals are also reasonable. The broker doesn't charge on transfers made using debit/credit cards or crypto, though third-party payment agents might add a fee. The broker does charge for processing bank transfers, with the amount being dependent on the quantity of funds being wired.
Account Types
FXG.com offers clients four account types. Each has been designed to support a particular approach to trading the markets. It is possible to set up more than one account, which means that there is greater flexibility should your circumstances change.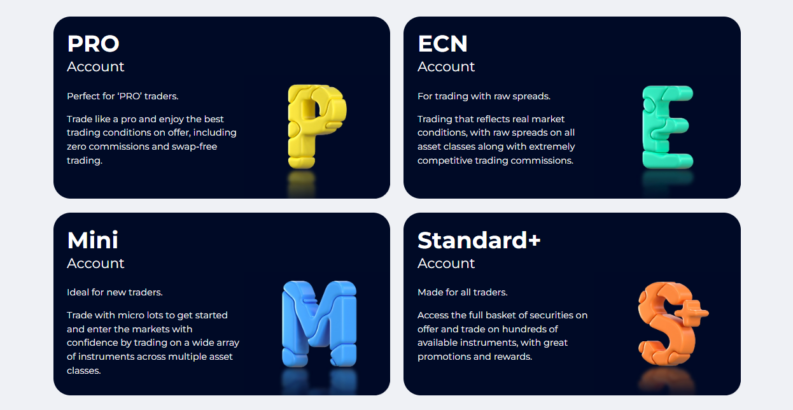 The MINI account is ideal for beginners. It allows you to trade in small sizes, so any mistakes that result in trading losses have less chance of being materially damaging. The Standard+ account provides traders with access to the full range of available instruments, while the PRO account has the best trading conditions of any FXGT.com account type, whilst representing a step up in terms of T&Cs. The ECN account offers raw spread trading on all assets and is different from the other three in that it facilitates trade execution using servers and order types. This allows you to get closer to the heart of the market.
Platforms
The MT4 and MT5 trading platforms offered by FXGT.com are the world's most popular retail forex trading platforms and have a long track record of providing traders with everything they need to approach the markets with confidence.
Razor-sharp graphics make the MT4 and MT5 platforms an obvious choice for those using charting techniques, and the two platforms have 30 and 38 trade indicators included in the default settings. Other indicators can be downloaded from the MQL5 site.
As the MetaTrader platforms are provided by a third party, the login details are shared with users via a separate email.


Those looking to gain a technical edge can apply to have their account traded using a free/sponsored VPS setup. The eligibility criteria stipulate that there must be a minimum amount of trading activity each month and that trading accounts are $3,000 or above. You can download MetaTrader MT4 and MT5 platforms onto desktop devices, access it via internet browsers such as the MT5 WebTrader, or used in app form on Apple and Android devices.
Usability
The FXGT.com site is uncluttered and has been laid out so that navigating through different screens has an intuitive feel.
Signing up for a new account takes less than five minutes. The process has been designed to support new clients from across the globe. In Southeast Asia, for example, it is possible to complete the account-opening process using English or eight other languages.
In terms of trade execution, it's hard to beat the track record of MT4 and MT5. Both platforms have been operating for many years and have developed a service that is known for being robust and reliable.
Customer Support
With market prices having the potential to whipsaw at times of increased volatility, it is important to be able to get the help you need when you need it. FXGT.com does well to have a Live Chat system, which ticks the box in terms of response times. During our testing, our queries were addressed almost instantly and resolved at the first time of asking. It's also possible to contact the broker directly using email to raise issues that aren't time-sensitive. However, the lack of telephone support does bring the broker's score down in this category.

Payment Methods
FXGT.com's approach to funding processes significantly upgrades the user experience. Again, not all the features will be available in all regions, but it's worth outlining what's on offer.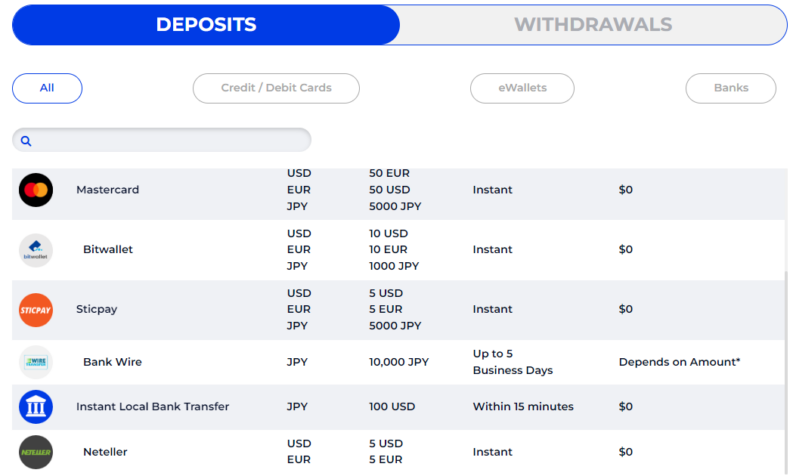 The crypto-friendly approach set out by FXGT.com means that it is possible to fund your account using a variety of coins. This can be done directly from an exchange, and it is also possible to set your account base currency in BTC, ETH, USDT, ADA and XRP, as well as EUR and USD. This means that you can avoid currency conversion costs should you decide to fund your account using cash or coins that match the denomination of the account's base currency.
Those making deposits in fiat currencies can use debit/credit cards, bank transfers and ePayment service providers such as Neteller and STICPAY. Most methods are commission-free and result in funds being instantly credited to your new FXGT.com account. The bank transfer option does involve a fee and a time delay, and as there's no point in giving money away unnecessarily, this approach is probably best avoided if possible.
Best Offers
As a new entrant into the broker space, FXGT.com has taken the approach of using promotional offers to raise its profile. This is good news for new clients, who can take advantage of a range of forex bonuses and offers and a range of reward schemes that are updated over time.

The 25% Loyalty Bonus allows holders of Mini and Standard+ accounts to receive a 25% bonus on cash deposits up to $10,000 in value. The Loyalty Reset Bonus works in a similar way and effectively extends the life of the 25% bonus scheme for traders who meet certain criteria. For Japanese clients only, there is a JPY 20,000 FXGT No Deposit Forex Bonus, 100% Welcome Bonus and 25%-50% Tiered Loyalty Bonus.
Regulation and Deposit Protection
FXGT.com is a fully regulated broker licensed by the Financial Services Authority of Seychelles (FSA), Financial Sector Conduct Authority (FSCA), Vanuatu Financial Services Commission (VFSC), while the Cyprus Securities and Exchange Commission (CySEC) license is for institutional clients only. The group of companies operate under a variety of slightly different trading names, but the full list of licences is outlined below. Checking the details of regulatory protection is an important first step towards safer trading, as is checking which regulator will protect your trading activity – this will be determined by your country of residence.
360 Degrees Markets Ltd is a registered company in Seychelles, with registration number 8421720-1. Its registered address is Room 12, First Floor, Kingsgate House, Victoria, Mahe, Seychelles. It is licensed and regulated by the Seychelles Financial Services Authority (FSA) under the Securities Dealer's License Number SD019.
GT IO Markets (Pty) Ltd is a registered company in South Africa, with registration number 2015/059344/07. Its registered address is Aurora Drive, Liberty Life Building 21, Office 125, First Floor, Umhlanga, 4301, Kwa-Zulu Natal, South Africa. Its physical address is at Suite 12, Katherine & West, 114 West Street, Sandton, South Africa. GT IO Markets (Pty) Ltd is an authorised FSP with FSP Number 48896 and is regulated by the Financial Sector Conduct Authority.
GT Global Markets Ltd is a registered company in Vanuatu licensed and regulated by the Vanuatu Financial Services Commission (VFSC) under the Principal's License Number 700601. Its registered address is at Law Partners House, Kumul Highway, Port Vila, Vanuatu. GT Global Markets Ltd offers financial and investment services exclusively to eligible/institutional counterparties and does not aim to service any retail clients.
Institutional clients also have the option of signing up to the CySEC-regulated entity.
TEC International (Cyprus) Ltd is a registered company in Cyprus that offers its financial and investment services exclusively to eligible (institutional) counterparties. It has registration number HE 389575, and its registered address is at Aiolou & Panagioti Diomidous, 9 Katholiki, 3020, Limassol, Cyprus. It is licensed and regulated by the Cyprus Securities and Exchange Commission (CySEC) under licence number 382/20, operating in accordance with the Markets in Financial Instruments Directive (MiFID II).
In compliance with regulatory conditions, all client funds are held in segregated bank accounts at top-tier banks. Keeping them away from the accounts of the broker ensures that in the unlikely event that the company goes bust, your cash can't be used to pay its debts. There is also Negative Balance Protection on most accounts, which means that your losses will be limited to the funds you deposit, and the firm is set up to use the latest data security protocols.
Awards
Unsurprisingly, the approach of FXGT.com has resulted in it gaining the attention of industry experts as well as that of the trading community. In 2022, it won the 'Best Hybrid Broker' title at the Ultimate Fintech Awards, and in 2023, it won the AtoZ Markets 'Broker of the Year' award – an impressive start considering that the broker entered the market as recently as 2019.
---
How can I open a Demo account with FXGT.com?
Opening a Demo account with FXGT.com takes seconds to do and starts with following the link that is found in the top right-hand corner of the FXGT.com site homepage. It's possible to set up a Demo account for both the MT4 and MT5 platforms and test them on desktop and mobile devices.
Does FXGT.com offer an Islamic account for forex trading?
Yes, FXGT.com offers swap-free forex accounts that are Shariah-compliant. Switching to this form of account is a simple process and involves sending a message to the FXGT.com customer support team.
How do I withdraw money from FXGT.com?
There are four easy steps to follow to withdraw funds from your FXGT.com account:

1. Click on the 'Withdraw' button from the 'Actions' drop-down menu in the Client Portal dashboard.
2. Select the currency you want to use to withdraw.
3. Choose the withdrawal method.
4. Set the amount you want to withdraw.

Due to the regulatory licences under which the broker operates, all clients are required to complete their account profile and meet all KYC and Payment Verification requirements before a withdrawal can be authorised.