Matchbook describes itself as a peer-to-peer betting exchange designed for smart bettors who want to get the most value out of their wagers. Since it was first founded in 2005, Matchbook has gone on to become one of the most recognisable names in this space. Favoured by users for its easy-to-use platform, high levels of market liquidity, and relatively low commission, Matchbook has put together one of the best all-round packages out of any betting exchange around.
What exactly is a betting exchange? And how does it differ from a traditional booker? It's the object of this Matchbook review to find out.
Most of us are well used to the traditional sportsbook or bookmakers' format, where players take up bets and odds put out by the bookmaker itself. Here, you take up fixed-odds bets set or accepted by the bookmaker, and if the bet plays out in your favour, you keep the winnings. If not, the sum you originally wagered goes to the bookmaker. For many years, this has been the most familiar and popular format, and as betting moved into the online space, it was replicated there for the most part.
However, as access to high-speed internet increased, new types of betting platforms entered the space. One of these new formats is betting exchanges, which were made possible by high-speed internet, which allowed odds and fixtures to be updated in real-time and connect users with each other for a new type of betting.
Rather than simply taking up fixed odds put to you by the bookmaker, with this new type of betting, users can place bets themselves and set odds, which can then be picked up by other individual users. You can, therefore, decide to back or lay a particular bet and agree to the odds with another user. If the bet comes good, you take the winnings. If not, the user who matched your bet takes home the stake. While traditional bookmakers make money from the bets that users don't win, betting exchanges act more as a platform and charge a set commission on all the transactions taking place. In this sense, betting exchanges such as Matchbook act much more like a market maker and trading exchange than a traditional bookmaker.
This format has revolutionised the online betting space, and within the space of a few years, it has exploded in popularity. In this context, numerous providers have entered onto the scene, hoping to capitalise on the rush of new players looking to get started.
However, as we know, not all platforms are created equal, and there is a significant difference in terms of quality and the level of service offered among the various platforms available. With this in mind, how does this betting exchange stack up against the competition?
Our Matchbook review will reveal all.
Matchbook Review Navigation
#

Matchbook sports trading review
| | |
| --- | --- |
| Min Deposit | App Support |
| €5 | Bad |
All of the key sports, and their associated markets, are available to trade at Matchbook — you can trade who will win football, tennis, basketball, cricket and American football matches while backing and laying on horse racing meetings from all over the globe.
There's not a huge range of complementary markets to trade. However, you can have your say in political categories both in the UK and overseas.
There's also a casino to try out at Matchbook.
What did our traders think after reviewing the key criteria?
Fees
Betting exchanges make their money by charging a commission on winning trades — meaning that they take a percentage of the millions of trades conducted via the platform every week.
For customers in the UK, the Republic of Ireland and the Channel Islands, commission at Matchbook is set at 2% on net profit regardless of the size of the trade in question.
Trades outside of those areas come with a commission of 4%.
Account types
There aren't different account types or tiers of trading with Matchbook, so everybody has the same account to trade with.
Platforms
With more players than ever using mobile devices to connect to the internet and place bets, it has become increasingly necessary for betting platforms to develop standalone mobile apps for users. As such, we have seen betting platforms put more effort than ever into their mobile offerings.
Matchbook is no different in this regard, and it has both a dedicated mobile version of the website available and a number of mobile apps available at no extra cost. This is great to see as you would be surprised at the number of platforms that do not offer this facility.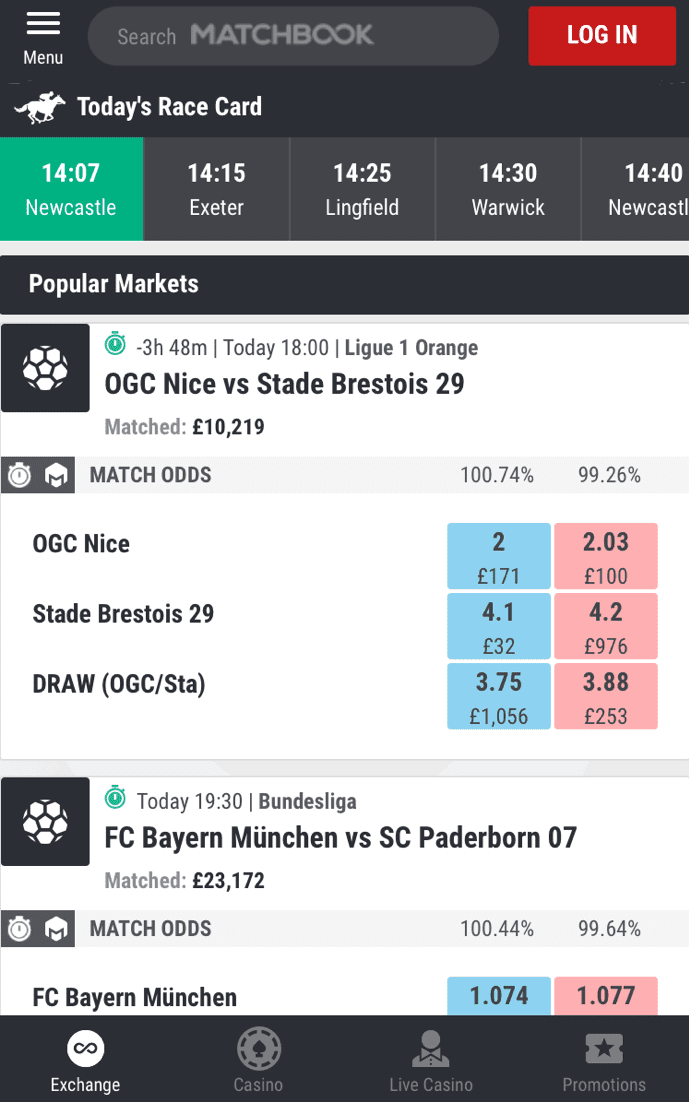 The dedicated mobile version of the website is a solid choice if you want to do away with the need to download a standalone version of the app, which helps to keep your smartphone clutter-free. The mobile webpage is perfectly sized for a smaller screen and automatically adapts no matter what device you have. All you have to do is navigate to the Matchbook website using your mobile browser.
However, if you prefer to have a standalone app, Matchbook does have one available for download. Dedicated mobile apps are often the preferable option as they allow you to log into your account with much less difficulty and they have a number of added security benefits. Additionally, mobile apps tend to be a lot easier to use as they can be designed with a specific device or operating system in mind.
Matchbook has both Android and iOS versions of its app available, which can be downloaded through the Google Play Store and iPhone App Store, respectively. It is best to do this over Wi-Fi rather than 3G or 4G as the download file can be quite sizeable. Generally, feedback on both versions of the mobile app seems to be quite positive, and you shouldn't run into any major issues while using them.
Usability
One of the most frustrating things about getting to grips with a new trading and betting platform is the inevitable frustration you experience when you still don't quite know your way around the platform. This frustration is often made worse by bad design choices, which only lead to more confusion and even greater frustration.
For this reason, it is essential that betting exchange designers take a player-focused perspective when designing the website, and that these perspectives are incorporated from the ground up. This ensures that you have a platform that is easy to use for beginners and experienced users alike. Having a well-designed platform can have an impact on how efficiently you can execute bets and track the markets in real-time.
In terms of how well the Matchbook platform meets these requirements, it seems that for the most part, the platform is well designed. Although there is often quite a high volume of information being displayed at once, it never feels overwhelming or like you are getting lost in the webpage. Two handy toolbars have been incorporated on either side of the page, which makes it incredibly easy to switch between sports, markets and your personal account information and settings. This does a lot to streamline the betting and wagering processes. Being able to easily switch between markets allows you to keep track of multiple sports markets with relatively little effort.
In terms of the design and interface, the Matchbook development team has combined a low-key aesthetic with striking icons to add to the usability. This means that the various sections of the website are easy to distinguish simply by looking for the relevant icon, which is a seemingly simple but very effective design choice. It is details like this that give you the impression that a lot of effort has been put into the design aspects of this platform.
Similarly, the mobile apps are equally well designed and manage to scale the desktop version down to a smaller screen size without too much difficulty. This is great to see, as this balance can often be difficult to strike on mobile devices.
Overall, while the design and aesthetic of the Matchbook platform are nothing revolutionary, it more than gets the job done.
Customer support
One of the most important aspects of any online betting or trading website is the customer support on offer. Although it might seem like a relatively minor detail, when you are dealing with sensitive financial information like this, and when something goes wrong, you want to know that your account is in safe hands and that you can trust the customer service team to deal with your query effectively.
With this in mind, what we are looking for in a customer service team is that they are easily accessible, responsive, personable, knowledgeable, and give out useful advice. Although this might seem like a relatively basic set of requirements, you would be surprised at how many platforms fail to hit any of these. For this reason, numerous platforms have earned themselves a bad reputation online for aspects that are incredibly easy to address. As the old saying goes, a reputation takes years to build and only seconds to destroy.
When it comes to the customer service on offer on the Matchbook platform, thankfully, we can say that Matchbook hits all of the above. Indeed, of all the aspects that we have looked at in this Matchbook review, we can safely say that customer service is one of the exchange's areas of strength.
If something does go wrong, there are a number of methods to get in contact with the customer support team. For this Matchbook review, we looked at them all and generally found the live chat available through the website to be the most effective. While you can get in contact with Matchbook using telephone and email, the live chat option has the quickest response time by far. With average response times to live chat messages being less than 15 seconds, Matchbook's performance in this area is among the best available.
In general, queries were answered effectively and with a lot of detail in the answers, and most questions were able to be resolved within the live chat box. More in-depth answers can be given over the phone or via email, but for the vast majority of queries, these could be quickly addressed using the live chat box.
There is also a comprehensive FAQ section available that you can consult before contacting a member of the customer support team. This is a great resource to have available and the answers all appear to be of a high quality.
Payment methods
When it comes time to fund your account so that you can hop on the live markets and get some trades underway, there are a number of methods you can use. To fund your account, simply log into your Matchbook account and click the 'Deposit' button at the top right-hand side of the website. This redirects you to the 'Cashier' section, where you will be given a number of different deposit options.
In terms of what methods are available for you to use, all the typical methods are accounted for. Firstly, you can make a deposit to your account using a Visa, Mastercard debit or credit card. Secondly, Matchbook provides support for a number of online e-payment services such as paysafecard, Neteller and Skrill. Finally, you can also make deposits using a conventional or express bank transfer.
Of these options, the online e-payment services are by far the most efficient, with most transfers being processed within a couple of hours. If you want to use a bank transfer or a credit/debit card, this process will be slightly longer, running between two and three days.
Generally speaking, the deposit process to Matchbook is very efficient and you shouldn't run into any hurdles along the way.
It is important to note, however, that Matchbook operates a 'closed-loop' policy when it comes to withdrawals and deposits, meaning that you should only withdraw using the same method you used to make the initial deposit. This is in place to comply with anti-money laundering and 'Know Your Customer' regulations, but it is still important to bear in mind.
Best offers
Matchbook has been designed with serious traders in mind, so there isn't a huge wealth of information available regarding the educational side of trading.
However, it does invest heavily in educating its traders about upcoming sporting events. There are weekly podcasts previewing the upcoming action, plus blog posts under the 'Insights' heading that also offer some useful tips and pointers for sporting events on the horizon.
Regulation and deposit protection
Whenever you are using a platform that offers the same kind of service as Matchbook does, it is essential that your details are secured to the highest possible standard. With a number of notable hacks hitting the headlines over the last number of years, malicious threats online are a very real danger.
With that said, when using the Matchbook platform, security isn't something that you will have to worry about. The platform itself is secured using SSL encryption, which ensures that your personal details are secured to the very highest standards.
Matchbook is registered and based in Alderney and as such is regulated by the Alderney Gambling Control Commission (AGCC). This means that it holds a licence from the AGCC, one of the most stringent gaming regulators around. Additionally, it also holds a licence from the UK Gambling Commission (UKGC).
It is great to see Matchbook taking its regulatory requirements so seriously, and this information is displayed in a clear and transparent manner on the website. For this reason, Matchbook scores very highly in terms of customer safety and protection.
Awards
There usually isn't a specific category in betting industry awards for exchanges, so it will come as no surprise to learn that the Matchbook trophy cabinet is largely empty.
The Matchbook Betting Podcast is an award winner, however, claiming the Best Betting Podcast trophy at the Smart Betting Club Awards, among many others.
PEOPLE WHO READ THIS ALSO VIEWED: