Moola Review Review
Open Account
5 minutes read
/
Updated: 12 May 2020

Founded in 2015 by CEO Gemma Godfrey and CTO Andrew Jordan, Moola is based in London and also has an Irish office in Belfast.  The robo-advisor firm offers digital wealth management services to residents of the UK and Ireland who are at least 18 years old.
Thus far, Moola has earned a decent reputation among investors with its services and performance. It aims to deliver a simple to use and affordable service to its clients and now ranks near the top among highly-automated investment companies of its type.
If you are interested in how we review Moola, then read further in this Moola UK review to determine if the robo-advisor will meet your investment needs and if investing with Moola makes sense for you.
Note that this is not a Moola CFD review, a Moola cryptocurrency review or a Moola forex review since the company does not offer such trading products to clients.
Strengths
Fully-automated investment service.
UK office has FCA regulation.
Investment assets include a range of high quality ETFs.
Accounts monitored by in-house investment team.
Requires a low £50 minimum investment.
Weaknesses
Lacks 24/7 customer support.
Cannot trade in or manage your own portfolio.
No mobile app.
What can you trade?
Open Robo Advisor Account
Moola Robo-advisor Review
Moola's robo-advisor investment is designed to make passive investing easy to understand and implement.  You can try its portfolio generation service out with no initial investment to get a sense for what is involved, although you will need the modest amount of £50 to create an investment plan and open an account at Moola.
Furthermore, the robo-advisor offers an ethical investing option so you can better align your investments with your values. You can also contribute to your investment savings account on a monthly basis using direct debits.
Moola invests your money largely into exchange-traded funds (ETFs) managed by the top fund management firms including Blackrock and Vanguard. The globally-diversified assets that Moola offers investment access to include: shares, bonds, commodities, money market instruments, cash and real estate.
The in-house investment team monitors client portfolios on a regular basis to ensure they are consistent with the holders' risk tolerance and performance objectives. They may suggest a better asset allocation if that seems beneficial for you.  You can also revise your portfolio if your risk tolerance or financial situation changes.
What did our traders think after reviewing the key criteria?
Moola Fee
Moola does not have the lowest fees available for a robo-advisory investment service, but it does make them very transparent on its website. The company charges a flat 0.75% management fee for both Standard and Ethical portfolios.
This fee covers things Moola does for you, such as: assessing your risk profile, confirming your identity, transferring money to or from your account, holding investments for you, balancing your portfolio, data and fund security, dealing with regulatory matters that protect you and providing customer support.
In addition, Moola's ETF management fee averages 0.11% or 0.25% for Standard and Ethical portfolios respectively.  The firm also charges a rebalancing cost of 0.06% for Standard or 0.09% for Ethical portfolios, which generally applies when investments are first bought or sold, including when you first open a portfolio.
That makes your total investment costs at Moola either 0.92% or 1.09% annually, depending on whether you choose the Standard or Ethical investment option.  Your fees are also quoted on an annualized basis, but they get deducted each month on a prorated basis.  Moola does not charge you for withdrawing money or transferring an account.
Note that the company does not change its fee structure depending on how much you deposit. This might make other robo-advisors who do drop their fees for larger investments seem more attractive on a fee basis for those with more than £20,000 to invest.
Account Types
At Moola, you will be able to open up a Stocks & Shares Individual Savings Account (ISA) for its tax benefits or a General Investment Account (GIA) that lacks tax benefits. In addition, you can transfer an existing ISA.
Most UK residents will want to open an ISA due to its tax benefits. The yearly ISA allowance is currently £20,000, and you do not need to pay income or capital gains tax on earnings from investments in an ISA. While you can withdraw funds from an ISA when you want, you can only have one ISA each tax year. GIAs lack the tax benefits of an ISA, but you can invest funds in a GIA at Moola when your ISA allowance has been exceeded.
A big plus of Moola is that you can save in a more ethical manner by selecting an ethical portfolio when you sign up. There are some additional transaction-related fees charged for holding an ethical portfolio, but if you feel strongly about being greener and more socially responsible with your investment money, then it could be the perfect option for you.
Platforms
As with most robo advisors, Moola proposes a set of portfolio strategies for clients based on a risk assessment interview conducted by asking questions via its website.  You will basically be able to select among a cautious, moderate or adventurous risk level to create an investment strategy that Moola then uses to put together a suitable portfolio for you.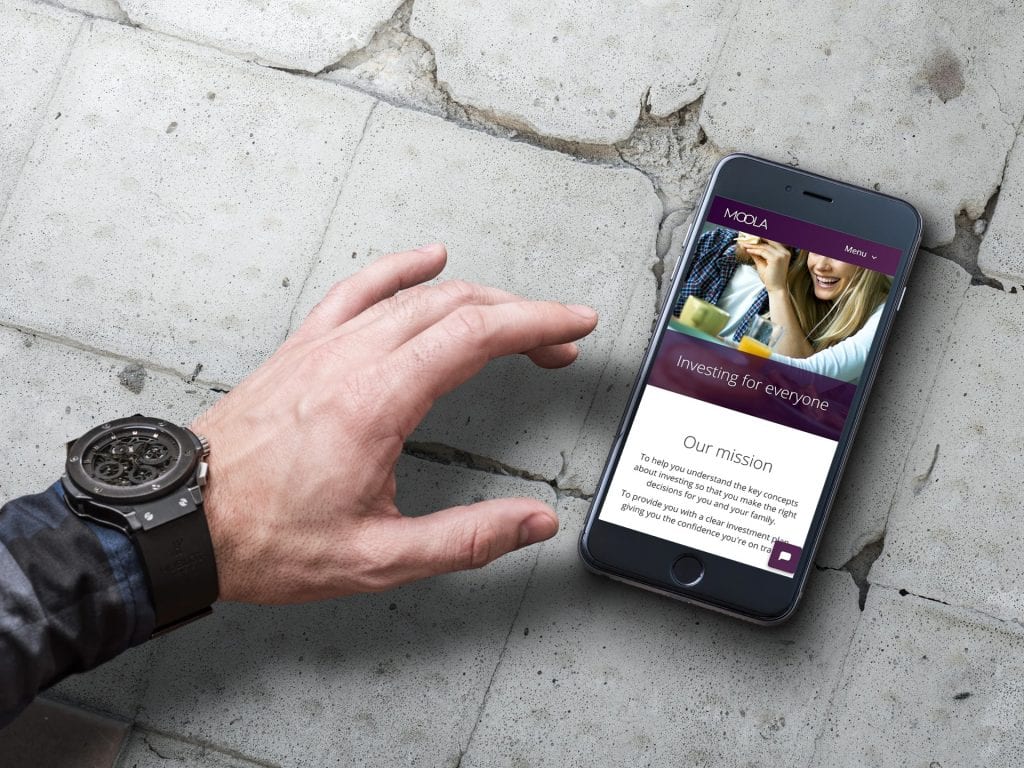 Moola uses both its own risk assessment software and the personal review and monitoring of its in-house investment team to make sure your portfolio stays on track given your investment strategy. They typically do a portfolio update once a quarter where allocations may be adjusted back to target levels, although market events can prompt more frequent adjustments.
Dividend payments and periodic cash contributions to your investment account can also be used to shift a portfolio closer to target. This helps reduce unnecessary asset turnover and associated costs.
Once you open an account and invest funds, you can then just visit Moola's website either via its desktop or mobile version to see if an investment is made for you, what fund it goes into and what percentage has been allocated to it.
Although Moola currently lacks a mobile app for either Android or iOS, you can use the mobile version of its website in your mobile device's browser to use its website and monitor your investments while on the go. A screenshot of Moola's mobile website taken during the sign up process where an investor selects their preferred risk level is shown below.
Usability
Moola's official website has a professional look that is designed mostly in white and tasteful shades of purple with an easy-to-read and sensible layout. The website has five tabs at the top, and three of them have drop down menus linking to additional topics to help you navigate the site.
The website's tabs are:  Services, Why Moola, How it works, Knowledge, Calculators and About us. In addition, each website page has a Try it out button and a Login tab in the upper right hand corner that switch to a My portfolio button and a Me tab once your log into your account. This can be especially helpful if you would like to open an investment account with Moola after reading this Moola review.
Customer Support
Moola lets you get in touch with them via several standard contact methods displayed on the bottom of its website pages. Options include a regular phone number, plus both email and snail mail addresses. There is also a Live Chat messaging option available from each website page where you can either get live support or leave a message for someone to get back to you during normal business hours.
You can also probably get most of the information you are looking for by browsing through Moola's useful FAQ that is a key part of its website's Knowledge Hub. The FAQ provides clear answers to common questions investors can have.
Potential or existing investors can contact Moola customer support staff during normal UK business hours from 9 a.m. to 5 p.m. Monday through Friday. You will not able to get telephone or Live Chat support in the evenings or on weekends, although you can leave a message or send an email for someone to get back to you once their office opens.  A screenshot of Moola's contact information appears below.
Although Moola's support staff is well-versed on topics relevant to its products and services, you should contact an independent financial advisor to get expert financial advice and a comprehensive review of your financial situation.
Payment Methods
To make a deposit or withdrawal, you need to log in to your Moola account using its website on your computer or mobile device.  ISAs and GIAs can be funded directly from one bank account you nominate, and a Direct Debit can be set up to add funds on a monthly basis to help you save more over time.
Withdrawal times to get funds from your Moola investment account are normally between five and seven business days in order to see the funds in your bank balance. If you can no longer access the bank account you used when you set up your Moola account, or if you have just made a deposit, then the withdrawal time may be longer.
The short delay in getting withdraw funds from Moola arises because the process requires the sale of some assets in your investment account.  Once that sale settles in a few days, the resulting cash is then transferred to your bank account, which also takes several days.
Best Offers
Moola offers an information centre called its Knowledge Hub on its website. It features an insightful blog, as well as some educational videos featuring Moola CEO Gemma Godfrey for those new to investing and articles for more advanced investors.  The Hub also has a FAQ to answer common questions.
In addition, Moola has some social media accounts, although these are not very active. Its Facebook page only has just over 300 followers with infrequent updates, and its YouTube channel has only one video and 2 subscribers. The robo-advisor's Twitter account has a bit more of a following with over 1,100 followers, although no tweets had made since mid-2018 when it was checked for this Moola review.
Regulation and Deposit Protection
Moola Systems Limited is regulated and authorised by the Financial Conduct Authority (FCA) as a digital investment advisor. The robo-advisor is also part of Mercer, which is a Marsh & McLennan company.  Moola has its UK offices in London and its Irish offices in Belfast.
Since Moola is currently based in the EU, it must follow the EU's Markets in Financial Instruments Directive II. This requires it to keep its client money separate from its own funds.
Money invested with Moola goes to Winterflood Business Services, which is part of the Close Brothers Group, and is held in custody there on your behalf.  UK-based investors are also protected against any defaults by Moola on up to £85,000 since their investment accounts are covered under the Financial Services Compensation Scheme (FSCS).
With respect to data security, Moola is dedicated to providing a secure online environment for you to interact with. The company encrypts personal data, stores it on secure servers, uses a secure Internet protocol and complies with all necessary data protection laws.
Awards
Moola has a relatively short track record, so it lacks the award list some digital wealth managers have, although the firm has received favourable reviews from users for its ease of use and fee transparency. Also, Moola CEO Gemma Godfrey won the Change Excellence Award at the Women in Investment Awards in 2019.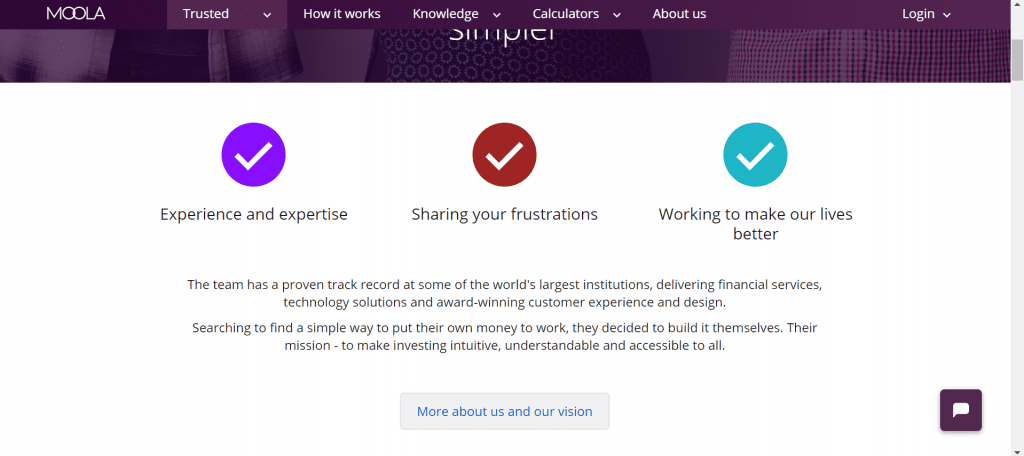 CFDs are complex instruments and come with a high risk of losing money rapidly due to leverage. 75% of retail investor accounts lose money when trading CFDs with this provider. You should consider whether you understand how CFDs work, and whether you can afford to take the high risk of losing your money.