The UK-based betting exchange, Smarkets, offers players the chance to both place and lay bets against other users. Although it is mainly known for its wide range of sports markets, it also operates across other sectors and interests such as current affairs, politics and TV.
Smarkets was founded in 2008 and has built up a solid reputation during its time in operation. With a particular focus on in-play betting opportunities, it utilises up-to-the-minute design and tech to offer an extremely straightforward and user-friendly experience.
The platform gives players the chance to place or lay bets against one another on a peer-to-peer basis, and unlike some others, this betting exchange system gives the company a flat 2% commission on net winnings per market and levies no fees or charges on deposits or withdrawals.
Regulated by the UK Gambling Commission (UKGC) and the Malta Gaming Authority (MGA), and operating under strict compliance guidelines, the company has processed more than £5bn worth of transactions since it began public trading in 2010.
Read this Smarkets review to find out whether it is the right platform for your betting needs and whether or not you should open an account with it today.
Smarkets Review Navigation
#

Smarkets sports betting review
| | |
| --- | --- |
| Min Deposit | App Support |
| £10 | Good |
Although Smarkets offers other markets, the majority of transactions are placed on sporting events. Bet patterns dictate the prices, with all bets placed balanced out by opposing bets — for example, the odds on Liverpool to win their next match might be 1.65, so betting on them not to win would be available at 2.45.
There is a wide range of sports markets available other than football — popular ones include rugby, horse racing, boxing, golf and cricket. There are also plenty of markets within these sectors other than simple outcome bets — for instance, trades can be placed on football matches for half-time/full-time scores, both teams to score, the correct number of goals, and many others.
Smarkets also offers political betting, which has recently seen a surge in activity around topics such as Brexit and Donald Trump. Markets such as next party leader, next prime minister, what the outcome of Brexit will be, or many different factors thrown up by a general election are all good opportunities to place UK-themed bets. International markets offer even more scope for placing a matched wager.
Other betting opportunities based on current affairs include popular TV shows such as reality favourites Strictly Come Dancing and I'm a Celebrity… Get Me Out of Here! Lots of markets are offered based on the twists and turns that make the programmes attention-grabbing viewing.
What did our traders think after reviewing the key criteria?
Fees
Unlike in traditional trading environments, betting exchanges don't typically charge fees as such, and Smarkets is no different.
Instead, it charges a flat fee of 2% on net profits – which is lower than the other main exchanges such as Betfair and Matchbook.
There are, however, two exceptions – see the 'Account Types' section for more details.
As far as pure 'fee charging' is concerned though, you could certainly argue that Smarkets is the best in the business.
Account types
As is typical with betting exchanges, there aren't different account levels and so everybody starts with the same package.
However, there are two differences when it comes to paying a commission. Typically, you will pay 2% on net profits, but there are two exceptions to the rule.
Those who find themselves in the 'Pro Tier' will pay 1% commission per each individual matched bet that settles. Somebody considered a 'pro' by Smarkets is anyone who places more than 1,500 trades in a calendar month, or whose cumulative stakes in the month are £1m or more.
There's also the 'Select Tier'. Here, the most profitable traders are given a nice nametag by Smarkets — but they have to pay 3% commission as a result. This refers to traders who earn £25,000 or more in net profit during the prior 12 calendar months.
Platforms
Smarkets develops its own software in-house, so it is no surprise that when it comes to its mobile app, there is plenty to shout about.
The mobile browser version of the main website offers the same range of services that can be found on the desktop version, but where things really start to move is on the dedicated Smarkets app itself.
As you might expect, it is available on both iOS and Android and is a free download. The result is a very easy-to-use tool that is intuitive and straightforward in both design and functionality.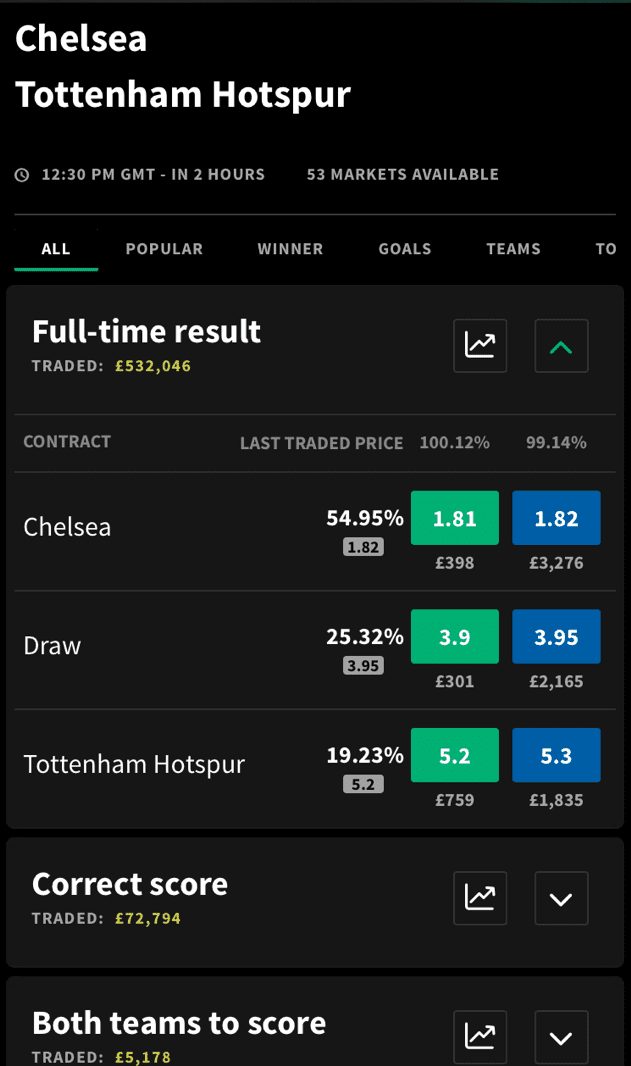 Smarkets recently launched a cash-out variant called 'trade out', which allows players to cash out a single bet within a market. This will appeal to anyone who has concerns about laying a matched bet by mistake, as it means that it can simply be 'traded out' and done again properly.
Usability
The main Smarkets website allows players to bet on an event ahead of time or to make trades in play. There is plenty of online support to help novice players understand the basics of online sports trading, and the user interface is simple to navigate and easy to get used to. The layout means that moving between different markets is easy, and there is a very efficient search bar at the top of the screen.
Smarkets has the look and feel of a betting site rather than a trading platform, which has perhaps been a conscious decision to try to appeal to sports bettors over traders. That said, it is still a user-friendly site that is intuitively designed and easy to navigate.
What sets Smarkets apart from the other betting exchanges is the simplicity of its trading charts, which display all of the key data but in a more user-friendly manner than Betfair and co. You can easily see moving averages and weight of money, and toggle the settings to your preferred settings regarding time windows and the like.
If you tend to trade on your mobile, we heartily recommend downloading the relevant app to your device. This distils the main website into an easy-to-use app that still features all of the main elements without diminishing on quality or presentation.
Customer support
As well as the usual email support services that you would expect from a high-volume online platform, Smarkets customer support offers other ways to get in touch, including 24/7 live chat.
You can also speak to a representative in person between the hours of 09:00 and 00:00 GMT by calling them by phone. The company's Twitter response rate is also very fast.
The support tab provided in the website and app header also offers access to many FAQs and other documents, with plenty of guides that can take you step-by-step through different processes to help you get started and solve most problems and queries.
The fact that there are a number of different ways to get in touch and receive a fast response stands in marked contrast to many of the company's competitors, which can sometimes be hard to reach.
Payment methods
Depositing and withdrawing funds are straightforward actions, with Smarkets offering a number of different methods, none of which incur transaction charges. As well as the usual Visa debit, Solo/Maestro, Visa credit, Mastercard/Eurocard and bank transfer options, other solutions such as Neteller and Skrill are available.
The e-wallet options offer extra flexibility and carry an appeal with some users. PayPal is also available on Smarkets.
With a minimum deposit of £10 and no fees, there is a low bar of entry for anyone wishing to try out the services for the first time. Smarkets has a highly transparent approach to payment conditions and no transaction fees add to the 'user-friendly' tone.
Best offers
There is a comprehensive user guide and overview of sports trading available at Smarkets simply by clicking the question mark button at the top of the homepage.
You can learn more about back and lay betting and how to read the charts, and you can read analysis on a number of the most common sports betting strategies.
There's also a handy trading calculator there, which not only shows how much to stake to ensure a green trade but also offers functions for hedging, arbitrage and much more besides.
Regulation and deposit protection
Smarkets holds gambling licences in both the UK and Malta under the UKGC and the MGA. Holding a UKGC licence requires ring-fencing player funds from operating funds to avoid problems should the company become insolvent.
Meeting the most stringent security requirements, the company has a large-volume trading history, having processed more than £5bn worth of bets.
A consortium of high-profile and well-known European investors provide backing for the company, and these include Deutsche Telekom and chairman of Last.fm, Stefan Glaenzer. The Wall Street Journal has listed Smarkets as one of the 10 European start-ups to watch, and in April 2017, the Financial Times reported that it was the 25th fastest-growing company in Europe.
The use of Transport Layer Security (TLS) and Secure Sockets Layer (SSL) to protect all transactions also means that Smarkets is one of the most secure platforms operating in the sector. 
Awards
Smarkets has been nominated for and won plenty of awards. Notably, it was nominated for Amazon's Growing Business of the Year Award in 2017, which is high praise indeed.
However, until the main betting industry awards add a category for exchanges, we won't know how the sector views Smarkets when compared to Betfair, Matchbook and the rest.
Conclusion
The peer-to-peer betting exchange model has grown in popularity in recent years, and Smarkets has been well-positioned to make the most of this trend by keeping a clear eye on the products and services it offers. Staying away from casino or slot games options to focus on sports-related markets means that a specific target market has been identified, though the other areas such as politics, current affairs and television, which can be traded, means that the company differs from some of its closest rivals significantly.
Smarkets' strength lies in the ease of use it offers and the simplicity of its revenue model, which is transparently based on the 2% commission it takes on winning markets. Not only is this one of the best rates on offer in the sector, but it also appeals to those who are wary of extra fees and hidden charges.
The attention to detail offered by the mobile app and the multiple avenues of connections available to reach customer services takes things a stage further, making Smarkets an excellent choice for novice betting exchange users. The £10 minimum deposit will suit those who are looking to take small steps in order to learn the ropes.
Although Smarkets is definitely a newcomer when compared to more established rivals such as Betfair, there is no doubt that over the last decade, it has been a driving force in the sector.
The basic aim that lies at the heart of Smarkets — namely that of adapting a financial trading platform ethos to the needs of betting industry clients — has so far paid off handsomely for the company, both for those who created and backed the venture and for the many users who choose it as their betting exchange of choice.