Sporting Index has been running since 1992. It has been part of the spread betting industry for almost 30 years, which makes it one of the oldest companies on the market. It claims to have the largest market share of any spread betting company on the market. With its claimed 70% market share, it is undoubtedly the largest spread betting company out there.
Its website is also one of the older sites on the market. It was set up in 2001 and was the very first spread betting website to be available in the UK. Sporting Index is regulated by the Financial Conduct Authority (FCA), which means that any issues can be pointed in its direction and Sporting Index will have to comply with its judgement.
Sporting Index is the largest spread betting company in the UK when it comes to sports. It also offers an online casino service, which was launched in 2016. It has one of the oldest spread betting mobile apps on the market, as it was released in 2012.
But is it the best spread betting firm around? In this Sporting Index review, we aim to find out.
Sporting Index Review Navigation
#

Sporting Index spread betting review
| | |
| --- | --- |
| Min Deposit | App Support |
| £10 | Mid |
Sporting Index offers spread betting as its main choice for players. This is what Sporting Index founded its business on, and it is what it tends to focus its attention on. However, it does also offer an online casino service that gives players a decent choice of traditional casino table games.
As spread betting is its main focus, this is what it gives the most attention to. This is why its spread betting markets are so comprehensive. While Sporting Index doesn't tend to offer as many sports as some other sites, it does focus on the most popular sports. It offers a good range of markets. This makes Sporting Index very useful for customers who are not interested in niche sports, which is a large portion of the market.
Sporting Index offers spread betting in the standard way that it works throughout the market. This means that it is possible that players will lose more than their initial stake when placing a wager. This is because spread betting involves betting on the spread and not just specific results. While the risk of losing more than your stake is present, it is balanced out by the potential to win significantly more than you could on a normal bet. For example, if you wagered a stake of £1 for there to be under 180 points scored in total during a basketball game, and the game finished 82–80, then this would mean that you were 18 points underneath the spread and you would win 18 times your stake, which would be £18.
However, if you wagered your £1 on the score to be over 200, then you would be 38 points under the spread, which would mean that you lose 38 times your stake, which would be £38. This is how you have the potential to win much bigger than with normal betting but also to lose much more.
Sporting Index offers players a good choice of sports. While it does not cover the niche sports such as water polo or volleyball, it does cover the major sports such as football, boxing, golf and the NFL, NBA and NHL. This gives the majority of players a good range of sports to choose from. What really helps to set Sporting Index apart from the rest of the pack is the range of markets for each sport that it offers. Sporting Index makes it easy for players to pick the exact type of bet they want to place. With a wide range of markets on offer, it means that players can wager based on almost any stat they like.
There are also fixed-odds wagers available, but these are not as prevalent as the spread bets.
What did our traders think after reviewing the key criteria?
Fees
There are no fees when trading with Sporting Index. This isn't a betting exchange or a trading platform and acts more as a bookmaker in how it accepts spread bets.
Account types
There are three main account types at Sporting Index: Stop Level Account, Non-Stop Level Account and Easy Account.
Both the Stop Level Account and the Non-Stop Level Account have deposit and trading facilities, while the Easy Account is deposit only.
These accounts are designed to let individuals set their liability levels via stop losses, so the type of trader you are will dictate which of the accounts you opt for.
Platforms
Sporting Index makes it simple for mobile players to use the site. It gives customers three distinct ways to use its services, though two of them are based around its app and are differentiated by the system that the customer is using, rather than offering a different method for accessing the site.
One thing we must mention in this Sporting Index review is their mobile-friendly approach. The mobile browser site might not be an app in the strictest sense of the word, but it offers a method for players to use the site while on the go. It is very smooth and has clearly been optimised for mobile devices. While it does not offer quite as much as the desktop site, in terms of what is available on its main page, the menu opens up to make it easy to find everything that the desktop site has to offer. It can be a little more difficult to read than the desktop site, but on the whole, it is a very fast and responsive experience.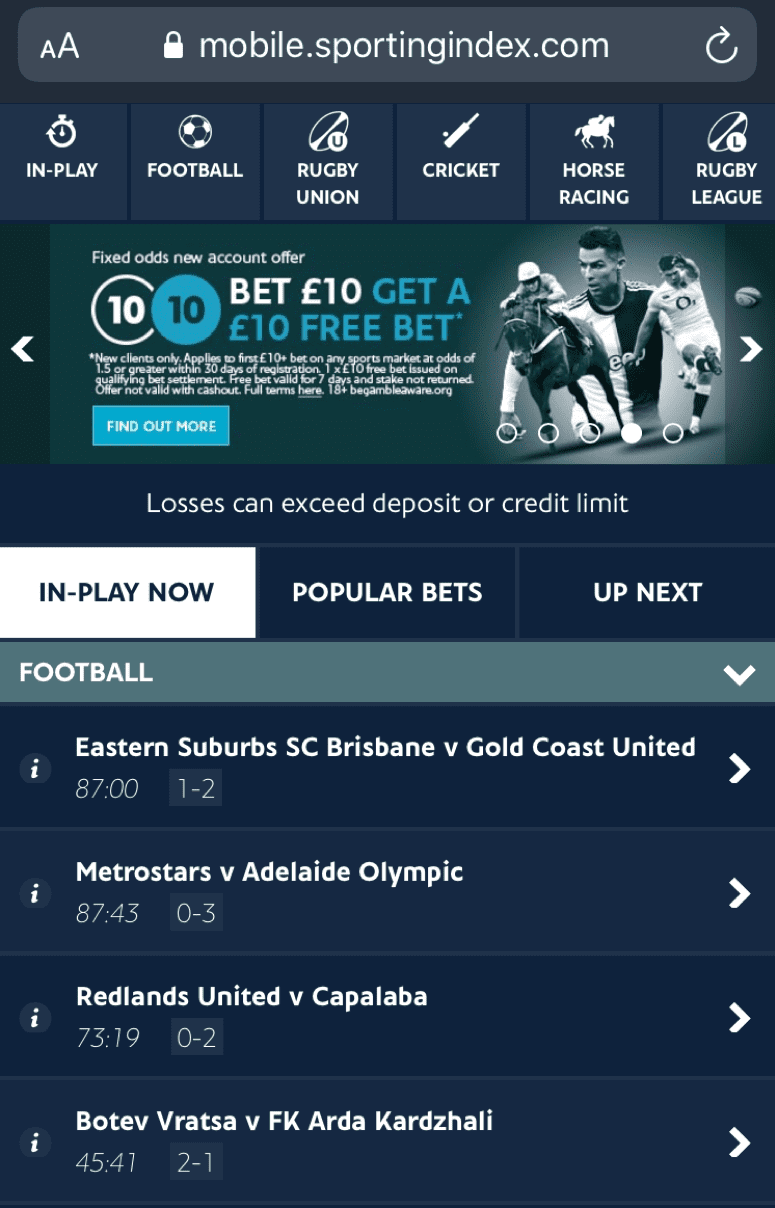 The Android app is a very fast and responsive version of the Sporting Index site. While it offers a similar experience to the mobile browser version of the site, it does have some added bonuses that help it to stand out as a better experience. Firstly, the graphical user interface (GUI) has been refined to make it easier to read on smaller screens. This is an excellent development as the mobile browser sometimes makes it hard to read what is on-screen. Secondly, it has a fingerprint login feature, which makes it much faster to log into your account when using it on your mobile. This is something that the mobile browser does not have, so it is a very nice touch. There is also a quick bet feature, which makes it incredibly fast to place a bet with the app.
The iOS app has very similar functionality to the Android version. Where it stands out from its Google brother is that it offers a face ID login in addition to fingerprint login. This is a nice extra touch that makes it slightly easier to use than the Android version. In terms of how easy it is to navigate and how fast it runs, there are no discernible differences between the iOS and Android versions of the app.
Usability
Finding your way around the Sporting Index website is very simple. The links and the means of navigation are put together extremely well. There is nothing on the site that is hidden away from users, which ensures that there are no issues when it comes to finding what you want in a hurry. This makes it a fantastic site to use, especially for in-play betting, which can often require fast reflexes and a site that responds at a similar speed.
What is very good about Sporting Index is the amount of educational materials that are on offer. New customers can quickly and easily get to grips with how spread betting works. This includes more than just a simple article about spread betting — it also has a full training centre where customers can learn about the many different aspects of the practice. This shows that Sporting Index is attempting to give its customers the best possible chance to be successful when using its service.
One area where Sporting Index does fall behind slightly is the lack of streaming on offer. It means that customers who like to watch events, especially in relation to what they want to place a wager on, are not able to do so at Sporting Index. This does make the service slightly less appealing, but in terms of stats and figures, watching the actual event live is not vital — especially as some people believe that watching the game live can convince people to make wagers that are ill thought out. While it might take away some of the fun by not being able to watch the events live, it does reduce the frequency of spur-of-the-moment wagers.
If you want to sign up to Sporting Index, it is very easy to do so. The sign-up button is well marked and the process is simple. You will have to provide a range of personal details, but this is no more than any other spread betting site will ask of you.
Customer support
There are a huge number of ways to get in touch with Sporting Index. What is also good is that the site makes it very simple to find the contacts list. There is a link available at the top of the page that will instantly open up every option that can be used to get in touch with Sporting Index. This makes it very easy to achieve a resolution to an issue because there is no need to worry about finding contact information.
The first place to look before trying to get in touch with anyone should be the General FAQs section. This features a number of questions that other people have already asked. It is worth looking in here to see if there is a solution to your issue before making contact with Sporting Index.
For more traditional customers, or for issues that need to be put in writing, Sporting Index offers its postal address as one of the methods to get in touch. This is perfect for people who are not completely comfortable using modern technology. Queries that need to be put in writing can also be sent via the email address, which is also available on the Sporting Index site.
There is a freephone number that is available for UK residents. Sporting Index also offers a phone number for overseas clients, which works out cheaper than using the UK freephone number. Sporting Index also provides the option for customers to email their phone number so that Sporting Index can get back in touch if the cost of the phone call is too much for them to cover. Sporting Index has a live chat feature for customers who want to get an instant resolution to an issue but feel that a phone call is not right for them. On the whole, this is an excellent range of customer service options, and customers have access to pretty much everything that can be expected.
Payment methods
Sporting Index offers customers a good range of payment options. These include the traditional methods such as bank cards, credit cards, wire transfers and cheques. Sporting Index also supplements this with the ability to use Skrill and Neteller as e-wallet options. Indeed, it offers a wide variety of choices when it comes to making a deposit or withdrawal. This is more varied than some other spread betting brokers, which do not offer the choice of using e-wallets, putting Sporting Index slightly ahead of the curve.
Best offers
Sporting Index backs this up with an excellent educational centre on the site. Customers can learn all about spread betting and increase their knowledge of more successful tactics. Overall, it makes Sporting Index one of the better sites for beginners. While the training centre is mainly aimed at new players, it does also offer value for more experienced players who might want to learn about a new aspect of spread betting. This makes it a very valuable site.
Regulation and deposit protection
Sporting Index is regulated in two main ways. The first is for its spread betting operations. Here, it is regulated by the Financial Conduct Authority (FCA). Not only does the FCA regulate the operations of Sporting Index, but it also makes sure that it can act as a mediator for any issues that customers might have. This ensures that in this Sporting Index review we can conclude that they are a trusted broker.
There is also a licence in place from the UK Gambling Commission (UKGC). This is in relation to the fixed-odds betting that Sporting Index offers. This makes sure that all of the gambling legislation that is in place in the UK is adhered to by Sporting Index. The UKGC also makes sure that Sporting Index is compliant with the current social responsibility regulations that are in place. Overall, the licensing is very thorough for this company.
The two regulators that are in place for Sporting Index are seen as the top regulators in the industry, backing up the claim of Sporting Index being a trustworthy company.
Awards
Sporting Index has a unique niche as a spread betting operator, and that position in the sector, unfortunately, means that there aren't many awards categories for it to be nominated in.