AvaTrade is a global broker with offices in more than ten countries, fully regulated in the most important markets around the world, and a market maker that offers both institutional and retail accounts.
Founded in 2006, AvaTrade broker is the result of the work of financial professionals and web-commerce gurus that aim to provide investors with a full technological experience with top security levels, integrity, and fairness.
Is AvaTrade a good broker? Read this review and find out if AvaTrade fulfills your investing necessities and check it out who is the best CFD broker today.
Highlights
Client's funds segregated in different accounts for more security.
Offer the option to choose between variable or fixed spreads.
Regulated in Ireland, Australia, South Africa, and Japan among others.
No US customers.
2.
of 21 CFD Broker
AvaTrade

Go to Broker
Risk warning: Capital can be lost. Terms and conditions apply.
Headquarters and regulation
Ireland (CBI)
Fees and Spread
Spread only
Mini contracts tradable
Yes
Trading platform
MT4, Broker-owned Software
Demo account
Yes, available for 30 days
Services & additional benefits
Live
Hotline
E-mail
E-Book
Videos
Courses/Seminars
1. Trading Offer
1) CFD Trading Offer: AvaTrade CFD options are fully technological implemented
The AvaTrade review shows they offer a large variety of CFD instruments including commodities, indices, ETFs, stocks, bonds, and cryptocurrencies. AvaTrade provides forex in both spot and CFD possibilities.
AvaTrade Forex has over 50 forex pairs, including exotics and majors. The company also provides services for 20 indices, 17 commodities, and more than 60 stocks with competitive spreads starting at 0.8 pips and a leverage of up to 1:30.
AvaTrade broker has CFD instruments for cryptocurrencies like Bitcoin and Ethereum, but also soft commodities such as Cotton, Cocoa or wheat; they have indices like China A50, AEX, Nikkei 225 or the Dollar index; and assets from US Treasury, Euro-Bund or Japan government bonds.
Back to CFDs, Avatrade supplies services for individuals and corporate institutions. For individuals, they offer educational assistance, demo accounts and features for beginners, and experts.
One crucial point is that AvaTrade has manual and automated trading opportunities, both including CFD contract rollover that allows you to have almost perennial CFDs in your account. It is an important thing to consider when an investor is making a CFD Broker comparison.
Finally, the broker offers bonuses of up to $400 for every referral the client sends to the company. And a $400 bonus for every $1,000 deposited on new accounts up to $16,000.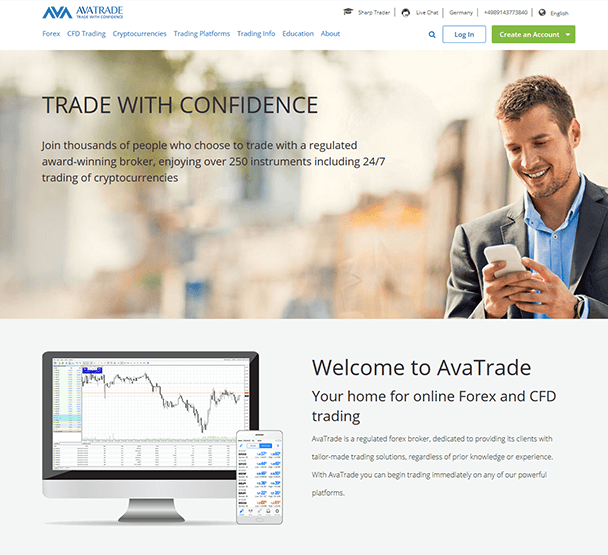 Up to 1:30 leverage.
CFD contract rollover.
CFD on cryptocurrencies and exotics assets.
Go to Broker
Risk warning: Capital can be lost. Terms and conditions apply.
2. Costs
2) CFD Trading Costs: Pay only the spread of the positions
AvaTrade has one kind of account and they only charges customers with the spread of the opened position.
Floating spreads mean that the range is subject to the liquidity and market conditions. The more liquidity, the less spread you will pay.
You should pay attention if you are opening a position on Sunday night or Monday morning. You are going to pay way more on Sunday because the liquidity will be limited at that moment. However, the market will be on full steam on Monday and the volume of money will make you pay less spread.
Yes
Mini contracts
Tradable
Most of the CFD instruments trade on floating spreads, however, gold, silver, and crude oil are the exception and those three instruments will always be traded on fixed spreads.
Spreads come as low as 0.8 pips to a maximum noted in this AvaTrade trading platform review of 2.7 pips. The leverage used is up to 1:20 on CFDs and up to 1:30 on forex.
Despite the fact that the bid-ask spread compensates AvaTrade, they does not charge commissions on trades. However, if you don't trade for three consecutive months, you will be charged with $25. If the period of inactivity is more than twelve months, the administration fee will be of $100.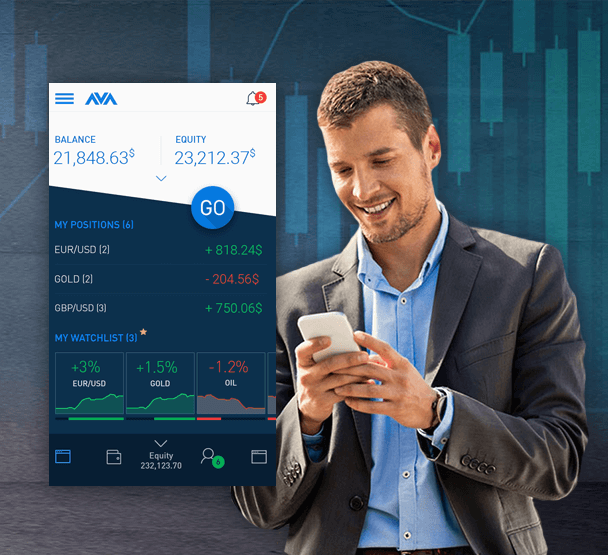 Option to choose between floating or fixed pips.
1:30 leverage on CFDs
Inactivity fees after three consecutive months with no trading.
Go to Broker
Risk warning: Capital can be lost. Terms and conditions apply.
3. Account
3) Accounts: AvaTrade offers just one kind of account
Simplicity is the latest sophistication, Steve Jobs used to say, so AvaTrade does the same. The broker offers only one kind of account for all their customers, but they do provide different options in their accounts.
The most important feature is the ability to choose between fixed or variable spreads, and the ability to trade everything on the same platform.
The company offers manual trading in the MT4 platform and their own software AvaTradeGo, but also automated trading with DupliTrade accounts. AvaTrade uses ZuluTrade and MQL5 signals services for their auto trade features.
One interesting option for account managers is the AvaTrade MAM account. With the Multi-Account Manager, money managers can trade and execute block traders across an unlimited number of clients sub-accounts. Everything using the company's MT4 terminal.
For MAM accounts, the broker offers fixed, floating & raw spreads, client allocations starting at 0.01 lots and it is compatible with EAs and automated strategies.
If you are a retail investor, you may want to use the regular AvaTrade account, but if you have two or more accounts, you will be more suitable to have a MAM account for all the options it has.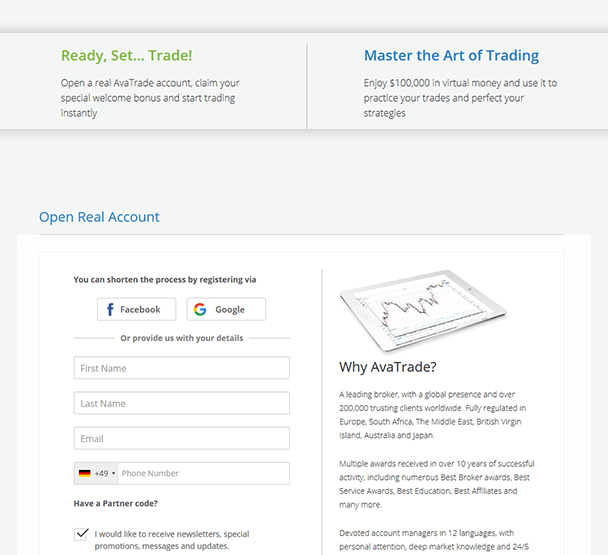 Trade different assets in the same platform.
Trade unlimited sub-accounts at the same platform.
Auto trade allowed with DupliTrade features including ZuluTrade and MQL5
Go to Broker
Risk warning: Capital can be lost. Terms and conditions apply.
4. Platform
4) CFD Trading Platforms & Mobile Trading: MT4, AvaOptions, and Mobile
AvaTrade provides users with two desktop possibilities, the MT4 platform, and the AvaOption software. Also, they have a mobile version called AvaTradeGo.
The MT4 platform has unique features like multi-market trading, EAs, and multiple sub-accounts for managers. On the other hand, AvaOptions is pretty similar to MT4, but it has specific features like profit calculator, breakpoint, and pips graphics.
AvaTrade provides traders with Guardian Angel, a trading support system that delivers instant feedback on the investor's actions. Regarding automated trading, the broker offers DupliTrade, where investors can copy, or code automated trading.
The flagship platform for the company is the new AvaTradeGo mobile app. It has everything the desktop version has, but on the palm of trader's hands. It also has contact support and chat assistant in real time for more than twelve languages.
The app allows traders to trade different markets like stocks, cryptocurrencies, Forex, and commodities. It also shows exclusive market trends on every specific asset, and internal information on what the AvaTrade community is trading.
All platforms are free of charge and can be used in any operating system.
This AvaTrade trading platform review identified several courses from how to trade to how to use platforms. There are many courses adapted for each trader, from beginners to experienced.
AvaTradeGo offers exclusive market trends
Pips assistant boxes to check breakpoint, profit and stop-lost calculators
The Guardian Angel feature provides with trading assistance services.
Go to Broker
Risk warning: Capital can be lost. Terms and conditions apply.
5. Usability
5) Usability of the Website: AvaTrade's website is very intuitive and easy to use
The AvaTrade review shows that their website is straightforward to use and intuitive with all the essential areas highlighted and identified. However, there are some lags of information regarding the CFD application to Forex pairs.
If the trader reads carefully, it can go beyond the first layer of information quickly as the website has a good structure. The investor can find fees and features just at the second click and he is is always just one click to open an account and start trading.
On the other hand, Avatrade has a full of information FAQ section where traders can type their question, and the website will find the topics that fix the best with his request.
Is AvaTrade legit? The broker will find the compliance and regulation information in all the pages across the website, with a specific section dedicated to informing all the details of the company.
They offer live chat, but the usability of the conversation box is not 100% good. It is bit choppy. The website has 24 different versions adapted to different countries with over fourteen languages.
Avatrade shows a full contact page with contact box, information about trading hours and holiday dates. It also provides phone numbers for more than thirty countries.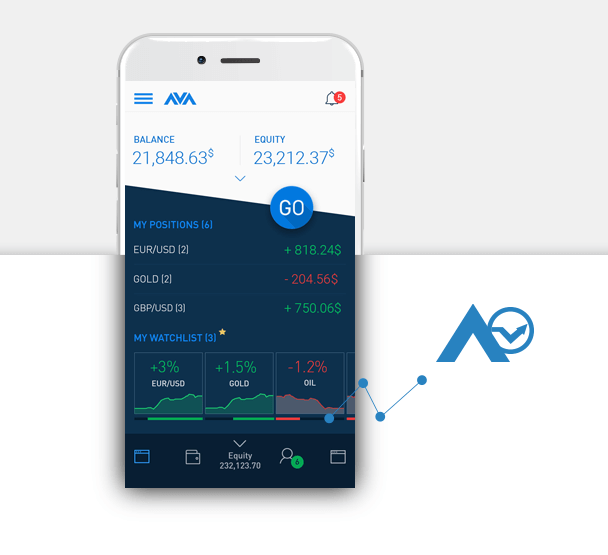 More than fourteen languages.
Phone numbers for direct contact with more than thirty countries.
Full of information FAQ page.
Go to Broker
Risk warning: Capital can be lost. Terms and conditions apply.
6. Support
6) Customer Support: 24/5 live chat and direct contact with country offices
AvaTrade provides their customers with a range of options to contact them and to solve any issue. From a Live chat to a direct line to country offices and an FAQ page.
The broker has a contact page that includes a form where you can write down your request. Usually, you should get a confirmation mail but sometimes the website gets choppy. No worries, your message is on their way, and they will answer you the next business day.
The website also provides information about how to contact directly to offices in more than 35 countries around the world. You should call in their specific business hours.
An FAQ page is also an excellent way to solve questions. The broker has a "frequently asked questions" section with more than 150 different topics.
Finally, Avatrade provides a live chat that works 24/5, no weekends. As a regular customer service, they don't know everything about the company, but they do their best to point you in the right direction. The chat is a bit choppy and you will have to open it several times to maintain the conversation.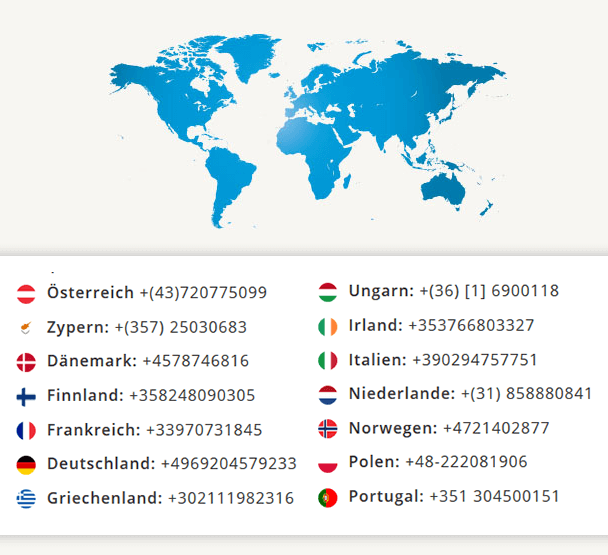 Live chat is a bit unstable.
Direct line to over 35 offices around the world.
A contact form that directs your inquire to the right department.
Go to Broker
Risk warning: Capital can be lost. Terms and conditions apply.
7. Payment
7) Payment Methods: AvaTrade allows banking and e-payments transfers
The review of AvaTrade shows that the broker allows traders to deposit money across the tradition bank's transfers, credit card deposits and also payments through PayPal, Neteller, and Kirill.
Talking about wire transfers, the minimum transferable is 500 dollar, euro, pound or Australian dollar. No matter the currency on these majors, the amount is the same: 500.
On credit cards, the minimum is 100 dollar, euro, pound or Australian dollar. The deposit will be credited instantly. However, if it is your first deposit, it would take up to 24 hours to be ready in your account.
AvaTrade offers instantly e-payments such as Skrill, Webmoney. Neteller and PayPal among others to all clients except the ones from the European Union and Australia. Canadian customers can't use PayPal for deposits.
Generally, the minimum initial deposit required is 250 based currency. However, AvaTrade recommends having a balance of at least 1,000-2,000 base currency to enjoy the full range of products offered for the company.
Regarding withdraw, AvaTrade always return funds to the same source with the trader used to deposit. The process may take up to ten business days before you get your money.
No E-payments for European Union and Australian customers.
Not clear about some minimum deposits.
Have a balance of at least 1,000-2,000 base currency to enjoy all features offered.
Go to Broker
Risk warning: Capital can be lost. Terms and conditions apply.
8. Offers
8) Additional offers: Standard features plus bonus and promos
Avatrade offers demo accounts to traders that want to check markets before going live. Usually, beginners use demo accounts for learning purposes, but experienced traders take it as a way to test strategies, Experts Advisors, multi-charts features, and to cross information.
The demo account provides real prices and also all the features supported in real accounts. The only you need to open a demo account is an email.
Other features that the review of AvaTrade shows are the economic calendar, powered by TradingView.com, Earnings releases calendar, Trading Forex calculator and fundamental and technical analysis.
AvaTrade provides its users with news and analysis as well as video tutorials. Regarding education, the broker has Forex eBook, CFD materials, and trading courses for different assets and also specifics for CFD.
Avatrade has social media accounts such as Youtube, Facebook and Twitter. Its Facebook page has 77,000 followers, its Twitter account 9,300, and its Youtube channel has 1,500 subscribers.
What is currently exciting these days with AvaTrade is their bonuses to clients. If you are opening a new account, you can get $400 for each 1,000 deposited up to 16,000 dollars.
Also, you will get $400 for each friend that you refer to the company and open an account.
Up to $16,000 for bonuses after deposits.
$400 for each approved referral.
Educational stuff focused on CFDs.
Go to Broker
Risk warning: Capital can be lost. Terms and conditions apply.
9. Regulation
9) Regulation and Protection: Regulated internationally and have segmented deposits
Is AvaTrade Legit? The broker is a multinational company based in Dublin, Ireland, where it gets the Central Bank of Ireland supervision.
Founded in 2006, AvaTrade has regional offices in Paris, Milan, Tokyo and Sydney, which is good checking a Broker comparison.
Ava Capital Markets in Australia is supervised by the Australian Securities & Investments Commission ASIC; In South Africa, Ava is approved by the FSB; Ava Trade Japan operates under the regulation of the FSA and the FFAJ.
In Europe, AvaTrade is a licensed firm compliant with the Markets in Financial Instruments Directive (MiFID). Long story short, Ava is fully regulated in Europe, Australia, Japan, British Virgin Islands and South Africa.
Regarding the safety of funds, Ava protection system includes 256-bit SSL encryption on the website, True-Site seal, and it is a WebTrust compliant according to the American Institute of Certified Public Accountants.
However, what matters the most is that all client's money is segregated from AvaTrade business funds and in different accounts. So the company manages the risk of a single hack.
AvaTrade requires ID, passport, and documents with a physical address: It prevents business from money laundering and avoids children issues with age checking. To keep accounts in order, the broker only withdraws money to the same source.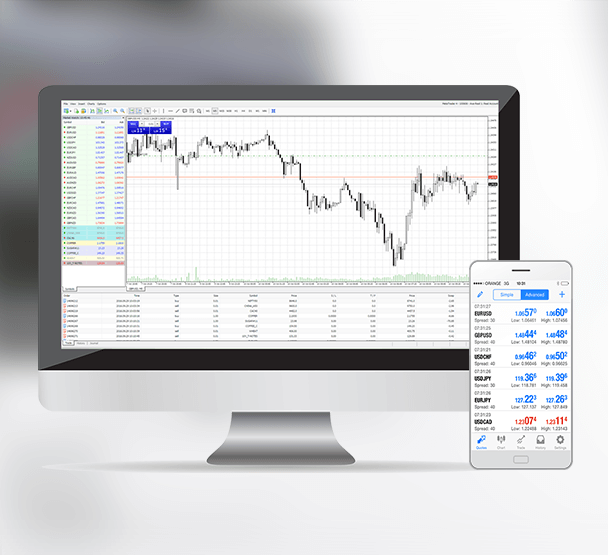 Clients' funds are segregated in different accounts.
Base is Europe and under the scrutiny of the MiFID.
Steps to avoid money laundering.
Go to Broker
Risk warning: Capital can be lost. Terms and conditions apply.
10. Awards
10) Awards: High qualify services valued by organizations
AvaTrade is a brand sponsor of the British Manchester City Football Club. Both organizations joined a partnership earlier this year to make AvaTrade as the official online trading partner of the club.
Within this press presence, the AvaTrade review found that the broker has been working on a good relationship with the media, and the Forex and Cryptocurrencies industries have granted the broker with several prizes.
DailyForex.com awarded AvaTrade as the Most Reliable Broker three times, in 2009, 2011 and 2015. But in total, the broker has won 22 awards since 2009.
The most important regarding safety and reliability for traders and investors are the mentioned by DailyForex.com, and the Best Alert System granted by the money Summit in 2009.
Regarding quality, AvaTrade won The Excellence Award by IBTimes in 2010, 2014 and 2016; also the Best Forex Execution house for the Middle East in 2010, 2014, and 2016.
FXEmpire awarded AvaTrade as Best affiliation program in 2010, 2014 and 2016. As well as in 2012 from Forex Magnates.
AvaTrade won the Bitcoin award as the Bitcoin CFD Trading provider of the year in 2012 and 2015.
Early in 2018, AvaTrade won the Best Trading Experience prize from FXEmpire as "One of the pioneering Forex and CFD brokers in the trading arena."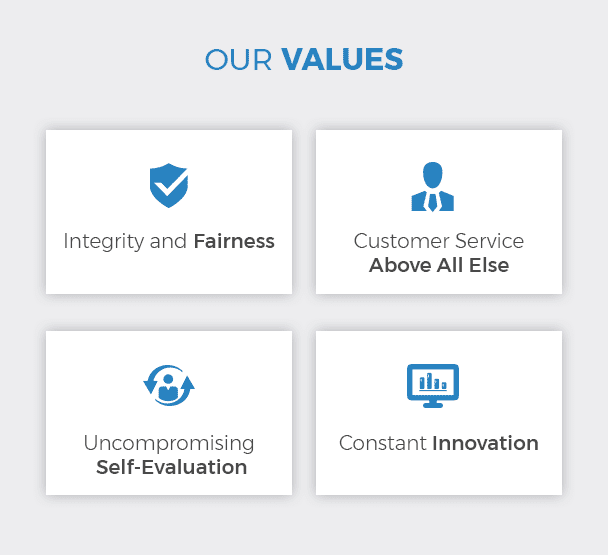 AvaTrade have won prizes steadily since 2009.
A partnership with Manchester City Football Club.
The broker has a good name in the industry.
Go to Broker
Risk warning: Capital can be lost. Terms and conditions apply.
Conclusion: Is AvaTrade legit? Can it provide you with peace of mind?
According to the AvaTrade review, the broker seems to be a reliable broker that provides users with clear and easy-to-use services but all the instruments that investors should need. Don't expect an ultra-modern platform but a lasting and open-source software to develop your ideas.
AvaTrade seems to be a solid player in the Industry. The broker is a market maker so you are going to deal directly with the institution. CFD products offer automatic rollovers and have CFD for different instruments with a low cost.
The access to the broker is easy, technologically speaking is like a plug-and-go, but you should pay attention to your necessities and wondering if this broker gives you the peace of mind you require. In any case, you may want to check our CFD Broker comparison.
Finally, the most significant con with AvaTrade is that they don't allow traders to change the base money of their account. If you want to change it, you should create another account.
Also, pay attention to the bonuses, you can earn a lot of money if you know how to play it.
AvaTrade is a market maker
Fully regulated in the most significant regions in the world.
Clients funds segregated in different accounts
The option to choose variable or fixed spreads
Regulated in many countries
They don't allow people to change money base account
Live Chat not 24/5
No clients from US
Test result
Broker

Go to Broker
Risk warning: Capital can be lost. Terms and conditions apply.