City Index is a leading online forex and CFD broker established in 1983 and owned by the Gains Capital Group, a company listed on the NYSE.  Based in London, City Index also has offices in several countries around the world. City Index CFD broker specializes in a wide range of markets such as cryptocurrencies, commodities, stocks, forex, and indices. With City Index, you can trade using a selection of different trading platforms free of charge. However, City Index CFD broker broker is well known in the industry for offering its traders a trading education academy that is second to none.
Highlights
Have offices all over the world
Offers CFDs , wide range of instruments
Selection of trading to choose from
Known for quality educational academy
6.
of 29 CFD Broker
City Index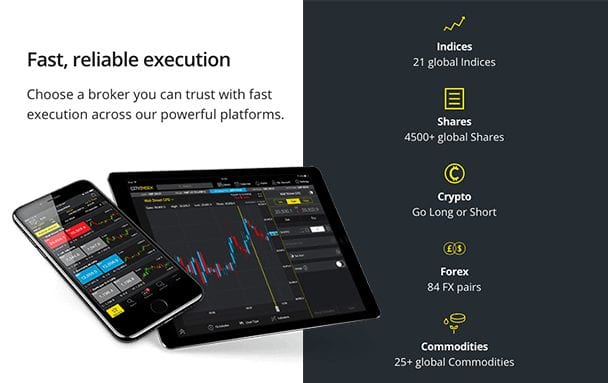 Go to Broker
Risk warning: Capital can be lost. Terms and conditions apply.
Headquarters and regulation
UK (FCA)
Fees and Spread
Spread only
Mini contracts tradable
Yes
Trading platform
MT4, Broker-owned Software
Demo account
Yes, 12 weeks
Services & additional benefits
Live
Hotline
E-mail
Economic Calendar
E-Book
Videos
Courses/Seminars
1. Trading Offer
1) CFD Trading Offer: City Index offer access to more than 12,000 global markets
From our City Index CFD Trading – Review 2018, we found that City Index CFD broker has one of the most extensive product ranges. Depending on where you opened your trading account, you have a choice of spread betting or trade in CFDs if you are in the UK. For traders from other parts of the world, City Index CFD trading allows you to trade in more than 12,000 financial instruments using CFDs. CFDs are a type of financial contracts that let you speculate on the price movements of an underlying asset without having to physically own it.
Choices of City Index CFD include 84 different types of currency pairs such as EUR/USD, USD/JPY and USD/CHF. With forex, you can either trade by spread betting or through CFDs. There is also a selection of more than 4500 international shares that you can trade with City Index CFD. Stocks covered include stocks from the UK stock market, the US stock market and the European stock market. Choices of market indices include 21 major indices such as the UK100 and DAX 30. Apart from the currency, stock and indices markets, City Index CFD trading also covers other markets such as commodities, Bitcoin, Interest rates, Bonds and options.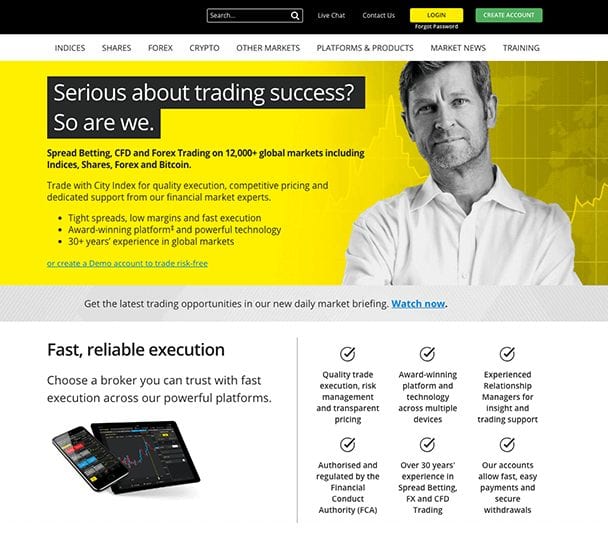 84 currency pairs
Stock market coverage include more than 4000 stocks
UK traders can trade in City Index CFD or spread bet
Go to Broker
Risk warning: Capital can be lost. Terms and conditions apply.
2. Costs
2) CFD Trading Costs: Low trading spreads and zero commission with City Index CFD trading
Our City Index CFD Trading – Review 2018 revealed that City Index offers very competitive trading cost for its traders. Trading costs are in terms of fixed or variable spreads and zero commission except on CFDs for shares. Fixed spreads on City Index does not vary with the market condition. They can be offered by the broker during a fixed trading period or throughout the entire trading day.  Variable spread on the other hand varies according to the volatility or liquidity in the market. During period of high volatility, the spreads are widen. It should be noted that for variable spreads quoted by City Index, the minimum spread is based on the market average spread for a specified period of time.
Yes
Mini contracts
Tradable
Nevertheless for forex and indices trading, the spreads are especially tight. Unlike most brokers which offer spot forex trading, currency trading on City Index is done through the CFDs market. For overnight positions, there is a financing charge. City Index charge an interest of 2.5% on top of the LIBOR rates.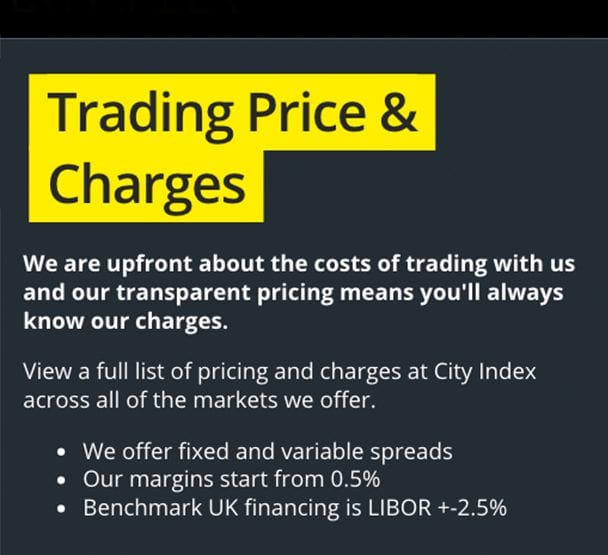 Fixed and Variable spread available
Share CFDs have commission charges
Spreads on forex and indices are lower than the market average
Go to Broker
Risk warning: Capital can be lost. Terms and conditions apply.
3. Account
3) Accounts: Open a spread betting, CFDs or MT4 FX trading account at City Index!
In terms of trading accounts, City Index offers its clients 3 main types of trading accounts. They include the spread betting account, CFD trading account and MT4 FX account. The spread betting accounts are geared towards traders based in the UK. The key advantage for trading with the spread betting account is the fact that all profits earned through the spread betting account are free of capital gains tax. Trades executed through the spread betting account are commission free and exempted from stamp duties. The minimum trade size is 50 pence per point.
For CFDs trading accounts, they are opened to all traders without any restrictions except to those who are from the list of restricted countries such as North Korea or Iran. The CFD account is best suited for hedging and the minimum trade size is 1 CFD. Trading cost is based on spreads except for share CFDs which is based on commission. For traders that wish to trade forex exclusively with the MT4 platform, City Index also provided the MT4 account. With the MT4 account, you will have access to City Index full range of currency pairs.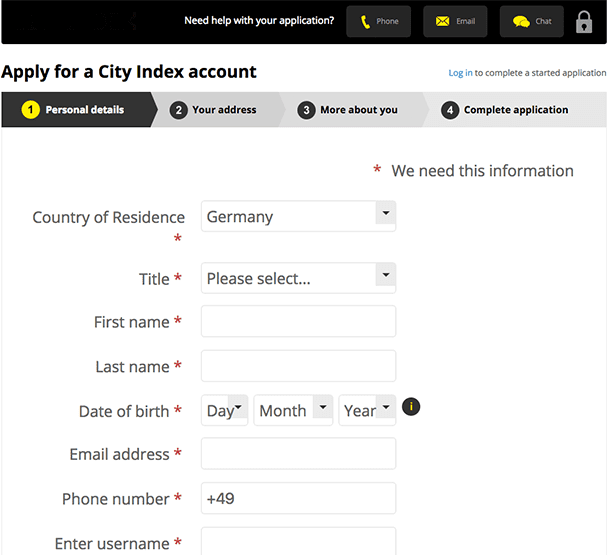 Choices of 3 types of trading accounts, spread betting, CFD and MT4 Fx account
Profits from spread betting are exempted from stamp duties and Capital Gains Tax
Spread betting accounts open to UK based traders only
Go to Broker
Risk warning: Capital can be lost. Terms and conditions apply.
4. Platform
4) CFD Trading Platforms & Mobile Trading: Choose from 4 main types of trading platforms from City Index.
The trading platforms at City Index can be categorized into 4 main types, the Advantage Web, the MetaTrader 4, the AT Pro and Mobile trading apps. For traders who prefer to trade straight off the web, they have the choice of the Advantage Web platform. Web based, the Advantage Web is accessible with any web browser and requires no software download or installation. It features advanced charts that uses HTML 5 and 80 over technical indicators. The platform interface is also fully customizable with access to an in-house fundamental and technical analysis portal.
For advanced traders, City Index has come up with the AT Pro. The platform is tailored specifically to those who want to conduct more powerful market analysis. The charting package comes with more than 100 different technical indicators and is also integrated with the City Index economic calendar. Apart from access to the in-house fundamental and technical portal, the AT Pro also support real time news feeds from Reuters. Of course those who prefer a more familiar platform can always opt for the MT4 platform.
To cater to traders who are always on the move, City Index has made the Advantage Web platform available as a mobile trading app for iOS and android devices.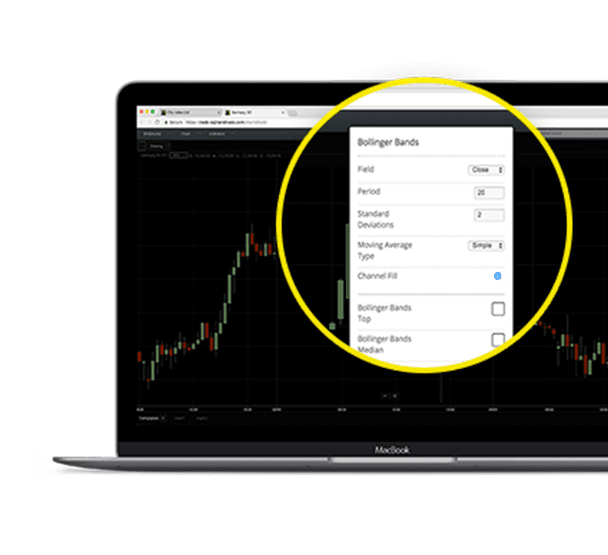 Multiple choices of trading platforms
Platforms comes with advanced charts and access to in-house market analysis portal
Mobile trading and MT4 trading platform are supported
Go to Broker
Risk warning: Capital can be lost. Terms and conditions apply.
5. Usability
5) Usability of the Website: All information readily at your fingertips on City Index website
In terms of the design of the City Index website, we noted that the layout of the website is well thought out. It features a clean interface without any cluttering of information. On the whole, we find the website extremely easy to navigate around due to its well thought out design. In addition, we also noted that the website is not computer resources heavy. It is quick and responsive.
Information about the various products offered by City Index is clearly and neatly displayed at the top of the website under individual heading tabs. Information on the website are categorized according to asset classes, trading platforms, market news and training. Under each of the main heading, you will find additional information under the drop down menu. At the top of the website, there is also a search functionality where you merely just type in the keyword of your search topic to view all relevant search results.
As you scroll down the website, you will find various key features of the City Index platform being highlighted and surmised. Each of the section being highlighted contain a link where you can click on for more information.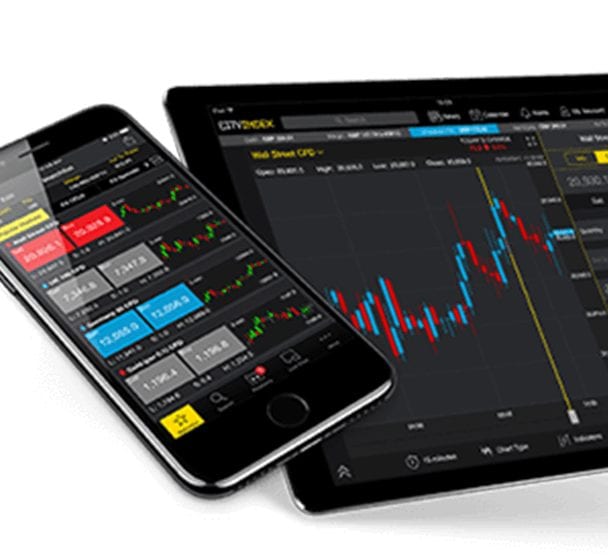 Clean cut navigation Interface
Responsive Website
User Friendly Website
Go to Broker
Risk warning: Capital can be lost. Terms and conditions apply.
6. Support
6) Customer Support: With customer support available 24/5, you can always reach out for help at City Index.
Through our broker comparison – CFD comparison, we noted that City Index offers 4 main channels of customer support. The support team can be contacted through email, live chat, telephone or by the requesting a call back through the web contact form posted on their website. According to City Index, the support team is available on a 24/5 basis. This mean you can reach out to them at any time during the trading week.
There is also a comprehensive help and support section which you can refer to for quick answers. The help section is divided in different categories such as account opening, demo accounts, account management, margin & leverage, funds & withdrawals, platform support, cost of trading, orders & positions and glossary. If you are a beginner trader and lack trading experiences, you need not worry as City Index had you covered.  The broker features a trading education resource section that is second to none. The key topics covered are designed to introduce you to online trading, familiarize you with trading strategies and enhancing your trading skills.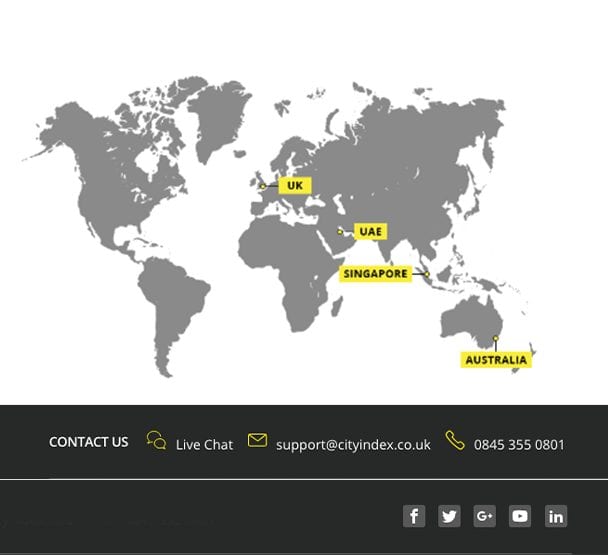 4 channels of communication
Comprehensive trading education and help & support sections provided
Support team is available 24 hours a day 5 days a week
Go to Broker
Risk warning: Capital can be lost. Terms and conditions apply.
7. Payment
7) Methods of Payment: How to fund or withdraw from your account at City Index
City Index offers 3 main ways to fund your trading account. They consist of bank transfer, Debit cards and Credit cards. All major card brands such as VISA, MasterCard, Electron and Maestro are supported by City Index.  Regardless of what methods are used for making a deposit, City Index does not charge any processing fee when you make a deposit. Nevertheless it should be noted that Citibank cards cannot be used to fund a spread betting account. In addition, City Index does not accept any cash deposits or deposits from a 3rd party. Such transfers are rejected and the funds will be returned to the source of origin.
For withdrawals, you can also use the same methods as specified for making a deposit. But first, you have to ensure that your account has been verified. This is due to the fact that City Index is required to comply with the KYC (Know Your Client) policy and Anti Money laundering legislations. The minimum amount which you can withdraw is £50 and maximum for a single transaction is £20,000. City Index also doesn't charge any fees for making a withdrawal except when the withdrawal is done through CHAPS (Clearing House Automated Payment System). Then a  £25 charge will apply for withdrawals below £5000.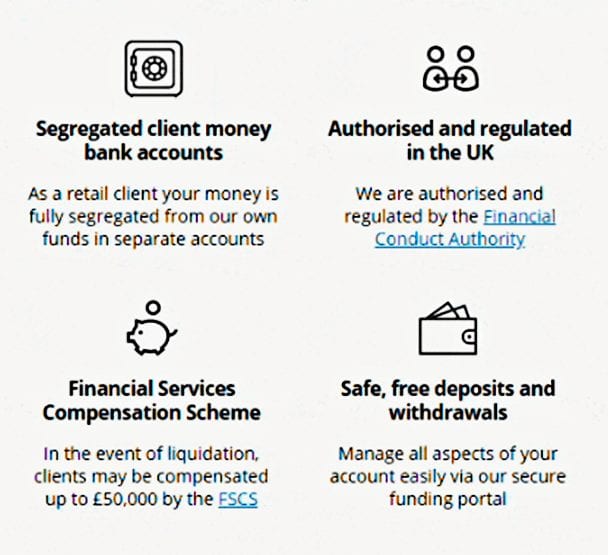 Minimum withdrawal amount of £50
No deposit or withdrawal fee except for CHAPS payment
Three methods of funding and withdrawals
Go to Broker
Risk warning: Capital can be lost. Terms and conditions apply.
8. Offers
8) Additional Offers: City Index free trading tools and offer of 90 days access to signals service
Apart from offering its clientele a wide range of financial instruments to trade with, City Index also offer numerous tools to help them enhance their trading abilities. For traders who lack time to do their own market research, they can subscribe to a trading signals service such as UK FX Daily Trading Signals and UK Equities. Each client at City Index is entitled to a 90 days trial period of FX Daily trading alerts provided by Faraday Research. For those who wish to take up the service after the 90 days trail period, they will be entitled to a 50% discount on the monthly subscription fee.
Other free trading tools that City Index has provided to its traders include a fully featured demo trading account. The demo account comes with 10,000 pounds virtual cash which you can use to try out the services offered by City Index. Another important tool which city Index has made available is the economic calendar, which showcases key economic events that are due soon.
Perhaps the most important of all the free tools provided by City Index, the Technical and fundamental analysis portal is the most impactful one. The portal scans the markets to identify chart patterns to find trading opportunities for traders hence saving you precious time.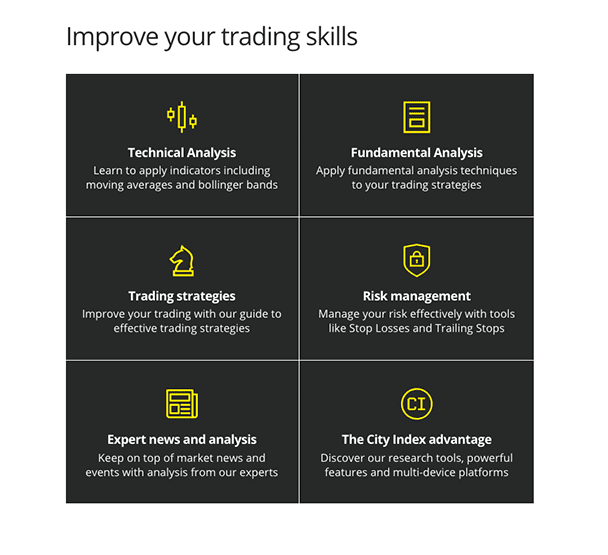 90 days trial to FX Daily alerts
Economic calendar and demo account provided
Sophisticated technical and fundamental analysis portal
Go to Broker
Risk warning: Capital can be lost. Terms and conditions apply.
9. Regulation
9) Regulation & Deposit Protection: Trade with City Index and have your funds protected legally
It is natural for anyone investing their money on the internet to be wary of any broker offering their services. However with City Index, such fears are unfounded as the broker is well established and backed by a parent company this is listed on the New York Stock Exchange.  In addition, traders dealing with City Index are protected by regulatory oversights. As a group, City Index operates in different jurisdictions around the world and hence regulated by different regulatory bodies. For the United Kingdom, City Index's operations are regulated by the Financial Conduct Authority (FCA). Under the FCA, City Index is required to maintain sufficient liquidity at all to meet its contractual obligations. The broker is also required to maintain segregated accounts for its clients' funds. All these regulatory requirements are all designed to protect the interest of traders.
Other jurisdictions which City Index's clients are protected by regulatory oversight include Dubai's operations under the UASE Central Bank, Singapore's office under the Monetary Authority of Singapore (MAS) and the Australian operation under the purview of the Australian Securities and Investments Commission (ASIC). For traders in the UK, their deposits at City Index UK are covered under the Financial Services Compensation Scheme (FSCS). Under this scheme, deposited funds are covered up to a maximum amount of 50,000 pounds.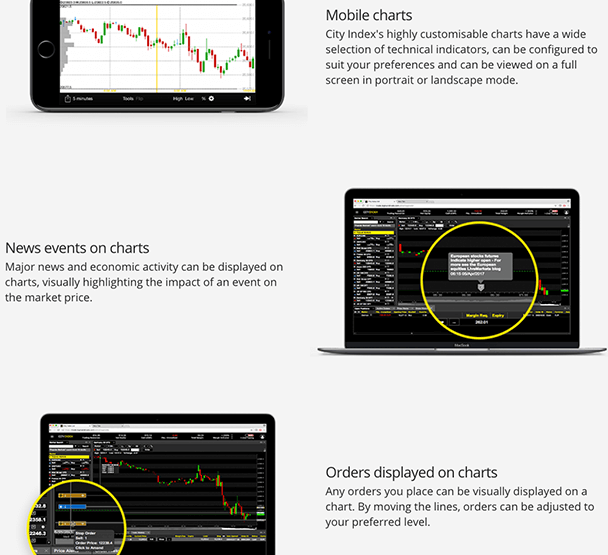 Regulated under multiple Jurisdictions
Strong Financial backing from Parent company
UK's traders deposits are covered under the FSCS
Go to Broker
Risk warning: Capital can be lost. Terms and conditions apply.
10. Awards
10) Awards: Trade with City Index Award winning platform and Mobile application
Since City Index has been acquired by Gains Capital, the broker has made tremendous strides in uplifting its reputation in the online trading industry. Since 2011, the brokerage firm has been winning awards and recognition from the industry. In 2010, it was recognized for having the Best Mobile Trading Platform by MoneyAM Online Finance Awards. In the same year, it also bagged the award from Shares Magazine Awards for having the Best Mobile Trading App. In 2011, it earned the recognition from MoneyAM for the best spread betting service of 2011. In 2017 at the UK Forex Awards, City Index also won the title of being the "Best MT4 broker". It was also voted at the Shares Awards 2017 for having the Best Spread Betting Platform by ADVFN & Best Spread Betting Provider. Finally at the Online Personal Wealth Awards 2018, City Index was Voted best CFD Provider, best Mobile application, and best Cryptocurrency Trading Platform. Additionally this broker regularly appears in the international press and is often quoted.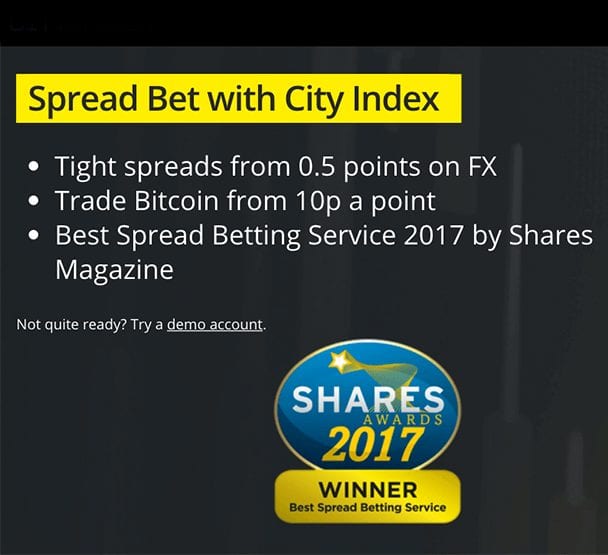 Best CFD, Mobile and Cryptocurrency Platform for 2018
Best Mobile Trading Platform 2010
Winner of Best Spread Betting Service 2011
Go to Broker
Risk warning: Capital can be lost. Terms and conditions apply.
Conclusion: City Index, a broker to recommend for beginner traders
From our City Index CFD Trading – Review 2018, we can conclude that the broker offers quality services and access to a wide range of markets. The broker has made it easy for anyone to open a trading account by not having any minimum deposit requirement. The trading platforms provided by City Index are also reliable and easy to use hence ensuring easy trade execution.
City Index also offers other additional benefits to traders that sign up with it. The comprehensive trading academy ensures that even novices will be able to start trading with a good foundation. For experienced traders, the free trading tools such as the fundamental and technical analysis portal help to cut down the time needed to research the markets. The only complaint which we might have with this broker is the fact that they don't offer raw spreads. Volume traders might find the spreads offered by the broker higher than the market average. But overall, there are more plus points about City Index than negative ones which push us to recommend this broker to those who are just starting to trade the online markets.
Regulated Broker
Multiple choices of trading platforms
24/5 Customer Support
Wide range of tradeable assets
Deposit Protection of up to £50,000
Spreads Higher than market Average
No ECN Trading
No Localized Telephone Support
Test result
Broker

Go to Broker
Risk warning: Capital can be lost. Terms and conditions apply.