The journey began with the name of easy-fore xback in 2001. Back then, the whole idea of trading centered around the forex trading. Easy-forex started setting up offices in major cities like Limassol, Warsaw, and Sydney. Their aim was to provide their clients unparalleled trading and an access to worldwide trading. Later on, they expanded their business and moved to more markets like metals, commodities, indices,and cryptocurrencies. They soon became a brand of trust as they provided legal protection to the brokers and emerged as the name of easyMarkets. Let's get started with the best easyMarkets CFD trading Review 2018.
Highlights
Winner of 36 international awards.
Deal Cancellation undo losing trade
Features the MT4 trading platform
Business background since 2001
17.
of 29 CFD Broker
easyMarkets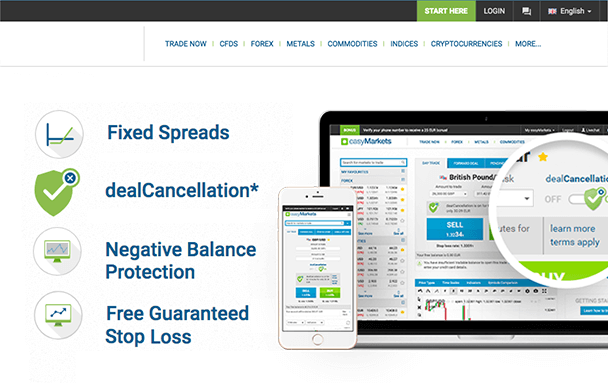 Go to Broker
Risk warning: Capital can be lost. Terms and conditions apply.
Headquarters and regulation
Cyprus (CySEC)
Fees and Spread
Spread only
Mini contracts tradable
Yes
Trading platform
MT4, Broker-owned Software
Services & additional benefits
Live
Hotline
E-mail
Economic Calendar
E-Book
Videos
Courses/Seminars
1. Trading Offer
1. CFD Trading Offer: 300+ Markets Await You!
On the starting of out easyMarkets CFD trading Review 2018, we shall discuss the CFD trading offers by the company. CFD or Contracts for Difference is gaining immense popularity over the time. The theme is similar to stock brokerage but unlike stocks, you do not have the ownership of any company or share. For example, if you want to get your hand of the Google's share, you have to pay at least $1000 for each stock. But let's consider you don't have that much of money. With CFD you could trade the stocks or other offerings at as low as $10-20.
Here is where easyMarkets CFD trading broker comes to the scene. When we do a CFD comparison, they are one of the best CFD brokers around. You can trade more than 200 assets with easyMarkets. In Forex, more than $5 trillion are traded daily. Trading is open 24 hours, 5 days a week. Moreover, easyMarkets CFD offer cryptocurrency trading also. The following currency pairs are very popular on their website,EUR/USD,GBP/USD, USD/JPY, BTC/USD, XRP/USD, ETH/USD
Other than currencies, metals like gold, silver or crude can be traded. Brokers have the option to work on commodities like crops and electricity. They have 14 indices as the CFD offering including US DOW, NSQ, NASDAQ, UK FDS, and EU DAX.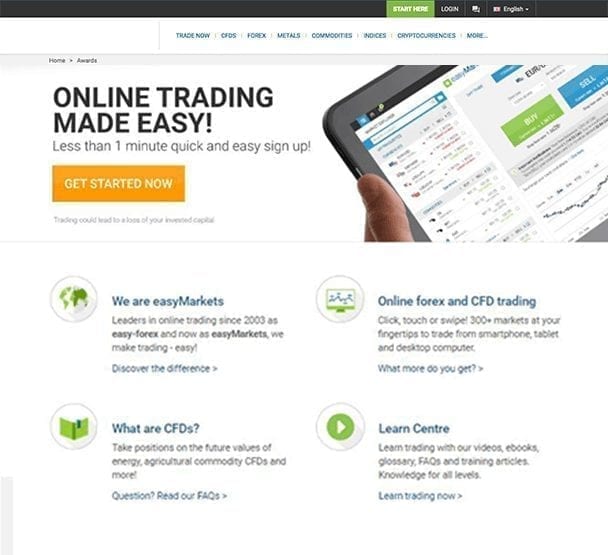 Allows forward deals and Pending Orders.
Risk management tools provided.
Trading and various personal supports are offered.
Go to Broker
Risk warning: Capital can be lost. Terms and conditions apply.
2. Costs
2. CFD Trading Costs: Spread and Pricing Offering by easyMarkets Explained
Opening an account with easyMarkets CFD broker will not cost you any money (free demo and Muslim accounts). This very offering raises the buzz – is easyMarkets legit?  They offer fixed cost spreads, that never changes over time. Spread is the difference between price points of buying and selling any particular asset. The conditions and the contract sizes are quite friendly to everyone's pockets. Moreover, the clients can also get the privilege of negative balance protection. The stop losses are guaranteed. easyMarkets will not cut off any commission on your withdrawals. They offer spread fees as low as 1.8 pips. You will pay a fixed amount of spread fee while some other brokers take money based on your investment.
Yes
Mini contracts
Tradable
But you need to be a VIP member first or else you get the general 3 pips. The leverage and spread amount differ by asset category. That means your leverage fluctuates for CFDs and other components. The currency trading leverage could go up to 30:1. This ratio is really great compared to other competitors. High leverage rate always works best for the traders.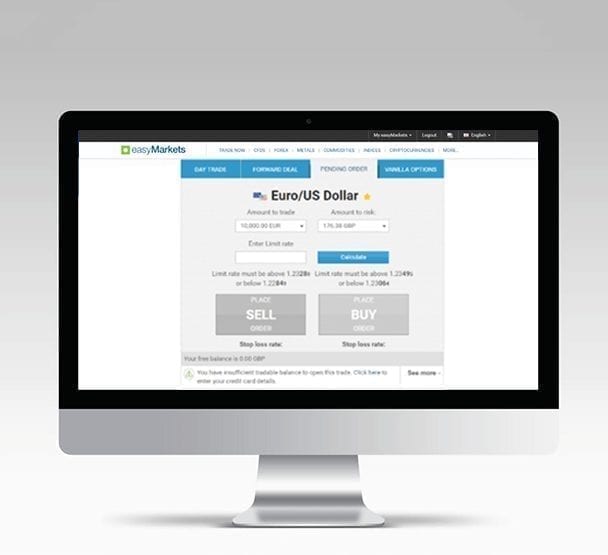 Minimum deposit amount is $100.
Lowest spread fee is 1.8 pips (VIP).
Max deal length is up to 6 months.
Go to Broker
Risk warning: Capital can be lost. Terms and conditions apply.
3. Account
3. Accounts: Which Membership Account Should You Choose?
Rather than offering a simple Forex trading account, they offer complete trading packages. You could find 4 types of accounts while opening up an account on easyMarkets: Standard, Premium,VIP, Super VIP.
All the 4 account types are based on the MT4 platform as well as Web and App. The minimum transaction size varies from account to account. A standard account holder can get 0.05 to 0.01 lot depending on the platform. As you choose better plans, the size allotted increases. The Super VIP account holders can negotiate for their desirable minimum transaction size. The minimum deposit amount also varies, from $100 to $10,000.
The MT4 platform has a maximum fixed leverage ratio of 1:30 and the Web platform has also 1:30. easyMarkets CFD broker don't take any commission, account fees, deposit or withdrawal money. You can always get a customer support over the phone regardless the account type you choose. But to get market SMS notification, personal account manager and live chat services you need to upgrade your account.
Many easyMarkets CFD trading platform reviews have said that you will get all sorts of trading safeties like no slippage, fixed spreads, guaranteed stop losses and the negative balance protection for all the 4 types of accounts. Plus, as a broker, you will get daily e-mails on market insights.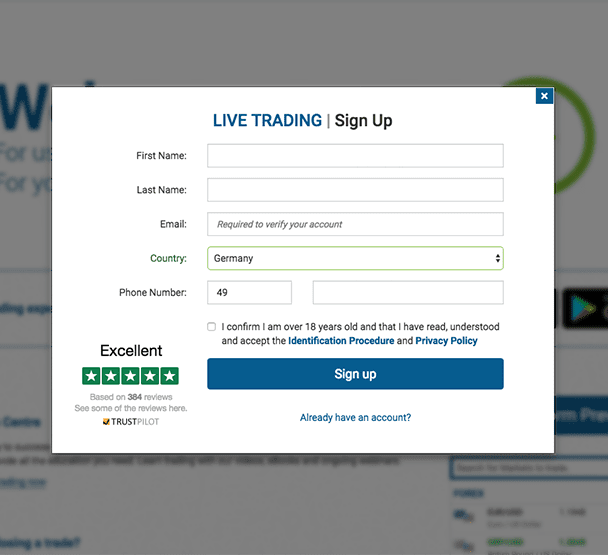 4 types of broker accounts.
Minimum transaction size varies from 0.01 lot to negotiable.
Max leverage ratio is 1:30 (MT4) and 1:30 (Web).
Go to Broker
Risk warning: Capital can be lost. Terms and conditions apply.
4. Platform
4. CFD Trading Platforms & Mobile Trading: A selection of trading software
easyMarkets platform was one of the first marketers who supported forex instruments and was launched back in 2001. Over the years, they have gained quite the popularity among the traders all over the world. But they also evolved and adopted more technologies to make trading easier for all. They have adopted tools like,
dealCancellation™, Fixed Spreads. Negative Balance Protection, Free Guaranteed Stop Loss
You might be wondering – is easyMarkets a good broker? Let's take a look.
dealCancellation™ is their trademark technology that allows you to cancel any losing deal so that you can get back the losing money. But there is a small fee to pay and there is also a time constraint. You could call it the insurance of your investments. Fixed spreads is another wonder offered by easyMarkets.
One of the biggest fears that traders feel is their investment will bring in losses. But with easyMarkets, your balance will never go below zero. So, you will not have to lose everything. easyMarkets offers a great risk management tool named the stop loss. You can also get this feature in the easyMarkets demo account. You can just set a price for any particular trade of any element. When the price of the element falls below the line, your deal will be closed.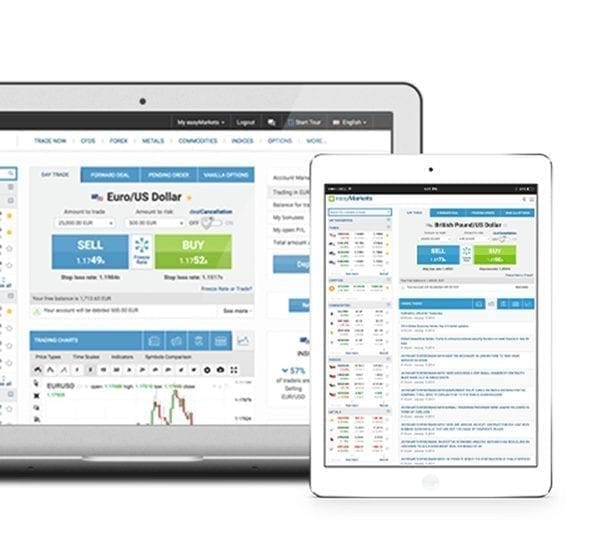 Undo any trade with dealCancellation™.
Get fixed spreads for all the trades.
You balance will not fall below zero.
Go to Broker
Risk warning: Capital can be lost. Terms and conditions apply.
5. Usability
5. Usability of the Website: How Attractive the Website is?
easyMarkets is simply a clean clutter less website. All the categories are set as a different menu on the menu bar. If you want to learn about the trading, there are quite a lot of collection available for you on the website. The best feature of the website is the live trading update box on the right portion which gets updates every second. Keeping up to date with the market has never been this much easy. The UI gets updated regularly. The beginners can also get their knowledge sharpened as the web layout is very user-friendly.
The website is fully responsive that means you could surf this website from any kinds of display output like pads, smartphones or PC monitors. There is an advanced search option available for the users of the website. They have also segregated the website for different kinds of trading markets. The links to the webinars are just set on the homepage of the easyMarkets website. You can also the details of the 36 awards on the home screen.
The website doesn't have any glitches or bugs if you are concerned about it.
User-friendly UI.
Has an advanced live trade monitor with the search tool.
Responsive and clutterless design.
Go to Broker
Risk warning: Capital can be lost. Terms and conditions apply.
6. Support
6. Customer Support: Are They Helpful Enough?
On this part of the review of easyMarkets and Broker comparison – CFD Comparison, we shall scrutinize their customer service. They offer 4 types customer support methods,
Over the Phone Support 24/5.,SMS Notification,Personal Accounts Manager Support, Live chat 24/5.
They help their customers 24 hours per day but their service is available from Monday to Friday, 5 days a week. They maintain a strong communication with their clients. They will send you an e-mail everyday with fundamental analysis and technical analysis. This analysis will bolster you up with the current market trend and help you choose your strategy with more finesse.
Although to get the full advantage of their customer service, you will have to be at least VIP member. As the market SMS notifications, personal accounts manager, and the live chat facilities are not available for the Standard clients. Premium clients cannot enjoy the live chat privilege. But all the users can enjoy the privilege getting the daily trading central indicator, fundamental and technical analysis on via e-mail. Clients can get the service in multiple languages like English, Chinese, Polish and the Arabian. You could also go through the FAQ section to get to know about the common questions that might clog your mind.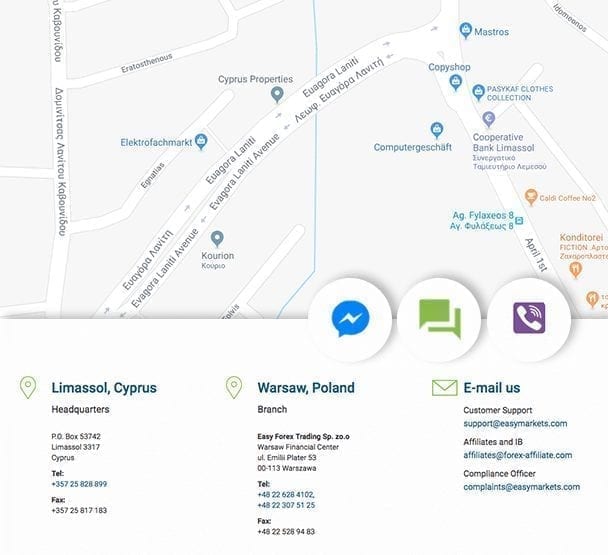 Customer service is available 24 hours from Monday to Friday.
Live chat options available but for VIP and the Super VIP members.
Daily free fundamental and technical analysis offered.
Go to Broker
Risk warning: Capital can be lost. Terms and conditions apply.
7. Payment
7. Methods of Payment: How Could You Withdraw Your Money?
Our deeply dug easyMarkets CFD trading review has found out the detailsof the payment methods. You need an approved payment method to deposit and withdraw the money. They offer multiple ways to cash out or in the money like local bank transfer, international bank transfer, credit, debit cards and various eWallets. The best part is the deposit fee is literally zero and your money could transfer to you instantly. Although, the local deposit and the international deposits take up to 7 days. easyMarkets has nothing to do with processing time, this time frame is based on the third party providers' processing time.
They will apply the KYC (Know Your Client) policy on you. That means, they will verify your ID and collect all the necessary papers before starting. The policy is followed to be an act against money laundering. As the ID, you could you can use the NID or the passport. The proof of address like a bank statement will be needed as well.
The verified payment methods are as Visa, MasterCard, WeChatPay, American Express, Giropay, Ideal, SoFortüberweisung, Maestro, JCB, Skrill, China Union Pay, Neteller, Webmoney and local and international banking.
If you use Credit or Debit cards, you will not have to pay any money while withdrawal. But in some local banks, the minimum amount to withdraw is set to be $50.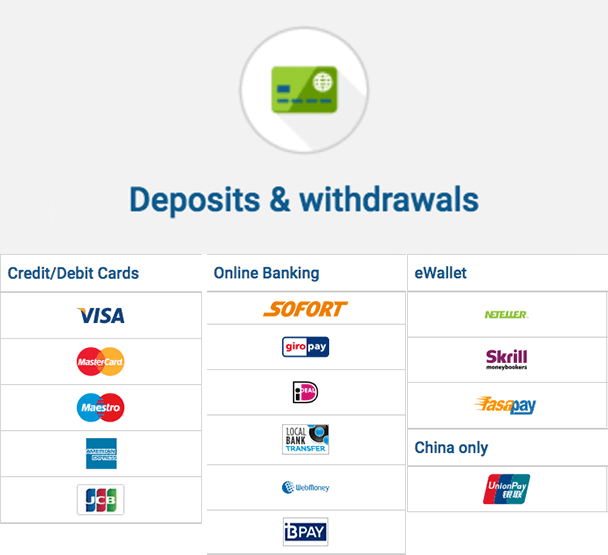 No deposit and withdrawal fee.
Huge range of payment methods.
KYC policy applicable.
Go to Broker
Risk warning: Capital can be lost. Terms and conditions apply.
8. Offers
8. Additional Offers: Promotions and Bonuses
easyMarkets CFD broker offers exciting trading promotional offers, lucrative bonuses. They have great ways to tell "Thank You" to their clients. Their basic promotional offers are as follows,
First deposit bonus, easyMarkets CFD partnership program., Referral bonuses.
On the incident of your first deposit, you will be awarded 50% bonus or up to $2000 tradable bonus depending on your deposit amount. They have partnership programs where you could grow this easyMarkets. If you have your own platform like a blog and you can givethemclients, you should probably go for becoming their affiliate partner or IB. As an affiliate partner, you can get your hand on the $400 as the CPA commission.
They offer 25% conversion rate which one of the highest rates offered in the market. You can get your payments instantly with being worried about the pay, they are honest! You can earn regular incentive amount based on your recent performance. You get different analysis and tracking tools to adapt to the changing trends. easyMarkets offer sales support if you partner with them as an affiliate marketer.
After becoming the Best partner Program, Europe, 2015, they have gained lots of trust among the marketers around the world. Within 2 decades, they have spread their market to over 160 countries with 40,000+ happy referred clients.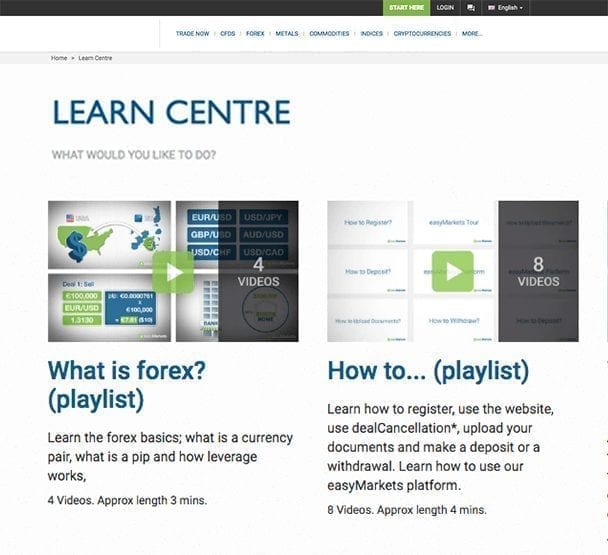 Free courses and regular webinars.
50% or $2000 deposit bonus.
Award-winning partnership programs.
Go to Broker
Risk warning: Capital can be lost. Terms and conditions apply.
9. Regulation
9. Regulation and Deposit Protection: Safety Issues
You must feel a bit cautious before investing your money in any business. Well, you should. easyMarkets is quite proud of their honesty. Their slogan line – Simply Honest also gives you the idea of the fact. They have implemented the core concepts of the honesty in this market. Being established in 2001, they have earned this status. They have adopted finest policies and legal protection to ensure protection. As of July 16, 2015, Polish Supervision Authority (KNF) has asked for a margin requirement. Although this margin of 1% balance exposure is only applicable to the people of Poland.
CySEC
Regulatory Authority
If we make a market comparison, easyMarkets will surely be on the top list. After going through lots of easyMarkets trading platform reviews, you will be sure of the fact they were one of the first currency traders that got regulated in Cyprus. They are licensed under the ASIC of Australia. So, there is no chance of the company being fraud. You just cannot ask the question "is easyMarkets legit?"
CySEC has also licensed the company. You could enjoy the separated funds and funds get secures in the top banks of the world. easyMarkets have always maintained the capital liquidity the market remains stable even in the toughest times. All the potential risks are assessed.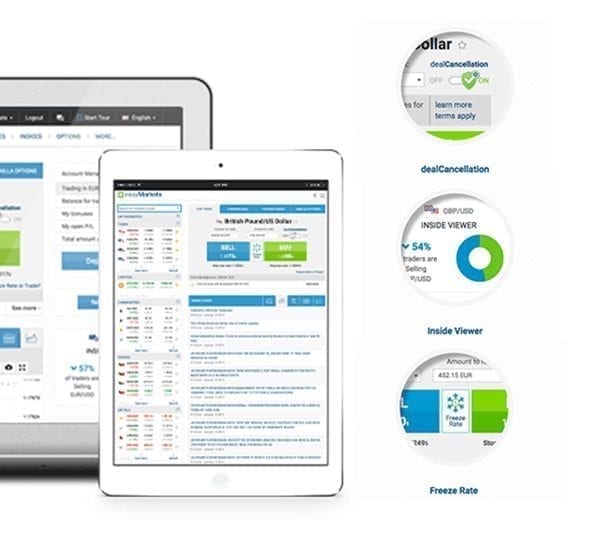 Connected to the top tier banks overall the world.
Capital adequacy for better liquidity.
Regular threat assessment, monitoring and controlling.
Go to Broker
Risk warning: Capital can be lost. Terms and conditions apply.
10. Awards
10. Awards: The Trophy Case
We loved the fact that easyMarkets had a lot to show in respect of their claim. Not only they had their competitors on their toe right after their launch, but they also provide greater security when it comes to trading. Their showcase is shining with 36 international awards. Their awards actually tell us how transparent and honest the company is. They have been awarded the Most Transparent Broker, which is remarkably a great achievement in the finance world. They also have Best Forest Service Provider, Best Trading Platform awards in their bag as they proved to be excellent at what they do.
Best Trusted by Investors and the Dobra Marka award is just the icing on the cake. They received all of these awards in 2017, which makes them one of the advanced faces of the finance world. Most of the awards are for being the best trading platform. These much of recognition enhances the image of being the most honest and trusted brand of the market. We can simply say you can trust easyMarkets without a doubt. You could check this review of easyMarkets to judge better.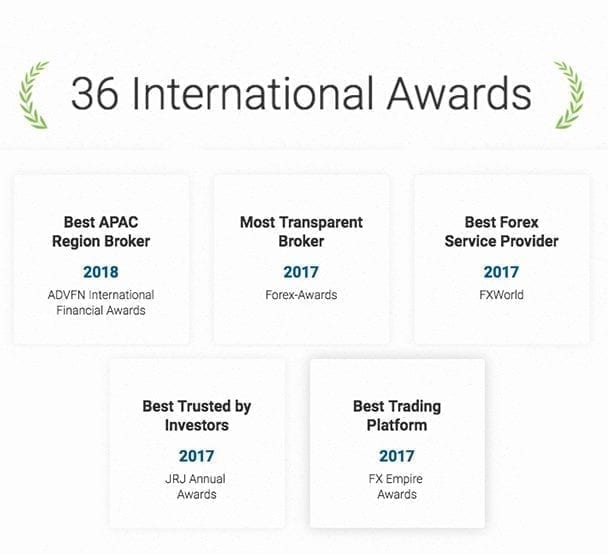 Zero negative impression among users.
Winner of Forex awards multiple times.
Trusted by people from 160+ countries.
Go to Broker
Risk warning: Capital can be lost. Terms and conditions apply.
Conclusion: A Nirvana for CFD Enthusiasts?
In the conclusion of the easyMarkets CFD trading Review 2018, we could clearly say that easyMarkets is an amazing opportunity for the CFD trading enthusiasts. They have a long history of being a broker giant. They are in the game since 2001. Their promise of honesty has paid off as more than 40,000 clients have given a great feedback. The dealCancellation™ technology and negative balance protection made easyMarkets quite popular. They have 36 awards on their showcase proving their authenticity.
They offer lots of study materials and eCourses that help a newcomer know the business better. They organize regular webinars which are very helpful. The easyMarkets demo account lets you do all these but for a limited amount of time. easyMarkets has a great mobile platform that has various tools that help users very much. New users also get exciting bonuses once they open up and start investing on tradings. We insist you trust on easyMarkets if you are looking for the best CFD broker.
Traders do not pay any commissions to trade on easyMarkets.
easyMarkets have won numerous industrial awards.
easyMarkets is a licensed and regulated brand.
Over 130 major currency pairs and 300 trading instruments.
Mobile application support with sophisticated features.
easyMarkets does not offer a Virtual Private Server (VPS)
easyMarkets does not accept traders from over ten countries including USA and Israel.
Test result
Broker

Go to Broker
Risk warning: Capital can be lost. Terms and conditions apply.