Fortrade CFD trading platform was first created back in 2013 and since then the broker have experienced strong growth and are now one of the leaders in the online trading space, catering both for institutional and individual investors alike.
They are currently based in the United Kingdom and they are constantly trying to innovate and upgrade their trading platform while ensuring that everything is user friendly at the same time.
They have over 150 different financial instruments that are available to trade and they are currently regulated by the United Kingdom Financial Conduct Authority (FCA).
Highlights
Relatively young company, founded 2013
Based in the UnitedKingdom
More than 150 financialinstrumentsavailable
Regulated by the FCA
16.
of 21 CFD Broker
Fortrade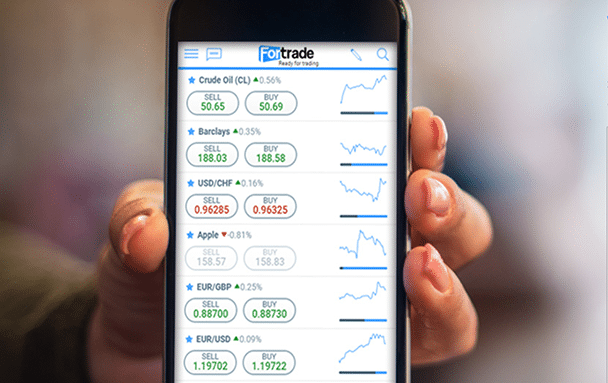 Go to Broker
Risk warning: Capital can be lost. Terms and conditions apply.
Headquarters and regulation
UK (FCA)
Fees and Spread
Spread only
Mini contracts tradable
yes
Trading platform
MT4, Broker-owned Software
Demo account
Yes, available for 20 days
Services & additional benefits
Live
Hotline
E-mail
Economic Calendar
E-Book
Videos
Courses/Seminars
1. Trading Offer
1) CFD Trading Offer: Fortradeoffers a multitude of CFDs
This Fortrade CFD broker review 2018 clearly shows how they specialise in offering trading services for CFDs and exposure to multiple capital markets. This allows their investors to create a diverse portfolio using a single account.
They have a truly comprehensive offering for institutional and individual investors alike. For their forex pairs, there are more than 50 currency pairs on offer, with leverage ratios being as much as 1:30 and there are no commissions.
For Fortrade CFD on indices, they cater for more than 20 indices from across the Asian, European and US markets. They also have no commissions and there is available leverage of up to 1:20.
For their stock CFDs, they have more than 100 stocks from both European and the UnitedStates. This is coupled with leverage of up to 1:5.
Finally, they also cater for the likes of gold and other precious metals, as well as oil, energies and agriculture CFDs.
A CFD is an agreement that allows a trader to speculate on what the value of a given financial instrument is without needing to actually purchase this instrument.
Common CFDs track the price movements of crude oil, currency pairs, market indices, stocks and cryptocurrencies.
This review of Fortrade CFD trading showcases extended range of CFDs on offer, as well as the option to receive significant leverage if you meet their requirements.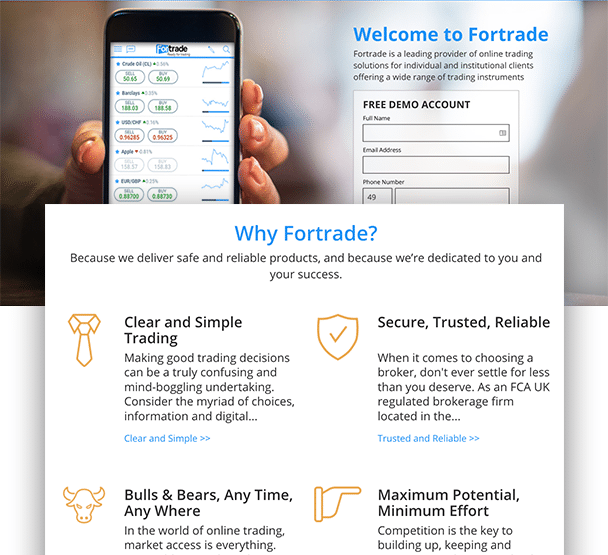 Over 150 financial instruments
Varying levels of leverage, up to 1:30
Multiple types of CFDs
Go to Broker
Risk warning: Capital can be lost. Terms and conditions apply.
2. Costs
2)CFD Trading Costs: FortradeCharges Zero Commission
In terms of trading costs with Fortrade, they vary depending on what sort of financial products you are dealing with. They charge zero commission on all of their products because they get their cut from the spread.
There are fixed spreads on offer with Fortrade, which are 2 pips in EUR/USD. This is generally a standard rate for the market as a whole. If you look at some CFD trading platform reviews, some have lower trading costs, but you are often sacrificing security and quantity of trading options. This is a trade-off that you need to decide upon yourself.
yes
Mini contracts
Tradable
Spreads are an important factor to consider when choosing a CFD broker, especially if you are going to be making a lot of trades. Over time, these costs add up so even the smallest of margins can make a significant difference in whether you are in the green or red come the end of your trading year.
There is a minimum spread in place of 4 pips for forex, with 0.5 pips over market for the index CFDs, 0.1 pips over the market average for European stocks and 0.2 pips for the US stocks. For commodities they are $0.04 over the market average and 0.06 pips above the market when it comes to US treasury bonds.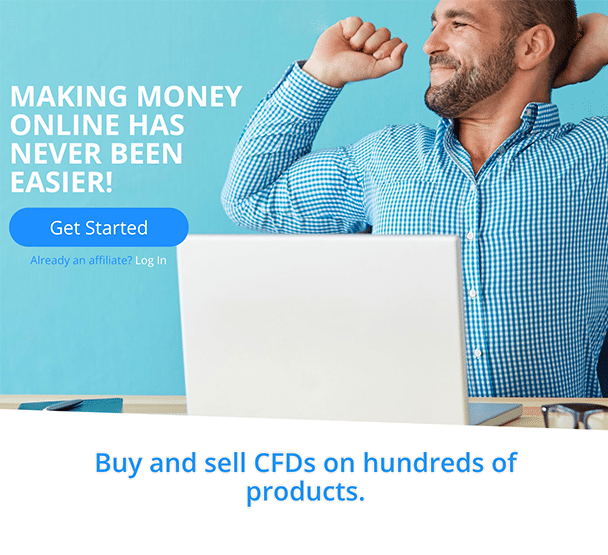 Slightly above average spreads
Spreads dependent on the given financial instrument
Trade-off between quality offering vs low costs
Go to Broker
Risk warning: Capital can be lost. Terms and conditions apply.
3. Account
3)Accounts: One Account Type at Fortrade
With Fortrade CFD broker, currently there is only a single account type on offer. Other platforms will have two or even three types of accounts which are suitable for different standards of traders.
Usually, there is an account tailored more towards beginners and another that focuses on the needs of more established traders. This is clearly not the case with Fortrade which is somewhat of a shame.
This live trading account requires a minimum deposit of $100 if you are looking to get started trading, there is a minimum trade size of 0.01, a maximum leverage available of 1:30 and the spread is 2 pips in EUR/USD. There are no commission fees and there are micro tradeable lots on offer.
There is the ability to open a free demo account. This is ideal for beginner traders as it will allow them to get to grips with how a trading platform works and it will allow them to get some experience trading before putting their own money on the line.
It is also a good way for more established traders to test out new strategies and techniques without having to take any risk on board in case they do not work out too well. With this demo account, you will be given a virtual balance worth $10,000.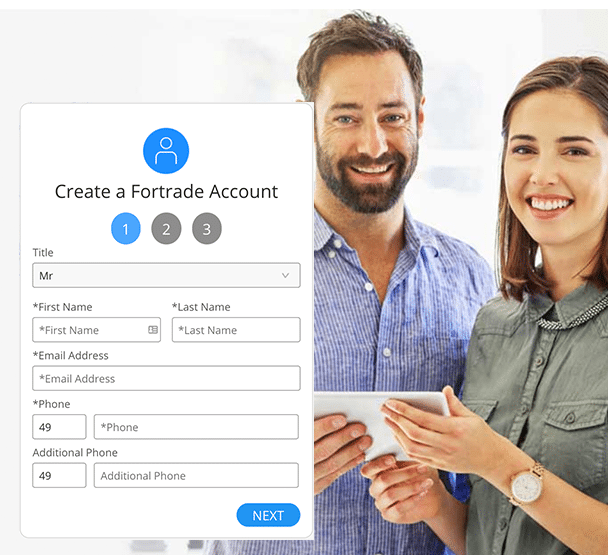 Freed demo account
Virtual balance of $10,000
Max leverage of 1:30
Go to Broker
Risk warning: Capital can be lost. Terms and conditions apply.
4. Platform
4) CFD Trading Platforms & Mobile Trading: 6 main options
There are a wide variety of platforms that can be used while trading with Fortrade.
They have 3 proprietary platforms for you to choose from, which are the Mobile Fortrade, Web Fortrade and the desktop Fortrade.
The desktop version is able to be downloaded and it is perhaps the most power-based platform that is on offer by Fortrade. You will have top quality performance in real-time and have access to over 150 financial instruments.
There is also a wide variety of trading tools on offer, an easy to use interface, customisable trading options and an overallenvironment that suits all typesof traders.
The webversion can be accessed by any computer that is connected to the internet and it uses similar features as seen on the desktop version and it is as capable in terms of performance.
The mobile platform isbuilt for Android and iOS devices and has full capabilities in place that are similar to the web and desktop versions. You can do everythingfrom analyse the markets, check your positions and place trades by just using your mobile device.
Fortrade also offers their users the industry standard MetaTrader 4 platforms which many people are familiar. They have the Meta Trader 4 platform, the MT4 Mobile app and the MT4 WebTrader for you to use if you prefer.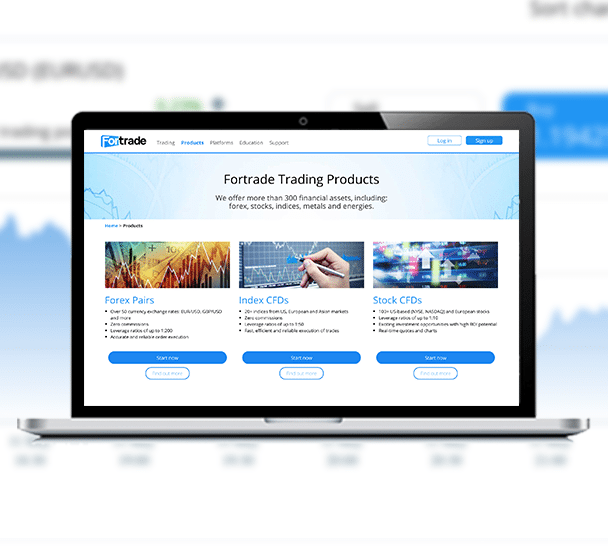 3 Fortrade proprietary platform options
3 MetaTrader 4 platform options
Mobile versions available
Go to Broker
Risk warning: Capital can be lost. Terms and conditions apply.
5. Usability
5) Usability of the Website: Fortrade is easy and straightforward to navigate
You will be hard pressed to find a trading platform that has a website that is cleaner and easier to navigate than that of Fortrade.
Everything from the menus to the informationpages are extremely well laid out. This means that you are not going to be wasting time trying to navigatearound the map and finding information that you need to get started trading.
The signup process is also relatively straightforward and you can quickly switch from the demoaccount to your live trading account with just the click of a button. This means that you can quickly take the strategies you have been testing in your demo account onto the real trading platform and see how they work in the real world trading environment.
They cater for a variety of different languages on the website, including German, Spanish, French, Croatian, Italian, Dutch, Polish, Portuguese, Slovenian, Swedish, Russian, Arabic and Macedonian, as well as English. This is one of the best offerings you can see when doing a broker comparison – CFD broker Comparison.
Fortrade clearly know what traders want when it comes to a website and they have over delivered on this front.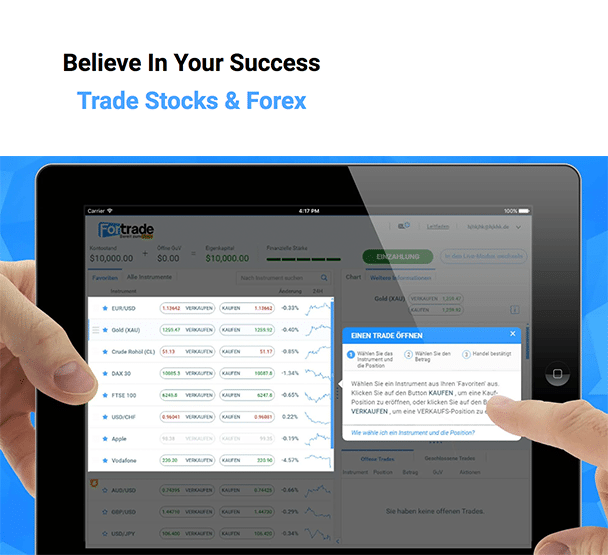 Easy to navigate
12 different languages catered for
Information clear and concise
Go to Broker
Risk warning: Capital can be lost. Terms and conditions apply.
6. Support
6) Customer Support: Fortrade offers wide-ranging 24/5 support
Fortrade do their upmost to make sure that the usersof their platform are properly looked after. Whether it is resourcesor help lines, they are one of thebest in the industry when it comes to their commitment to ensuring theneeds of their clients are met.
The comprehensive FAQ section is clearly laid out and is your firstport of callif you have a problem that needs to be resolved. It answers a lot of the common questionsthat arise.
They also have a glossary section for terms people may not be aware of and they have a concise PDF that showcasesan overview of all the conditions in place for Fortrade CFDs and forex instruments.
They have a dedicated support team in place that can be reached 24/5 around the clock. You can send them an email or give them a phone call.
The live chat feature is handy because it allows for almost immediate resolution of problems. They do resolve to have emails replied to as soon as possible and a lot of times email or telephone options are required because live chat operatorsoften don't have the necessary clearance to deal with sensitive issues.
There are 12 different languages catered for and usually you will be dealt with quickly.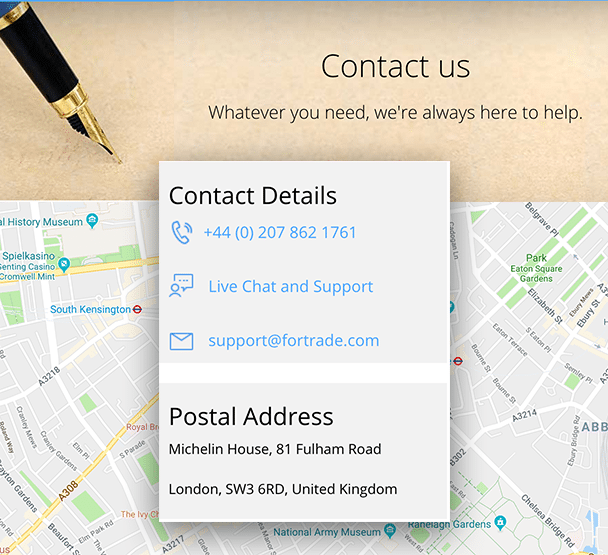 24/5 support via live chat, email and telephone
Comprehensive FAQ section
Concise PDF for CFD conditions
Go to Broker
Risk warning: Capital can be lost. Terms and conditions apply.
7. Payment
7) Methods of Payment: Various methods available for Fortrade Depositing and Withdrawal
There is a variety ofoptionsavailable for those making deposits to their Fortrade account.
You have all of the usual options such as debit and credit cards, e-wallets like Neteller and Skrill, as well as being able to deposit via a bank transfer.
They recommend that you make a deposit of at least $500, but the minimum required deposit has been set at $100. Most of the time, deposits will beprocessed almost instantly when you are using a card or e-wallet. Generally, bank transfers will take a few days to process.
In terms of withdrawals, the majority of options used will see the funds being processed within 24 hours of the request being made. Usually the e-wallets are the quickest option; followed by debit and credit cards, followed by the bank transfer.
There are no fees charged on these transactions, but there is a dormancy fee in place if no trades are made in the space of 180 days after the deposit. This fee is usually around the $10 mark and this will be taken from your existing account balance.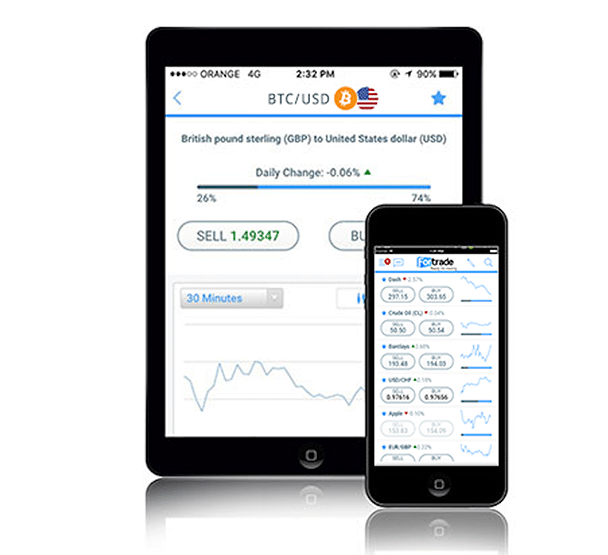 Deposit or withdraw via debit/credit card, e-wallets or bank transfer
Quick processing fees
Minimum deposit of $100
Go to Broker
Risk warning: Capital can be lost. Terms and conditions apply.
8. Offers
8) Additional Offers: Free Fortrade Broker Demo Account, Bonus Offers and Economic Calendar
There is a demo account available for usersof the Fortrade platform. This ideal for beginner traders as it will allow them to get to grips with how a trading platform works and it will allow them to get some experience trading before putting their own money on the line.
It is also a good way for more established traders to test out new strategies and techniques without having to take any risk on board in case they do not work out too well. You will be given a virtual balance worth $10,000.
Fortrade have a bonus in place which offers a 30% bonus when you sign up for an account that is matched on your first deposit. This means that youcan earn up to $3,000 in bonus funds right off the bat, which is a great way to start off your new trading account.
Get in touch with the customer support team in advance of making this deposit to ensure that you will be credited with your bonus.
There is a comprehensive economic calendar available on the Fortrade website. You can use this in order to keep up to date with all the latest events having across the world that may have an effect on the markets.
It is always worthwhile keeping an eye on the economic calendar for key dates during the year.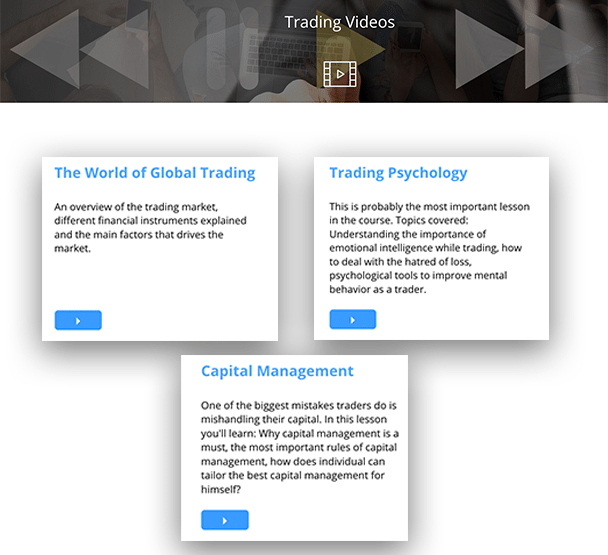 Free demo account
$10,000 virtual cash
Comprehensiveeconomic calendar
Go to Broker
Risk warning: Capital can be lost. Terms and conditions apply.
9. Regulation
9) Regulation& Deposit Protection: Your Money is safe with Fortrade
You may be forgiven for asking is Fortrade legit because they have only been in business for a few years.
By a lot of the operatorsin this industry, Fortrade are still seen as a novice broker. This meansthat naturally, traders are going to somewhat question the reliability of their platform. When judging the reliability of a platform however should not be reliant on its age, the whole picture needs to be looked at before coming to a conclusion.
The regulatory status is a very important factor. Fortrade are currently regulated by the FCA, which is one of the moststringent and prestigious bodies in all of Europe, so there are no worries on this front for those depositing funds with Fortrade.
Player funds are kept separatefrom the company's operational funds which mean in the caseof bankruptcy; creditors cannot get their hands on these funds. There is also compensation of up to £50,000 available to traders in the case of insolvency.
When everything is considered, Fortrade is most certainly reliable and their standards are up there with the best in the industry, despite their age.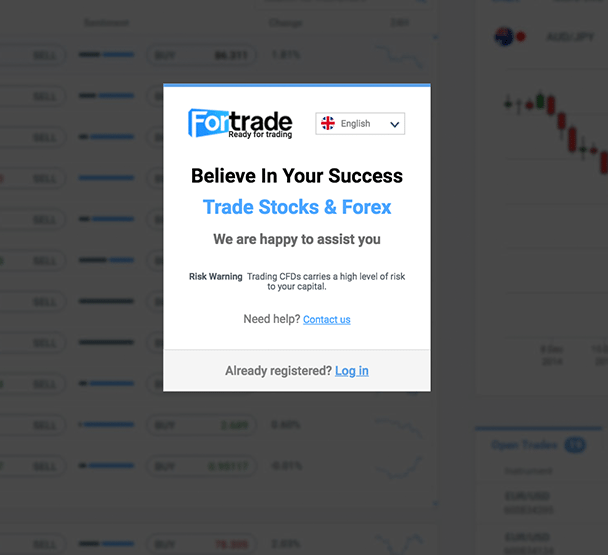 Top-quality regulatory standards
Regulated by FCA
Compensation option in case of insolvency
Go to Broker
Risk warning: Capital can be lost. Terms and conditions apply.
10. Awards
10) Awards: Media Reports about Fortrade
The Fortrade CFD brokerage firm has a positive presence in their dealings with the press. They clearly have a good reputation amongst the media and they have not been embroiledin any controversies in the few years that they have been in business.
Generally, any press coverage will bein relation to new financialinstruments that they may have on offer or some other type of update on the process of the company. The financial reports are always eagerly anticipated by those in the press.
It was in August 2017 that their financial results for the year ended 2016 that they reported that they had successfully trebled their revenue from the previous year, managing to almost reach the £16 million mark for 2016.
Their profit for 2016 was £954,000 which was significant as they had incurred a loss of £213,000 the previous year. The firm has been going fromstrength to strength since current CEO Nick Collinson was brought into the company at the beginning of 2015.
Since then, they have really taken off thanks to Collison's guidance, someone who has many years of experience in the financial trading world.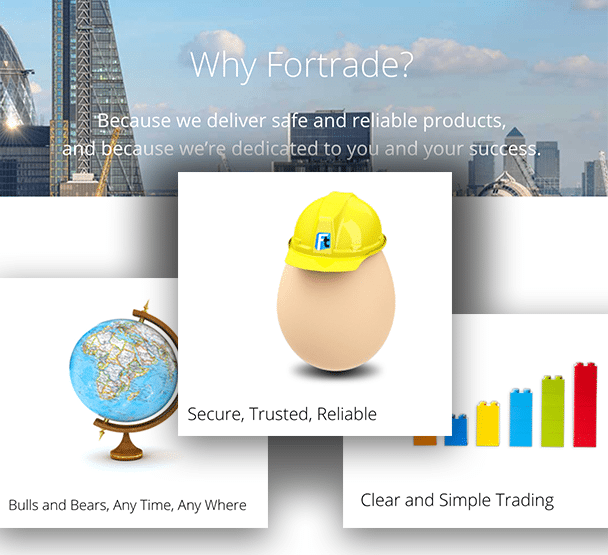 Positive image
Nearly £1 million in profits for 2016
Experienced CEO at the helm
Go to Broker
Risk warning: Capital can be lost. Terms and conditions apply.
Conclusion: Fortrade review final thoughts
Is Fortrade legitand is Fortrade a good broker?
Having gone in-depth with this Fortrade CFD Trading review, it is safe to say that while young in age, Fortrade is one of the leading financial brokers in the industry today.
They have an impressive offering of financialinstruments, with over 150 options to choose from. They have zero commissions and they are hard to beat when it comes to the quality of their website, which allows you to see all pertinent information in a single place.
It is slightly unfortunate that they only have a single account type and their spreads are generally a bit higher than industry standards. However, you must pay a trade-off when you are given access to such a variety of instruments as showcased by this Fortrade CFD platform review.
They do have quite the offering of trading platforms, with three different version of their proprietary software, catering for desktop, internet and mobile-based trading.
Finally, for such a young platform, they are under one of the most stringent regulators and they pass all of the tests when it comes to their safety protocols.
To conclude this Fortrade CFD broker review 2018, Fortrade CFD broker is clearly one of the best CFD brokers in the industry and is only going to go from strength to strength. As they are still a young platform, there is a lot of scope for growth in the future and there will nodoubt be many exciting developmentsalong the way.
Massive variety of trading platforms
30% deposit bonus
FCA regulated
More than 150 financial instruments
12 languages catered for
Spreads greater than market average
Only one type of trading account
Test result
Broker

Go to Broker
Risk warning: Capital can be lost. Terms and conditions apply.