Is FXPro a good broker? Let's find out in this FXPro review
This FXPro review is a must read for all novice forex traders. It will look at the main features about this broker, with the goal of helping you choose whether this is a CFD broker to work with.
FXPro is a leading provider of transparent Forex trading service in over 150 countries. Since this trading platform was launched in 2006 it has experienced exponential growth especially in its mother country (UK and Cyprus).
In this FXPro trading platform review you will discover:
Highlights
Offers 60 different currency pair
Leverage of 1:30
Free MT4 and MT5 accounts
Customer support in 23 countries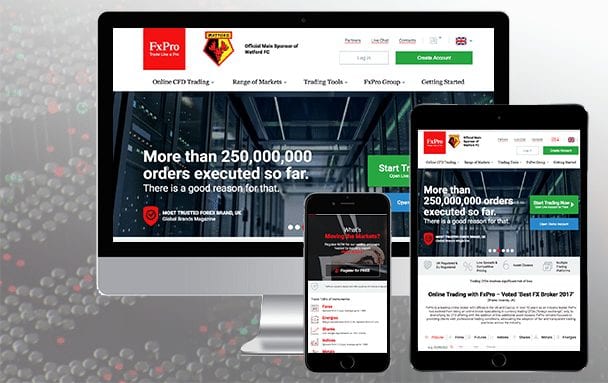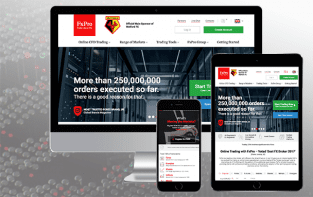 Go to Broker
Risk warning: Capital can be lost. Terms and conditions apply.
Headquarters and regulation
UK (FCA)
Fees and Spread
depends on type of account
Mini contracts tradable
Yes
Trading platform
MT4, MT5, Broker-owned Software
Services & additional benefits
Live
Hotline
E-mail
Economic Calendar
E-Book
Videos
1. Trading Offer
1.) CFD trading offer: Trade with 60+ Currency Pairs
FXPro is a leading CFDs and forex trading platform that deals with providing online trading service to thousands of online traders located all over the globe.
Over the years this online trading platform has proven far much successful and with the adoption of a special trading scheme known as a contract for difference (CFDs) its profits margins have soared even higher.
CFDs trading are a form of derivative trading where you can easily speculate the prices of prime fast-moving financial markets such as shares, commodities, and treasuries.
The good thing about FXPro CFD trading is that you don't have to physically buy the asset to speculate its actual price.
With a platform like FXPro, you can experience different Broker Comparison– CFD Comparison. Before this era of speculative trading was launched it would be practically impossible for you to purchase some of the prime assets like gold, crude oil, and stock shares as they needed enormous cash to invest in.
Apart from that, FXPro trading will expand your market horizons and give you a chance to enjoy the high leverage given by the best CFD broker. This is one of a kind platform as it offers 60 different currency pairs and a perfect selection of leading Cryptocurrencies and an amazing selection of exotic currencies like TRY & ZAR CFD
With a leverage ratio of 1:30 this trading platform is your ultimate trading place.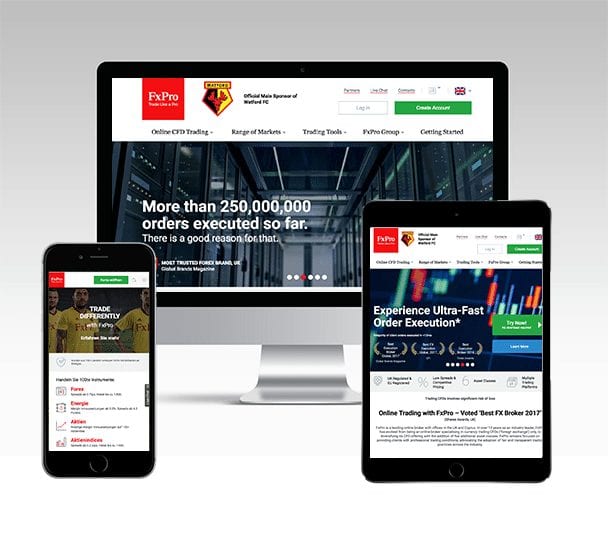 60 currency pairs
6 cryptocurrency pairs available
Leverage of 1:30
Go to Broker
Risk warning: Capital can be lost. Terms and conditions apply.
2. Costs
2) CFD Trading Costs: Minimum deposits and fees
Well, when it comes to trading fees FXPro is the best platform to trade on. Trading charges vary according to the account you decide to trade in. FXPro offers a zero commission offer to clients trading in MT4 and MT5 platform. However, if you decide to trade in the cTrader account a small commission averaging at 2.7% will be charged on forex pairs and spot metals.
Apart from trading, this platform is designed in such a way that clients can deposit and request cash withdraw any time they decide to without being charged. The only time when FXPro charges for cash withdrawal is when a client is withdrawing before having traded on the platform. The charges are however small and amount to about 2% of the withdrawal amount-
Yes
Mini contracts
Tradable
FXPro also ensures maximum security of your cash by adding some special features called custody account. A custody account is a special feature that FXPro recently adopted to ensure that your funds are fully protected. However, for your 1st custodial account, you will be charged one dollar per month for balances less than $5000.  This will apply for the first month only but for the subsequent months, you will be charged half a dollar for balances less than $5000.
Depositing and withdrawing from custody accounts is however free.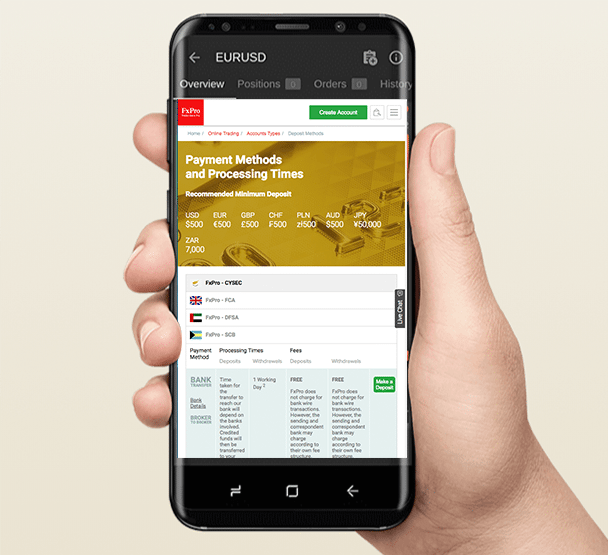 Free MT4 and MT5 accounts
Charged $45/1million dollar traded
Free cash deposit and withdrawal request
Go to Broker
Risk warning: Capital can be lost. Terms and conditions apply.
3. Account
3) Accounts: Accounts Available in FXPro
In FXPro you will have an opportunity to choose any of its three major accounts, demo account; trading accounts, and premium account.
Demo Account
Basically, a demo account is generally created for free and is meant to help potential clients to test out the trading structures at FxPro without having to risk their money. It is a kind of a trial version and it comes with a virtual coin stability of $500,000. With the demo account, you may get entry to the numerous structures available in FXPro MT4 platform, the MT5 platform, and cTrader.
Trading account
This is where real business takes place. Trading account is divided into 4 different types, FxPro MT4, FxPro MT5, FxPro cTrader and FxPro Markets. These accounts are superb with an amazing leverage of 1:30 , and a cutoff minimum deposit of $5000. Trading accounts in FXPro also offer other amazing features likes support instant and market execution capacities and incredible features to enable exchange of foreign currency, indices, energies and precious metals.
Premium account
Traders with a balance more than $50,000 have an opportunity to trade in our top-rated accounts. Naturally, premium account holders get to enjoy more advantages from the same old account holders. However, the principal attraction of the premium bills is the lower spreads that the account holder gets to experience while trading in huge volumes.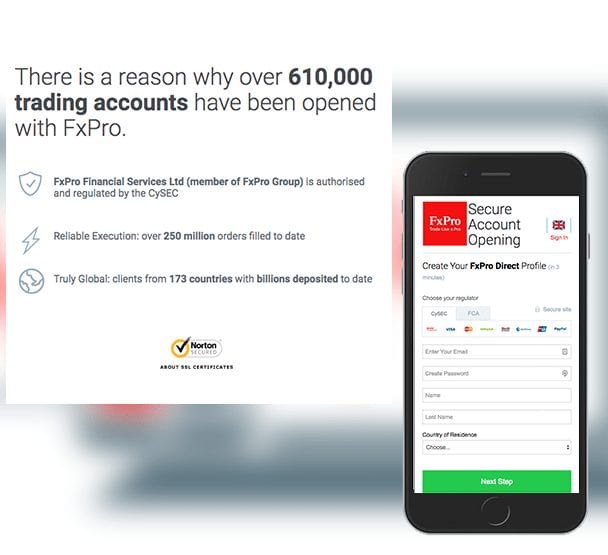 Free demo accounts
Minimum deposit of $5000
Leverage of 1:30
Go to Broker
Risk warning: Capital can be lost. Terms and conditions apply.
4. Platform
4) CFD Trading platforms & Mobile Trading: Including MT4, MT5 and also mobile trading
FxPro offers a whole nine trading systems. 4 of those platforms are buying and selling platforms perfectly designed to easily trade via your mobile phone
MT4
When both systems were checked at some point of the direction of the FxPro evaluate and discovered that the Web Trader turned into extra desirable for brand spanking new buyers because it has a larger purchase/sell keys and little of a focal point on the diagrammatic gear that is the signature of the MT4 platform.
MT5
During early 2015 FxPro enlarged its trading platform incorporating the MT5 trading platform that offers some improved features not available in the MT4. This platform comes with an in-built economic calendar, buying and selling from tick visual presentations and advanced inbuilt indicators. MT5 is the evolved version of this platform.
FxPro online trader
A web version of the proprietary platform which does not need to be downloaded and so can be used from anywhere, simply login through a web link.
CTrader
FxPro utilizes the cTrader that is a progressive ECN platform, made particularly for trading in FX and CFDs on spot metals. FxPro cTrade account  is a strong and trader friendly platform, allowing high trading voume.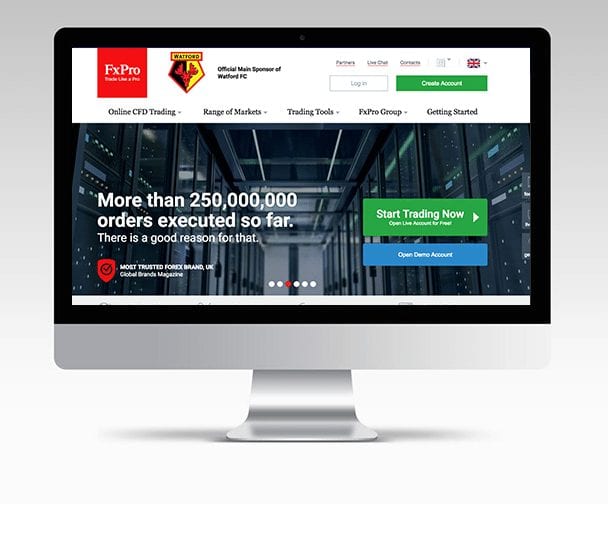 Supports mobile trading
Offers trader friendly platforms
Improve trading tools
Go to Broker
Risk warning: Capital can be lost. Terms and conditions apply.
5. Usability
5) Usability of the website: How easy is the site to use
In this FxPro review, you will see that this platform gives an internet-based version of MT4 that is an improved model of the computing device platform easily accessible through any Java-enabled internet browser.
The FxPro amazing CTrader account comes loaded with superior charting equipment with an iconic smoothly laid out   format and exquisite features with narrow spreads and fee-primarily based pricing.
The internet model available in the cTrader account gives a perfect HTML5 leverage technology presenting our FxPro clients with a tailor made feature layout. This superior design ensures fast website responsiveness with incredible attention to customer support tools in the layout. Shifting throughout different parts of the website and navigating various categories is seamless at the FXPro cTrader internet platform.
The computing device model of the cTrader account smoothly ran on windows and consists of an algorithmic buying and selling capability via its superiorly designed cBots function, as well as marketing features which are presented as visual objectives within charts.
When examined this platform version proved much more capable than the versions which can only be operated via the internet. This model sums up its perfect features with alternate information, equity and journal charts and tabs respectively diagrams at the lowest section of the right handed quadrant of the launch platform layout.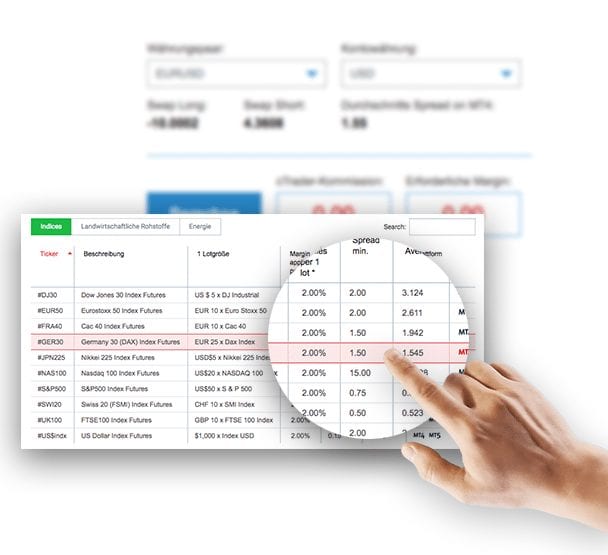 Very easy to navigate
Offline platforms
Easy to switch from one page to the next
Go to Broker
Risk warning: Capital can be lost. Terms and conditions apply.
6. Support
6) Customer support: The methods of getting in touch
With customer service bases in 23 countries, buyers of FxPro can confidently relax knowing that in case of anything they can instantly get professional support by just making a call. Buyers in different countries or folks who do not qualify for a free call can request a callback at a time that they will be available. Like most brokers, FxPro gives daylong customer support, from Sunday night at 11 pm in most time zones thru Friday night time at 12 pm
Our contact us page is one of the easiest ways you can reach us. Loaded with a variety of boxes with numbers and emails for the different department you can be assured that your inquiry will reach us at the right time and be responded to.
It will take a maximum of 1 hour for you to get a response from one of our agents. I understand that this is pretty long for some of you but with thousands of enquires coming in that is the best we can do.
However, you may experience loads greater better services if you are in our listing of our VIP clients. In case you are one you'll get a chance to make a direct call to our customer service retailers at any time you want.
The platform and customer support is available in near to 20 unique languages.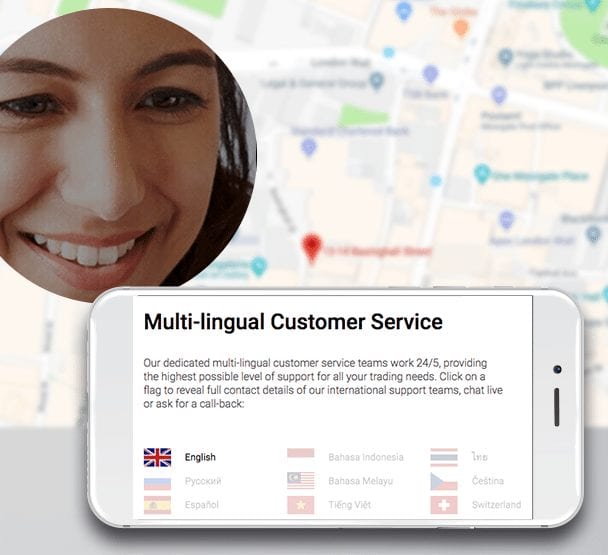 Support available in 20 unique languages
Email feedback in one hour
Customer support in 23 countries
Go to Broker
Risk warning: Capital can be lost. Terms and conditions apply.
7. Payment
7) Methods of payment: how to deposit and withdraw
Be aware that before you pace any withdrawal request your account must be verified. For funding and withdrawals at FXPro, you've got several alternatives. They consist of the following:
Many clients go home with this question, Is FXPro legit? Well, this FXPro review gives some of the legitimate payment methods that we offer.
Bank transfer through a verified Credit or Debit Card
PayPal
Skrill
Neteller
China UnionPay
Moneta
Boleto is perfect for our Brazilian clients
Netbanx works very smoothly for Chinese clients
According to standing policy FXPro does not impose any prices for deposits. Neither does it passes any prices which are levied on it with the aid of the price processors. The best exception is while a deposit is made in a currency that differs from the one in the trading account.
In our coverage any cash deposited via a credit score between the mandatory 180 days length any withdraw request must be to the cardboard in query first, earlier than refunding to every other payment method, although different techniques were used to fund the account. Kindly observe that when retreating through credit card and PayPal funding that had been made inside the last 180 days ought to be withdrawn through this technique. Lastly, any Skrill funding made in the remaining 180 days need to additionally is refunded through Skrill.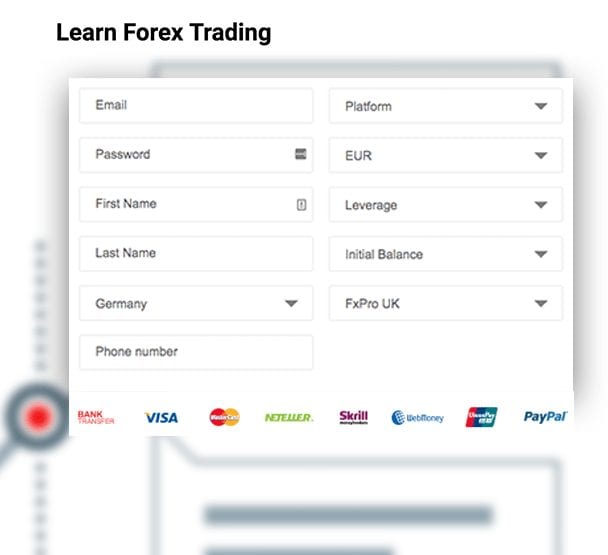 Account verification before withdrawal
No charges on deposit
Many payment methods
Go to Broker
Risk warning: Capital can be lost. Terms and conditions apply.
8. Offers
8) Additional offers: Free Demo Account and Economic Calendar
Our FXPro evaluates discovered that the dealer like many forex agents offers a free demo account. The reality that there may be no expiry time frame for the demo account is an additional plus factor. Beside from letting a dealer get a sense of the buying and selling platform, demo accounts are also beneficial as they may be used as forex trading simulators.
Apart from the free demo account, FXPro has also supplied its investors with an unfastened monetary calendar. The financial calendar shows all the approaching financial events that can have an effect on charges inside the marketplace. That is a crucial feature for any forex traders as prices within the forex marketplace are extremely touchy to key financial signs such as unemployment figures and the rate of inflation.
Depending on your trading platform, FXPro also offers a lot of bonuses for traders who join up with them. Example live trading contest with a possible win of $1000, $30 free tradable bonuses, Samsung s9+ Instagram giveaways, 100% bonuses to those with protected accounts and lots of tradable bonuses amounting up to $100.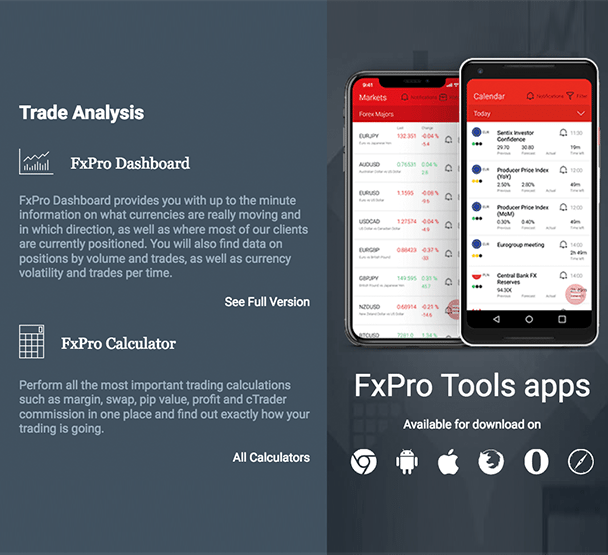 Free demo account
Free economic calendar
Demo account does not expire
Go to Broker
Risk warning: Capital can be lost. Terms and conditions apply.
9. Regulation
9) Regulation and deposit protection: The importance of regulation
Is FXPro legit? Let's find out how it's regulated
One of the foremost strengths of FXPro is the legal protection which the broker is capable of providing to you as a trader. UK traders are protected through the United Kingdom's economic behavior Authority (FCA). The FCA specifies a minimal trendy on all the goods advertised with the aid of FXPro. In addition as FXPro is a regulated entity below the FCA, you'll be blanketed under the financial services reimbursement Scheme (FSCS). The FSCS is an independent frame hooked up below the economic offerings and Markets Act 2000 (FSMA) and is funded through economic services carriers regulated via the FCA. Underneath the FSCS, need to ever FXPro turns into unable to fulfill its contractual duties; you can declare a file for compensation under the scheme. The most quantity covered under the scheme is 50,000 pounds.
If you reside in Europe, then your investor protection will come under the jurisdiction of the Cyprus Securities change commission (CySEC). The sort of protection presented by CySEC is much like that offered by means of the FCA. The principal distinction is the reimbursement scheme and the most amount that you may claim underneath the scheme. For agents under CySEC, the applicable fund repayment scheme is the investor's reimbursement Scheme. Under this scheme, the maximum coverage is 20,000 euros.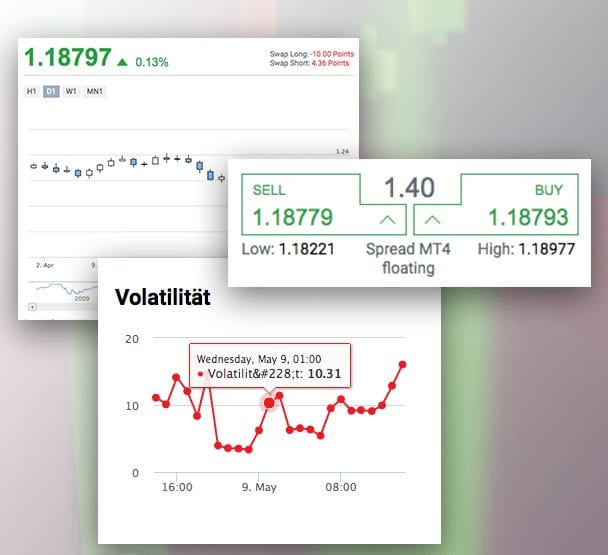 Fund protection to European accounts
Funds kept secure under a two scheme protection
Broker regulated by CySEC
Go to Broker
Risk warning: Capital can be lost. Terms and conditions apply.
10. Awards
10) Awards: FXPro in the press
On 18 November 2016 enthusiast readers of shares magazine voted FXPro as their best broker. This went ahead earning it a top place receiving the best FX broker award at the yearly shares award ceremony. The top services we offer at FXPro were further recognized at an impeccable event held at the serene Grosvenor hotel in London on 10th of November. This superb broker also received the distinguished best forex provider ward for three consecutive financial years at the Investors Chronicle & Financial Times Investment and Wealth Management Awards, which took place on November 17, 2016.
At FxPro we are centered on imparting better trading relations and a more professional buying and selling surroundings for our customers. In the last couple of years, we have taken measures in the direction of increasing our range of services, as well as in providing a fair faster and extra dependable execution of customer orders, in addition improving our trading environment. We are delighted to look that every one of our updates has been very well acquired via our clients and they are proud to get hold of these reader-voted awards for but every other 12 months.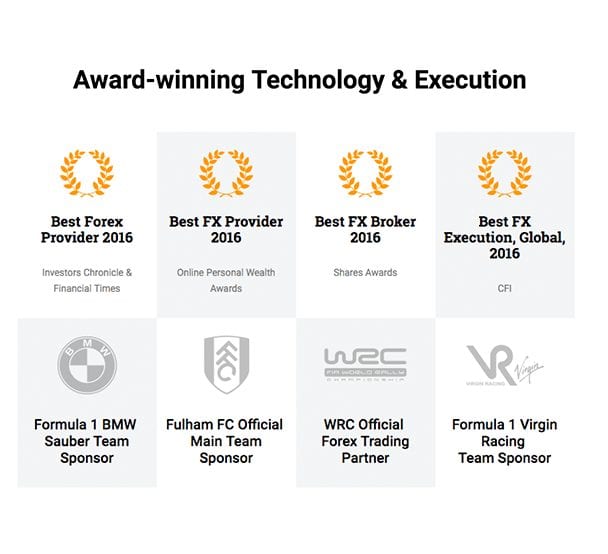 Received best FX brokers award
Received best forex provider award
Provides best trading experiences
Go to Broker
Risk warning: Capital can be lost. Terms and conditions apply.
Conclusion: So how did FXPro do?
FXPro was created in the year 2006 by a team of highly experienced financial experts. FXPro today has become a leading name in the world of FX and CFD Trading They have created an incredible selection of trading technology, and the company is currently serving over 5000 traders in every second that passes. Their proprietary platform is very efficient such that it is able to attain an order execution rate 99.9%.
All in all, FxPro offers something for everyone and makes it easy to trade in CFDs. FXPro is suitable for traders of all levels from beginner to advanced. Also it is well worth taking a look at their selection of trading tools which are unique to this broker. These include algorithimic trading tools for auto trading. This is an excellent way for new traders to see market action without having to be expert. Also worth looking at FXPro's educational features too! This is a highly recommended broker at all levels. Want to discover other excellent brokers? Visit our CFD Broker Comparison.
Closer spreads
Higher liquidity
Demo does not expire
No broker intervention
Wide range of tradeable assets
Complex verification process
Limited promotions and bonuses
Test result
Broker

Go to Broker
Risk warning: Capital can be lost. Terms and conditions apply.