HYCM is a leader in online CFD trading services and they cater for both institutional and retail investors. In business for 40 years, they keep clients satisfied and they remain on the cutting edge of technological innovation.
This is a comprehensive HYCM CFD Trading review 2018 and it answers -is HYCM legit?
They are a member of the Henyep Group, a worldwide conglomerate with interests infinancial services, education, charity and property. They are regulated by the Cyprus Securities and Exchange Commission and the UK Financial Conduct Authority.
They have offices worldwide, notably in HongKong, United Kingdom, Dubai and Cyprus.
Highlights
40 years' experience in financial services
Regulated by UK and Cyprus authorities
Member of the Henyep Group
Great reputation for fairness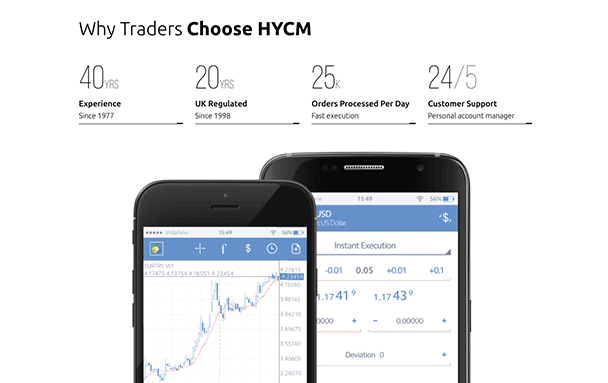 Go to Broker
Risk warning: Capital can be lost. Terms and conditions apply.
Headquarters and regulation
UK (FCA)
Fees and Spread
depends on type of account
Mini contracts tradable
Yes
Trading platform
MT4, Broker-owned Software
Demo account
Yes, available for 14 days
Services & additional benefits
Live
Hotline
E-mail
Economic Calendar
E-Book
Videos
1. Trading Offer
1) CFD Trading Offer: HYCM offers a multitude of CFDs
This HYCM CFD Trading review 2018 clearly shows how they specialise in offering trading services for CFDs and exposure to multiple capital markets. This allows their investors to create a diverse portfolio using a single account.
A CFD isanagreement that allows a trader to speculate on what the value of a given financial instrument is without needing to actually purchase this instrument. With a CFD, if the instrument's value is greater when the agreement closes than when it was bought, the party selling the contract pays the buyer the difference (and vice versa).
Some of the most common CFDs track the price movements of the likes of crudeoil, currency pairs, market indices, stocks and cryptocurrencies.
This broker comparison review showcases extended range of CFDs on offer, as well as the option to receive significant leverage if you meet their requirements.
They have a wide range of exotic assets available for you to trade and it was in 2017 that they first launched their cryptocurrency CFD trading with Bitcoin.
This offering has sincegrown to include other major cryptocurrencies such as Ethereum, Ripple, Litecoin and Bitcoin Cash. There is a single month expiration on these crypto contracts. A lot of other CFD brokers only offer Bitcoin CFDs, so HYCM have an edge on them in this respect.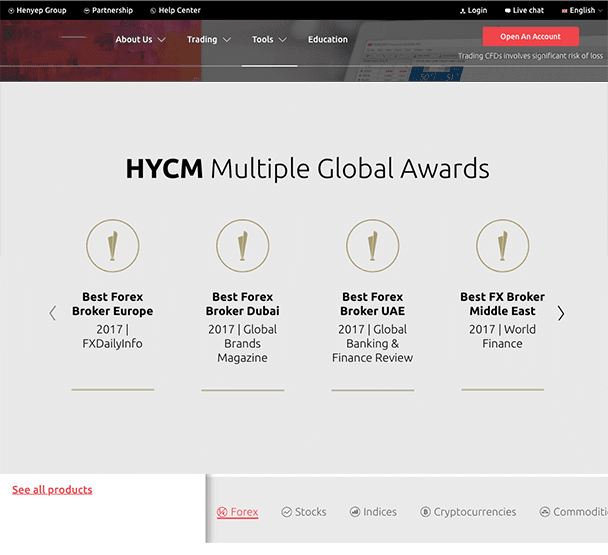 Comprehensive offering of cryptocurrency CFD instruments
Extended coverage of the markets
1:500 leverage for all account types
Go to Broker
Risk warning: Capital can be lost. Terms and conditions apply.
2. Costs
2) CFD Trading Costs: HYCM Charges Zero Commission
The trading costs that you pay when using the HYCM platform depends on what type of account you sign up for, the options being Micro, Standard or VIP.
For all these accounts, there is fixed-spread pricing for HYCM CFD trading.
The standard account is usually the best option for the average investor due to the pricing limit only on fixed spreads. If you are not comfortable opening a VIP account just yet, you will still have a wide range of products available.If you went with the micro account you are severely limiting your options and you also have greater spreads.
Yes
Mini contracts
Tradable
Spreads are an important factor to consider when choosing a CFD broker, especially if you are going to be making a lot of trades. Over time, these costs add up so even the smallest of margins can make a significant difference in whether you are in the green or red come the end of your trading year.
There are zero commissions charged by HYCM CFD broker which is up there with the best CFD brokers in the industry. This HYCM CFD trading platform review showcases that while fixed spreads are a bit wider than those that are adaptable, it gives a more stable and forecastable trading environment for the trader.It also allows them to protect against massive spread swings that occur when not using a fixed spread broker.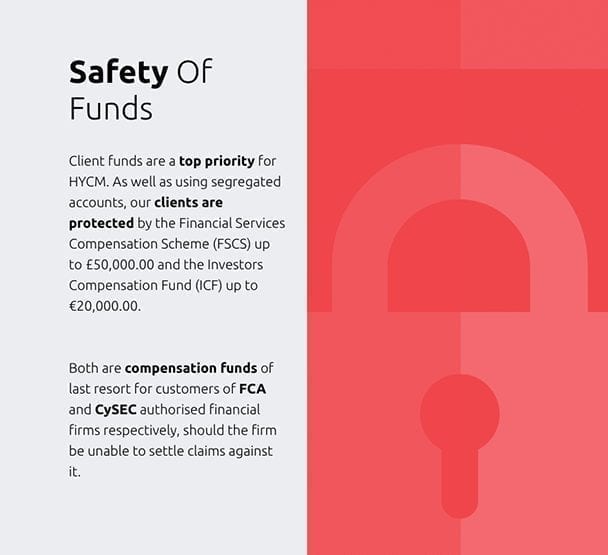 Zero commission charged
Fixed spreads
Tiered system of spreads depending on account type
Go to Broker
Risk warning: Capital can be lost. Terms and conditions apply.
3. Account
3) Accounts: Three Account Types at HYCM
With HYCM, there are three account types available to choose from. CFD brokersgenerally will try to have an account type that suits all types of investor, whether it is a total beginner, an individual trader still learning the ropes or experienced investors who want to utilise advanced features and get the best deal on commissions and fees.
All of the account options have been looked at through this HYCM CFD trading review.
With the Micro account, the minimum required deposit is $100, there are 50 tradeable products available, the max leverage is 1:500 and the minimum fixed spread is 2.0 pips.
With the Standard account, the minimum required deposit is $1,000, there are 120 tradeable products, the max leverage is 1:500 and the minimum fixed spread is 1.8.
Finally, the VIP account has a requirement of a $10,000 minimumdeposit, with 120 tradeable products, maximum leverage of 1:500 and a minimum fixed spread of 1.5.
There is mobile trading available for all of these accoutoptions, with trading signals being given to Standard and VIP account holders.
If you want to open type of account with HYCM, you simply go to the platform and select what account type you wish to open and enter the relevant details to get started.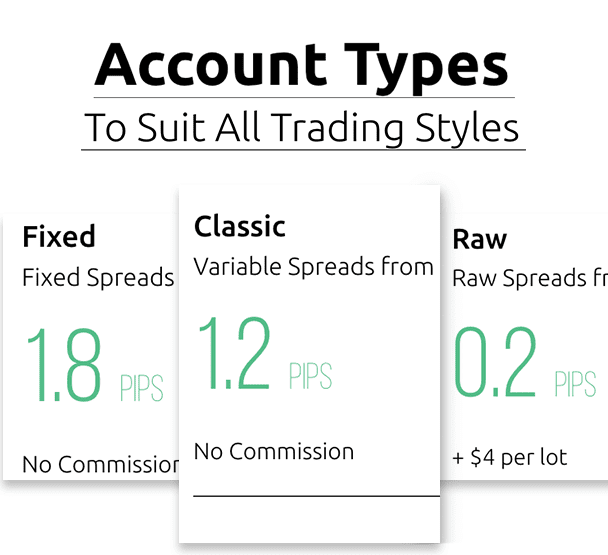 All accounts offer max leverage of up to 1:500
Free demo account on offer
Trading signals available for standard and VIP accounts
Go to Broker
Risk warning: Capital can be lost. Terms and conditions apply.
4. Platform
4) CFD Trading Platforms & Mobile Trading: 3 main options
HYCM has three trading platform options to choose from.
There is the PrimeTraderplatformthat is currently in development and set to be released in the near future. There will be no need to download this proprietary platform, but you do need to download the MT4 platform.
The MT4 platform is fairly barebones and straightforward. It is a common option for a lot of CFD brokers and there is not going to be much variation from broker to broker. The main areas to note are the difference in trading commissions and spreads.
Prime Trader will allow you to trade multi-assets, it has an in-built account management system, advanced charts, has a guaranteed stop/loss and different typesof price views.
The MT4 has some advanced trading tools and you can set up automated trading. They also have a wide-ranging charting package, it is customisable and it is industry standard, so you know what you aregoing to get.
Finally, the HYCM Mobile Trader is capable of account management, can be usedon Android and iOS device and it is completely mobile capable.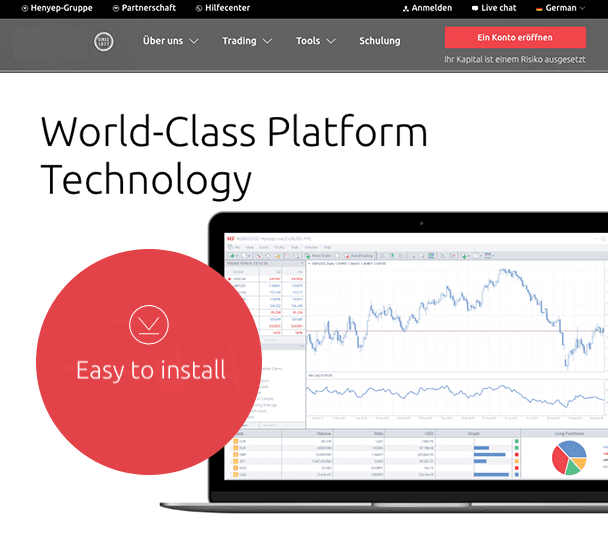 Mobile Trader for traders on the go
MetaTrader4 industry standard platform
Proprietary Prime Trader platform in the works
Go to Broker
Risk warning: Capital can be lost. Terms and conditions apply.
5. Usability
5) Usability of the Website: HYCM is easy and straightforward to navigate
The HYCM website is very easy to navigate through as the menus are clearly laid out and the information that you are searching for is not hidden amid pilesof text. They went with the minimalist approach, so the information is direct and straight to the point.
Everything is clearly labelled so you won't have trouble finding what you need.
There is also ease of use, as you are always only a click of a button away from placing trades. Even if you areusing a virtual account, if you want to switch over immediately to your real account, it just takes a single click to do so.
In terms of the website, there are five different languages that are catered for, being Italian, Russian, Spanish, Chinese and Arabic, in addition to English.
The last thing you want as a trader is to be facing a widespread clutter and spending your time and energy searching for information such as spreads, fees and commissions. You want to have all of this information easily found and clear to read so you can focus on what matters – your trading.
HYCM have learned over the years what investors like and what they don't like and have tailored their website and platform to reflect these preferences.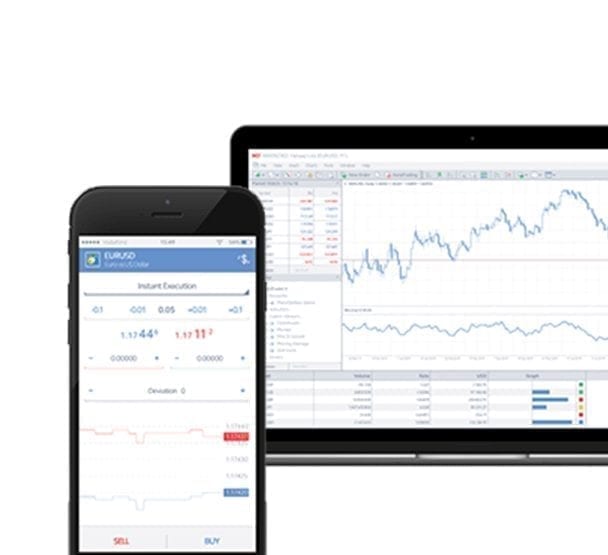 Trading is a click of a button away
6 languages catered for
Clear and straightforward information
Go to Broker
Risk warning: Capital can be lost. Terms and conditions apply.
6. Support
6) Customer Support: HYCM offers wide-ranging 24/5 support
HYCM has a customer support team workingaround the clock Monday to Friday, closing at the weekends. If you have an issue during the week, you can easily getin touch with a support team member through live chat, telephone or email.
The live chat option is generally the best choice if you need a quick answer to a straightforward question. For more advanced questionsthat perhaps concernsensitive topics, you may need to email or telephone the team as the live chat operators may not have the adequate level of clearance, access or expertise to help you.
There is also a comprehensive FAQs section that can be utilised before getting in touch with the customer support team, as it often will contain a solution to the question or issue you had.
Usually, it is a good idea to getin touch with the support team in advance of making your first deposit to ensure that you are doing it the right way and ensure that you will meet the requirements for receiving your deposit bonus.
Languages that are catered forareItalian, Russian, Spanish, Chinese and Arabic, in addition to English. This is a platform that focuses on providing a top quality experience for customers across the world, so HYCM are always striving to treat their customers as best as they possibly can.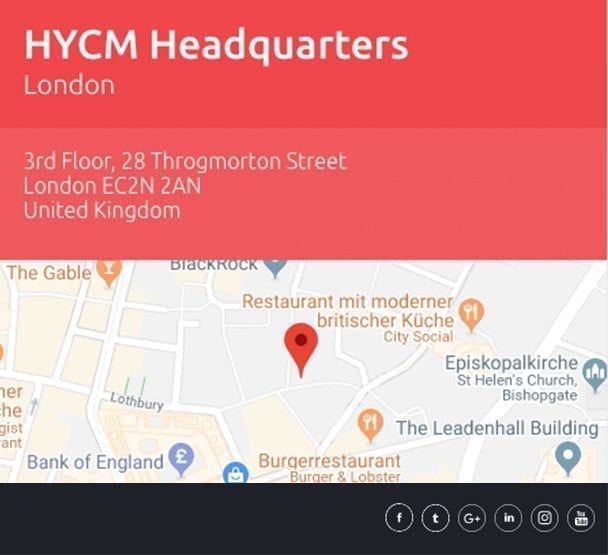 24/5 customer support
Team contactable via live chat, email or telephone
6 languages catered for
Go to Broker
Risk warning: Capital can be lost. Terms and conditions apply.
7. Payment
7) Methods of Payment: Various methods available for HYCM Depositing and Withdrawal
When making a deposit to your HYCM trading account, you have a few different optionsavailable to you. They each have their own types of currencies that can be used. Skrill, Neteller, Web Money, Visa and MasterCardprocess your deposit instantlywith no transaction fees.
A wire transfer takes longer to process, between one and five days.There is also a minimum required deposit of $250 when you use this option (otherwise it is $20).
The same options are availablewhen making a withdrawal, but the processing times are a bit longer. Wire transfers still take one to five days, but the e-wallets and MasterCard/Visa could take up to a week to process.
Withdrawals need to bemade to an account that using the same name as is on your account. If thereis a wire transfer withdrawal that involves less than $300, there will be a handling charge of $30 applied.
In terms of the security of your transactions, HYCM are regulated by the FCA and CYSEC, which means that they operate within strict risk management and accounting frameworks.
Any capital that isn't used for margin is segregated into a secure client account which is kept away from the HYCM company funds. If the company ever goes bankrupt, your funds cannot be utilised to pay creditors.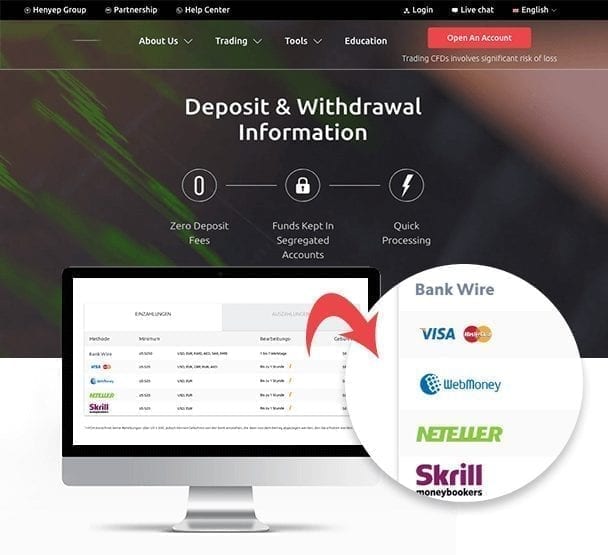 7 main methods of deposit and withdrawal
No fee for majority of options
Fast processing times
Go to Broker
Risk warning: Capital can be lost. Terms and conditions apply.
8. Offers
8) Additional Offers: Free HYCM Demo Account, Bonus Offers and Economic Calendar
HYCM offer a demo account for anyone who may wish to use it. Generally, it caters for beginner traders who are trying to learn the ropes.
This includes the basic of how a trading platform works, how to place trades and conduct various types of analysis. There is also a role for thesedemoaccounts for more experienced traders who may want to try out a new strategy or financialinstrument without risking any of their own funds.
There is a useful economic calendaravailable on the HYCM website which can be used to keep a breadth of all the latest events having across the world that may have an effect on the markets.
It is always worthwhile keeping an eye on the economic calendar for some key dates during the year.
If you aren't yet signed up with HYCM, they do have a bonus offer for those who sign up for their platform. You are able to get a 25% bonus on your first deposit.
You can receive bonus funds of up to $5,000 and the minimum requireddeposit for this offer is $100. These types of bonuses are very helpful for traders as they instantly increase the amount of funds they can use when making trades. It is a good way to get a kick start to your new account.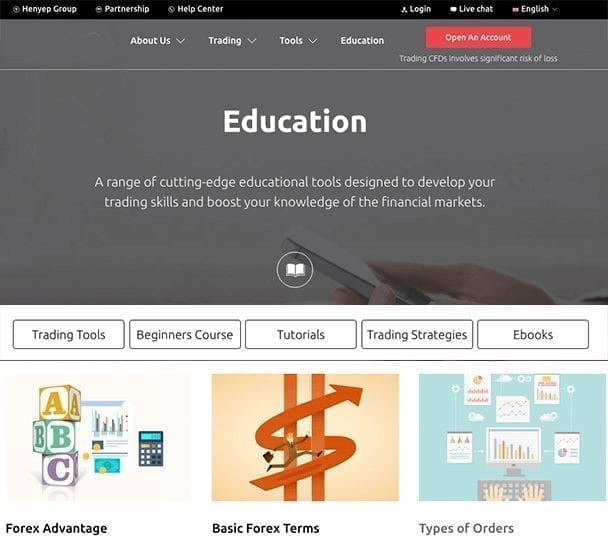 Deposit bonus of 25%
Economic calendar available
Minimum deposit for bonus is $100
Go to Broker
Risk warning: Capital can be lost. Terms and conditions apply.
9. Regulation
9) Regulation & Deposit Protection: Your Money is safe with HYCM
HYCM are an establishedplatform that has many decades of experience in the financial services sector. They know how important security is and they do their upmost to keep the personal and financial data of their investors safe from harmful parties.
UK traders are covered on the HYCM CFD broker platform by the UK Financial Conduct Authority (FCA). This ensures that HYCM meets their regulatory standardsrequirements. See how others stack up in terms of regulators in this CFD comparison guide.
You are covered by the Financial Services CompensationScheme (FSCS) in case something did happen. This independentgroup allows you to submit for compensation of up to £50,000 if HYCM goes under.
If in Europe, investor protection comes from the CyprusSecuritiesExchange Commission. The protection is similar to that offered by the FCA, with the max compensation coverage being€20,000.
When you sign up for an HYCM account, you will need to follow through with regulatory requirements and provide the necessary Know Your Customer (KYC) documentation.
This helps to prevent the likes of fraud, money laundering and safeguarding client security. Documents will have to be sent within a week of opening up a new account and you will need to send in a copy of either your passport or national lD card and proof of address from the past three months.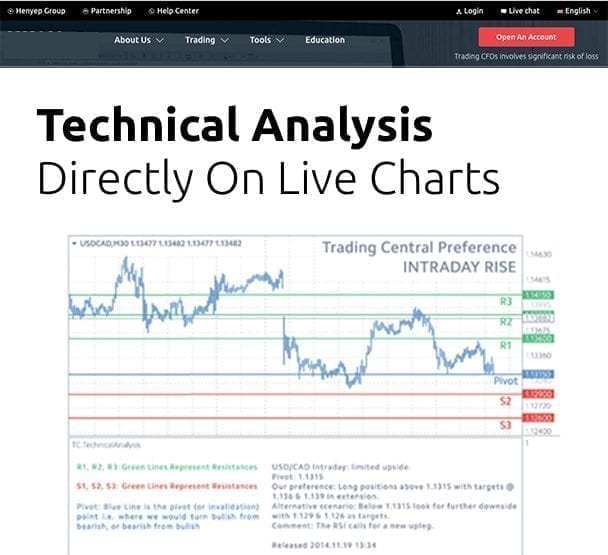 Regulated by FCA and CYSEC
KYC documentation needed within 7 days
Strong fraud protection measures
Go to Broker
Risk warning: Capital can be lost. Terms and conditions apply.
10. Awards
10) Awards: Media Reports about HYCM
HYCM CFD broker has a positive presence in theirdealings with the press. They have a good reputation amongst the media and they have not let their standards drop over the years.
This is certainly a change when you look at the best CFD broker reviews that have been completed elsewhere on this review site.
There were widespread reports when they started to offer a variety of cryptocurrency CFDs in 2017. They launched their first Bitcoin CFD in June after a lot of demand from the market, with a further three cryptocurrencies following suit in the closing months of 2017.
April 2017 saw HYCM receive their license from the CyprusSecuritiesExchangeCommission, something which allowed them to greatly expand their offering in Europe and firmly establish themselves as a market leader in the region.
It was in July 2016 that they changed the name of their HY Markets brokerage to HYCM in order to keep pace with developments in the industry and showcase their international offering.
It wasn't the first time that they had rebranded either, with a similar name change occurring in 2010 when Henyep Investment changed its name to that of Henyep Capital Markets. It certainly drummed up publicity for them and no doubt led to an increase in new customers across the world.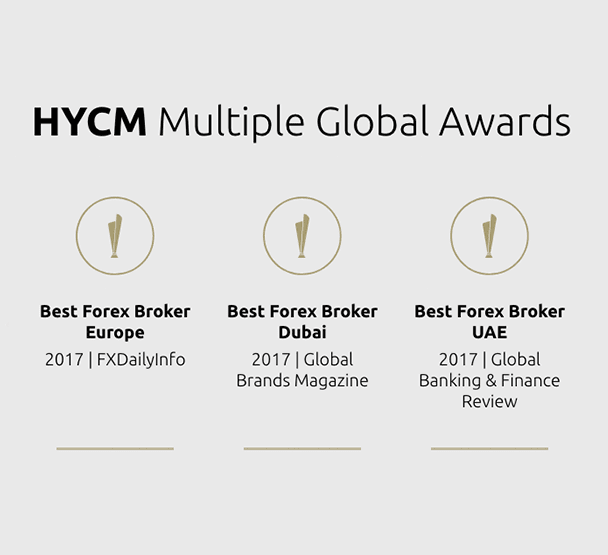 2016 HY Markets goes international and rebrands as HYCM
2017 the company receive their CySEC license
HYCM has received many awards across the globe for their product and offering
Go to Broker
Risk warning: Capital can be lost. Terms and conditions apply.
Conclusion: HYCM CFD review final thoughts
Is HYCM legit and is HYCM CFD broker a good broker?
Having conducted a comprehensive HYCM CFD review, the conclusion is that HYCM offers something for everyone. They have three different typesof accounts which mean that there is an option for all typesof traders.
They have some of the best CFD product offerings in the industry and they have decades of experience in the financial services industry which indicates that they don't look to be going anywhere anytime soon.
Their trading platforms are high-quality, whether it is their proprietaryplatform or the industry standard MetaTrader 4. They even have a dedicated mobile trading platform for those who want to place trades when they are out and about.
They have an enticing bonus for new sign ups and they offer a variety of deposit and withdrawal options, which mean you should have little to no issues on this front. Finally, they take the security of their investors seriously, so you neednot worry about the safety of your funds or data more so than usual.
To conclude this review and broker comparison– CFD Comparison, HYCM is one of the best CFD brokers around today. It is certainly a broker that inspires confidence and you won't go far wrong by signing up to an account with them today.
3 trading platform options
3 investor account options
FCA and CYSEC regulated broker
Long track record in the financial services sector
Secure banking options
Poor educational library
Uncompetitive spreads
Test result
Broker

Go to Broker
Risk warning: Capital can be lost. Terms and conditions apply.