Founded in 2014, and headquartered in Cyprus, the Libertex brokerage offers a wide array of tradable instruments and allows investors to trade in CFDs, stocks, forex, indices and cryptocurrencies. The brokerage is generally well-respected within the industry, but is Libertex good enough for your personal investing and trading needs? Our review of Libertex will take a close look at what the firm has to offer, including Libertex stock trading, fees and services, but in short, here are some of the key features of the company:
Highlights
Over 200 tradable assets
Award-winning brokerage
Trading in a range of currencies
Fully regulated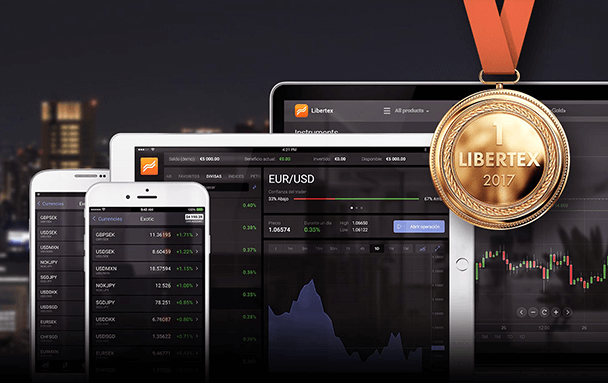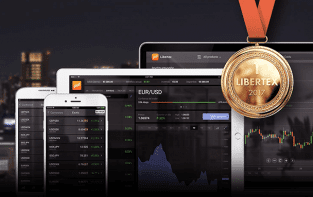 Go to Broker
Risk warning: Capital can be lost. Terms and conditions apply.
Headquarters and regulation
Cyprus (CySEC)
Fees and Spread
depends on type of account
Mini contracts tradable
Yes
Trading platform
Broker-owned Software
Demo account
Yes, unlimited
Services & additional benefits
Live
Hotline
E-mail
Economic Calendar
Videos
Courses/Seminars
1. Trading Offer
1) Trading Offer: Trade CFDs, stocks and currencies
Libertex stock trading allows customers to easily buy and sell the most popular tradable instruments. The broker offers more than 200 tradable assets, and currently serves 2.2 million clients across 27 countries. Assets available to trade include stocks, indices, ETFs, fiat currencies and cryptocurrencies. CFD trading is offered, with leverage of up to 1:30 offered for forex trading, and there is a variety of currency pairs to trade, including some exotic pairs. Libertex supports cryptocurrency trading and has a wide variety of digital currencies to trade in, including Bitcoin, Litecoin, Dash, Ripple and Ethereum. Libertex offers stock trading in major public companies such as Apple, Amazon, Twitter and Facebook, as well as many lesser-known companies and corporations.
Commodities available to trade include precious metals, agriculture and oil and gas. Signing up for an account is very straightforward as there is only one real-money account available to most customers. However, professional traders can open a Pro account, and some other high-volume traders may also be eligible for the Pro account (if they have a portfolio of over €500,000). Potential customers are also welcome to open a risk-free demo account to practice with, and this will be credited with $50,000 of virtual money. It is easy to switch from a demo account to a real account when you are ready to do so.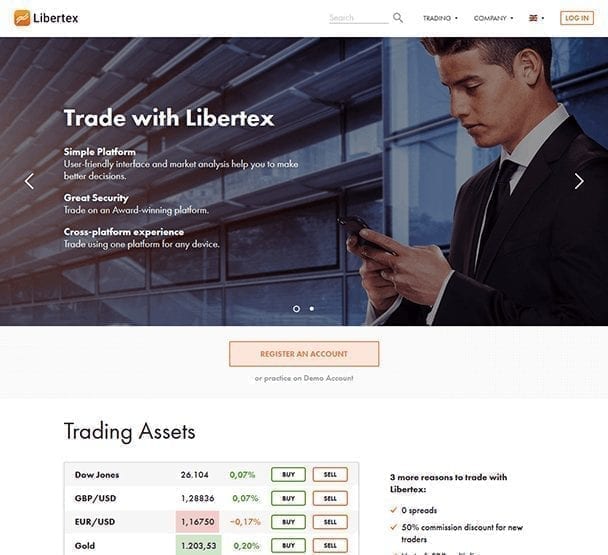 Excellent range of assets
Easy account set up and account management
Risk-free demo account
Go to Broker
Risk warning: Capital can be lost. Terms and conditions apply.
2. Costs
2) Costs: Competitive commissions and no spreads
A key element of any CFD broker comparison must always be to take a close look at the costs involved. Unlike the vast majority of brokers, Libertex does not work on spreads, but instead charges a commission on each trade. The commissions charged vary depending on the asset you are trading, and can also vary during a trade, so traders certainly need to stay on their toes, but quoted average commissions are reasonable, with an average of 0.008% taken on EUR/USD trades and 0.011% on GBP/USD trades. With cryptocurrencies, there is some variation, with the average commission on BTC/USD quoted at 0.2684% and on ETH/USD at 0.475%.
Yes
Mini contracts
Tradable
Libertex clearly displays commission charges for each asset, along with other details such as leverage available and minimum distance for placing an order, on the website. Experienced forex traders who have long been used to working with spreads and pips will certainly find that this system takes some getting used to, and may well draw the conclusion that Libertex is not the best CFD Broker for them, based solely on this fact. It should be noted, however, that many traders enjoy their trading experience with Libertex, and the firm has won numerous awards, so it may be worth considering adapting to a less common system.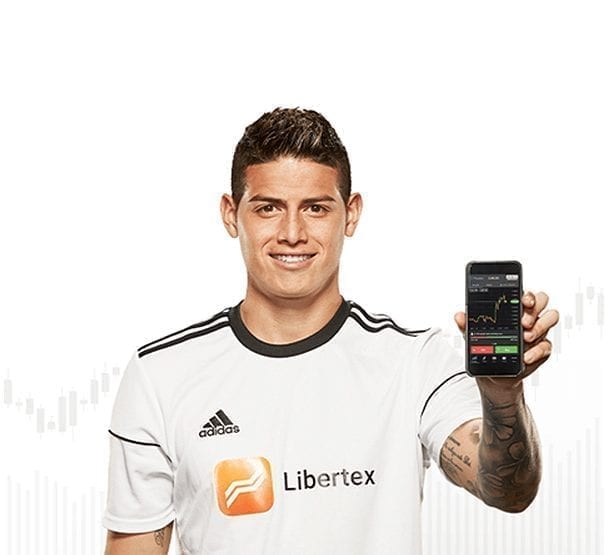 No spreads
Variable commission fee on every transaction
Commissions, leverage and other details clearly displayed on website
Go to Broker
Risk warning: Capital can be lost. Terms and conditions apply.
3. Account
3) Accounts: One account fits all
Signing up for a Libertex brokerage account is easy and quick. The majority of traders will set up a retail account, which is the only real-money account suited to most private investors. There is a Pro account available, but investors must prove eligibility. To open a Pro account, you will need to fulfil two of the following three criteria: relevant experience in the financial services sector, sufficient trading activity in the last 12 months, and a financial instrument portfolio of over €500,000 in value (including cash savings). It is also possible to set up a demo account, which will be funded with $50,000 of virtual money, allowing you to experiment and get used to the platform.
It is easy to set up either a retail or demo account in just a few minutes, though funding your account will involve a verification process, as with any reputable brokerage. It is simple to upgrade from your demo account to a real-money retail account when you are ready. Next, you will need to set up a payment method to start funding your account. Options include a bank transfer, credit card, Skrill, Neteller, Sofort and Trustly. Most funding methods are instant and free, though you should remember that your bank or credit card provider may apply charges at their end.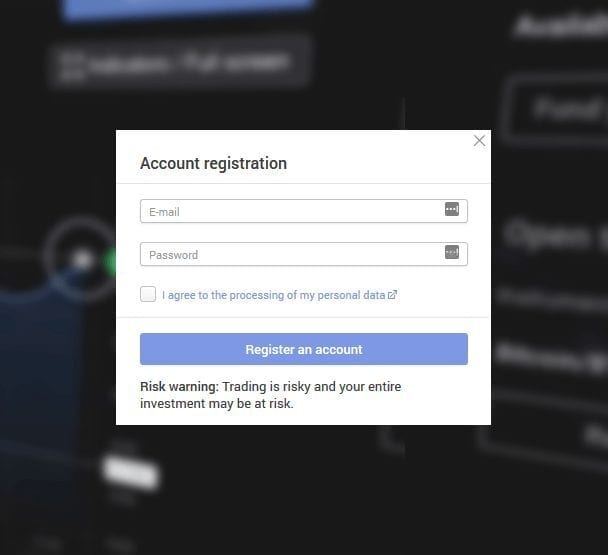 Easy account set up
Good range of funding options
Retail and professional accounts available
Go to Broker
Risk warning: Capital can be lost. Terms and conditions apply.
4. Platform
4) Trading Platforms: Libertex proprietary platform
Libertex runs its own proprietary trading platform, which is web-based and does not require you to download any apps or software. The platform should run easily on any operating system or device, using any modern browser. This also means, of course, that the platform can be accessed from any smartphone or other mobile device. The platform is easy to navigate, and features a simple, intuitive interface to allow for fast, easy account management. The platform incorporates charting tools and other technical analysis indicators, as well as industry news and trading signals. It facilitates easy and intuitive order placement, stop losses, and other features that you would expect from a custom-designed platform. Over 40 integrated technical indicators include trend and volatility indicators and oscillators.
Customers can view live quotes for every available instrument and are able to customise a favourites list to easily monitor frequently traded assets. There is an easily accessed live trades section showing the trading activities of other Libertex traders in real time, and it is simple to access all-important account features such as your wallet balance and order history. While some experienced traders may not be happy at the lack of access to popular trading platforms such as MT4, most traders will find the Libertex platform more than adequate.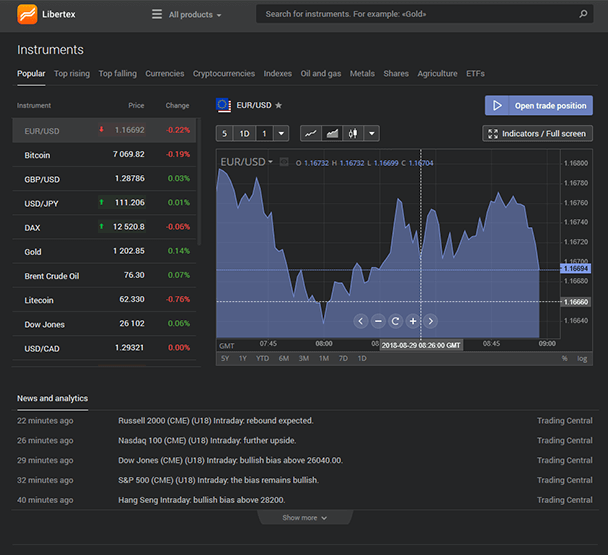 Intuitive, easy-to-navigate platform
Good mobile experience
No MT4 availability
Go to Broker
Risk warning: Capital can be lost. Terms and conditions apply.
5. Usability
5) Usability of the Website: An emphasis on functionality
While conducting our review of Libertex, we noted that the website is extremely well-designed and easy to navigate, with a very clean, uncluttered look. The emphasis is certainly on functionality, and the design itself is simple and unobtrusive. Two drop-down menus at the head of the homepage cover company information and trading, and take you to all the most important elements you might need to access, such as available assets, education, payment methods, and general company information. Scrolling down the homepage will lead you to well-organised sections covering important features of the platform, including news, testimonials and education. The footer of the homepage contains a more extensive set of links, supporting easy access to everything you might need, including legal and privacy information, help and support, and more information on individual asset classes. Clicking on the help and support button takes you to a searchable directory with information grouped by topic, such as banking, verification and trading conditions. If there is anything you cannot find easily, there is a search box at the top of the homepage. This is also where you can log into your account, and set your language preference.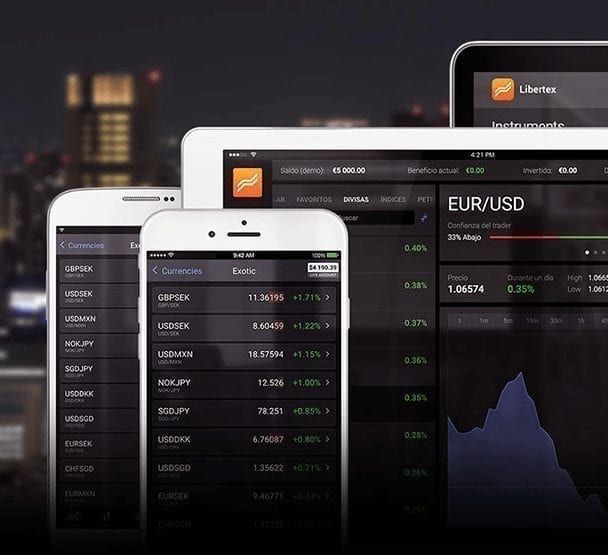 Clean, simple design
Easy to navigate
All pertinent information is clearly displayed and easy to find
Go to Broker
Risk warning: Capital can be lost. Terms and conditions apply.
6. Support
6) Customer Support: Multi-lingual options
No Libertex brokerage review would be complete without mentioning the company's customer service options. As mentioned in the above section, the help and support page on the Libertex website contains useful information, grouped into topics, with articles that will answer a wide variety of questions. For example, the verification section will explain not only how to verify your account but also how long it will take, how to change account details, and how to reset passwords for your account. The trading conditions section covers everything from opening and closing an account and minimum deposits required to explaining terms such as margin, leverage and multiplier.
The brokerage also offers good general options to contact customer service, with customer support available in several languages, by phone, email or a web form. Customer support professionals are generally helpful, and response times are quick. There is, however, no live chat available, which is disappointing for an online broker as it is the preferred option for many tech-savvy online traders. We also noted as part of our review of Libertex customer service that while there are social media accounts available on both Twitter and Facebook, they do not appear to be particularly active or responsive.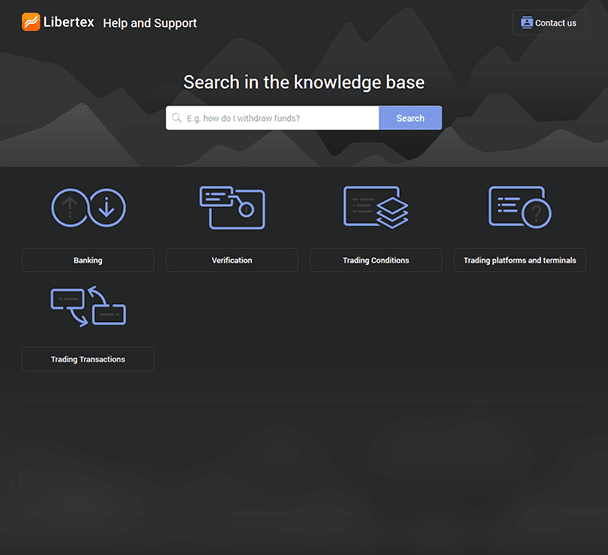 Extensive help section
No live chat
Social media not very active
Go to Broker
Risk warning: Capital can be lost. Terms and conditions apply.
7. Payment
7) Methods of Payment: Bank transfers, card payments and e-wallets
Libertex has a variety of different methods of deposit and withdrawal available. Credit card and debit card payments are accepted and are free to process (though your card provider may charge a fee). Some credit and debit card deposits are subject to Mastercard SecureCode or Verified by Visa, for the card holder's protection. Pre-paid Visa and Mastercard payment cards are also accepted, though you may need to check with the issuer if there are any restrictions on how your pre-paid card can be used. Bank transfers are fine but may take longer to process. Payments by credit and debit cards, along with most third-party e-wallet payments, are usually instant.
Deposit methods accepted include Skrill, Sofort, Neteller, GiroPay, Trustly and iDeal. There are fewer options available for withdrawals, which should generally be processed by bank wire, Skrill or Neteller. You can also request withdrawals to the same credit or debit card that you deposited with, but this may be subject to restrictions, so it is possible that you will need to set up withdrawals via bank transfer or e-wallet. There is a small fee for some withdrawals, usually just €1 for credit and debit cards, 0.5% on bank transfers, and 1% with Neteller. Skrill currently offers free withdrawals.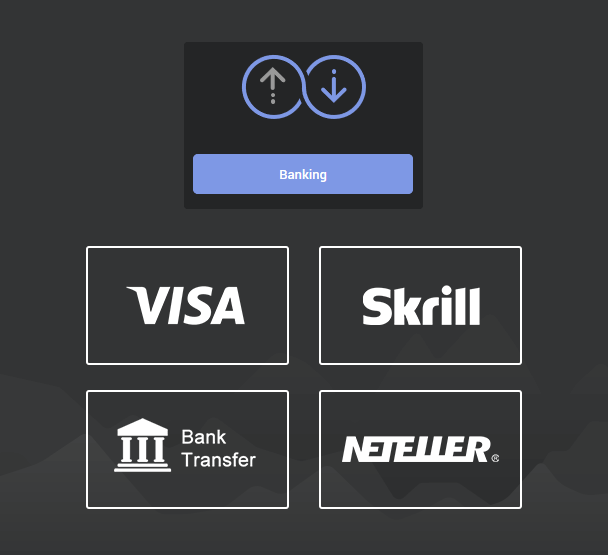 Variety of payment methods
Limited withdrawal methods
Most payment methods are free and instant
Go to Broker
Risk warning: Capital can be lost. Terms and conditions apply.
8. Offers
8) Additional Offers: Bonuses, discounts and free training
Libertex runs special offers and bonuses, so it is worth checking what is available when you sign up for your Libertex brokerage account. At the time of writing, the broker is offering a 100% bonus to new customers on their first deposit, available to everyone who deposits at least $100, with a maximum bonus amount of up to $10,000. You can actually open a retail account with as little as $10, but just $100 will get you another $100 of bonus funds. There are also "status levels" that trigger commission discounts and other perks, such as enhanced access to support services. These come in Gold, GoldPlus, Platinum and VIP levels, and depend on the amount of money you deposit.
Check for any extra bonuses and discounts when you open your account with Libertex stock trading. Another nice additional extra is the beginners' trading course, with free video lessons available to new traders, covering general trading tips, and many aspects of how to trade with Libertex, as well as explaining some trading terms and concepts. There is also a partner programme, allowing you to earn affiliate commission when you recommend Libertex to other potential customers.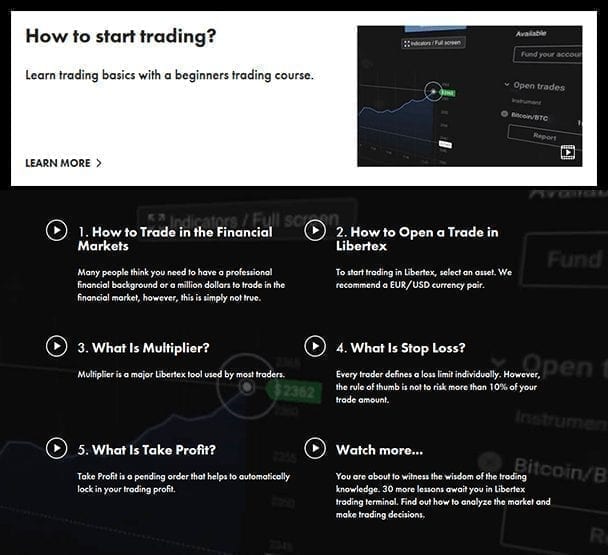 Some special offers, including deposit bonus
Partner programme
Free trading course for beginners
Go to Broker
Risk warning: Capital can be lost. Terms and conditions apply.
9. Regulation
9) Regulation & Deposit Protection: Fully regulated and insured
Libertex is licensed and regulated by the Cyprus Securities and Exchange Commission (CySEC), and has gone to great lengths to ensure a commitment to the safety and security of client funds and data. Client funds are kept in secure, segregated bank accounts, completely separate from all Libertex-owned assets, ensuring that client funds are safe in the event of the broker running into financial difficulties, or facing insolvency. In addition, the company is a contributory member of the Investor Compensation Fund (ICF), which provides insurance covering client deposits to the value of €20,000 in the event of insolvency.
CySEC
Regulatory Authority
In order to protect customer data, the brokerage also has Secure Socket Layer (SSL) encryption across all its websites and platforms to provide a secure environment for clients. With a commitment to transparency, Libertex clearly displays key information and documentation on its website, including all licensing details, legally required documentation, and a Key Information Document with all the key investor information required when offering financial products to the public. This can all be found in the information section, in the footer of the website, along with other important information, such as the website's privacy policy.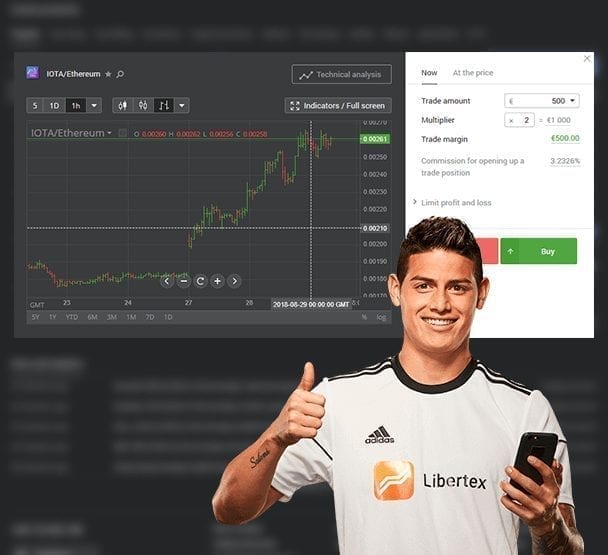 Fully licensed and regulated
Member of the Investor Compensation Fund
Keeps client funds in segregated accounts
Go to Broker
Risk warning: Capital can be lost. Terms and conditions apply.
10. Awards
10) Awards
No broker comparison review is complete without a quick look at any awards and accolades the broker has won. Libertex has been rewarded with recognition within the industry from many different directions, with more than 30 prestigious international awards to its name, from various financial magazines and institutions worldwide. Libertex won the award for Best Cryptocurrencies broker at the 2017 and 2018 Forex Awards, and also took the award for the Best Trading App in those two years. The brokerage has also been awarded Best Trading Application for the European Union by Global Banking and Finance Review in 2016, and Best Trading Platform, also in 2016, by FinEXPO. Statrader features Libertex on its Top Forex Brokers page, stating that "Libertex is one of the best Forex brokers on the market".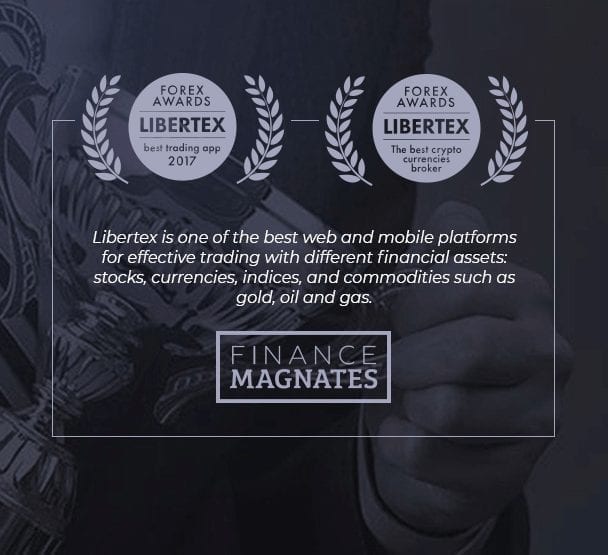 Over 30 international awards
Has won Best Trading Platform and Best Trading App awards
Recognised as a top forex Broker
Go to Broker
Risk warning: Capital can be lost. Terms and conditions apply.
Conclusion: Our verdict on Libertex
As our Libertex brokerage review has shown, this broker offers an excellent option for those wanting to invest in stock, CFD and forex trading. The company has a wide range of tradable assets, an excellent and intuitive trading platform, and a wide range of funding options. Sign-up is quick and easy, and accounts can be started at a very modest funding level. There is a free training course, a useful demo account, and bonuses for new customers.
Security seems to be high level, and all best practices are followed regarding encryption, storage of customer assets, and deposit insurance. There is not much to choose from when it comes to account options, with just one retail account and a Pro account, and some traders will certainly miss the facility to use the MT4 and MT5 platforms, along with their high levels of customisation. Libertex, however, has much to offer and will no doubt continue to be a popular choice.
Over 200 tradable assets
Award-winning brokerage
Trading in a range of currencies, including cryptocurrencies
No option for MT4 or MT5 trading
Limited training and education
Test result
Broker

Go to Broker
Risk warning: Capital can be lost. Terms and conditions apply.