In a broker comparison – CFD comparison, Markets.com is sure to come up thanks to its extensive offerings for CFDs as well as forex. Markets.com is run by Safecap, a company that is among the fastest growing providers of CFDs and forex in the world. With Markets.com CFD trading, there are more than 2,000 assets to choose from, including shares, indices, commodities, and currencies. Markets.com is based out of Nicosia, Cyprus, and authorized by CySEC. Accounts are open to everyone around the world, with the exception of residents of the USA, Canada, Belgium, and Japan due to local regulations.
Highlights
Operated by Safecap
More than 2,000 trading assets
Available worldwide
Indices, commodities and more
27.
of 29 CFD Broker
Markets.com

Go to Broker
Risk warning: Capital can be lost. Terms and conditions apply.
Headquarters and regulation
Cyprus (CySEC)
Fees and Spread
Spread only
Mini contracts tradable
Yes
Trading platform
MT4, Broker-owned Software
Demo account
Yes, available for 30 days
Services & additional benefits
Live
E-mail
E-Book
Videos
1. Trading Offer
1) CFD Trading Offer: More than 2,000 Assets
As mentioned, the Markets.com CFD broker offers more than 2,000 assets for trading, so it is simple for investors to diversify their portfolios. Markets.com is a leader for CFD trading, offering a combination of majors, minors, exotics, and crypto. In addition to the ability to trade CFDs, Markets.com also offers trading of share CFDs from more than 12 major markets or trade cryptocurrency CFDs. If you prefer, you can opt for commodity CFDs, including both hard and soft ones, over 15 in total from around the world. All these commodity CFD trades are in real-world measurements, such as gold in ounces and coffee in pounds.
Markets.com is also known for its forex trading, where you will find more than 50 currency pairs. This includes all majors and minors, along with many exotics. Additionally, you can trade more than 25 major indices from over 20 countries. Another option for trading assets via Markets.com CFD is Exchange-Traded Funds (ETFs) with more than 30 options. Finally, Markets.com stands out in a broker comparison – CFD comparison thanks to the option of blends, which are baskets of shares with common themes.
Trade major, minor, and exotic CFDs
Trade share, cryptocurrency, and hard or soft commodity CFDs
More than 50 forex currency pairs
Go to Broker
Risk warning: Capital can be lost. Terms and conditions apply.
2. Costs
2) CFD Trading Costs: No Commissions and Competitive Spreads
Our Markets.com CFD trading – review 2020 appreciates that this platform does not charge any commissions, instead they make a profit via the spreads they charge as well as through daily swaps. This helps make trading costs more straightforward. The spreads tend to be competitive. With high leverage for specific assets, it is possible to trade large values with a small amount of money in your account. The default leverage for Markets.com CFD trading is 1:30. Leverage varies by asset type, with share trading offering leverage of up to 1:5 along with the ability to buy or short any asset. Commodity CFDs can have leverage as high as 1:10.
Yes
Mini contracts
Tradable
Those interested in forex trading will appreciate spreads as small as 2 pips fixed for GBP/USD and EUR/USD along with the option of up to 1:30 leverage. Indices offer leverage of as much as 1:20, letting your investment go further. Leverage for ETFs can be as high as 1:10, along with a low margin, so you can enjoy high capital.
Competitive spreads
Standard leverage of 1:30 for CFDs
CFD leverage of up to 1:30
Go to Broker
Risk warning: Capital can be lost. Terms and conditions apply.
3. Account
3) Accounts: Real Money or Demo Accounts Available
Like many of the other companies you will find in a broker comparison – CFD comparison, Markets.com offers both a Real Money and a Demo account. As the names imply, the Real Money account allows you to conduct real transactions and put your money at risk in return for rewards. The Demo account serves as practice, working in real-time market conditions, but does not involve using real funds. For those who want to utilize both accounts at the same time, Markets.com CFD broker makes it simple to switch between them on the left panel of the website or in the My Account section of the mobile application.
After creating an account, Markets.com clients need to provide proof of identification, proof of residence, and a National Client Identifier (NCI). In certain situations, clients will need to undergo Enhanced Verification to meet regulatory requirements. This involves confirming your phone number and a bank confirmation letter. The Demo account is completely free to use and includes an online support team, simulated trading conditions, analysis tools and charts, and real-time market data. This Demo account is unlimited, so you can hone your skills for as long as you need.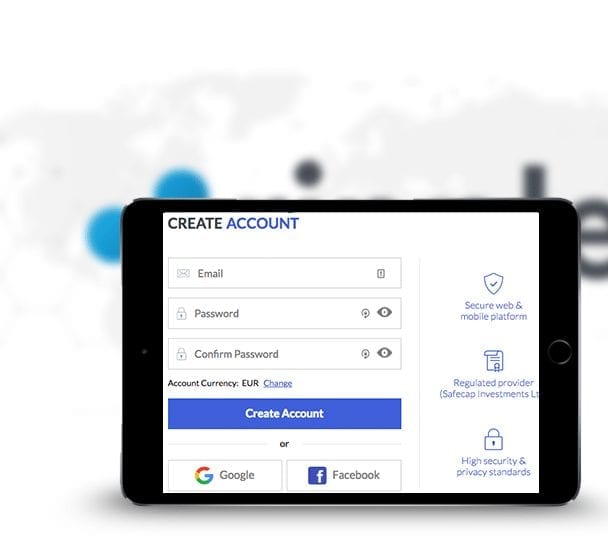 Real Money and Demo accounts available
Account verification required
Unlimited Demo account
Go to Broker
Risk warning: Capital can be lost. Terms and conditions apply.
4. Platform
4) CFD Trading Platforms & Mobile Trading: Markets.com's Proprietary Platform
Instead of relying on other platforms, Markets.com CFD trading is done via their own proprietary platform, which is available both via the web and on mobile devices. Any Markets.com CFD trading – review 2020 will likely praise the platform, which is award-winning. While you cannot use MetaTrader or something else familiar, the Markets.com trading platform is intuitive and incredibly useful. The user interface is responsive, making it possible to access every feature in just several clicks or less. This is just as true of the web-based platform as the mobile one. The Markets.com app is full featured and available for both Apple and Android devices.
The trading platform includes advanced charts, free real-time quotes, and innovative tools for technical analysis. You also get risk management tools via the platform, such as Take Profit and Stop Loss. Everything, including the Demo account, is available via the trading platform. Recently, Markets.com worked to improve the platform, now with even better navigation via improved menus. There is also refined asset monitoring, and you can view more data at a single glance instead of having to click around. The latest version of the Markets.com CFD platform includes even more, such as Trending Now, daily analyst recommendations, and events and trade.
Proprietary trading platform
Trade on web-platform or mobile devices
Platform has earned awards.
Go to Broker
Risk warning: Capital can be lost. Terms and conditions apply.
5. Usability
5) Usability of the Website: Easy to Navigate
It is fairly easy to navigate the Markets.com website, as it lays out everything clearly. You will find the legal information and disclosures at the bottom of every single page on the website, ensuring that this is highly visible in the same way found in a broker comparison – CFD comparison. You can get to most parts of the website within just a few clicks, although the lack of a search option is one point against the platform in our Markets.com CFD trading – review 2020. Even so, it is relatively simple to find the information you want, although you have search through the FAQ section to confirm that Markets.com does not charge fees, something most users will want to do since most CFD trading platforms charge fees of some sort.
The main navigation bar is divided into "Home," "Trading Instruments," "CFDs," "Trading Tools," "News and Analysis," "Education," and "Support Center." Hovering over any of these, except Support Center, will give you additional options to reduce clicking. In this way, you can access information regarding trading any particular asset in just a single click. From the homepage, you will find the most important information, such as links to the WebTrader, mobile apps, and to opening a free Demo account. The website is also available in 15 languages.
Easy to navigate
Legal information at the bottom of every page
Homepage filled with information
Go to Broker
Risk warning: Capital can be lost. Terms and conditions apply.
6. Support
6) Customer Support: Multiple Methods of Contact
One of the main categories on the navigation menu is the Support Center, making it simple to access this from any Markets.com CFD page. Unlike some competitors, who display a live chat or contact icon on every page, Markets.com does not do this. Instead, you must either scroll to the bottom of the page to select "Contact Us" or to the top to go to the "Support Center." The Support Center focuses on an FAQ section divided into categories for easier navigation. There is also a search bar, so you can quickly find something within the FAQ section. Most users will find answers to their concerns within the FAQs.
For those who need additional information, the options for contacting customer support are on the right side of the "Support Center" page. There is the option of sending an email or engaging in a live chat. A strong point for our Markets.com CFD trading – review 2020 is that customer support is available 24/5 so you can receive assistance at nearly any time. If you choose to select the "Contact Us" link at the bottom of the Markets.com website, you will be taken directly to the contact form, and the support team will respond via email.
Customer support available 24/5
Support via email or live chat
Extensive FAQ section
Go to Broker
Risk warning: Capital can be lost. Terms and conditions apply.
7. Payment
7) Methods of Payment: Accepts All Major Payment Methods
Right at the bottom of the homepage, Markets.com CFD broker lets clients know that it accepts Visa, MasterCard, Maestro, Skrill, and PayPal. There is more detailed information regarding both deposits and withdrawals in the Support Center, where you will find an FAQ section for each topic. Upon opening your account, you must deposit at least 100 USD, GBP, or EUR. Deposits are available in USD, EUR, GBP, NOK, DKK, SEK, CZK, PLN, or AED. Deposits can be made via credit cards, wire transfers, Skrill, Neteller, PayPal, Sofort, Multibanco, Giropay, Ideal, or fast bank transfers (Envoy/WorldPay). There are no deposit fees. If your payment service provider charges a fee, Markets.com will reimburse it if you deposit at least $2,500. Funds typically appear within 24 hours for debit or credit cards and one to two business days for wire transfers.
To withdraw from Markets.com CFD accounts, you must have a verified account. Your funds will always be withdrawn in the same method as your deposit. Some payment methods have minimum withdrawals, such as 10 USD/EUR/GBP for credit and debit cards or PayPal, 5 units with Skrill or Neteller, and 100 with a wire transfer, with the exception of those in the EU, who have a 20 EUR minimum. There are no withdrawal fees from Markets.com.
Deposit via credit or debit card, PayPal, Skrill, Neteller, and more
Deposits available in USD, EUR, GBP, NOK, DKK, SEK, CZK, PLN, and AED
Account verification required for withdrawal
Go to Broker
Risk warning: Capital can be lost. Terms and conditions apply.
8. Offers
8) Additional Offers: Education Center and Trading Tools
With a range of Markets.com CFD trading tools, this platform provides a good trading experience in our opinion. Although you will not find e-books or courses, like those on some others in a broker comparison – CFD comparison, Markets.com does regularly offer webinars on a range of topics. The FAQ section mentioned earlier also has a dedicated section for "CFD Trading Terminology" to help beginners, and there is general information on other types of trading in the FAQs, as well. The Demo account also provides a very useful tool for traders to get comfortable with Markets.com.
Many of the trading tools for Markets.com are found on the "News and Analysis" page. This is where you will find the economic calendar, complete with customization options. Additionally, hovering over this tab on the main navigation bar provides other news/analysis sources, including "Brexit Watch" and weekly reviews for Bitcoin, gold, natural gas, and oil. There are also more features in the "Trading Tools" tab. Once you open the Markets.com CFD broker web platform, you will find additional advanced trading tools. These include previously mentioned tools, such as real-time quotes, technical analysis, and advanced charts that allow for a multi-chart view.
Education center with webinars
Weekly reports on Bitcoin, oil, natural gas, and gold
Advanced trading tools in web and mobile platforms
Go to Broker
Risk warning: Capital can be lost. Terms and conditions apply.
9. Regulation
9) Regulation & Deposit Protection: Authorized by CySEC
Markets.com is part of Safecap Investments Ltd., which is regulated by CySEC, the Cyprus Securities and Exchange Commission, with license number 092/08. It has additional regulation by the FSB, Financial Services Bureau, in South Africa with license 43906 as a financial services provider. Safecap is located in Nicosia, Cyprus. Both Safecap and Markets.com are Playtech PLC subsidiaries. Playtech PLC is part of the FTSE 250 Index and traded within the main market of the London Stock Exchange.
CySEC
Regulatory Authority
To protect users, Markets.com is secured by SSL for a secure experience. Additional security comes from McAfee SECURE. The Markets.com CFD platform also confirms that users are older than 18 before allowing them to open an account, as this is required by law. To further protect funds, all data transfers done between various server machines use SSL encryption. The financial transactions are all completed by international payment service providers with Level 1 PCI certification. The trading servers are in data centers with SAS 70 certification, and communication between data servers and clients is encrypted.
Authorized by CySEC in Europe and authorized by FSB in South Africa.
Security via McAfee and SSL
Trading servers are in SAS-70-certified data centers.
Go to Broker
Risk warning: Capital can be lost. Terms and conditions apply.
10. Awards
10) Awards: Honored for Trading Platform
Markets.com is widely accepted as one of the top trading platforms for CFDs and forex. It was recently honored at the UK Forex Awards 2017. At this event, it received the honor of "Best Forex Trading Platform," as well as "Best Forex Provider 2017." This combination of awards indicates that not only is the Markets.com CFD broker platform intuitive to use and filled with rich features, it also provides an overall positive experience for traders.
Most ratings from independent websites in the forex or CFD trading community tend to give Markets.com about four stars, although some do rate it slightly lower. Markets.com tends to score well in terms of funding methods, investor protection, regulation, and platforms. Some reviews point out its lack of trading assets other than CFDs and forex as a disadvantage, but those who use Markets.com are aware that it belongs in a broker comparison – CFD comparison instead of a general broker comparison. The regulation and protection from CySEC is also a high point in many reviews. Markets.com appears often in mainstream national and global media and in the news.
Honored for "Best Forex Provider 2017"
Award-winning platform
Typically, highly rated and well-established
Go to Broker
Risk warning: Capital can be lost. Terms and conditions apply.
Conclusion: Should You Engage in Markets.com CFD Trading?
Markets.com provides peace of mind with regulation by CySEC and FSB, plus a long list of security measures. Because Markets.com focuses on CFDs and forex, it is not an ideal option for those who want to invest in both these riskier markets and traditional ones, such as stocks, on the same platform. However, if your focus is solely CFDs and/or forex, Markets.com holds up very well in a broker comparison – CFD comparison. The website is relatively easy to navigate, and the platform has won awards for its features and design. The ability to trade via Markets.com CFD on your mobile device in addition to your computer is a major plus, particularly for traders who like to be more involved and keep an eye on their accounts at all times. The best way to determine if you will appreciate the features and platform of Markets.com is by exploring the free Demo account, which does not include any commitment and is available for an unlimited time.
Over 2,000 assets
Demo account available
Regulated in several jurisdictions
Not regulated by the FCA
No phone support
Test result
Broker

Go to Broker
Risk warning: Capital can be lost. Terms and conditions apply.