Trade.com is an online forex and CFD broker that provides a wide range of trading instruments for clients all over the world. Trade.com is operated by "Lead Capital Markets Ltd", a Cypriot investment company registered in 2013 with office located in Nicosia, Cyprus. The official website is available in over 20 languages making it possible to reach a large number of traders across the globe. However, traders from Japan, Canada and USA are not allowed to open accounts on Trade.com due to regulatory prohibitions.
Highlights
Popular Cyprus fx & CFD broker
Multiple trading instruments
Licensed & regulated by CySEC
Available in multiple languages
16.
of 29 CFD Broker
Trade.com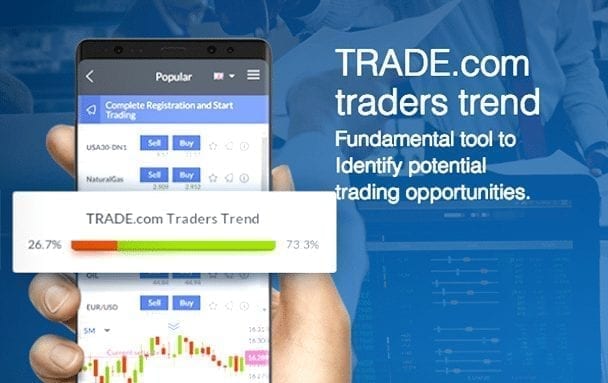 Go to Broker
Risk warning: Capital can be lost. Terms and conditions apply.
Headquarters and regulation
Cyprus (CySEC)
Fees and Spread
Spread fixed
Mini contracts tradable
Yes
Trading platform
MT4, Broker-owned Software
Demo account
Yes, available for 30 days
Services & additional benefits
Hotline
E-mail
Economic Calendar
E-Book
Videos
1. Trading Offer
1.) CFD Trading Offers : Trade as Many as 2100 CFD Assets
Trade.com broker platforms offer a variety of trading instruments, most of which are CFDs.
CFD Offers: Contracts for Difference (CFD) enables traders to speculate on the rising and falling prices of the trading instruments. The broker and the trader exchange the difference between the opening and closing price of the trading instrument.  A variety of CFD instruments can be traded on the trade.com platforms. They available CFDs are:
Commodities: like Cotton, Oil, Sugar, Wheat, Natural Gas etc.
Stocks: Major stocks from 23 countries; e.g. China Railway, Microsoft, British Foods, MTN, Volvo, Deutsche Bank etc.
Precious Metals: like Gold, Silver etc.
Indices: 26 indices include Europe50, US30, UK100 etc.
Bonds: 5 bonds like TBOND30 etc.
ETFs: Over 35 ETFs like DBC, FXE, MDY
FX Assets: The FX offers available on Trade.com features 7 major pairs, 28 minor pairs and 20 exotic pairs.
Exotic Assets: The exotic assets listed are the cryptocurrencies. A Trade.com review shows that 6 cryptocurrencies are available for trading. Some of them are Bitcoin, Ethereum and Litecoin.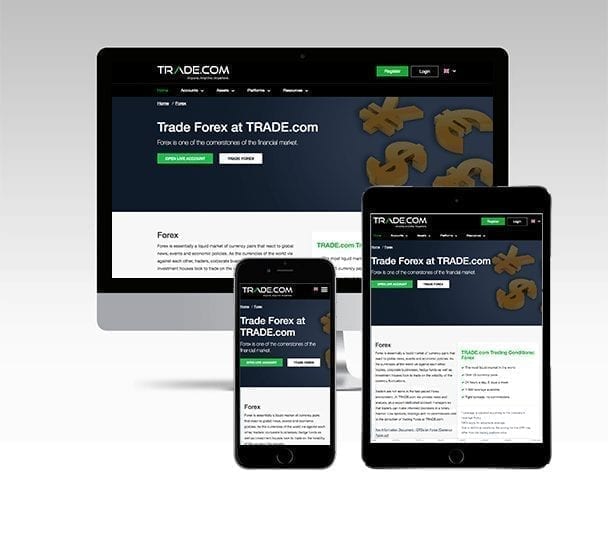 Over 2100 instruments are available for trading Trade.com.
Commodities like agricultural products and precious metals are available for trading.
Cryptocurrencies can also be traded.
Go to Broker
Risk warning: Capital can be lost. Terms and conditions apply.
2. Costs
2.) CFD Trading Costs: Spreads Could Be High on Trade.com
A Trade.com review indicates that the cost of trading with this broker is relatively high when compared to other brokers. The following charges apply when dealing with Trade.com.
Inactivity Fee: When a trader's accounts remain dormant for 12 months, a fee of $100 (or its equivalent in other currencies) is charged on the trader's account.
Spreads: This broker charges the trader based on the spread and the lots traded. Cryptocurreny spreads are very high (up to 120 for bitcoin) while that of stocks and ETFs are the lowest (as low as 0.03 for Deutsche Telekom)
Yes
Mini contracts
Tradable
Withdrawal Charges: Trade.com charges withdrawal fee of $50 for wire transfers below $100. The banks involved also charge their fees. For other payment methods, withdrawal of an amount less than $20 attracts a charge of $10. The payment processors or e-wallet firms also charge withdrawal fees.
Rollover Fees: Traders who hold a position open till after midnight will be charged a rollover fee. This fee is not applicable to Islamic accounts.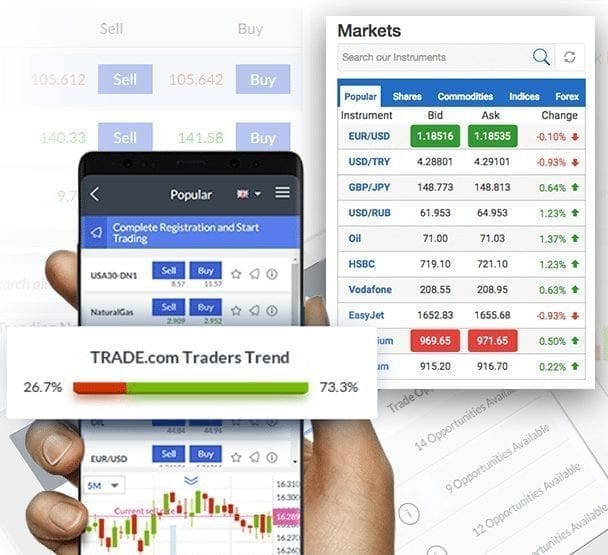 Trade.com's fees are mostly spreads and rollover fees charged on overnight long positions on lower yielding currencies.
They also charge inactivity fee.
Withdrawal charges are charged to customers whose withdrawal amounts are less than the specified threshold.
Go to Broker
Risk warning: Capital can be lost. Terms and conditions apply.
3. Account
3.) Accounts: There is an Account for All Levels of Traders
The best CFD brokers always make provision for traders with different budgets.
Trade.com provides a number of accounts as follows:
The Basic Account comes with a minimum deposit is $100.
Classic Account: minimum deposit required is $2,500. Account holders get a dedicated Account manager and access to webinars and seminars.
Gold Account: The minimum deposit is $10,000 and Gold account holders get premium analysis in addition to classic account offerings. They also get trade alerts from "Trading Central".
Platinum Account: The minimum deposit is $50,000. Platinum account holders get premium support in addition to other services available for other account holders.
In addition to the real money accounts, traders get a demo account as well. A broker comparison shows that just like most forex brokers, Trade.com offers a demo account. This account comes with $10,000 worth of virtual money for trading. The Islamic Account is available on request. Rollover fees do not apply to this type of account.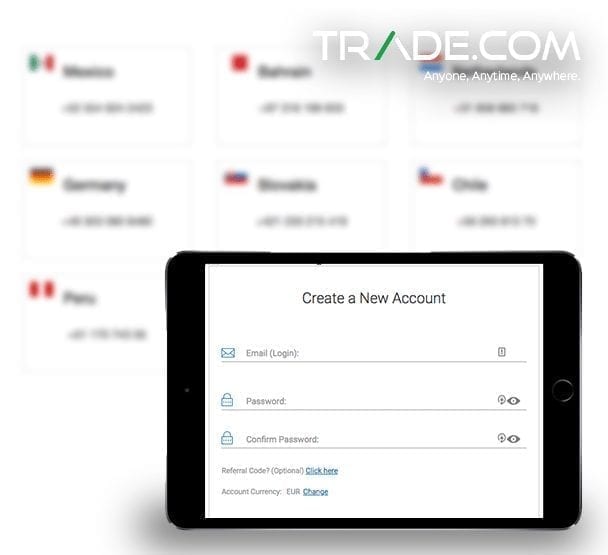 Trade.com offers different accounts depending on trader's financial capacity.
The Platinum account requires the greatest capital and has the best offerings.
Islamic accounts are available on request and Demo account is available with virtual cash for testing and trader analysis.
Go to Broker
Risk warning: Capital can be lost. Terms and conditions apply.
4. Platform
4.) CFD Trading Platforms & Mobile Trading: Two Web-based Platforms for You
A Trade.com trading platform review shows that there are two platforms available for traders. These platforms are:
Sirix Webtrader: This is a browser compliant platform provided by trade.com. It features over 2,100 assets for trading. It is equipped with secure tools for monitoring and viewing information. It has risk management features such as stop loss, take profit etc. It features multi chart windows for comparison purposes. It features fund management features include deposit, withdraw and account switching. Intelligent analysis tools from "web central" are available on this platform. A review of Trade.com revealed that the Webtrader is fully compatible with mobile phones.
Meta Trader 4: This is popular downloadable MT4 trading platform offered by trade.com. It is available on mobile platforms like iOS and android, and can be downloaded from their respective stores. Professional tools for trading, risk management, market analysis and customization are available on this platform.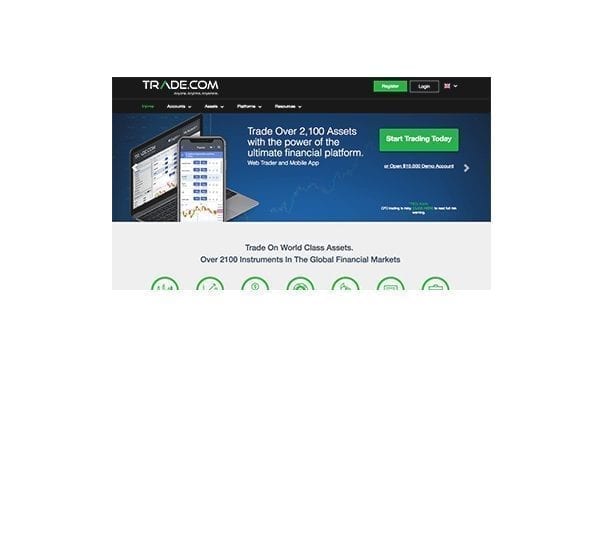 WebTrader is a platform provided by trade.com on internet browsers. The WebTrader is powerful and features a lot of useful tool to the trader.
The popular MT4 application is provided by Trade.com
Both platforms available from trade.com are compatible with mobile phones.
Go to Broker
Risk warning: Capital can be lost. Terms and conditions apply.
5. Usability
5.) Usability of the Website: Clean, Visually Appealing Interface
The official website is somewhat user-friendly. The background is white with black letters of appropriate font size, which gives the website content legible. The main drop-down menu at the top of the page features white texts on a black background. Everything is very legible, well arranged and neat.
Important information like license information, account opening links etc are available on all pages. However, this requires the user to scroll down the page, making this a bit challenging in terms of navigation.
The footer navigation features links to all the pages in the website. Unfortunately, the main menu links featured at the top of the page have fewer navigation links. This is not appropriate as users will have to always scroll down to the bottom of the page in order to access the comprehensive site navigation.
A Trade.com trading platform review reveals that the website performs well when accessed via a mobile phone or a tablet. When tested across different browsers, excellent results were obtained. The website is available in 23 languages.
The question is; in terms of website performance, is Trade.com a good broker? Despite, some design mistakes and judging by overall performance, trade.com is a good broker.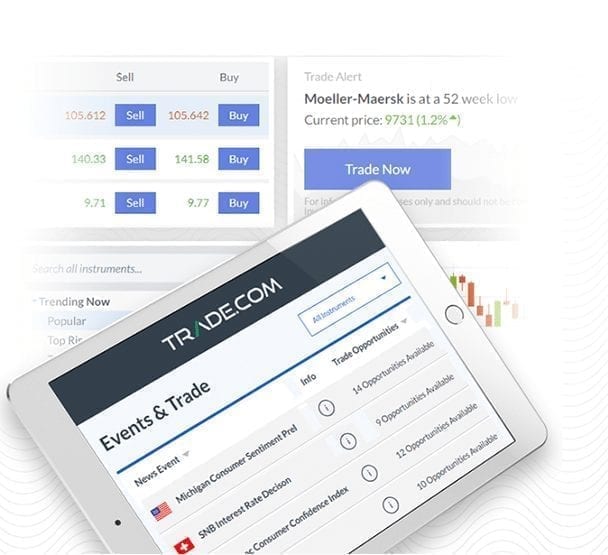 Footer navigation is richer than main menu navigation.
The website is multilingual.
The website is optimized for mobile viewing.
Go to Broker
Risk warning: Capital can be lost. Terms and conditions apply.
6. Support
6.) Customer Support: Responsive Customer Service in Your Language
One of the qualities of a good broker is "quality customer support". Trade.com says that they are available 24/5 to provide support to their clients. The support is available in different languages. The available support channels are:
Email: The general support email address provided is [email protected].
Phone Numbers: There are two support phone numbers: +44 203 150 0204 and +44 203 150 0456. These lines are available from 10pm on Sunday to Friday 10pm. However, there are another 25 phone numbers that are listed according to their countries. These numbers can be used for local support within a country. Another phone number is listed separately as "dealing desk".
Live Chat: The live chat can be accessed from every page. A client care representative is always available (within the specified support time) to give real time support to the website visitors.
Social Media: The social media channels available are facebook, twitter and YouTube. These channels can be used for support and training.
Email should be the slowest of all while phone call is the fastest way of getting support.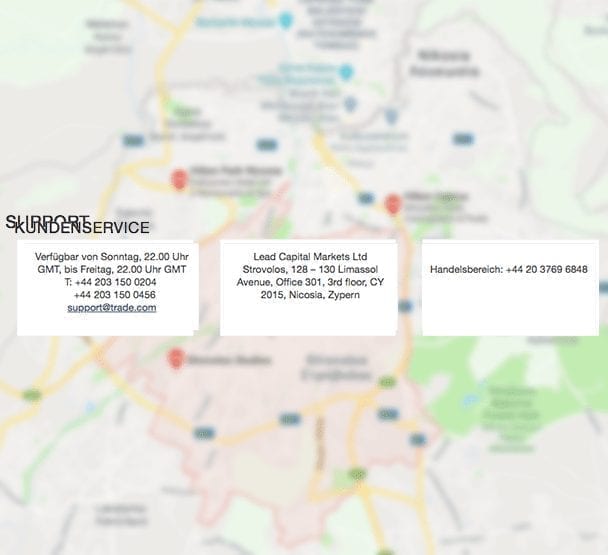 Multilingual customer support available.
Over 25 phone numbers for country specific support.
Chat with a live support staff on the website.
Go to Broker
Risk warning: Capital can be lost. Terms and conditions apply.
7. Payment
7.) Methods of Payment: Restricted Options for Traders
The payment options that can be used on Trade.com are:
Card Payments: Trade.com accepts payment from major debit or credit cards like visa card, MasterCard, JCB, etc. The minimum deposit is $100 and the maximum is not defined. The minimum withdrawal amount is $20, while the maximum is not defined. Card payments are instantly processed and trade.com charges no fees on deposits.
Bank Wire Transfer: The minimum transaction amount for bank transaction is $100 while the maximum is unlimited. Generally, trade.com does not charge a withdrawal fee but withdrawal requests below the official minimum can be approved at a fee. In most cases, the issuing and receiving banks charge a fee.  Bank wire transfer takes between 2-10 working days depending on the banks involved.
Payment Gateways: Trade.com accepts payments from online payment gateways like Skrill, Qiwi, WebMoney and Neteller. The minimum deposit accepted is $100, but the maximum is not defined. The minimum withdrawal amount is $20 while the maximum is not defined. The transactions are processed instantly with a transaction fee cost of 1-1.5% of the transaction amount.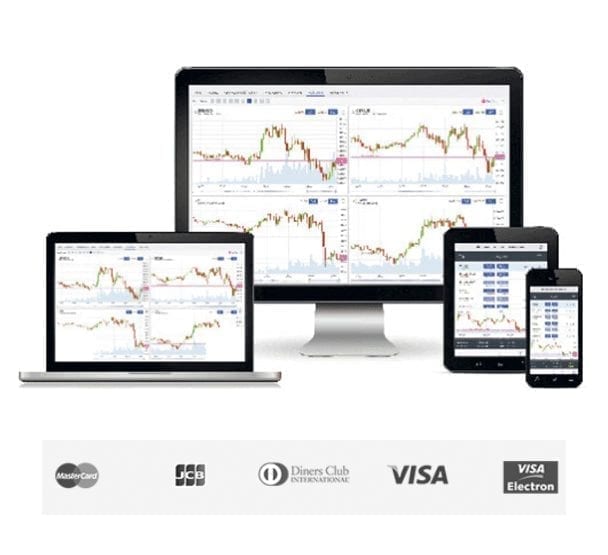 Trade.com accepts payment from major credit/debit cards.
The broker also accepts bank wire transfers and e-wallets are also accepted.
Generally, trade.com does not charge a deposit or withdrawal fee.
Go to Broker
Risk warning: Capital can be lost. Terms and conditions apply.
8. Offers
8.) Additional Offers : Enhance Your Trading with Trade.com's Tools
Trade.com offers a few additional offers to their clients. These offers range from comprehensive training to trading tools which are available for traders.
A review of Trade.com's offer shows that they provide wide range of trading for traders. The training is in form of videos, eBooks, trading strategies and MT4 tutorials. The training is available for traders at all levels; from beginner to expert levels.
The website features updated market news covering all asset classes; CFDs and currencies. The market news gives the trading positions throughout the day.
An Economic Calendar which shows all important events and reports from all over the world is available. The events featured generally stimulate daily market movements and predicts trading decisions.
Exclusive the Gold and Platinum clients are the "trading central" which provides investment and trading strategies including expert analysis and research.
All clients are provided with a demo account with a trading balance of $10,000 in virtual money.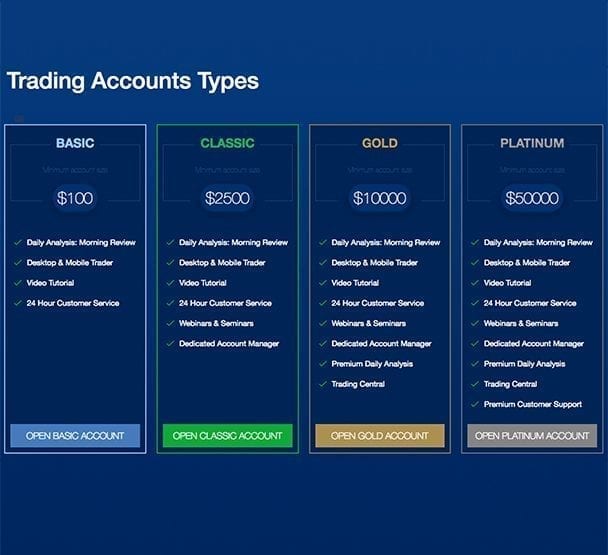 Trade.com has a comprehensive "Education Centre" with extensive training resources.
Market news on CFDs, Currencies, stocks, bonds and precious metals are featured.
An Economic Calendar is also available, as well as access to "Trading Central"(Gold and Platinum subscribers).
Go to Broker
Risk warning: Capital can be lost. Terms and conditions apply.
9. Regulation
9.) Regulation & Deposit Protection: Your Funds Are Safe With Trade.com
Is Trade.com legit? Because trade.com is licensed and regulated by the Cyprus Securities and Investment Commission (CySEC), it will be apposite to conclude that they are legit. Their license number is 227/14 and it is conspicuously displayed on all the pages of the official website.
During client registration, a Know Your Customer (KYC) verification is carried out as clients are required to upload a "govt issued identity card" as well as a "proof of address of residence."
CySEC
Regulatory Authority
The official website is protected by a Secured Socket Layer (SSL) which is the standard for website authentication and encryption. This will ensure that data entered into the website such as name, phone numbers, credit card details are encrypted during transmission in order to prevent theft.
The CySEC regulation mandate brokers to segregate their funds from that of the traders. This is to protect traders deposit in case the broker becomes insolvent. Trade.com has fully complied with this and other directives from the regulators.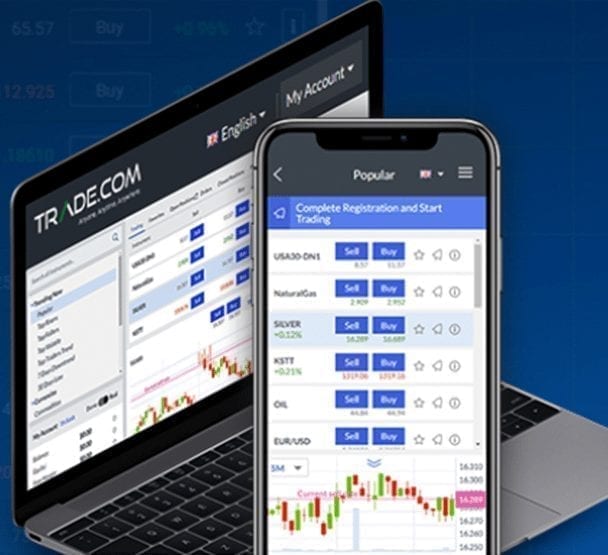 Trade.com is a licensed and regulated CFD broker, with authorization from CySEC.
The website is protected with a security layer to encrypt client's data.
Funds of traders are segregated from Trade.com's funds for maximum protection from being affected in the unlikely case of bankruptcy.
Go to Broker
Risk warning: Capital can be lost. Terms and conditions apply.
10. Awards
10.) Awards: No Awards Won for Lack of Transparency in its Operations
Trade.com's official website did not showcase any award received by them. Having been in business for five years, it should be enough time to be considered for an award by the industry monitors and award givers.
A Trade.com review from other websites reveals that this broker has been involved in unresolved complaints especially as it concerns profit withdrawals. Many accused them of freezing their accounts for no reasons. Others have gone too far by labelling them as scammers.
A little research shows that CySEC has fined them 30,000 Euros because of the dishonest ways they treated Romanian clients between August 2016 and July 2017. Perhaps, these are part of the reasons why they are yet to win an award especially in a field where there are consistent high flyers. So, Trade.com needs to improve things in this regard and win back the trust of the market. This is one instance where the presence or absence of awards give an indication into the business history of a CFD brokerage.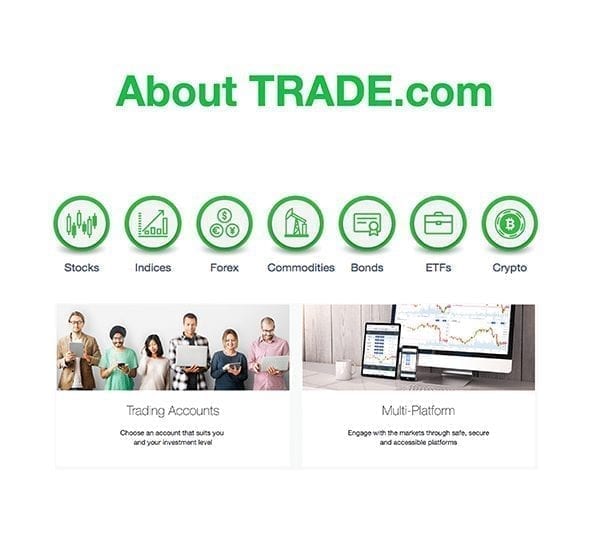 Trade.com has no awards to show for its five years of operation.
A research shows that there are cases where they did not resolve the issues amicably.
They need to sit up as there are many competent brokers to contend with.
Go to Broker
Risk warning: Capital can be lost. Terms and conditions apply.
Conclusion: Trade, But Tread Cautiously With Trade.com
Trade.com is a fully regulated and licensed CFD broker that has been in operation for 5 years. They offer a multiple range of trading instruments which includes CFDs, forex, ETFs, stocks and indices. A CFD broker comparison shows that the spread charges on trade.com is quite high. They also charge rollover or swap charges. The leverage available is low compared to other brokers that offer up to 1:30 as compared to trade.com's 1:30. So, traders will need significant trading capital in order to make good profits.
CFD trading on Trade.com comes with great diversity, albeit with high spread charges, rollover fees and inactivity fees. Rollovers on CFDs can come at great cost. For instance, trading cryptocurrencies with rollover is especially risky. Positions held overnight incur a rollover cost, and the trader has to be sure that the profits being sought will be good enough to defray the rollover costs, else the positions could go negative very quickly.
Customer support is provided in multiple languages, so traders from around the world stand a good chance of communicating in their national languages with the Trade.com staff.
Trade.com has not won any awards since their operation. Many reviewers have rated them low. Recently, CySEC slammed them with a fine for unprofessional conducts. Traders are advised to trade perform a broker comparison before opting for this broker.
Zero commissions on CFD trades.
Highly educative video tutorials
Trade.com is a licensed and regulated CFD brokerage.
Over 2100 CFD assets are offered for trade,providing great flexibility.
Mobile apps to support CFD trading.
Trade.com was fined 30,000 Euros by CySEC for flouting conflict of interest standards.
Trade.com has not yet won a single industry award.
Traders may experience slippages and requotes during extreme volatility.
Restictive payment options and limited customer support channels.
Test result
Broker

Go to Broker
Risk warning: Capital can be lost. Terms and conditions apply.