eToro is a well-known broker with over a decade of experience, offering cryptocurrency trading, as well as general forex trading, CFDs and other financial instruments. Founded in 2007, the exchange is headquartered in Israel and regulated in the UK by the Financial Conduct Authority (FCA). The exchange is known across the industry as an innovator in the world of social trading, and is highly respected for its CopyTrader™ system, which consists of proprietary software allowing traders to copy the trades of other successful eToro traders. New traders find that eToro is a great place to start, due to the built-in benefits of social trading, plenty of education and guidance, a free demo account, and a very intuitive platform.
Digital currencies available to trade at eToro include Bitcoin, Litecoin, Ethereum, Bitcoin Cash, Ripple and Dash, and the exchange has a wide range of coins compared to many other cryptocurrency exchanges. Cryptocurrencies are, of course, highly volatile, and may not be a suitable investment for every trader, but for those already captivated by the idea of this dynamic and fast-paced market, this exchange certainly has a lot to offer. Our eToro review will take a close look at the pros and cons of the exchange so you can make up your mind whether it is a good option for you.
Highlights
Mobile app as-good-as the website
Great for beginners – eToro pride themselves on making trading more accessible
Their Social Trade feature allows you to see what other investors are doing
Popular Investor program which allows you to get commission if people make the same trades as you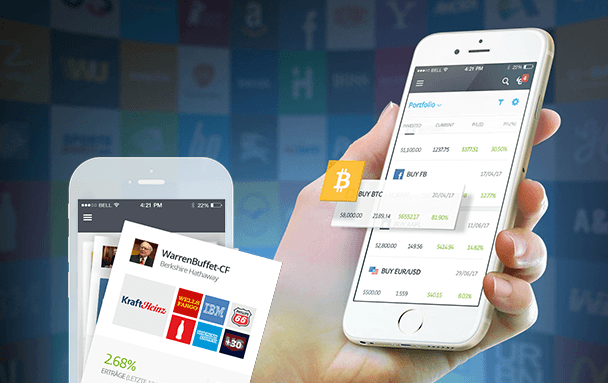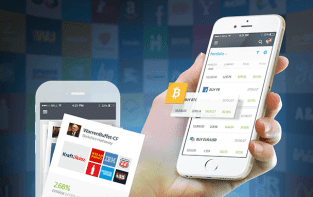 Go to eToro
Risk warning: Capital can be lost. Terms and conditions apply.
Headquarters and regulation
UK /Cyprus /Australia (FCA, CySEC, ASIC)
Tradable crypto currencies
Bitcoin, Ethereum, Ripple, Bitcoin Cash, EOS, Litecoin, Stellar, NEO, Dash, TRON
Number of crypto currencies
17
Trading platform
Broker-owned Software
Demo account
Yes, unlimited
Services & additional benefits
Live
E-mail
Economic Calendar
Videos
Courses/Seminars
1. Trading Offer
1.) Products and services provided
eToro offers a range of digital currencies for crypto investors at all levels. Clients can trade well-known coins such as Bitcoin, Litecoin, Ethereum and Bitcoin Cash, as well as less commonly available digital currencies such as Ripple, Dash, Cardano, Stellar and Binance coin. For those who want to delve deeper into the world of digital currency exchange and are looking for access beyond the top few most commonly traded coins, eToro is a very interesting option.
17
Crypto currencies
Number
40
Other currency pairs
Number
The eToro platform allows investors to build a crypto-based portfolio with various features and benefits not usually offered by other exchanges, including almost immediate execution of market orders. It also allows for diversification, offering a variety of other tradable financial instruments, as well as forex trading in a wide range of fiat currencies, alongside its extensive range of cryptocurrencies.
It should of course, always be remembered that the cryptocurrency market does not have the safeguards and regulation that other market sectors do. Although eToro is a long-standing and reputable exchange, there is no investor protection for crypto investors and traders should keep in mind that this is a highly volatile market with the potential for significant losses, as well as gains.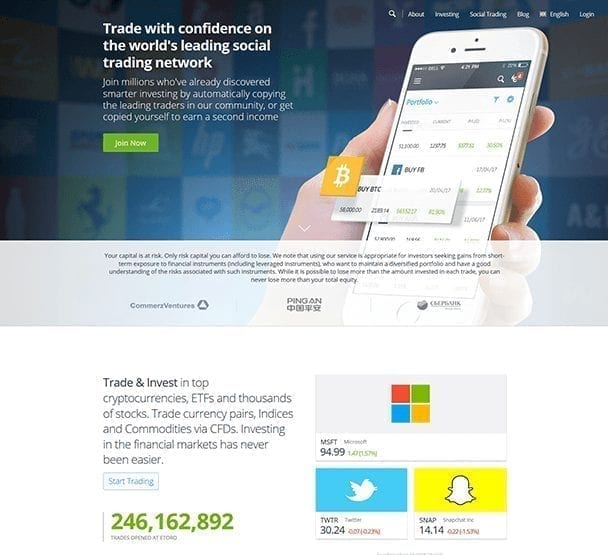 Vast array of cryptocurrencies available
No protection for crypto investors
Near-immediate execution of trades
Go to eToro
Risk warning: Capital can be lost. Terms and conditions apply.
2. Costs
2.) Commissions and fee charges
A key aspect of any eToro broker review is taking a close look at commissions and fees. When it comes to cryptocurrency trading, eToro does not charge any general transaction fees other than the fee taken from the spreads. This varies and tends to be lower on the more common and frequently traded coins, and higher on less common coins, as most traders would expect. Fees are subject to change at any time and without prior notice. Up-to-date spreads are clearly displayed on the website and should be frequently checked. Currently, spreads for digital currencies are displayed on the website at the following rates:
| | |
| --- | --- |
| Instrument | Spread |
| Bitcoin | 0.75% |
| Bitcoin Cash | 1.90% |
| Dash | 2.90% |
| Ethereum | 1.90% |
| Litecoin | 1.90% |
| Ripple | 2.45% |
There is also an overnight fee for CFD positions, which will vary according to the instrument being held and which is also clearly displayed on the website. The exchange does not charge for deposits, but there is a withdrawal fee and a minimum withdrawal amount, currently set at $50. When trading directly on the cryptocurrency exchange, trading hours are usually 24/7. Fees do not apply to non-leveraged buy positions on individual cryptocurrencies. Fees are however applied to all sell positions, leveraged buy positions and all cryptocurrency pair positions.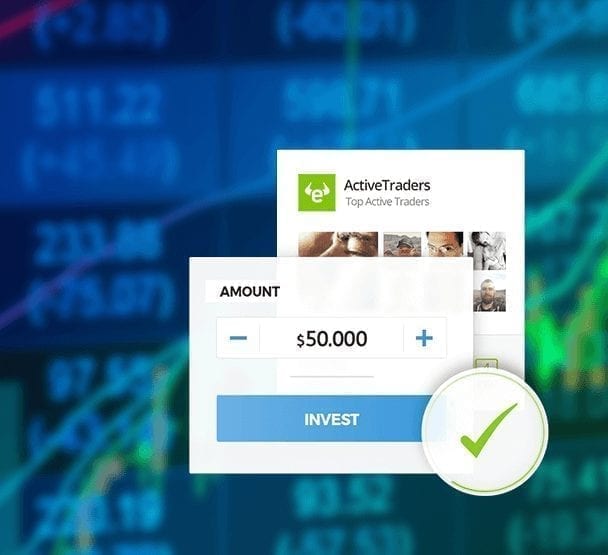 eToro are transparent about their fees
Overnight fee for CFD positions
No charge on deposits
Go to eToro
Risk warning: Capital can be lost. Terms and conditions apply.
3. Account
3.) Types of account
eToro categorises all of its clients into two broad groups. These are Retail Clients and Professional Clients. Upon signing up to the site, it is important that users have the right type of account set up for their needs as the two on offer here are very different from one another and are suited to different levels of trader.
Retail Clients can trade manually and Copy Trade. Their leverage may be more limited to that of a Professional Client, but they also benefit from the Investor Compensation Fund and recourse to the Financial Ombudsman Service as well as margin closeout restrictions and negative balance protection. Professional Clients are not covered by the first two as they are not restricted on leverage. Anyone with one of these accounts has to have passed a test to qualify for one. Therefore, everyone starts out as a Retail Client, which is naturally the one which is best-suited to beginners or certainly those who are less experienced.
The process for those wanting to upgrade to the status of Professional seems like it is a fairly straight-forward one. After clicking on the 'Apply Now' button, all the trader needs to do is fill in their personal details and tick a few boxes, and the site will contact them if they meet their criteria. Under the Client Categorization section of their Regulations and License page, eToro defines a Professional Client as someone who "possesses the experience, knowledge and expertise to make their own investment decisions and properly assess the risks that they incur."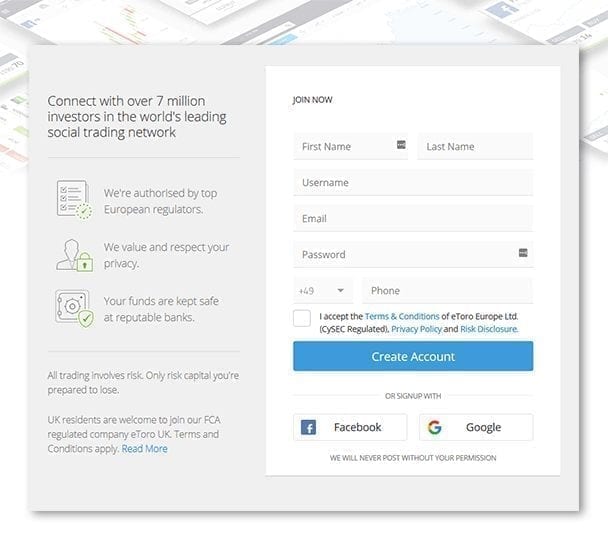 Accounts for either retail clients or professional clients
Straight-forward sign up process
All traders start with a retail account, and need to apply to move to a professional one
Go to eToro
Risk warning: Capital can be lost. Terms and conditions apply.
4. Platform
4.) Platform features and tools
The eToro platform has a clear design and easy navigation process, offering a simple and highly intuitive interface which provides easy access to all the tools and features that most cryptocurrency traders need. There are a range of advanced trading tools, most notably the innovative automated social trading tools that set eToro apart as one of the leading social trading platforms currently available.
The broker provides both a web-based platform and a mobile app, and the site itself is responsive and easy to access from any device. The CopyTrader™ system allows new and less experienced traders to copy the trades of other successful traders, and of course allows top traders to add another income stream to their own trading activities by making their trades available for others to follow and copy. Leveraged trading via CFDs is available, as is the facility to buy and sell a range of coins directly on the exchange.
The platform is available in several languages, with an easy to access two-step login procedure. There is a built-in search function and easy-to-customise watchlist. There is also a useful free demo account with a generous $100,000 of virtual currency available to allow traders to try out the platform and experiment with cryptocurrency trading strategies without risking their own money.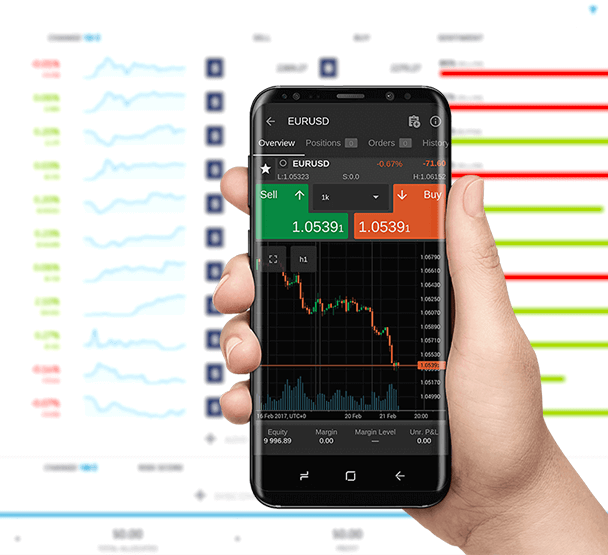 Easy to navigate site
Web-based platform and mobile app are available
Demo account available with $100,000 of virtual currency in
Go to eToro
Risk warning: Capital can be lost. Terms and conditions apply.
5. Usability
5.) Mobile trading
The eToro mobile app is available for both iOS and Android devices and can be downloaded from the Apple Store or Google Play Store. In addition, you can use the web-based platform from any compatible browser on your smartphone or other mobile device, allowing for trading on the go without having to download a mobile app, unless of course you prefer the functionality of the app.
This is a matter of choice, and we always like to try both the app and the mobile version of the site as there are generally a few subtle differences. The eToro app has many handy features, including the ability to set customised notifications and alerts, such as a push notification when an asset reaches a specified price.
The mobile app has a clean design and a very straightforward and easy-to-navigate interface which is very intuitive. You can easily swipe left or right from your portfolio screen to access other functions such as order placement or charting tools. Significantly, you also have the same copy trading function on the app as on the web-based platform, which is important for many eToro customers given that the excellent social trading features are one of the factors that attract customers to this particular platform.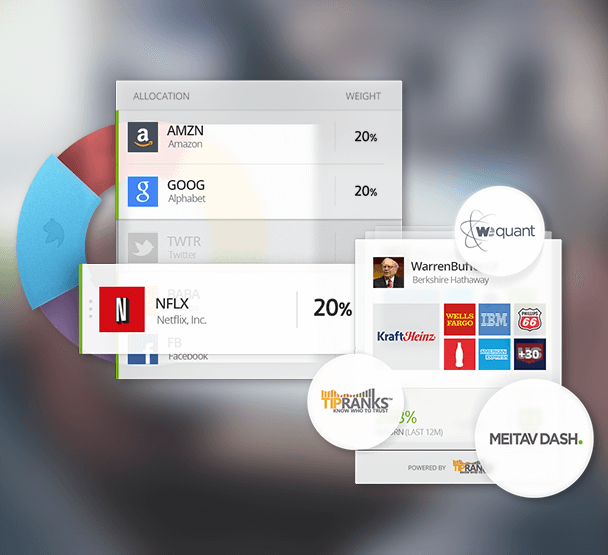 App is available for both iOS and Android
Notifications and alerts can be set up
Same copy trading function on the app as on the web-based site
Go to eToro
Risk warning: Capital can be lost. Terms and conditions apply.
6. Support
6.) Customer service
The eToro website has a detailed and comprehensive help section, easily accessed from a drop down menu under the About tab in the main menu of the UK website. On this page, you will find the answers to many questions that new customers and inexperienced cryptocurrency traders may have. The page is organised into separate sections, covering everything from account verification, to the types of coins supported by the eToro wallet. Most questions are answered in a very straightforward way. There are also longer, more detailed answers to more general questions, such as 'What is stop loss?" and 'What is Bitcoin?' for new customers who happen to also be new to the world of trading. The help centre also comes with a handy search function at the top of the page to search for specific questions you may have.
In addition, all important customer information, including a general risk disclosure, terms and conditions and a privacy policy, can be easily accessed on the website, with most vital pages linked to via a list of links in the footer of the website. This makes finding essential information quick and easy.
As part of our eToro broker review, we also tested out the customer support provided, but found it quite limited. There is no live chat available on the website and no dedicated customer support phone line. Support is only available by email and is accessed via the site by opening a support ticket. The support team responds within a few hours and are very polite and knowledgeable, but we would have preferred more contact options. The exchange does, however, operate active and responsive social media accounts on Twitter, Facebook, Instagram and LinkedIn, providing a convenient, public and transparent way to get in touch with them.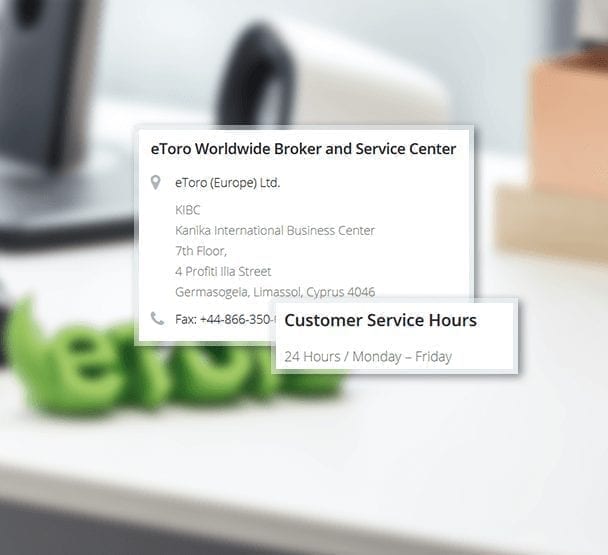 Different sections of FAQs
T&C's, privacy policy and risk disclosure are all easily accessible
Support available by email
Go to eToro
Risk warning: Capital can be lost. Terms and conditions apply.
7. Payment
7.) Account opening - deposits/withdrawals
Opening an account is easy and quick. Simply select 'sign up' in the upper right hand corner of the home page, and then follow instructions. You can get started with just an email address, or even sign in with your Facebook or Google account. This automatically gives you access to the platform, and you will also provide you with immediate access to a demo account with up to $100,000 of virtual money, allowing you to start familiarising yourself with the exchange.
The next step is of course to set up a live account with real money, which will require you to verify your identity and provide proof of residency. To do this, you'll need to upload a copy of your passport or other government-issued ID, along with a standard proof of residency document such as a recent utility bill or bank statement showing your name and address. Then you will be able to fund your account.
Funding is straightforward, and there is a reasonable choice of payment methods, including bank transfer, credit and debit cards, PayPal, Skrill and Neteller. Trading accounts are all held in US dollars, which means eToro will convert any deposits made in other currencies to USD at the current market rate, and this will be subject to a conversion fee. There is no fee for making a deposit, but there is a withdrawal fee, currently set at a flat rate of $25, which is quite significant, especially for hobby traders who may want to make fairly small withdrawals. There is also a minimum withdrawal fee of $50.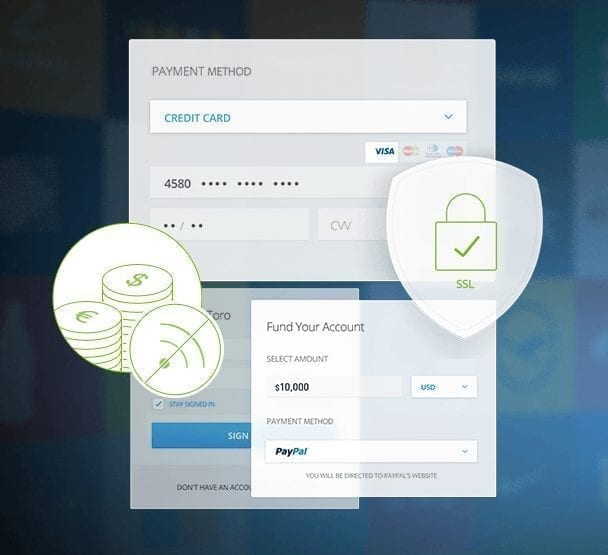 Can sign in with a Google or Facebook account
Identity verification and proof of residency required
Wide array of deposit methods available
Go to eToro
Risk warning: Capital can be lost. Terms and conditions apply.
8. Offers
8.) Ease of use
Many new traders will find eToro an excellent choice, as the company aims to make getting started easy. They provide an on-site trading academy, an extensive and well-laid out help section, and their risk-free demo account, which allows for an easy and comprehensive introduction to the platform. The blog offers a wide range of articles that are of help to new and experienced traders and is a useful source of information on general trading and investing news, as well as news pertaining directly to eToro.
The trading academy, easily accessed from the footer of the website, includes a general trading eCourse, live trading webinars and a range of videos on trading and investing. Much of the education is general in nature, rather than specifically focused on crypto trading, but the blog has up-to-date information on crypto trading, among many other trading topics.
Last but definitely not least, the social trading aspect of the site is a big bonus for new traders who want to get a feel for successful trading and develop their own strategies by following, copying and learning from the trades of more experienced traders.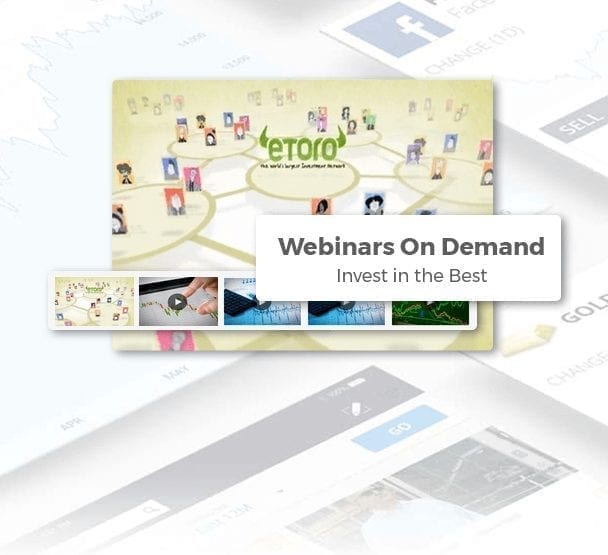 Great for beginners to the world of trading
On-site trading academy
Social trading aspect of the site a big plus
Go to eToro
Risk warning: Capital can be lost. Terms and conditions apply.
9. Regulation
9.) Security
Generally speaking, eToro is a secure and well-respected broker, committed to client security, and fully regulated in the UK and in other relevant jurisdictions. However, it is vital to remember that cryptocurrency operates outside of normal regulatory practices, and there is no guaranteed investor protection for those trading cryptocurrencies through the exchange, whether trading directly or via contracts for difference (CFDs). The eToro disclosure policies points out that cryptocurrency markets are decentralised and non-regulated, and as such are not governed by any specific European regulatory framework.
FCA, CySEC, ASIC
Regulatory Authority
As with any reputable broker, eToro takes steps to ensure client data is secure by using best practices and encrypting website data across the site. eToro provides an extensive risk disclosure covering all instruments, including cryptocurrencies. It is possible to access all relevant legal documents, privacy policies and terms and conditions on the site. The eToro exchange is believed by many to be one of the best and most reliable cryptocurrency exchanges available in the UK and across Europe.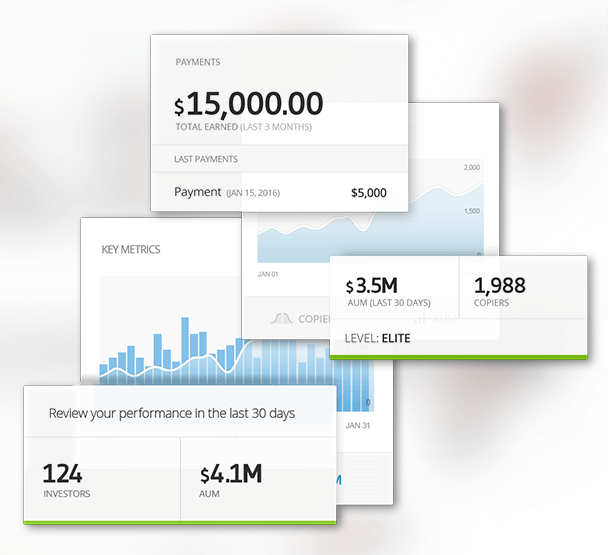 Fully regulated in both the UK and other jurisdictions
Crypto are not governed by a specific European regulator
One of the best and most reliable crypto exchanges in the UK
Go to eToro
Risk warning: Capital can be lost. Terms and conditions apply.
10. Awards
10.) What others say
Independent cryptocurrency exchange review sites are generally happy with the service offered by eToro. An eToro review on BrokerChooser.com focuses on the functionality of the platform, stating:
"The eToro alert function lets you know when an asset reaches a price target. You also get a notification when your order gets fulfilled."
Alerts and notifications make trading on the go easier, ensuring that traders are not missing out on placing orders at their set price targets, or worrying that orders they have placed are not yet completed.
Another independent review site, Blockonomi.com, also provide a favourable view of the company in their 2019 eToro broker review. They point out that:
"The company began as a general trading platform but has added cryptocurrency and other trading instruments to keep up with changing markets and growing demands. Today, there are over 6 million users registered on eToro, cinching its status as an industry leader."
Many traders agree that eToro has certainly become an industry leader, and those who like to diversify their investments are particularly happy that they can trade fiat currencies and other financial instruments alongside cryptocurrency.
A further 2019 eToro broker review, on BrokerNotes.co, commented on how the social trading aspect of eToro is constantly improving:
"The original web trading platform was used to search for traders to follow, while the CopyTrader was used to automatically copy their trades into the followers' accounts. In 2015, eToro made the process of searching for top traders to follow as well as copying their trades much easier. The two platforms were integrated into a single platform, the eToro Platform, which is the current platform offered by eToro today."
Regardless of other considerations, those interested in copy trading should definitely consider eToro as an option. It really is seen as a leader in this field.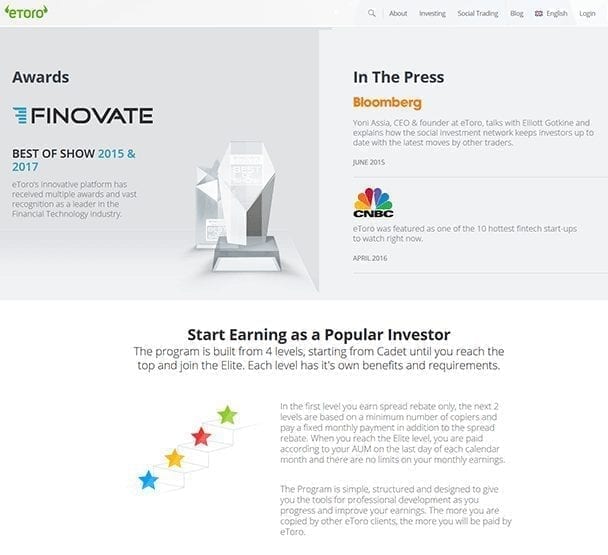 BrokerChooser.com review
Blockonomi.com review
BrokerNotes.co review
Go to eToro
Risk warning: Capital can be lost. Terms and conditions apply.
Our summary
As our eToro review has shown, the exchange certainly provides an excellent choice for cryptocurrency traders at all levels, and is appealing to both beginners, who can follow and copy other traders, and more experienced traders, who might want to benefit from the extra income stream of offering their services as traders to be copied. The exchange provides high-quality trading platforms, reasonable fees in most areas and a significant number of coins to trade.
As with any exchange, there are some drawbacks. Deposit and withdrawal must be made in US dollars to avoid the accompanying conversion fees and exchange rate issues for those who generally use other currencies. There is also a high withdrawal fee, and customer service options are quite restrictive.
However, our eToro broker review has also demonstrated that the exchange has a lot to offer, including a user-friendly interface, a broader range of currencies than most brokers, and a risk-free demo account, along with the excellent social trading platform it has become known for. It will doubtless continue to be a popular choice for digital currency traders in the UK and beyond. Take a look at the eToro exchange today, and don't forget there is a free demo account available for all new customers.
Wide range of digital currencies
Social trading available
Almost instant order execution
Risk-free demo account
Limited customer service options
Specific crypto education and training is limited
Only one base currency
High withdrawal fee
Test result
Broker
Go to eToro
Risk warning: Capital can be lost. Terms and conditions apply.