We present this unbiased HYCM crypto review for those seeking more data about this cryptocurrency and CFD broker company. HYCM (previously HY Markets) is a premier, leading cryptocurrency broker, offering trading in close to 100 financial instruments besides just bitcoins! The trading platform covers a wide range of currency pairs, CFD on commodities, stocks, precious metals, and indices. HYCM primarily works through its MetaTrader4 flagship platform, which is also its proprietary online platform. Multi-asset trading platform Prime Trader and mobile-capable HYCM mobile are some other options. The brokerage house also provides binaries trading service through the HY Options brand
Highlights
Trading >100 financial instruments
MetaTrader4 is the flagship
Part of Henyep Group over 20 countries
Well established since 1977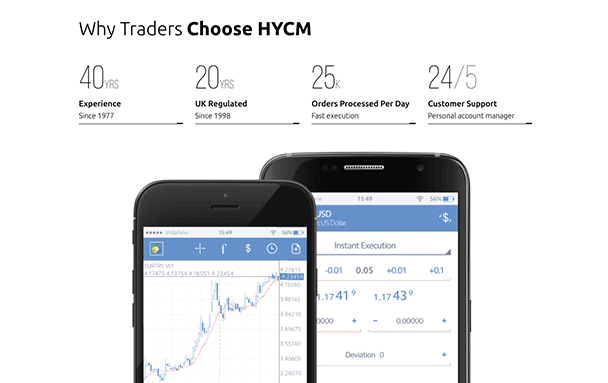 Go to Broker
Risk warning: Capital can be lost. Terms and conditions apply.
Headquarters and regulation
UK (FCA)
Tradable crypto currencies
Bitcoin, Ethereum, Ripple, Bitcoin Cash, Litecoin
Number of crypto currencies
5
Trading platform
MT4, Broker-owned Software
Demo account
Yes, available for 14 days
Fees / BTC spread
70 Points
Services & additional benefits
Live
Hotline
E-mail
Economic Calendar
E-Book
Videos
Courses/Seminars
1. Trading Offer
1) Crypto trading offer: with over 120 assets to trade
HYCM has spent a majority of 4 decades since its inception, analysing various financial opportunities in the market. This helped them to develop a CFD and cryptocurrency trading product that is not limited to forex pairs. This includes other CFDs such as indices, metals, stocks, and commodities. For succeeding in retail trading markets, brokers must understand the fundamental requirements of investors and traders. This HYCM crypto review found that while most forex traders focus on investment in currency pairs and commodities, this trading platform also considers other investment opportunities such as indices trading and stocks.
38
Other currency pairs
Number
With more than 120 different financial assets, the HYCM cryptocurrency trading platform goes past virtual money. It offers assets across categories of commodities, oil, forex, metals, indices, shares, and cryptocurrencies. Leverages are also levied on currency pairs leading up to 200, based on currencies selected. HYCM partners Pro Daily to bring investors innovative trading signals. The investors and traders using the MT4 interface can incorporate numerous trading signals free of charge. This is why HYCM is simply the best cryptocurrency broker.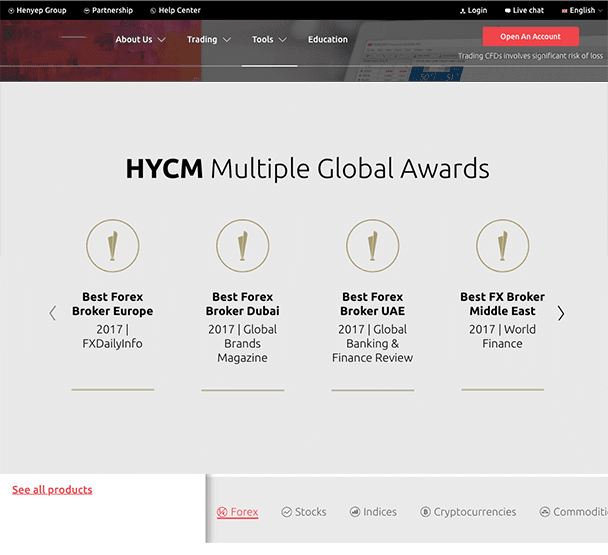 Cryptocurrency and CFD trading platform not limited to forex pairs.
CFD trading includes metals, stocks, indices and commodities
More than 120 different financial instruments, works with Pro Daily for cutting edge trading signals
Go to Broker
Risk warning: Capital can be lost. Terms and conditions apply.
2. Costs
2) Crypto trading costs: HYCM offers value for money
Is HYCM cryptocurrency legit? There are no doubts on that score. Consider the enormous value for money that this trading company offers. Broker comparison – crypto comparison will show you how reliable and affordable trading on HYCM is. Traders must deposit a mere $100 to open an HYCM account. This is an average minimum initial amount. But other EU brokerages also give this trading company a run for their money. For instance, XM is CySEC and FCA licensed and requires only a $5 deposit!
Average Commissions and Spreads
Why is HYCM cryptocurrency broker a good broker? This fixed spread broker charges zero commissions, for one. The fixed spread also safeguards the investor from spread swings usually prevalent at the time of news releases.
Leverage
Crypto comparison via this HYCM bitcoin trading platform review showcased the strengths of this financial broker. With maximum leverage levels of 1:30 (forex), this is considered a high ratio.
However, higher leverage involves higher risks, not just multiplied profits payouts on a low deposit. Is HYCM cryptocurrency broker legit on this aspect as well? It is more cautious with the investor's money.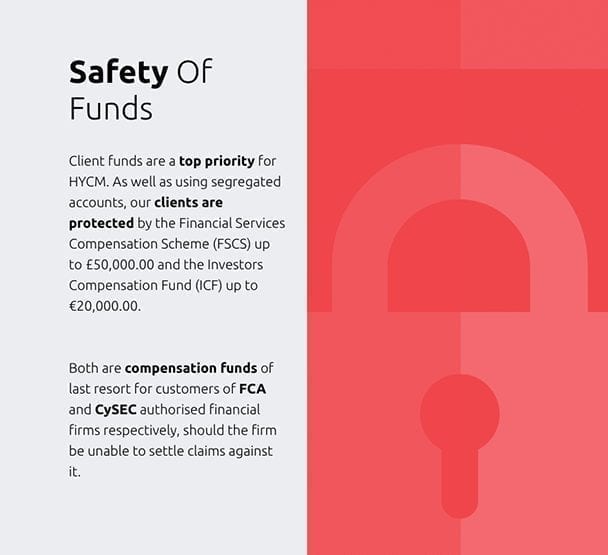 Investors only need to deposit $100 to trade with HYCM
Competitive fix spreads and 1.8 pips are there on VIP as well as standard accounts
Leverage is 1:30 on a maximum
Go to Broker
Risk warning: Capital can be lost. Terms and conditions apply.
3. Account
3) Accounts: Three account types at HYCM
Three trading accounts are available at HYCM. This review of HYCM found that Mini accounts which are the most basic, carry minimum initial deposit requirements of $100 to start trading. So, the HYCM crypto broker site is geared towards novice traders as well as small-time retail traders.
Professional traders with extensive experience rely on the VIP trading account. This trading account needs a minimum deposit of $10,000 and offers the lowest spreads among all three trading accounts. Flexibility is the hallmark of the HYCM crypto site. For those seeking to trade based on Islamic Sharia principles, custom Islamic trading accounts can be opened with HYCM.
Let's dive deeper into the different account types:
Mini Account: This trading account has an upper leverage limit of 1:30. Spreads are as small as 1.8 pips.
Standard Account : This trading account has spreads of 1.5 pips and leverage of around 1:30.
VIP Account: For those with extensive knowledge and king size profits, spreads with 1.5 pips and a leverage ratio of 1:30 couples with additional privileges to offer big returns.
Mobile trading is available for HYCM accounts.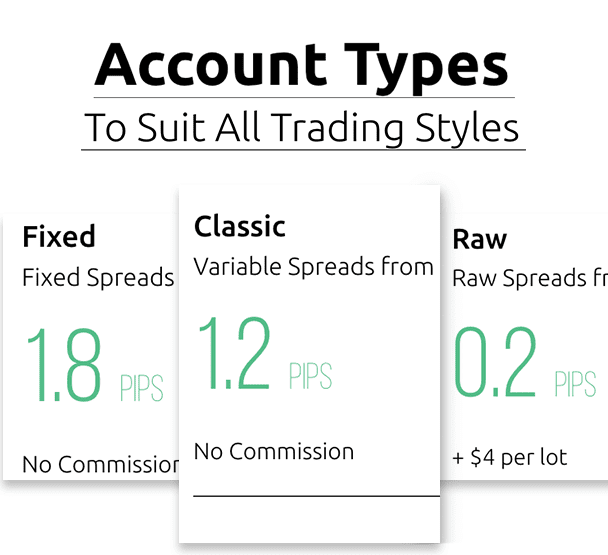 Mini Account requires $100 deposit and has leverage levels of 1:30 and 1.8 pips
Standard Accounts need $1000 deposit and have leverage levels of 1:30, pips of 1.5 and some privileges.
VIP Accounts are a premium requiring 1.5 pips and leverage ratio of 1:30 along with extra offers and privileges.
Go to Broker
Risk warning: Capital can be lost. Terms and conditions apply.
4. Platform
4) Crypto trading platforms & mobile trading: PRIME, METATRADER4 AND HYCM MOBILE
Counted among the leading financial services and broker firms, HYCM provides traders with innovative, cutting-edge platforms for trading. Three main types of trading platforms are there to select from. The main attraction is the HYCM multi-asset trading platform called Prime Trader. Apart from this proprietary platform, there is the popular MT4/MetaTrader4 platform. For traders seeking to make investments on the move, freely downloadable HYCM mobile trader is the choice to go with.
Prime Trader
Multi-asset trading platform, Comes with an account management system, Offers advanced charts, Features Stop/Loss guaranteed, Multiple prices and rate views
MT 4/MetaTrader 4
Hi-tech trading tools, Permits automated trading, Extensive charting package, Easy to customise,Industry best practices followed; world-class trading platform
HYCM Mobile Trader
Capable of account management, Freely downloadable, Available for all Android and iOS devices,100% mobile capable
This review of HYCM bitcoin trading found that each of these accounts come with their own benefits and making the right choice is easy for everyone, from beginning traders to expert professional investors.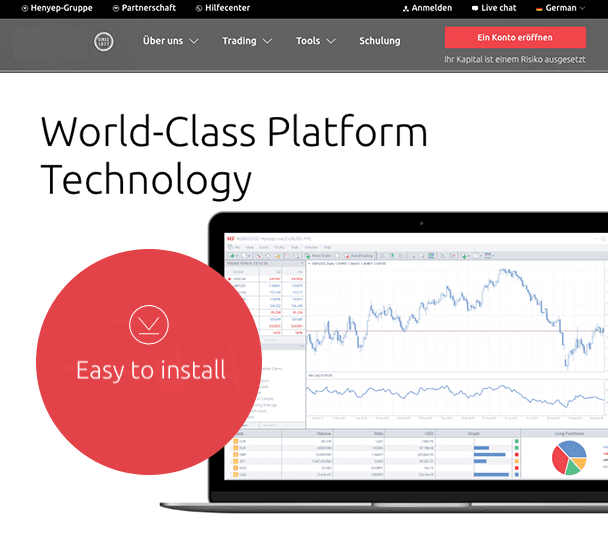 Three trading platforms: Prime Trader, Metatrader4, and HYCM Mobile
Multi-asset proprietary Prime Trader platform is account-management capable with advanced charts, multiple price viewing options, and guaranteed stop/loss
Flagship trading platform MT4 is popular, capable of automated trading, with advanced tools and customisable
Go to Broker
Risk warning: Capital can be lost. Terms and conditions apply.
5. Usability
5) Usability of the website: HYCM offers user-friendly interface
Our review reveals that this leading broker in cryptocurrency and CFD trading has a well-designed online site. User-friendly, intuitively designed, the website is well organized and neatly structured. The strategic positioning of the navigation tabs is another advantage for the user. All 6 tabs are labelled for easy access and placed on the top of the page. For HYCM, broker sites are crucial to imparting the right information and exuding competence. Keeping this in mind, the brokerage house has put together the best cryptocurrency broker website for trading functionality. It is easy for clients to choose between flagship platform, MetaTrader 4, and the freely downloadable HYCM Mobile accounts. Adding the multi-asset proprietary Prime Trader to this makes the offerings exceptional.
Attractive graphics, neat bullet points, succinct paragraphs are some of the strengths of this HYCM bitcoin trading site. You can access everything from the product information to economic calendar, news, weekly reports, everyday commentary, daily outlooks and FX calculators. E-books and video tutorials are available under the section on education. The only issue this HYCM review noted was the limited languages this website is available in, chiefly Arabic, Chinese, Russian, Italian, Spanish or English.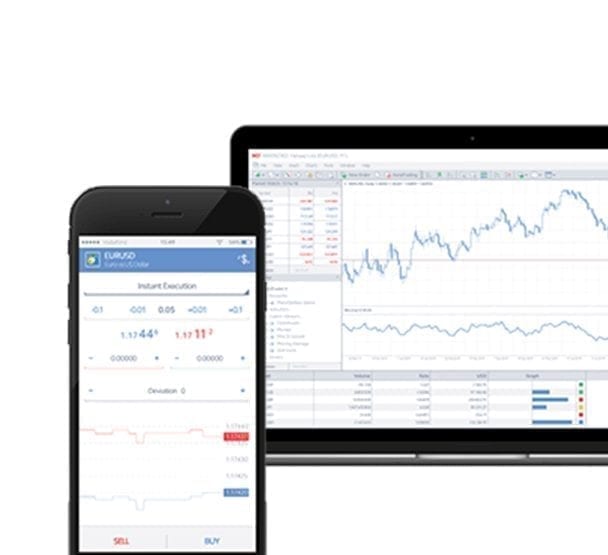 Well designed, organized and structured website
3 platform categories namely Metatrader4 and HYCM mobile and New multi-asset platform category Prime trader.
Intuitively designed with neatly labelled, distinct navigation tabs
Go to Broker
Risk warning: Capital can be lost. Terms and conditions apply.
6. Support
6) Customer support: HYCM Traders Can Access The Best Customer Support
Our review also found customer support services are available round-the-clock on 5 whole working days. Customer support can also be accessed through different modes ranging from live chat to email and telephone. The support staffs, like the website, is multilingual. So, language does not become a barrier to accessing world-class support.
Is HYCM a good broker, when it comes to customer support? With a reputation for excellence and professionalism, its customer care is exceptional. Whether you want timely help or immediate support, HYCM customer care does not fail its clients ever.
Apart from addressing customer concerns, this cryptocurrency broker trading platform also believes clients must be given guidance For this purpose, online video tutorials are readily available.
HYCM is a respected, eminent and trusted broker. Fully licensed, regulated and offering confidentiality and security, they keep your personal details secure. The MetaTrader4 platform, which is the flagship trading platform makes this a smart choice, whether you are just starting out and new to cryptocurrency and CFD trading platform or a seasoned trader. While this brokerage platform does not offer a demo account, this should not leave clients wondering is HYCM crypto legit? The HYCM mobile platform is also free to download.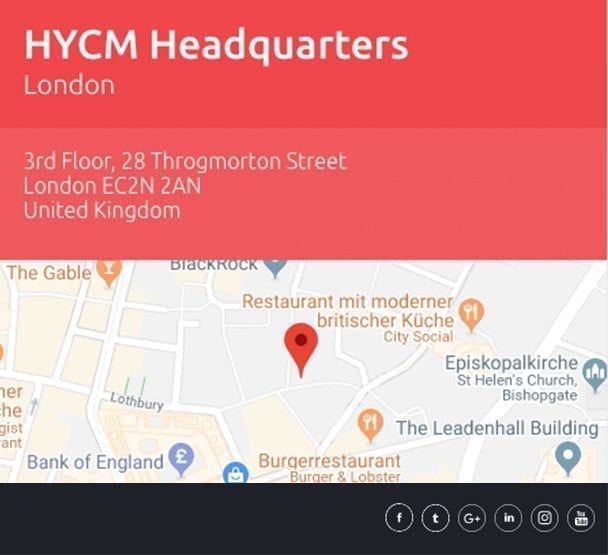 24/5 customer support which is multilingual and available all the time
Experienced, professional customer support providing contact through multiple channels
Online video tutorials, guides, and e-books available
Go to Broker
Risk warning: Capital can be lost. Terms and conditions apply.
7. Payment
7) Methods of payment: FOR TRADERS, ALL LOCAL PAYMENT METHODS ALLOWED
Offering a profusion of different payment methods, HYCM puts the convenience of its clients first. Payment methods range across Visa, wire transfer, Mastercard, Web Money and numerous other payment options made locally. Base currencies accepted are the USD/$ and the Euro/€. No fees, hidden charges or latent costs are needed for either withdrawals or deposits. There are modest minimum requirements though. With 128-bit encryption and personal and account data is encrypted through the VeriSign-issued certificates for 128-Bit SSL, all transactions and operations are secure and safe.
As HYCM follows CySEC regulations that prevent promotional activities concerning free money, receiving an HYCM bonus for deposits is hard. This is more so if broker cryptocurrency comparison sites are lax compared to ethical policies followed at HYCM. But, this can prove inconvenient for EU traders. While global clients may receive a deposit bonus of around 25%, several trading conditions will need to be satisfied to meet the requirements. Profits made using bonus money and deposit amount can be accessed only if these are met. A CFD and trading cryptocurrency broker comparison will reveal not much difference from other broker sites, in that HYCM retains the right to deny bonuses. Bonuses are issued to trading accounts following approval from the account manager.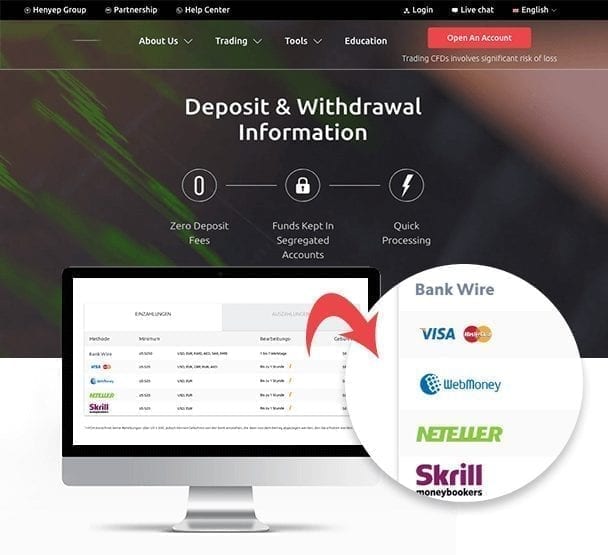 Offers diverse local payment methods from web money, Neteller, Skrill, Visa to Mastercard.
No fees, hidden charges or costs
128-bit encryption for security of financial operations
Go to Broker
Risk warning: Capital can be lost. Terms and conditions apply.
8. Offers
8) Additional Offers: Rewarding loyal clients
This trading platform review has found a long-standing reputation of the Henyep Group has led to low needs for the brokerage firm to attract fresh clients. There's no need for sizzling promotions or special offers to acquire more clients. But, this growing broker site is committed to rewarding clients who are firmly loyal. The membership of the HYCM loyalty programme ensures clients are entitled to an exclusive rebate of US$3 for every traded lot.
This will be deposited straight-away on a monthly basis on your trading account. Three tiers are present namely platinum, gold, and silver. Each has specific lots to be maintained, and keeping trading in order is a must for qualifying for these tiers. Accessing more details on the HYCM site is easy. The HYCM Refer-a-Friend programme provides traders a chance to earn US$250. Once the referral changes to an active client who deposits and trades, the referral reward is credited to the referee's account for trading purposes.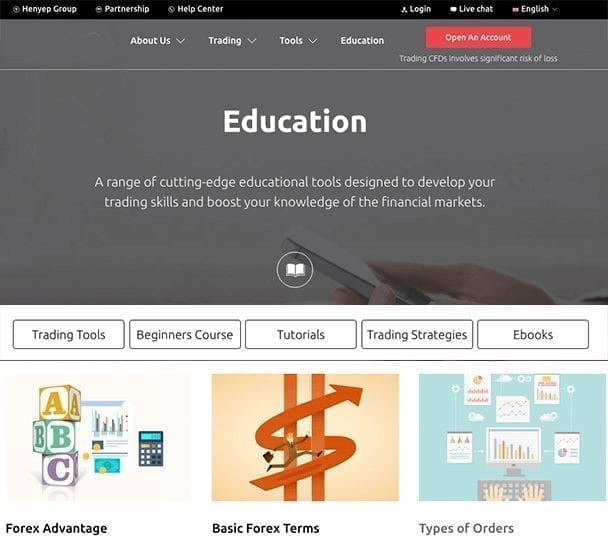 HYCM Loyalty Programme offers exclusive rebates for every USD 3 traded
Three tiers namely platinum, gold and silver.
HYCM Refer-a-Friend programme provides earning a potential of up to $250, Referral reward for trading purposes only
Go to Broker
Risk warning: Capital can be lost. Terms and conditions apply.
9. Regulation
9) Regulation & Deposit protection: Why HYCM offers Financial Security
HYCM operates under the Henyep Capital Markets (UK) Limited. This is a London based company which received authorisation and regulation as per the FCA or United Kingdom Financial Conduct Authority. It also has a Cyprus based unit, regulated by CySEC and a Hong Kong subsidiary fully licensed under the SFC(local regulator).
The UK regulatory body is reputed for stringent and strict stipulations for brokerage firms. Additionally, licensed firms must comply with procedures and rules associated with the minimum capital needed, regular report filing, order execution, and client funds, to name just a few. The UK brokers must hold at least 730,000 Euros to prove financial stability.
This HYCM crypto trading review also found that FCA regulated companies also have the responsibility to protect customers up to 50 thousand pounds per person in the event of bankruptcy under the Financial Services Compensation plan/scheme (FSCS). For Cypriot brokerages, the coverage is USD 20,000 for a single investor.
With this trading platform, clients can trade with complete security and comfort. Connections, as well as data communications between HYCM servers and trading investors, are encrypted, secured and subject to 128-bit level encryption. This is a standard for all banking operations. Personal data is also encrypted, secure and confidential.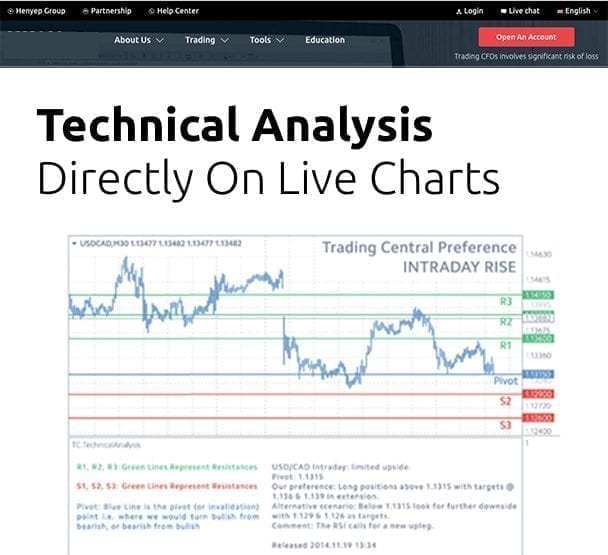 Regulated under United Kingdom Financial Conduct Authority
Secure trading guaranteed
128-bit level encryption for any communication through HYCM servers
Go to Broker
Risk warning: Capital can be lost. Terms and conditions apply.
10. Awards
10) Awards : WINNER OF NUMEROUS ACCOLADES, COMPREHENSIVE AUDITS, AND REPORTS
HYCM is an award-winning brokerage CFD and cryptocurrency trading platform.
It has secured the FX Daily-Info's Best cryptocurrency Broker (Europe) 2017 Award, the World-Finance's Best Broker (Middle East) Award 2017 and the Best Mobile-Trading Platform (2017). It has also been adjudged the Best Broker in Southern-Europe for 2015 by FX report.
Global Brands, a reputed magazine, conferred the honour of the Best cryptocurrency Broker (Dubai) 2017 award. HYCM also won the Best Retail Trading Platform award for 2015 from FX report.
Global Banking Finance Review Awards ceremony for 2017 saw HYCM take the Best Broker (UAE) award. Another notable distinction is the Best cryptocurrency Trader in Europe (2014) honour bestowed by cryptocurrency Awards.
HYCM formerly know as Henyep Markets has also featured in many reports and news items. It has had a lot of coverage generally for tis fantastic offering. You can find press releases about the company in websites including Business Wire, Bitcoin.com and even Finance Magnates. The most recent press release announces the launch of a CFD of Bitcoin Cash against the US dollar.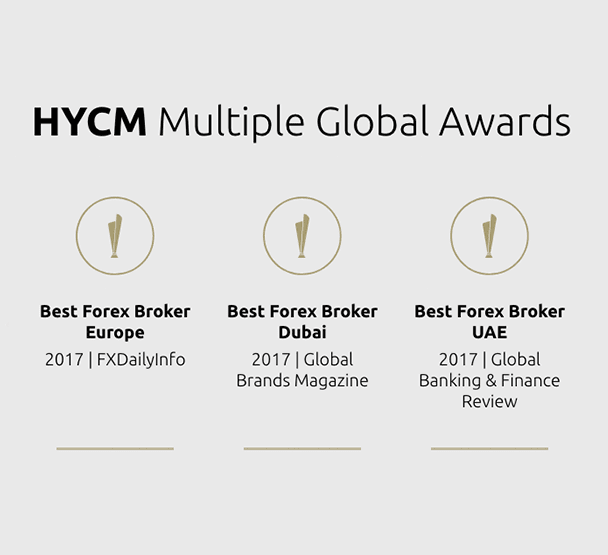 HYCM won Daily-Info's Best cryptocurrency Broker (Europe) 2017 Award
Got award for Best Broker in Southern-Europe for 2015 by FX report
World-Finance's Best Broker (Middle East) Award 2017
Go to Broker
Risk warning: Capital can be lost. Terms and conditions apply.
Conclusion: How did HYCM do?
HYCM is a trading platform that covers a wide range of currency pairs, CFD on commodities, stocks, precious metals, and indices. HYCM primarily works through its MetaTrader4 flagship platform, which is also its proprietary online platform. Multi-asset trading platform Prime Trader and mobile-capable HYCM mobile are some other options. An established broker, the HYCM, cryptocurrency trading platform, is the best in the business. It also offers support for small-time retail traders. They make it so simple for anyone to open a live trading account. All that is required is an initial deposit of USD 100 only. With an easily navigable website, event assistance is there. With close to 30 years of experience, this reliable broker follows stringent regulations. However, the broker does use Market Maker model. This can pose the problem of a conflict of interests between clients and the brokerage house. Nevertheless HYCM is a reputed broker and the one clients can bank on.
Round-the-clock 24/5 support and professional customer care
Three different kinds of accounts and 3 different trading platforms
FCA regulated brokerage house
Financial Services Compensation plan/scheme offers protection coverage for investors
Low Minimum deposit requirements
Demo account not offered
A growing educational library offering limited support
No promotional offers or special prizes
Lack of competitive spreads
Test result
Broker

Go to Broker
Risk warning: Capital can be lost. Terms and conditions apply.