With the sky rocketing prices of cryptos, cryptocurrency trading is beyond the reach of most retail investors. Nevertheless, there are alternative ways where one can still trade cryptos affordably. In this IQOption crypto review, we are going to look at IQoption, the world's leading CFDs  broker. Founded in 2013 and based in Limassol, Cyprus, IQoption offer an affordable way to trade cryptos through contract for differences (CFDs) on its intuitive proprietary trading platform without having to buy the actual asset.
Highlights
Leverage trading for crpyto's available
CySEC regulated
Intuitive Trading Platform
Wide range of cryptos supported
6.
of 18 Crypto Broker
IQ Option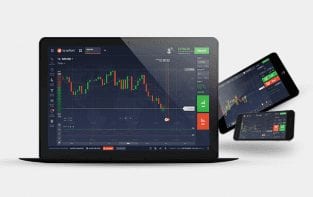 Go to Broker
Risk warning: Capital can be lost. Terms and conditions apply.
Headquarters and regulation
Cyprus (CySEC)
Tradable crypto currencies
Bitcoin, Ethereum, Ripple, Bitcoin Cash, EOS, Litecoin, Dash, TRON
Number of crypto currencies
15
Trading platform
Broker-owned Software
Demo account
Yes, unlimited
Fees / BTC spread
6 percent
Services & additional benefits
Live
Hotline
E-mail
Economic Calendar
E-Book
Videos
1. Trading Offer
1) Crypto Trading Offer: IQoption offers 15 different types of cryptocurrencies
Known as a leading broker, IQoption today has developed into something more, offering fixed odds options. Since the beginning of 2017, IQoption has sought to expand its product offerings to cover forex and CFDs trading. Its latest addition to its product offerings is the inclusion ofcryptocurrency trading. IQOption cryptocurrency are available for trading on the IQOption bitcoin trading platform in two ways, as a crypto CFD instrument. In general, you have 3 different ways to trade the financial markets with IQoption, the spot forex market, the CFDs market.
15
Crypto currencies
Number
29
Other currency pairs
Number
As for the assets covered by IQoption, they cover an extensive range. IQOption bitcoin trading consists of 15 different types of cryptocurrencies altogether. You also have a modest selection of forex currency pairs to choose from. Currently, there are 29 forex pairs supported by IQoption. For CFDs, they cover a wide selection of asset classes. They consist of stocks, market indices, commodities and ETFs. One of the key benefits of trading IQOption cryptocurrency is the fact that you can trade them at up to 1 to 30 leverage ratio for major forex pairs.
Ability to trade cryptos through CFDs or options
High leverage to 1:30 for forex pairs
Large selection of Cryptocurrencies
Go to Broker
Risk warning: Capital can be lost. Terms and conditions apply.
2. Costs
2) Crypto Trading Costs: Competitive Trading spreads
In the cryptocurrency trading industry, fees are usually based on the "Maker" and "Taker" fee model. A maker is the context of cryptocurrency trading is the person who creates an order on the order book to buy or sell for someone else to complete it. The person who completes the order is known as the "Taker". Normally, takers pays a higher transaction fee than makers as takers as seen as taking the liquidity in the market away. Because makers add liquidity to the market, they get to pay lower transactional fees or none at all. But when we do a broker comparison – crypto comparison, you will find that IQoption does not subscribe to the same pricing model for trading fees. In fact, IQoption crypto broker charges no flat fee for each cryptocurrency transaction on its trading platform.
On the IQoption crypto broker platform, the broker also charges a fee for overnight positions. For overnight cryptocurrency positions, the overnight fees are 0.065% for long positions and 0.015% for short positions. For stocks CFDs, the fees are 0.029% to 0.087% for long positions and 0.0203% — 0.0609% for short positions. As for the spreads on forex, IQoption does not provide any information regarding on the applicable spreads.
Overnight positions incur a fee regardless of which way prices will move
No transparency on spreads for forex trading.
Max. Leverage 1:2
Go to Broker
Risk warning: Capital can be lost. Terms and conditions apply.
3. Account
3) Accounts: Free Demo Account at IQoption
As for the types of trading accounts supported by IQoption, the broker has made available 3 types of trading accounts. They comprises of a free demo account, a standard trading account and a VIP trading account. Ideal for beginner traders, the standard account requires only a minimum deposit of $10 to open. With the standard account, you can access all the various financial instruments that are available for trading.
If you want to do a review of IQoption services first before committing any real money, you can sign up for the demo account instead. The demo account is free and has no expiry time period. To gain access to it, you simply need to log in with your Facebook or Google account or register with IQoption. Once you have log in, you will be given $1000 virtual cash for you to try out the trading platform with.
$10 minimum deposit requirement
Free Demo Account
No expiry on demo account
Go to Broker
Risk warning: Capital can be lost. Terms and conditions apply.
4. Platform
4) Crypto Trading Platforms & Mobile Trading: Trade Crypto CFDs and Options from one single platform
In our IQOption crypto review, you will note that IQoption uses a proprietary platform. It is available in 3 different versions, as a desktop client, as a web based platform and finally as a mobile trader. The desktop client is available for different operating system such as Mac OS, Windows and Ubuntu and requires you to download and install the client before you will be able to access the trading platform. For the web based trading platform, you can access it by using any browser. For smartphone users, you can download the mobile trader from Google PlayStore or Apple App Store depending on whether your smartphone is powered by Android or iOS.
Features of the IQOption cryptocurrency platform include an easy to read trading chart which can be as a single chart or as multiple charts in a grid format. On the trading screen itself, you can access a number of different functionalities such as trading history, market analysis, customer support and educational materials. Apart being able to make trades, you can also fund your account directly from the trading screen. What we like the most about the IQOption bitcoin trading platform that it is easy to operate and aesthetically pleasing to the eye.
Available for mobile trading
Multiple features directly accessible from the trading screen
Trading platform support multiple OS type
Go to Broker
Risk warning: Capital can be lost. Terms and conditions apply.
5. Usability
5) Usability of the Website: Simple to navigate and pleasing to look at
To cater to its international clientele base, our IQOption crypto review found out that the platform has been translated into 13 different languages, these include Chinese, Portuguese, English, Turkish, Russian, Spanish, Indonesian, Italian, Korean, Swedish, Thai, French and German. No doubt having the website in different languages will help those traders whose mother tongue is not the English language. Apart from supporting multiple languages, the IQoption website is surprisingly easy to navigate as you will discover if you have a browse around it. The main navigation buttons at the top of the home page are grouped into 3 main categories, "Trade", About Us" and "For Traders". Simply click on each of the main buttons to reveal the drop down menu for access to different pages on the website. The beauty of this design is the fact that it prevents the website from being cluttered up with too much information.
Once you have log in to you account, you can easily access your trading functionalities or manage your trading account with just a click of the mouse on the panel located on the right side of the page.
Easy access to the platform functionalities
Easy to navigate around
Multiple languages supported
Go to Broker
Risk warning: Capital can be lost. Terms and conditions apply.
6. Support
6) Customer Support: Access IQoption customer support 24 hours a day 7 days a week
Apart from making their website available in 13 different languages, IQoption has made its customer support service available and accessible 24 hours a day 7 days a week. You can contact the support team using email, live chat or through the telephone.
For telephone support, IQoption has gone to the extent of providing localized telephone support for 18 different countries around the world.
The countries which feature localized telephone support consist of the following:
Argentina
Australia
Austria
Brazil
Chile
Colombia
France
Germany
India
Italy
Mexico
Portugal
Russia
Singapore
South Africa
Spain
Thailand
UK
Other areas of support provided by IQoption include a fairly comprehensive video tutorial library. In our review of IQoption educational section, we found that the video library featured 16 video lessons covering different topics such as "how to use the multicharts for trading" and "How to set up trading windows". These videos are short and concise making it easy to catch the key points being delivered by the video. There is also a comprehensive blog that you can refer to for the latest insights on the development in the financial markets.
localized telephone support numbers,
Comprehensive video library,
in-depth blog covering the latest news in the markets
Go to Broker
Risk warning: Capital can be lost. Terms and conditions apply.
7. Payment
7) Methods of Payment: Different methods for funding and withdrawing funds at IQoption
To fund your trading account at IQoption, you can use one of the several methods of fund transfer supported by the broker. These methods include bank wire transfer, bank cardssuch as credit cards and debit cards, online payment portals, Bitcoinand eWallets such as Skrill and Neteller. Take note that the minimum amount that you need to deposit is just10 USD/GBP/EUR, very low indeed. For Bitcoin deposits, there is a processing fee of 0.001 BTC charged by cubits.com, the Bitcoin exchange.
Withdrawal methods are the same as the methods used for making a deposit. However it should be noted that in compliance with anti money laundering legislations, you can only withdraw through the same method that you used for making the initial deposit. Depending on the method used, the processing time for a withdrawal request takes around one day for eWallets to 9 working days for bank wire transfer. For bank wire transfer, there is a processing fee of $53. Bank card withdrawals will also incur a processing fee of between 2% to 2.5%.
Bitcoin deposit and withdrawals supported through the website
Efficient withdrawal process
Multiple methods of fund transfer supported
Go to Broker
Risk warning: Capital can be lost. Terms and conditions apply.
8. Offers
8 ) Additional Offers at IQoption
If you look at any broker comparison report, you will find that most online brokers offer demo account facility. In this IQoption review, you will find that IQoption is no different. The broker offers a free unlimited demo account which can be topped up with $1000 virtual cash each time you depleted the demo account. There is no restriction imposed and is readily accessible at any time. Because the demo account facility has no expiry time, it can be a useful tool for those who want to backtest their trading strategies.
Other useful tools which you can find on the IQoption platform include the economic calendar and in-house market analysis reports. Especially for currency traders, the economic calendar is an invaluable tool. It indicates the time and date when major economic data will be released by the major institutions or government agencies. Because these economic data can affect prices in the forex market, these release of these data are closely monitored. To help give you a rundown on the developments in the financial markets, IQoption regularly publish the analytical results of their in-house market analysts. These reports often provide keyinsights in how the market will behave.
Unlimited demo account
Free economic calendar and in-house market analysis
Many videos
Go to Broker
Risk warning: Capital can be lost. Terms and conditions apply.
9. Regulation
9) Regulation & Deposit Protection: Deposit protection under the Investor Compensation Scheme
As a financial services provider that is based in Cyprus, IQoption is regulated by the Cyprus Securities Exchange Commission (CySEC) under the Cyprus Investment Firm license 247/14. As a regulated entity under CySEC, IQoption is obligated to be a member of the Investor Compensation Scheme. This mean your deposits at IQoption are protected by up to a maximum amount of 20,000 euros. However, it should be noted that the deposit protection is only applicable for traders that are based within the European Economic Area (EEA). For traders that open their account outside the EEA, they will not be covered under the Investor Compensation Scheme.
CySEC
Regulatory Authority
To protect their website from hackers, IQoption has adopted SSL encryption security measures. In terms of online security, SSL security standard is the industry standard and is considered the best there is. This is the same standard that is adopted by the commercial banks to protect the interests of their customers. In addition to the SSL encryption security measures, IQoption is also PCI compliant and is able online card transactions securely.
CySEC Regulated Broker
Deposits protected under Investor Compensation Scheme for EEA customers
Website protected with SSL encryption technology
Go to Broker
Risk warning: Capital can be lost. Terms and conditions apply.
10. Awards
10) Awards: IQOption's An Award winning Broker
Over the years which IQoption has been operational, the broker has managed to bag more than a dozen different awards recognizing the quality of its services and trading platform.
The following list is some of the awards that IQoption has won since 2014:
2017 Award of Excellence by The Academy of Interactive & Visual Arts
2016 The Intelligent trading app for binary options by Mobile Star Awards
Century International Quality Gold ERA award by Business Initiative Directions Group
2016 Best Technology Application by The Web Marketing Association
Best Binary Options Broker Europe 2015 by Global Banking & Finance Review
Most Innovative Binary Option Platform by IFM Awards 2015
Best Binary Trading Platform by IFM Awards 2015
Fastest Growing Binary Option Brand by Global Brands Magazine
Best Trading Platform by Forex Awards 2014
While it has been featured in the financial news that IQoption has been fined by CySEC in 2016 for non compliance of regulatory requirements, it should be noted that it was during a period when IQoption was in transition to full compliance. It should also be noted that in Janary 2017, CySEC revoked the fine that it had imposed on IQoption.
Winner of numerous awards
Fined by CySEC for non compliance of regulations
CySEClater revoked fine imposed on IQoption
Go to Broker
Risk warning: Capital can be lost. Terms and conditions apply.
Conclusion: How did IQoption add up?
From our crypto comparison review, we can appreciate why IQoption has become one of the leading brokers dealing with CFDs. Rather than packing up and calling it a day, IQoption has wisely expanded its offering to cover forex, CFDs and mostly recently cryptocurrency trading. This has enabled the broker to survive amidst fierce competition in the industry. It also goes to show that this broker has the commitment to stay relevant in the industry despite the changes that the industry is undergoing presently. As a client, you definitely will want to trade with the broker that will stay around than a high flying one that closes shop when the tough gets going. In addition, the fact that IQoption is regulated by CySEC also gives you the assurance that your money will be safe with them.
CySEC Regulated Broker
User Friendly Trading Platform
Localized Telephone Support Available
Low Trading Fees
Support Various types of trade types
Deposit Protection applies to European customers only
No choices of trading account
MetaTrader 4 trading platform not available
Test result
Broker

Go to Broker
Risk warning: Capital can be lost. Terms and conditions apply.