Markets.com is an online exchange that offers trading for a number of cryptocurrencies as well as different financial instruments. There are seven different types of assets in total that a trader can buy and sell on Markets.com. This brokerage house is heavily used by long-term investors and day traders alike. This would explain why Markets has such a good reputation across the globe. Here is a full Markets.com crypto review which can help you to find the answer to the question is Markets.com bitcoin trading legit?
Highlights
Markets.com is a popular online exchange
Crypto trading as well 6 other asset types
Huge selection of trading platforms
For day traders and long-term investors
13.
of 18 Crypto Broker
Markets.com
Go to Broker
Risk warning: Capital can be lost. Terms and conditions apply.
Headquarters and regulation
Cyprus (CySEC)
Tradable crypto currencies
Bitcoin, Ethereum, Ripple, Litecoin, Dash
Number of crypto currencies
5
Trading platform
MT4, Broker-owned Software
Demo account
Yes, available for 30 days
Fees / BTC spread
140 Points
Services & additional benefits
Live
E-Book
Videos
1. Trading Offer
1.) Crypto Trading Offer: A Look at the Key Offerings of Markets.com
Markets.com offers seven different classes of tradable assets: shares, Forex, crypto, indices, ETFs, commodities, blends. CFDs are available on the site. After a Markets.com bitcoin trading
platform review, it was determined that Markets.com cryptocurrency offers Bitcoin futures, Dash, Litecoin, Ripple, and Ethereum. So, if you would like to trade the top cryptocurrencies, you will be able to do so on Markets.com. You can also choose from over 2,000 different shares if you prefer stocks. Markets.com offers shares from all around the world. You will find many of the top global companies listed on the exchange for trading.
50
Other currency pairs
Number
Markets.com just has one trading platform, but it still fairs very well in a cryptocurrency broker comparison. However, this platform is very effective and is very high quality. The fact that Markets.com offers Bitcoin futures puts it ahead of many other cryptocurrency platforms that do not offer them. Bitcoin futures are still very new and are still seen by many as being exotic. So, offering Bitcoin futures helps Markets.com to attract crypto investors and traders. Bitcoin futures enable people to bet against Bitcoin, which is an angle that many traders prefer. Markets.com bitcoin trading is very desirable to investors.
Markets.com offers trading for 7 different types of assets
Bitcoin futures trading is available on the site
Some of the top cryptocurrencies can also be purchased on Markets.com
Go to Broker
Risk warning: Capital can be lost. Terms and conditions apply.
2. Costs
2.) Crypto Trading Costs: Reasonable and Fair
According to this Markets.com crypto review does not charge fees for many trades on its site. However, it does charge by the spread for some trades. For example, the Markest.com spread for Eur/USD trading is 2 pips. The site also charges inactivity fees, rollover fees for long and short positions on EUR/USD ($6.78 and $2.75 respectively). There are no withdrawal fees for Markets.com, however. This is highly convenient for traders and it means that they are not going to get hit with last minute fees when they are trying to claim their money and transfer it back to their bank accounts.
Traders who use the Markets.com cryptocurrency broker after reading this Markets.com crypto trading platform review, can get leverage at ratios of up to 1:30. However, just because such a large amount of leverage is offered by Markets.com does not mean that everyone should use it. Trading using leverage can dramatically increase risk. So, only seasoned investors and traders should use leverage. Markets.com uses an STP model. So, fees for Markets.com can vary dramatically, depending on which asset you are trading, how active you are on the site, and several other factors.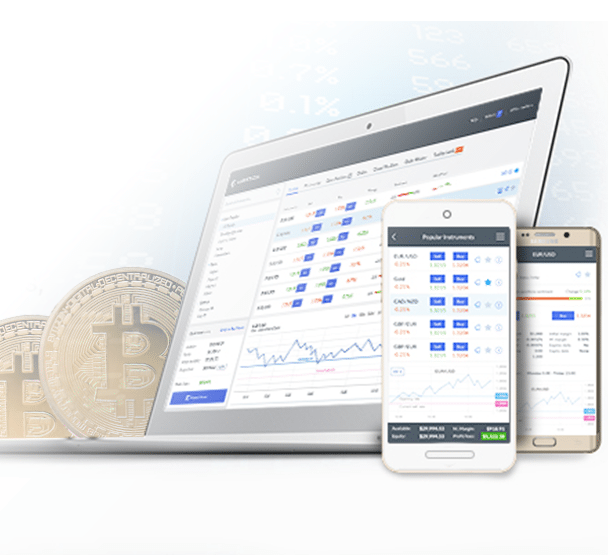 Markets.com charges by spread in some cases
The spread starts at 2 pips
Leverage of up to 1:30 is available on Markets.com
Go to Broker
Risk warning: Capital can be lost. Terms and conditions apply.
3. Account
3.) Accounts: Markets.com has 3 Different Types of Accounts Available
Markets.com has 3 different account types. These account types are the Standard trading account, the Classic trading account, and the Premium trading account. The minimum deposit for the Standard trading account is $2,500, the minimum deposit for the Classic trading account is $100, and the minimum deposit for the Premium account is $20,000. Markets.com also has a free demo account that is ideal for people who just want to test out what it is like to use Markets.com.
Beginner traders and investors are better off sticking with the Standard or Classic trading accounts. This is because these versions are simpler and easier to use. The Premium account has the most advanced features and charting tools. It is ideal for people who have a lot of trading experience and who are looking to trade high volumes of money and do in-depth technical analyses of assets such as Ethereum or Ripple. It also costs a lot less money to open a Standard or Classic account.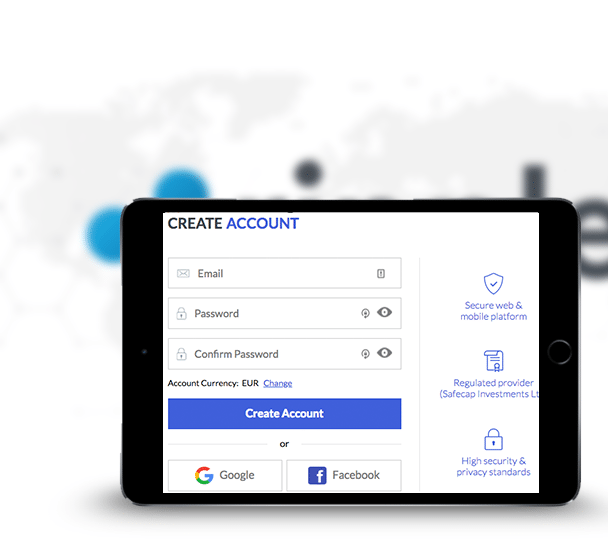 The three account types offered by Markets.com are Standard, Classic, and Premium
Novice traders should stick with Standard or Classic
A deposit of $20,000 is required to open a Premium account
Go to Broker
Risk warning: Capital can be lost. Terms and conditions apply.
4. Platform
4.) Crypto Trading Platforms & Mobile Trading: Markets.com Has Great Mobile, Tablet, and Desktop options
Markets.com, arguably the best cryptocurrency broker, has its own trading platform which is available for desktops, tablets, and smartphones. So, whether you want to make Markets.com cryptocurrency trades while you are sitting at your desk at home, or while you are riding the train to work in the morning, you will be able to do so with the Markets.com trading platform. This flexibility is especially important for cryptocurrency trading because the crypto market is incredibly volatile. Buying and selling opportunities tend to come and go very quickly.
The Markets.com trading platform comes with a variety of features including: an interactive user interface, advanced trading tools, a free demo account, risk management tools, and customer support. All of these features can be extremely helpful for traders, especially those who want to use the platform to trade high volumes of assets, and spend a lot of money. The platform app is compatible with both iOS and Android operating systems.
The Markets.com trading platform works on desktops, tablets, and smartphones
This platform has many features, including advanced trading and risk management tools
The Markets.com trading app is compatible with iOS and Android.
Go to Broker
Risk warning: Capital can be lost. Terms and conditions apply.
5. Usability
5.) Usability of the Website: Markets.com is an Extremely Easy Site to Use
Markets.com is an extremely easy website to use. It is very intuitive and not confusing at all. This is why it is suited to beginners, although equally suited to experts. Important information can be easily found. However, if you are from America, then you will not be able to create an account on the site. This is because Markets.com crypto broker does not allow American users. However, for people in supported countries, it is extremely easy to navigate the website and the menu. The color scheme is very nice and comes across as clean. It is a well-designed website.
The Legal information and terms of business are easily found at the bottom of the homepage. If you would like to locate this information, then it is very easy to do so. Also, the top products are advertised very well. If you want to create an account on Markets.com or simply explore the site to learn more information, it is very easy to do either one.
Top products are easily found on Markets.com
It is simple to create an account on Markets.com
The legal information for the site is easy to locate
Go to Broker
Risk warning: Capital can be lost. Terms and conditions apply.
6. Support
6.) Customer Support: Markets.com has Several Great Options
Markets.com has a very detailed support center. This support center has a thorough FAQ section which has many questions that are highly relevant to traders who use the site. The exchange also has 24/5 live support. You can contact customer support through email and live chat, The email for Markets.com customer support is [email protected] To live chat, you must click on support center and then click on the live chat option. Live chat is the fastest way to get your issues addressed.
If you choose to email Markets.com broker support, it make take a few hours to a few days to get a response. If your issue is urgent, then you should definitely contact support during the Monday-Friday live support window. You may also be able to find the solution to your problem in the FAQ section. If so, it is even faster to get your issue resolved this way.
Out of the available options, the email option is the slowest customer support option
Live agents are available for support 24 hours a day, five days a week
You can also use the FAQ section to get your issue resolved
Go to Broker
Risk warning: Capital can be lost. Terms and conditions apply.
7. Payment
7.) Methods of Payment: Markets.com Accepts Many Different Payment Methods
Markets.com fairs very well in our broker comparison -crypto comparison with most brokers. This is partly because there are many different payment methods accepted by Markets.com for deposits and payouts. These payment methods include credit and debit cards (VISA, Mastercard, Maestro, and Delta), wire transfers, fast wire transfers, PayPal, Skrill, Neteller, Sofort, giropay, iDeal, MB MultiBanco, and unet. There are no fees for deposits or for withdrawals. However, Markets.com makes it known that your bank may charge you a small fee for these transactions. So, whether or not you will have to pay for Markets.com deposits or withdrawals depends largely on your bank. Processing of withdrawals normally takes 2 to 3 business days.
Because Markets.com does not charge for deposits or withdrawals, most of the options offer a very similar value. So, you should just choose whichever option is the most convenient for you. It will cost you roughly the same amount no matter which option you choose. The minimum deposit amount depends on your account type. These minimums range from $100 all the way to $20,000. So, you should choose your account type very well before you set it up and start trying to make trades.
There is no fee for deposits and withdrawals for Markets.com
Minimum deposits range from $100 all the way to $20,000, depending on account type
It typically takes a few business days for withdrawals to be fully processed.
Go to Broker
Risk warning: Capital can be lost. Terms and conditions apply.
8. Offers
8.) Additional Offers: There are Several Other Great Offerings on Markets.com Besides a Trading Platform
Many people ask is Markets.com a good broker. Well,in addition to the trading platform and the assets available to trade, Markets.com has additional offerings which are beneficial. For example, they have a free demo account that. People can use this demo account to learn exactly how Markets.com trading works and get used to using the Markets.com trading platform. This is great for getting to know the Markets.com system. Markets.com also offers webinars, news and analysis, trading tools, and more.
Some of the trading tools offered by Markets.com include Markets Consensus, Traders Trends, Trading Central, Trading Now, and Events and Trade. All of these addition offerings help to make Markets.com a very well-rounded platform. It is a great place to trade, but it is also a great place to learn and to expand your trading knowledge. So, if you have been wondering is Markets.com a good broker, the answer is yes.
There are a whole selection of available free trading tools offered on the site
Webinars are available too, for anyone who wants to learn more
Markets.com offers a lot more than just trading
Go to Broker
Risk warning: Capital can be lost. Terms and conditions apply.
9. Regulation
9.) Regulation & Deposit Protection: Markets.com Complies with all Required Rules and Regulations
As per this Markets.com crypto review, the site is operated by a licensed financial services firm called Safecap Investments Limited. This firm is licensed and regulated by the Cypress Securities and Exchange Commission. The Safecap Investments Limited firm is also regulated by the Financial Services Board in South Africa. So, there are multiple different regulatory agencies which regulate Markets.com.
CySEC
Regulatory Authority
Markets.com uses SSL encryption to protect the security of the data on its site. Minors are not allowed to create accounts on Markets.com. This is because minors are not considered mature enough to be able to make sounds financial decisions. People who invest often put a lot of money at stake which could be lost. So, like many other exchanges, minors are forbidden from making accounts on Markets.com. It is also illegal for minors to conduct trading activities on exchanges in many nations. Deposits are protected on Markets.com.
Safecap Investments Limited is licensed and regulated by the Cypress Securities and Exchange Commission
SSL encryption is used to encrypt and protect data on markets.com
Minors cannot create accounts and make cryptocurrency, or other financial instrument trades on Markets.com
Go to Broker
Risk warning: Capital can be lost. Terms and conditions apply.
10. Awards
10.) Awards: Markets.com has Won Several Very Prestigious Industry Awards
Markets.com has won several prestigious awards. The awards that it has won are the Best Forex Provider 2017 Award, and the Best Forex Trading Platform Award among others. Markets.com won these awards at the UK Forex Awards, 2017. Many people ask the question is Markets.com crypto legit? These awards essentially prove that it is very legit, and it fact, that it is a top quality online exchange.
It is not easy to win these types of awards, and there are many exchanges who compete for them. The cryptocurrency sector can be very tricky as well. So, considering the fact that Markets.com has won these awards while offering cryptocurrency trading speaks volumes to the site's quality. A Markets.com review was conducted to ascertain the site's qualifications to win the award, and it won after this review. If you are looking for an excellent cryptocurrency exchange to use to start trading cryptocurrencies online, then Markets.com is an excellent option.
These awards prove that Markets.com is a great exchange
Markets.com is a good place to start trading cryptocurrencies
It is also a good place to trade other assets such as shares and commodities
Go to Broker
Risk warning: Capital can be lost. Terms and conditions apply.
Conclusion : What did we think of Markets.com?
Markets.com is one of a number of premier exchanges for trading assets online. Its fees are reasonable and it has many benefits. Some of these benefits are zero deposit and withdrawal fees, an extremely user-friendly trading platform, and a wide variety of payment options. Markets.com is not the only place where you can invest safely and efficiently in cryptocurrencies, but it is one of the best. That is why it has won two prestigious awards.
In addition to trading on Markets.com, users can also get access to great webinars, and trading tools. Further, the free demo that Markets.com offers allows traders to test out the software without having to make a larger commitment. All in all, Markets.com is a very solid exchange, and it is definitely one that should be considered by all cryptocurrency traders who live in supported countries. Unfortunately, that excludes traders in the United States for the time being.
reasonable fees
many payment options
five differenty cryptos
bitcoin futures
live chat support
Doesn't seem to be a help number to call
Americans can't use it
Minimum deposits are high for advanced accounts
Test result
Broker
Go to Broker
Risk warning: Capital can be lost. Terms and conditions apply.