Admiral Markets is a forex and CFD provider that was founded in 2001. Admiral Markets offers a state-of-the art platform for trading of currencies, metals, stocks, and indices. One of the hallmarks of the offering of Admiral Markets is the order execution quality that traders enjoy.
The company is fully registered and licensed in several jurisdictions: UK, Cyprus and Estonia. Admiral Markets decided on the siting of its branch network in three hubs, in order to give more customized service to the European, UK and International markets.
Highlights
Admiral Markets forex is one of the oldest online brokers in the retail segment of the FX market.
Is Admiral Markets legit? Yes, because the company is duly registered, licensed and regulated by the relevant authorities in different countries.
Admiral Markets provides a diversified menu of trade instruments on their platform.
Admiral Markets trading platform review reveals that the company is one of the leading online brokerage firms in the world today.
22.
of 30 Forex Broker
Admiral Markets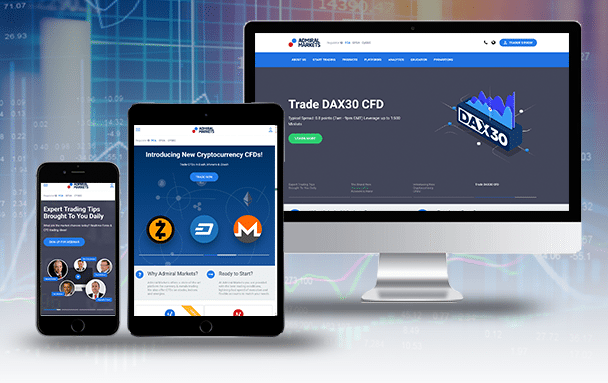 Go to Broker
Risk warning: Capital can be lost. Terms and conditions apply.
Headquarters and regulation
GB (FCA)
Fees and Spread
Depends on account type
Market Model
STP/Market Maker
Demo account
Yes, available for 30 days
Trade Offering
47 Currencies
Services & additional benefits
Live
Hotline
E-mail
Economic Calendar
Videos
Courses/Seminars
1. Trading Offer
1.) Forex Trading Offer: Trade Over 47 Currency Pairs
Admiral Markets broker is a leading forex and CFD provider that offers multiple trade markets for trading. The trade markets on Admiral Markets include the following:
Tradable assets: Contracts for Difference (CFD) markets include stocks, commodities, currencies, exchange traded funds (ETFs), indices and cryptocurrencies.
FX offer: Spot FX trading on Admiral Markets has about 47 currency pairs that range from the major currency pairs to the minor and exotic currency pairs. A broker comparison reveals that this number is not as much as you are likely to find on other broker platforms. However, it features the most popular and most traded currencies across the globe.
Exotic Assets: Admiral Markets exotic assets listing showcases the cryptocurrencies. Featured cryptocurrencies include: Bitcoin, Ethereum, Litecoin and Ripple.
Tradable:
EUR/USD
USD/JPY
GBP/USD
USD/CHF
AUD/USD
NZD/USD
USD/CAD
Admiral Markets review shows that about 47 currency pairs, 8 commodities (5 metals, 3 energies), 20 indices (16 cash, 4 futures), 264 stocks and 2 bonds are available for trading on the various platforms.
You can trade several asset classes on Admiral Markets. About 47 currency pairs are featured in addition to other trade markets.
Trading on Admiral Markets is leveraged. The leverage can be as high as 1:30
Cryptocurrencies, Stocks and Commodities are featured on this broker platform.
Go to Broker
Risk warning: Capital can be lost. Terms and conditions apply.
2. Costs
2.) Forex Trading Costs: Varying Costs Chargeable on Your Account
Are there costs associated with trading on Admiral Markets? Yes, there are costs ranging from commissions, charges and fees. In addition to the regular trading spreads, the following charges are incurred by users of Admiral Markets platforms:
Commissions are charged on trades. Commission are calculated based on the contract size and the commission rate in the account's deposit currency. Admiral markets already assigned commission rates per 1.0 lot on different currencies.
STP/Market Maker
Market Model
An Inactivity Fee is charged from traders who have a positive balance but have made no transactions in their accounts for a period of 24months. Inactivity fee is 10EUR and it is charged monthly.
Fees are also charged on bank wires (1 GBP) and e-wallet withdrawals (between 1-1.5% of transaction amount). No other fees are charged. By broker comparison, these charges are relatively low.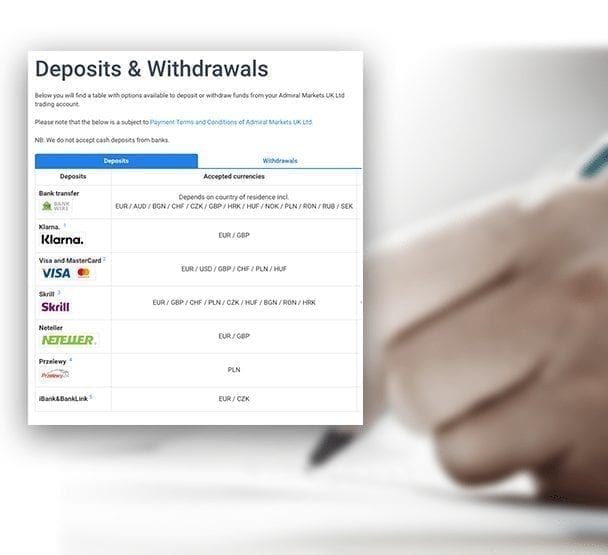 Commissions are charged on trading forex, stocks and metals.
Traders should know the contract size (Volume traded in slots) and commissions rates of the currencies they are trading to avoid huge commissions. For instance, USD commission rate is 3.0 while that of HUF is 850.0.
Inactivity fees are charges from traders who have not traded for two years, while withdrawal fees are charged mainly from e-wallet payment gateways.
Go to Broker
Risk warning: Capital can be lost. Terms and conditions apply.
3. Account
3.) Accounts: Different Accounts for Different Trading Platforms
An Admiral Markets review of trading accounts showcases a variety of account types which are mainly based on the chosen platform. The provided platforms are MT4 and MT5 on web and mobile. The account types are described below.
Admiral.Markets: This account requires a minimum deposit of $200 and it is based on the MT4 platform. You can trade with 130 trading instruments which include currencies, cryptocurrencies, metals, stocks and bonds.
Admiral.Prime:  This account type requires a minimum deposit of $1,000 and allows the trading of only 45 currencies and 3 spot metals on CFDs.
Admiral.MT5: This account is based on the new MT5 trading platform and requires a minimum deposit of $200.  It features over 330 trading instruments.
Admiral.Invest: This account requires a minimum deposit of $500 and it is based on the MT5 platform. It features about 265 stocks for trading.
In addition to the real money accounts, Admiral Markets forex and CFD traders are provided with a demo account. The demo account is free on Admiral Markets. A forex broker comparison shows that most forex brokers provide demo accounts with virtual money for trading and Admiral Markets has kept with this practice. This is very important for learning, strategy testing and familiarization with the interface.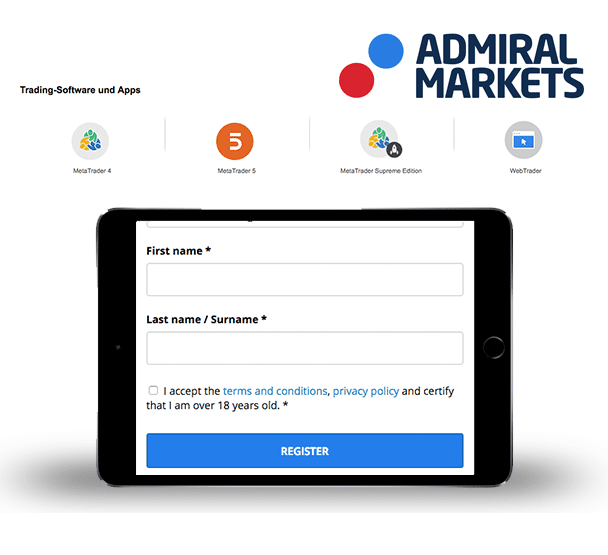 Free demo accounts provided, with $10,000 virtual capital.
Maximum Leverage up to 1:30.
A minimum deposit of $200 is required.
Go to Broker
Risk warning: Capital can be lost. Terms and conditions apply.
4. Platform
4.) Forex Trading Platforms & Mobile Trading: Explore the MetaTrader Platforms Here
Admiral Markets has the following platforms available for traders:
MetaTrader Web Trader is the browser-based trading platform. It is available for the MT4 and the MT5 platforms. No downloads or software installations are required. It is compatible with Windows or Mac computers.
The MetaTrader 4 is the downloadable software for trading on the MT4 platform. This software is available for PC, MAC, iOS and android. It is user friendly, flexible, secure and supports many languages.
Admiral Markets presents the MetaTrader 5, a downloadable software designed for trading on the MT5 platform. It is available for Windows PC, MAC, iOS and android.
MetaTrader Supreme Edition: This is an advanced plugin designed by Admiral Markets in order to enhance the features of the MT4 and MT5 trading platforms.  An Admiral Markets review confirms that the plugin introduces features like the mini trader, alarm manager and the spread indicator. This plugin is free.
The MetaTrader platforms from Admiral Markets have direct access with the MQ5 Community and Marketplace, where traders can purchase software, indicators, scripts and plug-ins.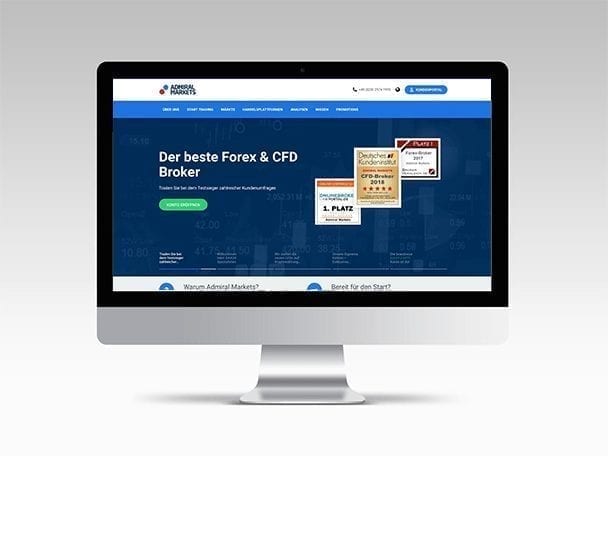 The MT4 software is available on PC and on mobile phones.
The MT5 software is available on the computer and on mobile phones.
The MT Supreme Edition is a proprietary plugin that enhances the features of the MT4 and MT5 platforms.
Go to Broker
Risk warning: Capital can be lost. Terms and conditions apply.
5. Usability
5.) Usability of the website: Clean, Visually Appealing Interface
An Admiral Markets trading platform review confirms that user feedback on the website I positive. Visitors to the website had no problems with navigation, clutter or legibility. The website displayed well across major browsers. The pictures, buttons, headings and menus are all very clear and legible. The overall user experience is rated as excellent.
The website features a very clean professionally designed and arranged interface. The font size and colour is perfect with a white background. The pictures are professionally taken, designed and arranged properly. The drop-down menu appears on every page enhancing accessibility to every webpage at any time. Navigation is easy as all required info is displayed at a glance.
Some important information like Company registration details, office addresses, account opening links, platform links, risk warning, etc appears on every page.
The website is optimized for mobile phones, tablets and phablets. Viewing on a mobile phone provides neat interface with resized pictures and contents. On a tablet, the website rearranges to give a perfect fit.
Good and professional design with white background for better user engagement.
Optimized for computer, tablet and mobile phone viewing.
Easy navigation to any page from the menu.
Go to Broker
Risk warning: Capital can be lost. Terms and conditions apply.
6. Support
6.) Customer Support: Fast and Reliable Communication with the Admiral Markets Team
Customer relationship is very important in every business. The team at Admiral Markets realizes this and has provided many channels of communication to enable efficient interaction with potential customers as well as account holders.
These contact options are:
A live chat facility is available for settlement of complaints and issues. This is multilingual.
Email: The email address provided for support is "[email protected]".
Contact Form: There is a contact form on the website. Visitors are expected to fill the form. Then, the support staff will provide the requested services or answers through email.
Office Visitation: Website visitors are urged to visit their office in London for inquiries.
Two phone numbers are provided. For client queries, call +44 2035140756 and for Trading desk, call +372 6309306.
Social media channel available are facebook, Twitter, Google+, LinkedIn, Instagram and YouTube.
The phone call option and live chat provides the most responsive service, and is recommended for those who want fast answers.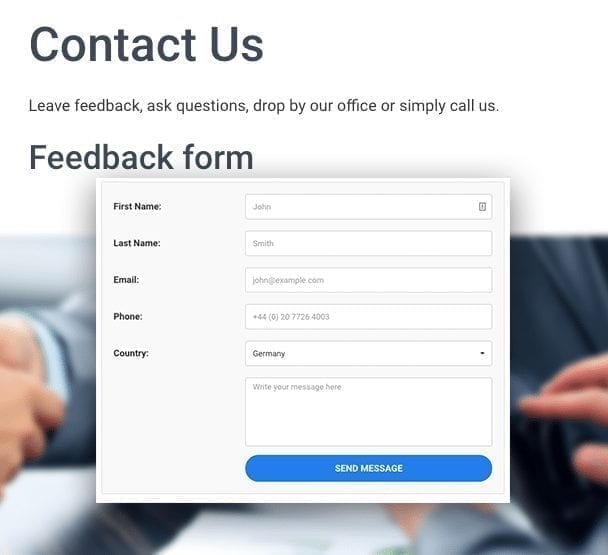 Web Chat facility is fast, instant, conspicuous and available on every page.
Strong social media presence which can be used as customer communication channels.
Professional and polite phone call attendants willing to assist.
Go to Broker
Risk warning: Capital can be lost. Terms and conditions apply.
7. Payment
7.) Methods of Payment: Choose the Options That Work for You
Because forex traders come from all over the world, it is imperative that forex brokers adopt different payment systems to match the variant profile of their clients. The methods of payment available on Admiral Markets include:
Card payments: Traders can deposit funds using a credit or debit card. The minimum deposit is $50 while the maximum deposit limit is set at $5,000. This transaction method is instant and no fees are charged.
Bank wires: Wire transfers are used globally and have no transaction limits. Fees are charged by banks and transactions may take between 2-7 business days.
E-Wallets: Admiral Markets supports the use of e-wallets and payment gateways such as Skrill, Neteller, and Klarna. Transactions are processed immediately. Maximum transaction limits, commissions and processing times vary.
Withdrawal charges apply to all methods except bank transfer which has two free withdrawals applicable twice in a month.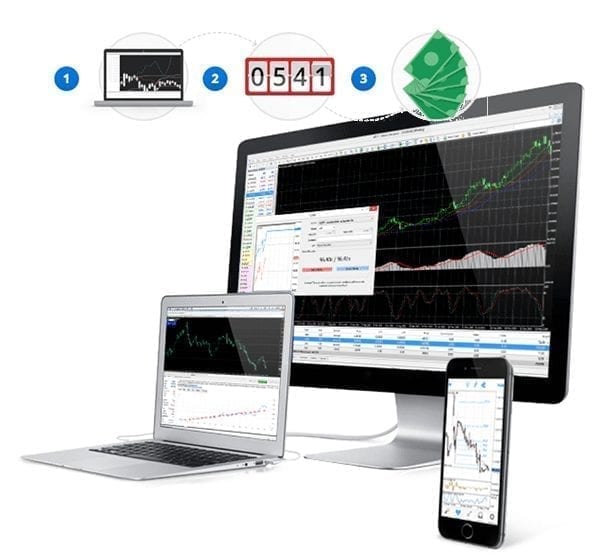 Multiple payment methods are available on Admiral Markets.
Generally, there are no fees for deposits. Withdrawals attract very low charges of about 1% on e-wallet methods. Bank wires will attract bank charges.
You can make two free withdrawal requests via bank transfer every month.
Go to Broker
Risk warning: Capital can be lost. Terms and conditions apply.
8. Offers
8.) Additional Offers: There is an Offer for You on Admiral Markets
A review of Admiral Markets offers shows that there are various kinds of offers for their clients. These offers range from educational offers, trade offers, financial offers and forex tools.
Personal Offer: If you are willing to make a deposit of £15,000, then, fill the provided contact form and Admiral Markets will make you an offer.
Admiral Club: All members of this club are awarded points when they make a trade. Traders can then accumulate these points and convert them to funds. Membership to the Admiral Club is free. However, there are terms and conditions involved.
Demo Accounts: Admiral Markets provide demo accounts with virtual money. This is for practice and familiarization purposes. $10,000 virtual money is available in this account.
Trading Education Offers: Admiral Markets provide full trader education. This comes in form of books, videos, webinars, seminars and knowledge bases.  Training on forex analysis, strategies, indicators as well as trading psychology are all available.
Analytics: This section features a forex calendar, trader's blog, technical analysis, autochartist, real-time news and wave analysis.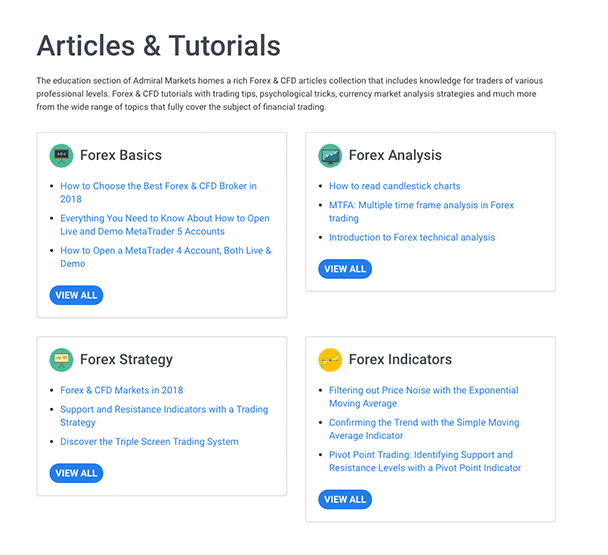 Admiral Club members earn points which can be converted to funds.
Complete forex education is available in form of eBooks, videos, webinars, etc
A forex calendar and other analytical tools are available.
Go to Broker
Risk warning: Capital can be lost. Terms and conditions apply.
9. Regulation
9.) Regulation & Deposit Protection: Your Funds are Safe With Admiral Markets
Is Admiral Markets legit? The regulatory status of Admiral Markets confers a high degree of legitimacy on the brand. Admiral Markets is licensed and regulated by FCA in the UK, EFSA in Estonia and CySEC in Cyprus. So, they are legit.
Admiral Markets UK Ltd. is authorized and regulated by the Financial Conduct Authority (FCA) with FRN 59540. The office is located in London.
Admiral Markets AS is registered in Estonia and is authorized and regulated by the Estonian Financial Supervision Authority (EFSA) license no. 4.1-1/46. The office is located in Tallinn, Estonia.
Admiral Markets Cyprus Ltd is registered with Reg. no. 310328. It is authorized and regulated by the Cyprus Securities and Exchange Commission (CySEC) license number 201/13. The office is located in Nicosia, Cyprus.
Trading funds of clients are protected as a result of Admiral Markets' membership of the Estonian Guarantee Fund (Tagatisfond) which insures 100% of funds up to 20,000 Euros. This is applicable to Estonian clients. Similar protections are found in the UK and Cyprus, under the Financial Services Compensation Scheme (UK) and a counterpart scheme by CySEC.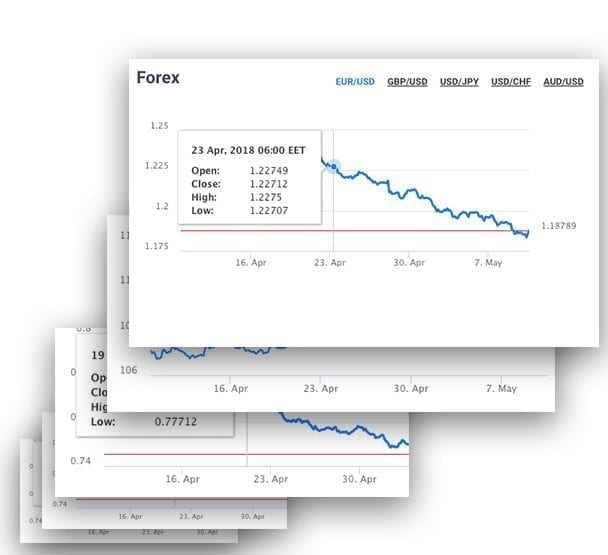 Admiral Markets is licensed and regulated by the EFSA, CySEC and FCA.
Client's fund is separated from the company funds in case of broker bankruptcy.
The official website is protected with SSL, ensuring protection of user data.
Go to Broker
Risk warning: Capital can be lost. Terms and conditions apply.
10. Awards
10.) Awards: Trade with an Award-Winning Company
For 17 years, Admiral Markets has been in business. Over the years, they have won many awards. These awards attest to the reliability and credibility of the broker. The awards come from various credible awarding organizations within the FX industry.
In 2012, the "New Europe Forex Award" was received by Admiral Markets. It also won the "Borse am Sonntag" Besten Forex broker award in 2013.
Admiral Markets won the "FX Cuffs" and "Nijlepszy Zagraniczny" Broker Forex Awards in both 2015 and 2016. Also at the Expo Borsentag Berlin 2016, it won the "Best Forex Broker 2016" and "Best CFD Broker 2016".
At the UK Forex awards in 2016, Admiral Markets was voted the "Best Forex Educator" for the continuous mentoring and education of aspiring traders. It has also won the "Best MT4 Broker" Award in the UK.
2018 is only four months old, but several awards have already been won by Admiral Markets. Recently in the UK, it won the "best Forex Broker 2018". In Germany, It won "Best CFD broker 2018".
Admiral Markets has been around 2001 and has won several awards.
The awards range from forex trading, best practices and forex education.
The award comes from different assessing organizations from different countries.
Go to Broker
Risk warning: Capital can be lost. Terms and conditions apply.
Conclusion: Admiral Markets is One of the Best Forex Brokers
Having been in the business since 2001, Admiral Markets has all the experience, partnerships, softwares and logistics needed to be an excellent broker. They have a professional and visually appealing website which features one of the best encryption technologies. They are fully licensed and regulated. Traders' money is in safe hands as the brokers comply with the rules of segregation of funds.
Admiral Markets offer a variety of accounts which includes a demo account, but it is only for 30 days. There is no bonus on deposits. Traders will also have to learn how to calculate commissions charged for trades.
Their trading platforms are excellent. With their own MT4 and MT5 Supreme editions, the features of the popular platforms can be extended. Mobile trading is fully supported with charts, news, technical analysis and actual trading.
About 47 currency pairs, commodities, indices, stocks and bonds are available for trading on the various platforms. With a minimum deposit of $200, trading can commence. A maximum leverage of 1:30 is obtainable.
Admiral Markets have won a number of awards and stands as one of the best brokers in 2018. An efficient forex broker comparison will pick out Admiral Markets as one of the best FX and CFD brokers around today. Trade over 300 instruments on MT4 and MT5 with as low as $100 on Admiral Markets.
Various types of accounts
MT4 and MT% available
No fees for deposits and withdrawals
Free demo account
Demo account is only for 30 days.
Only the MetaTrader platforms are offered; no variety.
They charge commissions on trades.
You must have $15,000 in order to negotiate a discount or bonus.
Test result
Broker

Go to Broker
Risk warning: Capital can be lost. Terms and conditions apply.