Is ATFX legit? Read this ATFX review to find out. ATFX is one of the newest Forex brokers around, having been founded in 2014. Although that sounds quite new, in this industry that is considered quite a long time. It's a very focused non-dealing desk broker, offering just one account type, and a handful of asset classes besides forex.
Trading is offered on three different MetaTrader platforms available for desktop and mobile. Research and analysis from Trading Central is made available to all clients.
Highlights
Established in 2014.
42 currency pairs, metals, oil & 8 indices
Non-dealing desk broker.
Simple Offering to avoid confusing clients.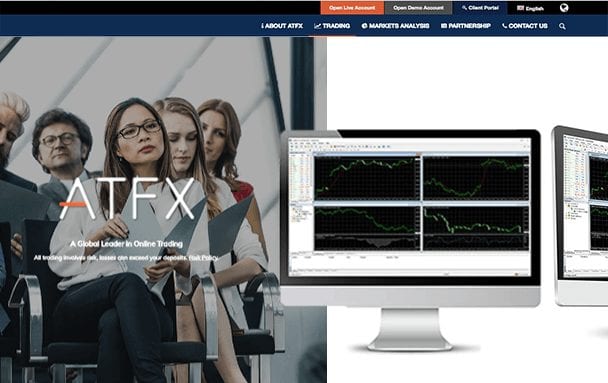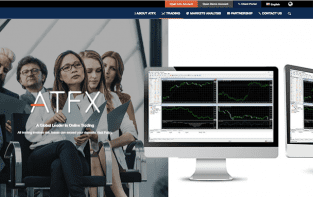 Go to Broker
Risk warning: Capital can be lost. Terms and conditions apply.
Headquarters and regulation
UK (FCA)
Fees and Spread
Depends on account type
Trading platform
MT4, Broker-owned Software
Demo account
Yes, unlimited
Trade Offering
42 Currencies
Services & additional benefits
Live
Hotline
E-mail
Economic Calendar
1. Trading Offer
1.) Forex Trading Offer: ATFX is Primarily a Forex Broker
When making a Broker Comparison, the first step is to make sure the broker actually offers the instruments you're wanting to trade. ATFX offers trading on Forex, precious metals, crude oil and indices. That covers most of, but not all, the markets that active traders will want to cover.
The 7 major currency pairs are offered, along with 21 minors and 13 exotic currency pairs. That covers about 95% of the currencies that any trader would be looking to trade. These pairs are all trade based on spot prices.
The precious metals group includes Gold and Silver which are also both traded in the spot market.
ATFX offers trading on both the UK (Brent) spot price and the US (West Texas) price.
ATFX offers eight country indices, including the S&P500, Dow30, Nasdaq, FTSE1000 and Nikkei225. These are the most popular equity indices amongst traders.
Tradable:
EUR/USD
USD/JPY
GBP/USD
USD/CHF
AUD/USD
NZD/USD
USD/CAD
For dedicated forex traders, having live pricing for metals, oil and indices can be an advantage as these prices do make up part of the economic backdrop.
ATFX does not offer trading in individual shares, ETFs or cryptocurrencies at this stage.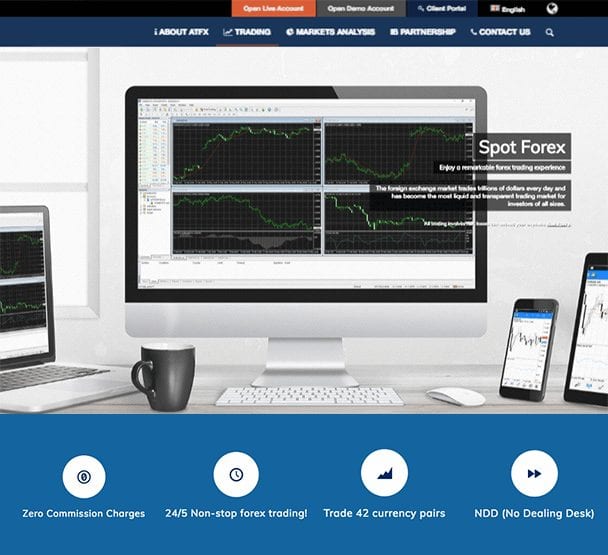 Forex, metals, oil, indices with 42 Forex pairs are offered, including the 7 majors.
Trading is offered on Gold, Silver, Oil and 8 indices.
This broker does not offer shares, ETFs or cryptocurrencies.
Go to Broker
Risk warning: Capital can be lost. Terms and conditions apply.
2. Costs
2.) Forex Trading Costs: Zero Commission and Low Spreads
When choosing the best forex broker, another good starting point is to compare the trading costs between brokers. Forex brokers either charge commission or charge via a spread. Spreads are reflected as pips, which are the lowest units of price change for each instrument. So, if a currency is quoted as 1.1578, then one pip is 0.0001. If it is quoted at 1.15, then a pip is 0.01.
In ATFX's case there is no commission, and spreads vary from instrument to instrument.
Fore the major forex pairs, spreads range from 1.8 pips to 2.7 pips. For minors and exotics, the range from 2.7 to 128 pips. Some exotic currency pairs have very low liquidity, hence the high spreads.
For trading in Gold and Silver, ATFX charges 3.5 and 4 pips respectively. Oil trading includes spreads of 5 pips. Index trading various between 3.6 and 14 pip spreads.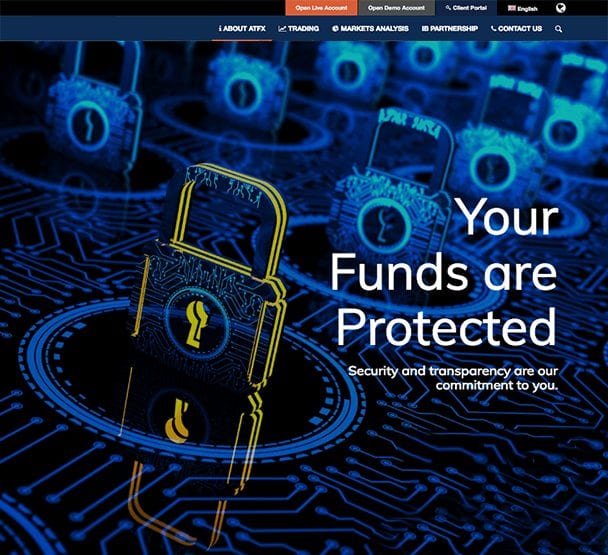 ATFX is a no commission broker and only charges via a spread.
Spreads for Forex trading range from 1.8 for the most liquid, to 128 for illiquid exotic pairs. For metals and oil, the spreads are 3.5 to 5 pips.
The cheapest index has a 3.5 pip spread, while the most expensive index has a 14-pip spread.
Go to Broker
Risk warning: Capital can be lost. Terms and conditions apply.
3. Account
3.) Accounts: ATFX Keeps Things Simple With Just One Account
This part of our review of ATFX covers the types of accounts offered by the broker. In ATFX's case this is very simple as there is just one type of account.
While this may be limiting for some traders, it also simplifies things. Some brokers offer an endless list of accounts, which can end up confusing their clients. Usually these accounts vary with regard to whether or not commission is charged, the spreads being charged and the minimum account balance that needs to be maintained. Sometimes different accounts give clients access to different types of platforms too.
What ends up happening is that clients spend all their time wondering whether they are using the correct accounts, rather than focussing on trading decisions. This also creates confusion when dealing with customer support. In fact, a lot of support queries come down to confusion over the type of account being used.
ATFX accounts have a minimum deposit level of $100 and offer relatively low leverage of 1:30. A free demo account is also available.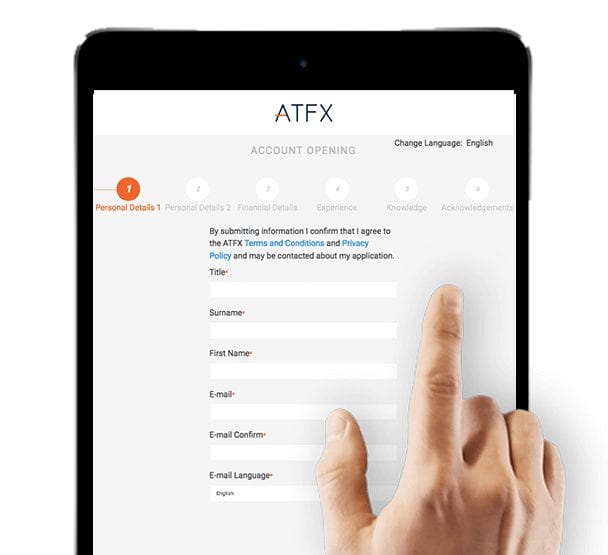 Pricing still varies according to the instrument being traded.
Demo accounts are also available for free.
Minimum deposit for live accounts is $100.
Go to Broker
Risk warning: Capital can be lost. Terms and conditions apply.
4. Platform
4.) Forex Trading Platforms & Mobile Trading: Three MetaTrader4 Options
When making a forex broker comparison, it's important to have a look at the various platforms that are available. ATFX forex trading is available on three platforms, all via MetaTrader4.
Clients can use the desktop version, the web based version and the mobile version of MetaTrader4. Some basic knowledge of MetaTrader is therefore required to make sense of this ATFX trading platform review.
The MetaTrader platforms have now become standard amongst Forex and CFD traders. They offer fast connectivity, advanced charting tools and a wide range of execution options. They also offer pending orders which can be executed when certain conditions are met.
It's worth investing the time to learn the MetaTrader platforms and in particular the MLQ4 language which can be used to create and manage automated trading systems.
The desktop version which can be downloaded to Windows and MAC PCs is the most efficient way to use it. The browser based version is adequate for most traders needs, but may be a little slower. The mobile version is available for iOS and Android and allows traders to keep tabs on the market when on the move.
ATFX does not appear to offer educational material.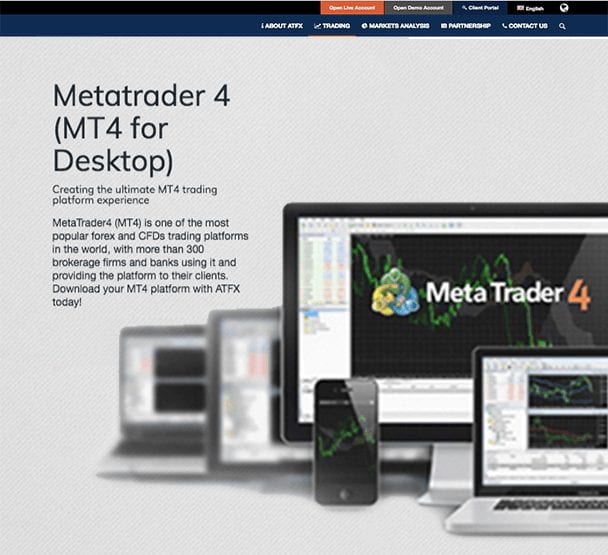 Three platforms available – desktop, mobile and browser based.
All platforms are versions of MetaTrader4
Available for Windows, mac, iOS and Android
Go to Broker
Risk warning: Capital can be lost. Terms and conditions apply.
5. Usability
5.) Usability of the Website: ATFX Has an Easy To Use Site
The first impression most people have of a broker is from the website. This review of ATFX therefore briefly explores its site. In many ways ATFX's website is a breath of fresh air. Because this broker offers just one account and handful of asset classes, the website isn't nearly as busy as others.
Because there so few options, they have managed to keep the site simple and easy to navigate. The first tab has all the information about the company itself, while the second tab includes the trading products, contract specs and platforms.
The third and forth tabs connect to the analysis page and the contact page. The Zendesk chat support tab is easy to find at the bottom right of the page.
The site is available in numerous languages too, and support is supposedly available in those languages too.
There doesn't seem to be an FAQ section which would be a big help. Some of our questions were difficult to find answers for. This is the only complaint about the site.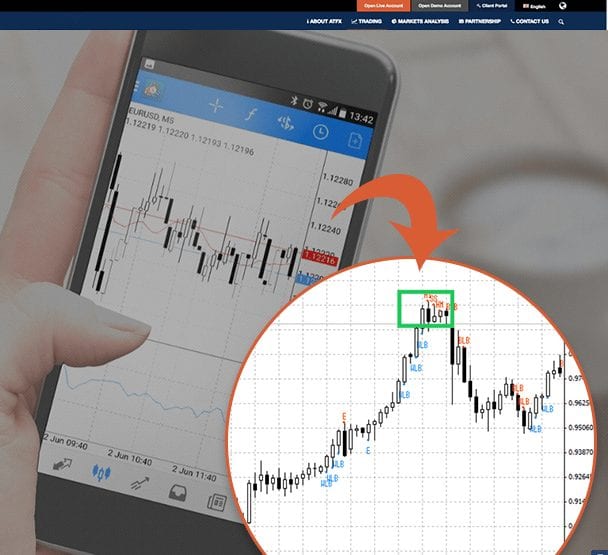 The simple website is very easy to navigate.
All the information one needs on trading products and platforms.
Limited market analysis section.
Go to Broker
Risk warning: Capital can be lost. Terms and conditions apply.
6. Support
6.) Customer Support: Live Chat Support the way To Go
stomer support is a critical factor to consider when it comes to choosing a Forex broker. Things do go wrong with all trading systems and traders need to know there is someone they can get hold of quickly. The support team needs to be skilled to handle any query from a tech problem to a question about a trading product.
New clients will also need help with MetaTrader, so the support staff will need to be able to guide clients through this complex platform.
ATFX is an NDD broker, which stands for no dealing desk. They are therefore focussed on providing very reliable systems and live chat support.
ATFX broker customer support is offered 24/5 via a Zendesk chatbot. They also have a hotline for those who prefer to speak to someone. While support is offered 24 hours a day during the week, its not clear if there is any support over the weekend.
The site claims that support is offered in 114 languages, though this may be unproven. Email support is also available.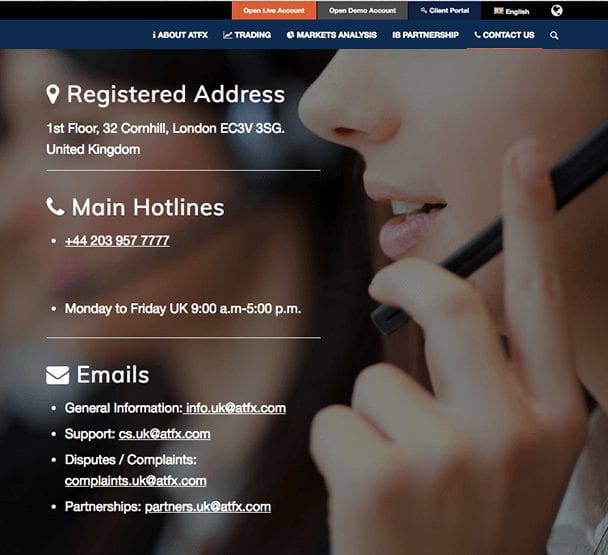 Chat support and email support are available 24/5.
Hotline also available for telephone support.
Support offered in 114 languages.
Go to Broker
Risk warning: Capital can be lost. Terms and conditions apply.
7. Payment
7.) Methods of Payment: AFTX Doesn't Charge for Credit Card or Neteller Transfers
As always, this ATFX review needs to include a section on the way deposits to and withdrawals from an account can be done. As with most things, ATFX keeps things simple in this regard and has a well laid out page dealing with cash transfers to and from trading accounts.
There are just three ways to fund an account and receive money back from the broker: Credit card, bank wire and Neteller.
Deposits via credit card and Neteller go through instantly, while bank wires depend on the service provider being used. The same applies to withdrawals.
Online bank withdrawals are free if over $200, but a $5 fee is charged for withdrawals below that amount. The first bank wire withdrawal every month is free after which clients pay the fee charged by the bank.
Credit card transactions seem to be the easiest and cheapest method of transferring money.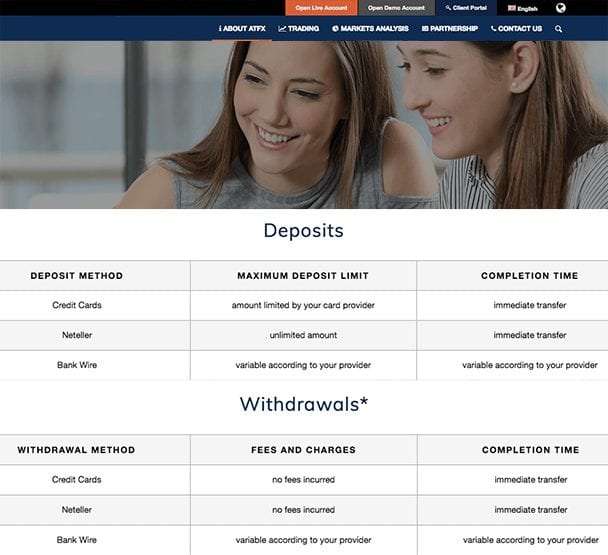 Withdrawals and deposits can be made via credit card, bank wire and Neteller.
Credit card and Neteller transfers are immediate. Bank wires and online bank withdrawals may incur a fee.
Credit cards are the cheapest and easiest method to transfer funds.
Go to Broker
Risk warning: Capital can be lost. Terms and conditions apply.
8. Offers
8.) Additional Offers: The Best That Trading Central Has to Offer
As mentioned, ATFX is a no dealing desk broker, so it doesn't employ traders. It also doesn't employ analysts. However, it does give clients access to tools and research from Trading Central, a third part provider of analysis tools for traders.
Trading Central offers a very wide range of analysis tools. These tools are designed around the needs of every type of trader, from those that scalp on 5-minute charts to longer term investors who like to use fundamental analysis.
Trading Central's tools can be used for technical, fundamental and quantitative analysis. Also included is a range of prebuilt strategies that traders can follow or even automate using MetaTrader4. These strategies are updated ten times every day allowing users to monitor their performance. Trading Central's analysis covers currencies, precious metal, commodities and indices.
Unlike many other forex brokers, ATFX appears not to offer ongoing promotions.
So, is ATFX a good broker? Well it certainly offers the best in terms of tools and analysis.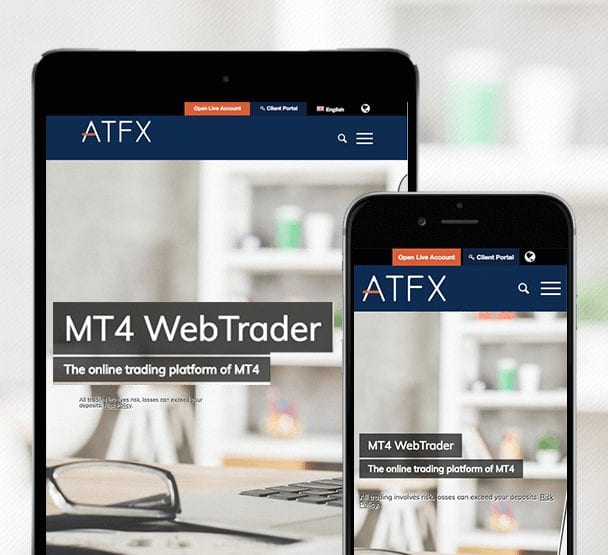 Access to tools and analysis from Trading Central.
Trading central offers a wide range of tools and research.
Includes technical, fundamental and quantitative analysis and Includes trading strategies.
Go to Broker
Risk warning: Capital can be lost. Terms and conditions apply.
9. Regulation
9.) Regulation & Deposit Protection: FCA Regulated
So, is ATFX legit? Well one of the most important questions when looking at the legitimacy of a broker is to look at how it is regulated and how it protects its client's money.
ATFX is regulated by The Financial Conduct Authority (FCA) in the United Kingdom. That means it has to comply with certain regulations designed to protect the clients of financial services providers. The FCA is one of the most highly regarded regulators.
As an FCA regulated company, ATFX is also obligated to comply with The Directive on Markets in Financial Instruments (MiFID) with regard to handling customer complaints.
ATFX is also obligated to ensure that client money is held in segregated accounts and not used for company activities. In the event that ATFX becomes insolvent, client accounts cannot be claimed by creditors. In the event that client money is stolen, clients have the right to compensation by the Financial Services Compensation Scheme.
The company is also obligated to protect its customer's data in accordance with GDPR and EDPA. That means it cannot disclose client information to third parties and must take adequate measures to gaud against data breeches.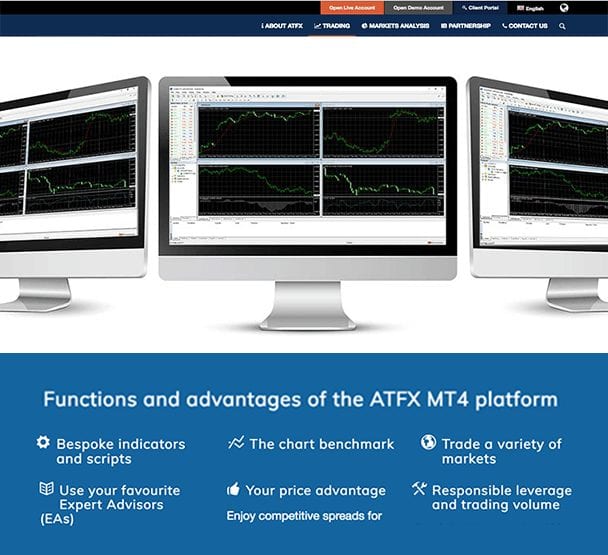 Regulated by the FCA and MiFID complaint.
Client funds held in segregated accounts at Barclays bank Plc.
Client data protected by GDPR and EDPA.
Go to Broker
Risk warning: Capital can be lost. Terms and conditions apply.
10. Awards
10.) Awards: ATFX is Already winning Awards in A Highly Competitive Market
Finally, like any broker review, this ATFX review considers any awards the broker has won. Several industry bodies award prizes to brokers every year to recognize various areas where they may excel. Categories include execution, analysis, and customer service, as well as overall awards for online brokers and non-dealing desk brokers.
Winning these awards is not easy in the competitive Forex and CFD broking markets. Despite only opening its doors in 2014, ATFX has already won two awards.
In 2017, ATFX won the Best Forex Customer Services award at the The Entrepreneur JFEX Awards in Jordan.
In February 2018, ATFX also won the Online Personal Wealth Awards prize for the "Best No-Dealing Desk Broker." At the time, CEO Richard Craddock said, "Being recognised as the Best NDD Forex Broker is an affirmation of our commitment to excellence in client services, and it also establishes the company as a rapidly growing global trading services provider".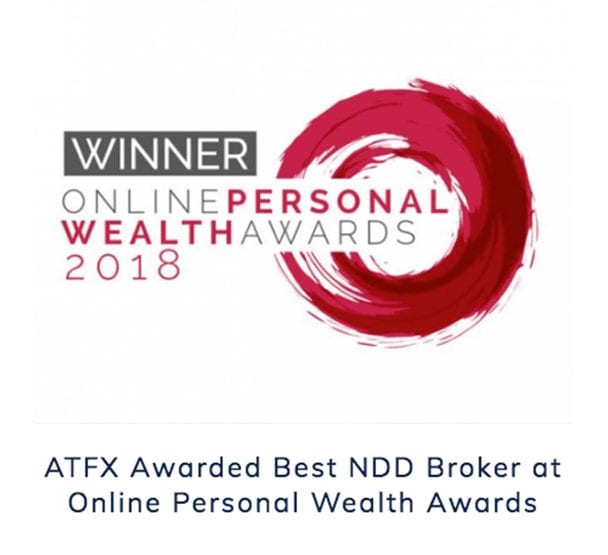 Several industry bodies award prizes to forex and CFD brokers every year. These awards are not easy to win in the highly competitive Forex market.
2017 winner of Best Forex Customer Services at JFEX Awards in Jordan
2018 winner Best No-Dealing Desk Broker at Online Personal Wealth Awards.
Go to Broker
Risk warning: Capital can be lost. Terms and conditions apply.
Conclusion: Keeping It Simple for Beginner Traders
To conclude this ATFX trading platform review we will summarise some of the main point to consider, and help you answer the question, is ATFX legit?
ATFX is a very focussed broker, with a comprehensive number of currency pairs and a handful of other instruments. It offers just one type of account to avoid any confusion. It also offers more modest levels of leverage which is ideal for novice traders. Clients pay only via spread and no commission is charged.
ATFX offers three versions of the MetaTrader4 platform which can be accessed via a desktop or mobile device. While this is a non-dealing desk broker, it does offer its clients access to analysis and research from Trading Central.
For those starting out in the world of Forex trading, all the options available can be very confusing. ATFX has one of the simplest offerings in the market. ATFX is therefore a very good option for beginners and intermediate traders. Very advanced traders may consider other options if they are trading large accounts.
NDD Broker with good spreads
Analysis tools for research
No fees for deposits and withdrawals
Winner of several awards
No Shares or ETFs
Limited for advanced traders
Test result
Broker

Go to Broker
Risk warning: Capital can be lost. Terms and conditions apply.