City Index is a forex, CFD and spread betting provider. Founded in 1983, City Index is the forex and CFD brand, owned and operated by GAIN Capital UK. The company is based in London and is therefore under the regulatory jurisdiction of the Financial Conduct Authority.
GAIN Capital is a company with a history of operating several successful forex brands in various jurisdictions. This excellence has been brought to bear on the City Index forex brand.
City Index has operated in the FX and CFD space for over 30 years, having been established in the UK in 1983.
Highlights
One of the oldest brokerages
More than 12,000 assets
No US Traders
Regulated by the FCA.
6.
of 30 Forex Broker
Cityindex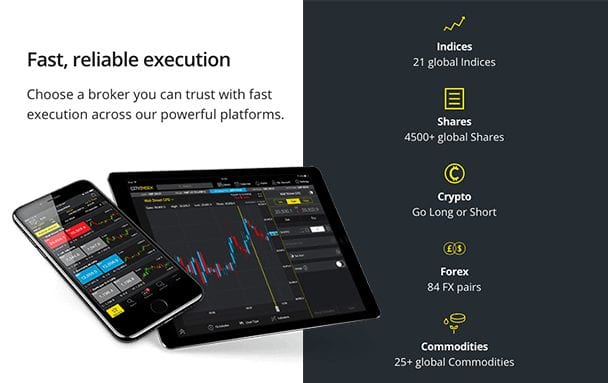 Go to Broker
Risk warning: Capital can be lost. Terms and conditions apply.
Headquarters and regulation
GB (FCA)
Fees and Spread
Depends on account type
Trading platform
MT4, MT5, Broker-owned Software
Demo account
Yes, available for 12 weeks
Trade Offering
84 Currencies
Services & additional benefits
Live
Hotline
E-mail
Economic Calendar
E-Book
Videos
Courses/Seminars
1. Trading Offer
1.) Forex Trading Offer: Trade Across 84 Currency Pairs
City Index presents trading in more than 12,000 trade markets. Of all the trade markets offered on City Index, the major available asset class is currencies. The trade markets on City Index include the following tradable assets:
Tradable assets: The tradable markets on City Index are FX, CFD and spread bets. The Contracts for Difference (CFD) markets feature stocks, commodities and stock indices.
FX offer: Spot FX trading on City Index is carried out on 84 currency pairs that cover a large range of major, minor and exotic FX pairs. A broker comparison shows that the geographical spread of FX assets featured on City Index encourages participation from traders all over the globe.
Exotic Assets: An City Index review of exotic asset listings showcases the cryptocurrencies. Featured cryptocurrencies include: Bitcoin, Ethereum, Bitcoin Cash, Ripple and Litecoin. These are featured as pairings with the US Dollar. Bitcoin is also listed as a pairing with the British Pound, Aussie Dollar and Euro, with the addition of a mini contract for those who cannot afford the margin requirements of the full contract. Other exotic assets featured on the City Index broker platform include bonds, interest rates and options
Tradable:
EUR/USD
USD/JPY
GBP/USD
USD/CHF
AUD/USD
NZD/USD
USD/CAD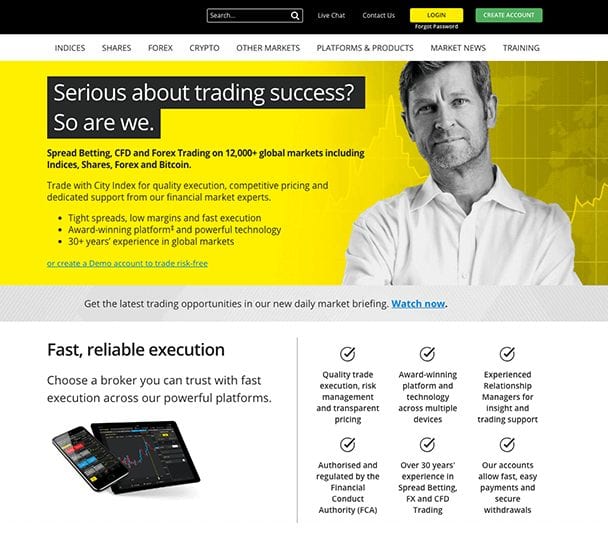 You can trade several asset classes on City Index.
Interest rates, options and bonds are part of the exotic assets featured on City Index.
A Bitcoin/USD Mini contract is available at lesser margin cost than the full contract.
Go to Broker
Risk warning: Capital can be lost. Terms and conditions apply.
2. Costs
2.) Forex Trading Costs – Spreads as Low as 0.5 Pips
There are costs associated with trading on City Index broker platforms. Costs incurred include spreads, commissions on share CFDs, funding/withdrawal costs, financing charges, overnight positions costs, exchange data fees, currency conversion charges and borrowing costs for shorting CFDs. Here is a summary of what you can expect to be charged for using the City Index trading platforms.
Spreads, which is the difference between bid and ask for all FX and CFD assets, start fr4om 0.5 pips on FX pairs. Spreads on City Index are fixed and variable. Spreads on exotic assets can be as high as $10 (i.e. 1000 pips).
Commissions are charged only on stocks CFD trading. Commissions start from 0.08% for Asian and Australian share CFDs and end at 0.15% for US shares.
Fees are incurred for funding/withdrawal transactions, as well as financing charges to keep positions open overnight.
By broker comparison, the fee structure on City Index is higher than on most platforms.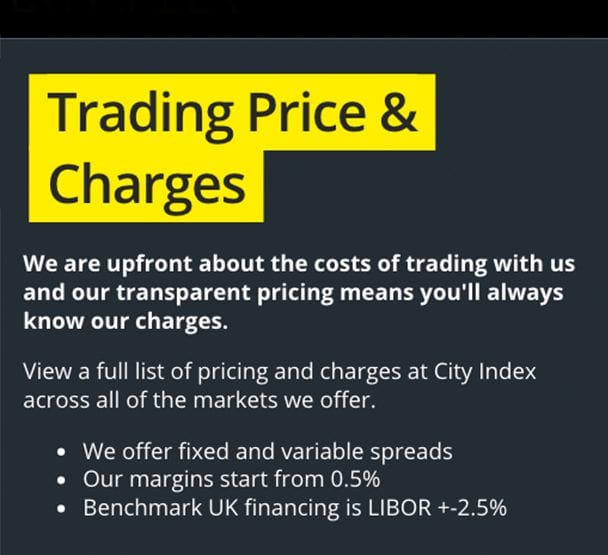 Trading costs on City Index are a bit pricey.
Traders will expect to pay several kinds of fees for using the City Index platform.
Both fixed and variable spreads are found on the City Index platform.
Go to Broker
Risk warning: Capital can be lost. Terms and conditions apply.
3. Account
3.) Accounts: One Account Type for Everyone
On City Index everyone is provided with one single account type. There is no form of discrimination of what a trader gets based on the account type. So it does not matter if you have $500 or $100,000 to start trading with on City Index: you all get the same account. This ensures that everyone gets the same features and benefits.
In addition, an unlimited, free demo account with $100,000 in virtual money is provided on City Index. With the demo account, it is possible to perform strategy testing, strategy optimization, general familiarization with the platform and processes as well as testing of order types, portfolio allocations and trade sizing/money management practice.
Using the demo account on City Index comes at no cost to the trader. You can concurrently operate a live account with a demo account on City Index.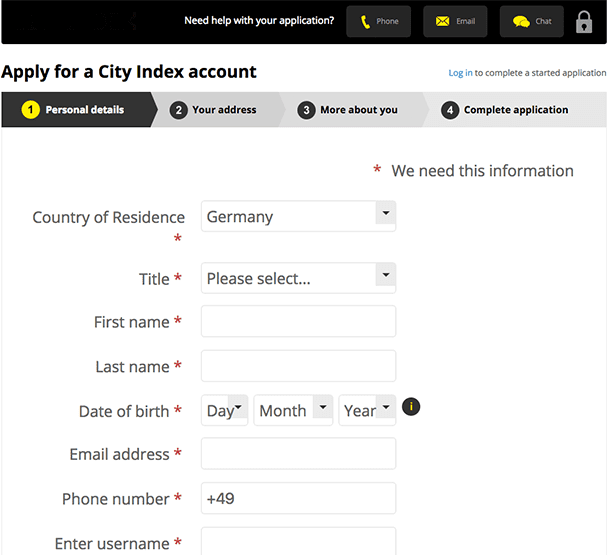 Free demo accounts are provided for an unlimited time.
It is advised to demo trade on the platform you will be using for your live trades.
There is only one account type for all users of City Index. This is in keeping with the tradition of FCA-regulated brokerages, which typically do not perform account segmentation for trading clients.
Go to Broker
Risk warning: Capital can be lost. Terms and conditions apply.
4. Platform
4.) Forex Trading Platforms & Mobile Trading: Platforms for All Trading Styles
ity Index presents a number of proprietary and turnkey platforms for trading activity. These platforms are described below.
Advantage Web is the web-based platform on which trading is done without a downloadable software on City Index/With Advantage Web, the trader can get access to powerful HTML 5 charts and a fully customizable screen layout.
The MT4 from City Index presents the world's most famous retail forex platform. Use your expert advisors, custom indicators and trading signals on the City Index MT4. The MT4 is specifically designed for beginners.
The AT Pro is a desktop platform or advanced users. With the AT Pro, you get advanced charting, use of automated trading strategies, and a trading efficiency that is unmatched by other platforms.
A review of City Index mobile applications reveals the following software: the MT4 for iOS and Android devices as well as the Advantage mobile apps, which feature live news feeds from Reuters and powerful charting functionality.
Each platform features more than 80 indicators as well as multiple chart types, deal through charts, drawing tools and chart customization.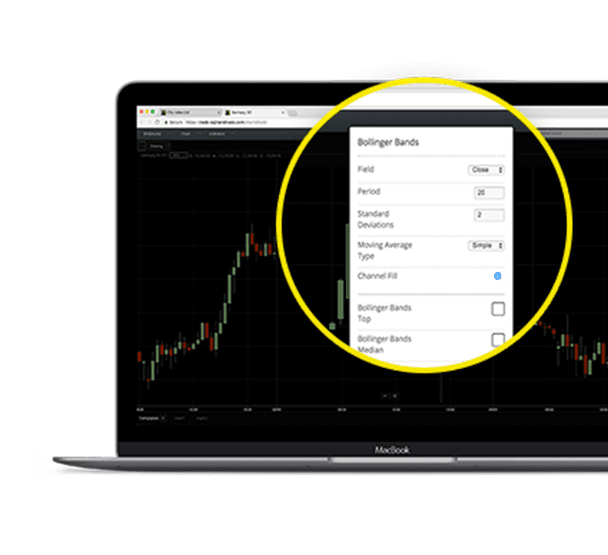 Sometimes, you cannot trade on a desktop. At these times, the Advantage Mobile and MT4 Mobile apps can give you a chance to trade while on the move.
Get access to 80+ indicators and drawing tools for accurate technical analysis.
Choose multiple chart layouts to suit your trading.
Go to Broker
Risk warning: Capital can be lost. Terms and conditions apply.
5. Usability
5.) Usability of the website: Simple Interface for Easy Interpretation
The City Index website and trading platforms focus on two things: simplicity and ease of presentation. The use of graphics is limited so as not to provide a distracting background to the important text content listed on all pages of the website.
City Index uses a contrasting mix of white and dark backgrounds. The dark background is used to demarcate important text content from the rest of the content on the light background. This enables traders to identify key points within the text, while still being able to absorb other site content.
The navigation menu is simple and provides all the relevant information needed at a glance or at a click of a button. There are two parts to the navigation: the most important pages are placed at the top navigation bar, and supplemental navigation bars are placed at the bottom. An arrow at the side of the page enables the site user to quickly jump from the top navigation bars to the bottom navigation bar without the need to scroll up or down with the mouse button.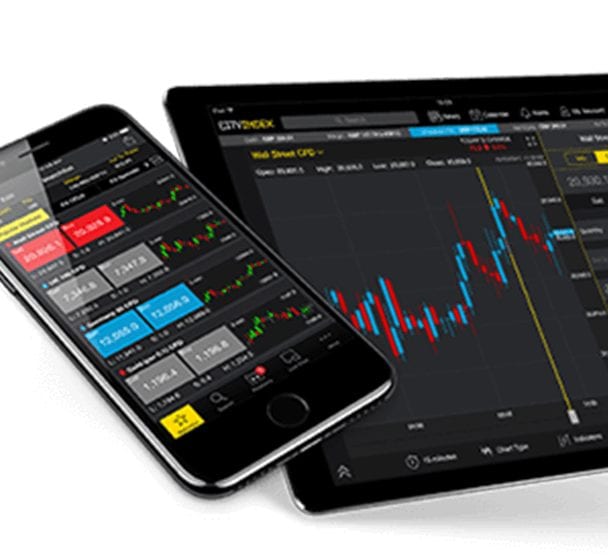 Clean white and dark contrasting backgrounds help to isolate the important points from the rest of the site content.
Yellow tab with dark arrow on the side allows quick jump between top and bottom navigation.
Content, navigation tabs and buttons are very legible.
Go to Broker
Risk warning: Capital can be lost. Terms and conditions apply.
6. Support
6.) Customer Support: Limited But Very Responsive Customer Support Channels
City Index forex trading customers may not have access to many channels of customer support, but the few channels available to them are very responsive and provide top notch customer support.
The City Index contact options are as follows:
A live chat facility, which is available 24/5 for most hours of the day.
Phone: Two phone numbers provide channels of support for sales/account opening and general inquiries respectively. For general inquiries, use +44 207 550 8500. For account opening, you can use 0845 355 0801 if you live in the UK, or 44 203 194 1801 if you live outside the UK.
Email support is available using [email protected]
Social media channels for City Index are found on Twitter (Twitter.com/cityindex) and Facebook (Facebook.com/CityIndexUK).
An online contact form is found on the contact page.
The channels for contact are open and can be reached most hours of the day. Responses to the contact form requests are delivered within a few hours. Take advantage of the responsive contact channels on City Index for your benefit.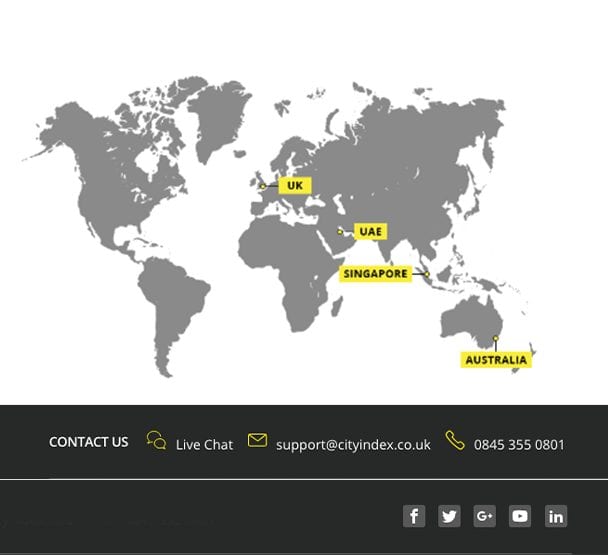 Multi-channel customer support is available.
You may also use the social media pages to reach the City Index team.
Relatively fast replies to inquiries and complaints, with everybody getting the same level of service.
Go to Broker
Risk warning: Capital can be lost. Terms and conditions apply.
7. Payment
7.) Methods of Payment: Choose the Options That Work for You
Account funding is taken care of by using the Accounts page. A forex comparison reveals that unlike the situation found with most forex brokers, City Index has created a separate web page for accounting information and processes. Access to this page requires a secure login.
This page features a cold wallet system, where funds are first moved to before funding the trading account, or withdrawing to the payment method.
Methods of payment that are available on City Index include:
Card payments, where you can deposit or withdraw funds using a credit or debit card, and get your transactions processed instantly. Not everyone in every country can use this method; there are country restrictions. Credit card usage comes with a 1.5% charge.
Bank wire transfers are available globally and have no transaction limits. However, this method incurs bank fees and takes 1-7 days to process, depending on your location. VISA, MasterCard, as well as Maestro and Electron (debit cards only) can be used.
The minimum deposit amount for both method is 100 GBP or equivalent in US Dollars and Euros.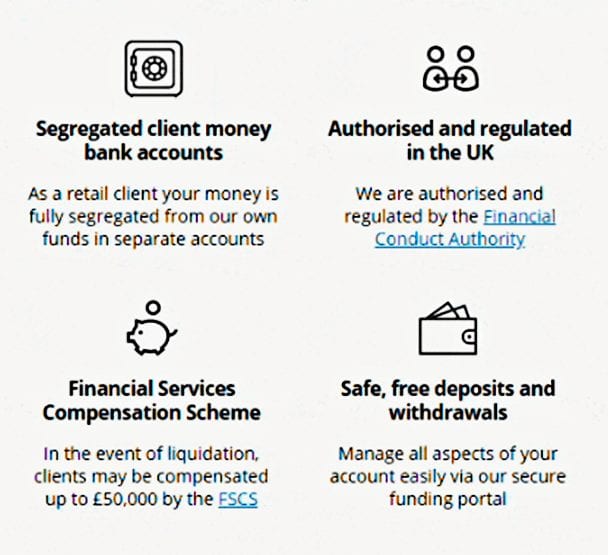 The credit/debit card option is not available to all users on City Index.
Deposit costs are associated with credit card use (1.5%) or bank charges on wire transfers. Withdrawals also cost 1.5% on credit cards.
All payments must emanate from payment method bearing account holder's name.
Go to Broker
Risk warning: Capital can be lost. Terms and conditions apply.
8. Offers
8.) Additional Offers : Unique Tools Not Found Anywhere Else buy City Index
City Index forex and CFD trading is enhanced with tools and offers you will not find anywhere else. For instance, hedging is allowed on the City Index platform. Furthermore, you can use the unrealized profits in open trades as margin for new trades to be opened. This is a feature which is unique to City Index.
Another feature you can find on City Index is the one-click dealing mode, which enables you to execute and exit trades quickly in fast-moving markets.
Scale in and out of trades using the FIFO or non-FIFO execution trade styles. US brokers only use FIFO by regulatory demand; with City Index, you have a choice. It does not end there. You also have the option of using the guaranteed stop loss feature. The guaranteed stop loss protects an account by maintaining the pre-set stop loss even during times of extreme volatility and slippage.
Finally, you can rollover your futures trades when the existing contracts expire, and you pay only half the spreads for the reopened futures trades.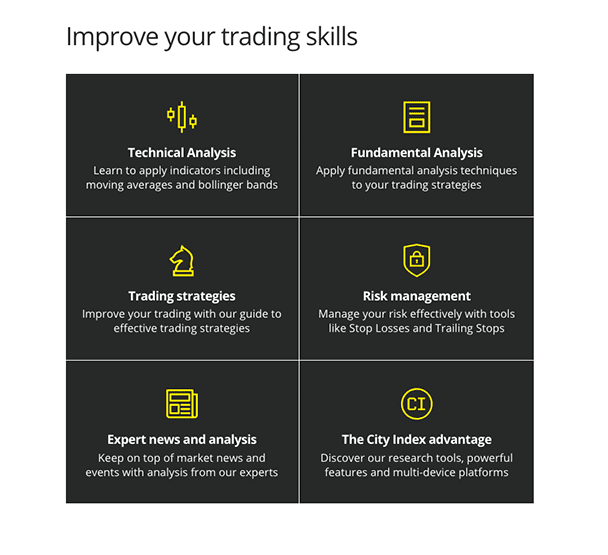 It is possible to hedge trades on City Index.
Use your profits from trades that are still active as margin for new trades, subject to terms and conditions.
Gain access to real-time news feeds from Reuters.
Go to Broker
Risk warning: Capital can be lost. Terms and conditions apply.
9. Regulation
9.) Regulation & Deposit Protection: Strict Regulation Gives Better Protection at City Index
City Index is owned by GAIN Capital Ltd, a licensed FX, spread betting and CFD provider in the UK. In England and Wales, City Index is authorized and licensed by the Financial Conduct Authority (FCA), with FRN 113942.
City Index complies with the strict requirements of the FCA such as segregation of funds belonging to traders, adherence to Know Your Customer (KYC) verification processes and registration of all clients to the Financial Services Compensation Scheme (FSCS).
City Index works with the latest SSL and user-data protection technology to safeguard data of clients and prevent security breaches in its web-based platforms and payment channels. All data that passes through the platform is encrypted.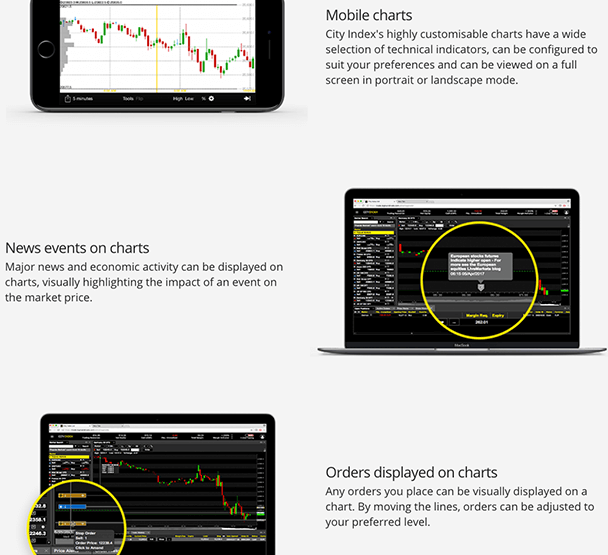 City Index is licensed by the FCA and adheres to regulatory requirements to segregate traders' funds with top banks. This is to offer protection to traders in the unlikely event of bankruptcy.
City Index carries out user verification during account opening.
FCA regulation ensures that traders on City Index UK are registered with the Financial Services Compensation Scheme (FSCS) which provides up to 50,000 GBP in compensation for loss of capital if broker misdemeanour is proven.
Go to Broker
Risk warning: Capital can be lost. Terms and conditions apply.
10. Awards
10.) Awards: Trade with an Award-Winning Company
City Index may not have the award-filled trophy chests of some of the UK and Cypriot brokers, but the brand has been able to garner some awards over the years. Some of the awards that have been won by City Index include the 2017 award for the Best Spread Betting Platform, given out by financial data services company ADVFN. City Index also won the 2017 award for the Best Spread Betting Provider at the Shares Awards 2017. The City Index forex brokerage division has also won the award for the Best MT4 Broker" at the UK Forex Awards 2017.
The awards chest also includes several awards that have been won in 2018. These awards include the Best CFD Provider, Best Mobile App, and Best Cryptocurrency Trading Platform, collected at the Online Personal Wealth Awards 2018
These awards prove that the work City Index has done to bring credible and transparent forex and CFD brokerage services to the market have not gone unnoticed. Traders tend to use awards to gauge the reliability of a brokerage in the FX market, especially if such a broker has been around for many years.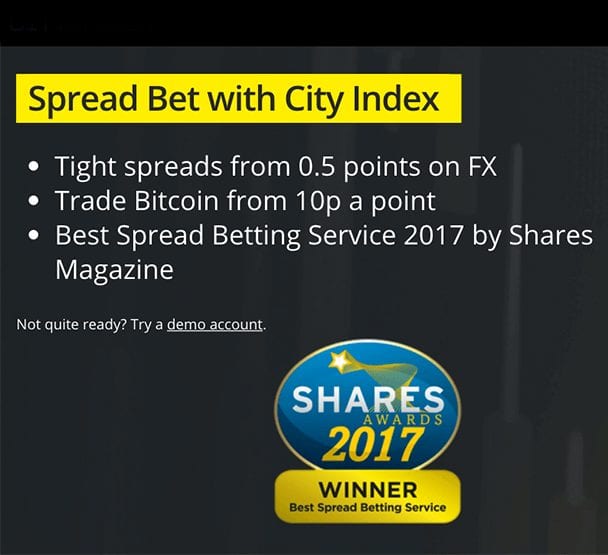 City Index forex brokerage has been in the market for 35 award-laden years.
The brand has been recognized as having the best MT4 platform at the UK forex awards 2017.
City Index has also been given awards on being the best in CFD brokerage services and for their trading platforms.
Go to Broker
Risk warning: Capital can be lost. Terms and conditions apply.
Conclusion: City Index is a Good Brokerage to Work With
As one of the oldest retail providers of FX and CFD trading, City Index provides a very large range of assets to trade; as many as 12,000 assets can be traded as FX pairs, CFDs or as assets for spread betting. All trading on City Index is leveraged, and leverage provided is not too high as to create undue risk for traders. Leverage is also not too low as to create a situation where large amounts of capital are needed as margin collateral. Furthermore, you can open both long and short positions on the same asset, giving you access to hedging techniques.
If there is any snag with City Index, it has to do with the payment options available. The brand has to work on improving access to the card payments method for its users. This method is presently restricted to certain Western countries, pushing other users to use the more expensive and time-consuming bank wire method.
City Index has great cyber-security, a cold wallet system to allow users to separate their active capital from latent capital, and also deploys sound data encryption techniques to protect user data.
Benefit from the FCA-regulated operations of City Index, and get access to regulated and transparent FX and CFD trading from an award-winning brokerage.
Guaranteed Stops on Trades
Regulated broker with access to investor compensation fund (FSCS) for its clients.
Expanded asset base which also includes options, bonds and interest rate assets.
Enhanced training and educational suite.
Depositor's money is protected from risks as funds are segregated.
Card payments are restricted to certain countries.
Very high cryptocurrency CFD spreads; not suitable for overnight trading.
Advantage Platform is not very user-friendly.
Lots of fees are incurred on trading.
Test result
Broker

Go to Broker
Risk warning: Capital can be lost. Terms and conditions apply.