ETFinance is a brand operated by Magnum FX, a leading Cyprus Investment Firm and forex trading company that is regulated by the Cyprus Securities and Exchange Commission (CySEC). Offering a range of products and currencies, ETFinance provides opportunities for a wide range of traders and investors. The broker offers a range of currency pairs and award-winning platforms, but is it the best forex broker for your needs? Our broker comparison will take a close look at what ETFinance forex trading offers, but in short, here are some of the key features of the company:
Highlights
No commissions
Award-winning trading platform
Convenient mobile trading from any device
24/7 market access
2.
of 30 Forex Broker
ETFinance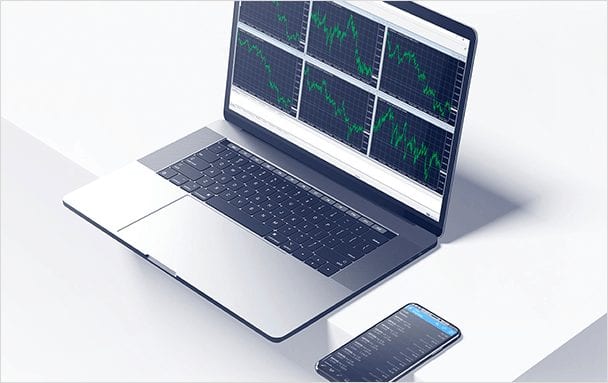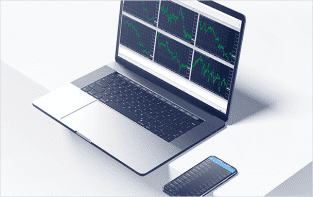 Go to Broker
Risk warning: Capital can be lost. Terms and conditions apply.
Headquarters and regulation
Cyprus (CySEC)
Fees and Spread
Depends on account type
Trading platform
MT4, Broker-owned Software
Trade Offering
Currencies
Services & additional benefits
Live
E-mail
Economic Calendar
Videos
1. Trading Offer
1.) Forex Trading Offer: Trade a wide range of major currencies
ETFinance forex trading allows customers to easily buy and sell dozens of popular currencies, including all the most frequently traded ones, such as the US dollar, the British pound and the euro. It is also possible to trade foreign currencies as contracts for difference (CFDs). Market access is available 24/7, and there are no commissions or trading fees. Signing up for an account is easy, with the choice of a retail or professional account, and there is a range of secure funding options available. Any sign-up issues can be quickly addressed with live chat, email support and a dedicated phone line available for customers to get in contact. Maximum leverage for professional traders is up to 1:500 on all currency pairs. Retail traders can enjoy leverage of up to 1:30 on major and minor currency pairs, and up to 1:20 if trading exotic pairs. As well as investment services, ETFinance offers various ancillary services, such as the safekeeping and administration of financial instruments, including custodianship and related services. The broker serves all countries in the European Economic Area, including the UK, Ireland and Germany.
Tradable:
EUR/USD
USD/JPY
GBP/USD
USD/CHF
AUD/USD
NZD/USD
USD/CAD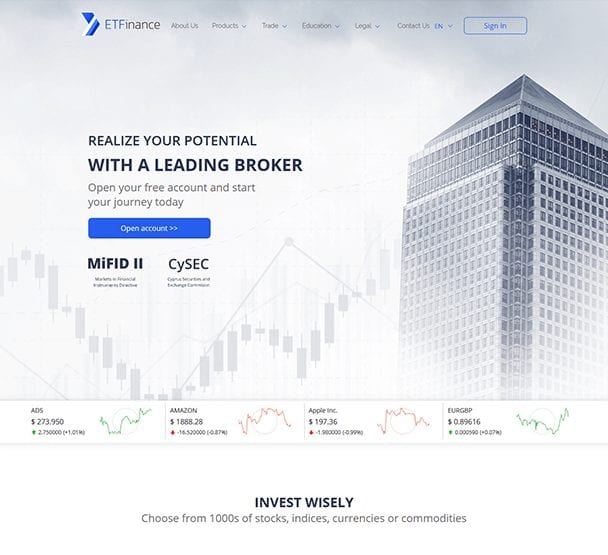 Good range of currencies
Easy account set-up
Reasonable leverage available
Go to Broker
Risk warning: Capital can be lost. Terms and conditions apply.
2. Costs
2.) Forex Trading Costs: No trading fees and competitive spreads
ETFinance has no trading fees or commissions, instead choosing to take its cut from the spreads, as is common in forex trading. Spreads vary, of course, but are fairly tight, providing a reasonably cheap and easy trading option, even for less experienced forex traders. Current spreads for each tradable currency pair are clearly displayed on the website. The commission-free model means that traders can make as many transactions as they want, without paying additional fees, which makes for an attractive option for active traders. Foreign currencies can, of course, be highly volatile, and because exchange rates can change between quoting and submitting the order, the actual spread can be different from the quoted spread.
This can work either for or against the customer, depending on the price movement of the asset. This is something that all forex traders need to be aware of. Opening an account at ETFinance is free. There is no minimum deposit, and there are few hidden extras. Some funding and withdrawal methods may incur fees, depending on your country, card company and other factors. The cheapest, though least convenient, deposit and withdrawal method is generally a bank transfer, which will often be free, or incur a minimal charge.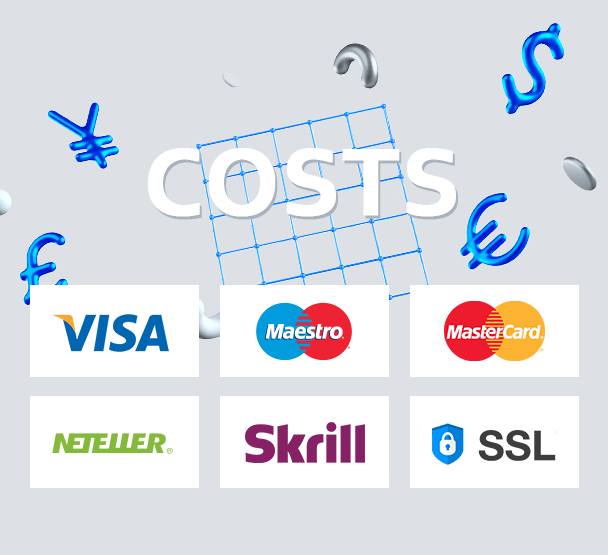 No commissions or trading fees
Competitive spreads
Spreads for each currency pair clearly displayed
Go to Broker
Risk warning: Capital can be lost. Terms and conditions apply.
3. Account
3.) Accounts: Various perks and benefits
Signing up for an ETFinance forex trading account is easy, quick and secure. There is a choice of a retail or professional account, with the retail account obviously being the one best suited to most private investors. Retail accounts can be opened with a very low deposit, and the process involved in getting started is fairly straightforward and very intuitive. The main differences between retail and professional accounts is the leverage on offer and the margin closeout percentages. While those with a professional account can access high leverage, of up to 1:500 on all currency pairs (majors, minors and exotics), customers who open a retail account can expect to be offered leverage of no more than 1:30 on major and minor pairs, and 1:20 on exotics.
The margin closeout percentage on a professional account is 15%, whereas on a retail account, it is 50%. Professional account holders also have access to VIP Platinum Education, contests and other benefits. It is worth noting, however, that both account types have the option of a dedicated account manager, and access to basic educational resources. Retail account holders also enjoy certain protective measures, via the Investor Compensation Fund (ICF). Depending on your trading activity, you may become eligible to recategorise your account, but it is important to consider all factors before doing this.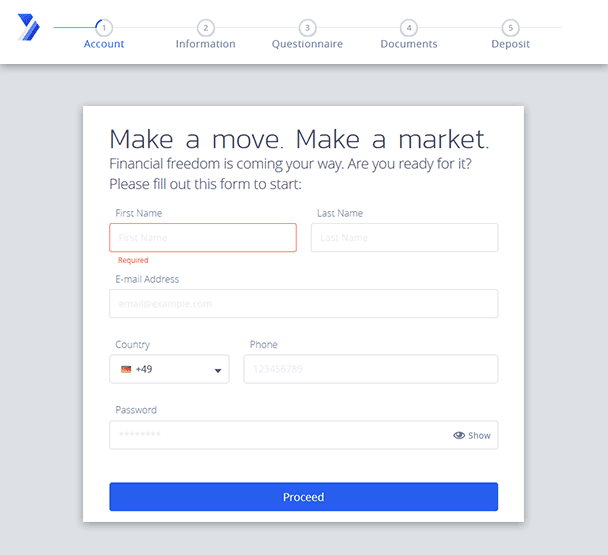 Easy account set-up
Retail account holders are protected by the ICF
High leverage and other perks for professional accounts
Go to Broker
Risk warning: Capital can be lost. Terms and conditions apply.
4. Platform
4.) Forex Trading Platforms & Mobile Trading: ETFinance has a range of platforms
ETFinance offers a few different platforms, to suit the needs of any trader. Its WebTrader option offers an optimal trading experience for both new and experienced traders, using a cutting-edge, web-based platform that gives investors access to their trading activities from any device, right in their browser. It incorporates simple navigation, a suite of analysis tools, and allows traders to start with a demo account (valid for two weeks) so that they can find their way around the platform and explore the many opportunities it offers. If you're one of the many forex traders out there who are already addicted to the award-winning MetaTrader 4 platform, then you are well catered for.
ETFinance has the MT4 platform available to use on both desktop and mobile devices, with its wide range of functions, features and integrations. If you're a trader who already loves the easy interface, trading signals and technical indicators that come with the MT4 experience, then you will probably want to stick with what you know. ETFinance also provides easy mobile trading via a robust and well-developed mobile app, available free for iOS and Android devices. The app provides a great user experience with many of the same features as the WebTrader.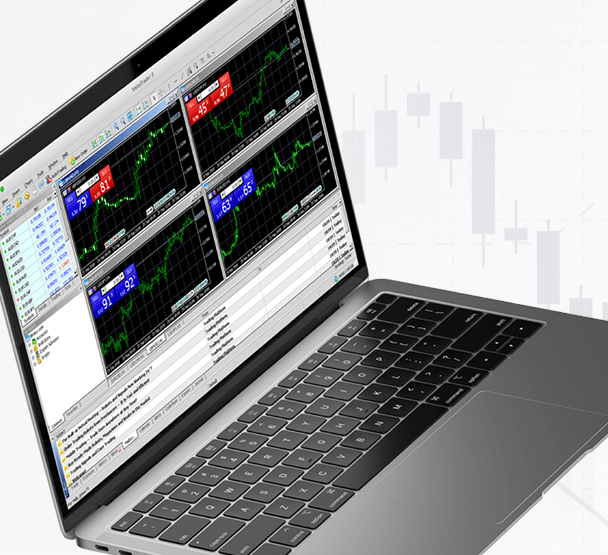 Cutting-edge, web-based platform
MT4 available
Mobile trading easy via the app or from your browser
Go to Broker
Risk warning: Capital can be lost. Terms and conditions apply.
5. Usability
5.) Usability of the Website: An emphasis on simplicity
The website is ultra-modern and well-designed with a very clean, uncluttered feel. There is plenty of white space and a simple, minimalist colour scheme, which allows the user to focus on information and usability. There is a simple top-bar menu that leads you to all the most important elements you might need to access, including products, education and legal information. Clicking "Forex" on the homepage will bring you to a section showing currency pairs to trade, with basic information and a small chart showing recent trends. Scrolling down the homepage will lead you to other useful sections and all the important contact information you may need, including the opportunity to start a live chat and ask any questions you may have. Clicking "Forex" in the drop-down menu under "Products" will take you to more information specific to forex traders, including information on exactly how to open your account and get started with the platform. At the top right of the homepage, or any other page, you can sign into your account, and set your language preferences. The website is extremely simple, but all the information you would expect to find is there.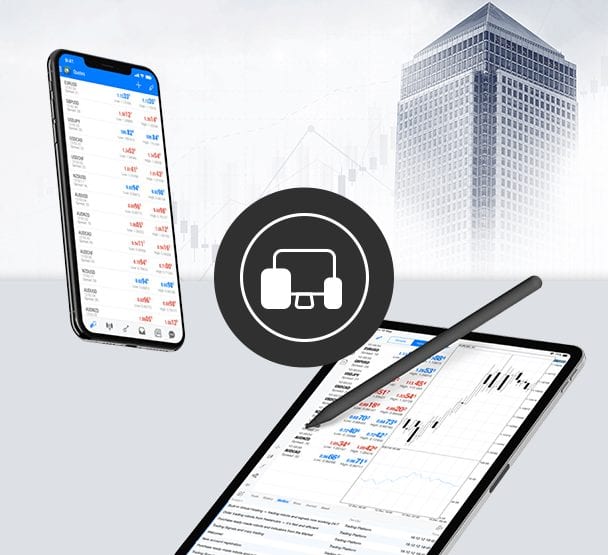 Extremely clean and simple design
Very easy to navigate
All pertinent information is relatively easy to find
Go to Broker
Risk warning: Capital can be lost. Terms and conditions apply.
6. Support
6.) Customer Support: A few improvements needed
As mentioned above, the website is very simple, which is an advantage when it comes to intuitive navigation and easy-to-read information. However, we noted that at the time of our review, there was no general FAQs page for new customers, which many brokers include, and which many traders find an invaluable first stop when they have queries, or need clarification on basic things such as account opening and funding, as well as other platform features. There is an extensive video library offering basic and advanced forex trading tips, but there is no centralised information portal for those who are seeking answers to questions about the broker, the platform or their account. The customer service section, however, is reasonably good. There are options to contact customer support by phone or email, as well as by the ever popular live chat, and customer support staff are generally helpful and well trained. Customer support is available 24 hours a day, Monday to Friday, though the phone line is only open from 7am to 7pm GMT, Monday to Friday.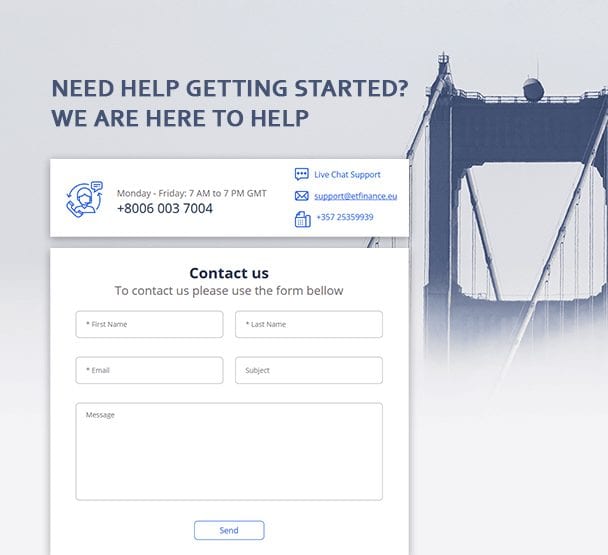 No FAQs page or help section
Live chat, phone and email options available
Some form of support available 24/5
Go to Broker
Risk warning: Capital can be lost. Terms and conditions apply.
7. Payment
7.) Methods of Payment: Bank transfers or card payments
ETFinance has different methods of deposit and withdrawal available for its clients. Customers are able to pay via third-party online payment systems such as Skrill and Neteller, as well as by major credit and debit cards, and of course by bank transfer. The broker does not, at this time, seem to be offering the same range of payment options as many of its competitors. There is no option to pay by PayPal or paysafecard, for example. Withdrawal requests can only be made online via the official "Client Area" within your account, and in order to withdraw, you will need to provide full details of the method you used to deposit, including any supporting documentation.
For example, a bank statement, including your bank's IBAN or bank reference, may be required for bank transfers. In accordance with international anti-money laundering requirements, profits from trading can only be transferred to a bank account held by the same person who holds the trading account. Withdrawals from active accounts are free, but the broker may charge a €50 withdrawal fee if there is insignificant trading activity on the trading account prior to withdrawal.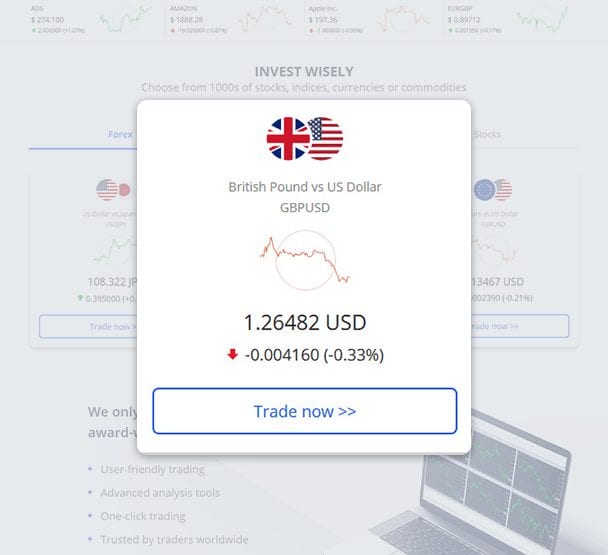 Limited payment methods
No minimum deposit
High withdrawal fees on inactive accounts
Go to Broker
Risk warning: Capital can be lost. Terms and conditions apply.
8. Offers
8.) Additional Offers: Education, training and demo accounts
ETFinance states that those holding professional accounts can access contests and other benefits, but there are no promotions or bonuses currently available to retail account holders. Retail account holders can, however, access a dedicated account manager, and there is also a free demo account available for those new traders who want to familiarise themselves with the WebTrader platform, though this is only available for two weeks from the date of account opening. ETFinance forex trading does provide an extensive education section, with a wide range of free training videos, which will potentially be very useful to both new and more experienced forex traders.
These are general videos covering a range of forex trading basics, but also diving into various technical indicators and covering important forex trading strategies. There are videos on understanding candlesticks when using technical analysis tools, the Fibonacci arc, and chart formation patterns, among other topics. The videos can effectively be studied as an online course, with individual topics often having two or three lessons, covering successively more complicated aspects of the same strategy or indicator.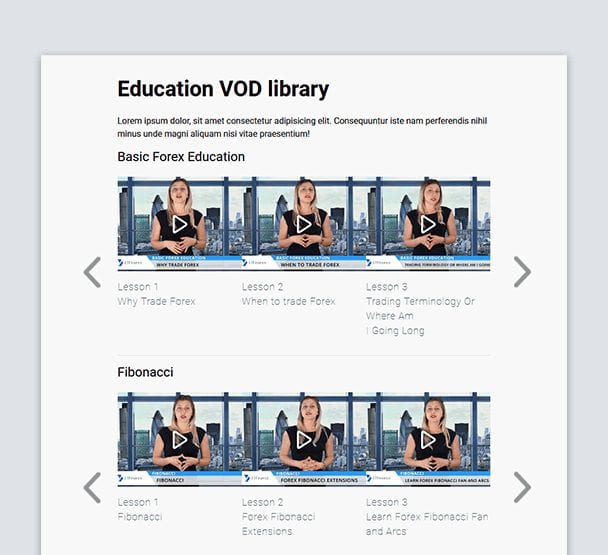 Some special offers for professional account holders
Free demo account, with restrictions
Plenty of training videos on a wide range of topics
Go to Broker
Risk warning: Capital can be lost. Terms and conditions apply.
9. Regulation
9.) Regulation & Deposit Protection: Fully regulated under CySEC
As already mentioned, ETFinance is a branded financial services company, owned by Magnum FX (Cyprus) Ltd, a leading Cyprus Investment Firm, which is fully licensed and regulated by CySEC. The broker is governed by the European Securities and Markets Authority (ESMA), under which it is obligated to provide certain protections to its clients, such as the customer compensation protection provided via the ICF to all clients holding retail accounts with the broker. ETFinance goes to great lengths to keep customer assets safe and protected, storing customer funds in segregated accounts, with secure European banks and other financial institutions.
CySEC
Regulatory Authority
This means that in the event of insolvency, client funds should be protected as the personal assets of the broker's clients, rather than treated as recoverable assets owned by the company itself. To further protect clients, ETFinance carefully stores all customer data and sensitive information, using rigorous firewalls and Secure Sockets Layer (SSL) encryption to protect information that is transmitted across the site.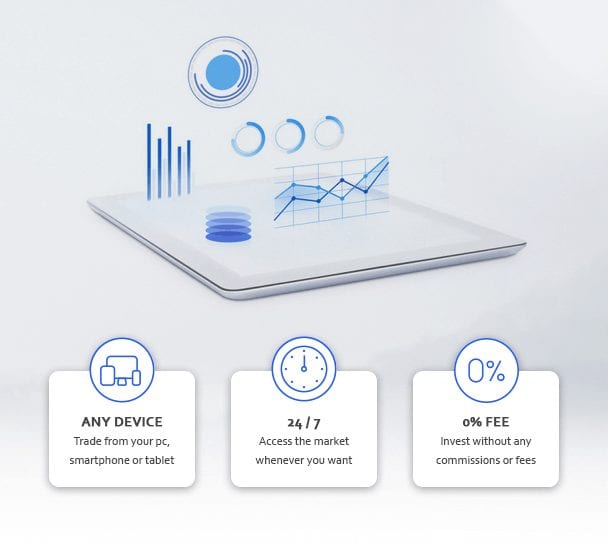 Fully licensed and regulated by CySEC
Client funds kept in segregated accounts
Compensation for retail account holders provided via the ICF
Go to Broker
Risk warning: Capital can be lost. Terms and conditions apply.
10. Awards
10.) Awards: Uses the award-winning MetaTrader 4 platform
No forex broker comparison review is complete without a quick look at where the company is ahead of its peers and competitors, and this is generally indicated by the awards it has won. As a relatively new brokerage, it is unsurprising that ETFinance has not yet had time to accrue awards and accolades within the industry. This may well change over the coming years, as the broker has certainly done the groundwork, establishing a quality brokerage, and undoubtedly has the potential to do well – even in the crowded and competitive area of forex trading. ETFinance has also made sure to offer the award-winning MetaTrader 4 platform. The MetaTrader 4 platform is well known and highly respected in forex trading and has won numerous awards in the past, including the Best Forex Trading Platform at the Finance Magnate London Summit Awards, in 2016 and 2017. The broker is also starting to get reviews in the financial press and in the online space dedicated to the world of forex trading. ForexBonusLab.com recently gave ETFinance a five-star review on its independent broker comparison site.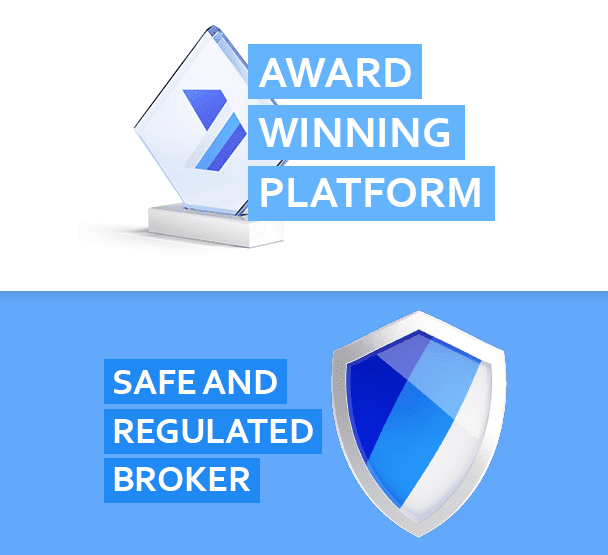 Relatively young company, so has not had time to accrue awards
Uses the award-winning MT4 platform
Starting to receive positive reviews
Go to Broker
Risk warning: Capital can be lost. Terms and conditions apply.
Conclusion: Our verdict on ETFinance forex trading
ETFinance offers an excellent option for those wanting to invest in forex, even if they lack experience and have limited funds. It offers major and minor pairs, as well as some exotics. The no-commission structure is attractive, and spreads are competitive. Private investors can get started with a small deposit, and the sign-up process is quick and easy. The website, trading platforms and mobile app are all very user-friendly, and MT4 traders can get started immediately. There is a demo account available to test out the WebTrader platform too, though you only get two weeks to experiment with this. The lack of a help section is not ideal, but it is possible that this will be rectified at some point. Security seems to be high-level with best practices followed regarding encryption, storage of customer assets, and compensation procedures. With so many benefits already in place, it is reasonable to assume that ETFinance will continue to grow and become a popular choice for European forex traders.
No commissions or trading fees
Fully licensed and regulated, with excellent security in place
Good choice of trading platforms, including MT4
Relatively young company with few customer reviews or awards
Demo account has limitations and is only available for two weeks
No FAQs page or searchable help section
Test result
Broker

Go to Broker
Risk warning: Capital can be lost. Terms and conditions apply.