eToro is a forex and CFD provider. Founded in 2007, eToro operates under two regulated divisions. In Cyprus as eToro (Europe) Ltd. This is the company's head office. In the UK as eToro (UK) Ltd.
Originally founded as a forex brokerage, eToro has evolved to offer social trading on FX and CFDs. In addition to its traditional offering, eToro has launched a collective investment fund known as CopyFund. CopyFund is an investment portfolio managed by an in-house investment team, which allows invest reap the benefits of passive investment in this fund.
Highlights
eToro forex is a social trading pioneer.
safe and secure and highly regulated
technology is engine behind copy trading.
Everyone gets a demo account on eToro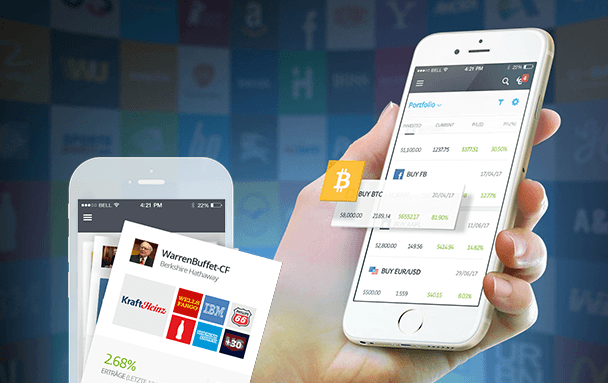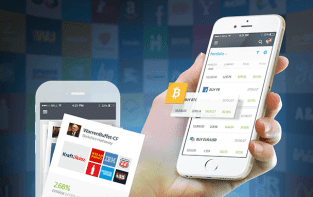 Go to Broker
Risk warning: Capital can be lost. Terms and conditions apply.
Headquarters and regulation
Cyprus (CySEC)
Fees and Spread
Depends on account type
Trading platform
Broker-owned Software
Trade Offering
47 Currencies
Services & additional benefits
Live
Hotline
E-mail
Economic Calendar
E-Book
Videos
Courses/Seminars
1. Trading Offer
1.) Forex Trading Offer: Across 47 Currency Pairs
What are the trade markets available on eToro? eToro forex broker is basically a forex and CFD provider. The trade markets on eToro include the following tradable assets and offers:
Tradable assets: The Contracts for Difference (CFD) markets include stocks, commodities, currencies, exchange traded funds (ETFs) and indices.FX offer: Spot FX trading on eToro features 47 currency pairs that range from the major currencies to the minor and exotic currency pairs.
A broker comparison – forex comparison will reveal that even though this number is not as much as you may find on other broker platforms, it provides a good geographical spread for global currency trading. Exotic Assets: An eToro Forex Trading Review 2018 of exotic asset listings showcases the cryptocurrencies. Featured cryptocurrencies include: Bitcoin, Ethereum and Litecoin.
Tradable:
EUR/USD
USD/JPY
GBP/USD
USD/CHF
AUD/USD
NZD/USD
USD/CAD
Apart from cryptocurrencies, ETFs are another asset class offered on eToro. A forex comparison will show that ETFs are not assets that are commonly listed on forex platforms. Examples of ETFs listed on eToro include IDEM.L (iShares MSCI Emerging Markets UCITS ETF), BOND and ACWI.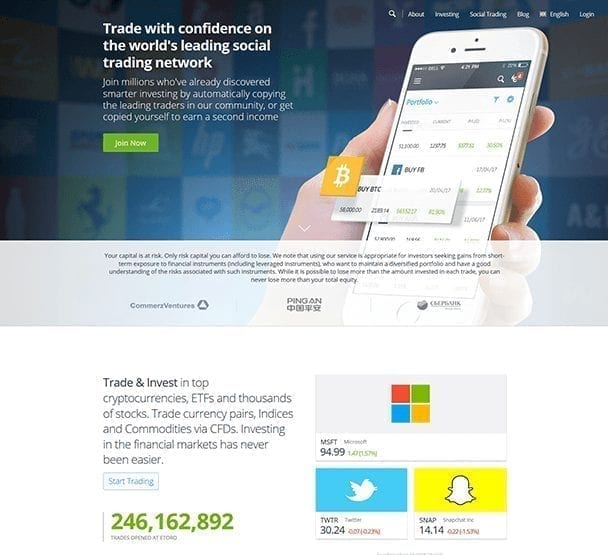 You can trade several asset classes on eToro.
All assets can be traded individually or on a social basis (i.e. via copy trading).
Trading on eToro is leveraged. Therefore, positions that cost as much as $1000 to setup will only cost a trader on a leverage of 1:30.
Go to Broker
Risk warning: Capital can be lost. Terms and conditions apply.
2. Costs
2.) Forex Trading Costs: Spreads as Low as 0.8 Pips
What are the costs associated with trading on eToro? Here is a summary of what you can expect to pay for executing trades on the eToro social network.
The only fees charged on eToro cover the following:
Spreads, which is the difference between bid and ask for all FX and CFD assets. Spreads on eToro can be as low as 0.8 pips and as wide as 200 pips for exotic assets such as cryptocurrencies.
Fees for copying trades. These are charged as a percentage of trade amounts. Traders who choose not to copy other traders do not pay any of such fees.
Withdrawal fees, which are charged on bank wires (between $30 and $50) and e-wallet withdrawals (between 1-1.5% of transaction amount).
No other fees are charged. Commissions are also not charged on eToro for FX or CFD trades, which by comparison, is a rarity.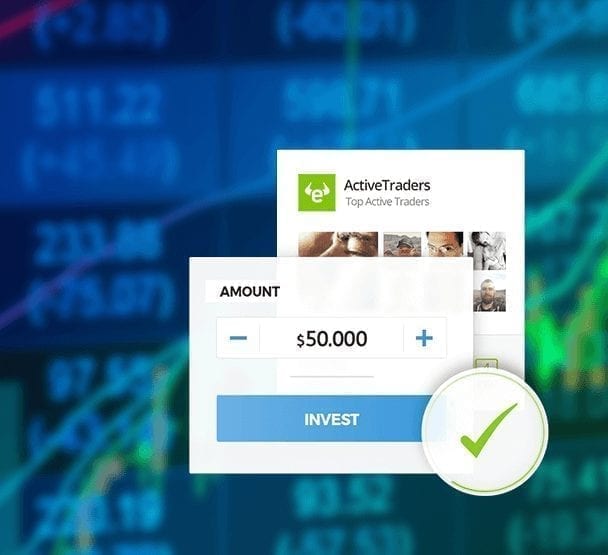 Trading costs on eToro are generally low when compared to the rest of the market place
Bank wires constitute the payment channel with the most expense on transactions.
It pays to know the spread of the asset to be traded, as some assets carry very wide spreads.
Go to Broker
Risk warning: Capital can be lost. Terms and conditions apply.
3. Account
3.) Accounts : One Account Type for Everyone
Some of the best forex brokers do not offer multiple account types, and eToro has opted to follow suit. Every trader on eToro is provided with one single account type, ensuring that everyone gets the same features and benefits. So if you have just $500 to start trading on the eToro forex broker platform, you get the same benefits as a $10,000 account owner.
Everyone gets a demo account on eToro. A forex broker comparison shows that most forex brokers provide virtual accounts of $10,000 for their traders. However, eToro provides $100,000 in virtual funds in the demo account. Benefits of the demo account include:
Ability to test your own strategies on the various trade markets.
A risk scoring system to select traders to copy, and see how their trades work out on your virtual account.
Test various order types, perform portfolio allocations, apportion capital to various assets, etc.
Using the demo account on eToro comes at no cost to the trader. Furthermore, the demo account can be used on an unlimited time and is non-obligatory. You are not coerced to open a live account along with the demo account.
Operating a live account on eToro can be done concurrently with a demo account, allowing you to practice on your live account, what you are learning from your demo trading.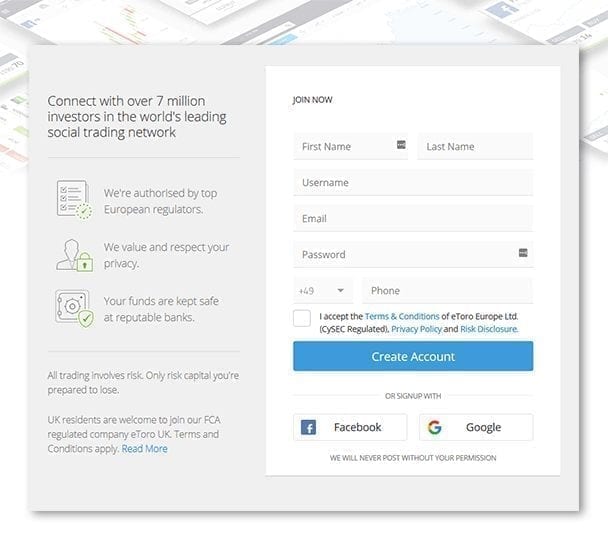 Free demo accounts provided, with $100,000 virtual capital.
Spread from 0.1 pips
Leverage of up to 1: 30
Go to Broker
Risk warning: Capital can be lost. Terms and conditions apply.
4. Platform
4.) Forex Trading Platforms & Mobile Trading: Trade at Home or On the Go
eToro presents two software solutions for its traders, Browser-based social trading application (eToro Platform + CopyTrader),Mobile trading application.
Access the web-based platform on eToro with the login details you obtain after account opening and registration. Integrated into the eToro platform is the CopyTrader, which is eToro's patented copy trade engine that allows you to follow and automatically copy the trades of the top traders on eToro.
An eToro Forex Trading Review 2018 mobile applications shows that there are mobile apps for iOS and Android users. These apps can be downloaded on the respective app stores.
The Etoro mobile apps feature a robust display of tradable assets. The watch list mirrors allows traders to customize what assets they want displayed on their screens at any point in time. Assets are shown with their bid and ask prices, enabling one-touch trading by clicking on the relevant price.
Usage of the trading software on eToro comes at no cost. It is also possible to integrate external software using eToro's API.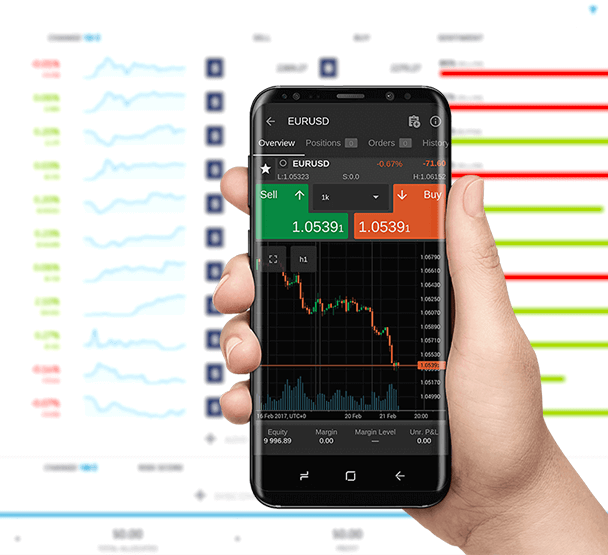 For those who love to trade on the move, eToro's mobile app gives you everything the web trader has to offer.
You can also invest in CopyFunds™, choose top traders to copy and receive real-time notifications about market happenings on your mobile devices.
There's a risk-scoring system that enables easy selection of the right traders to copy.
Go to Broker
Risk warning: Capital can be lost. Terms and conditions apply.
5. Usability
5.) Usability of the Website: Clean, Visually Appealing Interface
One thing that stands out is how well arranged the eToro forex platform is. An eToro Forex Trading Review 2018 shows that the website interface of the browser and mobile versions of the platform are devoid of clutter, feature text with legible fonts, and are arranged in a manner that is pleasing to the eye. Users can easily navigate their way around the site and obtain relevant information in a jiffy. The only issue is that the tab to click to search for top traders to copy (the Discover People tab) is hidden: you need to scroll down the Watchlist page to locate it at the bottom of the screen.
eToro uses a predominant white background, promoting legibility of content. There are tinges of blue and green on the images and tabs, which give the user a sense of being in an environment where "greens" (i.e. the greenback or $100 bill) can be made. Such emotional reinforcement is essential for optimal user engagement.
The navigation menu is simple and provides all the relevant information needed at a glance or at a click of a button. Users can access the privacy policy, legal terms of use, asset listings, the eToro forex broker blog, educational suite and trading portal from a very simple navigation menu.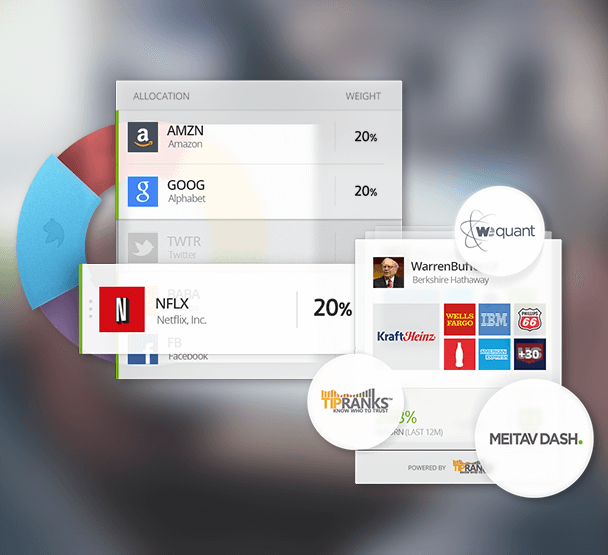 Clean design with white background for better user engagement.
Easy switch from demo to live account.
Legible display of content and buttons.
Go to Broker
Risk warning: Capital can be lost. Terms and conditions apply.
6. Support
6.) Customer Support: Quick and Responsive Support in Your Language
There is a need for smooth channels of communication to exist between broker and client, and eToro has taken cognisance of this to provide several channels of communication. There are at least four means by which users and prospects can communicate with eToro.
These contact options are as follows, A live chat facility is available round the clock for one-on-one settlement of complaints and issues. This is multilingual.Email: There are two email addresses: one for general inquiries ([email protected]) and another for affiliates and business development discussions ([email protected]).There is a phone number for international users: +44(0)20 3318 2433. Social media channels which exist on Twitter (@eToro) andFacebook (facebook.com/etoro). Online contact form (mostly for prospects and unregistered users).Fax: +44-866-350-0881
The competence and responsiveness levels differ from one contact option to another. The live chat provides the most responsive service, while emails provide the slowest service. Greater priority is given to active clients of eToro than to prospects. All channels are open for communication from Monday to Friday, 18 hours a day.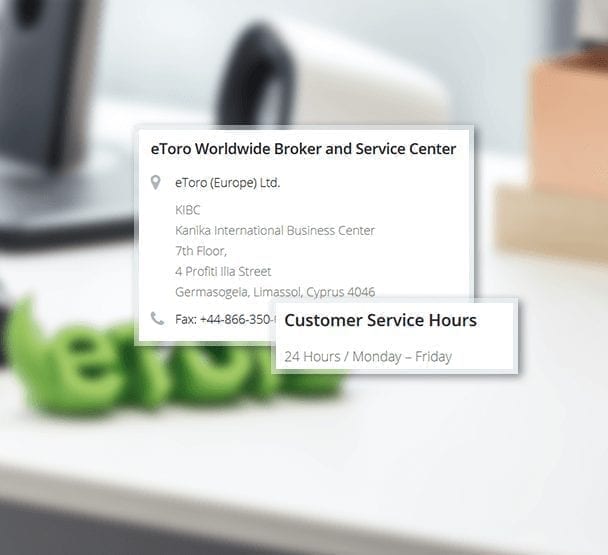 Multilingual customer support available.
Strong social media presence which can be used as customer communication channels.
Relatively fast replies to inquiries and complaints.
Go to Broker
Risk warning: Capital can be lost. Terms and conditions apply.
7. Payment
7.) Methods of Payment: Choose the Options That Work for You
Due to the complexities of the international financial system, access to different payment systems offered by forex brokers is not universal. While one trader may find it easy to deposit and withdraw funds with a credit card, another trader elsewhere may be locked out of card payment systems. That is why it is imperative that forex brokers adopt different payment systems to accommodate all clients, wherever they may be.
Methods of payment that are available on eToro include:
Cards
On the eToro forex trading account, you can deposit or withdraw funds using a credit or debit card, and get your transactions processed instantly. Maximum deposit limit is set $20,000.This method is not globally available. No fees are charged.
Bank wires
Wire transfers are used globally and have no transaction limits. Fees are charged by banks and transactions may take between 2-7 days.
E-Wallets
eToro supports the use of e-wallets such as Skrill, Neteller, China UnionPay, WebMoney, YandexMoney and GiroPay. Transactions are processed immediately. Maximum transaction limits are set at $10,000 (Skrill, Neteller, Yandex Money) and $30,000 for GiroPay.
Use payout methods that are supported for your region.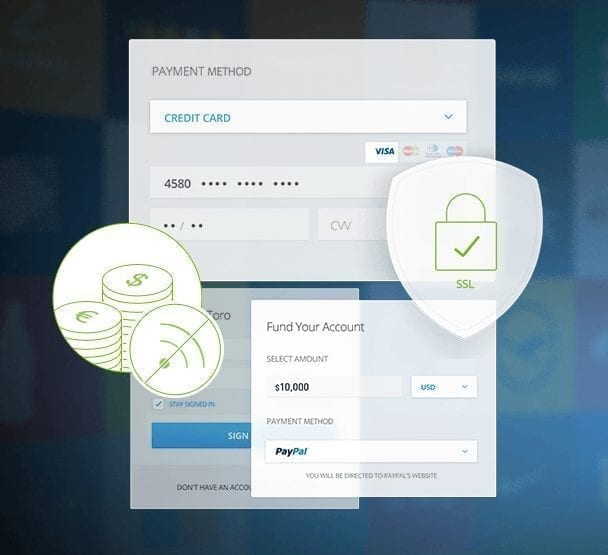 Several payment methods are listed on eToro.
There are generally no fees for deposits. Withdrawals attract very low fees of about 1% on e-wallet methods. Bank wires will attract bank charges.
All payments must emanate from payment method bearing account holder's name.
Go to Broker
Risk warning: Capital can be lost. Terms and conditions apply.
8. Offers
8.) Additional Offers: Learn with eToropedia
There is not much to discuss here. Perhaps this is where eToro has been a bit underwhelming. Apart from an occasional trading challenge that is thrown up, there are virtually no promos or bonuses awarded on eToro.
Traders do get an unlimited, non-obligatory demo account. This can be used for demo trading for as long as the trader wants.
The copy trading service allows new traders copy the trades of top traders on the platform, thus replicating their results. The difference between this service and conventional trading signals services is that all trades are automatically copied; the copier has no input whatsoever except to adjust the risk settings to be applied to the account.
Perhaps the best additional offer you can get is the FX education and learning resource on eToropedia. eToro's blog is loaded with materials to help you become a better FX and CFD trader. Materials cover various subjects, specially selected to touch on all that a trader should know.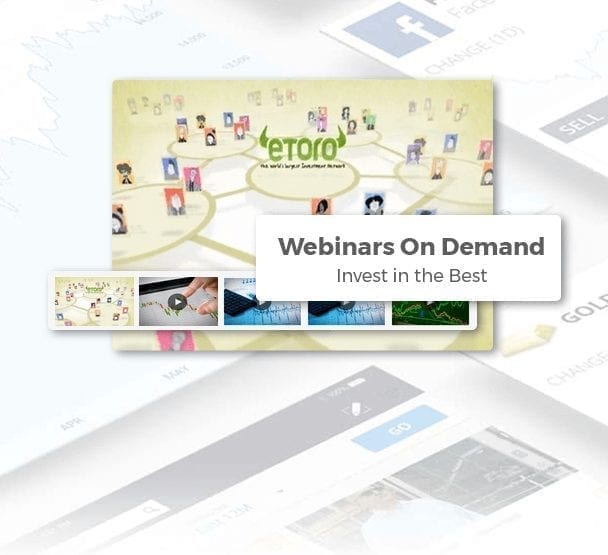 If you are looking for bonuses on eToro, you will be disappointed as there are none.
The eToro blog is the one-stop source for training and education of new traders.
Occasionally, trader contests are featured.
Go to Broker
Risk warning: Capital can be lost. Terms and conditions apply.
9. Regulation
9.) Regulation & Deposit Protection: Safe and Secure
Is eToro forex trading legit? The only way to answer this question is to check on the regulatory status of eToro in its areas of operation. eToro is a licensed FX and CFD provider in Cyprus and the UK.
In Cyprus, eToro (Europe) Ltd is authorized and licensed as a Cyprus Investment Firm (CIF) by the Cyprus Securities and Investment Commission (CySEC) with license number 109/10.
CySEC
Regulatory Authority
In the UK, eToro is authorized and licensed by the Financial Conduct Authority (FCA), using FRN 583263.
Furthermore, eToro complies with the requirements of segregation of funds belonging to traders, and also carries out strict Know Your Customer (KYC) verification processes to protect all users and to ensure the integrity of dealings on the platform.
Strict attention is also paid to protection of user information. eToro has the latest cyber-security systems that protect user data. SSL is used for connections, and data is encrypted.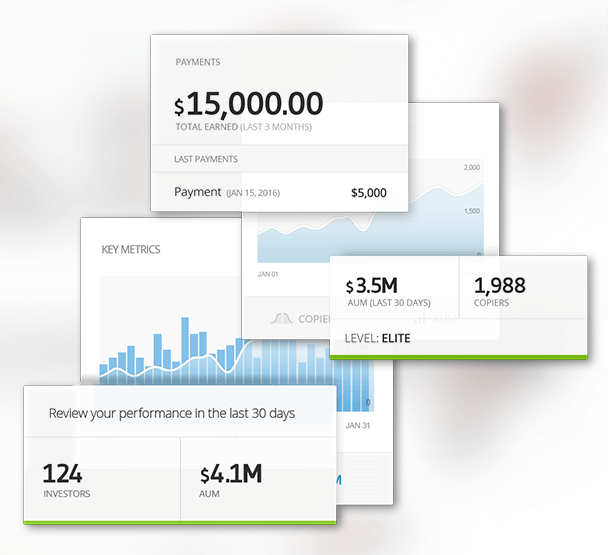 eToro is licensed by CySEC and FCA.
Broker requires verification when creating an account.
FCA regulation ensures that traders on eToro UK are registered with the Financial Services Compensation Scheme (FSCS) which provides up to 50,000 GBP in compensation for loss of capital due to broker misdemeanour.
Go to Broker
Risk warning: Capital can be lost. Terms and conditions apply.
10. Awards
10.) Awards: Trade with an Award-Winning Company
The eleven years that eToro has been in business has seen it rake in multiple awards from different credible awarding organizations. eToro has been voted the winner of the World Finance Awards for the Most Innovative Trading Platform in 2010. This award is given out annually by the World Finance magazine. The same year, the MoneyAM Finance Award followed. 2011 followed with more awards such as Best of Show at FinovateFall for its CopyTrader (then known as CopyMe) facility, and awards for the Best Social Trading Platform and Best Mobile Trading Platform by the Global Banking and Finance Review.
eToro has continued to win more awards such as the 2015 and 2017 Best of Show awards. The importance of forex awards cannot be overemphasized. Awards given by credible bodies within the financial services industry lend credence to how well a broker's product is received in the marketplace. Awards are given for excellence and a review of eToro's award chest is testament to its performance in the market since 2007.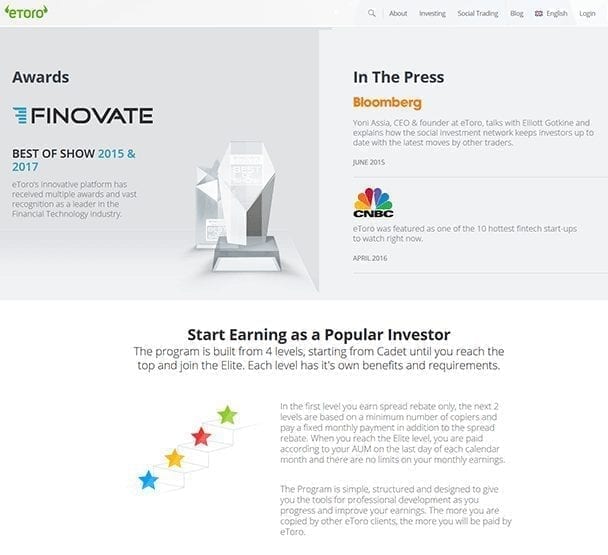 The brand has won multiple awards spanning several award categories.
eToro is probably the first true social trading provider in the FX market.
CNBC named eToro as one of the 10 hottest fintech startups to watch in 2016.
Go to Broker
Risk warning: Capital can be lost. Terms and conditions apply.
Conclusion: Professional, Social Trading Environment for You
As one of the oldest retail providers of FX and CFD trading, eToro provides no less than 47 currency pairs, and scores of other assets, split up into several asset classes. In essence, eToro is not just about forex; it is also about opportunities found in other trade markets. A popular saying among alpha traders is: "there is a bull market somewhere". When the FX market gets into chill mode, you can trade ETFs or CFDs on stocks, energy commodities, spot metals or indices to create some variety.
All trading on eToro is leveraged. Even when you copy a trader using the eToro CopyTrader engine, the spreads and money management indices you have chosen are applied on your account. This keeps you in control at all times. Do your own comparison and see things for yourself. Leverage provided on eToro up to 1:30.
In summary you get 47 major, minor and exotic currency pairs on eToro, 78% profitability in over millions of copied trades as at 2015 a wide range of CFD assets are also provided for diversification of trade portfolios with all trades leveraged.
Traders do not pay any commissions to trade on eToro.
eToro has reduced its default leverage setting to 1:30, in order to protect inexperienced traders.
eToro is a licensed and regulated brand.
The risk scoring system allows users to evaluate the top Traders they want to follow.
Traders can now use their social media accounts to attain login access.
Test result
Broker

Go to Broker
Risk warning: Capital can be lost. Terms and conditions apply.