Established in 2013, Fortrade is one of the new brokers in the market but with an aim to offer a difference in the industry. This difference comes through transparency and value for money in trading. Its headquarters are located in UK. The broker has many positive attributes that place it among the top forex brokers.
This broker stands out when it comes to the numerous languages offered on the website, bonuses, free educational opportunities and resources that include webinars and video tutorials.
Highlights
Regulated broker
Diverse instruments
Free educational resources
Numerous languages
28.
of 30 Forex Broker
Fortrade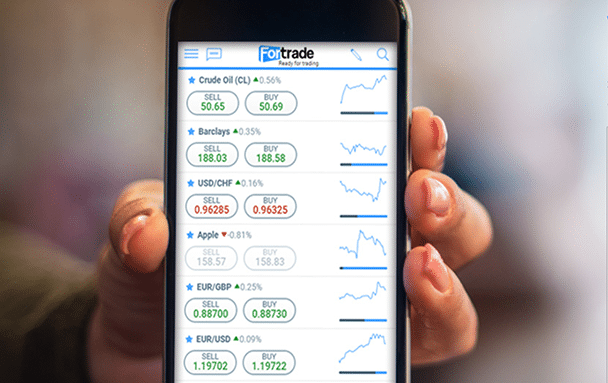 Go to Broker
Risk warning: Capital can be lost. Terms and conditions apply.
Headquarters and regulation
GB (FCA)
Fees and Spread
Depends on account type
Demo account
Yes, unlimited
Trade Offering
51 Currencies
Services & additional benefits
Live
Hotline
E-mail
Economic Calendar
E-Book
Videos
Courses/Seminars
1. Trading Offer
1) Forex Trading Offers: trade more than 300 financial instruments
Fortrade offers traders a large variety of tradable assets and instruments. A lot of retail traders are looking to invest in a wide range of financial instruments while others just prefer to stick to the basics like commodities, forex, and CFDs. However, when it comes to Fortrade broker, you will get access to a over 300 tradable instruments in a wide variety of asset classes that include 60+ currency pairs, bonds, indices, CFDs, energy products, commodities, 4 major cryptocurrencies, and even precious metals.
The recommended minimum initial deposit of the broker is 500 USD/EUR/GBP but it is still possible to trade with €100, which is the average minimum first deposit compared to other brokers. A review of Fortrade leverage is that leverage levels depend on the instruments traders choose. Indices and commodities leverage between 1:10, stock CFDs between 1:5 while most currency pairs leverage on 1:30.
Tradable:
EUR/USD
USD/JPY
GBP/USD
USD/CHF
AUD/USD
NZD/USD
USD/CAD
In the forex market, 1:30 is the standard maximum leverage level. However, there are other brokers that offer 1:30. Of course, a trader, you need to keep in mind that the higher the ratio the higher the stakes, and leverage is always a double sided coin. Is Fortrade legit? Yes, they offer reasonable leverage levels, within the limits of other legit forex brokers.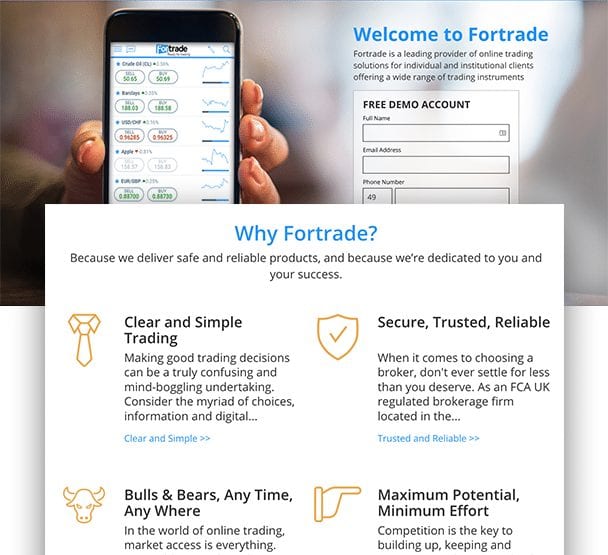 More than 300 financial instruments
More than 60 forex pairs
Leverage level of 1:30
Go to Broker
Risk warning: Capital can be lost. Terms and conditions apply.
2. Costs
2) Forex Trading Costs: Fortrade Broker Spread Offers
Fortrade broker is a fixed spread broker that does not make any commission from the trades, either forex or CFDs. When you sign in as a new trader, you will get 30% welcome bonus and their spreads are usually based on the difference between the asking price and the bid. Typically, spreads at Fortrade range anywhere from 3 pips for forex, 0.1 and 0.5 pips for indices and stocks and $0.04 for leading commodities like Gold and Crude. For example their average fixed spread for EUR/USD as at writing was $2. This is relatively high compared to other brokers who have spreads as low as 0.0. Cryptocurrencies have a high spread, bitcoin has an average spread of $120, Litecoin $6 and Ethereum $7. In general the average spreads are high compared to other brokers.
Apart from spreads, there is a dormancy fee that is charged on an account if it is inactive for a consecutive period of more than 180 days. The charge is $10 and is debited from the account balance. A recurring similar charge is debited from the account if the account still continues being inactive. The dormancy fee is treated as administrative costs of running a dormant account.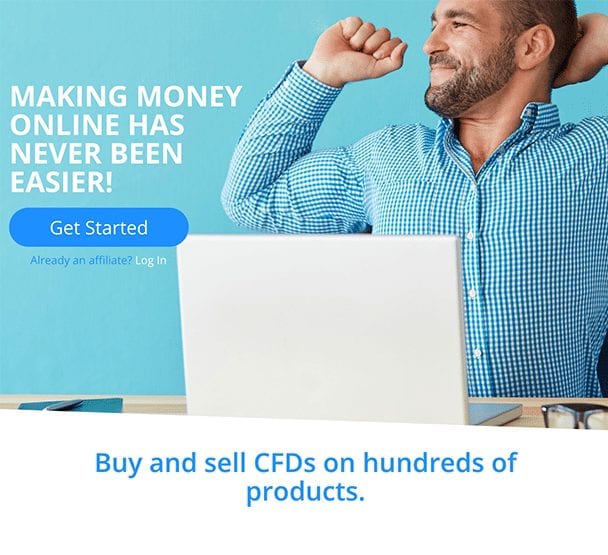 Fixed spreads
Dormancy fee of inactive accounts over 180 days
High spreads compared to other brokers
Go to Broker
Risk warning: Capital can be lost. Terms and conditions apply.
3. Account
3) Accounts: The broker offers account to all traders
Fortrade broker has surprisingly kept everything simple for its traders by offering just one account for all traders. Their standard account covers all the categories and all the needs of the traders. The minimum deposit of their account is $100 but like stated above, to get the maximum benefits you need to make a deposit of $500. It is advisable to just make the $500 deposit while opening the account for a better outcome. The registration is easy and straightforward.
However, the broker does offer a demo account. Initially, a trader will be allocated €10,000 virtual funds for practice. The conditions in the demo account mirror the live account on the Fortrade platform. The maximum leverage offered on the demo account is 1:100 and traders have access to all trading charts and tools that are found in the live account. Fortrade review of their demo account shows is a good as the live account experience but without all the risks involved in trading in the global markets. A beginner can actually open a live account while still maintaining their demo account. This allows a trader to switch back and forth and try out strategies in the demo accounts and implementing them on the live account.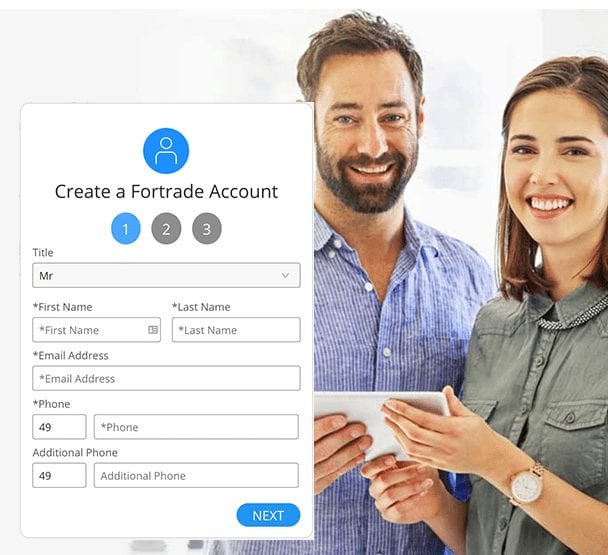 Free Fortrade demo account
Only one live account choice
Low initial minimum deposit of $100
Go to Broker
Risk warning: Capital can be lost. Terms and conditions apply.
4. Platform
4) Forex Trading Platforms and Mobile Device Trading: Trade on the go
At the moment, Fortrade has just two trading platforms: the industry's de-facto standard trading platform, which is MetaTrader4 and their proprietary ForTrade platform. The latter is available on web, mobile, and desktop downloads. The Fortrade trading platform provides its traders with real time performance for more than 150 trading instruments. It features a wide range of trading tools, a user-friendly interface and it is highly customizable to traders' preferences. On the other hand, the MetaTrader4 platform is not in any way new to traders as it is widely used in the industry.
MT4 platform allows traders to place three different types of order execution, fifty integrated analysis indicators, and nine timeframes. The three distinct platforms are Desktop Fortrade, Mobile Fortrade, and Web Fortrade. The Mobile Fortrade platform is available for both the Android and iOS operating systems. Even though their mobile trader is more user-friendly than the MT4 mobile app, it lacks the technical prowess MT4 apps provide. The Web Fortrade platform offers the best of the desktop and mobile platforms and allows traders to access accounts on the browser.
The platform offers the Expert Advisors that give traders a fully automated trading option. With this, a trader has the ability to create their own robot as long as they have the necessary programming language. Fortrade trading platform review clearly puts ahead of the game in comparison to other brokers.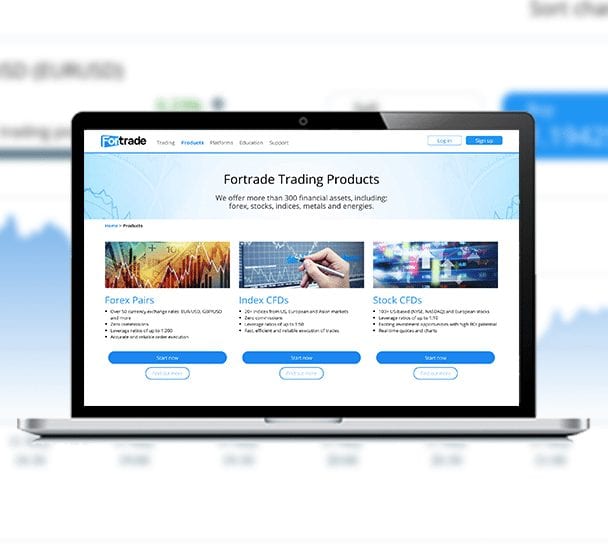 Mobile trading supported
User-friendly platform
Three different platforms modes
Go to Broker
Risk warning: Capital can be lost. Terms and conditions apply.
5. Usability
5) Usability of the website: Available in 14 languages
The Fortrade website is very user-friendly and given the fact that they only provide one live account, navigation is pretty much easy. The overall appearance of the website is smooth and not in any way overwhelming, even to beginners. The navigation tabs are well placed at the top of the site and it features a drop down menu to incorporate everything easily. Fortrade has made it easy for traders to switch between their live and demo accounts.
The layout of the trading screen is quite simple and makes it easy to manage funds, review past trades, execute new trades, or change settings. Traders can set alerts for the trades they would like to monitor on a regular basis. In addition to that, the website offers 14 languages, which are English, Macedonian, Arabic, Spanish, French, Italian, Polish, Croatian, Albanian, Dutch, Russian, German, Portuguese, and Slovenian. As for beginners, they are well sorted by the broker as it offer free educational materials like interactive webinars and video tutorials to give them firsthand experience. All the educational resources and materials are available in all the languages. The Fortrade trading platform offers 5 sections in the academy section that include FX and CFD eBooks, trading videos, top trading strategies, beginner trading courses and advanced trading courses. All the categories feature subcategories that incorporate trading information that is bound to help traders.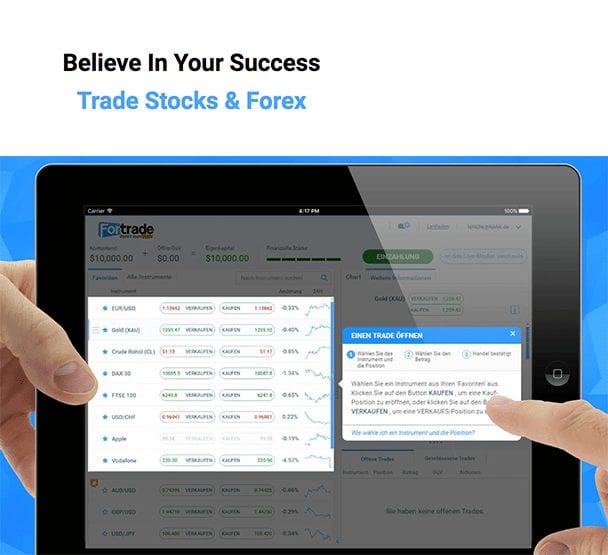 5 Different learning categories
User-friendly interface
Multilingual
Go to Broker
Risk warning: Capital can be lost. Terms and conditions apply.
6. Support
6) Customer Support: Support available 24/5 on email and 24/7 on live chat
Fortrade offers live support to traders on their live chat for 24 hours, 5 days of the week. The response time of the customer service is slow and you may therefore experience delays before being connected to a customer service representative. You can opt for the email address, fax or UK phone support in case of any queries. It is important to note that they have taken it upon themselves to provide support in all 14 of the provide languages on their website.
Their support page has all the contact information when it comes to emails addresses and phone numbers. The website also features an extensive FAQ page to answer some of the general questions most traders would ask to eliminate the need to contact support. Unlike other brokers, Fortrade has no social media support channels.
To have complete trust in the broker, it is always recommended to contact their customer support and experience how responsive they are firsthand. This way you can be assured that even after you sign in and start trading with them, they will be available to help you should the need arise.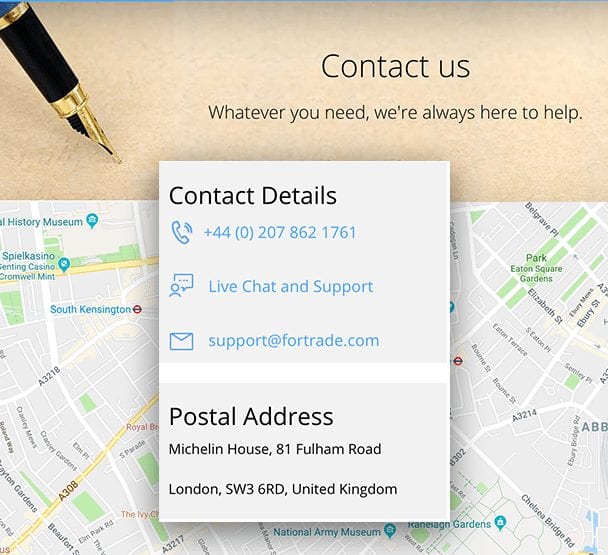 Responsive customer support
Available telephone support
FAQ center available
Go to Broker
Risk warning: Capital can be lost. Terms and conditions apply.
7. Payment
7) Methods of Payment: Various payment methods available on the brokerage site
Fortrade Broker offers quite a diverse range of payment methods with an aim to cover all kinds of traders from different parts of the world. Some of the payment methods offered are country specific and only appear while registering for the live account. However, all the payment methods available are well known and include credit cards, debit cards, digital payment methods like Neteller and Skrill as well as wire transfers. Fortrade takes anywhere between two, to seven business days to process withdrawals. As a matter of fact, withdrawals using credit cards could take as much as 15 days while wire transfers could take just 3 to 5 business days, which is quite average in the industry.
The credit card minimal withdrawal amount is $50 but the Fortrade website does not provide a minimum withdrawal amount for other withdrawal methods. However, traders will get this information while registering for the live account once they choose a payment method that suits them best. It is important to note that Fortrade doesn't accept payments from 3rd parties. Similarly, withdrawals are done on accounts bearing the names of the Fortrade account holder. Is Fortrade a good broker? Yes, besides the fact that there are limited payment methods, the existing ones have fast processing times and zero processing fees.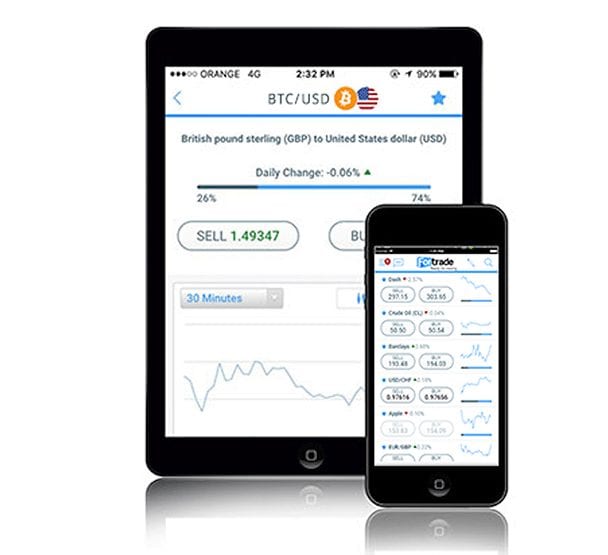 Bank transfer payment method available
Digital payment methods like Neteller and Skrill
Credit and Debit cards payment methods available
Go to Broker
Risk warning: Capital can be lost. Terms and conditions apply.
8. Offers
8) Additional Offers: You get a bonus offer with Fortrade
When traders make a deposit with the broker, they enjoy a welcome bonus of 30% of that initial deposit. This is a very attractive proposal, especially for traders who want to increase their initial capital without any risks before they dive deep into the markets. Of course, it is always advisable for traders to go through the said bonus terms and conditions. However, a bonus certainly helps to increase equity and margin. Fortrade reserves a right to cancel that bonus in 90 days after issuance.
There are two more types of bonuses on the Fortrade account. They offer a balance bonus and they have a credit bonus. The balance bonus is a standard bonus that you will get when you deposit into your account. The credit bonus is an alternative bonus that comes with additional terms and conditions compared to the balance bonus. To withdraw your balance bonus, you need to fulfill a minimum of 0.1 trading volume in all the units of the bonus currency. The credit bonus is usually automatically removed if the trading account goes below the credit bonus amount. There are no promotions and tournaments that Fortrade runs.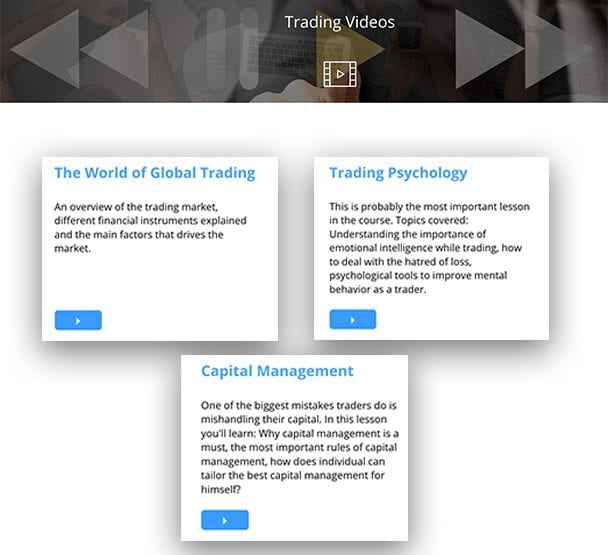 Welcome bonus available
Demo account
Two more bonus types available
Go to Broker
Risk warning: Capital can be lost. Terms and conditions apply.
9. Regulation
9) Regulation and Deposit Protection: How safe is your money?
Fortrade broker is a Forex and CFDs brokerage fully licensed and regulated by the Financial Conduct Authority (FCA). FCA is an iron fist when it comes to regulating brokers and it is well known for being rigorous and having extremely high standards in order to maintain the market capital. This means that Fortrade can be well trusted and there would be no reason for traders to worry about their funds while trading with the broker. A recent development of the regulation policy requires brokers to have a minimum substantial capital of $1,000,000, which means a broker has to be able to cover all the possible risks. Fortrade review points out that so far it has complied with all the regulations provided by FCA.
Additionally, Fortrade is a member of the FSCS client protection scheme. The scheme protects client funds of up to £50,000 but this insurance is only available to traders if or when the broker ends up bankrupt or ends the brokerage due to insolvency. FCA brokers are required to submit periodic audit reports of their financial transactions and they are held accountable for handling all finances. This means that traders should not be worried about the safety of their funds as FCA takes of it. A further audit check is that client money is segregated from the company's money. This avoids tampering with trader's money.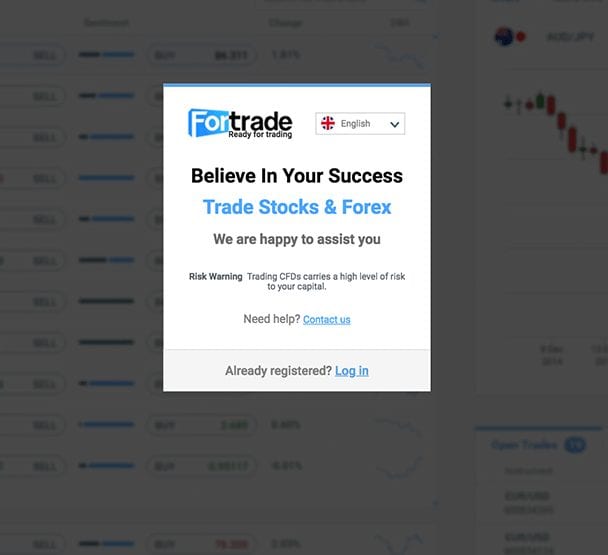 Fortrade is regulated
Client fund segregation
Traders are insured up to £50,000
Go to Broker
Risk warning: Capital can be lost. Terms and conditions apply.
10. Awards
10) Awards: Fortrade has no bad publicity
Fortrade has no record of receiving an award. It is relatively new and hasn't garnered that much prominence and experience in the industry. However, from the clean record it has and nice relations it has kept with its customers it is most likely that they will increase their recognition in the market and get some awards or even a nomination for an award in the near future. Fortrade review from its traders in online forums don't point a reason to worry. Is Fortrade legit? Yes, a good broker maintains a positive records from its customers, Fortrade is an example. Additionally as regulated broker Fortrade must abide by certain protocol, this includes keeping segregated funds for its bank account and its clients bank accounts. It must also show transparency and a level of capitalization. This is to protect the clients too. So for instance if the company has a large exposure to a certain trade, it will be able to cover its losses.
Although Fortrade doesn't seem to have awards or any press mentions, it does have some reviews on forex industry websites. These include a couple of scam broker websites. However in this day and age, it doesn't mean that the broker has done something wrong.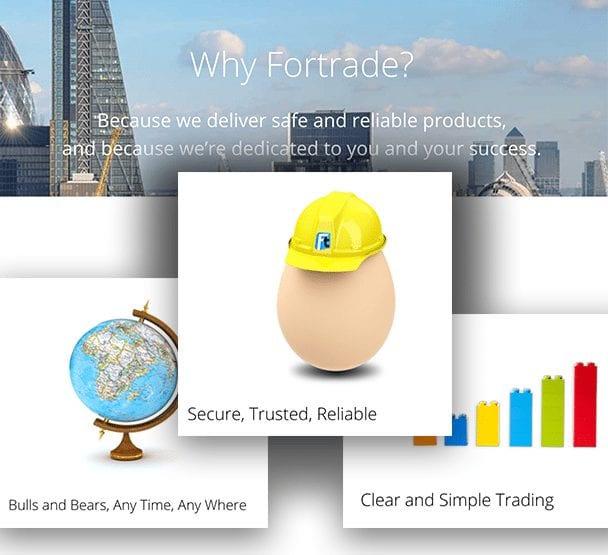 Zero customer complains
Several reviews on websites
Fortrade forex has no awards
Go to Broker
Risk warning: Capital can be lost. Terms and conditions apply.
Conclusion – A new broker, but is that necessarily a bad thing?
Fortrade is relatively a new broker in the trading scene. It has taken huge strides to match the level of service offered by other big players in the industry. When you perform a Forex broker comparison you will arrive at the conclusion that it is on the right step. They need to definitely improve on several aspects such their website which looks very basic and not attractive to visitors. They also need to improve on the payment method options. Fortrade has a limited number of payment options which might inconvenient traders who are not users of the payment methods that they use.
Fortrade might need to reconsider the fixed spreads and be an STP broker. Traders prefer brokers who have low spreads since they keep their trading costs low. It should invest more in IT hardware and software that will provide traders with low latency and fast execution times. However, this is not a discredit to their current accomplishment.
Regulated broker
Segregation of funds
Negative balance protection
Friendly customer service
Test result
Broker

Go to Broker
Risk warning: Capital can be lost. Terms and conditions apply.