FXFXPRIMUS was founded way back in 2009. It is heavily regulated by both the CySEC and VFSC. FXPRIMUS is driven by three pillars; education, safety, and technology. FXPRIMUS has over 120 trading instruments including seven cryptocurrencies pairs, these instruments have low spreads some as low as zero. It has exclusive features such as PAMM accounts, IBs, promotions and Bonuses. Is FXPRIMUS a good broker? Yes, read the rest of the article below to learn more about this forex brokerage firm.
Highlights
Variety of trading instruments
A regulated broker
Exclusive features
Trade over 120 instruments
24.
of 30 Forex Broker
FXPRIMUS

Go to Broker
Risk warning: Capital can be lost. Terms and conditions apply.
Headquarters and regulation
Cyprus (CySEC)
Fees and Spread
Depends on account type
Demo account
Yes, unlimited
Trade Offering
43 Currencies
Services & additional benefits
Live
Hotline
E-mail
Economic Calendar
Videos
Courses/Seminars
1. Trading Offer
1) Forex Trading Offer: FXPRIMUS supports over 120 trading instruments
FXPRIMUS offers over 120 trading instruments for traders. FXPRIMUS trading platform review is a clear indication that the platform is robust and different derivatives can be traded from the same platform. These trading instruments are; forty three currency pairs, thirteen indices, three precious metals, four energies, seven cryptocurrencies, and 61 equities.
The availability to trade cryptocurrencies is a big deal to traders since cryptocurrencies are so volatile. Since most cryptocurrencies are pricey, you can still trade with FXPRIMUS using margin accounts. There are four major currency pairs e.g. EUR/USD, three minor currency pairs e.g. NZD/USD, 18 crosses e.g. EUR/NZD, and 19 exotic pairs e.g. EUR/TRY. The available cryptocurrencies for trading are; bitcoin, Litecoin, bitcoin, bitcoin cash, DASH, ripple and IOTA.
Tradable:
EUR/USD
USD/JPY
GBP/USD
USD/CHF
AUD/USD
NZD/USD
USD/CAD
Trading using Scalping method is allowed with these instruments. Hedging too is allowed. Hedging and scalping are not allowed by some forex brokers. Hedging can be conducted through the MetaTrader 4 platform. The trading instruments are grouped together and separated by different colors from the trading platform. You can take advantage of margin trading to increase the value of capital through leverage. This comes with high rewards and high risks too.
Numerous trading instruments
Availability of leverage
24/7 open market trading cryptocurrencies
Go to Broker
Risk warning: Capital can be lost. Terms and conditions apply.
2. Costs
2) Forex Trading Costs: Low spreads and non-dealing desk broker
FXPRIMUS is runs on an effective market model, Straight through Processing (STP) model. It operated on a model that avoids conflict of interest with the customers. There are spreads as low as zero when a two orders a buy and a sell are of same lot, the orders are filled in-house and both orders are charges zero spread. FXPRIMUS uses two methods of charging spreads; the ECN premier spreads and the variable spreads. The ECN premier spreads are low and for the EUR/USD sometimes it as low as 0.01, however, there is a commission of $10 per lot. For the variable spread, the spread varies according to the market conditions. The spread is normally high in general compared to the premier ECN spread. The good thing is that there is no commission charged. You can always change the spreads type on the members section. Sample spreads are as follows;
FXPRIMUS USD allows use of leverage on a declining scale based on the account balance. The following is the breakdown of the leverage offered by FXPRIMUS.
| | |
| --- | --- |
| Amount invested in USD | Leverage |
| 0 – 1000 | Up to 1:30 |
| USD1,001 to USD20,000 | Up to 1:30 |
| USD20,001 to USD50,000 | Up to 1:30 |
| USD50,001 to USD100,000 | Up to 1:30 |
| Above USD100,000 | Up to 1:30 |
You can always change your leverage by closing all the open trades and applying for a new leverage.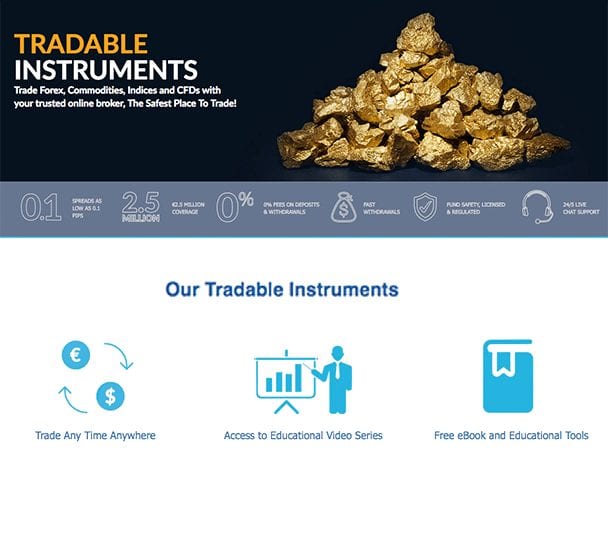 Non dealing desk broker
Leverage up to 1:30
Low spreads
Go to Broker
Risk warning: Capital can be lost. Terms and conditions apply.
3. Account
3) Accounts: Multiple accounts with unmatched benefits
FXPRIMUS offers three account types; standard account, premium account and VIP account. For the standard account, the minimum investment is $1000. On this account you are entitled to a one on one consultation, SMS alerts, and cashback bonus. The premium account requires a minimum deposit of $2500. All the benefits that standard account has are entailed in the premium amount with the addition of live market telephone call. The VIP account has the benefits of premium account and standard account, with the only exception that the minimum deposit is $10,000 and there are VIP signals, personal access to market specialist and 30 minute consultation with market specialist. You should take note of the fact that VIP and SMS alerts become are deactivated when an accounts becomes inactive after a span of 30 days.
These are three account lots types; standard, mini and micro. The three are administered as managed accounts, whereas the introducing broker and affiliate accounts are non-trading accounts. Depending on the level of experience of a trader and the amount willing to invest, you can opt for any of the three accounts. For inexperienced traders it is good to start with a demo account. After the demo, you can sign up for a micro account, upon honing your skills you can upgrade to standard account which requires even a higher level of investment.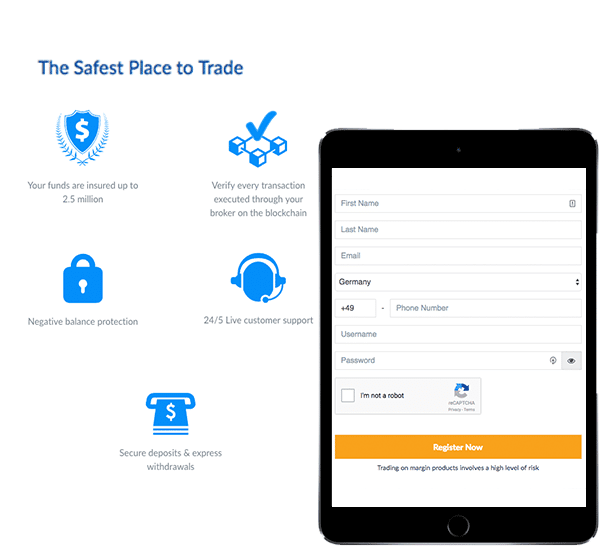 VIP account
Standard, mini and micro accounts available
Demo account
Go to Broker
Risk warning: Capital can be lost. Terms and conditions apply.
4. Platform
4) Forex Trading Platforms & Mobile Trading: Easy to use platform with many tools
FXPRIMUS offers MT4. MT4 is a worldwide renowned trading platform that is widely used in the trading arena. Over 80% of online trading brokers allows their customers to use the MT4 to gain entry to the market. Though, the platform is common among brokers, each broker offers has its own custom ways in which the broker allows traders to use the MT4. Below is FXPRIMUS trading platform review.
FXPRIMUS offers has the MT4 platform which can be assessed by both windows and Mac. The MT4 can also be accessed from smart devices both android and IOs devices. The PC based version of the MT4 can be accessed via desktop client or the web. The desktop client requires you to download whereas the Web Trader you will be required to sign in to your account using ordinary web browsers to access you MT4 account. The Web Trader is similar to how individuals access their mails accounts such as Yahoo, you just log in from the web browser. There is an option for virtual private server (VPS) which allows for trade execution at lightning speed reducing latency and order execution at the best possible price. The VPS is free for traders who have a balance of USD 500. MT4 is compatible with many custom programs as long as the programming language is compatible with MT4 supported languages.
Free Mobile version
Multiple currencies allowed as base currency
Simple to use
Go to Broker
Risk warning: Capital can be lost. Terms and conditions apply.
5. Usability
5) Usability of the Website: exquisite designed website supporting 14 languages
FXPRIMUS has a well-designed website. Their seven menu icons are perfectly displayed on top of the website. When you hover the cursor on the menu, the submenus pop up. It is nowadays uncommon to find forex brokers without too much advertising and promotions running on their website, FXPRIMUS is an exception to this. Their website is a breeze. There are real price feeds running on the website also the live spreads are broadcasted too. The website has 14 different languages which traders from different parts of the world can choose from. Examples include; English, Vietnamese, Spanish, Czech, Russian and Indonesian.
You will find the legal information about FXPRIMUS on the bottom section of the website. On the legal information section, you will get information on the establishment of FXPRIMUS, the regulation, licensing, terms and conditions. FXPRIMUS review clearly indicate that this online broker has the trader's interest at heart. Its website design, moderate information on the website, informative website, and other nice attracting features clearly put FXPRIMUS broker among the Best forex brokers.
14 supported languages including all the main European ones
User friendly website interface
Menus and icons are easy to locate
Go to Broker
Risk warning: Capital can be lost. Terms and conditions apply.
6. Support
6) Customer Support: Professional customer service 24/5
FXPRIMUS offers the best customer support to all its traders; novice traders and the experienced traders. In case a trader wants any guidance, you can contact FXPRIMUS via live chat or telephone (+883510080975). FXPRIMUS offers 24/5 telephone support and traders can contact them between Monday and Friday. You can also send them a mail ([email protected]) in case of any question regarding their service. One of the most interesting thing about their customer service is that they support multiple languages. FXPRIMUS can also be contacted through social networks such as Facebook, linked in, twitter or Google Plus. FXPRIMUS supports use of 14 languages, making it convenient for traders across Europe, Asia, and China among others.
The customer support experience of FXPRIMUS is a notch higher compared to other brokers. If you do a Forex broker comparison you will establish that FXPRIMUS is among the Best forex brokers. Their customer support are not there to resolve your account issues alone, they will walk with you every step of your trading journey, in fact they are addressed as referred to as relationship managers. The relationship managers are very responsive and upon pinging them on they will respond to your query in a short time span whether email or live chat. There is an exclusive VIP support for the VIP members.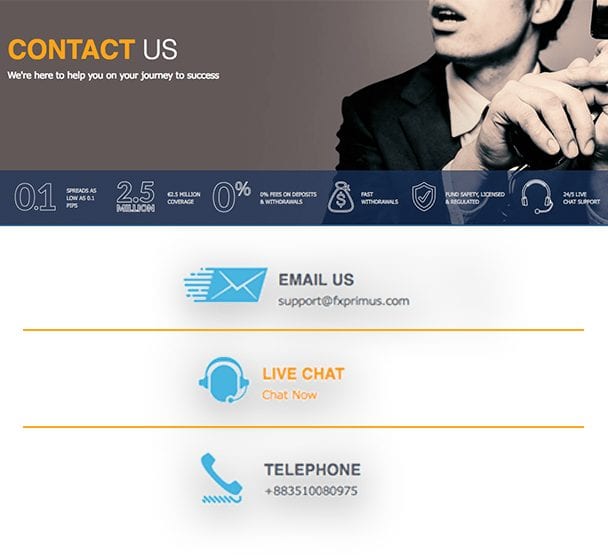 24/5 support
Multilingual support
Professional customer service
Go to Broker
Risk warning: Capital can be lost. Terms and conditions apply.
7. Payment
7) Methods of Payment: Numerous payment method with fast processing time
FXPRIMUS uses common methods for deposit and withdrawal. There are four main payment methods; e-wallets, local wire transfer, credit cards and bank wire transfer. E-wallets payment methods include; Neteller, Skrill, fasapay, bitpay. Credit cards accepted are; visa, MasterCard and American express. All payment methods have a processing period of 24 hours except bank wire transfer which has a processing time of 2-5 working days. The minimum deposit amount is $100 for all payment methods, the same limit applies to withdrawal with the exception of local wire transfer which has a minimum withdrawal limit of $50. FXPRIMUS broker doesn't charge any commissions when depositing or withdrawing.
In an effort to keep its business free from money laundering, it has imposes the following rules. FXPRIMUS does not accept money from 3rd parties. All deposit source should match the name of the trading account. Withdrawals in excess of the deposit amount will be first be withdrawn to the exact deposit amount and the excess withdrawn to the available choices. FXPRIMUS review clearly shows a dedicated broker trying to give traders the best trading conditions by offering sound and convenient deposit and withdrawal options.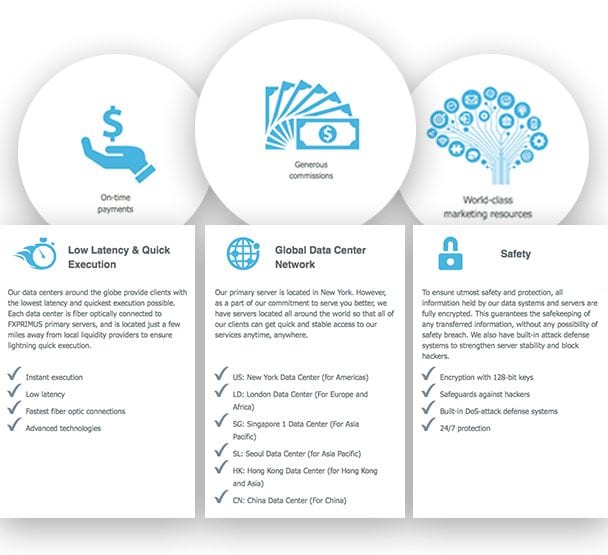 Fast payment processing time
Numerous payment methods
Nil deposit/withdrawal charges
Go to Broker
Risk warning: Capital can be lost. Terms and conditions apply.
8. Offers
8) Additional Offers: FXPRIMUS Deposit bonus, free trading material
FXPRIMUS has a collection of enticing features/packages that make trading with them a wonderful experience. There is an economic calendar to keep you updated on the latest fundamental news happening across the globe. Besides the economic calendar, you can get updates of market sentiment from FXPRIMUS experienced market analysts. There are a variety of bonuses that new and existing traders can take advantage of. There is a 100% deposit bonus, 30% trading bonus, money reimbursement when changing from a broker who caused you to suffer a loss due to slippage, requites, hacks and gaps in the market. Besides there are other periodical promotions and bonus that run from time to time.
There is an education section in their website. On this section, there are video tutorials on trading. The videos are categorized into three; how to videos, webinars and European opening comment. Novice and experienced traders will find this videos resourceful since they cover all aspects of trading for example; trading plan, technical analysis & money management. In total there are 90 trading videos that on their website as at writing this article, it is obvious there are many more to be uploaded. You don't require to pay to access these videos and even a non-member can have access to same videos. There are trading signals provided to VIP members whenever there is a major market movement
Free educational content
SMS trading alerts to VIP members
100% Deposit bonus
Go to Broker
Risk warning: Capital can be lost. Terms and conditions apply.
9. Regulation
9) Regulation & Deposit Protection: Regulated broker; compensation fund of €2.5M
Regulation is one of the key considerations traders take into account before settling for a broker. Is FXPRIMUS legit? Yes, this is because it is a regulated business. They are regulated under CySEC license number 261/14 and with VFSC under license number 14595. Traders are insured with a cover of € 2.5 Million. A random FXPRIMUS review will lead you to the conclusion that FXPRIMUS does due diligence in ensuring that it meets all the CySEC regulations. New customers are required to prove their identity and prove their residence. This prevents dealing with minors, this is part of scrutiny that FXPRIMUS conducts to keep its business regulated.
CySEC
Regulatory Authority
FXPRIMUS has taken a quantum leap in investing in high tech IT hardware and software. Their system is encrypted on end to end with 128 keys a security feature used to secure banking operation. The high-tech systems ensures that FXPRIMUS doesn't collect personal or financial data of traders. FXPRIMUS has cloud based servers, they enable fast execution of orders with low latency. The systems in place are secured and prevents DDoS attack or any other form of external attack.
Regulated broker
Secured systems
Compensation fund of €2.5 Million
Go to Broker
Risk warning: Capital can be lost. Terms and conditions apply.
10. Awards
10) Awards: FXPRIMUS is the best broker for educational content
FXPRIMUS dedication to provide top notch service has been recognized and as a result it has bagged several awards. In 2015 it received the award of most trusted broker at Mena Forex Expo. In 2016 it received two awards; best forex research and best training and education provider. With FXPRIMUS, you can't go wrong if you rely on them for information.
A Review of FXPRIMUS practices gives confidence that they will continue to get more awards and recognitions globally. As at the moment there are no complains that have been reported nor has it faced any fine from regulator. When considering aspects such as safety, education and technology which are FXPRIMUS core pillars; it is certain that customers enjoy from the three. A publication on the company website on Mar 19, 2018 indicate that PXPRIMUS had been nominated for 3 different awards categories by FXDailyinfo.com.
There is additionally a lot of news and press releases about this brokerage firm on the internet. They are regularly featured in the international press talking about their latest news and releases.
Three global recognition
Dedicated to safety, education and technology
Zero complaints from customers
Go to Broker
Risk warning: Capital can be lost. Terms and conditions apply.
Conclusion – Why trade with FXPrimus?
A review of FXPRIMUS packages and service matches those of reputable brokers in the market. Though not yet prominent their services can be compared to those of top forex brokers. By the fact it is regulated by two financial watchdogs, it sends across a serious message to customers. A message to instill confidence about the broker. FXPRMIUS customer service is definitely the best. There are timely to engage you on live chat and prompt to close on tickets. The low spreads from as little as 0.1 pips is an attraction to many traders who have preference for ECN brokers. FXPRIMUS segregates client's funds from its own funds, this is to prevent conflict of interest and compromise of trader's funds. FXPRIMUS allows for hedging and scalping. Finally, there are no re-quotes, in fact there is a cash refund if you sign up with them and prove you suffered loss from re-quotes from another broker.
Competitive spreads
Regulated by both CySEC and VFSC
ECN market model
14 supported languages
Cryptocurrencies trading allowed
Doesn't have MT5
Doesn't have e-books
Test result
Broker

Go to Broker
Risk warning: Capital can be lost. Terms and conditions apply.