FxPro is a FX and CFD brokerage brand that is operated by the FxPro Group Ltd. FxPro came into being via the acquisition of NorthFinance in 2008. FxPro operates under several regulated divisions:
In Cyprus where the operational headquarters of the company is located, FxPro operates as FxPro Financial Services Ltd, targeting the needs of the European market.
FxPro (UK) Ltd attends to international clients and serves as the global corporate headquarters of FxPro Group Ltd.
FxPro Global Markets MENA operates in Dubai and covers the MENA region.
Highlights
Hundreds of assets
One of the scandal-free FX brokers
Operates in EU, UK, MENA, Africa & Asia
Offers a range of trading platforms.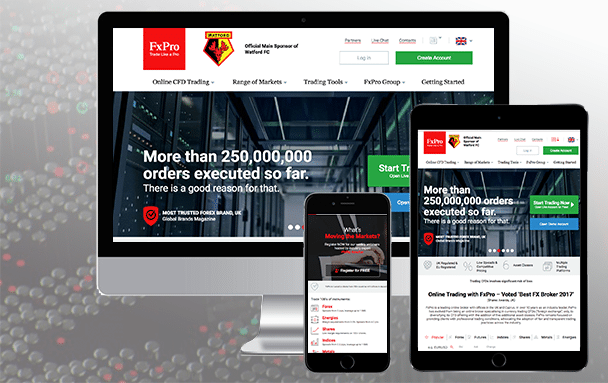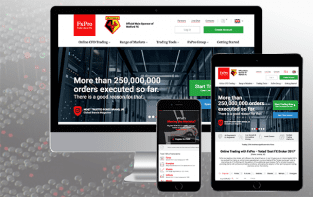 Go to Broker
Risk warning: Capital can be lost. Terms and conditions apply.
Headquarters and regulation
UK (FCA)
Fees and Spread
Depends on account type
Trading platform
MT4, MT5, Broker-owned Software
Trade Offering
68 Currencies
Services & additional benefits
Live
Hotline
E-mail
Economic Calendar
E-Book
Videos
1. Trading Offer
1.) Forex Trading Offers :Trade 68 Currency Pairs and More
A broker comparison– forex comparison is likely to reveal fewer platforms where you will find so many FX and CFD assets all in one place. Here is a list of the tradable markets that you will find on the FxPro platform.
Tradable assets: The FX and Contracts for Difference (CFD) markets include currencies, shares, index futures, spot indices, energy assets and metals.
FX offer: FxPro forex broker offers trading of currencies on a spot basis on 68 currency pairs. FxProalso offers a diversified mix of exotic currency pairs such as USD/CNH and USD/MXN. A forex comparison will indicate that FxPro's collection of exotic currency pairs is one of the largest in the market.
Other Assets: Is FxPro a good broker to use when thinking of leveraged CFDs on cryptocurrencies? Absolutely, as FxPro offers the leveraged trading of Bitcoin, Litecoin and Ethereum, paired with the US Dollar.
Tradable:
EUR/USD
USD/JPY
GBP/USD
USD/CHF
AUD/USD
NZD/USD
USD/CAD
FxPro also offers spot trading in energy assets (WTI crude, Brent crude, natural gas) and metals (gold, silver) are another asset class offered on FxPro.
Leverage for FX and CFDs on energy and spot metal trading is between 1:5and 1:10. For futures, leverage starts at 1:2 and peaks at 1:10.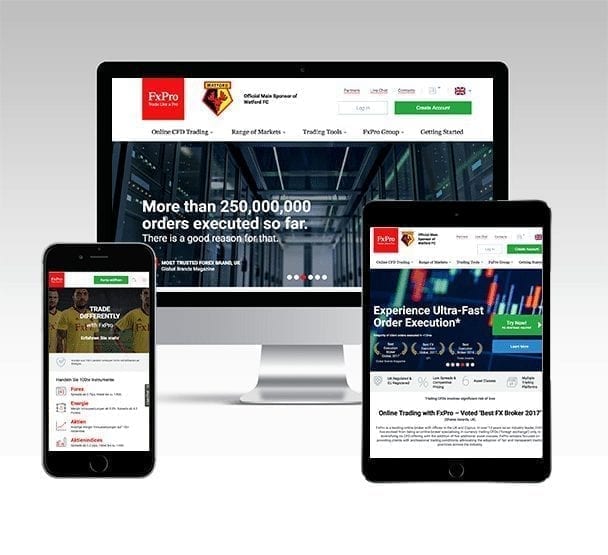 You can trade hundreds of assets on FxPro.
FxPro offers leveraged trading on cryptos.
Trading on FxPro is leveraged, with leverage ranging from 1:2 to 1:30, depending on the asset traded.
Go to Broker
Risk warning: Capital can be lost. Terms and conditions apply.
2. Costs
2.) Forex Trading Costs: Spreads as Low as 0.6 Pips
An FxPro Forex Trading – Review 2018 of trading costs indicates that charges on core trading activity (spreads and commissions) and deposit/withdrawal transactions constitute the costs of trading on FxPro.
FX Spreads: The lowest spreads are seen on the EUR/USD: 0.6 pips. The spreads on FxPro's major currency pairs range from 0.9 pips for the GBP/USD to 1.9 pips for the GBP/JPY. On the cTrader, spreads on the top 4 majors are as low as 0 (although commissions are paid on this ECN platform). This is a pretty dramatic drop over the years. Spreads were once as high as 9 pips on GBP/JPY.
Spreads on CFDs: Spreads on index futures are much higher than for FX pairs. Index spreads start from 0.5 pips (S&P500) to as high as 15.0 pips (Nikkei 225). Spot index spreads start from 0.92 (S&P500) to as high as 30 pips (China A50 index). Spreads for shares CFDs start from 0.007 pips to a maximum of 1.1 pips.
Commission on ECN trading is 45 cents for every $10,000 in opened trades.
By comparison, the spreads on FxPro forex fall within the range of the lowest in the industry.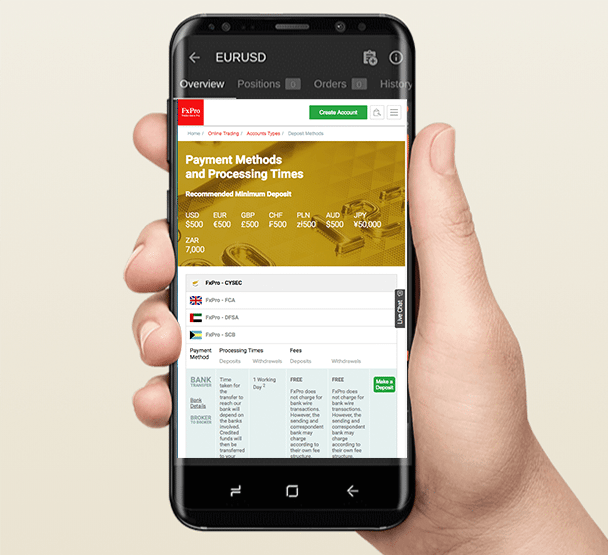 Trading costs on FxPro are lower than most other retail MT4 brokers.
FxPro also offers an ECN platform (cTrader). Trading under ECN conditions comes with commission costs.
FxPro plans to expand the shares CFD asset listing in 2018.
Go to Broker
Risk warning: Capital can be lost. Terms and conditions apply.
3. Account
3.) Accounts: One Account Type for Everyone
FxPro is not really one of the best forex brokers in terms of offering multiple account types, but at least there are two distinct live account types. There arethe Regular accounts and the Premium Account types. If you can start trading on the FxPro forex broker platform with $50,000, you automatically qualify for the FxPro VIP, which is the premium account on FxPro. Other traders get the regular account type.
Everyone is allocated a demo account on FxPro. A industry wide broker comparison shows that most forex brokers provide virtual accounts of $10,000 for their traders, and this is what FxPro provides by default, even though the trader can choose as low as $1000 and as high as $100,000 when opening a new demo account.
Benefits of the FxPro VIP account include:
A dedicated account manager who will be available to handle all support and guidance required to operate the account.
Free access to the FxPro Virtual Private Server (VPS)
Daily market analysis.
Access to exclusive market events.
The demo account on FxPro is available for free. It is unlimited and non-obligatory.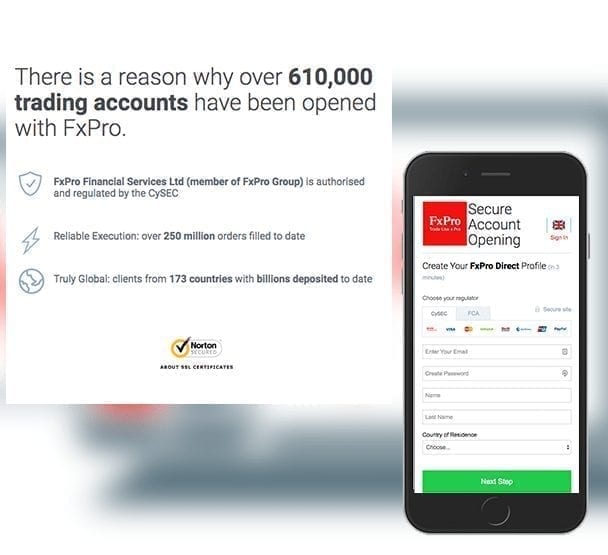 Free demo accounts are provided, with virtual capital from $1000 to $100,000.
Accounts can be opened with as low as $200, but FxPro VIP accounts must be opened with a minimum of $50,000.
Market analysis and updates from Trading Central are provided for FxPro VIP account holders.
Go to Broker
Risk warning: Capital can be lost. Terms and conditions apply.
4. Platform
4.) Forex Trading Platforms & Mobile Trading:There's a Trading Platform for Every Situation
A FxPro Forex Trading – Review 2018 shows a vast array of trading platforms, in various formats:
FxPro features two desktop trading applications: the cTrader and the MT4/MT5.
FxPro has a browser-based platform; the WebTrader. There is a regular version as well as the cTrader version.
Mobile trading applications are also provided for the MT4/MT5 platforms, and these can be used on Android and iOS devices.
FxPro Markets is a comprehensive web and mobile platform that is only available to clients of FxPro Financial Services Ltd (EU market).
You can access the browser-based platforms on FxPro with login details created during account opening. This is very convenient as no downloads are required. A FxPro Forex Trading – Review 2018 mobile app download process indicates that a link is provided on the FxPro website for traders to choose a link to conduct the download. This ensures that only the authenticapps are downloaded.
Usage of the trading software on FxProis free. It is possible to use FxPro's forex VPS as well as expert advisors built with MQL or cAlgo on the MT4/MT5 and cTrader respectively.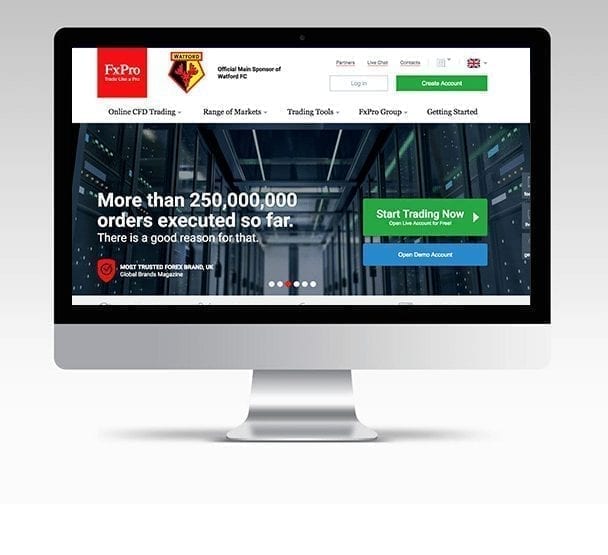 FxPro's vast array of platforms ensures that there is a platform for everyone.
FxPro has very user-friendly mobile apps for trading on the move.
Use your experts and indicators on the cTrader or MT4/MT5.
Go to Broker
Risk warning: Capital can be lost. Terms and conditions apply.
5. Usability
5.) Usability of the website: A Mixed Grill
The FxPro website is a mixed grill in terms of user-friendliness. It is not always easy to locate suitable functions at a glance. Some search has to be done to locate key functions of the website. For instance, locating the download link for the MT4/MT5 requires a lot of navigation and scrolling around before it can be located. This is not going to be a pleasant experience for newbies.
On the other hand however, FxPro has introduced a a cold wallet system. This is an entirely different webpage, which features an accounting system for traders. It is now possible for profits to be withdrawn from the trading platform, straight to the offline wallet. Any profits made can immediately be taken off the platform and into the cold wallet, leaving the main capital on the platform for continued use in setting up trades.
Other key information such as the privacy policy, licensing information, legal terms of use, Help Centre, the FxPro forex trading blog, internal search engine and feedback/live chat channels can easily be reached at the bottom of the home page. This is where FxPro has performed excellently in terms of website usability.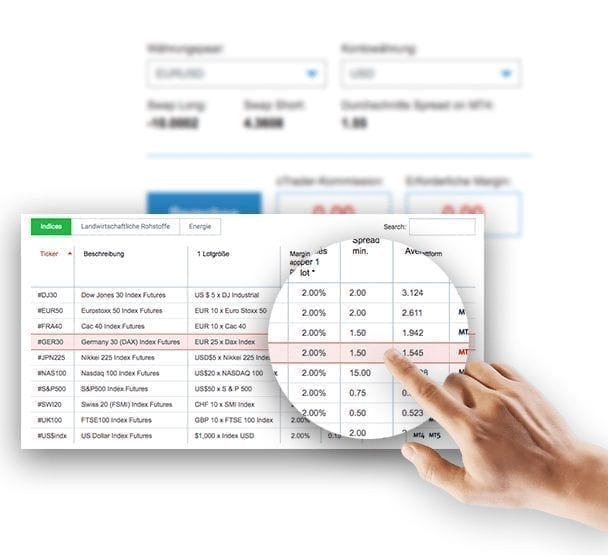 Site is generally well designed, but contains too many graphics that may affect page load times.
Difficult to locate key functions such as viewing contract specifications or getting platform download links.
Other key information such as licensing information and legal documentation are easily accessible.
Go to Broker
Risk warning: Capital can be lost. Terms and conditions apply.
6. Support
6.) Customer Support: Quick and Responsive Support in Your Language
Is FxPro a good broker when it comes to customer support? Out of a possible 100% score, FxPro's customer support could be assigned a score of 92%. Not only are there several channels but the level of support provided and the responsiveness of the support team are top notch.
The customer support options on FxPro UK are as follows:
A multilingual live chat facility which is available 24/7. This can be activated by clicking the "Live Chat" button at the bottom of each page of the website.
Email: Several email addresses are provided as part of the decentralized email support on FxPro. For customer support, [email protected] is provided. There are also emails for sales ([email protected]), accounting ([email protected]) and affiliates ([email protected]).
Several phone numbers are provided: +44 (0) 203 151 5550 (support) and +44 (0) 20 3023 1768 (sales).
Social media channels contact options are: Twitter.com/FxProGlobal, Facebook.com/FxProGlobal and for Telegram, Telegram.me/fxpro.
Fax: +44 (0) 207 600 7063
Other regional offices where FxPro operates have their individual contact details so that the regional market they serve can reach them in the local languages.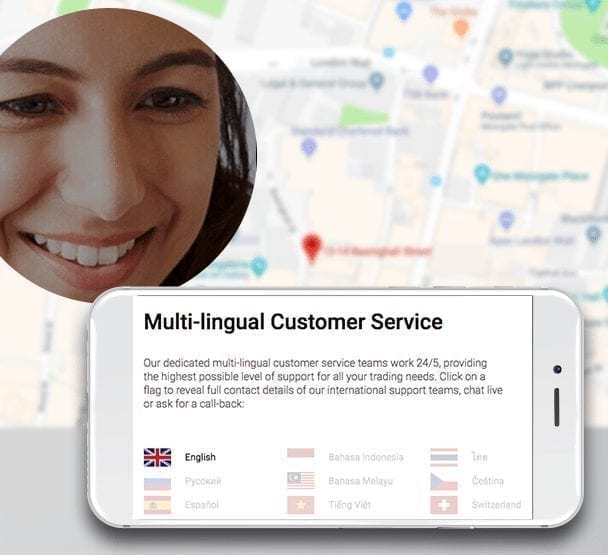 FxPro customer support is multilingual and decentralized.
FxPro has social media channels on Twitter, Facebook and Telegram, which can serve as contact options.
For general inquiries, especially if you are a prospective client, [email protected] is a good place to start.
Go to Broker
Risk warning: Capital can be lost. Terms and conditions apply.
7. Payment
7.) Methods of Payment: Choose the Options That Work for You
Each region served by FxPro has its own conditions that guide deposits and withdrawals by FxPro clients.
Here are the guidelines on payment methods allowed, processing times and fees payable.
FxPro UK and FxPro MENA
FxPro UK or FxPro MENA divisions accept bank wires and VISA cards only. Withdrawal processing times for both methods is one day, while that for deposits is 1-2 days for bank wires and 10 minutes for the VISA card. No fees are charged. However, bank wires will attract bank charges. A charge of 2-2.6% is incurred if withdrawals are made without trading.
FxPro (EU)
FxPro Financial Services offers a wider array of payment methods. Payment methods featured are bank wires, PayPal, Skrill, Neteller, China UnionPay and VISA cards. Deposits and withdrawals are free on all methods, except for a 2.7% deposit charge on PayPal, and 0.35% for EU-issued cards. All deposit methods are processed in 10 minutes (except bank wires which take 1-2 days). Withdrawals on all methods are processed in 1 business day.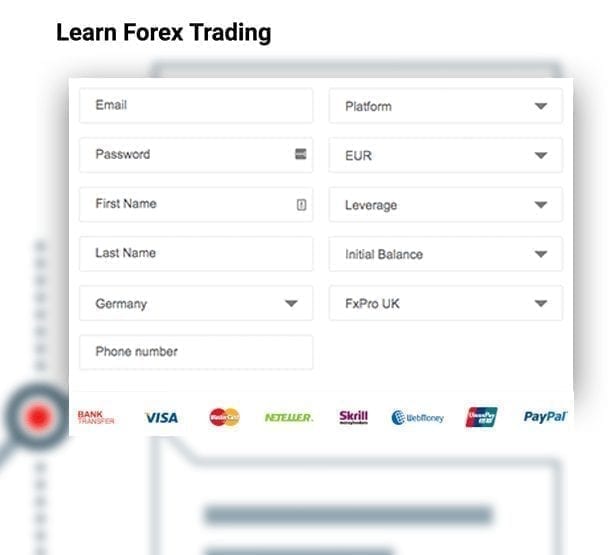 The offline wallet is a market innovation, allowing traders to hold funds and profits off-platform until when needed or withdrawn.
There are generally no fees on withdrawals, but deposits on PayPal and VISA cards on FxPro EU attract charges.
All payments must emanate from payment method bearing account holder's name.
Go to Broker
Risk warning: Capital can be lost. Terms and conditions apply.
8. Offers
8.) Additional Offers:Trade With Reduced Latency and Sound Market Analysis
An FxPro review of additional offers throws up several offers for traders on the network.
Top on the list is the FxPro VPS, which allows uninterrupted trading by an EA hosted on the server with reduced latency. This feature is free for FxPro VIP account holders and can host forex robots designed with MQL and cAlgo.
Another offer from FxPro is the news feed from Trading Central, which occasionally features trade calls made by the team at that resource. This source of accurate market assessments is open to clients of the UK and Cyprus divisions of FxPro. It is a great way to follow other trading setups.
The FxPro blog is the trading educational resource for new and existing traders on FxPro. It also features fundamental analyses and market insights by industry experts so you can always stay on top of market movements.
Additional trading tools on FxPro include the Economic Calendar, various Forex and CFD calculators and the FxPro dashboard.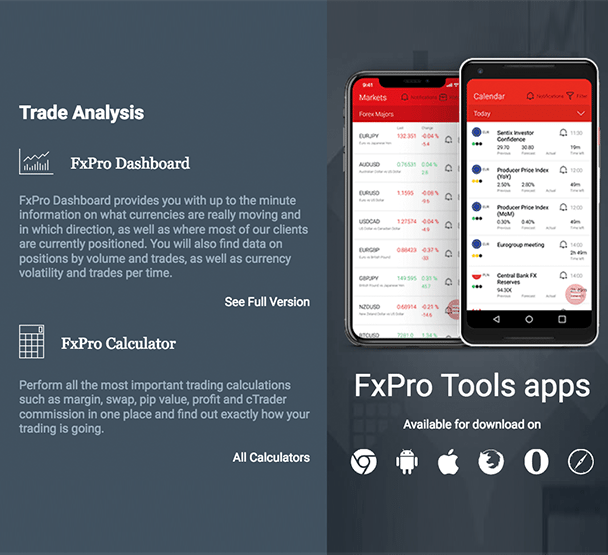 There are no bonuses on FxPro as these are banned by its regulating agencies.
The FxPro blog is a great source for FX and CFD education and training of newbies.
Live trading analysis is fed into the MT4/MT5 news feed from Trading Central.
Go to Broker
Risk warning: Capital can be lost. Terms and conditions apply.
9. Regulation
9.) Regulation & Deposit Protection: Safety for Traders' Funds
Is FxPro legit? To get the answer, we need to look at the regulatory coverage of FxPro.
In the EU, FxPro Financial Services Ltd is authorized and licensed as a Cyprus Investment Firm (CIF) by the Cyprus Securities and Investment Commission (CySEC) with license number 078/07.In the UK, FxPro UK Ltd is authorized and licensed by the Financial Conduct Authority (FCA), with Financial Reference Number 509956.FxPro Global Markets MENA Ltd is licensed by the Dubai Financial Services Authority, with license number F003333.FxPro Global Markets Ltd is licensed by the SCB with license number SIA-F184.
Furthermore, FxPro complies with Know Your Customer (KYC) and the latest cyber-security systems to protect user data and weed out non-compliant trading entities.
FxPro is licensed by five regulatory agencies.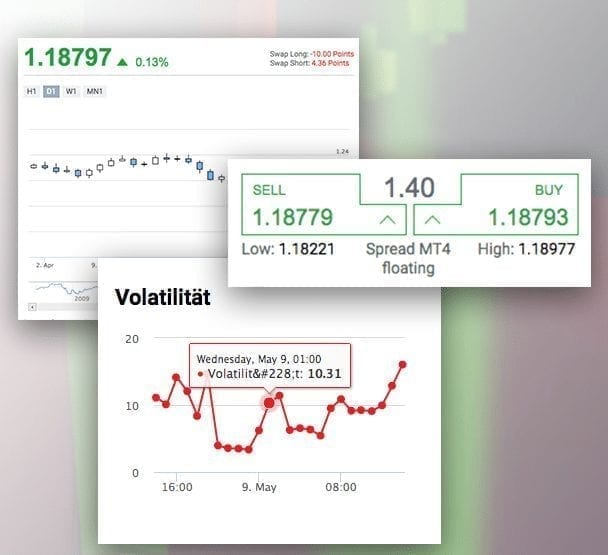 TradersFxPro UK can access compensation of up to 50,000 GBP as part of the Financial Services Compensation Scheme (FSCS), in case broker-induced of loss of capital.
All funds belonging to traders are segregated with top banks, thus protecting them in case of broker bankruptcy.
Strict licensing and monitoring have ensured that FxPro has operated devoid of scandal for 10 years running, making FxPro one of the legit retail brokers.
Go to Broker
Risk warning: Capital can be lost. Terms and conditions apply.
10. Awards
10.) Awards: Trade with an Award-Winning Company
The FxPro forex broker awards chest is large, brimming with more than 50 awards from different credible awarding organizations from all over the world. FxPro's awards include: Best FX Provider 2016, 2017 and 2018 (Online Personal Wealth Awards).Best Forex Provider 2014, 2015, 2016 and 2017 (Investors Chronicle & Financial Times Investment and Wealth Management Awards).Best FX Service Provider 2014 2105, 2016 and 2018 (City of London Wealth Management Awards)Forex Provider of the Year 2015 (UK Forex Awards)Best FX Provider 2014 (Online Personal Wealth Awards)Best Global Trading Platform 2010 (World Finance Magazine)Best Trading Platform 2015 (Forex Awards)Best FX Execution, Global, 2014, 2016 and 2017 (CFI.co Awards)Excellence in FX Services 2013 (IAIR Award)Best Use of Social Media (Shares Award)
FxPro has continued to win awards across a whole variety of FX and CFD market categories spanning customer support, trader tools, platforms and overall service provision.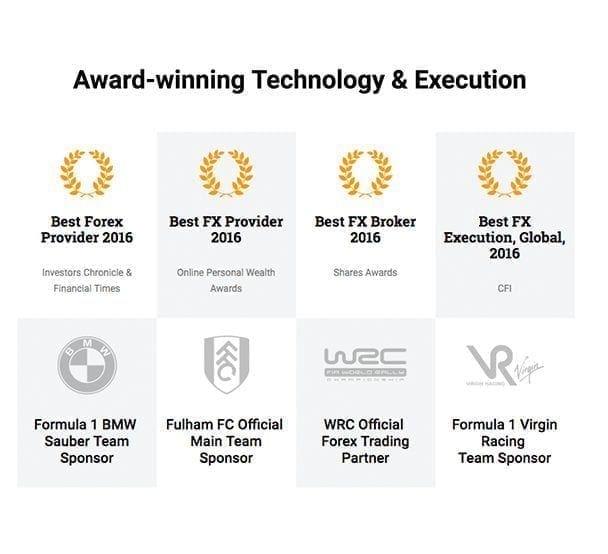 FxPro has won more than 50 awards in the past 10 years of its operations.
Some awards have been won repeatedly year after year, proving that FxPro is not a flash-in-the-pan.
FxPro's ability to pick up awards from different categories shows an all-round effort at achieving excellence in all aspects of its business.
Go to Broker
Risk warning: Capital can be lost. Terms and conditions apply.
Conclusion: FxPro is an All-Round Professional FX and CFD Provider
FxPro's 10 years in the FX and CFD brokerage business has seen it transform to one of the best retail brokerages. FxPro forex trading provides no less than 68 currency pairs, and hundreds of other assets from 6 different asset classes all in one platform.
FxPro forex trading is leveraged, and the trader can choose whatever leverage is found within the allocated range for a particular market. A forex broker comparison shows that unlike what is found on most retail brokerage platforms, incidents of requotes and slippage are rare. FxPro forex broker was one of the first retail brokerages to commence five-decimal pricing, resulting in lower spreads for traders.
FxPro offers 68 major, minor and exotic currency pairs on FxPro, with a wide arrayof exotic currency pairs on FxPro. Choose which division of FxPro to trade with according to your geographical location.
Apart from a few areas where improvements need to be made (such as making the website more navigable), FxPro has performed excellently and deserves commendation on the quality of its retail trade offering.
Traders can either open a dealing desk account that allows them use the MT4/MT5 platforms, or they can run an ECN trading system using the cTrader platforms (web and desktop).
Low spreads and commissions on trades
Offline Wallets where profits can be withdrawn to and separated from trading funds
FxPro is licensed and regulated
Multiple platforms with very few slippages on trades
Very robust and responsive customer support and social media channels.
Test result
Broker

Go to Broker
Risk warning: Capital can be lost. Terms and conditions apply.