Cyprus based FXTM has been around since 2011, and has already made a name for itself in the Forex trading industry. While it offers a wide variety of instruments, FXTM is primarily a Forex broker. It offers a variety of account types to suit any budget and account size.
FXTM forex trading mostly takes place through the MetaTrader platforms. It also offers a wide range of educational material and tools to help traders make decisions.
This comprehensive FXTM Forex Trading – Review 2018 covers everything you'll need to know before opening an account.
Highlights
Operating since 2011 and based in Cyprus.
A lot of instruments & over 50 FX pairs
Account types to suit any budget.
Educational material & analysis tools.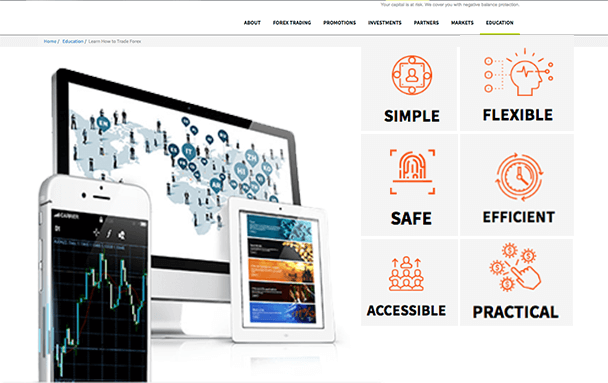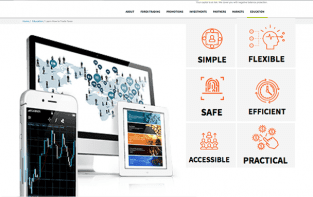 Go to Broker
Risk warning: Capital can be lost. Terms and conditions apply.
Headquarters and regulation
Cyprus (CySEC)
Fees and Spread
Depends on account type
Trade Offering
51 Currencies
Services & additional benefits
Live
Hotline
E-mail
Economic Calendar
E-Book
Videos
Courses/Seminars
1. Trading Offer
1.) Forex Trading Offer: A Wide Variety of Instruments
FXTM offers its clients trading on a wide variety of asset classes and instruments. Its platforms offer spot trading on currencies and metals, and CFDs on commodity futures, shares, ETFs, indices and cryptocurrencies.
Spot FXTM forex trading is offered on minor, major and exotic pairs. In total, FXTM offers over 50 currency pairs which trade 24 hours a day.
Clients can trade both Silver and Gold spot prices on any of FXTM's trading platforms, with a variety of lot sizes.
CFDs (contracts for difference) offer one of the easiest and cheapest ways for traders to gain exposure to price moves without actually trading the underlying asset. They also give traders the opportunity to use leverage and to short sell.
Tradable:
EUR/USD
USD/JPY
GBP/USD
USD/CHF
AUD/USD
NZD/USD
USD/CAD
FXTM's clients can trade commodity futures on UK Brent, US Crude and US Natural Gas using CFDs.
CFDs are offered on, but not limited to the GDAX, AUS200, Nasdaq100, UK100 and the S&P500. FXTM alos offers CFD trading in 180 major shares.
In addition, FXTM's clients are able to trade CFDs on the following cryptocurrencies: Bitcoin, Ethereum and Litecoin.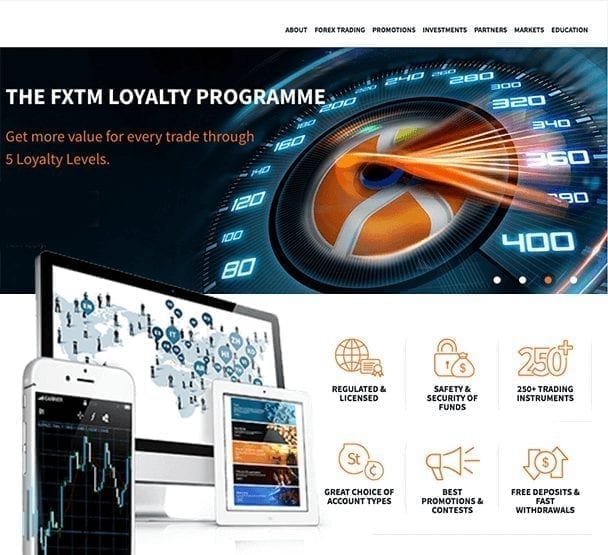 Wide variety of instruments with Spot trading on major, minor and exotic currencies pairs and on metals.
CFD trading on commodity futures, shares, ETFs, indices and cryptocurrencies.
CFDs on cryptocurrencies onBitcoin, Ethereum and Litecoin.
Go to Broker
Risk warning: Capital can be lost. Terms and conditions apply.
2. Costs
2.) Forex Trading Costs: FXTM's Accounts Can Accommodate All Budgets
When making a broker comparison – forex comparison, trading costs are often one of the first factors to consider. FXTMs trading costs vary from account to account. Forex brokers can charge their clients in a number of ways. For the most part this includes adding a spread to the price a client pays, and/or charging commission.
FXTM's Standard accounts are all commission free, and charge spreads ranging from 0.1 for the Shares account to 1.5 pips for the Cent account.
The ECN Forex accounts, which offer execution in the market incur spreads ranging from zero for the Pro account to 1.5 for the ECN Zero Account. The standard ECN account incurs commissions of $2 per lot with a minimum based on the size of the account.
Cryptocurrencies may incur higher commissions depending on the account being used.
FXTM also offers a copytrading service, which allows clients to have their accounts managed by of 600 other traders. In this case clients pay the strategy manager a 30% commission on any profits generated when they withdraw from the account.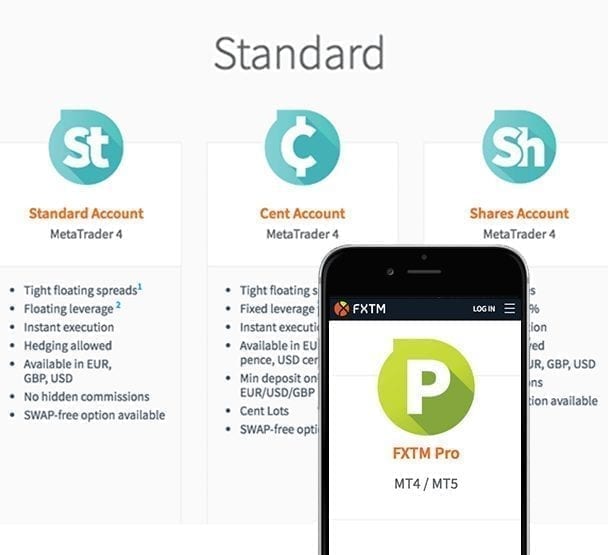 All accounts are commission free apart from the basic ECN account.
FXTM's spreads range from zero to 1.5 pips although cryptocurrencies may attract higher commissions.
Copy trading accounts incur a 30 percent commission on profits that are generated.
Go to Broker
Risk warning: Capital can be lost. Terms and conditions apply.
3. Account
3.) Accounts: From Novice to Pro, There's an Account for You
FXTM offers clients a choice of six types of accounts. The Standard Accounts can only be used with the Metrader4 platform, while ECN accounts are also available on the Metatrader5 platform.
The Standard Account for MT4 offers floating leverage of up to 30:1 and no hidden commissions.Spreads start at 1.3 and the minimum deposit is 100 EUR/USD/GBP.
The Standard Cent Account offers clients tight floating spreads, fixed leverage of 1:30, and cent lots. Spreads start at 1.5 and the minimum deposit for this account type is one 10 EUR/USD/GBP.
The Standard Shares Account allows access to 180 US shares with fixed margins set at 3 to 15 %.Spreads start at 0.1 and the minimum deposit is 100 EUR/USD/GBP.
The basic ECN account has a $2 commission per lot and spreads start from 0.1. The minimum deposit is 500 EUR/USD/GBP.
The ECN Zero account has no commission, but spreads start at 1.5. The minimum deposit is 200 EUR/USD/GBP.
The FXTM Pro account has no commission, and spreads start at zero. The minimum deposit is 25,000 EUR/USD/GBP.
Traders who are just starting out may consider the Cent or Shares accounts. Advanced traders will benefit from the low-cost structure of the FXTM Pro account.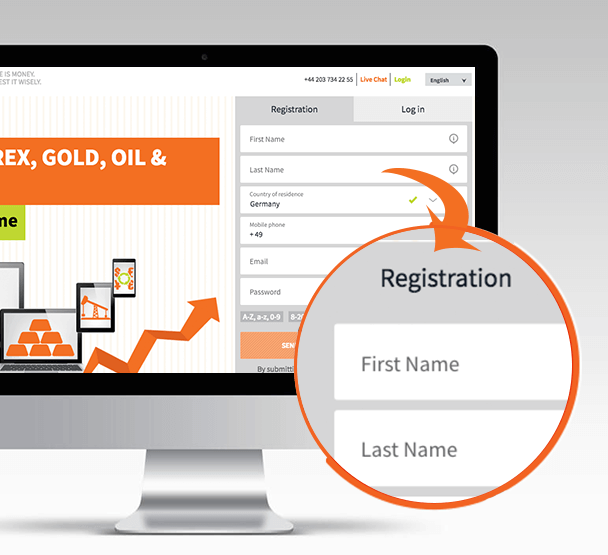 Total of 6 account types with leverage up to 1:30
Beginners should consider the Cent or Shares accounts.
Advanced traders should consider the FXTM Pro account.
Go to Broker
Risk warning: Capital can be lost. Terms and conditions apply.
4. Platform
4.) Forex Trading Platforms & Mobile Trading: Trade on desktop or on the go
Most of the trades executed through FXTM are executed on the Metatrader4 and Metatrader5 platforms. These platforms can run on Windows, Mac, iOS and Android, which means clients can trade on desktop PCs, tablets and mobile phones. Both platforms also have browser based version, MT4 Webtrader and MT5 Webtrader.
In addition, FXTM offers clients a mobile app of its own, the Forextime App. This app is available for Apple and Android mobile devices.
Because FXTM operates entirely on the MetaTrader platforms, a FXTM Forex Trading – Review 2018 would not be complete without a brief overview of these platforms. The MetaTrader platforms are the gold standard when it comes to online trading and both have most of the functionality that any forex trader will need.
This includes advanced order entry methods, multiple timeframe support, multi-currency support, and advanced charting features including over 50 built in technical indicators.They also both offer automated trading and the ability to use and create expert advisors.
MetaTrader5 includes all the functionality of MetaTrader4, along with several enhancements.
FXTM's education section offers a large range of guides, videos and example strategies. Clients can also download three free e-Books covering trading strategies.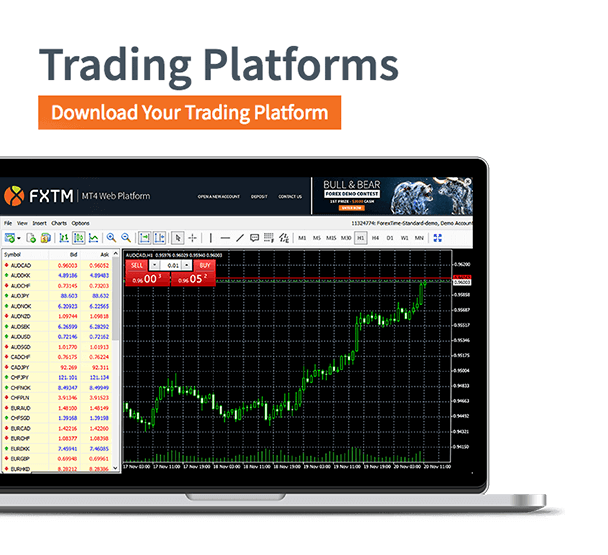 FXTM offers trading on MetaTrader4 and MetaTrader5 platforms and the Forextime mobile App.
Software can be downloaded to any Windows or Mac PCs and mobile devices using iOS and Android.
The MetaTrader platforms offer all the functionality a Forex trader will need.
Go to Broker
Risk warning: Capital can be lost. Terms and conditions apply.
5. Usability
5.) Usability of the Website: A Clean, Easy to Navigate Site
When choosing a new broker, the first impression a potential trader will have will come from the website itself. And so, the website itself is the next part of this FXTM Forex Trading – Review 2018. If a broker has a very cluttered website, it may mean the broker is unprofessional or it may mean they are trying to hide something.
FXTM has a very clean website which for the most part is easy to navigate. The company has obviously tried to create a page to answer each question a potential client would have. That means there are a lot of pages on the site, although the menu is quite easy to navigate.
An entire section of the menu is devoted to regulatory issues, which address the question: is FXTM forex trading legit? This section includes a section on regulatory and compliance issues and a risk disclosure. The account opening agreements are also located here.
When it comes to fees payable for each account type, there is some ambiguity and users have to read all the relevant pages to really understand the fee structure. This is the only downside to the site.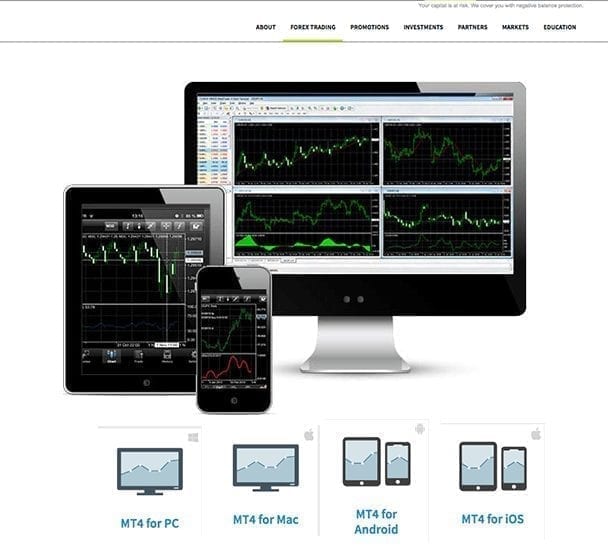 Clean, organised site and easy to navigate.
Easy to find the section covering regulatory issues.
Some ambiguity with regard to fees.
Go to Broker
Risk warning: Capital can be lost. Terms and conditions apply.
6. Support
6.) Customer Support: Live Chat Support Available 24/5
Is FXTM a good broker? One of the most important criteria when choosing a broker is customer support. So, a FXTM Forex Trading – Review 2018 needs to thoroughly asses the level of support they offer.
There is a 'Get Help' tab right at the top of the website with links to FAQs, a chart support option, and email tab and a search box. There's alos a chat icon at the bottom right of the site.
Live support is offered via 6 popular instant messaging platforms.
However, its not that easy to find out the scope of the support. We found a reference to multilingual support, but no reference to the languages support is available in.
It wasn't that easy to find out the hours support is offered, but eventually we did. Customer support is available 24 hours a day from Monday to Friday, and then for limited periods on Saturday and Sunday. Support can be contacted via phone, email and live chat applications.
The FAQ section does address a lot of questions concerning opening accounts, making deposits and withdrawals, and using the platform.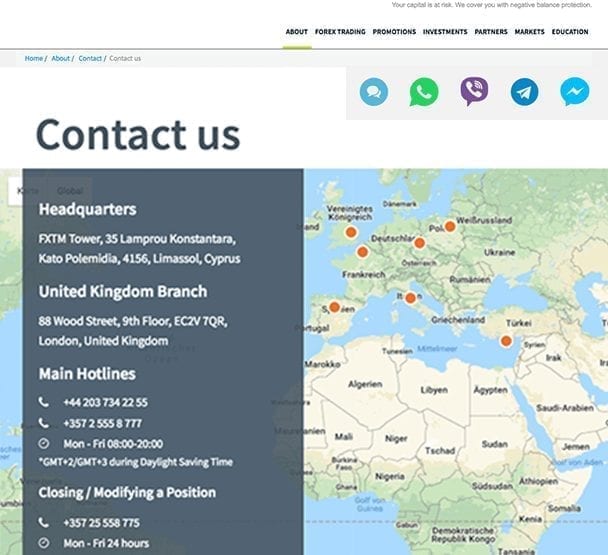 Live chat function is easy to locate and Information concerning support times and the phone number are more difficult to find.
FAQ section is extensive.
Multilingual support is offered, but the languages aren't specified.
Go to Broker
Risk warning: Capital can be lost. Terms and conditions apply.
7. Payment
7.) Methods of Payment: Most of the Well-known Options Are Available
Before a trader can begin trading, they will need to deposit money into their trading account. This section of the FXTM review covers the various options for making deposits and withdrawals with different payment methods.
The FXTM forex broker site lists a very extensive number of methods to deposit money into your trading account. Besides credit and debit cards, clients can deposit via numerous payment platforms and e-wallets too.  Wire transfers can alos be done via Settle Go. While PayPal is not listed, Neteller and Skrill are available options.
There is also an option to deposit funds using Bitcoin, either directly, or via Skrill.
Most of the same options are available for withdrawals. While deposits attract no commission, withdrawals on some payment platforms attract fees of up to 2%. Most deposit channels are instant, while withdrawals generally take 24 hours.
Clients should make sure they are aware of the fees and waiting times before choosing a transfer method, especially for withdrawals.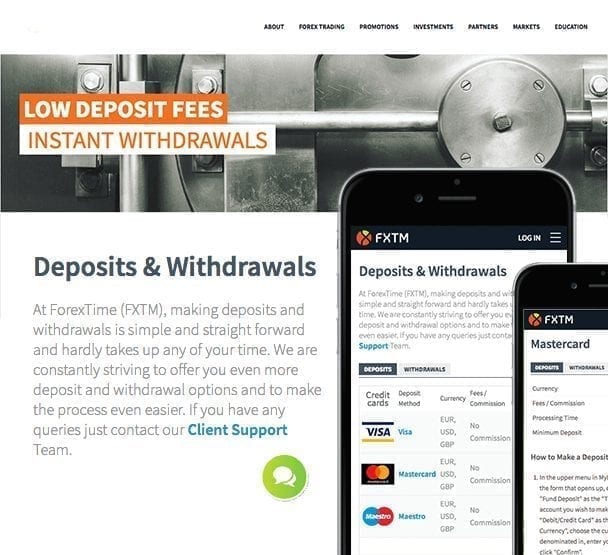 Debit and Credit Card, e-wallets, local platforms
Deposits are instant and commissions free and withdrawals cost up to 2 percent.
Check all the costs before choosing a method to transfer.
Go to Broker
Risk warning: Capital can be lost. Terms and conditions apply.
8. Offers
8.) Additional Offers: Demo Accounts and and Analysis Available
Forex brokers usually have promotions to attract new customers and FXTM is no exception.This section of the FXTM forex review covers some of the promotions and educational support that FXTM offers prospective clients.
Firstly, all accounts offer a demo option. This allows clients to test the software and get a feel for the execution speeds each account type and market have. It's essential for novice traders to start with a demo account when learning to trade.
Markets can move quickly, and one can lose money fast with leveraged instruments. A demo account will allow you to conduct a complete FXTM trading platform review for yourself before making a decision.
FXTM regularly offers various promotions. At the time of writing this review of FXTM, they were offering a 30 percent cash back bonus on new deposits up to a total of $300. They are also offering new account holders a $30 bonus when funding a new account. Rebates are alos offered depending on trade size.
While no educational courses seem to be offered, there are extensive videos and 3 free e-books available.
A free pivot point strategy is offered to help traders analyse the market. In addition, the site offers daily and weekly market analysis and an economic calendar.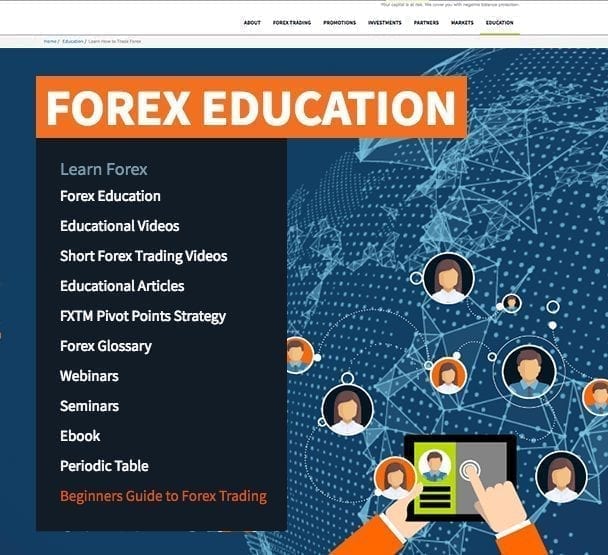 Demo versions of every account available.
Ongoing promotional offers available and Downloadable eBooks and videos available to clients.
Site includes daily and weekly market analysis and an economic calendar.
Go to Broker
Risk warning: Capital can be lost. Terms and conditions apply.
9. Regulation
9.) Regulation & Deposit Protection: Regulated by CySec, FCA and IFSC
Is FXTM forex trading legit? The first thing to check when looking for a forex broker is whether it is properly regulated. If a broker is regulated, you know they have to comply with certain regulations designed to protect investors.
FXTM is the brand under which various entities operate. ForexTime Limited is regulated by the Cyprus Securities and Exchange Commission (CySec) in Cyprus and by the Financial Conduct Authority (FCA) in the UK. Another entity, FT Global Limited is regulated by the the International Financial Services Commission (IFSC) in Belize.
CySEC
Regulatory Authority
The best forex broker is not necessarily the one with the most features or the lowest costs, but the one that keeps your money safe. The website states that client funds are held in segregated accounts at FXTM's banks in Europe.
FXTM also states that it guarantees to keep personal details secure. It uses SSL encryption to protect all communication with clients. No security certificates are immediately visible on the website.
FXTM does not offer services to residents of the US, Japan, Belize, or certain parts of Canada.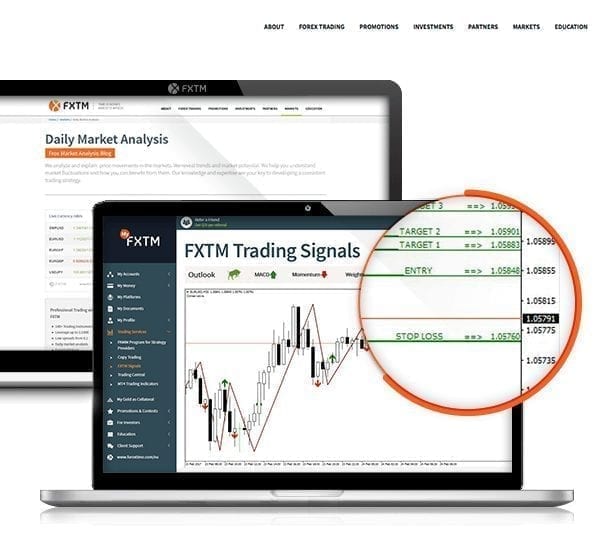 Regulated by Cysec, FCA, and IFSC.
Client funds held in segregated accounts at European banks and Client data protected by SSL encryption.
Residents of some countries are not able to open accounts with FXTM.
Go to Broker
Risk warning: Capital can be lost. Terms and conditions apply.
10. Awards
10.) Awards: FXTM Has Won Numerous Industry Awards Over the Years
Various industry awards are given out every year by industry bodies. These awards can be useful when traders are making a forex comparison.
FXTM has only been operating since 2011 and has won numerous awards, notably in 2015 (7 awards) and 2017 (5 awards).
The most recent awards in 2017 were:
Global Investor Mena Awards – Forex broker of the year
World Finance – Best FX broker Asia
World Finance – Best Customer Service Global
The European Magazine Awards – Forex broker firm of the year
BOICT Awards – Best Online Forex Trading Company, Nigeria
Most of the awards that FXTM has won have been overall awards rather than for specific attributes. However, it has picked up awards over the years for service, analysis, and fastest execution. It has won most of these awards in Europe, Asia and Nigeria (where it is a market leader).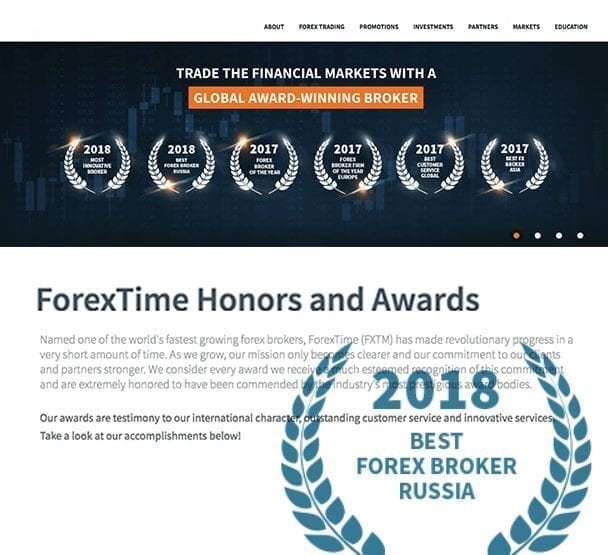 FXTM has won a string of awards since 2011 when they started.
FXTM has won awards for the most part for its overall scores, rather than individual attributes.
It has however won awards for execution speed, customer service and analysis with awards coming mostly from Europe and Asia.
Go to Broker
Risk warning: Capital can be lost. Terms and conditions apply.
Conclusion: FXTM is a Good Choice for Traders Focussed on Forex and Those Wanting to Experiment with Other Markets
FXTM forex offers its clients a very wide variety of currency pairs. For those focussing on Forex trading this broker is a very good choice. Those who trade the main equity indices are also covered, with five of the most popular indices covered.
For those trading commodities and shares, FXTM is somewhat limited, but a good option for experimenting with other markets.
This broker is very focussed on the MetaTrader trading platforms. Those who are prepared to learn there way around these platforms will get the most value out of FXTM.
FXTM has an account type for every budget and account size. The basic accounts allow clients to start with as little as $5, while the Pro account offers a competitive fee structure for those with a large account balance.
FXTM is an award-winning broker, and has been recognised by industry bodies for its overall product, including customer service, execution and analysis.
It also offers a comprehensive range of complimentary investor education materials including guides, eBooks and videos.
Overall FXTM is a broker with a neatly laid out website and all the information and tools to get started, or take one's trading to the next level.
51 Forex pairs to work with
Plenty of educational resources
Focus on MetaTrader platform
Multiple platforms with very few slippages on trades
Very robust and responsive customer support and social media channels.
Test result
Broker

Go to Broker
Risk warning: Capital can be lost. Terms and conditions apply.