Based in the Russian Federation, Libertex is the brokerage service and trading platform for one of the best organisations of the Forex Club Group- Indication Investments Ltd. Clients are offered online broker services for precious metals, indexes, cryptocurrencies, soft and energy commodities, stocks and of course forex.
The offices are located at the Russian Federation, Cyprus, Grenadines, St. Vincent, and Belarus.
Highlights
The headquarter is based in the Russian Federation
Functions from 27 countries
Recognized by 30 national and international awards
Functions for the Forex Group of Indication Investment
15.
of 30 Forex Broker
Libertex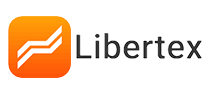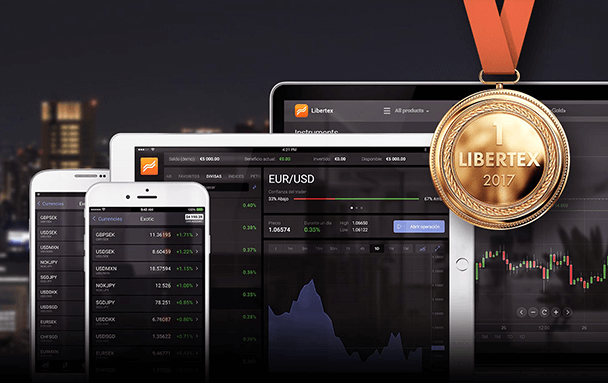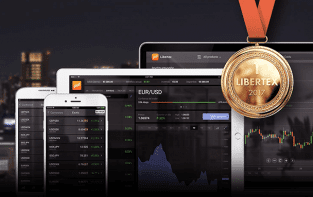 Go to Broker
Risk warning: Capital can be lost. Terms and conditions apply.
Headquarters and regulation
Cyprus (CySEC)
Trading platform
Broker-owned Software
Demo account
Yes, unlimited
Trade Offering
44 Currencies
Services & additional benefits
Live
Hotline
E-mail
Economic Calendar
Videos
Courses/Seminars
1. Trading Offer
1.) Forex Trading Offer: Libertex Currency Pairs, Crypto and More
Libertex has designed 150 different asset classes that are accessed by its customers for trading. The classes comprise of 44 major, minor and exotic currency pairs, cryptocurrencies including BitcoinCash, Bitcoin, and Litecoin, staples such as cocoa, coffee, corn, soybeans and wheat, world stocks including Apple Inc., Google and Rio Tinto and 17 of the world's most actively purchased stock indexes.
There are certain key issues to be kept in mind when a person opens a live Libertex account. Firstly, on every transaction made, the company charges a fixed commission on the fiscal value of the exchange. However, the amount is remunerated during the deal execution made at the mid-market price.
All of the tradable assets carry a comparable fee that differs significantly on the basis of the asset. The lowest amount made out of commission in forex brokerage is from the significant currency pairs, whilst the most expensive commission is accredited for transactions made in USD/RUB.
Tradable:
EUR/USD
USD/JPY
GBP/USD
USD/CHF
AUD/USD
NZD/USD
USD/CAD
Secondly, Libertex Forex brokers, instead of using the conventional set of figures like 200 to 1, use a "multiplier" that varies significantly according to varied tradable assets.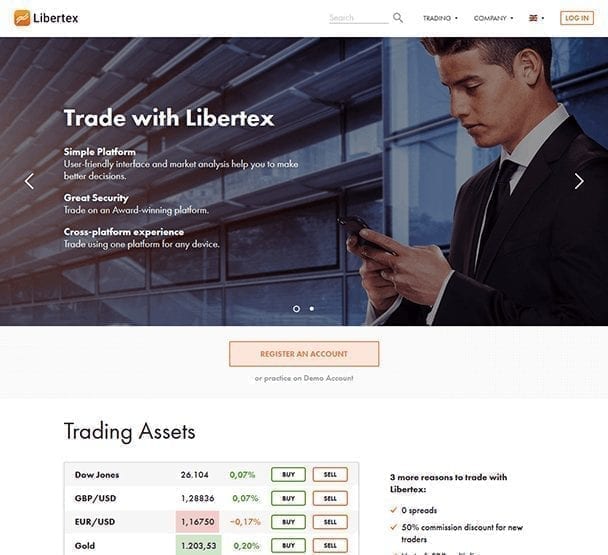 Libertex has 150 different asset classes.
A fixed commission is charged on every monetary exchange.
Libertex uses a "multiplier" instead of regular counts.
Go to Broker
Risk warning: Capital can be lost. Terms and conditions apply.
2. Costs
2.) Forex Trading Costs: Transparency, Spreads, and Commissions
The Libertex Forex broker offers trading costs at Forex Club depending on the selected trading platform. The transactions vary from offering fixed spreads on the Rumus platform to offering shifting spreads on the MT4. Libertex, in its Grenadines and St. Vincent entity, offers an MT4 Instant, completely commissions free, while the MT4 Market has lower spreads along with a commission on every trade.
Instead of the conventional industry standards of showing the regular bids or ask spreads, the FX Club marks a midpoint rate before adding up the commission percentage to its Libertex Forex trading platform.
The commission is perfectly transparent to its customers. However, the bid or the ask spreads made on Libertex have a concealed identity. The Forex broker displays the usual bid or ask-spread on MT4, referring to the average data spread.
The Libertex Forex proposes numerous account tiers such as the Gold, Silver, Diamond, Platinum and Exclusive tiers all of which depend completely on the amount of broker exchange deposited. The higher is the tier amount, greater is the amount of perks the clients receive such as access to the trading desk and the premium research tools to name a few of them.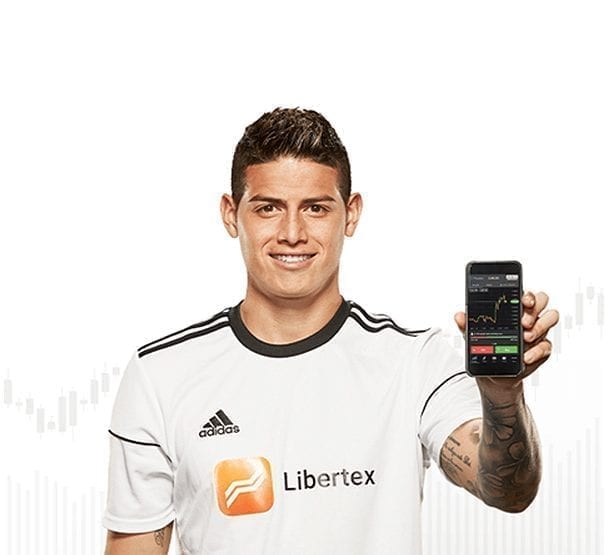 Displays bids according to midpoint rate of the broker exchange.
Transparent commission rates.
Higher commission amounts sum up to better perks.
Go to Broker
Risk warning: Capital can be lost. Terms and conditions apply.
3. Account
3.) Accounts: All About Libertex Real and Demo Trading Accounts
Libertex primarily handles two types of customer trading accounts- the Standard Trading Account type and the Demo Trading Account type.
The two accounts are moreover similar, preloaded with a huge amount of virtual cash that sums up to around $50,000 principally used for making paper trades and is also available free of charge.
What makes the Libertex's Demo account distinct from the Libertex Standard account is its ease of use and learnability, not only on an advanced web-trading platform but also on a mobile interface.
The preloaded $50,000 virtual cash is divided into two lumps, one amounting to $5000 for the development of the mobile platform and the remaining $45,000 amount for the web platform interface.
Considering the Libertex Standard Trading account, the prerequisites include a minimum deposition of $10 from the traders and clients in order to open the standard broker account.
It is, however, strongly suggested to deposit a minimum amount of $100 as the open positions cannot exceed an amount greater than 10 percent of the user's trading balance.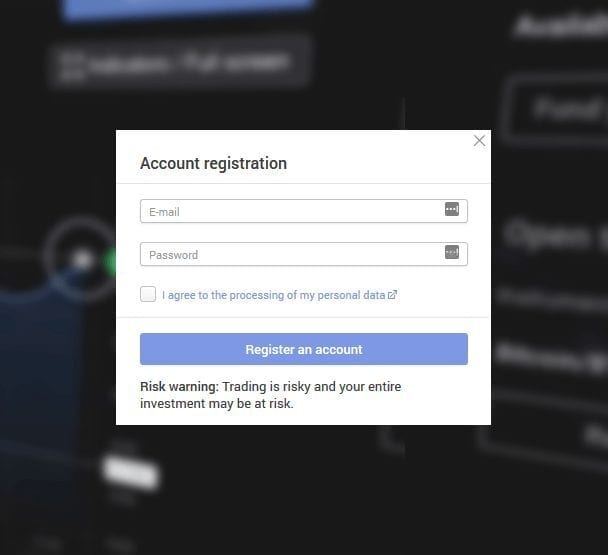 Two types of broker trading accounts
Demo account has both mobile and web user interface.
A Minimum deposition of $10 is required for the Standard account.
Go to Broker
Risk warning: Capital can be lost. Terms and conditions apply.
4. Platform
4.) Forex Trading Platforms & Mobile Trading: Assets, Charts and More
The Libertex Brokerage trading platform is principally web-based for both Android and iOS mobile applications. The platform has a user-friendly interface with the asset list along with their price chart.
Traders select from different asset categories such as 'Popular', 'Top falling' and 'Top Rising' assets apart from the pre-existing six asset classes.
The clients and traders can also assign expiry dates, assets and chart types in their 'favourites' list.
The Libertex trading and brokerage platform has an intuitive and user-friendly interface appealing to both beginners as well as the experienced traders alike.
The trading platform allows leveraged trading, depending on the leverage ratio which is referred to as a multiplier. The Libertex leveraging offers an exceeding notional amount from the client's trade amount.
Also, the leveraging ratio depends on the expiry date of the assets. For a higher maximum leverage ratio, the client must opt for a shorter expiry duration and the vice versa.
When it comes to Libertex, leveraging amplifies both, the risk as well as the rewards as it does not offer its client any negative balance protection, which means that a trader never loses more than the amount deposited.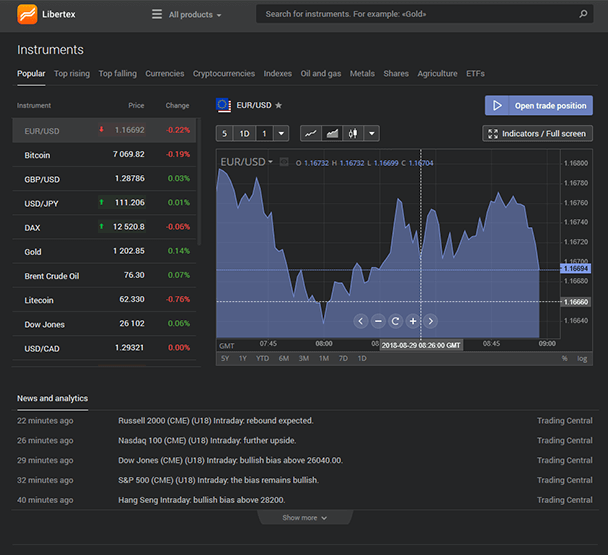 User-friendly interface for both Android and iOS users.
Allows leveraged trading, profitable for traders.
Shorter expiry time grants higher leveraging.
Go to Broker
Risk warning: Capital can be lost. Terms and conditions apply.
5. Usability
5.) Usability of the Website: Ease of Browsing on The Libertex Website
The Libertex Forex Trading – Review 2018 revealed important facts about Broker Comparison – Libertex Comparison. A great deal of judgement was made on the basis of the Company website.
The Libertex Forex trading website has a very basic and concentrated trading platform and user interface, prominently exhibited on the main URL of the webpage.
The other following subpages can be accessed from the website's footer that comprises of Privacy Policy, Terms, and Conditions, About Us, FAQs etc.
The simple web layout makes it very comfortable for the users to surf through the Libertex Forex trading platform. However, this user interface is not that useful for beginners and amateurs who wish learn more about broker trading before signing up for any broker account.
Site navigation is comfortable and easy and covers up the site weaknesses like inadequate information about the company's policies and the company itself. The website mentions a shorter terms and conditions list when compared to other competing forex broker websites.
Most reviews reveal that the Libertex Website has a well-designed navigation interface. The Navigation tabs are well organised and properly labelled for user comfort. Also, the drop-down menus avoid cluttering of the website.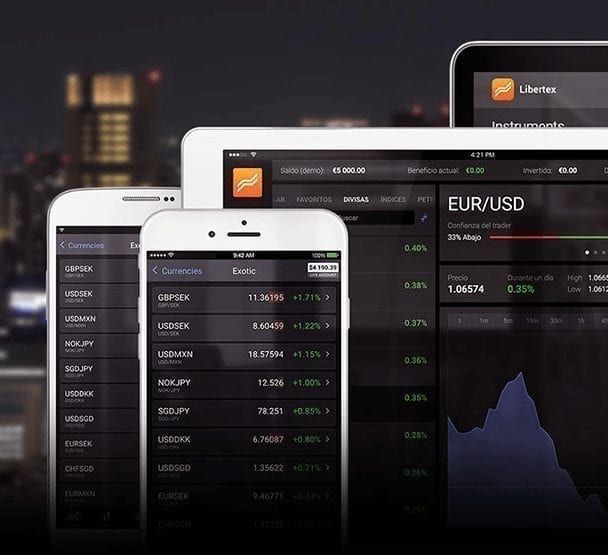 Basic user interface.
Subpages can be accessed from the website footer.
Easy drop-down menus and navigation.
Go to Broker
Risk warning: Capital can be lost. Terms and conditions apply.
6. Support
6.) Customer Support: Client Services of the Libertex Platform
The broker website has only one telephone number and a single email id displayed on their website for help desk, queries and customer support.
Forex Broker Comparison charts reveal that most of the other leading brokerage companies provide multiple phone numbers and separate email ids for customer support services based on the difference in countries, languages, and department of the client and the service provider.
Libertex has a minimal customer service portal. However, the Customer service portal on the website does have a contact form that allows the Libertex's clients to ask queries directly through the official website.
Apart from the contact form, the Libertex Forex trading group to acquire the title of the leading, and the best forex broker support has an effective, live chat service offered to its clients to provide instant help.
Users need to download the flash player software on their system and continue with the live chat customer service any day, anytime.
Also, Libertex has an efficient group of experts always there to help their clients.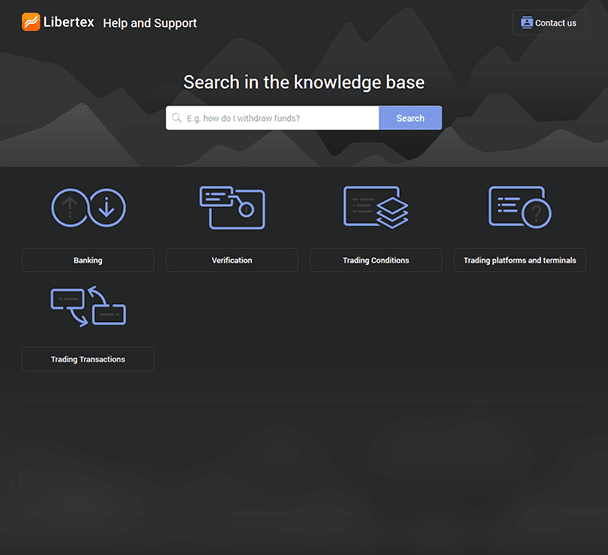 The telephone number and e-mail IDs are available on the customer care portal.
A contact list form is present on the website.
Group of experts available to resolve queries.
Go to Broker
Risk warning: Capital can be lost. Terms and conditions apply.
7. Payment
7.) Methods of Payment: All Modes of Payment Accepted By Libertex Forex Trading
Libertex has Multiple Payment methods like Wire Transfer, Master Card, Skrill and Visa.
For all kinds of deposits and fundings of a Libertex account, payment is accepted through debit cards and credit cards or through bank transfers. Payments can also be made via SEPA or Single Euro Payments Area transfers.
Libertex receives different types of discretion deposits. Nevertheless, Libertex does not warrant the availability of all the payment methods for transferring funds in the client or trader's country.
An initial deposit of at least $250 is compulsory to open a live account in the Libertex group. Prerequisites include proper identity verification with physical address proof of the proposed client.
The primary and consequent deposits are processed within a day of the transfer after the clearing of the Libertex bank account.
Customer identity is again verified along with the valid access codes generated during a withdrawal request. The client is wholly responsible for all sorts of third-party charges during a withdrawal request.
Users can log into the Libertex trading platform using their username and password to fund their accounts. While using a mobile platform, users can switch to the Wallet Tab to make the deposit.
The processing time of the withdrawal requests can vary according to the payment mode selected by the user.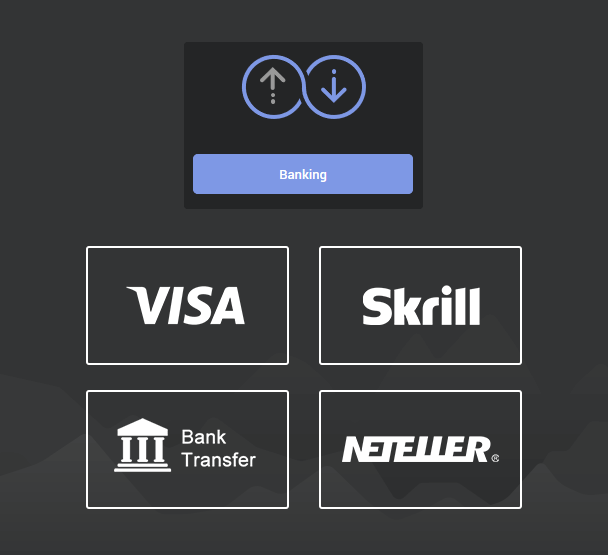 Libertex offers multiple payment methods.
An initial amount of $250 is compulsory to open a live account.
Customer identification is a must.
Go to Broker
Risk warning: Capital can be lost. Terms and conditions apply.
8. Offers
8.) Additional Offers: What Other Benefits Does Libertex Offer
Libertex affiliate program enables subsidiaries/affiliates to generate income from clients trading with Forex. The income is paid by the Revenue Share model or the CPA contingent upon the selected plan. Please note: Libertex doesn't accept traffic from Azerbaijan, USA, United States Minor Outlying Islands, Australia, Belgium, New Zealand, Guam, Lebanon, British Virgin Islands, Philippines, Northern Mariana Islands, Uganda, South Africa, Sri Lanka, Kuwait, Canada.
CPA plan
CPA plan is majorly based on a request. For more subtle information, you can contact Libertex's support team through email.
Revenue Share Plan
If you take up this plan, you will receive a percentage of the Gross Revenue generated by the qualified traders you refer to Libertex, who will enlist themselves through the web terminal.  Gross revenue is equivalent to the Spread revenue without any chargebacks and bonuses. The pay-out is for a lifetime.
NOTE:
*Qualified Trader
A person who enrols online and whose net deposits have added up to no less than 100 USD; who has begun trading and produced no less than 40 USD of GR for the company.
*Gross Revenue
The spread income produced by the trader you allude and who have enrolled online with no Bonuses or chargebacks.
Referral program:
You get 5% of every referral's earning (for your lifetime).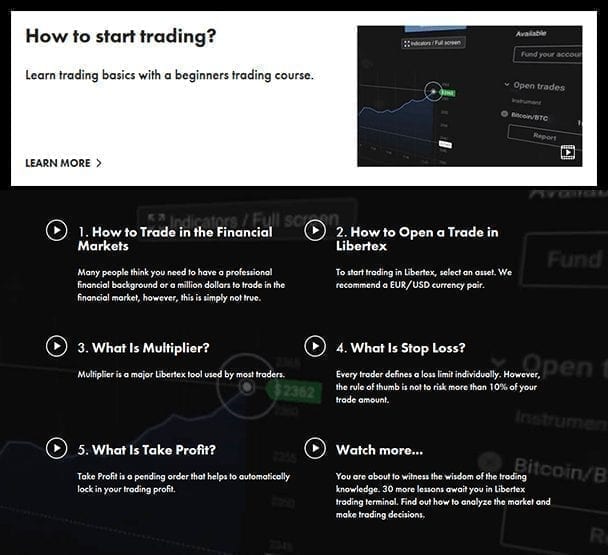 CPA plans are available on a request basis
Qualified traders can earn lifetime pay-out through Revenue Share Plan
You can earn 5% per referral's earning for your lifetime
Go to Broker
Risk warning: Capital can be lost. Terms and conditions apply.
9. Regulation
9.) Regulation & Deposit Protection: How Safe Are Libertex Traders
The non-European clients of Libertex are looked upon by the Forex Club International Ltd, registered at Grenadines and St. Vincent but are not monitored by any distinguished financial regulatory agency.
The Indications Investments Ltd, of which Libertex Forex trading is a crucial part is directed by the CySEC under the license 164/12. CySEC after cleaning up its acts in the recent years has progressively grown to be stricter in the financial authorisation.
According to our findings in Libertex Forex Trading – Review 2018, Libertex got licensed in January 2012.
CySEC
Regulatory Authority
Set by the Market in Financial Directives Law that oversees the EEA ruling of investment firms within the Europe's Economic Area, all the Cypriot Investment Firms are bound to have a minimum capital of EUR730k.
Libertex Forex is certified by Finacom, the Financial Commission apart from CySEC. A non-governmental, autonomous international service group and administrative body, Finacom, ensure reliable and on-time resolution of trader and broker disputes when it comes to Broker Comparison.
Finacom, certified in the areas of reporting and record keeping, system capacity, system security, business continuity plans and pricing and execution policy listed Libertex as the best 'Technology Provider'.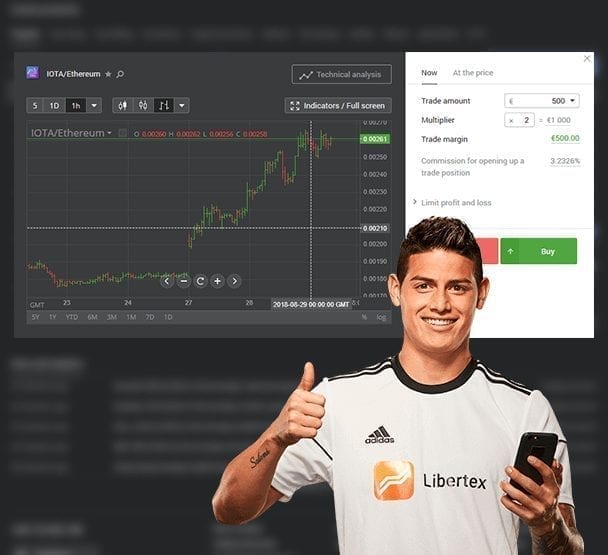 Libertex is licensed under CySEC.
Has minimum capital of EUR730k.
Listed as 'Technology Provider' by FinaCom.
Go to Broker
Risk warning: Capital can be lost. Terms and conditions apply.
10. Awards
10.) Awards: All About Accolades Bagged by Libertex
Honoured with more than 30 national and international awards Libertex has more coming up on its list.
Best Trading Application for the European Union by Global Banking and Finance Review-2016
Best Trading Platform by FinEXPO-2016
Best Trading Application Award
Best Crypto-Currency Broker Award
The identification of Libertex as the "Best Trading Application" and the "Best Crypto-Currency Broker" was based on the judgment of a lot than 2.2 million tradesmen who made purchases with conventional monetary assets and crypto-currencies in Libertex.
Libertex has traditional monetary assets in exchange for trading contracts comprising of indices, shares, energy indices and other innovative business instruments like crypto-currencies.
Brokerage experts across the globe recognise the leading position owned by Libertex based on excellence in the field of trade and in all other financial implements.
The Global Banking and Finance Review recognised Libertex as the foremost trading application in the EEA in the year 2016.
Lastly, Forex Club presents the International Award known as the Forex Awards and has been doing since 2010, evaluating financial companies, applications useful for trade and forex broking and trading platforms and interfaces. The Forex Awards was the best recognition for Libertex in the year 2016.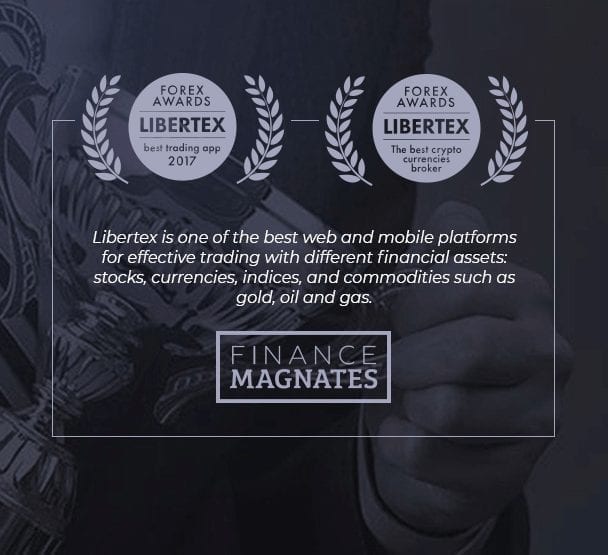 Best Trading Application Forex Awards 2017
Best Crypto-Currency Broker Forex Awards 2017
Best Trading Platform
Go to Broker
Risk warning: Capital can be lost. Terms and conditions apply.
Conclusion: Final Thoughts for Our Libertex Forex Trading - Review 2020
The Libertex Forex purveys to traders who prefer paying a large percentage of commission instead of dealing trade spreads and asks like a no-frills broker. Libertex is comfortably managed and organised and offers its users a unique, advanced, user-friendly and easily navigable web-based trading platform that comprises of a decent amount of news feeds. In addition to its website and the web interface, Libertex offers its user a mobile platform to enhance its usability. Also, the company provides limited risk vulnerability to its customers.
Trading commissions offered by the company now depend on assets involved in the trade and the leverage accomplished by the "multiplier" system that somehow seems foreign to certain forex brokers and traders.
However, Libertex does not provide multiple trading accounts. The absence of proper customer support telephone number and email and the single support system offered also adds to the drawbacks of the company. The lack of educational material gives a plus point to its competitors.
No support for MetaTrader4 or 5, further adds to user discomfort prohibiting the client to use electronic trading solutions that in other companies provides the Expert Advisor functionality
Regulated and licensed, part of an international group
Only commission, no spread
Limited risk exposure
No E A s
Only 2 account types - Standard and Demo
Test result
Broker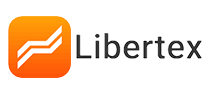 Go to Broker
Risk warning: Capital can be lost. Terms and conditions apply.