Markets.com is a broker that offers FX, ETFs and CFDs on stocks and indices on its well-laid platform. The company was set up in 2008 and is owned and run by Safecap Investment Ltd. Markets.com is a licensed broker that is regulated in Cyprus(EU) and South Africa.
A Markets.com Forex Trading – Review 2018 uncovered the fact that there are certain geographical restrictions on who can trade on Markets.com. Traders who are based in countries like the USA, Canada, Japan, and Belgium cannot open account on the Markets.com platform. Markets.com is a sponsoring partner of London-based Arsenal Football Club.
Highlights
online trading services on FX and CFDs.
regulated in the EU and South Africa.
no clients from USA, CAN, JPN & BEL
parent co. Playtech is part of FTSE 250
28.
of 29 Forex Broker
Markets.com

Go to Broker
Risk warning: Capital can be lost. Terms and conditions apply.
Headquarters and regulation
Cyprus (CySEC)
Fees and Spread
Depends on account type
Trading platform
MT4, Broker-owned Software
Trade Offering
50 Currencies
Services & additional benefits
Live
E-Book
Videos
1. Trading Offer
1) Forex Trading Offer: Zero Commission Trading
Markets.com Forex Trading – Review 2018 indicates that several types of trading instruments are offered, giving traders the opportunity to take part in a broad range of markets. Overall, there are more than 2,000 assets that traders can trade on the Markets.com platform.
Tradable assets: Markets.com has a wide coverage of assets that users can buy or sell. The asset classes available here include commodities, forex, market indices, precious metals, and stocks. Together, these assets make Markets.com one of the best forex brokers when it comes to asset listings in the market.
FX Offer: When it comes to the forex offering of Markets.com, more than 50 forex pairs are allocated for trading. A broker comparison – Forex comparison shows that there is a good spread of major, minor and exotic currency pairs on the platform, showcasing currencies from different regions of the world.
Tradable:
EUR/USD
USD/JPY
GBP/USD
USD/CHF
AUD/USD
NZD/USD
USD/CAD
Cryptocurrency trading: Markets.com forayed into the cryptocurrency world by offering bitcoin trading way back in 2013. Markets.com currently supports several cryptocurrency pairs. These digital currencies include Bitcoin, Bitcoin Cash, DASH, Ethereum, Ethereum Classic, Litecoin and Ripple. These cryptos are paired with the Euro and the USD.
Markets.com clients can trade up to 2,000 tradable assets via the company's trading platform.
Markets.com offers some of the most popular cryptocurrency pairs.
Spreads on the currency pairs at Markets.com are listed as low as 2 pips and CFDs have an expiration date and a weekly expiration rollover.
Go to Broker
Risk warning: Capital can be lost. Terms and conditions apply.
2. Costs
2) Forex Trading Costs: Zero-Commissions on Trades
Our forex comparison found that Markets.com forex does not charge commissions on trades carried out on their platform. You also need not worry about being charged fees during the deposit or withdrawal process; a major plus. So the only costs that traders on Markets.com will incur are the spreads charged on trades on all assets. However, traders are required to choose between floating and fixed spreads when they are trading spot forex. Also, the relevant spreads at Markets.com forex broker are very competitive. Spreads for some of the most in-demand currency pairs like the EUR/USD are fixed at 2 pips.
It is also important to note that the spreads charged for the Markets WebTrader platform is different from that charged for the Markets MT4 platform. The Markets WebTrader platform is more competitive than Markets MT4 one. Consequently, the relevant spreads for some of the hotly demanded currency pairs at Markets.com include:
Markets.com offers both fixed and floating spreads for FX assets and Spreads on the EUR/USD pair is as low as 2.0 pips. However, this is not competitive enough as there are other brokers that charge as low as 0.6 pips on the EUR/USD.
Market.com's proprietary WebTrader platform offers tighter spreads than third-party trading platforms like the MT4 and Sirix.
Markets.com does not charge commission. Instead, it receives remuneration through spreads.
Go to Broker
Risk warning: Capital can be lost. Terms and conditions apply.
3. Account
3) Accounts: Everyone is Equal on Markets.com
Discounting the Demo Account, which allows traders to trade the markets at no risk of loss of funds, every trader is provided with a single type of Markets.com forex broker account. This account requires $100 as a minimum deposit. This means that all traders get to enjoy the same benefits irrespective how much money they deposit as initial capital.
The demo account allows you to test out the platform and see how trading works. This way, you get to grow without worrying about losing funds in the process. On the demo account, you get access to charts and analysis tools, which have been equipped to enable you to practice different strategies. Other benefits include access to an online support team and real-time market data.
Further, Markets.com provides swap-free accounts for Muslim traders who wish to trade in line with the provisions of the Sharia principle of interest-free trading. Note that this does not make the swap-free accounts different from the real account mentioned earlier. The only difference between the two is that one is operated in accordance with the provisions of the sharia. Whether you are trading the markets through a demo account, or the real account, the maximum available leverage for forex trading is 1:30.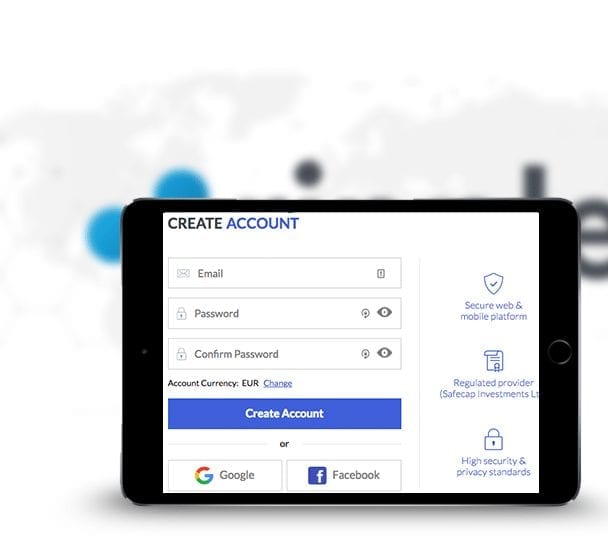 Markets.com offers a demo account to allow traders test the platform before they deposit actual funds into their accounts.
The maximum leverage available is 1:30.
Traders are shown market data in real time.
Go to Broker
Risk warning: Capital can be lost. Terms and conditions apply.
4. Platform
4) Forex Trading Platforms and Mobile Trading: Platforms with Advanced Charting
Markets.com forex and CFD platforms are of the following varieties:
Markets.com offers a proprietary WebTrader platform that allows you to trade through the web using any browser on your computer. The system is user-friendly and provides an advanced charting package. There are several technical indicators which are intended to help elevate your market analysis experience. Markets.com's WebTrader platform also features trading cubes, which have been provided to allow you to see many instruments at once. This way, you can streamline the trading process for a better trading experience. Traders are also shown news feeds in real time to make it possible for them to monitor happenings in the market.
MetaTrader 4: Markets.com offers an MT4 trading platform for clients who prefer to trade with something more familiar. Traders can access the Markets.com forex trading MetaTrader platform from the main screen by selecting the "My Account" option, then choosing "MT4 Accounts."
Markets.com has provided a mobile version of their proprietary trading platform to allow users to trade on the go without any hassles. Traders can download the mobile app from the Android Play Store or Apple App Store for Android and iOS devices respectively.
This review of Markets.com shows that the broker has done well to cater to traders' needs in this regard.
Markets.com supports mobile trading.
The broker offers a proprietary trading platform or MT4
Traders are offered an advanced charting package.
Go to Broker
Risk warning: Capital can be lost. Terms and conditions apply.
5. Usability
5) Usability of the website: A Friendly and Responsive User Interface
Is Markets.com forex broker a good broker when it comes to website usability? The answer is yes. Markets.com performed a redesign of the WebTrader platform to ensure that it delivers the best user experience regardless of the device from which it is being accessed. The interface loads quickly and allows you to follow happenings in the market without any hitches. The layout looks and feels right, with everything kept in the right place.
Even beginners will find Markets.com's responsive UI/UX UI interactive and easy to use. You can access every feature in a few clicks. The use of HTM5 gave the WebTrader trading platform a clean and responsive interface that allows traders to switch between different modules with ease. Instruments are shown in a way that improves the user experience.
The resources for research and news are not far away either and help add to the exciting nature of the design. Also, you can see charts in almost every view. This was done to allow you to focus on the going price action. The white theme layout gives the website a mature look and makes it easy to spot the various features on board.
Markets.com is offered in several languages
The site features a white themed background
Markets.com is offered in HTML5.
Go to Broker
Risk warning: Capital can be lost. Terms and conditions apply.
6. Support
6) Customer Support: Markets.com Delivers with Speed, Accuracy, and Reliability
Regarding customer support services, Markets.com is one of the best forex brokers around. The company has set up a high-quality support team to ensure that customer queries are responded to quickly and accurately. It is no secret that one of the major factors in delivering good customer support services is the speed with which client questions are responded to. Markets.com has done well in this regard.
The company provides and maintains excellent and reliable customer support services 24/5 through the following channels:
Live Chat: Markets.com uses the live chat feature to enable them to communicate with clients in real time and assist them with questions and concerns quickly and efficiently.
Online contact: Markets.com provides an online contact form. Customers who prefer to contact support through this channel can do so by going to www.markets.com/contact.
Social Media: Facebook and Twitter are assuming importance in being channels of direct and quick communication. Markets.com is featured on both sites (Facebook.com/marketscom and Twitter.com/marketsdotcom).
Whichever support channel you go with, you are sure to receive a fast response, as the support team at Markets.com is always willing to serve their clients adequately.
Markets.com delivers excellent customer service through live chat and email.
The company's customer support service team is available 24 hours a day, five days a week (Monday – Friday).
Markets.com's website is available in 15 major languages to support non-English speakers.
Go to Broker
Risk warning: Capital can be lost. Terms and conditions apply.
7. Payment
7) Methods of Payment: Lots of Options to Choose From
There are several channels through which you can deposit into your Markets.com forex account. The company accepts multiple payment methods because it believes doing so gives clients the flexibility that they need and allows them to accommodate every customer's preferences by giving them a choice among payment methods.
These payment methods include:
Bank wire transfer: Transfer funds using a traditional bank wire. The least amount allowed for bank wire transfer is 100 USD/GBP/EUR. There are no upside limits.
Neteller: Markets.com clients can make payments using the Neteller payment system.
Skrill: To allow traders greater convenience, Markets.com lets them use Skrill to make payments. For Skrill and Neteller, the minimum withdrawal amount allowed is 5 EUR/USD/GBP.
Debit/credit cards: Another way you can make payment on the Markets.com platform is through debit/credit cards. You must have at least 10 GBP/EUR/USD to withdraw via debit/credit card.
You can also uuseEnvoy/WorldPay, iDeal, eKonto, Giropay, Mistercash, Instant Bank, Sofort, Multibanco, or Przelewy24.
Note that funds are withdrawn through the same method as that which they were deposited. For instance, if you made payments via Skrill, your method of withdrawal will also be Skrill. You won't be charged any withdrawal fees for taking money from your account.
Markets.com broker processes withdrawal requests within 24 hours.
Markets.com supports multiple payment channels and the company does not charge withdrawal fees.
Markets.com processes withdrawals within 24 hours.
You need to meet the minimum amount allowed to be able to withdraw.
Go to Broker
Risk warning: Capital can be lost. Terms and conditions apply.
8. Offers
8) Additional Offers: Transit from Demo to Real Accounts with a No-Deposit Bonus
One of Markets.com forex trading broker offers is the $25 no-deposit bonus it offers clients. To be able to withdraw any profit earned from this bonus amount, however, you will need to carry out at least $10,000 worth of trading volume for every dollar given to you. For instance, if you receive $25, this means you will need to have a minimum trading volume of at least $250,000 for 90 days.
Markets.com also offers a Refer-a-friend bonus promotion where you earn money for referring people to the brokerage firm. The amount you receive for referring a friend depends on the first deposit your friend makes. The larger the amount your friend deposits, the more substantial will your earnings be.
This Markets.com Forex Trading – Review 2018 indicates that there are no other additional offers that traders can benefit from. While the terms may seem too stringent, our forex broker comparison show that you will appreciate the company's efforts when you realize that most established brokerage firms do not offer any bonuses at all.
Markets.com offers a no deposit bonus to its clients, traders can also earn money by referring friends to the platform.
The amount you make from referring a friend depends on the amount your friend lays down as their first deposit.
There are conditions attached to the no deposit bonus.
Go to Broker
Risk warning: Capital can be lost. Terms and conditions apply.
9. Regulation
9) Regulation and Deposit Protection: How Legit is Markets.com?
Is Markets.com forex trading legit? That's the question most users often ask. Well, it is interesting to know that not only is Markets.com a legitimate brokerage firm, but it is also licensed in two jurisdictions. The regulation of Markets.com is as follows:
Markets.com is regulated by the Cyprus Securities and Exchange Commission (CySEC) in the Eurozone under license number 092/08.
The company is governed in South Africa by the Financial Services Board (FSB) under license number 43906.
CySEC
Regulatory Authority
As a result, the company maintains uncompromising operational standards. So, if you intend to deal with them, you can rest assured that you will be relying on the services of a proven and reputable broker. CySEC requires all organizations under it to comply with some strict regulatory provisions. The same can be said for the FSB. One of the requirements is that Markets.com updates CySEC regularly on its financial activity for validation purposes.
Also, CySEC mandates Markets.com to keep clients' funds in a segregated account where their safety can be guaranteed. To further ensure the security of your account and funds, the broker uses SSL technology and firewalls to ensure that user data is highly protected. More so, the company's servers are located at SAS 70 certified data centers.
CySEC and FSB exercise regulatory oversight on Markets.com.
The broker uses SSL-grade security to ensure web security.
Clients' funds are kept in a segregated bank account and Markets.com reports its financial activities on a regular basis.
Go to Broker
Risk warning: Capital can be lost. Terms and conditions apply.
10. Awards
10) Awards: Markets.com is Highly Recognized in the FX Industry
Any FX and CFD broker that manages to pick an award in an industry where there is so much competition certainly deserves a lot of credit. Markets.com forex and CFD brokerage has received several awards in acknowledgment of the quality services that the brand has been providing over the years. These awards include:
The Best Customer Service 2012 award, given by the London Investor Show Forex.
The Best Broker in Customer Service Europe 2012 award, given by Global Banking and Finance Review.
Best Forex Trading Platform 2017 (UK Forex Awards).
Best Forex Provider 2017 (UK Forex Awards)
These awards demonstrate how seriously Markets.com takes its clients. For the broker, customer satisfaction ranks high above all else.
Markets.com has won two awards in the same year for its exceptional customer service delivery. Customer service delivery is often a neglected component of the entire broker package.
These awards show how much emphasis Markets.com lays on bringing value to the customer
Markets.com has been recognized as the best forex trading platform and best forex provider and their efforts at delivering a brokerage service which is customer-centric has been recognized in the Customer Service Awards it has garnered.
Go to Broker
Risk warning: Capital can be lost. Terms and conditions apply.
Conclusion: Is Markets.com a Good Broker? Yes!
This Markets.com Forex Trading – Review 2018 has been able to show that Markets.com is a viable option for traders who are looking for a broker that offers access to a wide range of markets. The company recently redesigned its website to provide something new and exciting. The result is a platform that is simple and functional.
Markets.com is a regulated broker that operates by strict regulatory standards from the agencies overseeing it. Markets.com allows traders to minimize their trading risks using tools like stop loss or take profit.
Markets.com offers excellent customer support services and manages to cater to both advanced and new traders due to this simplicity and the demo account. The low minimum deposit, which is set at $100, is also a plus for the company, as it allows many people to participate in the markets. It is also worth remembering that the maximum available leverage at the broker is 1:30.
If there is anywhere there are shortcomings, it is in the mobile application. Traders cannot access the news or trade alerts on the mobile app. It is also impossible to add indicators to the charts when using the app. These must be addressed for Markets.com to increase its market share in the mobile FX trading segment of the market.
Markets.com is a regulated brokerage.
The company offers a no-deposit bonus for easy transition from a demo account to a real account.
Markets.com offers a free demo account
Excellent customer service delivery
Low minimum withdrawal requirement
Test result
Broker

Go to Broker
Risk warning: Capital can be lost. Terms and conditions apply.