Founded in Israel in 2008, Plus500 CFD broker is a leading online Contract for Difference (CFD) broker that is listed on the Main Market of the London Stock Exchange. The broker offers online trading services across cryptocurrencies, indices, currency pairs, commodities, shares and ETFs to its clients from all over the world under several different subsidiaries such as Plus500UK LTD for the UK and Plus500CY Ltd for Cyprus. With its wide coverage of the financial markets and user friendly platform, Plus500 is for traders looking for a reliable broker.
Info: A trader with a Plus500 account can trade CFDs on underlying financial instruments such as Forex, Stocks, Crypto currencies, Commodities, Options and Indices.
80.6% of retail investor accounts lose money when trading CFDs with this provider. You should consider whether you can afford to take the high risk of losing your money.
Highlights
61 tradable currency pairs
User Friendly Trading Platform
Free demo account
£0 commission and tight spreads
13.
of 30 Forex Broker
Plus500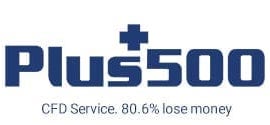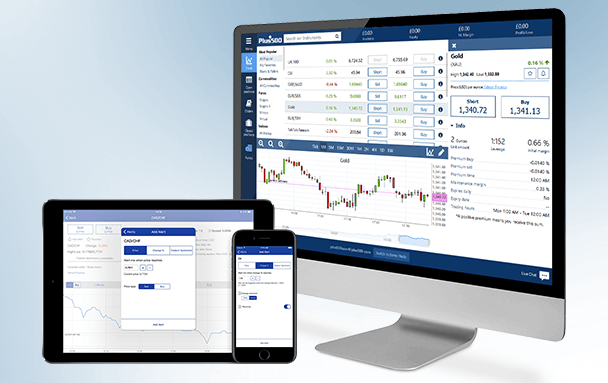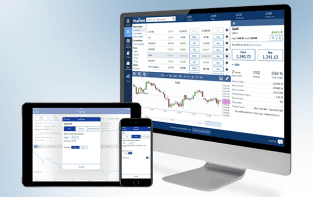 Go to Broker
Risk warning: Capital can be lost. Terms and conditions apply.
Headquarters and regulation
Israel /UK /Cyprus /Singapore /Australia (FCA, CySEC, ASIC and more)
Fees and Spread
No commissions
Trading platform
Broker-owned Software
Trade Offering
61 Currencies
Services & additional benefits
Live
E-mail
Economic Calendar
1. Trading Offer
1.) Forex Trading Offers: Plus500 offers 7 asset classes
Plus500 CFD broker specializes in offering online traders trading services for CFDs. CFDs are financial instruments that have their value based on the price of a physical asset. With CFD trading, you can speculate on the price movements of major investments assets such as currency pairs, crude oil, Gold, stocks and market indices without actually having to purchase the asset itself.
This also allow investors to invest in the markets with a smaller investment capital than previously possible. For example, traditionally an investment in crude oil requires investors to purchase a future contract to take delivery of 1000 barrels of crude oil. With the price of a barrel trading at $40, this meant the minimum investment amount is $40,000. With CFDs, an investor can trade with an amount as low as $10 per contract.
Tradable:
EUR/USD
USD/JPY
GBP/USD
USD/CHF
AUD/USD
NZD/USD
USD/CAD
Otherkey benefits of trading with Plus500include the wide coverage of markets and the high leverage offered by the broker. In total, you can trade with 6 d1ifferent currency pairs at Plus500. They include all the majors, minors as well as a selected range of exotic currency pairs such as EUR/MXM and EUR/RUB. In addition, these instruments are available for trading at a leverage ratio of 1:30. Popular cryptocurrencies such as Bitcoin, Ethereum, and Monero are supportedby Plus500.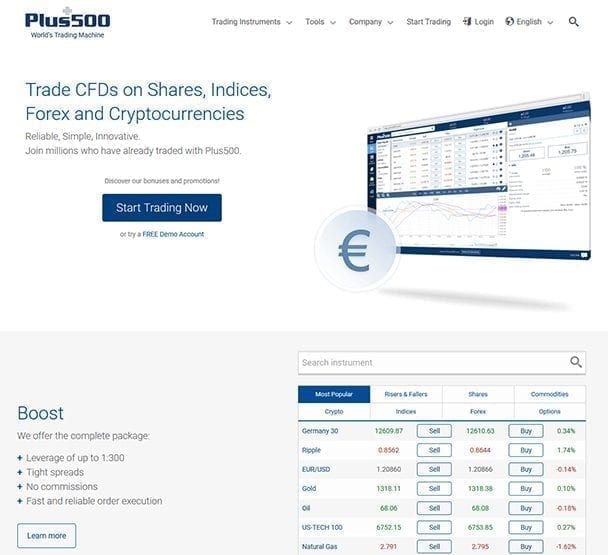 61 Currency Pairs and 8 Cryptocurrency Pairs Available
Leverage max. 1:30
Coverage Of Marketsinclude 7 Asset Classes
Go to Broker
Risk warning: Capital can be lost. Terms and conditions apply.
2. Costs
2.) Forex Trading Costs: Plus500 Offers Competitive Spreads
In terms of trading fees, Plus500 doesn't charge any commission. Instead, the broker is compensated through the Bid/Ask spread. Overall, the spreads are competitive. Nevertheless, it should be noted that the spreads depends on the type of asset traded. Plus500 Forex spreads are the most competitive while the spreads on equities are the least favourable. To find out more details about the spreads of the asset that you want to trade, simply click on the "Trading Instruments" tab located at the top of the page.
Depends on underlying
Trading size
The trading instruments menu selections cover Crypto, Indices, Forex, Commodities, Shares, Options and ETFs. For example, click on the "Forex" tab to view the selection of currency pairs that are available for trading. Next, click on "View our Forex pairs" to list all the forex pairs. To view in more detail of the forex pair, merely click on the "View full Details" tab found on the right side of each currency pair listing. Once you have done that, you will be able to view information such as spread in terms of pips as well as the percentage of the spread in relation to the price of the asset. Other information that can be found here includes overnight funding cost and the margin required.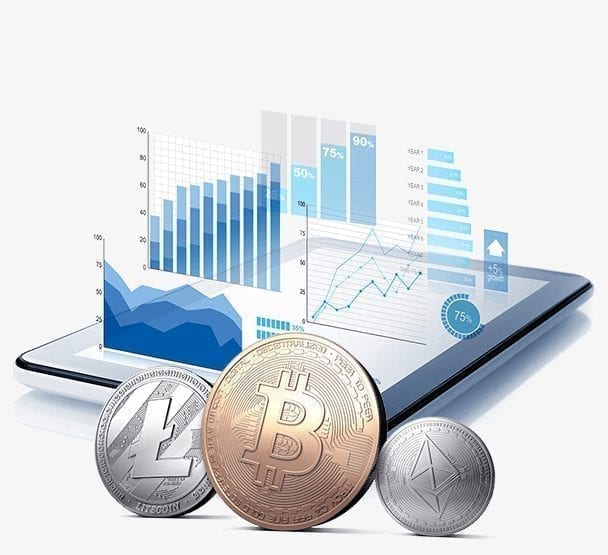 Spreads are dynamic
Live Price updates
Price transparency include overnight positions
Go to Broker
Risk warning: Capital can be lost. Terms and conditions apply.
3. Account
3.) Accounts: Two Account Types at Plus500
At Plus500,you only have a choice of a standard trading account and a demo account. Forex brokers generally differentiate between different categories of traders. Plus500 however does not practice this. The minimum deposit requirement for the live account is 100 units in local currency. So depending on where your trading account is registered at, the minimum deposit can be $100 USD, 200 AUD or £100 GBP.
If you want to try out the Plus500 forex trading platform, you can sign up for the free Plus500 forex trading demo account without any obligation. It comes preloaded with virtual cash which you can use to practice forex tradingor as forex trading simulators without having to risk your money.
To open an account at Plus500, simply fill up the registration form and select between "Demo Mode" or "Real Money Mode" on the "Select Account Mode" window. If you have selected the demo mode, then you will be trading from the Plus500 forex trading demo account using virtual cash. From the demo mode, you can also easily switch to Real money mode on the platform screen or App's Menu.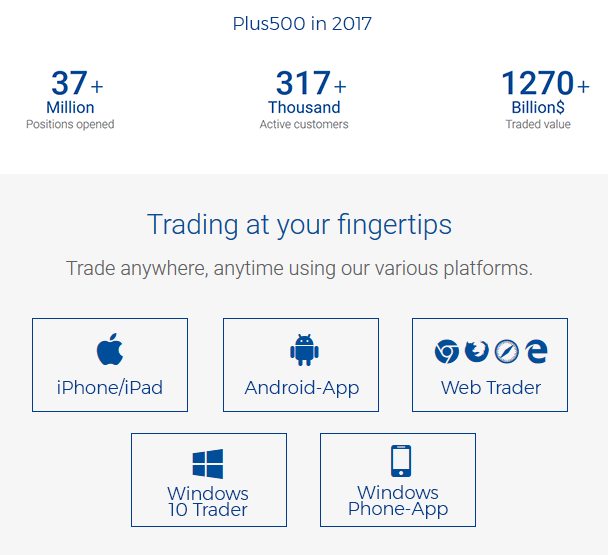 Free Plus500 forex Demo Account
Lack of trading account choices
Low minimum deposit requirement of 100 GBP/USD/EUR
Go to Broker
Risk warning: Capital can be lost. Terms and conditions apply.
4. Platform
4.) Forex Trading Platforms & Mobile Trading: Trade from anywhere and at anytime with Plus500 intuitive platform
In terms of trading platform, Plus500 uses a proprietary trading platform. The platform is available as a desktop client, a WebTrader and as a mobile trading app. With the desktop client version, you will need to download and install the client software onto your computer before you can access the trading platform. With the WebTrader, there is no need for any software download or installation. Instead, you can simply access the trading platform with any updated web browser. If you want to trade using just your smartphone, Plus500 has also made it possible by providing a mobile friendly version of their trading platform.
Overall, the Plus500 broker platform is easy to comprehend and operate. Once you have access the trading platform, you will be presented with a trading screen that with 3 main sections, the menu section of the left, the assets section of the upper right side and the trading chart on the lower right side. You can toggle the chart as a line chart or a candlesticks chart. In addition, you can also adjust the timeframe of the chart, from a 1 minute view to a 1 week view. The Plus500 platform also includes powerful risk management tools such as "Close at Loss" and "Close at Profit" market order.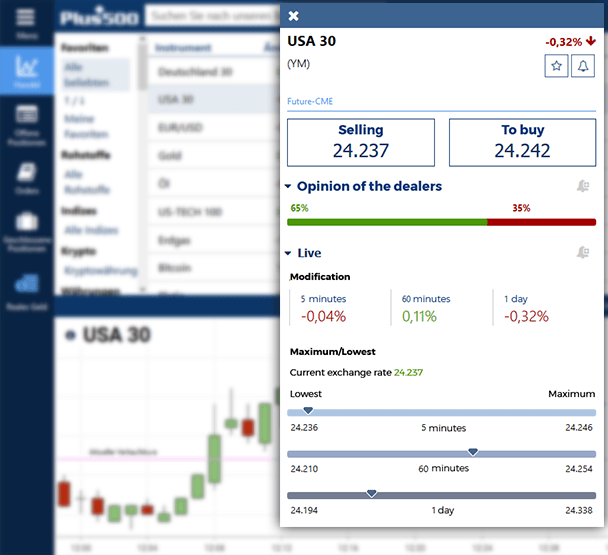 Mobile Trading Supported
User friendly Platform
Wide array of trading tools
Go to Broker
Risk warning: Capital can be lost. Terms and conditions apply.
5. Usability
5.) Usability of the Website: Plus500 Website is available in 32 languages
Our Plus500 forex review shows that the broker has designed its navigation interface well. He overall appearance of the website is neat and not overwhelming with too much information. All the main navigation tabs are strategically placed at the top of the page and clearly labelled. We like the fact that the broker uses drop down menu for further navigation as this avoid cluttering up the website.
As for trading functionality, Plus500 has also made easy for you to switch between the demo account mode and real account mode with just a single click of the mouse. The demo mode is also a true reflection of what you will experience when you start trading with real money.
As for the trading screen, the layout is kept simple with menu located on the far left of the trading screen. Under the trading screen menu, you will be able to manage your funds, execute trades or review past trades made or change your security settings. You also have the option to set up trading alerts for any assets that you want to monitor. As a further convenience to its clients, the Plus500 website is available in 32 different languages such as Arabic, Chinese, Dutch, German and Bahasa Melayu. Our only complaint is the fact that it is not easy to locate the information regarding the trading conditions.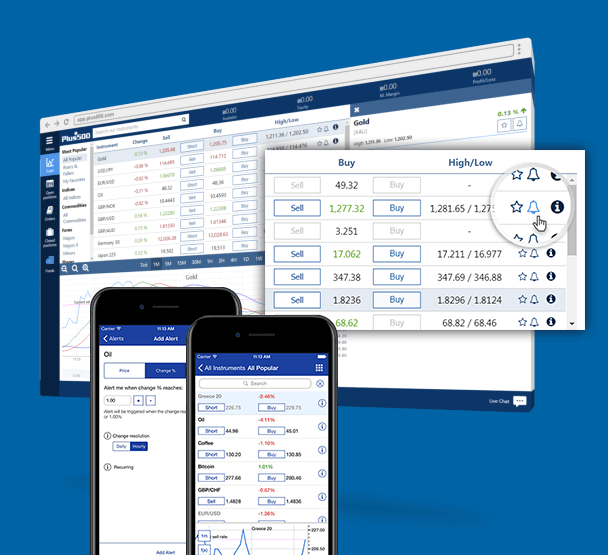 Multilingual Website
Trading Condition Information hard to locate
User-Friendly Navigational Interface
Go to Broker
Risk warning: Capital can be lost. Terms and conditions apply.
6. Support
6.) Customer Support: Plus500 Support available 24/7 through email and Live Chat
For the customer support service at Plus500, the support services are available 24/7. You can access the support service either through email or live chat. Overall, the support team is responsive and helpful although it may take them some time to get back to you during peak trading hours. While Plus500 does not have a comprehensive educational center like what most brokers are providing, they do have a comprehensive FAQ section. It covers most of the frequently asked questions so it is well worth taking a look at that before contacting the team for an instant answer to your questions.
The customer support service is available in a wide variety of different languages as is the website and platform. You can speak to someone in all of the major global languages which include Italian, Spanish French, German, Arabic and more. This is necessary as Plus500 is servicing hundreds of thousands of traders worldwide.
It is recommended that you make contact with Plus500 support team first before you place a deposit. This gives you an idea of how efficient and responsive the broker is. It is a really good indicator of how the company will perform when you need them later for queries or any problems which you may face.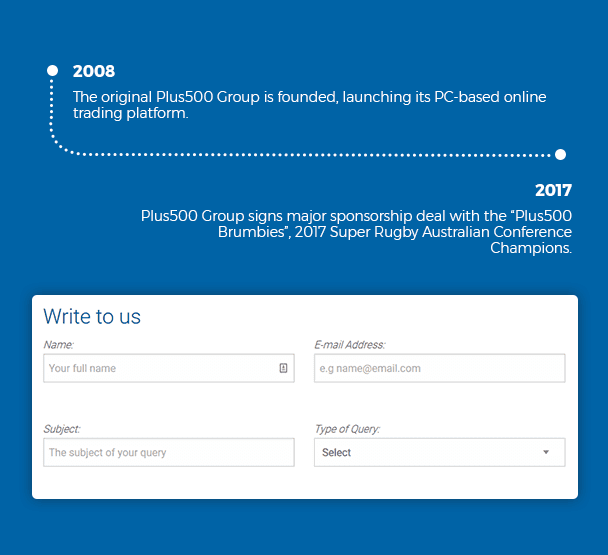 No Educational Center
No Telephone Support
Support Available 24 hours a day 7 days a week
Go to Broker
Risk warning: Capital can be lost. Terms and conditions apply.
7. Payment
7.) Methods of Payment: Plus500 review shows various methods available
Take note that before you can initiate any withdrawal request, your account must first be verified. For funding and withdrawals at Plus500, you have several options. They include the following:
Bank transfer
Credit/Debit Cards
Electronic Wallets such as PayPal and Skrill
As a matter of policy, Plus500 does not impose any fees for deposits. Neither does it passes any charges that are levied on it by the payment processors. The only exception is when a deposit is made in a different currency of the trading account. In this case, Plus500 will pass on to you the commissions and charges that are related to converting the deposited funds into the currency of the trading account.
For withdrawals, Plus500 offers 5 free withdrawals a month. For subsequent withdrawals after the initial 5 free withdrawals, a $10 withdrawal fee will be imposed for each subsequent withdrawal. For bank transfer, Plus500 charges a fee of $6. The typical processing time for each withdrawal request is 1 to 3 business days. As for the time required for the funds to appear on your eWallet or bank account balance, it takes an average of 3 to 7 days for former and 5 to 7 days for the latter.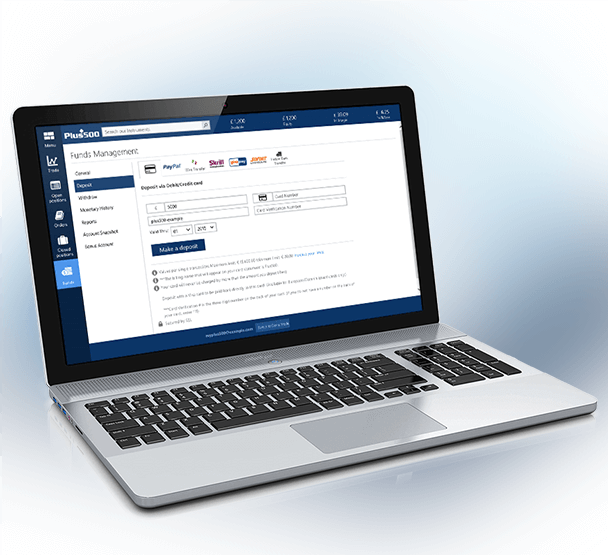 5 Free Withdrawals Per Month
Limited choices of eWallets
No Deposit fee
Go to Broker
Risk warning: Capital can be lost. Terms and conditions apply.
8. Offers
8.) Additional Offers: Free Plus500 Demo Account
Our Plus500 forex review found that the broker like most forex brokers offer a free demo account. The fact that there is no expiry timeframe for the demo account is an additional plus point. Beside from letting a trader get a feel of the trading platform, demo accountsare also useful as they can be used as forex trading simulators. You can use it to practice forex trading or to conduct back testing on your trading strategies.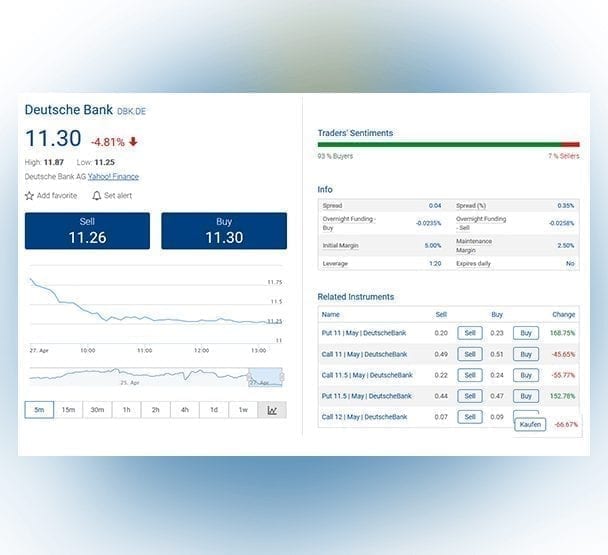 Go to Broker
Risk warning: Capital can be lost. Terms and conditions apply.
9. Regulation
9.) Regulation & Deposit Protection: Plus500 legit?
One of the main strengths of Plus500 is the legal protection which the broker is able to offer to you as a trader. The subsidiaries of Plus500 are regulated. UK traders are covered by the UK's Financial Conduct Authority (FCA). The FCA specifies a minimum standard on all the products marketed by Plus500. In addition as Plus500UK lTD is a regulated entity under the FCA, you will be covered under the Financial Services Compensation Scheme (FSCS). The FSCS is an independent body established under the Financial Services and Markets Act 2000 (FSMA) and is funded by financial services providers regulated by the FCA. Under the FSCS, should ever Plus500 UK becomes unable to fulfil its contractual obligations, you can file a claim for compensation under the scheme. The maximum amount covered under the scheme is 50,000 pounds.
FCA, CySEC, ASIC and more
Regulatory Authority
If you reside in Europe, then your investor protection will come under the jurisdiction of the Cyprus Securities Exchange Commission (CySEC). The kind of protection offered by CySEC is similar to that offered by the FCA. For more information, investors should visit the Plus500 website.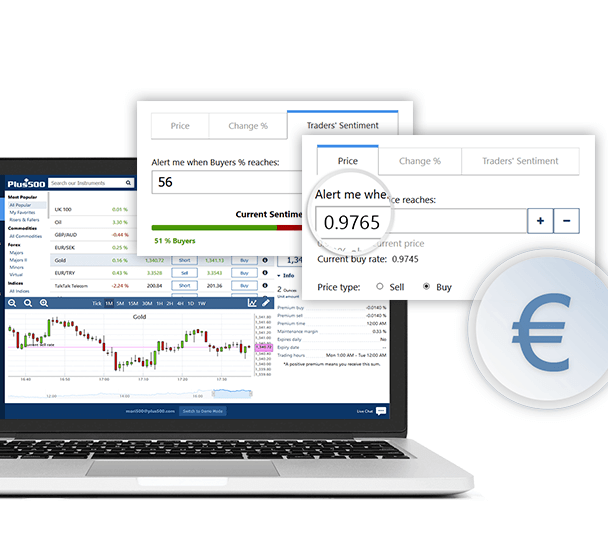 All client funds are held in a segregated client bank account in accordance with the CySEC's client funds rules
Funds protection only applicable to UK and European traders
Subsidiaries regulated
Go to Broker
Risk warning: Capital can be lost. Terms and conditions apply.
10. Awards
10.) Awards: Several Media Reports about Plus500
Over the last few years, Plus500 has been frequently mentioned in the financial news. Most of these reports were complaints about how Plus500 market its products to the online retail trading community and report of probes conducted by the regulatory authorities on the way Plus500 operates. For example, in 2012, Plus500 was fined £205,128 for failing to provide accurate updated transaction reports to the Financial Services Authority (FSA). Then in May 2015, the broker temporarilyfroze thousands of its UK traders' accounts when the FCA stated thebroker'santi money laundering checks were not up to standard. So is Plus500 a good broker?
Nevertheless despite all the bad press which Plus500 were receiving from 2012 to 2015, the broker had taken positive steps to address all the shortcomings of its operations. It should be noted that the intense business rivalry between Plus500 and its competitors was one of the key reasons why Plus500 fell under the scrutiny of the FCA. Jealous of Plus500's success, many of Plus500's competitors have lobbied the FCA to investigate how the company operates. Fortunately for thousands of Plus500's clients, there has been nothing to indicate that Plus500 has operated illegally in any way.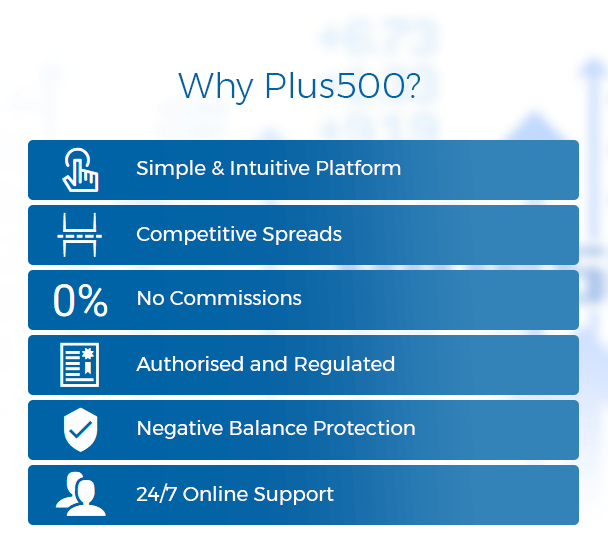 Fined by the FSA in 2012 for not keeping timely transaction reports
Negative report against Plus500 initiated by competitors
Go to Broker
Risk warning: Capital can be lost. Terms and conditions apply.
Is Plus500 a good broker? Conclusion of our Plus500 review
From our Plus500 review, we conclude that Plus500 offerings may not be right for everyone. The Plus500 forex offering is geared towards experienced or professional traders. For example, Plus500 does not have a trading account that is suitable for high volume traders. In addition, the broker also failed to make available the MetaTrader 4 (MT4) trading platform which most experienced traders would prefer due to the advanced trading tools that are found on the MT4. Finally, Plus500 does not offer ECN trading which mean raw spreads are not available to its traders. So while the spreads may be classified as "competitive" for traders, experienced traders can find better deals with other forex brokers that offer ECN trading facilities. In short, from our forex comparison, Plus500 may not be the best forex broker around. Use the broker comparison on AskTraders to find which broker meets your requirements or sign up for the Plus500 demo account and make your own Plus500 experiences without investing your own capital.
User Friendly Trading Platform
Wide range of trading insturments
Low Trading Fees
Free Demo Account
Test result
Broker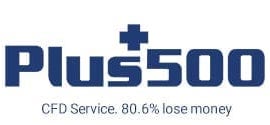 Go to Broker
Risk warning: Capital can be lost. Terms and conditions apply.