Trade.com is a forex and CFD brand which is owned and operated by Lead Capital Markets Ltd, a Cyprus Investment Firm. This company started the Trade.com brand in 2013 ad is presently regulated in Cyprus only. Trade.com has tried to compensate for the paucity of branches across the world by operating with affiliate partners in several European and Latin American countries. Residents of Japan, Canada and the United States are barred from trading on the Trade.com platform as a result of regulatory prohibitions.
Highlights
Trade.com forex brokerage operates out of Cyprus. Compliance status with MiFID II is presently unknown.
Is Trade.com forex broker a good broker when it comes to quality of FX and CFD brokerage business? Trade.com is a good broker, but it does not rank as high as other more established competitors such as FxPro or easyMarkets.
Trade.com works with a network of affiliates from around the globe.
A Trade.com broker comparison – forex comparison review of its asset listing will show that it has a large asset base.
19.
of 30 Forex Broker
Trade.com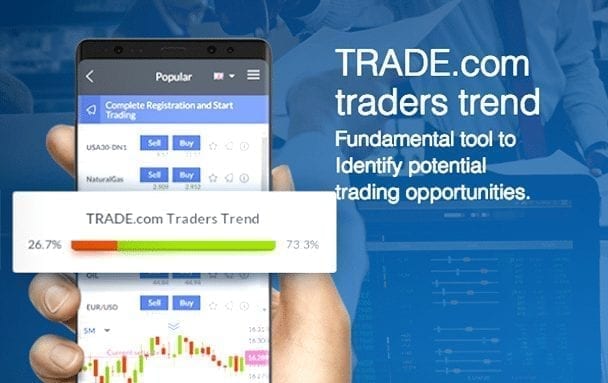 Go to Broker
71,36% of retail investor accounts lose money when trading spread bets and CFDs with this provider.
Headquarters and regulation
Cyprus (CySEC)
Fees and Spread
Depends on account type
Trading platform
MT4, Broker-owned Software
Trade Offering
55 Currencies
Services & additional benefits
Live
Hotline
E-mail
Economic Calendar
E-Book
Videos
1. Trading Offer
1.) Forex Trading Offer: Trade as Many as 55 FX Pairs
Assets found on theTrade.com forex broker platform are grouped into 7 market classes. The trade markets on Trade.com include the following tradable assets and offers:
Tradable assets: Apart from the FX pairs, there areContracts for Difference (CFD) assets that include stocks, commodities, currencies, exchange traded funds (ETFs), bonds, cryptocurrencies and indices.
FX offer: The FX offer on Trade.com lists 55 currency pairs, which is on the average, within the range of currency pairs that most of the best forex brokers feature. Conventional CFDs are traded on stocks, commodities and indices.
Tradable:
EUR/USD
USD/JPY
GBP/USD
USD/CHF
AUD/USD
NZD/USD
USD/CAD
These generally require more margin than the FX trades, especially as leverage on CFD trading is lower. Exotic Assets: A Trade.com Forex Trading – Review 2018 of exotic assets on offer shows that the brand is not lagging behind when it comes to trading of exotics. Cryptocurrency CFD trading is featured on the Trade.com platform. Bonds and ETFs make up the rest of the exotic assets that are found on the Trade.com platform.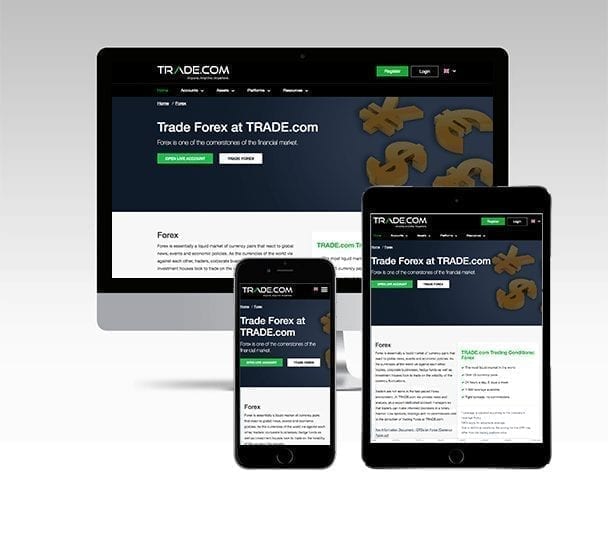 You can trade 2100 assets on Trade.com.
The range of leverage offered for each asset class varies. Cryptocurrency trading is deemed very risky and as such the trader will be expected to come up with a margin of 50%.
ETFs,which feature a variety of assets in single baskets, are also featured on Trade.com.
Go to Broker
71,36% of retail investor accounts lose money when trading spread bets and CFDs with this provider.
2. Costs
2.) Forex Trading Costs: Spreads Could Be High on Trade.com
What are the costs of trading activity on Trade.com? Costs generally come from spreads on trades, commissions and fees for deposits/transactions. Are these costs applicable on Trade.com? Let's find out.
A Trade.com Forex Trading – Review 2018 of costs associated with using a Trade.com account shows that the costs that a trader will accrue from using an account come from trading spreads, rollover payments for overnight positions and fees charged on certain transaction channels.
In terms of spreads, traders pay the lowest spreads on the GBP/USD and EUR/USD at 1.9 pips, which is not as low as you would find on platforms such as FxPro where the spreads are a third of this. Cryptocurrencies carry very high spreads (8 mini-lot pips for Litecoin and as high as 120 mini-lot pips for Bitcoin). Bonds, indices and stocks carry the lowest spreads on Trade.com.
In terms of transaction payment costs, only the bank wires and e-wallets carry transaction costs for withdrawals.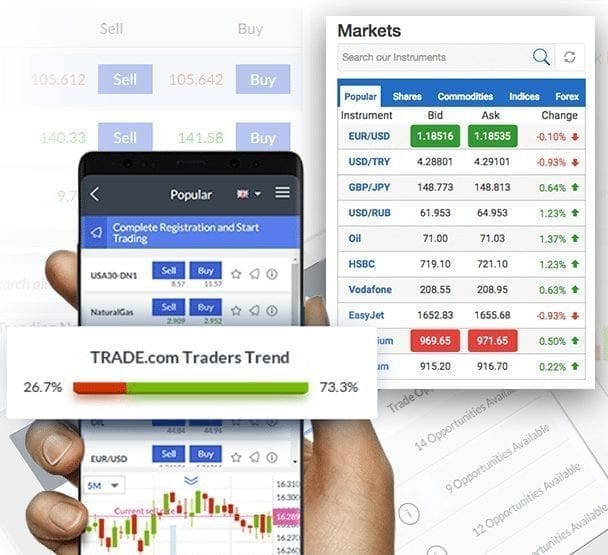 Trading costs on Trade.com is a bit higher than on many other platforms.
Bank wires constitute the payment channel with the most expense on transactions.
If you have a long position open on a lower yielding currency in a pair, you will pay rollover fees. If your long position is on the higher yielding currency, you earn interest.
Go to Broker
71,36% of retail investor accounts lose money when trading spread bets and CFDs with this provider.
3. Account
3.) Accounts :There is an Account for All Levels of Traders
A few of the best forex brokers provide multiple account types so that traders can fit into the appropriate category for the size of their capital. Trade.com has opted to tow this line. Account types featured are the Basic, Classic, Gold and Platinum accounts. If you have just $100 to start trading with on the Trade.com forex broker platform, you get the Basic account. If you are a high roller with access to at least $50,000 initial capital, then you get the Premium account. There are traders that will locate themselves within the spectrum, with $2,500 for the Classic and $10,000 for the Gold account types.
Premium account holders get access to market-researched trade calls from Trading Central, dedicated account managers and premium daily analysis.
Irrespective of your account type, you will get a free demo accounton Trade.com. A forex broker shows that Trade.com provides $10,000 in virtual funds just like other brokers do.The demo account on Trade.com is free and non-obligatory.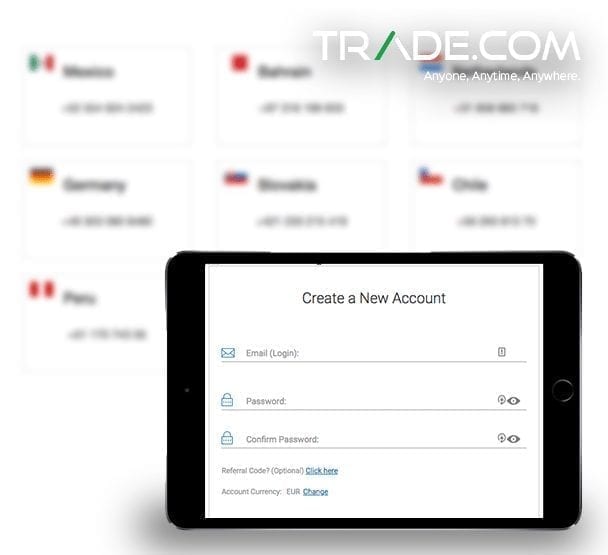 Free demo accounts are provided with a maximum of $10,000 virtual capital.
The higher level account types get more benefits than the Basic account users.
You can start with a lower account type and upgrade subsequently.
Go to Broker
71,36% of retail investor accounts lose money when trading spread bets and CFDs with this provider.
4. Platform
4.) Forex Trading Platforms & Mobile Trading:Two Web-based Platforms for You
A Trade.com Forex Trading – Review 2018 reveals that three platforms are presented to traders with which to engage the FX and CFD markets.
These are:
WebTrader
MetaTrader4
SirixWebtrader
Two browser-based platforms are found on Trade.com. A Trade.com forex trading review of trading platforms will show that the first of the web trading platforms is the turnkey Webtrader from Metaquotes. The second one is the proprietary SirixWebTrader, which provides for touch screen trading.
The browser-based platforms offer flexible usage across several devices and provide access to trading tools and charts. The trading account can also be viewed in a simple snapshot.
A Trade.com Forex Trading – Review 2018 mobile applications shows that there are trading applications for for iOS and Android users. These can be downloaded from the respective app stores using download links from the Trade.com website. The web-based platforms are also optimized for use on mobile devices. So whether the apps are used or the mobile-optimized web traders are deployed, there is a platform that fits the lifestyle of every user on Trade.com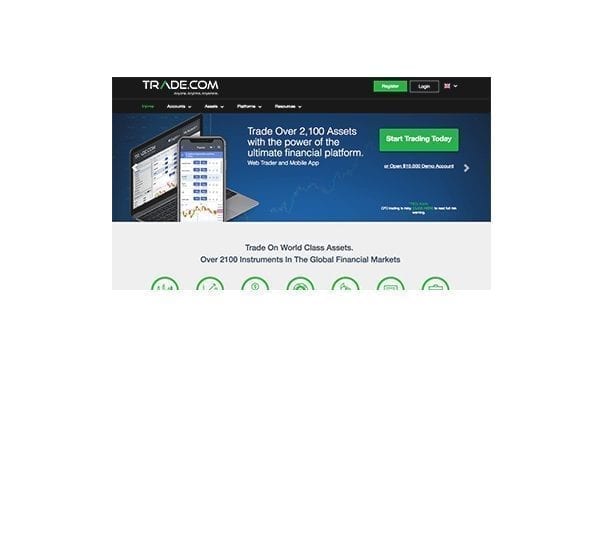 Love mobile trading? You can download the apps or use the mobile-optimized browser-based platforms.
Flexibility of the web-based platforms is guaranteed across mobile and desktop devices.
Trade.com also offers the MT4 and all the benefits the platform offers in terms of tools, EAs and strategy testing.
Go to Broker
71,36% of retail investor accounts lose money when trading spread bets and CFDs with this provider.
5. Usability
5.) Usability of the Website: Clean, Visually Appealing Interface
If the website which features the web-based platform) is arranged in such a manner that it makes it hard for traders to use it, then this will be a problem. The question here is: is Trade.com a good broker when it comes to website usability?. A Trade.com trading platform review shows that the website interface of the browser and mobile versions of the platform do not feature much clutter, but do not perform very well when stacked against some of its competitors.
For instance, while Trade.com uses a predominant white background that makes text more legible, too much space was taken up by the disclaimer notice. Furthermore, there are more navigation tabs at the bottom of the web page than there are at the top. This means that users of the website will have to keep scrolling down the screen to get information not covered by the navigation tabs at the top. This is a low point in terms of user navigability.
In terms of simplicity, Trade.com scores high marks. It is easy for a first-time user of Trade.com to navigate around the site and get access to the browser-based platforms. It is also easy to download the mobile apps.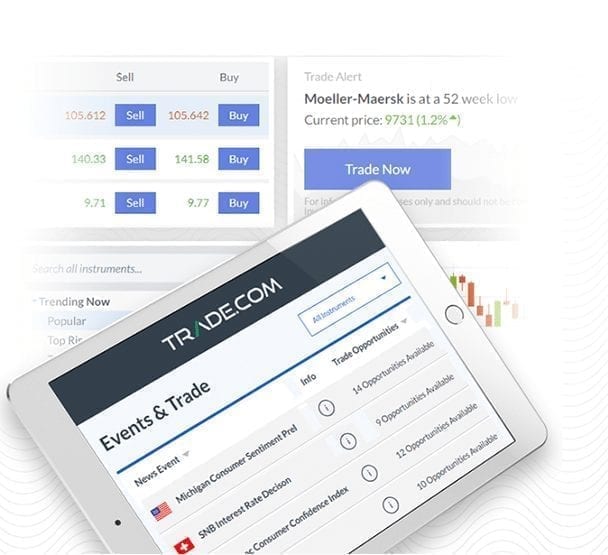 Website usability is a bit cumbersome. However, it is easy to access web-based platforms.
English is not your language? Trade.com presents its website content in more than 10 languages.
White background promotes legible display of website content.
Go to Broker
71,36% of retail investor accounts lose money when trading spread bets and CFDs with this provider.
6. Support
6.) Customer Support: Responsive Customer Service in Your Language
When you have issues or you just need to make an inquiry, where do you turn to on Trade.com? Try the customer support channels, spread out over different media.
The contact options on Trade.com are as follows:
Social media: You can reach Trade.com on social media platforms such as Twitter (twitter.com/TradeComEN) and Facebook.
Email: The customer supportemail is support @Trade.com.
There are two phone numbers for international users: +44 203 150 0204 and +44 203 150 0456.
There are affiliate partners scattered all across the world. The Contacts page will reveal the affiliate phone contact for your region.
If you live in a country covered by an affiliate, you can get local contacts that are reachable on phone for more localized support provision.  For instance, if you have issues with your payment channel, you will be able to get better advice on how to solve this issue from a local affiliate.
There is no live chat facility, which is a minus for the Trade.com brand. It is important to retain customers by providing personalized engagement which a Live Chat offers. Trade.com needs to work on this immediately.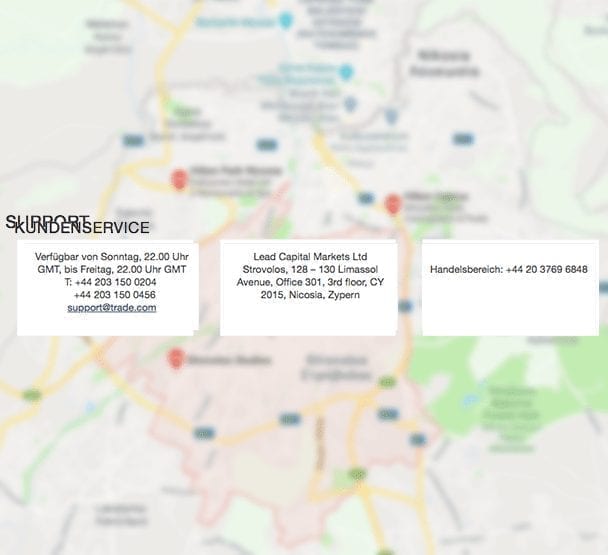 Multilingual support is available.
Use the social media channels as extra media of communication with the support team.
Premium account holders get preferential treatment in terms of customer support.
Go to Broker
71,36% of retail investor accounts lose money when trading spread bets and CFDs with this provider.
7. Payment
7.) Methods of Payment: Restricted Options for Traders
What are the methods of payment that are available on Trade.com? These include card payments, bank wires and Skrill/Neteller. Safeguard is also another option for those who want something different.
For credit/debit card users, usage of cards by MasterCard and VISA on Trade.com is a viable option, but only if you reside in a country on the Trade.com whitelist. You are allowed to deposit and withdraw funds for free, using a minimum deposit of $100. It is unclear what the maximum deposit amount allowed for credit cards is. Transactions are processed instantly.
Wire transfers are more accessible and used universally with no transaction limits. Fees will be charged by the correspondent banks. The snag with wire transfers is the processing time for transactions, which can be as long as 7 working days, depending on the trader's location.
Skrill, Neteller and Safeguard are the official digital wallets permitted by Trade.com. Once more, there is no information on any maximum deposit limits. Deposits are processed immediately while withdrawals take a day to be processed.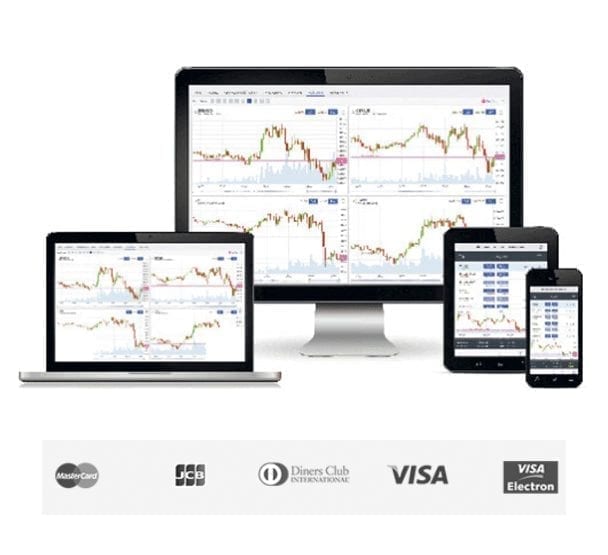 Transaction channels are a bit restricted on Trade.com.
Some users will only have access to bank transfers on Trade.com
There are generally no fees for deposits, but withdrawals made via bank transfers or digital wallets attract charges.
Go to Broker
71,36% of retail investor accounts lose money when trading spread bets and CFDs with this provider.
8. Offers
8.) Additional Offers :Enhance Your Trading with Trade.com's Tools
A forex comparison review of Trade.com's additional offers reveals that there are certain tools that are provided to traders to enhance their experience on the platform.
The Trade.com Traders Trend fundamental tool is basically a market bias barometer, which measures the sentiment of buyers and sellers on assets, thus providing information on where order flows are headed. As far as core trading activity is concerned, an Advanced Charting suite is provided for traders with which to perform technical analysis and historical studies.
There is an Economic Calendar to provide a schedule of news releases on which traders on Trade.com can schedule and perform their news trades. In addition, Gold and Premium account holders will have access to market analysis from Trading Central. Trading Central's analyses are MT4-compliant and are fed into the MT4 platform's news feed bar.
To round off the additional offers provided to its clients, Trade.com presents an educational suite that features video tutorials and articles.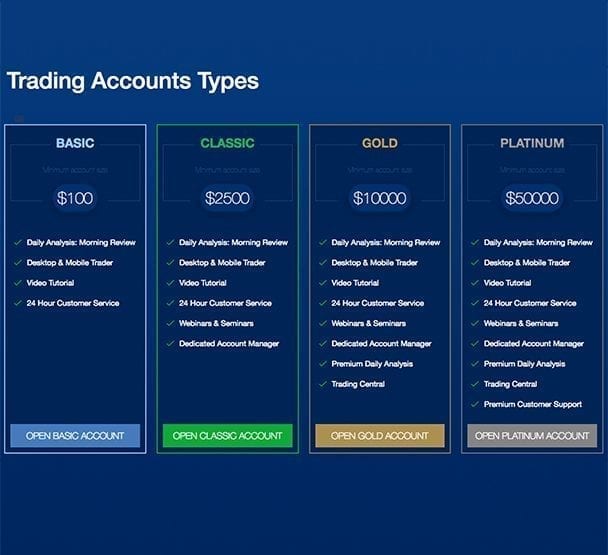 Trade.com presents market analysis and trade calls from Trading Central, which are all in compliance with regulatory provisions.
Learn all you can about FX and CFD trading using the educational suite from Trade.com.
An economic calendar is provided for the benefit of news traders.
Go to Broker
71,36% of retail investor accounts lose money when trading spread bets and CFDs with this provider.
9. Regulation
9.) Regulation & Deposit Protection: Your Funds Are Safe With Trade.com
Is Trade.com forex trading legit? The answer is provided in the affirmative, as Trade.com is a licensed FX and CFD provider in Cyprus. Trade.com is a brand of LeadCapital Markets Ltd, which is licensed and authorized as a Cyprus Investment Firm (CIF) by the Cyprus Securities and Investment Commission (CySEC). The license number is 227/14.
CySEC
Regulatory Authority
This regulation has important ramifications on the safety of the funds of traders. Firstly, it ensures that clients of Trade.com are registered with the Cyprus Compensation Investment Program. Secondly, it ensures that traders' funds are segregated and kept separate from the company's operating funds. Thirdly, regulation provides an avenue for traders who are unsatisfied with the company's services to lodge a complaint with the regulator and get resolution.
Trade.com complies with the Know Your Customer (KYC) verification requirements for all clients and also uses SSL secure protocols to protect user data from hackers and unauthorized access.
Trade.com is also mandated to provide the best execution possible for all trades on its platform without manipulation from the dealing desk.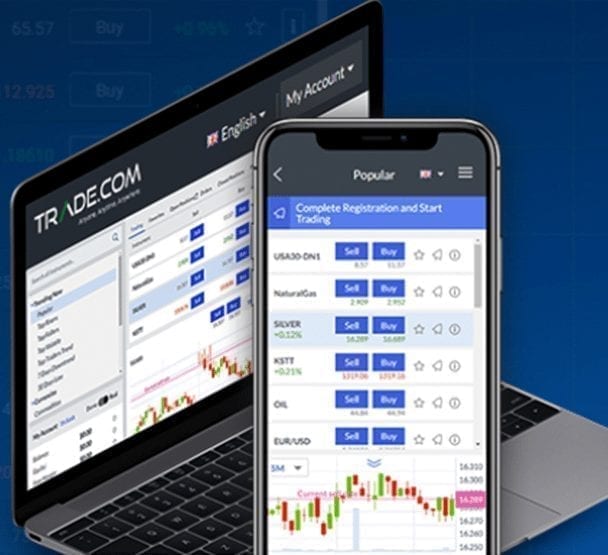 Trade.com is licensed by CySEC. However it is not known if the company is now MiFID II compliant.
CySECregulation automatically means that all clients of Trade.com are registered with the Cyprus Compensation Investment Program.
Traders' capital is segregated and protected from any negative financial situations that may arise with the broker.
Go to Broker
71,36% of retail investor accounts lose money when trading spread bets and CFDs with this provider.
10. Awards
10.) Awards: No Awards Won for Lack of Transparency in its Operations
Trade.com has been in business for 5 years, but has not won any awards. A Trade.com review done by an independent website shows that there may be reasons for this. Trade.com has been implicated in several cases of failed withdrawals or not acting in the best interest of its consumers and has been fined 30,000 Euros for this in the past. There are numerous complaints online about the Trade.com acting in ways that produce conflict of interest with its clients.
This goes to show why awards are an important indicator of how well a broker is performing in the market. Where a broker has not won even one award from a lesser known organization in the industry, it will raise questions.
The fact that Trade.com has not won an award is an indictment on the brand and it is hoped that the company can wake up to its responsibilities and put its house in order. There are brokerages that have won as many as 36 awards. Trade.com needs to win back consumer confidence as a first step. In many cases, awards are based on the votes of consumers.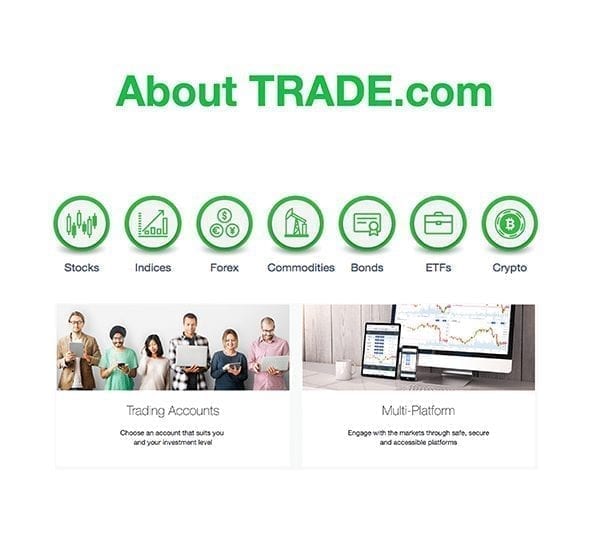 Trade.com has not won any industry awards since it started operations in 2013.
The brand has been fined by CySEC for acting against the best interests of its clients in Romania.
Trade.com needs to win back the trust of consumers to start winning awards.
Go to Broker
71,36% of retail investor accounts lose money when trading spread bets and CFDs with this provider.
Conclusion: Trade Cautiously With Trade.com
Despite the regulated status of Trade.com forex trading platform and the length of time it has been in business, it has found itself caught up in a few run-ins with the regulator. This shows the essence of trading with a regulated entity.
For those who want to trade with Trade.com, do so cautiously. There are a number of positives associated with Trade.com's product offering. There is a diversified market when it comes to asset classes, and there are some tools which traders will find beneficial.
However, spread costs on Trade.com are higher than you will find on other platforms. Furthermore, you will find that you will not have access to as much leverage as is provided on other platforms. With leverage mostly capped at 1:30, traders will need significant margin to trade on Trade.com.
Trading on FX, CFDs and ETFs requires trading knowledge and skill. The Educational Suite on Trade.com can help the trader to acquire the basic trading skills by watching the video tutorials. These tutorials cover the use of the MT4 platform, using the trading tools, a few trade strategies and trader psychology.
Take advantage of the regulated status of Trade.com and trade wisely. If you have problems, there is a regulator you can approach.
Zero commissions on trades.
Trade.com's video tutorials are very educative.
Trade.com is a licensed and regulated brand.
Over 2100 assets are offered for trade,providing great flexibility.
Mobile apps to support trading on the go.
Test result
Broker

Go to Broker
71,36% of retail investor accounts lose money when trading spread bets and CFDs with this provider.