With traditional financial advice becoming increasingly expensive, many new investors are turning to solutions such as the inexpensive automated alternatives provided by companies like Evestor. Evestor was founded in 2015 and is based in Wilmslow, Cheshire. With this broker, you have the option of choosing one of three portfolios based on the investment advice and suggestions they provide. Otherwise, you are free to select your own portfolio. Evestor offers low annual management fees in addition to requiring as little as £1 to start investing.
Highlights
tailor portfolio to meet requirements
Customised, personal advice
Status updates available 24/7
Low initial investment requirement
7.
of 10 Robo Advisor Broker
Evestor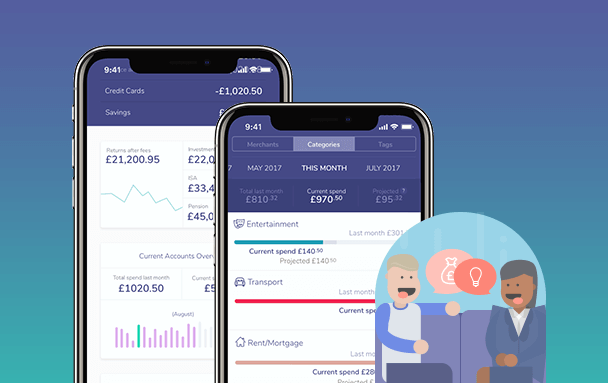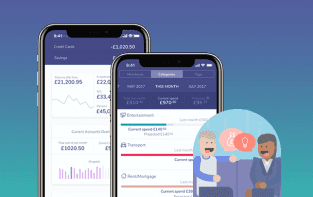 Go to Broker
Risk warning: Capital can be lost. Terms and conditions apply.
Headquarters and regulation
UK (FCA)
Investment Universe
Shares, Real Estate, Bonds, Money Market
Services & additional benefits
Live
E-mail
1. Trading Offer
1) Robo Advisor trading offer: Long-term investments of your choice
Like many other robo advisors, Evestor takes a long-term, passive approach to investing. When you invest with this broker, your money will go into an index fund. Index funds are less expensive to invest in as they are not actively managed by a financial advisor. Instead, they are created by taking an index, such as the FTSE 100 and purchasing shares in the companies that make up that index. Evestor offers the choice of three portfolios which have been configured according to the amount of risk exposure related to each but also allows you to take full control of choosing which of the three portfolios you would like to invest in, rather than being guided by their interview process.
Managed on your behalf, the three pre-configured portfolios offered by Evestor contain fixed percentages of the following assets: cash, equities, property and fixed interest. Evestor goes through a rebalancing process every six months to ensure that the allocation of assets remains true to their intended percentages. This review of Evestor found that this broker believes in diversification and will help you build a portfolio that will assist in protecting your investment from downturns in the market by spreading your money across various different assets globally. The hope is that as one asset class suffers, another will excel to minimise losses.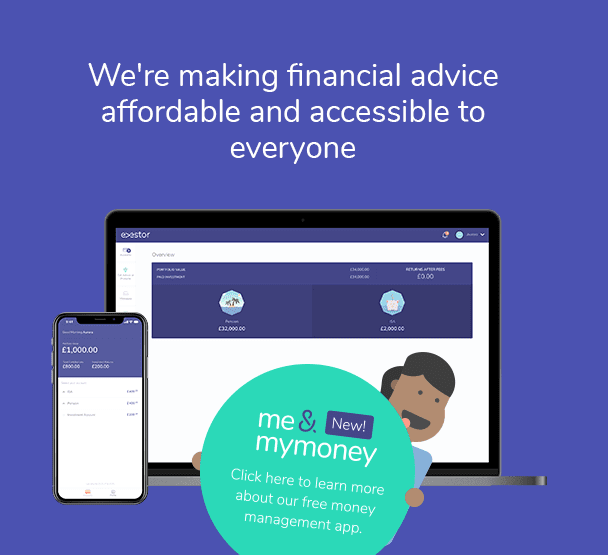 Three pre-configured portfolios with three levels of risk
Focused on long-term investments
Managed on your behalf
Go to Broker
Risk warning: Capital can be lost. Terms and conditions apply.
2. Costs
Go to Broker
Risk warning: Capital can be lost. Terms and conditions apply.
3. Account
3) Accounts: No tiered service
Evestor really only has one level of account, but with this account, you will be assigned to one of three portfolios. The portfolios are uniquely designed to reflect three levels of risk exposure: lowest, medium and highest. There does not appear to be any customisation available beyond choosing one of the three portfolios. Evestor's investment team decides which type of assets will be included in each portfolio based on the core asset classes of bonds, equities, cash and property. The percentage of each asset type is set according to the risk associated with the given portfolio.
0,10%
Underlying costs/fees
The lowest risk portfolio is comprised of a breakdown of 22% cash, 24% equities and 54% fixed interest assets, while the medium risk portfolio is based on 6% cash, 61% equities, 5% property and 28% fixed interest assets. Finally, the highest risk portfolio is made up of 3% cash, 89% equities, 5% property and 3% fixed interest assets. The Evestor brokerage account allows you to log in at any time to view the status of your investments, effectively providing 24/7 monitoring. Evestor portfolios are diversified in an effort to minimise the risk to your investments. Rebalancing is performed every 6 months to ensure that the portfolios remain true to their risk assessments.
This broker does not require a large initial or monthly investment either. The minimum lump sum investment is £1, and the minimum monthly investment is £1.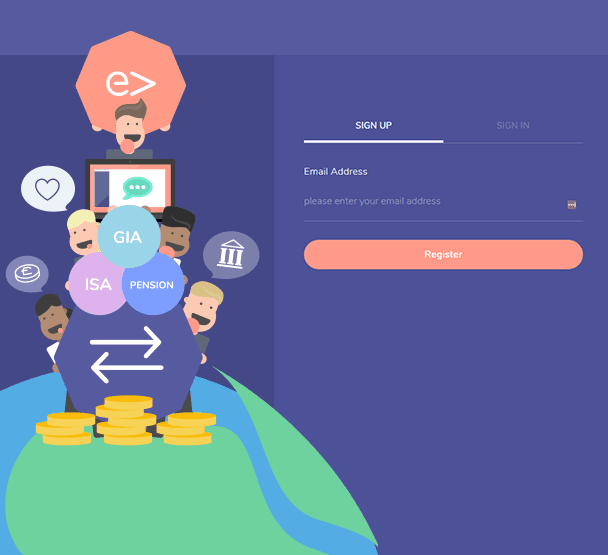 Low investment minimums
Allows 24/7 monitoring of your investment
Accessible and affordable
Go to Broker
Risk warning: Capital can be lost. Terms and conditions apply.
4. Platform
4) Trading platform: Mobile capability
Evestor does not require that you perform purchases and sales through their trading platform. Instead, Evestor takes care of all the specifics. What they do provide is a method to monitor the status of your investment. In addition to being able to login to the Evestor website to see how your investment portfolio is doing, Evestor has also released an app that is compatible with both Android and Apple devices. In addition to providing a way of viewing your investment portfolio, this app can also be configured to display the balances of your credit cards, loans and bank accounts, providing a central area for you to keep track of your financial situation.
The app also offers the ability to create budgets on spending, savings and debt management goals. It also allows you to tag certain expenses so that you can easily keep track of how much you have spent on specific items such as work expenses or Christmas gifts. A review of Evestor will find that they make use of 256-bit TLS encryption to prevent unauthorised access to your personal details. Additionally, it should be noted that Evestor only allows display of your account balances; no actions can be taken on your accounts from the app.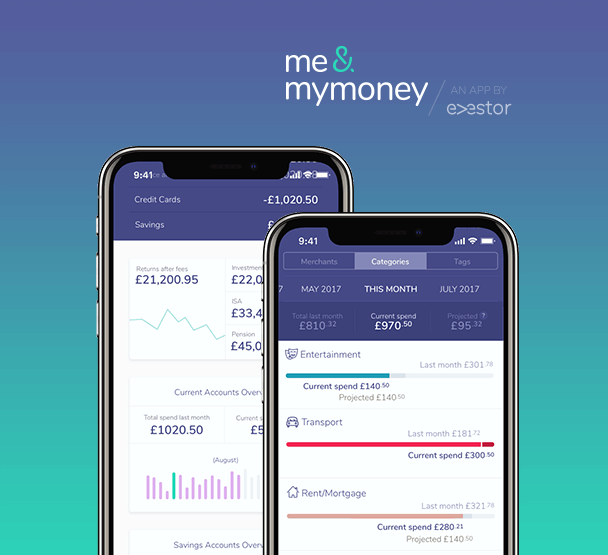 Broker managed purchases and sales
App available for both Android and Apple devices
View entire financial situation from within the app
Go to Broker
Risk warning: Capital can be lost. Terms and conditions apply.
5. Usability
5) Usability of the website: Ease of use
It is a good idea when you are reviewing potential brokers to ask yourself: "Is Evestor good for me?" One way to determine if a broker is a good fit for you is to take an in-depth look at the broker's website. This will allow you to review what they have to offer and how closely they are able to meet your personal needs. A review of the Evestor website has found that the broker's website has an easy to navigate format that explains things in everyday language.
Their website does redirect you to a separate website when clicking on the app menu link, which can be somewhat confusing. The graphics used throughout the website are almost entirely cartoons, while the colour scheme chosen is largely a selection of pastels. The overall effect is professional-looking, despite the use of cartoon-like graphics. The required warnings and legal information are readily accessible on a page of their own.
Evestor's website also provides access to a collection of their blog articles covering a wide range of financial topics. This Evestor brokerage review found their website to be informative and helpful in outlining the investment options available from Evestor. One area that might be expanded is the FAQ area; the selection of FAQs is quite limited.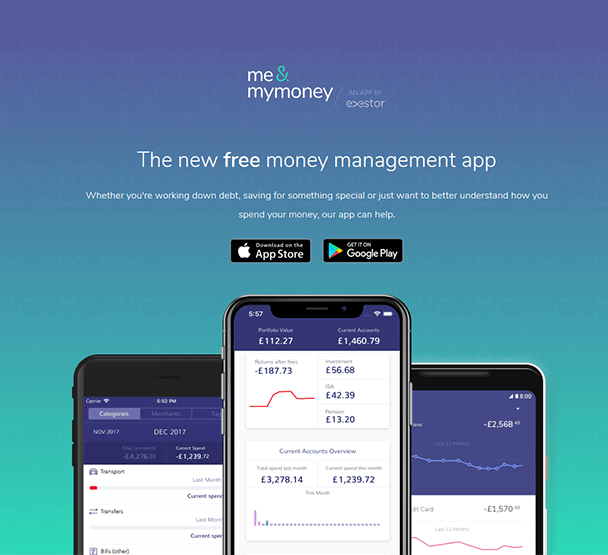 Easily navigated with clear, concise language
Collection of blogs offering financial advice
Professional-looking and clearly laid out
Go to Broker
Risk warning: Capital can be lost. Terms and conditions apply.
6. Support
6) Customer Support: Availability
Key to any broker comparison is the quality of the customer support available. Evestor's customer support is available primarily to help troubleshoot any issues you may run into. It also serves to assist you in coming to a decision regarding the amount of risk you are comfortable taking if you feel the need to discuss it with a person. Customer support is available with Evestor at any time from the initial portfolio choice to sometime down the road when you have a financial question regarding your existing portfolio. Phone support does not appear to be available, but it is possible to book an appointment with an advisor for a Skype call. Alternatively, Evestor encourages questions via Twitter and online chat. Customer support via online chat is available via 9 am to 8 pm Monday to Friday. Appointments with financial advisors can be booked at a wider range of times, including weekends and evenings. For those interested in Evestor stock trading, it should be noted that their website does not provide very much in the way of direction for resolving your own questions either. At the time of writing, their website's support section included a total of five FAQs and a request to contact them on Twitter if you had additional questions.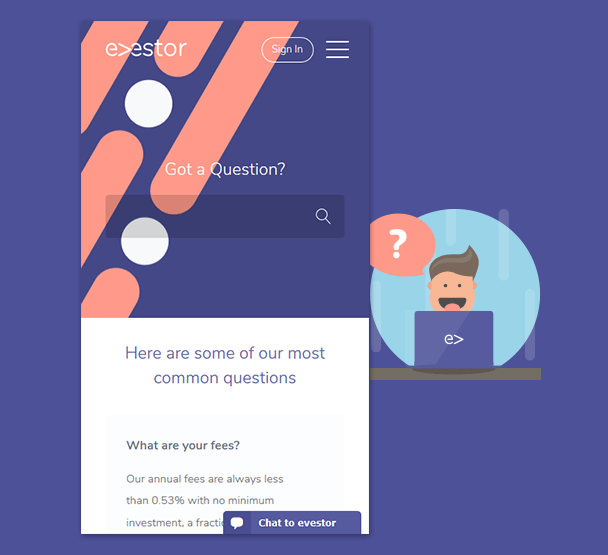 Can be contacted via pre-arranged Skype call, online chat and Twitter
Very limited FAQ website section
Apparent lack of email and phone support
Go to Broker
Risk warning: Capital can be lost. Terms and conditions apply.
7. Payment
7) Methods of payment: No additional charges
Evestor does not appear to apply any charges for making withdrawals or deposits. Their primary method for funding your account appears to be through a BACS payment, with a reported turnaround time of approximately two weeks from the time you request the payment to when you will see that your account is updated with the funds. One customer noted that the payment recipient was a third-party brand that had not been previously mentioned, but everything was credited correctly.
Evestor stock trading and investment is not recommended for those that do not have at least 3 to 5 years to leave their money invested. While there is no stated minimum investment period and you have the option of cancelling your account or withdrawing part of your funds at any time, Evestor encourages customers to leave their funds with them over the long term, as the best performance in this type of investment is achieved over a period of at least five years.
This Evestor brokerage review found that it also appears to take approximately two weeks for funds to be returned to the investor if they decide to make a withdrawal or cancel their account.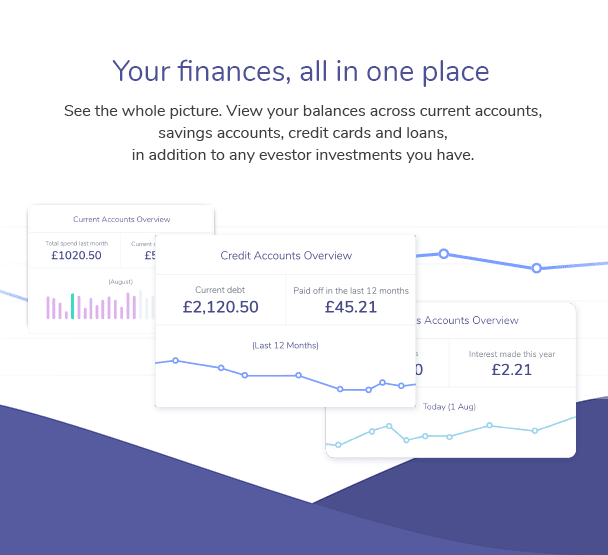 BACS payments accepted
Not intended for short-term investments
Takes approximately two weeks for deposits to show up in your account
Go to Broker
Risk warning: Capital can be lost. Terms and conditions apply.
8. Offers
8) Additional Offers: Transfers and targeted portfolios
If you have existing investments that you are interested in transferring, this review of Evestor has found that they will gladly accept transfers of existing investments into their service, such as existing ISAs. Their advisory service will help you determine if it is a worthwhile endeavour for you to transfer your existing investment, or if you are determined to transfer an existing fund, they will manage the process for you. They do appear to follow a step-by-step process that keeps you advised of the status of your transfer throughout.
It should also be noted that this robo advisor comparison found that Evestor was not equipped to create customised portfolios based on a particular ethic, moral or belief. Evestor's sole focus is to have you select one of the three available pre-configured portfolios which they manage. Having made the decision to invest, Evestor does not require your day-to-day involvement. The investment management team at Evestor will make all the necessary decisions to buy and sell investments on your behalf, and rebalance your portfolio as needed.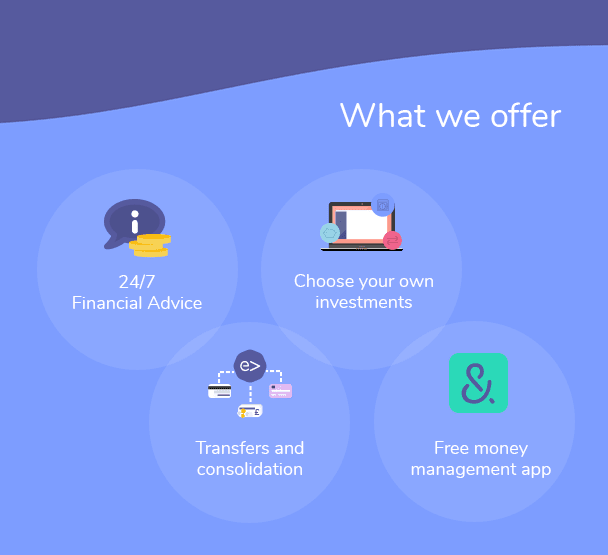 Transfers accepted, advice provided on whether a transfer is worthwhile
There are only three available portfolios and these are strictly risk-based
Evestor will make all buying and selling decisions on your behalf
Go to Broker
Risk warning: Capital can be lost. Terms and conditions apply.
9. Regulation
9) Regulation & Deposit Protection: How you are covered
Available to UK residents only, Evestor is regulated and authorised by the Financial Conduct Authority (FCA). Evestor is unable to open accounts for those residing in the US. Due to FCA regulation, any money you invest with Evestor is protected by the Financial Services Compensation Scheme (FSCS). In the event of insolvency or bankruptcy on the part of Evestor or their platform provider, your investment will be protected up to a total of £50,000 of financial loss per person.
Evestor makes use of a third-party platform provider which is also covered by the FSCS. All client funds are segregated from the third-party's own funds at an approved bank within a client money bank account.
This account is designated as a trust account which is segregated in accordance with the FCA rules on client money. Client Money Bank accounts are pooled accounts with one or more banks. In the event of a bank's failure, your claim will be for a share of the cash held in all pooled accounts at the bank.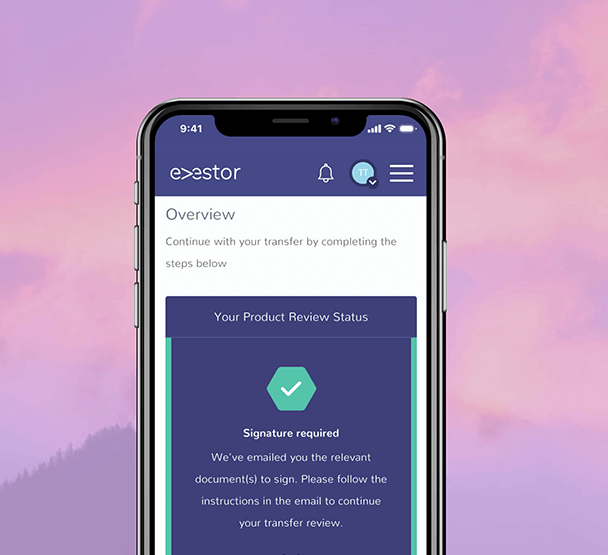 FCA regulated and protected through the FCSS
Protection available for up to £50,000 per person
Third-party platform provider manages funds within a segregated client money bank account
Go to Broker
Risk warning: Capital can be lost. Terms and conditions apply.
10. Awards
10) Awards: Recognition
Having just recently launched, Evestor has not yet been the recipient of any rewards. Evestor is, however, recognised as being founded by two individuals who have already experienced early success in the financial field. This brokerage is founded and privately funded by Anthony Morrow and Duncan Cameron and was launched in April 2017. Despite being largely an online service, the service has been specifically designed to enable customers to speak with financial advisors to receive reassurance and assistance as required.
In 2006, Anthony Morrow co-founded Tatton Asset Management plc. Tatton Asset Management plc was responsible for providing a range of services to financial advisers in the UK, including fund management. Morrow left the company in September 2015 to concentrate on Evestor. Duncan Cameron co-founded Moneysupermarket.com in 1993, which ultimately became the first financial aggregator in the UK. Moneysupermarket.com changed the way that people bought insurance, mortgages and other financial products. Duncan left the company in 2007.
They have since united to bring Evestor into being. With such storied founders, there is no doubt that it will not be long before Evestor too is experiencing notable success in the field of online finance.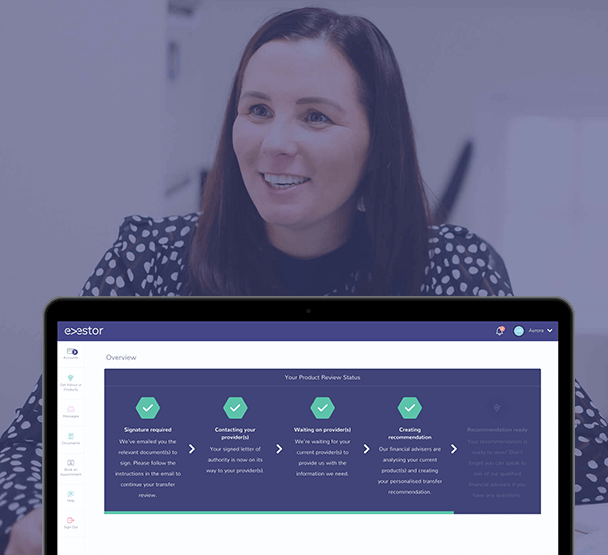 Co-founded by Moneysupermarket.com co-founder
Co-founded by Tatton Asset Management plc co-founder
A relative newcomer to the field
Go to Broker
Risk warning: Capital can be lost. Terms and conditions apply.
Conclusion
Among the best robo advisor solutions in the UK, Evestor can be a good solution for those interested in online investing without the hassle of day-to-day management. Those who are looking for a pre-determined solution will find Evestor's selection of portfolios to be right up their alley. Evestor stock trading may be an excellent choice for those new to investing with minimal funds to get started. With their ultra-low minimum investment, Evestor should be accessible to almost everyone. With its simple approach, this broker is a good solution for those interested in making long-term investments with low management fees.
This review of Evestor found that the lack of customisation for portfolios was somewhat disappointing, while their unassisted option for selecting a portfolio was initially misleading as it led one to believe that some customisation was available.
In addition, Evestor's website provided sufficient information regarding the available portfolios but did not provide much additional information such as available deposit methods or the time required to execute withdrawals. There was a general lack of FAQs, which it would be nice to see fleshed out.
Financial advisor consultations available in evenings and on weekends
Minimal interaction required by clients
Regular review
Broker managed purchases and sales
Accepts transfers of existing investments
Lack of information on website
Inability to customise portfolio
No weekend or evening customer support
Test result
Broker

Go to Broker
Risk warning: Capital can be lost. Terms and conditions apply.