Headquartered in London and headed by industry veterans Gemma Godfrey and Andrew Jordan, Moola is one of the many new entrants into the robo advisor investing space. Under the guidance of Godfrey and Jordan, Moola's mission statement is simple: to cut out the complexity of investing for the general public and to make it affordable to do so. With this in mind, this Moola review is going to consider how well the broker delivers on its aims of simplicity and affordability.
Highlights
Low fees on investment accounts
Easy-to-use, well-designed website
Industry backing from experienced experts
Knowledgeable customer support
2.
of 10 Robo Advisor Broker
Moola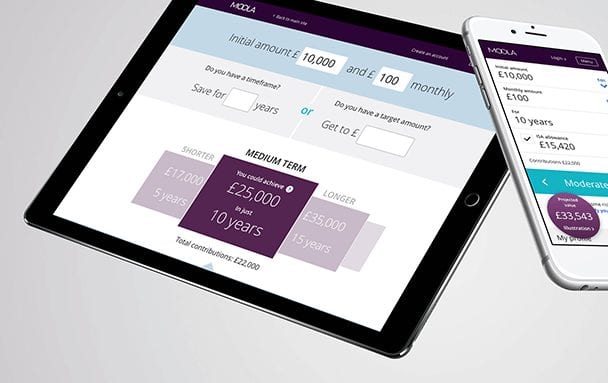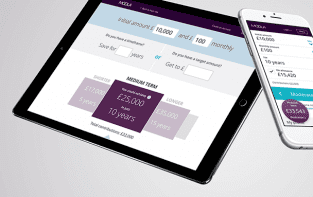 Go to Broker
Risk warning: Capital can be lost. Terms and conditions apply.
Headquarters and regulation
UK (FCA)
Investment Universe
Shares, Commodities, Real Estate, Bonds, Money Market
Diversification
More than 1,000 ETFs
Services & additional benefits
Live
Hotline
E-mail
1. Trading Offer
1) Robo Advisor Trading Offer: Low minimum investment required
With the aim of simplifying personal investments for users, Moola allows users to get started with as little as £100. Users select the level of risk they want to take in their investment strategy and choose from "Cautious", "Moderate" or "Adventurous". Moola then uses this information to put together a portfolio of investments as well as a suitable investment strategy for you. You can then see when an investment is made with your funds, what fund it goes into, and in what percentages. This information is readily available via the investment portal in an easy-to-read manner. You can also set what your preferred monthly contribution will be, as well as choosing various savings and investment goals.
As you can make projections about what your investments will be worth in the future, Moola functions as a cross between a traditional savings account and an investment platform. Users have available to them the core range of BlackRock's ETFs – those under the "iShares" name, with each portfolio holding a minimum of 12 different funds. This means that investment portfolios are diversified into a total of 1,000 individual investments around the world in a combination of shares, bonds and real assets. This gives users an incredibly high level of diversification, particularly when compared to traditional investment platforms.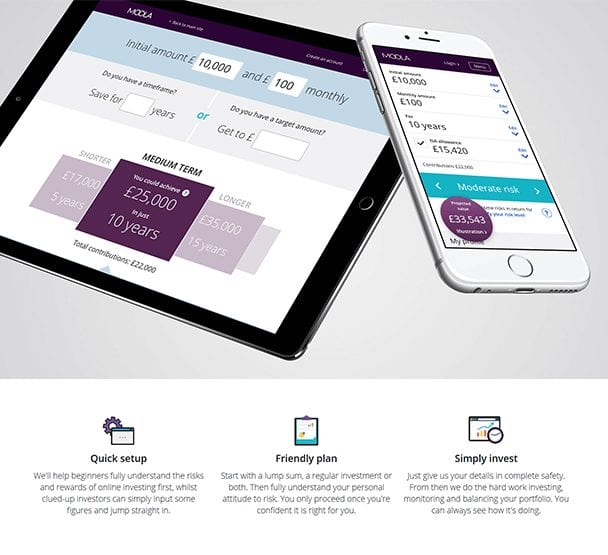 Offers a cross between a savings account and an investment account
High level of diversification across a range of asset types
Portfolio information readily available and easy to read
Go to Broker
Risk warning: Capital can be lost. Terms and conditions apply.
2. Costs
Go to Broker
Risk warning: Capital can be lost. Terms and conditions apply.
3. Account
3) Accounts: One account type to simplify your investments
User accounts and portfolios are monitored by the in-house investment team, which consists of a wide array of suitably qualified investment professionals. User account portfolios will be monitored and periodically adjusted if necessary by the team and kept on track towards the chosen investment goals using threshold-based rebalancing. One of the attractive account features offered by Moola is the ability to choose ethical investment options when selecting your investment strategy.
0,15%
Underlying costs/fees
More than 1,000 ETFs
Diversification
This means that Moola can only invest your money in companies and funds that have a positive societal impact. This would exclude, for example, investments being made in industries such as nuclear power, weapons, GMOs, tobacco, alcohol or adult entertainment. The investments team at Moola makes these choices based on a list of ethically operated companies that were scored on their environmental impact, social impact and overall governance. Currently, Moola does not offer any account options for premium users. There is one standard account type available for all users. This may or may not turn you off the service. However, this Moola review believes that the investment process is considerably simplified without any unnecessary, and more costly, features.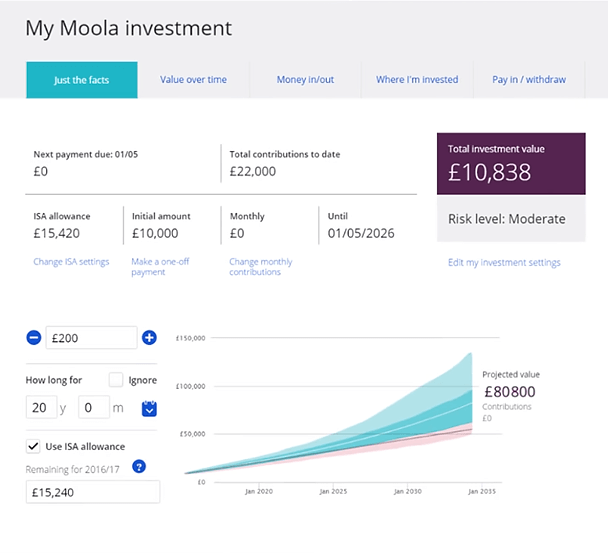 Ability to choose ethical investments
No tiered or premium account types
Constant monitoring and rebalancing of portfolios by professionals
Go to Broker
Risk warning: Capital can be lost. Terms and conditions apply.
4. Platform
4) Trading Platform: Solid mobile trading options
Limited investment guidance is currently available in the investment for beginners section, which includes some videos featuring Gemma Godfrey offering some basic investment information. This is a big plus in comparison to other brokerages, as Godfrey has earned a dedicated following online for her simple, to-the-point investment and savings advice. However, this Moola review notes that the educational content is somewhat lacking compared to other brokers, and the addition of a weekly newsletter with tips and information would be welcomed. In the coming months, Moola hopes to launch the "Moolacademy" platform, which looks to help beginners learn more about making investments online.
Users will be provided with short, fast-paced and light-hearted courses that give a broad overview about making investments, including an insight into how Moola itself makes investment decisions. Moola is one of the few robo advisors covered in the broker comparison section of this website that do not have a dedicated trading app. Although it should be noted that the mobile version of the Moola website is mobile device-friendly and easy to use on a smaller screen, if you rely on a dedicated trading app, then you might be better served elsewhere, particularly if you intend on taking your Moola earning on the go.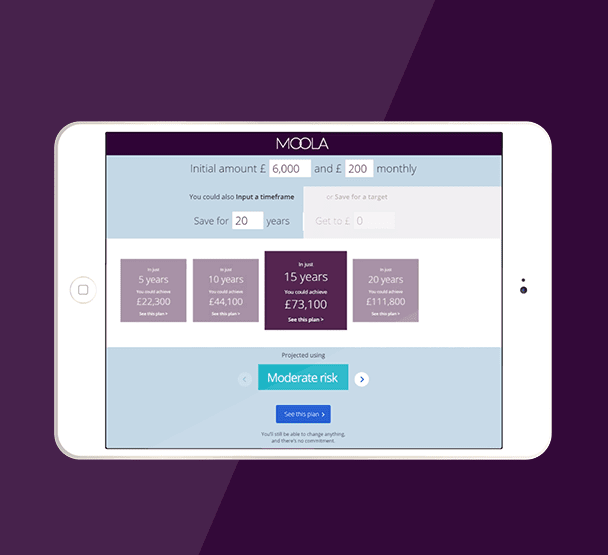 Fast and responsive website
Clear layout allowing for easy navigation
Pleasing visual aesthetic
Go to Broker
Risk warning: Capital can be lost. Terms and conditions apply.
5. Usability
5) Usability of the Website: Sleek design that is beginner-friendly
Those customers who are familiar with the other major robo trading websites out there won't have too much difficulty using the Moola stock trading interface, and the website follows a familiar formula when it comes to the design. The Moola earning user interface is generally very intuitive, and you shouldn't have any issues quickly accessing your account information. The user interface is bright and visually appealing, but this doesn't mean the usability suffers in favour of the aesthetics. Instead, the entire interface works together in harmony to provide the best experience.
This works to Moola's advantage, and changes to your investment strategy can be made quickly. Menus are easy to navigate through a distinctive tab at the top of the screen, which gives you easy access to all the main account features. Furthermore, the website is not overloaded with graphics, and as a result, the website is very responsive. This is similarly the case for the mobile version of the website, which was a perfectly scaled-down version of the desktop website. It seems that Moola's focus on being beginner-friendly carries over to the design cues of the website, with Moola appearing much more inviting than some of its competitors.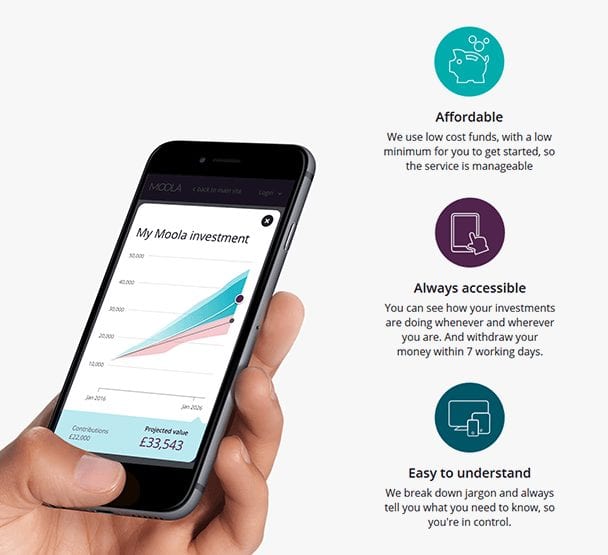 Fast and responsive website
Clear layout allowing for easy navigation
Pleasing visual aesthetic
Go to Broker
Risk warning: Capital can be lost. Terms and conditions apply.
6. Support
6) Customer Support: Responsive and knowledgeable customer support staff
Customer support is clearly a big focus for Moola in terms of the growth of the business, and Moola has recently announced that it will be launching a Belfast office in the coming months to support the backend and customer support functions. Readers of this Moola brokerage review should also be aware that new users to the website will have to undergo thorough identity checks before they can begin investing. Moola is required to confirm users' identity for the purpose of complying with money laundering regulations, and restrictions will be placed on investment accounts until these have been cleared.
In this reviewer's experience, the identity checks were simple to comply with and the processing times were reasonably quick. If you have any issues with anything to do with your investment account, customer support is available by phone, email or a live chat option on the website. Email queries will only be responded to during working hours. The live chat option on the website is a much-welcomed addition, but once again, it is only staffed between 9am and 5pm, Monday to Friday. This seems somewhat limited in comparison to some of Moola's competitors in the robo advisor space, so this should be kept in mind when choosing a broker.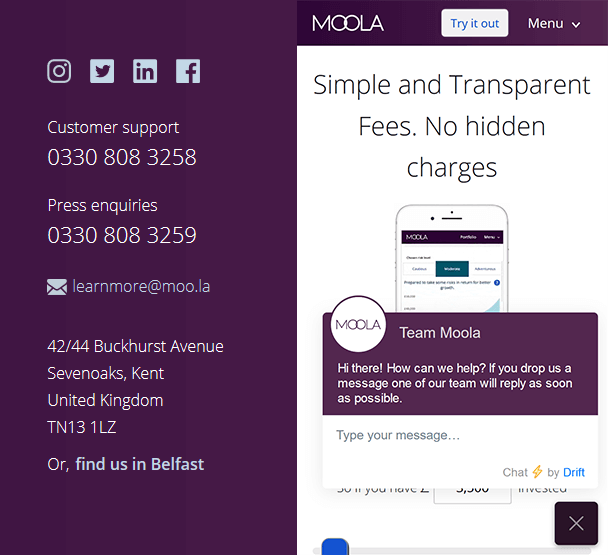 Customer support available through live chat, phone or email
Somewhat limited customer support opening hours
Quick new account processing times
Go to Broker
Risk warning: Capital can be lost. Terms and conditions apply.
7. Payment
7) Methods of Payment: Secure but somewhat slow transactions
The minimum investment required by Moola is much lower than many of its competitors, with users able to start investing with a minimum of £50 in their accounts. Money can be deposited to your investment account by a bank transfer or direct debit, with further options to make a regular deposit to your Moola account. This is a great option for those hoping to automate their savings and investments with minimum hassle. The website is protected by the best security practice possible. As a further security measure, you can also add two-factor security authentication to your account, which gives significant peace of mind to users.
In comparison to other robo advisors covered in the review section, the processing times with our Moola brokerage account did appear to be somewhat slower. Processing times can be quite slow between sending your money and it being invested, and this is something that readers of this Moola review should definitely take into consideration. Moola does wait for authorisation once the money is received into the user's account, which provides some much-needed time to make some final adjustments to your portfolio strategy before you begin trading. It should also be noted that no fees are charged for withdrawals, which usually take between five and seven days.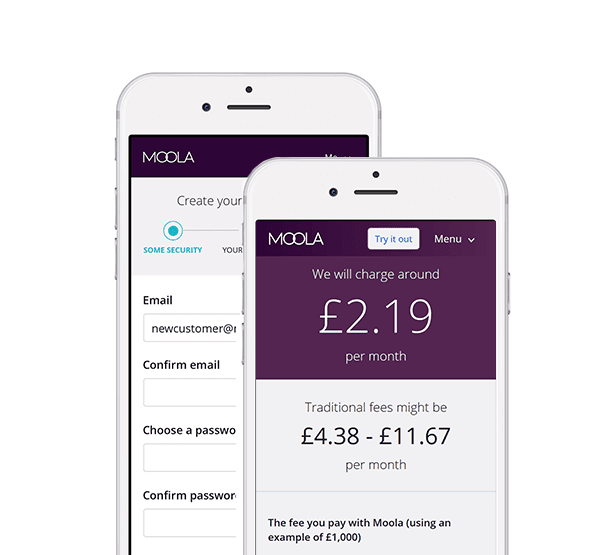 Account deposits made via direct debit or bank transfer
Industry-leading security standards
Two-factor authentication on user investment accounts
Go to Broker
Risk warning: Capital can be lost. Terms and conditions apply.
8. Offers
8) Additional Offers: Demo account available for new users
Moola does tend to run seasonal offers to encourage new users to sign up to its service. For example, Moola recently offered £125 cashback after 12 months with a minimum investment of £1,200 over the course of the year. It should be noted, however, that this appears to be a more limited, introductory offer. In this regard, we would welcome more offers and promotions for regular users of the service. Moola also offers a trial account, which allows you to set up a demo portfolio and make some predictions for a specified period of time.
You can select the sum with which you hope to begin investing, your intended monthly contributions, and a number of other account variables such as ethical trading options. The website then makes a projection of what your investment could be worth at the end of the specified investment term. This is an incredibly useful feature for users who are new to the investment space and want to compare projected returns between brokers. The website also has an option to save it and come back to it at a later date.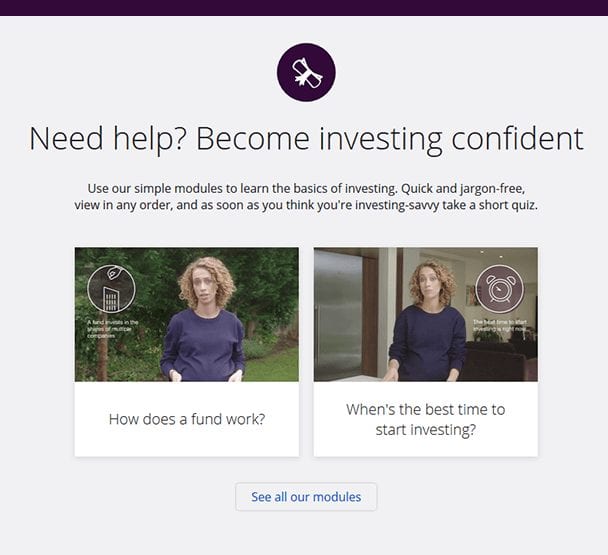 Demo account allows you to make projections
Occasional promotions run for new users
Demo account useful for making broker comparisons
Go to Broker
Risk warning: Capital can be lost. Terms and conditions apply.
9. Regulation
9) Regulation & Deposit Protection: Tight security and industry regulation
It is clear that the team at Moola places a great deal of importance on both transparency and regulatory compliance. Statements on Moola's legal and regulatory compliance status are readily available through the website at the bottom of the webpage, and any further queries can be sent to the customer support team via the built-in live chat service. Moola abides by all the industry standards required of financial services operators, such as conflict-of-interest statements and anti-money laundering initiatives. Moola is registered in the UK and trades under the name of Moola Systems Limited.
As such, Moola falls under the regulatory oversight of the Financial Conduct Authority (FCA), which is one of the leading financial regulatory bodies worldwide. Crucially for investors, this affiliation with the FCA means that, amongst other things, Moola's user investment accounts are protected up to £50,000 should Moola go into liquidation. The FCA is one of the world's leading financial regulatory bodies, and this shows the extent to which Moola takes its regulatory obligations seriously. In addition, account security is clearly a high priority, and the website has industry-leading encryption to ensure that everything is encrypted to the highest standard.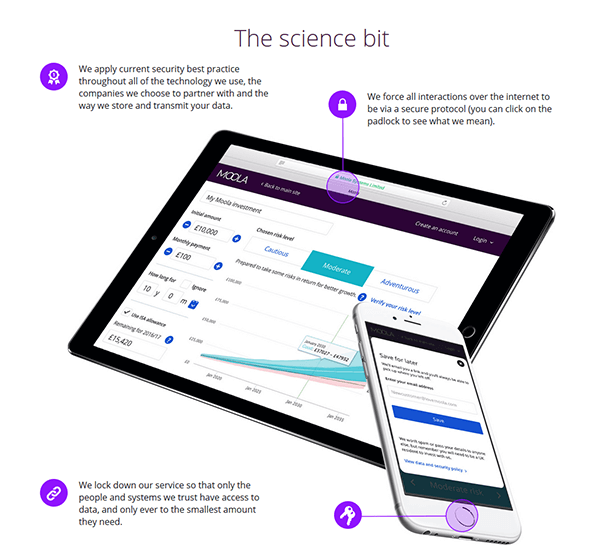 Regulated by the FCA in the UK
All user accounts secured with two-factor authentication
All website communications encrypted to industry-leading standards
Go to Broker
Risk warning: Capital can be lost. Terms and conditions apply.
10. Awards
10) Awards: A new entrant with a start-up attitude
Founders Godfrey and Jordan have brought with them to Moola a wealth of industry experience, which has served them well in creating industry ties with Winterflood Business Services and BlackRock – two of the most prominent players in the investment space. This a significant pairing and gives Moola users all the benefits of more established players such as BlackRock, with the dynamism and disruptive approaches of Godfrey and Jordan. Moola does not appear to have been the recipient of any major awards as of yet, though this is arguable because it is a much newer entrant into the market in comparison to some of the other more established robo advisors.
It is expected that over time, this will be recognised with industry awards, particularly in light of how well received the service has been among users of the website. Users have praised Moola for the simplicity of the service, the transparency of the fee structure, and the ease at which you can begin investing. It is clear that in this regard Moola is intent on delivering on its goals of keeping investing uncomplicated and approachable.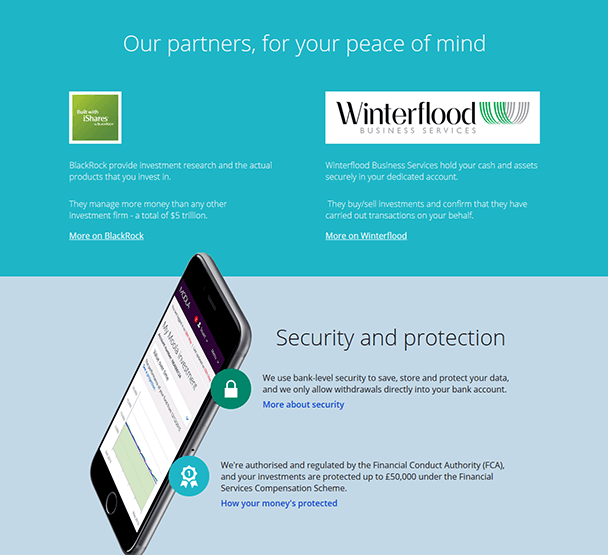 No major industry award won yet
Tie-ups with industry players secured early on
User reviews and feedback are generally very positive
Go to Broker
Risk warning: Capital can be lost. Terms and conditions apply.
Conclusion
It scarcely needs to be said that having your savings working for you, and earning a steady return, is much better than having it sitting in an unused savings account accruing minimal interest each month. Unfortunately, however, getting started in the investment space can be a daunting task for novices, with the range of brokerages and services available often putting off new users rather than encouraging them. As such, in summing up this Moola brokerage review and answering the question posed at the start – "Is Moola good?" – this platform makes a great choice for new investors. It considerably simplifies the process of getting an investment portfolio started while also significantly reducing the complexity of making investment choices. For this reason, Moola makes a great alternative to traditional investment platforms and presents a much more reasonably priced alternative to an investment fund. The barrier to entry is low, and users can get started quickly through a simplified sign-up process. Although the fees might be slightly higher when compared to other robo advisor platforms, the Moola stock trading on offer presents a very competitive option in the robo advisor space.
Easy-to-use interface
Ethical investment options
Transparent fee structure
Good video content for new users
No dedicated mobile app
Fees slightly higher than other robo advisors
Limited customer service contact hours
Test result
Broker

Go to Broker
Risk warning: Capital can be lost. Terms and conditions apply.