Is Netwealth good for investors? That's what we'll be endeavouring to answer in this detailed review of Netwealth. We'll guide you through the website and its design, the range of investment accounts available, the learning resources available, the fees associated with the investments you can opt for and the company's customer support and standards of security and encryption. We'll also walk you through the different fees for the firm's three tiers of investment (£50,000 to £249,000; £250,000 to £499,000 and £500,000-plus).
Highlights
Competitive trading costs
Easy-to-use website
Email contact available 24/7
Consultations with expert advisers
8.
of 10 Robo Advisor Broker
Netwealth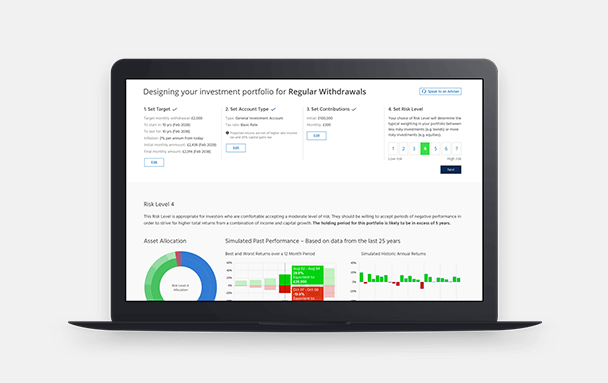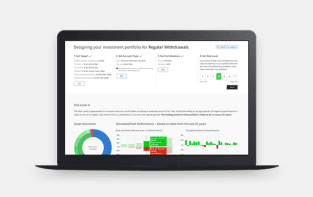 Go to Broker
Risk warning: Capital can be lost. Terms and conditions apply.
Headquarters and regulation
UK (FCA)
Investment Universe
Shares, Commodities, Real Estate, Bonds, Money Market
Services & additional benefits
Hotline
E-mail
1. Trading Offer
1) Robo Advisor Trading Offer: A wide variety
In our comprehensive Netwealth brokerage review, we'll seek to answer the fundamental question: Is Netwealth good? The company offers a combination of human advisors and robo advisors, although the former is only available on a restricted basis, with advice confined to their own products and services rather than the entire market. Users can request ad hoc or ongoing expert advice but will always receive an annual financial review. The tradeable assets on offer are equities (UK, European, US, Asian and emerging markets), fixed income, high-grade corporate bonds, government bonds, emerging market government bonds and cash deposits. Exchange-traded funds (EFTs) are also on offer so that investors can gain exposure to a wider range of assets and markets without having to bear the costs of owning the former.
The savings plans the company offers are fivefold: Retirement (investing now for income and drawdown upon retirement), Regular Withdrawals (investing to enable regular income withdrawals), Significant Purchase (investment aimed at a target amount to enable appreciable outgoings and purchases), Rainy Day (cumulatively creating a fund to cover the cost of unexpected contingencies) and Just Invest (general investing). Netwealth also provides a custody account in the form of a Junior GIA (General Investment Account), an account opened by a 'bare trust' and controlled by one or more trustees (e.g. parents or grandparents) on behalf of a child beneficiary.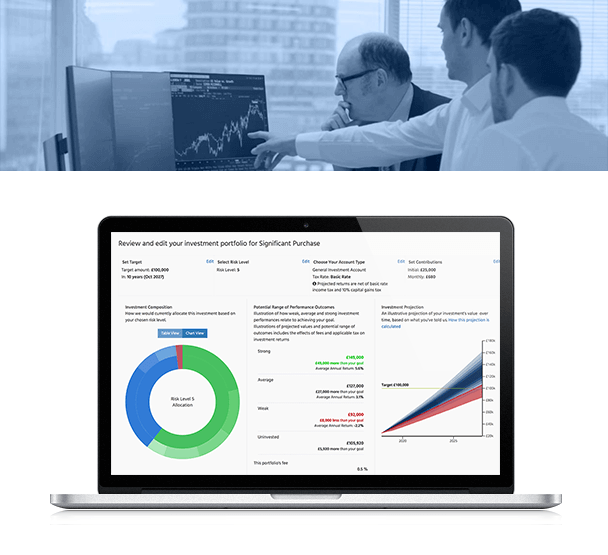 A good range of tradeable assets
Annual financial reviews
A good range of savings accounts
Go to Broker
Risk warning: Capital can be lost. Terms and conditions apply.
2. Costs
Go to Broker
Risk warning: Capital can be lost. Terms and conditions apply.
3. Account
3) Accounts: Understanding the different types
There are five broad categories of Netwealth brokerage account. Our Netwealth brokerage review spells out the types and their advantages for you as follows:
GIA (General Investment Accounts): You can use these standard investment accounts to invest in any combination of seven levels of risk, but bear in mind that as these are standard investment accounts, any income and capital gains you receive from them will be subject to tax.
Junior GIA: As mentioned earlier, this is a custody account for minors controlled by one or more trustees such as parents or grandparents.
ISAs (Individual Savings Accounts): These are tax-efficient investments that grow tax-free for income as well as capital gains.
Junior ISAs: These are tax-free ISAs that are available to minors below the age of 18. JISAs may only be accessed by the named child when he or she has reached the age of 18.
Self Invested Personal Pension Accounts: These are tax-efficient investments, including transfer in and consolidating pensions for retirement. Withdrawal is usually available once you've turned 55 years of age. A portion will be tax-free, while the remainder will be subject to income tax.
VIP Charity, Trust and Corporate Accounts: These are discretionary management services from Netwealth stock trading that offer cash-flow planning.
0,50%
Underlying costs/fees
In short, Netwealth offers a wealth of account options.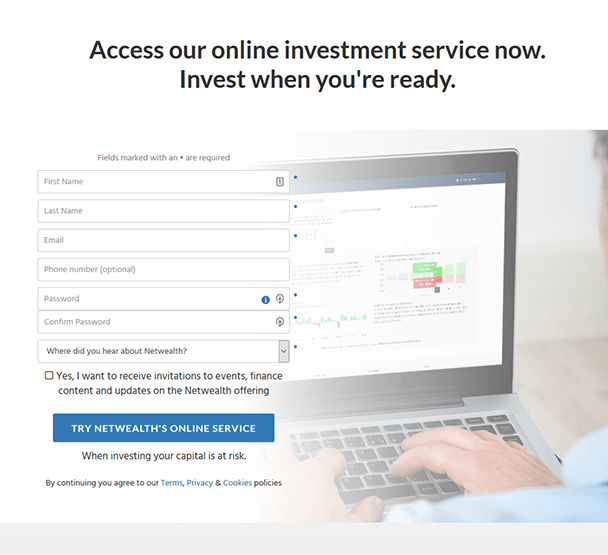 GIAs and Junior GIAs
ISAs and JISAs
Pension Accounts
Go to Broker
Risk warning: Capital can be lost. Terms and conditions apply.
4. Platform
4) Trading Platform: More about the software
Netwealth offers users access to powerful investment software that clearly distinguishes seven different risk level portfolios, each one denominated in pounds sterling, euros and US dollars. Users are then offered the choice of five Netwealth brokerage account types (ISA, JISA, GIA or Junior GIA) with automated future tax-efficient investing. Users may select one, several or all of these and can then easily set up their contributions (minimum initial contribution is £5,000). The platform then presents a suggested investment combination in line with the investor's risk preferences, whereupon it offers three options: save for later, invest in the suggested portfolio now, or discuss options further with an advisor.
Asset classes are clearly broken down into different categories with good visuals, although at this stage actual funds are not visible. Users can see investment projections forecasting potential outcomes falling within a wide range. These are covered by the modest discretionary fees we referred to earlier in the 'Robo Advisor Costs' section. When it comes to mobile trading, caution is required here. Netwealth UK does not appear to offer a mobile app, although a Netwealth app is available from the Apple app store. This, however, appears to be solely for Australian customers and is linked to a separate Australian firm with the same name.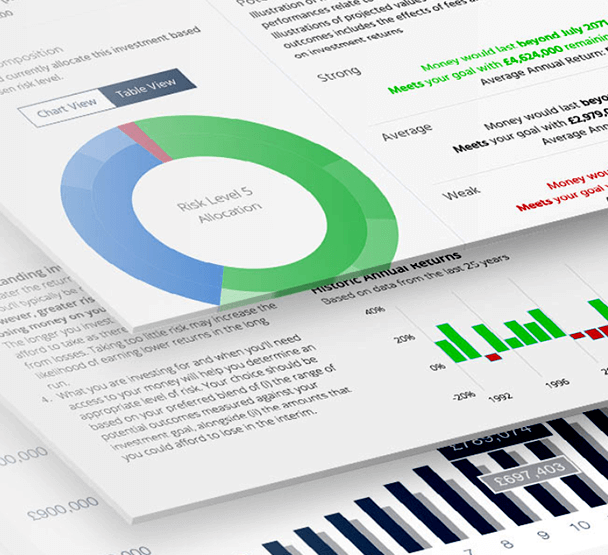 Clear distinctions between different risk level portfolios
Clear options for investment, including the option of seeking input from an advisor before proceeding
No mobile app available in the UK
Go to Broker
Risk warning: Capital can be lost. Terms and conditions apply.
5. Usability
5) Usability of the Website: Easy-to-use and visually attractive
Our review of Netwealth wouldn't be complete without an overview of the company's website. And our verdict, save for one caveat, is positive: it's well constructed, unfussily arranged, visually appealingly with attractive graphics and easy-to-read charts, and easy to find your way around. Whether you're looking for Netwealth stock trading or ETF options, the website is designed to make it easy to find them. Upon opening your Netwealth brokerage account, you'll be presented with a "Set up your Investment Portfolio" page that clearly offers the five different investment goal options. After entering basic information, you'll be invited to choose the investment risk level you're comfortable with, whereupon you'll see clear graphics depicting "Simulated Historical Returns" and "Best and Worst Returns over a 12 Month Period." Our one gripe is that you get minimal information about the difference between the risk levels and how they're calculated at this point, meaning that you have to jump back and forth while setting up portfolios to see how they differ. Other than that, the online instructions and prompts are simple to follow and clearly laid out. Scroll to the bottom of the welcome page and all the important information you require about the company overview and history. Its top products, fees, legal information, general terms and conditions are set out as a series of hyperlinked headings.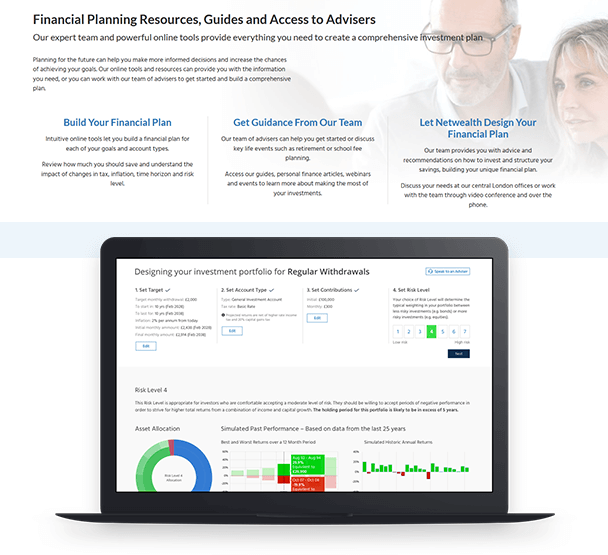 Easy-to-use, visually attractive website design
Easy to navigate between different options
Clear information on terms and conditions
Go to Broker
Risk warning: Capital can be lost. Terms and conditions apply.
6. Support
6) Customer Support: Get help when you need it
Netwealth UK offers a free telephone hotline open between 8.00am and 6.00pm Monday to Friday, 24/7 email contact (with a promise to reply "as soon as possible") or correspondence to the company headquarters in Charlotte Street, London, using conventional mail. Customers can also request a call back from one of Netwealth's team of expert advisers. The telephone hotline operatives and email responders are courteous and knowledgeable and will be able to resolve customer queries in the majority of cases, or they will suggest a consultation with an expert adviser for more complex inquiries. The contact and support options are clearly visible and readily accessible by scrolling to the bottom of the welcome page.
Help Hub is an online resource that offers customers a range of support options in one place, including the contact options referred to above as well as an informative "Knowledge Centre" providing clearly explained information on Netwealth's products and services. Users can find out about the company's investment assets with overviews of bonds, ETFs, mutual Bonds, the five different Netwealth brokerage account types, transfers (of ISAs, Pensions and JISAs) and fees. All you need to know about Netwealth stock trading is in one convenient place.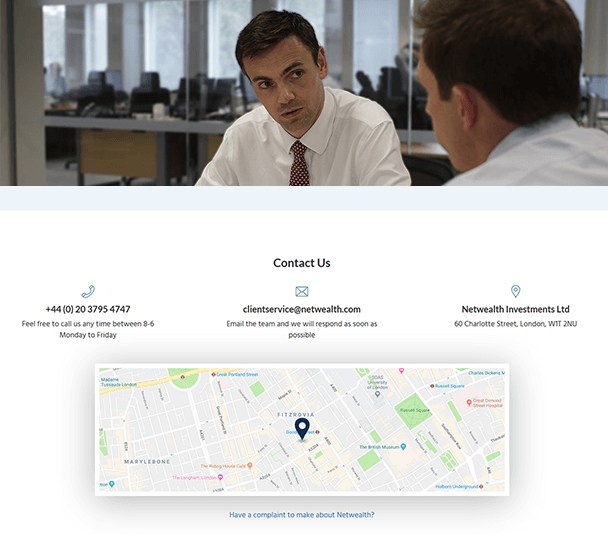 Contact options include free Monday-Friday (8.00am-6.00pm) telephone hotline, email and conventional mail
Competent telephone and email operatives who will recommend expert advisers for complex issues
Comprehensive online Help Hub
Go to Broker
Risk warning: Capital can be lost. Terms and conditions apply.
7. Payment
7) Payments: Understanding fees and minimums
A broker comparison will show that the company's fees are exceptionally modest, even in terms of a robo advisor comparison, chiefly because Netwealth stock trading relies heavily on cutting-edge robo adviser technology rather than exclusively on hands-on expert adviser management. The latter can be called upon by arrangement, however, and will be charged at the rate of £125 per hour. Users requiring ongoing advice, however, will be charged 0.2% per annum on the overall value of their account, subject to a minimum of £1,000 per annum.
The minimum investment, which may be split over several portfolios, is £50,000, although it is possible to invest in an ISA with just £5,000 via the Netwealth Network option rather than opening a Netwealth account. Withdrawals of all or part of ISAs can be made, as with any other account held with Netwealth, although in the case of ISAs, the maximum amount you can invest remains applicable in any given year (meaning that you may not be able to repay withdrawn amounts in the same tax year). Provided you give minimum notice of 30 days, you can stipulate the time period for the withdrawal to be credited to a bank or savings account of your choice.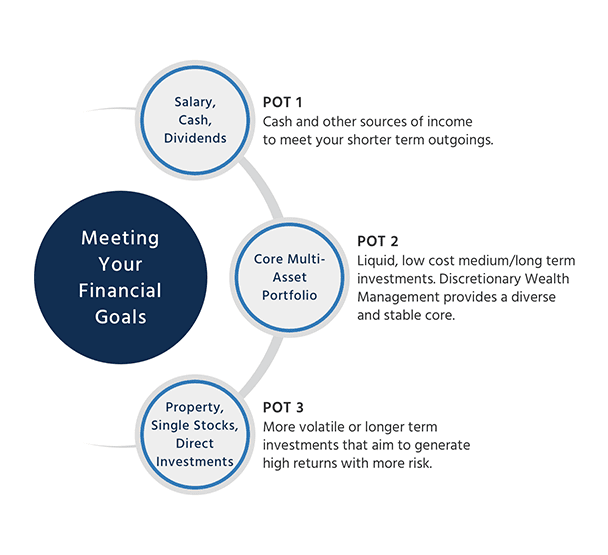 Fees are competitively low for all accounts
Expert adviser fees are £250 per hour, or 0.2% per annum on the total value of your account for ongoing advice
You may make withdrawals at any point with a 30-day notice period
Go to Broker
Risk warning: Capital can be lost. Terms and conditions apply.
8. Offers
8) Additional Offers: Get training before you start trading
Netwealth offers sample accounts. Upon entering some basic personal information (name, email address and password), you can try Netwealth's platform for free, selecting the investment risk level you're most comfortable with, entering investment amounts in the various portfolios and reading a performance forecast before you "Save", proceed to investment or request adviser input. For additional training, the Knowledge Centre on the platform's online Help Hub offers clear if basic training on bonds: what they are, how they generate money, what risks and advantages are associated with investing in them, and how and why to invest in them with Netwealth, including the option of overseas bonds.
There is also training on exchange traded funds, with a similar detailed breakdown of what they are, how they make money, risks and advantages including cost minimisation and how to invest in them with Netwealth, as well as training on mutual bonds. You'll find out what the latter is and how Netwealth searches and then selects the most suitable mutual bonds for your needs.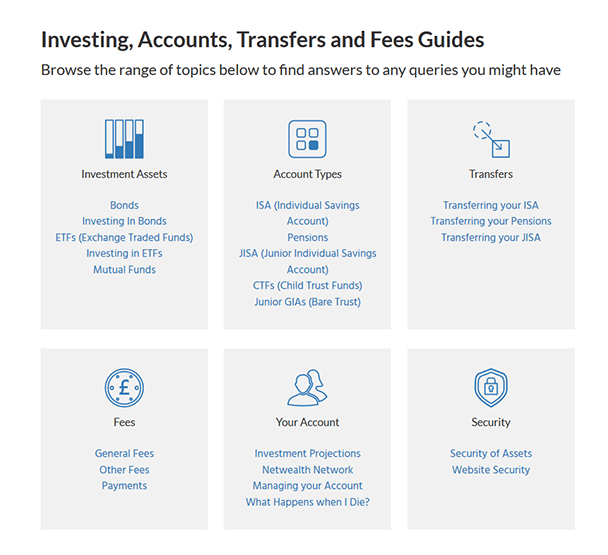 You can familiarise yourself with the Netwealth platform by opening an account and experimenting with the different investment options hypothetically before committing to any real-money investments
The platform's Help Hub offers training on bonds and mutual bonds and how to invest in them
Training on ETFs and how to invest in them
Go to Broker
Risk warning: Capital can be lost. Terms and conditions apply.
9. Regulation
9) Regulation & Deposit Protection: Licensing, certifications and encryption
Netwealth is based in the UK and is authorised and regulated by the country's official financial watchdog, the Financial Conduct Authority (FCA). Since it is not authorised by the FCA to directly hold client assets or client money, it has arranged safe custody of all of these via an FCA-authorised third party, SEI Investments (Europe) Ltd, which is also regulated by the FCA. All of Netwealth's data centres are certified for Information Security Management Standards (ISO/IEC 27001:2013) and function with multiple layers of security, virtualised environments and robustly secure encryption to protect their investors.
The platform's network host, Microsoft, has an unprecedented armoury of cyber defences against DDoS (Distributed Denial of Service) attacks and undertakes regular penetration testing to ensure new threats are detected and prevented. The company is registered with the Information Commissioner's Office (ZA164243) and obtains, processes, stores, uses and retains your personal data in strict compliance with the applicable Data Protection legislation. All personal data is securely encrypted both during transmission and at rest.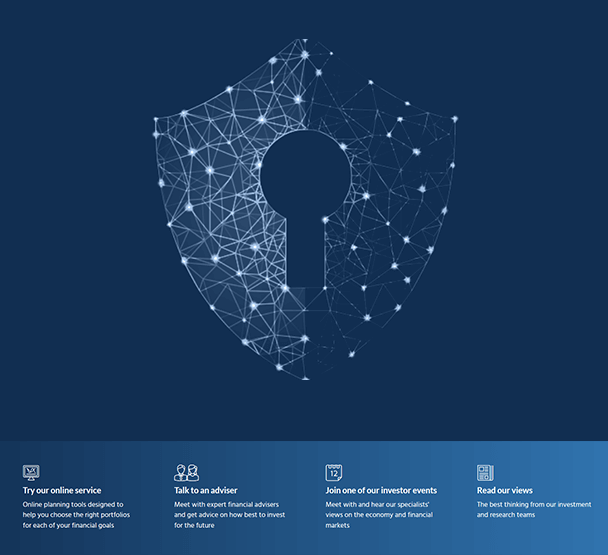 Authorised and regulated by the FCA
Data Centres certified by Information Security Management Standards
Robust layers of encryption and powerful defences against Dedicated Denial of Services attacks by global network host leader Microsoft
Go to Broker
Risk warning: Capital can be lost. Terms and conditions apply.
10. Awards
10) Awards: None at the moment but still deserving of accolades
In the course of our review of Netwealth, we have not identified any awards that have as yet been bestowed upon this company. We should, however, follow this statement by emphasising that, as with many new technology-enabled robo advisor firms, this is still a very young company. It was incorporated in March 2015 and received authorisation from the Financial Conduct Authority just over a year later, in April 2016. Previously known as Love Wealth Limited, the firm changed its trading moniker to National Investments Limited in November 2015. It has been categorised by the FCA as a limited licence company for capital adequacy purposes. But to return to the core question animating our review of Netwealth – is Netwealth good? – we conclude that it deserves the 'thumbs up' for its combination of human expert and robo advisor options, its low fees and its robust encryption capabilities and powerful data security. The website also deserves accolades for its easy navigation, striking but unfussy design and practically minded construction.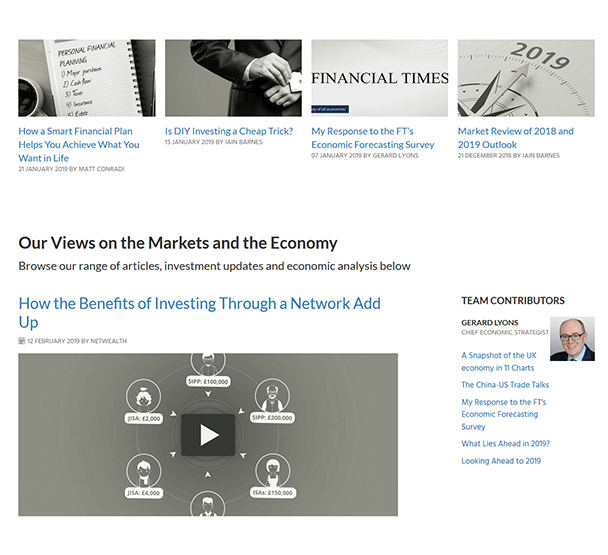 Guidance on what level of investment security suits your requirements and temperament best
A suggested portfolio of investment options
The option to seek consultations with expert advisors to finalise your requirements (and obtain ongoing advice if you choose)
Go to Broker
Risk warning: Capital can be lost. Terms and conditions apply.
Conclusion
A newcomer to the increasingly popular robo-advisor brokerage space, Netwealth blends the advantages of powerful investment technology with the insights of human financial experts. It does not, however, provide independent financial advice, as its advisers are restricted to the company's own products and services. These, however, cover a broad range of investment options, from low risk to high risk depending on requirements and preferences. The minimum investment for opening a Netwealth account is £50,000. While this may seem rather large, it is significantly less than the minimum requirements of higher-end brokerages specialising in expert adviser-only management of high net worth individuals' investments. The online help hub, along with the comprehensive customer care, all make for good customer experience and one that makes any users feel secure and in contact should any problems arise. Being authorised and regulated by the FCA is an additional lure of using this broker as it adds another layer of security.
Expert humans advisors highly knowledgeable about Netwealth UK's offerings
Efficient and effective use of robo advisors to keep trading costs competitive
Excellent, diverse range of tradeable assets
Custody accounts (Junior General Investment Accounts) available for minors
Strong layers of security/encryption to protect your data
Expert advisors restricted to Netwealth UK's own products and services so that you'll need an
No mobile app available in the UK
Additional costs for consultations with expert advisors
Test result
Broker

Go to Broker
Risk warning: Capital can be lost. Terms and conditions apply.