Founded in 2011, Nutmeg is a robo advisor that aims to bring investment opportunities to a wider audience. William Todd and Nick Hungerford founded the brokerage to provide an alternative and accessible service with a simple-to-follow fee structure and realistic pricing. Once Nutmeg clients have signed up for an account, they can select the level of guidance that they prefer. This review of Nutmeg found that its fully managed ETF portfolios can serve the needs of most passive investors seeking a financial portfolio.
Highlights
UK broker with FCA regulation
User-friendly, reliable customer service
top managed portfolios & cost-efficient
Transparent price structure - each service
1.
of 10 Robo Advisor Broker
Nutmeg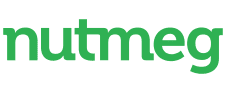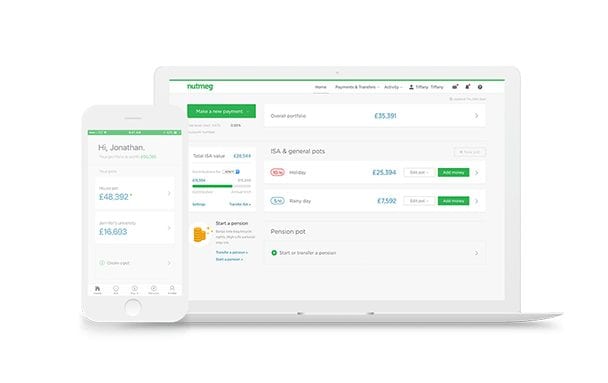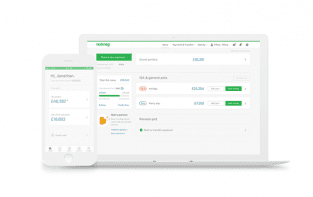 Go to Broker
Risk warning: Capital can be lost. Terms and conditions apply.
Headquarters and regulation
UK (FCA)
Investment Universe
Shares, Commodities, Real Estate, Bonds, Money Market
Services & additional benefits
Live
Hotline
E-mail
1. Trading Offer
1) Robo Advisor Trading Offer – A Huge Range of ETFs at Nutmeg
Nutmeg tends to focus on just a few tradable assets to minimise the costs passed on to its clients, but within these, there is a plentiful selection of exchange traded funds (ETFs) to consider. It works with around 1,800 ETFs, putting the emphasis on traditional ones rather than the synthetic versions. These boast a reliable performance and higher liquidity, tracking equities and bonds from emerging and developed markets. There are also a number of bonds available from North America, the UK and emerging markets as well as a few commodities. With no single provider, Nutmeg takes its pick from any holdings, securities and assets that look promising.
For investors interested in a savings plan, there are tax-free ISAs and Lifetime ISAs that can fund a property purchase or retirement fund. Clients have a choice of four different account types: the Standard or Lifetime ISA, the General Investment Account and the Pension. This broker comparison showed a high level of personalisation offered for each account. The Fixed Allocation Portfolios have minimal intervention and the Nutmeg team closely monitors the Fully Managed Portfolios and the Socially Responsible Portfolios, but the focus is on ethics as well as performance.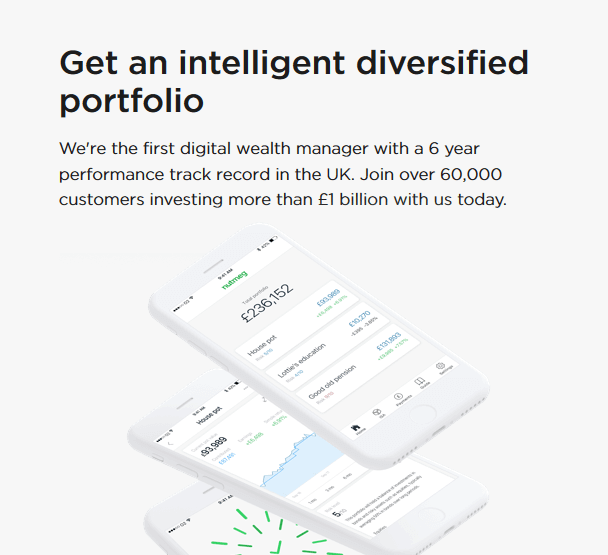 Nutmeg works with 1800 ETFs
The broker offers four different account types, from ISAs to general investments and pensions
Three separate investment plans with different levels of intervention are available
Go to Broker
Risk warning: Capital can be lost. Terms and conditions apply.
2. Costs
Go to Broker
Risk warning: Capital can be lost. Terms and conditions apply.
3. Account
3) Accounts – Tax-Free Savings and Pensions
Our Nutmeg brokerage review found four account types. Two centres around ISAs and the others on general investments and pensions. The Standard ISA, or individual savings account, allows you to avoid paying tax on your savings. These ISAs come with an annual £20,000 tax-free allowance, and most people can cash out at any time. If you are prepared to wait longer for your investment to pay off, then there is a Lifetime ISA available that also comes with a £20,000 tax-free allowance.
You can also choose to pay in an additional £4,000 each year until you are 50 years of age. The UK Government adds a bonus of 25% on contributions, so you could be in line for a £1,000 windfall each year. The General Investment Account is a more flexible option, and there is no limit to your annual contributions. This account links to a diverse global portfolio, and Nutmeg can give it close attention on your behalf. The Pension Account enables you to combine your investments into one managed portfolio, and you can view how your assets are performing at any time.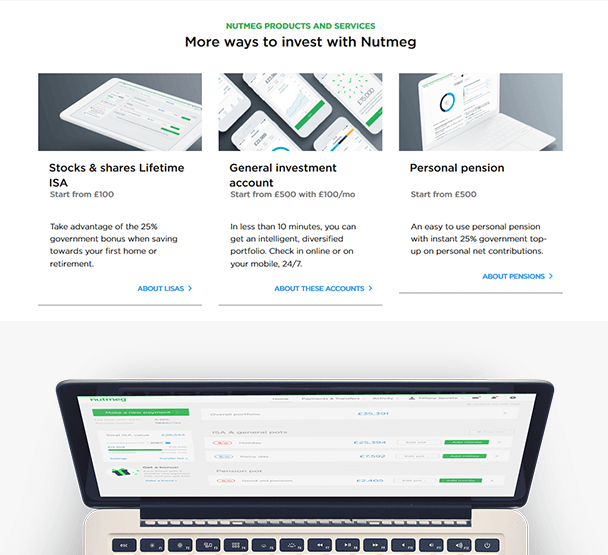 Four account types to suit the needs of individual investors
Tax-free ISAs, general investments and a pension
The General Investment Account is ideal if you have reached your ISA allowance
Go to Broker
Risk warning: Capital can be lost. Terms and conditions apply.
4. Platform
4) Trading Platform – A Desktop for Passive Investors
As Nutmeg does not offer any self-directed trading opportunities, there is no Nutmeg stock trading platform. Instead, clients get the chance to view and manage their accounts at any time. On the mobile app or desktop version of Nutmeg, clients can pay in cash, withdraw funds, monitor the performance of their investments and speak to their account managers. The mobile app is ideal for people who travel frequently or those who just like to keep an eye on their investments on the go.
It displays each of your accounts, and from here, you can choose to make deposits but not withdrawals. There are very few research tools at Nutmeg, but this reflects the fact that it manages its client's accounts. You can read more about the ETFs that appear in its portfolios, but there is no charting or analysis because it would be superfluous. What Nutmeg does provide is a helpful calculator that lets you work out a realistic investment plan for the pension pot that you need.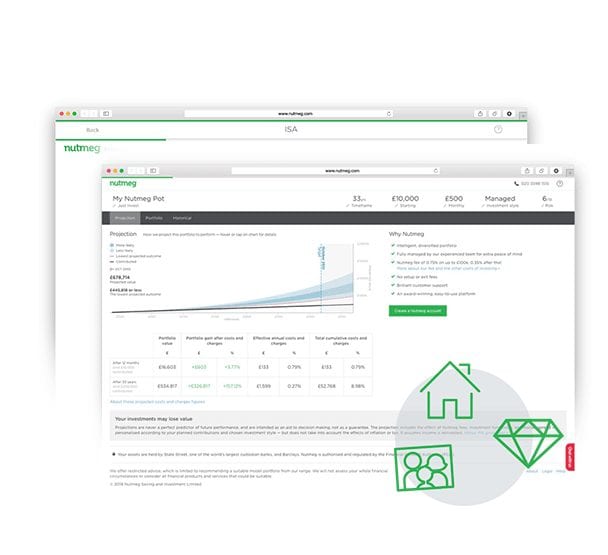 A non-trading site geared toward passive investors who may not have time at their disposal
Some useful calculators and a range of financial planning tools
One of the best robo advisor apps packed with useful features
Go to Broker
Risk warning: Capital can be lost. Terms and conditions apply.
5. Usability
5) Usability of the Website – Intuitive Navigation and Orderly Design
The website is well-constructed with an open and inviting feel. Everything that visitors or account holders need is clear, and navigation involves making only a few clicks. Information on the four different account types is available when you click on them from the menu bar. For each, there is plenty of clear, relevant and accessible detail on the ways in which that account can be of benefit. You can also learn more about how the accounts work, what the associated fees will be and what the Nutmeg stock trading track record is like. In terms of design, the website sticks to crisp whites and fresh greens with a few grey boxes for emphasis. The overall look is extremely professional and has few areas of white space and no clutter or advertising getting in the way. Anyone who is thinking of opening an investment account is keen to find out more about a company's credentials. To reassure potential clients, Nutmeg displays its legal information and regulatory status at the bottom of each page.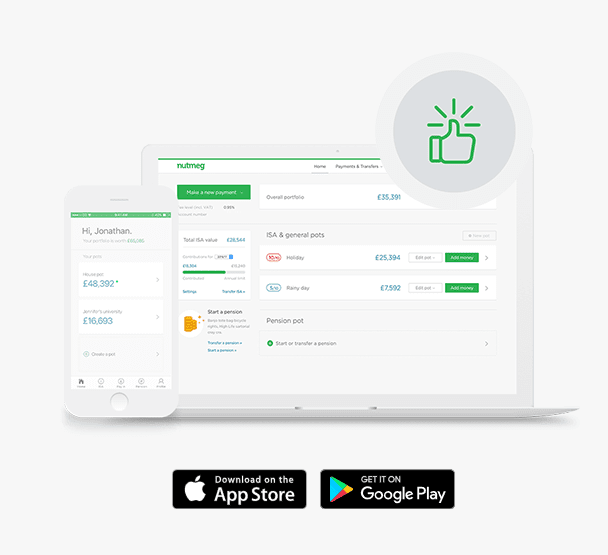 Excellent web design with simple navigation
Most important features are clear, which makes it simple for traders to continue unhindered
Regulatory details presented in the footer of each page
Go to Broker
Risk warning: Capital can be lost. Terms and conditions apply.
6. Support
6) Customer Support – A Professional and Accommodating Team
The Nutmeg team will help you set up an account and provide general guidance on your options. Although a Nutmeg brokerage account will not provide 24-hour support, there are plenty of ways to contact the broker during working hours. The London-based local rate phone number is 020 3598 1515, and there should be someone available to take calls Monday to Thursday from 9 am to 5.30pm and Friday from 9 am to 4 pm. A live chat feature is accessible via the website, and it keeps the same hours as the phone line.
Any chat messages sent outside of these hours go to Nutmeg's email address, [email protected], You can use this address to contact the company at other times, and it aims to reply within 24 hours. Unusually, you can use any of these channels to book yourself an appointment at Nutmeg's London HQ, which is situated at Unit 201, 2nd Floor Vox Studios, 1-45 Durham Street, London, SE11 5JH. The team is friendly and open with lots of relevant information to share, and during the week, its response times are impressive.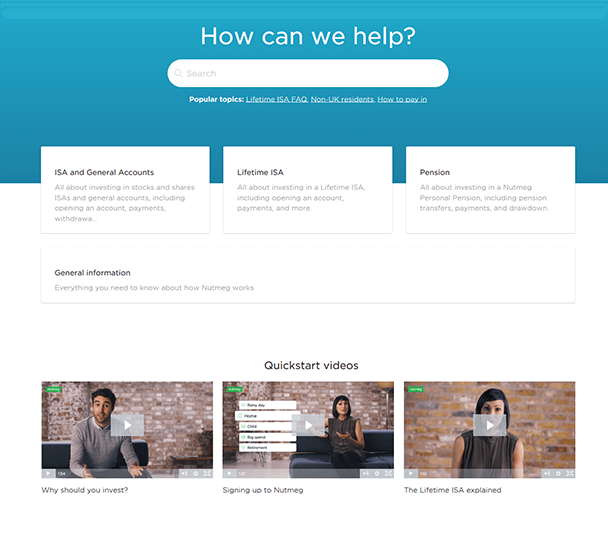 Contact options include a landline number, live chat and email
No weekend support
Personal visits welcomed
Go to Broker
Risk warning: Capital can be lost. Terms and conditions apply.
7. Payment
7) Methods of Payment – No Fees for Withdrawals or Deposits
Nutmeg has a number of options when it comes to making a deposit, depending on how an investor wishes to proceed. In order to make a single payment online, you simply choose the Pay in Now tab and then go to the account that you wish to top up. You can use debit cards or a bank transfer to deposit the money. Once a payment is finalised, it can take up to three days to reach your account, but it may not invest immediately, as Nutmeg has a bi-weekly cycle.
For each account aside from a Lifetime ISA, you can establish a monthly payment schedule with a Direct Debit. You can set this up through the Monthly Payment tab, then choose how to allocate the money between your accounts. To withdraw funds, visit the Payments and Transfers menu, then select Withdraw. If you used a debit card to pay money in, then your cash will go to that card. Otherwise, it can go directly to a bank account. The process may take three to seven days.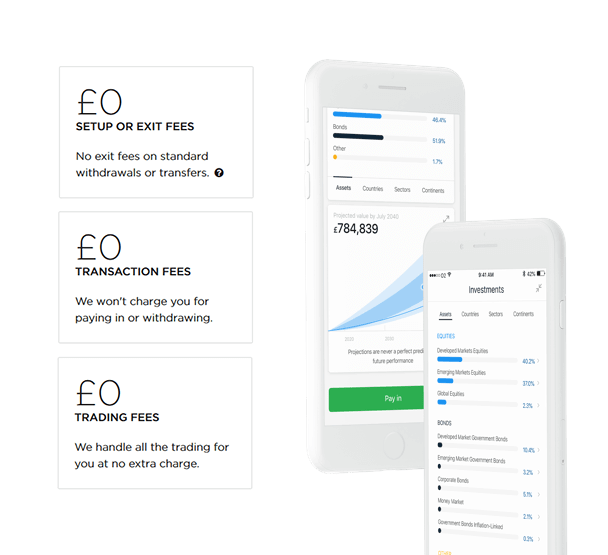 Funds are payable to any account online thanks to the integrated software
Debit cards and bank transfers accepted
Choose monthly instalments or a one-off payment
Go to Broker
Risk warning: Capital can be lost. Terms and conditions apply.
8. Offers
8) Additional Offers – Transferring Your ISA to Nutmeg
Our robo advisor comparison notes that Nutmeg offers a basic investing service with no extras. Because the prices remain low, it has no additional offers to tempt new clients. Nutmeg does have an excellent educational area where investors can learn more about how ETFs work and how they can make money. You can also find out about the ways in which Nutmeg invests and how to further your investment goals. People who already have an ISA with another provider can transfer it to Nutmeg, where it will be a Stocks and Shares ISA. You will need to inform your current provider of your wishes, and it may be able to make the transfer electronically.
There will be various steps involved, and the entire process can take between two and four weeks. Nutmeg will contact your current provider during this time to ensure that everything runs smoothly. Once the transfer is complete, Nutmeg will be in touch to let you know and will provide your sign-in details, giving you access to your new account.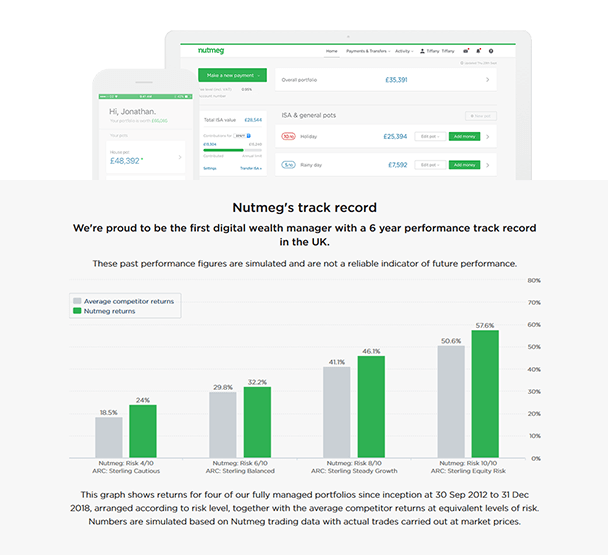 Informative blog and educational resources for traders who want to be informed
It is possible to transfer existing ISAs to Nutmeg
The transfer process can take up to four weeks
Go to Broker
Risk warning: Capital can be lost. Terms and conditions apply.
9. Regulation
9) Regulation & Deposit Protection – Full Regulation and Online Security
Nutmeg is based in the UK and regulated by the Financial Conduct Authority. This obliges the broker to comply with certain rules around fairness and protection of its clients' funds. As part of its commitment to customer safety, Nutmeg is one of many brokers that protects its clients by placing their funds in a custodian bank. The company uses a well-known provider called State Street, which maintains £18tn worth of similar assets from financial organisations across the globe. State Street simply holds on to your cash without lending it on or transferring it anywhere.
Therefore, if Nutmeg or State Street experience a serious financial problem, then the Financial Services Compensation Scheme will step in if necessary to reimburse clients up to the value of £50,000. This Nutmeg brokerage review found that its website security is also high, and the latest standards are adhered to. These include a two-step verification process to keep accounts safe along with 256-bit TLS encryption. There is also a secure channel for sending or receiving messages, which the broker calls Nutmail. This allows traders easy access to ensure a streamlined service.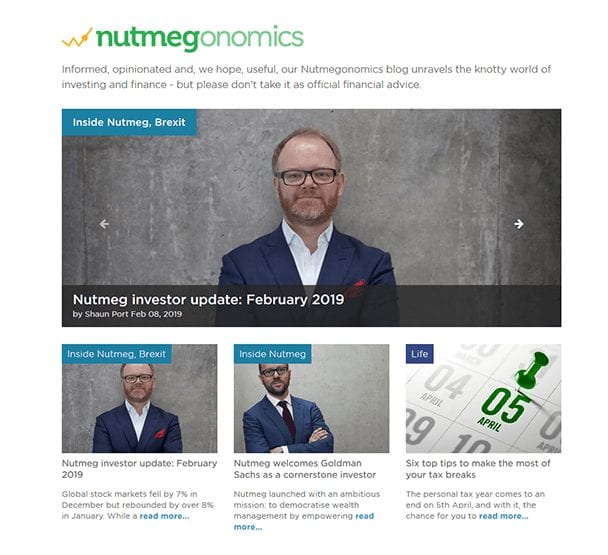 Financial Conduct Authority regulation
Customer funds held by a third-party bank
Site protected by encryption software
Go to Broker
Risk warning: Capital can be lost. Terms and conditions apply.
10. Awards
10) Awards – Industry Recognition for Nutmeg's Work
Nutmeg has won numerous financial awards, including the Your Money Best Stocks and Shares Advisor in both 2015 and 2016. More recently, it was celebrated at the Private Asset Managers (PAM) Awards ceremony in London with two key prizes. The annual PAM /Awards recognises the work of UK private asset managers and the companies that employ them Judging takes place from a panel of industry professionals who research the performance of various managers. In 2018, Nutmeg was the Private Asset Managers' Digital Wealth Solution winner, but the honours did not stop there.
One of the company's investment managers, James McManus, was also on the Private Asset Managers' Top 40 under 40 list. This is a method by which the PAM Awards identifies the younger managers that it feels are ones to watch in the wealth management business. Nutmeg also regularly appears in the UK media, with the company receiving mentions from the Sunday Times, the Financial Times and the BBC, which ran a story on how the company launched. This is a favourite among investors and the media alike.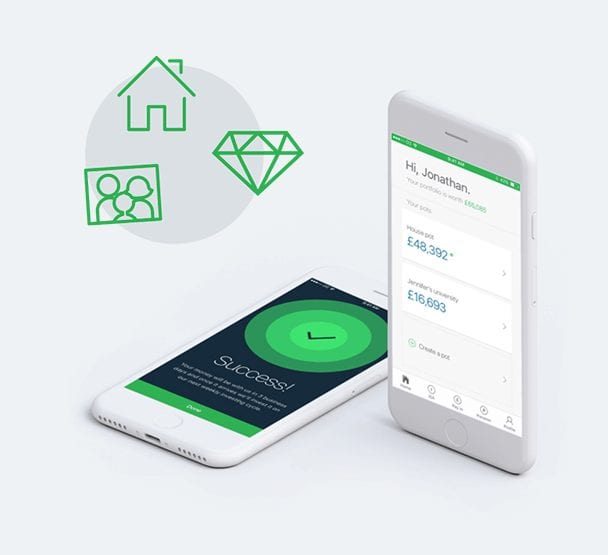 Nutmeg has won many awards for its financial services
An award was also won by an individual manager
The company receives regular mentions in the UK press
Go to Broker
Risk warning: Capital can be lost. Terms and conditions apply.
Conclusion – Is Nutmeg Good for Your Investing Needs?
If you are looking for a broker with plenty of trading software, charting and tools, then Nutmeg is not going to satisfy your requirements. Instead of trying to compete with larger brokerages, it focuses on delivering a solid robo advisor service with transparent pricing and a simple set-up process. The customer service team is on hand to solve any issues during the week and will provide details on each account when asked. The financial tools on offer are self-explanatory, and the entire website is visually pleasing with an edge of professionalism. The four account packages are affordable, catering for a range of needs and handled by experienced private wealth managers. By avoiding individual bonds or shares and creating ETF-based portfolios, Nutmeg is able to pass on savings. There are few additional fees, and management costs are attractively low. For passive investors seeking a no-frills investment opportunity, Nutmeg is a reliable option.
The website is well-presented with plenty of detail
Choice of four accounts to suit each investor
Set-up times are swift
Low fees with few additional charges
Great customer service with a landline number
No option for active trading
Cheaper fees reserved for higher account balances
Test result
Broker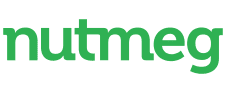 Go to Broker
Risk warning: Capital can be lost. Terms and conditions apply.