Scalable Capital is an independent robo advisor that launched in Munich, Germany in 2015. Now established in the UK, the broker focuses on bringing investment opportunities to a wider pool of people who may not be ready to trade actively. This Scalable Capital brokerage review found that the company maintains a low pricing system and uses ETFs in its strategy because these are a cheaper option.  A propriety system created by Stefan Mittnik PhD, a noted academic, manages its risk technology.
Highlights
More than 6,000 clients
General account backing by BlackRock
Pricing is transparent and straightforward
Robust risk management technology
4.
of 10 Robo Advisor Broker
Scalable Capital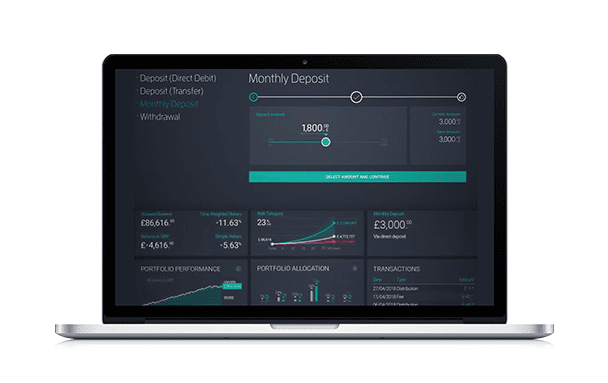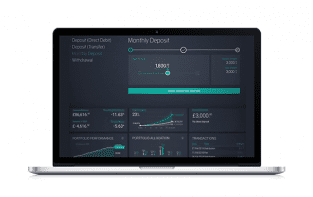 Go to Broker
Risk warning: Capital can be lost. Terms and conditions apply.
Headquarters and regulation
UK (FCA)
Investment Universe
Shares, Commodities, Real Estate, Bonds, Money Market
Diversification
9,500 companies from 90 countries
Services & additional benefits
Hotline
E-mail
Courses/Seminars
1. Trading Offer
1) Robo Advisor Trading Offer – Exchange Traded Funds Over Many Assets
Scalable Capital has access to a broad selection of asset classes from around the world. These include real estate, commodities, equities and government bonds. To participate in these markets, it invests solely in ETFs, or exchange traded funds. This approach enables clients to enjoy a diverse range of options while also keeping prices transparent and low, as ETFs are far cheaper to trade than individual products. Scalable Capital uses its own algorithm to sift through a collection of more than 1500 UK ETFs, buying and selling them as the markets change.
It is this more data-centric methodology that distinguishes Scalable Capital from many of the other brokers in its class. Rather than employing a group of investment managers to monitor risk, it uses a scientific approach, allowing technology to inform its decisions. Scalable Capital provides its various services to clients through three main account types: The General Investment Account, the Self-Invested Pension and the Stocks and Shares ISA for tax-free savings.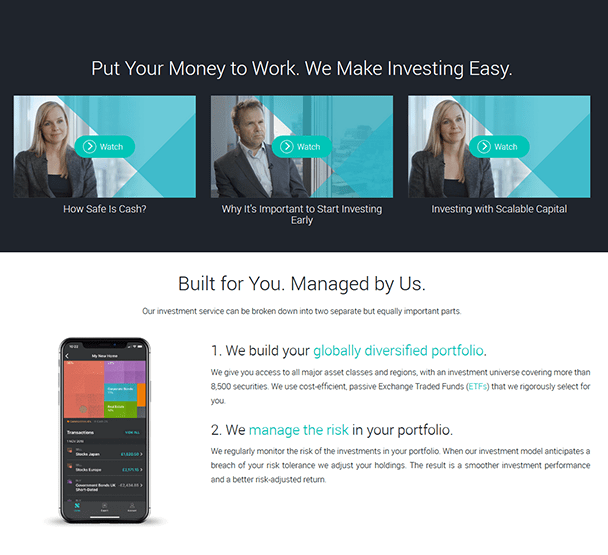 This broker concentrates on ETFs to keep costs down as much as possible
It uses an algorithm to boost its trading strategy and therefore the results of their traders
Choose between an ISA, General Investment Account or Self-Invested Pension
Go to Broker
Risk warning: Capital can be lost. Terms and conditions apply.
2. Costs
Go to Broker
Risk warning: Capital can be lost. Terms and conditions apply.
3. Account
3) Accounts – A Range of Three Individual Investment Accounts
There are three Scalable Capital brokerage account types to choose from, depending on what you plan to use your investment for. The Self-Invested Personal Pension (SIPP) Account manages your pension plan on your behalf. The brokerage creates a portfolio for you that it closely manages and adjusts as necessary. It provides plenty of advice with regard to risk and gives you the tools to monitor your pension's performance.
0,16%
Underlying costs/fees
9,500 companies from 90 countries
Diversification
The Stocks and Shares ISA is a fully flexible option, allowing you to withdraw your funds or transfer the ISA whenever you choose. You can go online to check how your ISA is faring or look at the allocation percentages and view your fees. The General Investment Account puts no limit on the amount that you can invest. It is ideal for people who have reached their annual ISA maximum and want to put additional funds aside. Your bespoke Scalable Capital stock trading portfolio will undergo careful management, and you can use the online dashboard to assess how it is doing.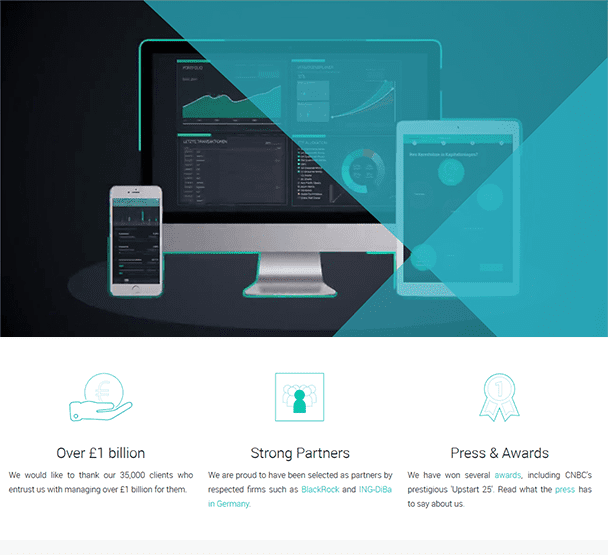 A Self-Invested Personal Pension provides tax relief on your deposits
Save £20,000 per year tax-free with a Stocks and Shares ISA
The General Investment Account is ideal for limitless deposits
Go to Broker
Risk warning: Capital can be lost. Terms and conditions apply.
4. Platform
4) Trading Platform – Access to a Free Initial Consultation
Investors take a back seat at Scalable Capital, and there is no hands-on trading software, as the broker takes care of that side of your account. What it does provide is plenty of advice and information on its services, along with a raft of educational materials on ETFs. In the FAQ section, its company mission clearly explains the Scalable Capital stock trading style and how its methods can work for you. Should you require guidance before choosing an account, you can expect a free initial consultation, though subsequent advice is chargeable.
In the first instance, you can book a call at a time that suits you, then an advisor will be in touch to gain a fully rounded understanding of your situation and preferences. In due course, he or she will go over notes and produce a suitability report that lets you know which account would be best. If you decide to follow the advisor's advice, then he or she can help you start immediately. From within the app, Android or Apple users can monitor an account, set up payments and withdraw cash. Our Scalable Capital brokerage review found that you can speak to an advisor through the broker's messaging service or save time by using the in-app chat feature.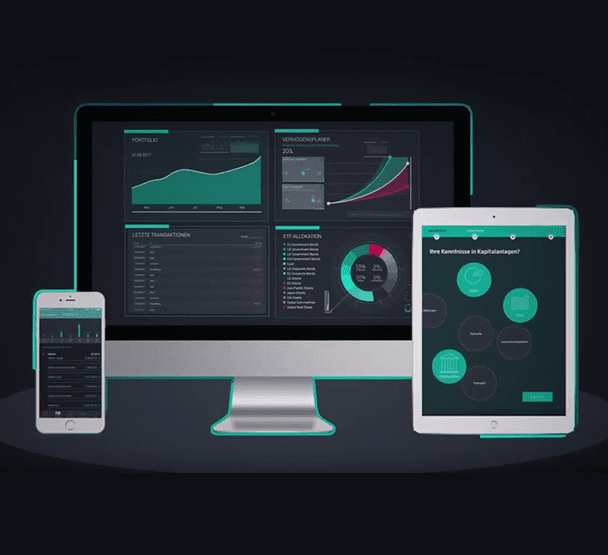 A great selection of educational materials
Scalable Capital states its company ethos clearly
You can view and manage your investment packages from the app
Go to Broker
Risk warning: Capital can be lost. Terms and conditions apply.
5. Usability
5) Usability of the Website – A Modern Approach to Web Design
Scalable Capital has invested in a contemporary website that is free from any unnecessary distractions. A calming palette of sea blue, grey and white make up the colour scheme in keeping with the professional tone. Each area of information is perfectly structured, and the focus is on the company's three key products, all of which you can access with a few clicks. When you first land on the site, whichever action you have in mind is clearly signposted, from learning more about the company to viewing the products or getting advice. Once you have found the information that you require, it is just a case of navigating back to the homepage to move on the to the next topic. Our robo advisor comparison discovered that the website is also clear on the company's terms and conditions.
All the relevant information about the legal agreement that account holders enter into when they sign up is available by clicking Legal Contracts at the bottom of the homepage. Here, you can learn more about the custodian bank that Scalable Capital uses and gain a deeper understanding of the financial risks involved with investing. By selecting Website Terms, you will see the Terms and Conditions of service, a valuable resource for any potential client.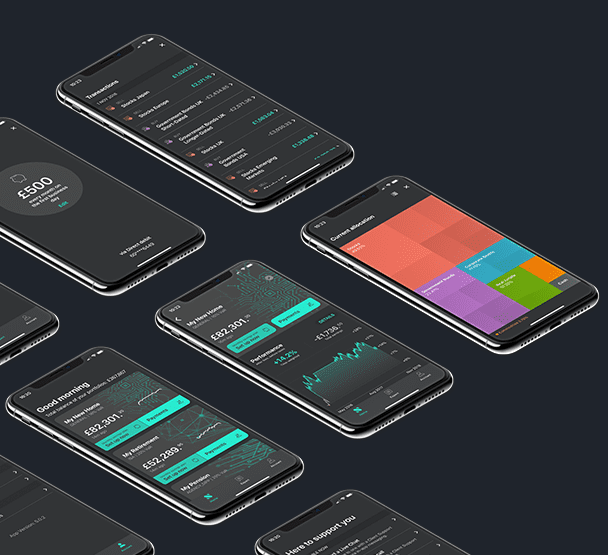 The website is visually appealing and well organised
Navigating between areas is stress-free and easy to achieve
The terms of business and legal details are clear
Go to Broker
Risk warning: Capital can be lost. Terms and conditions apply.
6. Support
6) Customer Support – Emails Answered Within 24 Hours
When you need support or advice regarding any aspect of your account, you can contact the Scalable Capital support team on its landline number, 020 3750 0703. The London-based office is open from 9 am to 6 pm Monday through Friday, and the phones should be in service between these hours. If you need assistance out of hours, or your query is not so urgent, then you can send an email instead at [email protected]. You will not be able to ask for investment advice from the customer care team members, but they can help with service-related issues. A landline number is reassuring, but is Scalable Capital good at picking up?
Unfortunately, some customers have reported that it is very difficult to get through on the phone, with calls going unanswered hour upon hour. This could be an alarming experience for new traders, and it is unfortunate considering that many passive investors are new to the industry. Luckily, the email address is a lot more responsive, with knowledgeable answers sent within 24 hours and a can-do attitude from staff.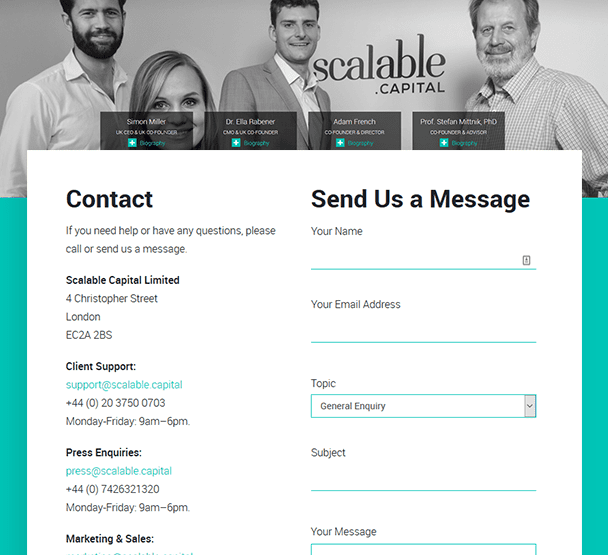 Customer support is available within UK office hours
Phone lines can go unanswered for extended periods
Email is a reliable contact method if you can wait 24 hours
Go to Broker
Risk warning: Capital can be lost. Terms and conditions apply.
7. Payment
7) Methods of Payment – Free Withdrawals and Deposits
To place funds into a Scalable Capital account, you have two different options: bank transfer or Direct Debit. In order to access either of these, you will need to visit the Deposits and Withdrawal section of the website once you have logged in. There are no fees for these services, but the minimum Direct Debit accepted at Scalable Capital is £100 per month. As part of the sign-up process, you will need to register a bank account, and this will be the only method of payment or method of withdrawal. Scalable Capital imposes this restriction to safeguard its clients from any fraudulent transactions that could take place.
To withdraw cash, you must go to the Deposits and Withdrawal area. There is no limit to the amount that you can withdraw, but you cannot make any withdrawal that brings your balance below £10,000. You will need to leave the balance as it is or choose to withdraw the entire amount. Withdrawals will usually reach your bank account within three working days.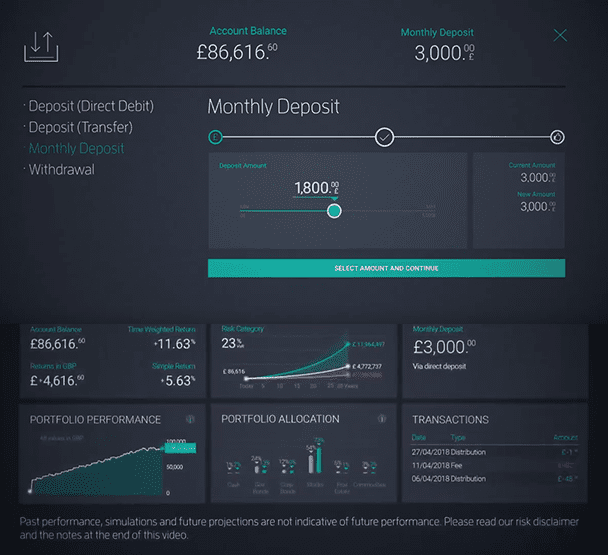 You can only make deposits from and withdrawals to a registered bank account
The minimum Direct Debit amount is £100
No withdrawals that put your balance under £10,000 allowed
Go to Broker
Risk warning: Capital can be lost. Terms and conditions apply.
8. Offers
8) Additional Offers – Book a Free Financial Consultation
As part of this broker comparison, we looked at whether it is possible to transfer an existing product over to Scalable Capital. We found that you can move any existing ISA, and there are three ways to go about it. If you do not yet have an account with Scalable Capital, then you can open a new one. To transfer your current ISA, just click on the Invest Now button in the right-hand corner of the homepage. If you have a General Investment Account, then you can simply log in and select the Open ISA button, which allows you to transfer your current ISA.
If you already have an ISA with Scalable Capital, then just contact the company, and it will send a transfer form for you to fill out and return. Scalable Capital has no training opportunities, as it takes care of its clients' portfolios. However, by visiting the Advice area on the website, you can book an appointment with one of its team members to discuss the best way forward for your investments.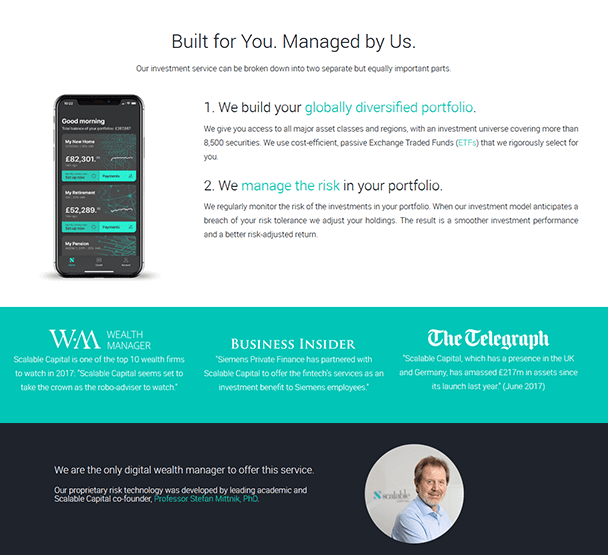 You can transfer existing ISAs in three different ways
The new account may take up to four weeks to show up on your dashboard
Free initial consultation for all members
Go to Broker
Risk warning: Capital can be lost. Terms and conditions apply.
9. Regulation
9) Regulation & Deposit Protection – Cutting-Edge Security and FCA Authorisation
Scalable Capital uses a three-pronged approach when dealing with security. Firstly, the Financial Conduct Authority (FCA) regulates it; secondly, it uses a custodian bank and thirdly, its safeguards its clients' personal data. In practice, this means that all Scalable Capital stock trading practices are subject to a number of regulations established by the FCA, which oversees how a financial institution carries out its business and ensures that its practices do not put client funds at risk and that clients are protected. Furthermore, should Scalable Capital ever become insolvent or suffer losses through fraud, individual investments receive coverage up to £50,000.
As part of the company's compliance to FCA rules, the securities in your account go in a separate bank to its own custodian bank. Your money will not go to a third party or be part of Scalable Capital's assets. To safeguard your personal details along with the information held in your account, the company transmits and stores data through encrypted Transport Layer Security (TSL) protocols.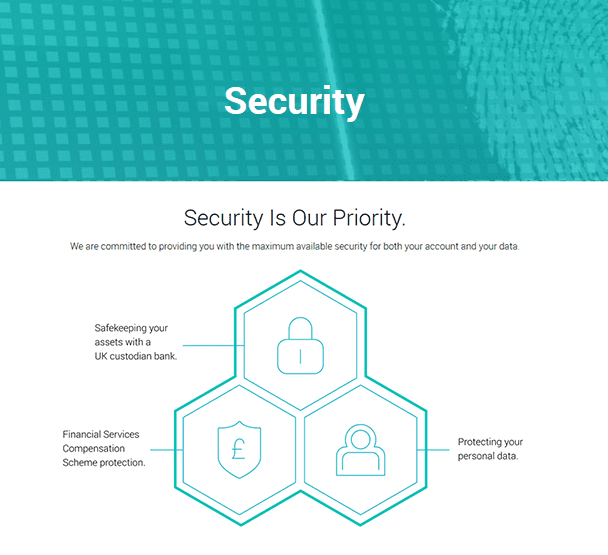 Broker receives regulation in the UK from the Financial Conduct Authority
Customer investments protected up to £50,000 which safeguards the investor
All private client data protected by the latest Transport Layer Security
Go to Broker
Risk warning: Capital can be lost. Terms and conditions apply.
10. Awards
10) Awards – Press Attention Boosted by Industry Distinctions
The robo advisory service at Scalable Capital has attracted plenty of media attention, most notably from the FT Advisor. The website reported the broker's partnership with high-street bank Santander, which is a venture designed as a business-to-business investment opportunity. Its efforts are also notable in the industry, as in January 2018, it was among AdvisoryHQ's 6 Best UK Robo Advisers. At the UK Platform Awards in 2017, Scalable Capital received the Leading Innovation in Investor Engagement honour, which recognised how it has used technological systems to deliver a better experience to its client base.
The company's CEO, Adam French, received another award recently. At the 2017 Private Asset Manager (PAM) Awards, he was one of the year's Top 40 Under 40. This accolade acknowledges his status as an emerging talent in the private wealth management industry and should reassure clients of both his skills and the abilities of Scalable Capital as a brokerage along with the long-term security of the business.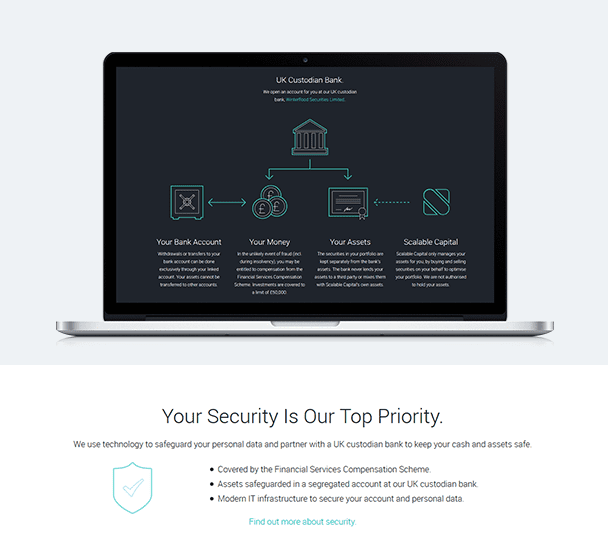 Broker named as one of the best robo advisor services of 2018 by AdvisoryHQ
Scalable Capital is mentioned often in the financial media
Founder Adam French named as one of the PAM Awards' Top 40 under 40 for 2017
Go to Broker
Risk warning: Capital can be lost. Terms and conditions apply.
Conclusion – Is A Scalable Capital Brokerage Account Right for You?
Scalable Capital will create, manage and fine-tune your portfolio while keeping a close eye on risk management through its in-house software. The telephone-based customer service offering could improve, but the brokerage swiftly answers queries via email. Should you be interested in learning more, it has an extensive collection of FAQs and details on its investment strategy, but essentially, this broker is for passive investors. Scalable Capital has enjoyed success and secured backing from the financial giant BlackRock, but by asking for a £10,000 minimum deposit, it anticipates a great deal of trust from its clients. However, if you are willing to part with such a large lump sum, then you will receive affordable fees and one session of free advice to point you in the right direction. For UK investors seeking an established robo advisor with solid backing and FCA regulation, Scalable Capital is certainly worth considering by any serious investor.
Accounts tailored to your personal style of investing
Risk management taken seriously
Excellent learning resources for people who want to improve their skills
Fees are higher than those of some competitors
Minimum deposits are also high
Telephone customer support is patchy
Test result
Broker

Go to Broker
Risk warning: Capital can be lost. Terms and conditions apply.