As investors increasingly question the value of advice regarding financial investments, the inexpensive automated alternatives available from companies such as Wealth Horizon become more attractive. Privately held, Wealth Horizon was founded in 2014. Its headquarters are located in the UK in Bristol. Wealth Horizon takes a passive approach to investing with a focus on long-term investments. Their approach is based on Nobel prize-winning theories on portfolio investment by Harry Markowitz. The Wealth Horizon service works to help you maximise the return on your investment by creating and managing a portfolio for you based on the risk level you specify.
Highlights
Customised, personal advice
Downloadable investment proposal
Status updates available 24/7
Low initial investment requirement
6.
of 10 Robo Advisor Broker
Wealth Horizon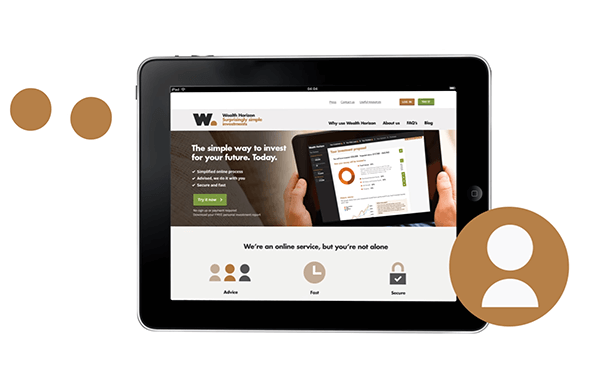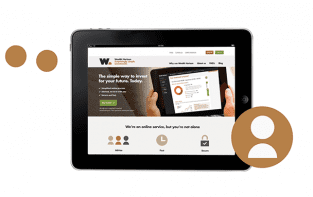 Go to Broker
Risk warning: Capital can be lost. Terms and conditions apply.
Headquarters and regulation
UK (FCA)
Investment Universe
Shares, Commodities, Real Estate, Bonds, Money Market
Services & additional benefits
Live
Hotline
E-mail
1. Trading Offer
1) Robo Advisor trading offer: Long-term, risk-based investment
Wealth Horizon takes a long-term, passive approach to investing. They advise that frequent trades should be avoided, instead relying on the consistent upward trend of the market. Key to this broker's approach is the introductory interview. During this interview, you will be asked to specify the amount of risk that you are willing to take with your investment portfolio. Ultimately, the process of building your portfolio will hinge on this decision.
However, you can modify your chosen risk exposure at any time, and Wealth Horizon will even check in with you on a yearly basis to confirm that the level of risk taken is still appropriate for your situation. Managed on your behalf, Wealth Horizon aims to help you achieve the best possible return on your investment based on the amount of risk you are prepared to take. It is advised that you carefully consider the amount of risk that you are willing to take, as it is recommended that you avoid over committing yourself. This Wealth Horizon review found that this broker believes in diversification and will help you build a portfolio that will assist in protecting you from downturns in the market. By spreading your investment across a number of asset classes, the hope is that as one asset class suffers, another will excel to minimise losses.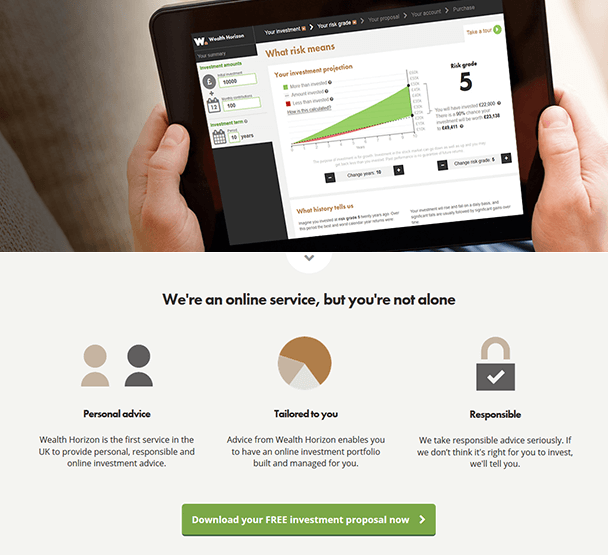 Portfolio is built around the level of risk that you specify
Long-term investments focusing on low-cost passive investment funds
Managed on your behalf
Go to Broker
Risk warning: Capital can be lost. Terms and conditions apply.
2. Costs
Go to Broker
Risk warning: Capital can be lost. Terms and conditions apply.
3. Account
3) Accounts: No tiered service
Due to the way that Wealth Horizon operates, there is not an array of accounts to choose from. If you choose to invest with this broker, then you open an account with them. The service provided will be completely customised to meet your requirements.
0,22%
Underlying costs/fees
In addition to the automated advice provided during the portfolio-building process, Wealth Horizon also offers easy access to real financial advice from human financial advisors. Their customer service line is available to customers at any stage during the onboarding phase or afterwards, whether the customer requires assistance adjusting their risk exposure or simply to ask a financial question. The Wealth Horizon brokerage account is intended to make obtaining investment advice easily accessible and affordable to all. Through the use of this account, it is possible to login at any time to view the status of your investments, effectively providing 24/7 monitoring. It should be noted that this broker does not require a large initial investment either. The minimum lump sum investment is £1,000, and there is a minimum monthly investment of £100. Wealth Horizon does not place a maximum on the amount you can invest. However, you may not be able to allocate your entire investment to an ISA as the ISA's amount cannot exceed the permitted annual limit applying in the tax year you invest. You also have the ability to add additional funds whenever you wish.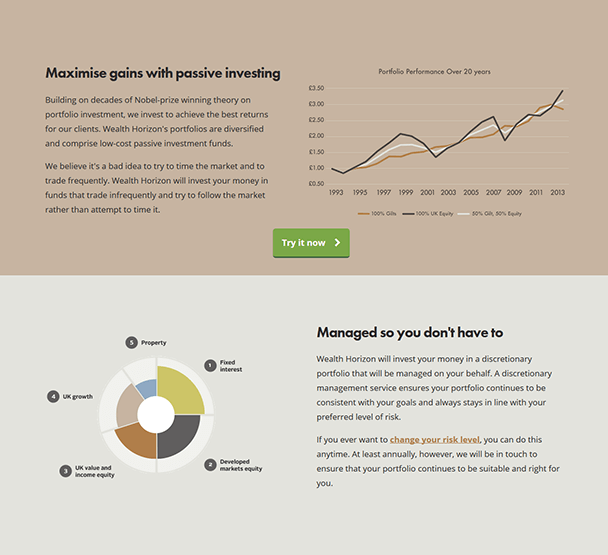 Accessible and affordable
Low investment minimums
Allows 24/7 monitoring of your investment
Go to Broker
Risk warning: Capital can be lost. Terms and conditions apply.
4. Platform
4) Trading platform: Hands-off management
Unlike many brokers that put the onus on you to perform purchases and sales through trading platform software, Wealth Horizon takes a more managed approach. A total of approximately 30 minutes of your time is all that is required in order to provide the information required to build your portfolio. That 30 minutes will allow Wealth Horizon to build you a customised portfolio that matches up with both your investment goals and your risk tolerance. Investments suggested to you may include collective investment vehicles, unit trusts, open ended investment companies (OEICs), fixed interest securities and cash. Wealth Horizon will suggest a blend for you that is appropriate for your designated risk level.
A Wealth Horizon review will find that while Wealth Horizon takes a somewhat of a "set it and forget it" type of view to investment, investment managers do review each of the funds contained within your investment on a monthly basis to determine if they should continue to be included within your personalised portfolio. In the event that a fund no longer meets the appropriate criteria, they will replace it with one that does. Throughout the year, Wealth Horizon investment managers will also periodically rebalance your portfolio to maintain the appropriate risk exposure. Rebalancing may cause some transactional fees and expenses to be incurred.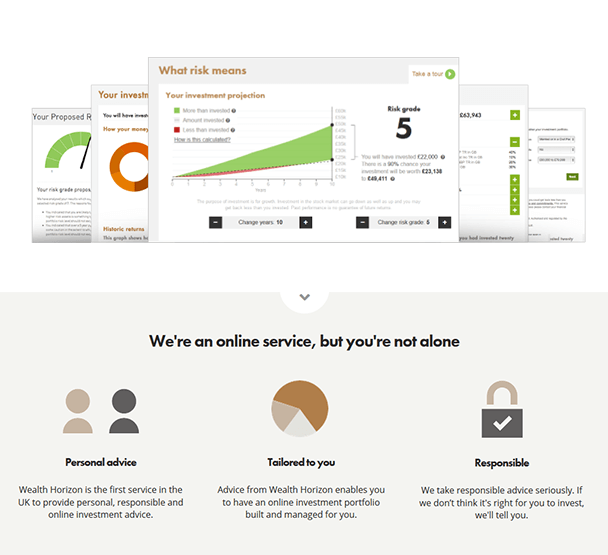 Broker managed purchases and sales
Regular monitoring by investment managers
Portfolio rebalancing to maintain appropriate risk exposure
Go to Broker
Risk warning: Capital can be lost. Terms and conditions apply.
5. Usability
5) Usability of the website: Ease of use
When asking yourself "Is Wealth Horizon good for me?" it is often wise to take an in-depth look at the broker's website to review what they have to offer and how closely they are able to meet your personal needs. A review of the Wealth Horizon website found the broker's website to be clearly laid out with easy-to-understand language. Their website is relatively easy to navigate, although secondary menu headings may be easy to miss due to the way they blend into the background. The colour scheme and photography chosen are both tasteful and professional looking, while the required warnings and legal information is readily accessible. In addition to a clear explanation of who Wealth Horizon is and what they can do for you, their website also provides an archive of their blog, in addition to articles providing financial guidance and useful resources such as videos on the basics of investing, a whitepaper and two ebooks to outlining the sins and principles of investing. Overall, this Wealth Horizon brokerage review found that Wealth Horizon has gathered together a significant number of resources to advance the knowledge of their clients and guide them in making wise decisions regarding their investment portfolios.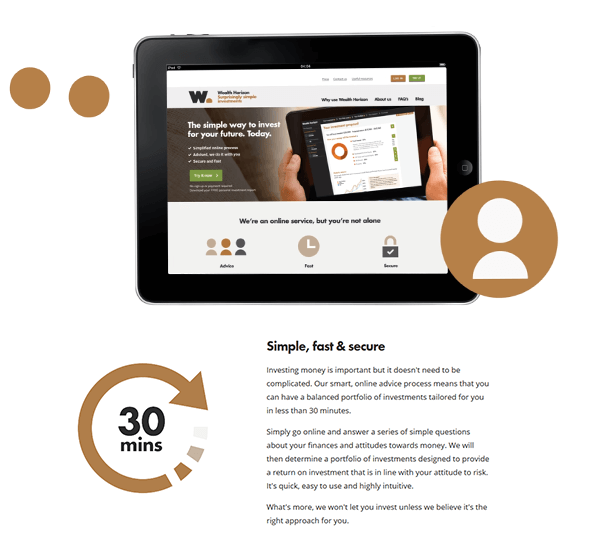 Clear, concise language and easy navigation
Selection of blogs and articles offering financial advice
Professional looking and clearly laid out
Go to Broker
Risk warning: Capital can be lost. Terms and conditions apply.
6. Support
6) Customer Support: From initial setup onwards
Key to any broker comparison is the quality of the customer support available. Compared to many other robo advisors, Wealth Horizon takes quite a hands-on approach to providing assistance to their customers. Customer support is available with Wealth Horizon at any time from the initial development of the customised portfolio to any time the customer has a financial question. With the help of customer support, it is possible to adjust the risk exposure of your portfolio at any time. Customer support can be reached from 8am to 6pm on Monday to Friday by phone. They can also be reached through email, by arranging a call back and through Twitter and Facebook. Live chat is also available for those who prefer to access Wealth Horizon stock trading that way.
If you choose to make a withdrawal, instructions must be provided by 9pm in order to allow investments to be sold the following day. Known for their transparent honesty, Wealth Horizon will advise you if they feel that it would not be a wise investment or good fit for you. If the advice process indicates that you may not be able to afford the risk of your portfolio, they will notify you. Wealth Horizon can even refer you to alternative services if they are unable to provide you with the best solution.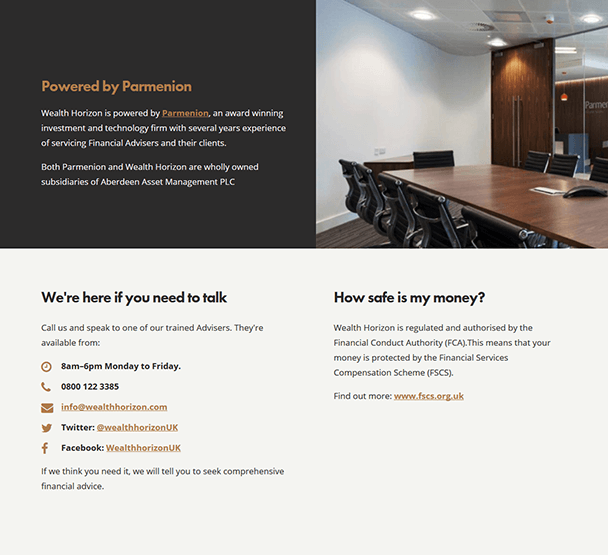 Available Monday to Friday from 8am to 6pm
Can be contacted via phone, email, Twitter, Facebook or live chat
Transparent and honest
Go to Broker
Risk warning: Capital can be lost. Terms and conditions apply.
7. Payment
7) Methods of payment: No additional charges
Wealth Horizon does not apply any charges for making withdrawals or deposits. You have the option of putting money into your account online via their secure payment services or by sending them a cheque. Wealth Horizon stock trading and investment is not recommended for those that do not have at least 3 to 5 years to leave their money invested. While there is no minimum investment period and you can cancel your account or withdraw part of your funds at any time, the best performance in this type of investment is achieved over the long term. If you are investing in an ISA or GIA, you do have 14 days to cancel from the date that Wealth Horizon receives your completed application if you should change your mind.
If your ISA is cancelled within those 14 days, you will still be able to invest in another ISA in that tax year. It should be noted, however, that should the investment dip after your initial investment, you will bear that shortfall. This Wealth Horizon brokerage review found that no information was provided regarding the amount of time required for funds to be returned to the investor should a withdrawal or cancellation be made.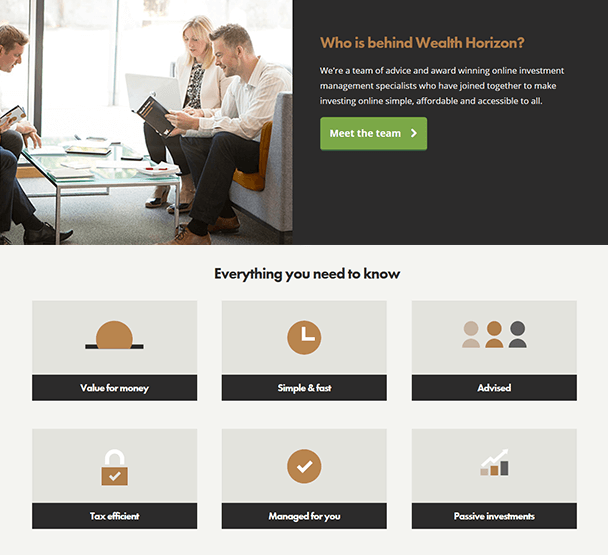 Cheque and online deposits accepted
Not intended for short-term investments
14-day cancellation policy for ISA and GIA investments
Go to Broker
Risk warning: Capital can be lost. Terms and conditions apply.
8. Offers
8) Additional Offers: Transfers and targeted portfolios
This Wealth Horizon review has found that they will gladly accept transfers of existing investments into their service, such as existing ISAs. However, due to the automated nature of the service, they are unable to make any recommendations as to assets that should be sold or transferred. While the decision to sell or transfer assets is solely down to your discretion, Wealth Horizon encourages those that are unsure to contact them. It should also be noted that this robo advisor comparison found that Wealth Horizon was not equipped to create customised portfolios based on a particular ethic, moral or belief. Wealth Horizon's focus when building portfolios is to invest in the best funds available that are suitable for the client's chosen level of risk.
Those with more complex requirements are advised to contact Wealth Horizon directly rather than using their automated portfolio builder. Having made the decision to invest, your day-to-day involvement is not required. The investment management team at Wealth Horizon will make decisions to buy and sell investments on your behalf. Their terms and conditions outline their commitment to manage your account in accordance with the information you provide, and you are not required to give your consent for each transaction. Those requiring more hands-on control of their investments may wish to consider alternatives.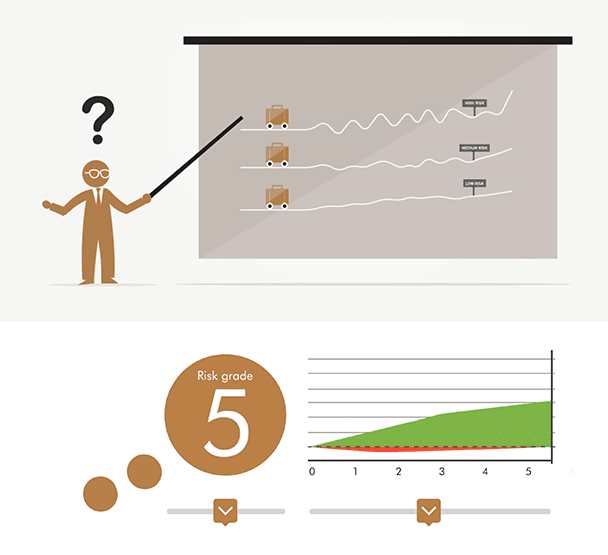 Transfers accepted but no advice provided
Portfolios are strictly risk-based
You must grant consent for Wealth Horizon to make all buying and selling decisions
Go to Broker
Risk warning: Capital can be lost. Terms and conditions apply.
9. Regulation
9) Regulation & Deposit Protection: How you are covered
Available to UK residents only, Wealth Horizon is regulated and authorised by the Financial Conduct Authority (FCA). Due to the US government's tax reporting requirements, even those with dual nationality are unable to invest with Wealth Horizon. Due to FCA regulation, any money you invest with Wealth Horizon is protected by the Financial Services Compensation Scheme (FSCS). In the event of insolvency or bankruptcy, your investment will be protected up to a total of £50,000. Wealth Horizon has coupled with Parmenion to provide the administration and investment management support for their online advice service. Parmenion, a wholly owned subsidiary of Aberdeen Asset Management PLC and Aberdeen Investments Limited, is the entity that holds all client investment funds on behalf of Wealth Horizon. Parmenion is also authorised and regulated by the Financial Conduct Authority.
All client funds are segregated from Parmenion's own funds at an approved bank. It should be noted that any cash received that is not in the form of sterling is subject to currency conversion prior to deposit. The conversion rate is determined by Parmenion and the additional step may cause the credit to your account to be delayed.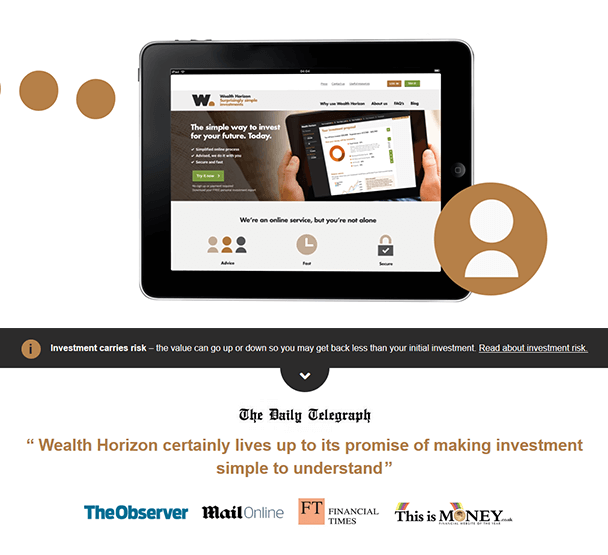 FCA regulated
Protection available for up to £50,000
Cash received in currencies other than sterling may take longer to deposit
Go to Broker
Risk warning: Capital can be lost. Terms and conditions apply.
10. Awards
10) Awards: Recognition
Powered by Parmenion, Wealth Horizon has been the recipient of a number of awards recognising their success. In 2015, they were recognised as being among the Fintech 50, a list generated by Forbes. This honour was bestowed only one short year after their launch. The same year, they won the award for Best Investment Management Platform in the Aberdeen UK Platform Awards for 2015. The following year, Defaqto awarded the broker a five-star rating in the category of DFM Managed Portfolio, while they also won the Moneyfacts Award 2016 for Best Discretionary Fund Manager. This year also saw them being awarded Hero of the Year in the Direct Platform Awards for 2016, in addition to being recognised in the Investments category for the Financial Advisor Service Awards 2016. The year of 2017 was another busy year with Defaqto again recognising the broker, this time a five-star rating in the DFM MPS Direct category and a gold award for Platform Service. In the Professional Service Awards for 2017, they also took the category for Best Platform for Discretionary Management. Through this collection of awards over the company's short lifetime, it can be seen that both Parmenion and Wealth Horizon are well respected in the financial field.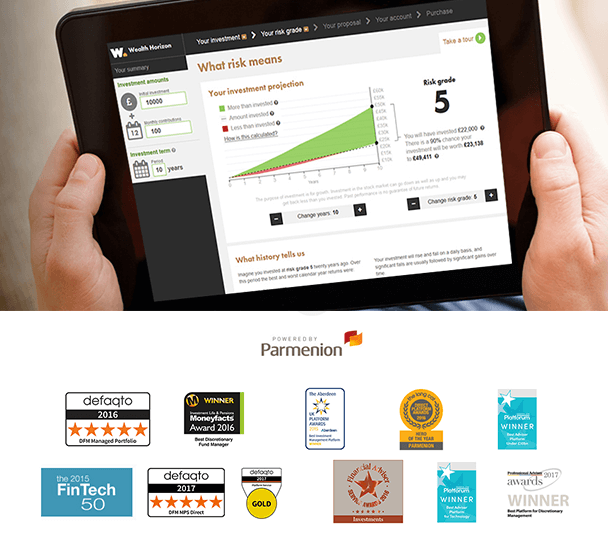 Direct Platform Awards 2016: Hero of the Year
Consistently recognised as being high performing
A significant number of awards given their short history
Go to Broker
Risk warning: Capital can be lost. Terms and conditions apply.
Conclusion
As one of the best robo advisor solutions in the UK, Wealth Horizon can be a good solution for those who are attracted to the flexibility of online investments but also feel the need to have a real person available to explain specifics and provide follow up. While Wealth Horizon stock trading may not be for everyone, it can be an excellent choice for those new to investing. Both simple and accessible, this broker is best suited to those interested in making long-term investments with low management fees. This Wealth Horizon review found that while this broker offers a great deal of flexibility in terms of creating investment portfolios for specific risk profiles, the lack of ability to gear your profile towards a specific ethic or belief is disappointing. A greater deal of personalisation would be nice, but for the minimal fees, its lack is understandable. In addition, while Wealth Horizon's website provided a great deal of information, more information regarding available deposit methods and time required to execute withdrawals would be helpful.
Consistently recognised as being one of the best
Minimal interaction required by clients
Regular review
Broker-managed purchases and sales
Accepts transfers of existing ISAs
Lack of information regarding deposit methods and withdrawal execution time
Inability to direct portfolio according to ethics or beliefs
No weekend or evening customer support
Test result
Broker

Go to Broker
Risk warning: Capital can be lost. Terms and conditions apply.