Founded in 2015 by a consortium of industry veterans, NAGA Group is an international financial technology company that is listed on the Frankfurt Stock Exchange. Originally launched as a trading brokerage, NAGA has grown from strength to strength in its early years and is now considered to be amongst the most forward-thinking, dynamic brokerages out there. More recently, NAGA Markets have expanded their operations significantly to include cryptocurrency trading, and now they offer their own bespoke cryptocurrency, NGC.
With a head office in Limassol, Cyprus, NAGA markets are regulated by CySEC—the Cyprus Securities and Exchange Commission—which has helped them to establish their presence in the European market. Currently, this is their biggest market, although services are not available in Belgium, North America, Cuba, Iraq, Iran, Japan, and North Korea.
Highlights
MT4 and MT5 trading platforms included
Award-winning, easy-to-use mobile app available
Fast, responsive customer service
Wide range of tradable instruments on offer, including cryptocurrencies
1.
of 8 Social Trading Broker
NAGA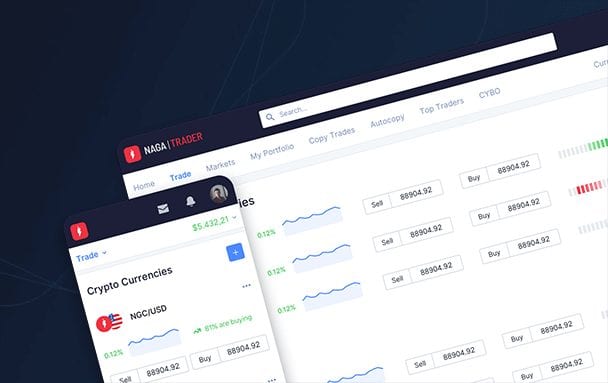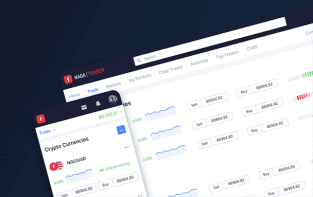 Headquarters and regulation
Cyprus (CySEC)
Fees and Spread
Depends on account type
Market Model
ECN/Market Maker
Trading platform
MT4, MT5, Broker-owned Software
Services & additional benefits
Live
Hotline
E-mail
Economic Calendar
E-Book
Videos
1. Trading Offer
1) Broker Advisor Trading Offer
Any time you attempt to make a forex broker comparison, you inevitably run into the issue of certain brokers offering a limited range of instruments whilst ignoring others. For this reason, it can often be difficult to find a broker that offers everything you want in a single location. This doesn't appear to be an issue for NAGA Markets, however, who give customers one of the widest ranges of tradable instruments out there. This includes CFDs, ETFs, stocks, commodities, forex currency pairs, indices, and, most recently, cryptocurrencies. In recent months, NAGA markets have even branched out into the gaming sector.
In total, NAGA Markets offer access to 641 stock CFDs, 17 ETFs, four commodities (Oil, UK Brent, Gold, and Silver), 20 future indices and 11 index CFDs, along with a range of cryptocurrencies. On the cryptocurrency side of things, you can trade in Bitcoin, Litecoin, NEO, and Ethereum. Additionally, NAGA Markets have also developed their own cryptocurrency trading as NGC, which gives you easy access to tradable cryptos.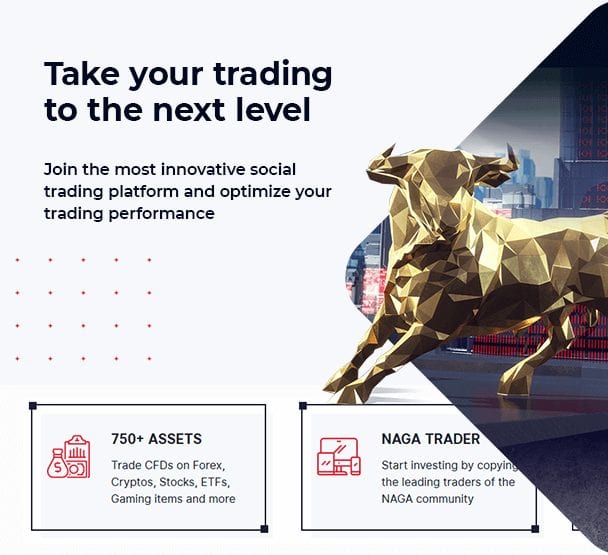 Massive range of tradeable instruments on offer
Solid cryptocurrency support
Unique virtual stock trading platform based on video games
2. Costs
2) Social Trading
Like many of the other online trading platforms out there, NAGA has built its platform from the ground up to integrate social networking features. A key part of this comes in the form of the social trading features built into the NAGA markets trading platform.
ECN/Market Maker
Market Model
Social trading is a unique type of investing and trading that allows users to follow the trading behaviours and patterns of their peers and to implement them into their own trading strategies. This is typically done using a copy trading or mirror trading feature, which will copy the chosen users' trading patterns and implement them using the investors' funds. This allows users to benefit from the experience of highly skilled traders and any profits they make. You can use copy trading features as either a "set it and forget it" style of investing or as a learning tool that gives you the opportunity to learn from more experienced traders. With the rise of online trading platforms, social trading features such as this have become very popular and are a standard feature on many platforms today.
NAGA Markets has developed its own proprietary web-based social trading platform called NAGA Trader, which allows users to follow selected traders on the platform and implement their strategies into their own portfolio. This can become a fully automated process if the user wishes. NAGA also includes a leaderboard to help users to decide who they want to follow and copy. There is also an integrated stop loss/take profit tool—referred to as the NAGA Protector—which can be applied to your portfolio/trades. This allows you to add some protections and trading limits to your portfolio, which helps to keep your profits secure.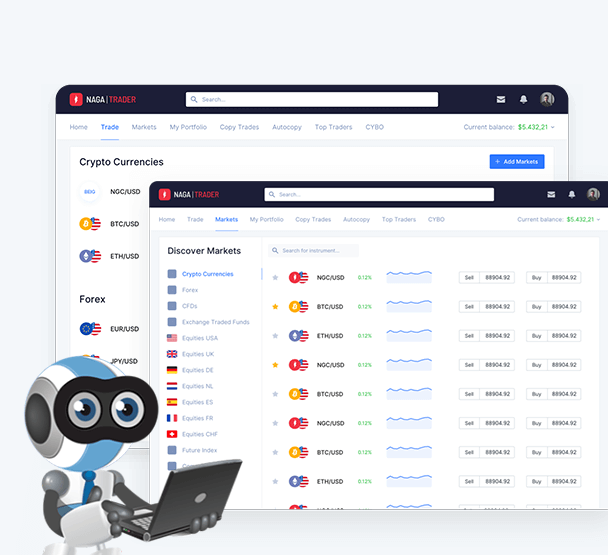 Comprehensive social trading built into the NAGA Markets Platform
Follow your favourite traders to learn from the best
Great social trading options for novice traders
3. Account
3) Trading Platform
When it comes to making a broker comparison so you can choose the best forex broker, reviews of these platforms will always refer to the trading platforms themselves. Although you might not initially have thought about it in any detail, this is actually one of the most important aspects of any trading experience.
When it comes to the trading platforms that NAGA Markets offers, users of the platform have a number of options available to them. First, you can make your trades using the built-in NAGA Markets stock trading platform—known as NAGA Trader—which is a bespoke platform built from the ground up for the NAGA Markets platform. Additionally, users of the NAGA Markets platform will also be given access to both the MT4 and MT5 MetaTrader platforms, which are two of the leading trading platforms around.
Beyond these desktop trading platforms, however, NAGA Markets users also have the ability to take their trading on the go with them. They can do this either using the NAGA Markets in-house trading platform called SwipeStox or by using the MT4 or MT5 mobile apps.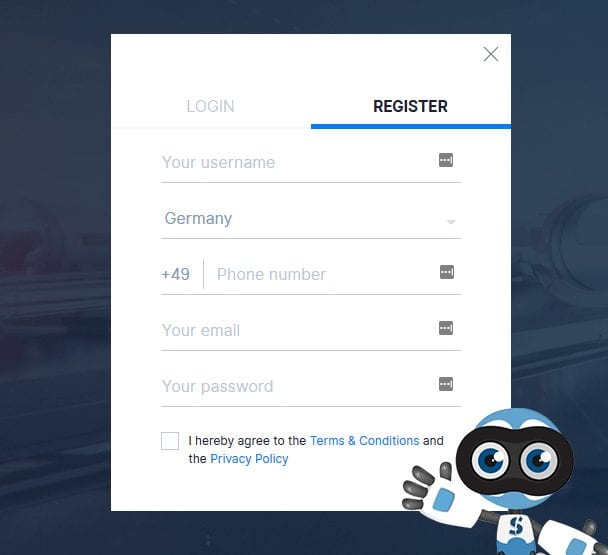 Bespoke trading platform called NAGA Trader
Access provided to the award-winning MT4 and MT5 platforms
Take your trades on the go with SwipeStox, MT4, or MT5 mobile apps
4. Platform
4.) Accounts: How do you want to trade?
Although many platforms out there offer several different account types depending on what sort of trading you like to do, NAGA Markets has very much taken the opposite approach. Rather than offering a number of different account types for novice and professional traders, NAGA Markets simply offers a single account type to all users. This is good to see, as often there can be quite a number of differences in terms of the level of service on offer when platforms offer pro and novice account types.
It should be mentioned, however, that while there is no distinction between pro and novice or casual users, there are six different versions of the NAGA Markets trading account depending on what sort of benefits you want available to you. These include managed accounts, institutional accounts, and swap free (Islamic) accounts.
NAGA offer a single commission-free account type that provides floating spreads and leverage up to 1:30. Additionally, NAGA Markets owns Hanseatic Brokerhouse, which provides a single account type with similar account limits in terms of leverage, but with variable spreads and micro lot trading options.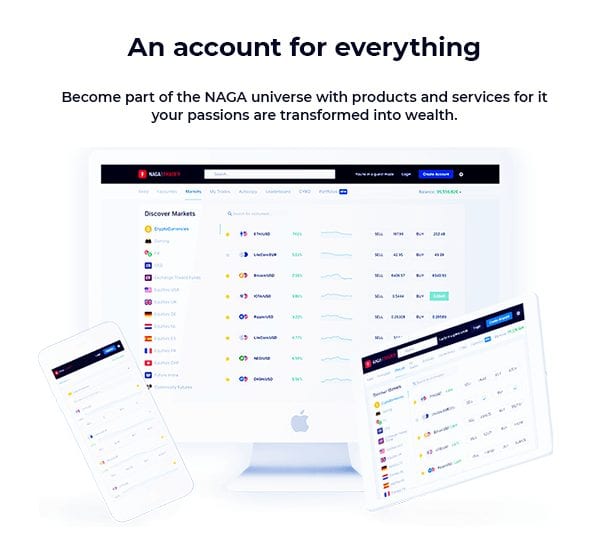 Same level of service provided on all account types
Option to choose managed accounts, institutional accounts, or Islamic accounts
Lots of options on offer depending on how you want to trade
5. Usability
5) Usability of the Website
One of the most immediately obvious ways in which trading platforms fall down in forex broker comparisons of the best forex broker is the usability of the website itself. Although you might have overlooked this aspect of trading platforms in the past, when it comes to the overall experience on offer, this is one of the most important factors.
Overall, the NAGA Markets platform scores pretty high in this regard. The website is well laid-out and easy to navigate, with basic information displayed prominently on the home page. A drop-down menu gives you easy access to the most important links and helps you to navigate the website. The overall design aesthetic is generally pleasing and clearly designed with usability in mind.
The social trading aspects of the website are well integrated into the platform and are very beginner-friendly. You can easily find the user leaderboard and add selected traders to your copy trading profile from there.
All other information is very easy to find, whether it is user FAQs, regulatory information, or customer support options. For this reason, NAGA Markets ranks very highly compared to the other brokers covered in our broker comparison.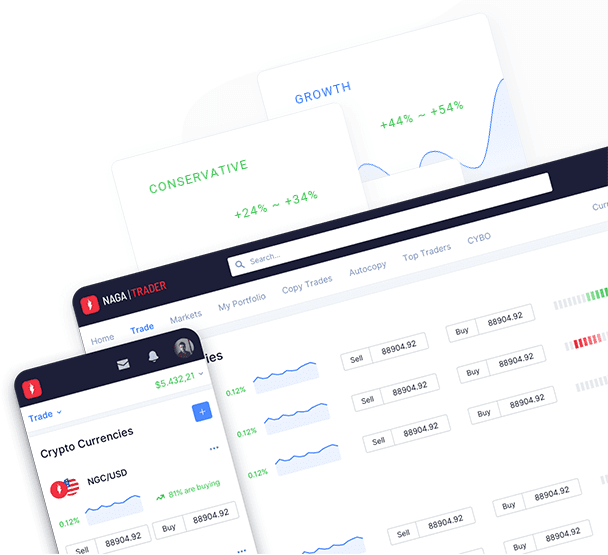 Easy-to-use website—great for beginners
Sleek aesthetic with a distinctive look and feel
Easy-to-navigate website
6. Support
6) Customer Support
When it comes to running an online business, having poor customer support can very much be a "make or break" aspect of the website. Poor reviews of customer support can have a big impact on a platform's overall reputation and have been enough to cause certain platforms to lose customers in droves in the past.
Thankfully, when it comes to the level of customer support offered by NAGA Markets, this is most definitely not the case. Users of the NAGA Markets platform can access multilingual customer support agents via telephone, email or live chat. The live chat is the most responsive option, with customer support agents manning the lines 24 hours a day, five days a week. Customer support agents are available in Czech, English, German, Greek, Italian, Polish, Portuguese, and Spanish. The extensive language support on the NAGA Markets platform is really incredible and helps NAGA stand out from the competition.
In addition to email, phone, and the live chat feature, the NAGA Markets customer support team also keep a close eye on their social media channels, so support can be requested using Facebook, Instagram, or Twitter. However, for the most part, the live chat feature on the website is the best way to get in contact with them.
If you would prefer to do some troubleshooting by yourself, you can always use the extensive FAQ section of their website, which has a number of user guides to the most common queries. These are, for the most part, well-written and instructive, and they should cover most issues you might have.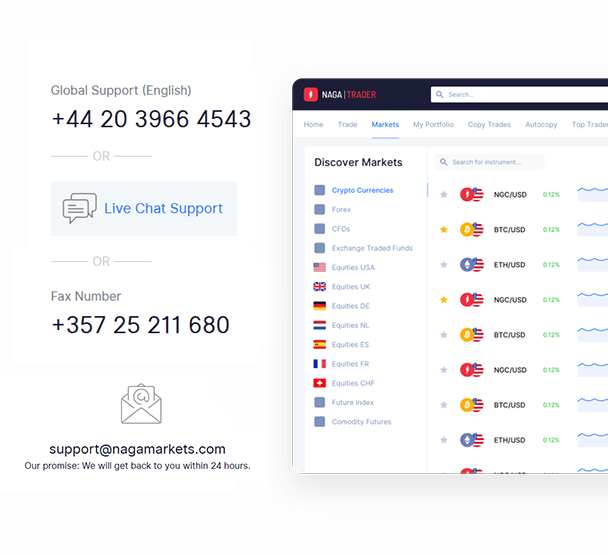 Multilingual customer support in eight languages
Well-written FAQs and user guides
Responsive customer support available 24 hours a day, five days a week
7. Payment
7) Methods of Payment
You can transfer funds to your NAGA Markets trading account using either USD, EUR, or PLN. Transfers will be accepted using a range of methods, including credit/debit cards, wire transfer, and various electronic payment methods including:
Neteller (all)
Skrill (all)
Giropay (USD, EUR)
eps (USD, EUR)
iDeal (USD,EUR)
Przelewy 24 (USD, EUR, PLN)
It should be noted, however, that deposits will not be accepted from third parties for compliance reasons, meaning you can only make payments into or from your NAGA Markets trading account using an account with the same name. Similarly, withdrawals from your NAGA account will have to be made using the same deposit methods. This is to comply with KYC (Know Your Customer) regulations and is standard practice across the industry.
NAGA Markets aims to process withdrawal requests within 24 working hours, and once a request has been submitted, it will be immediately reflected in the users' trading account. Reviews online seem to support this for the most part, with no indications of delays or issues noted by users.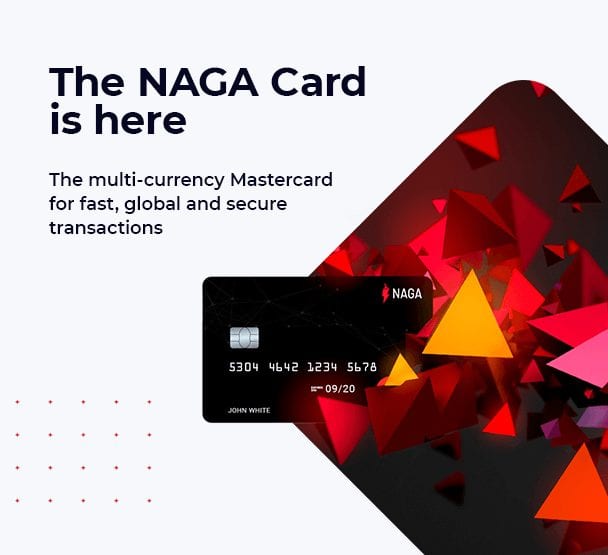 Fast, efficient withdrawals
Strong support for electronic payment services
Transfers possible using USD, EUR, or PLN
8. Offers
8) Additional Offers
If you qualify for the diamond or crystal trader status on the NAGA Markets platform, you will be supplied with a NAGA Card free of charge. The NAGA Card is directly linked to your trading account and allows for faster deposits and withdrawals. If you have iron, bronze, silver, or gold account status, you can still acquire the card but will be subject to an extra charge. The NAGA Card can be used wherever you would use a MasterCard credit or debit card and is a great backup card to have in your wallet.
Additionally, NAGA Markets users also have the option to trade with the Hanseatic Brokerhouse, an entity owned by NAGA that offers variable spreads and the option to trade in micro-lots on the MT5/MT5 trading platforms. These are smaller than the standard lot size offered by NAGA Markets and are ideal for professional or day traders looking to trade at a higher volume and faster pace.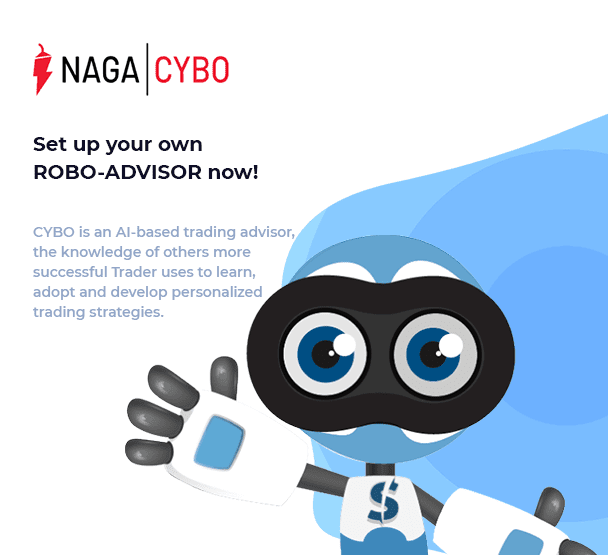 Access provided to Hanseatic Brokerhouse for professional trading conditions
NAGA card gives users an easy-to-use card that can be used anywhere
A range of additional features for both casual and more serious users of the platform
9. Regulation
9) Regulation and Deposit Protection
As mentioned at the start of this review, the NAGA markets brokerage is owned and operated by NAGA Markets Ltd, which is a company registered in and based out of Cyprus. Located at 27 Spyrou Kyprianou, Mesa Geitonia, CY-4003 Limassol, Cyprus, NAGA Markets falls under the jurisdiction of CySEC, which is one of the most stringent and well-respected regulatory agencies out there. This means users of the NAGA Markets platform will receive high levels of customer protection. Because it is regulated by CySEC, NAGA Markets has been issued a cross-border license to provide investment advice and trading services. CySEC is overseen by the European Securities and Markets Authority (ESMA), who oversee these services with the EU.
CySEC
Regulatory Authority
Additionally, NAGA Markets is registered as a member of the Investor Compensation Fund, which provides clients with compensation in the event they need to make a claim against the brokerage for failing to meet the regulatory standards set by them. This means that NAGA Markets' users receive a very high level of customer protection.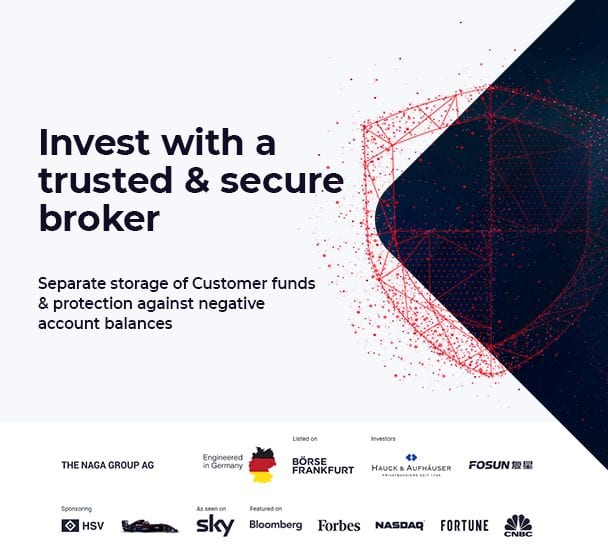 Licensed and regulated by CySEC
Member of the EU Investor Compensation Fund
High levels of customer protection
10. Awards
10) Awards
When it comes to the industry recognition that NAGA Markets has received, although they are one of the newest entrants onto the scene – having been founded in 2015 – they have come to be recognised as one of the leaders in an incredibly crowded space. As evidence of this, NAGA Markets has earned a number of industry recognitions since first going live in 2015. Their NAGA Trader platform has received a number of notable awards for its innovative approach to social trading. Additionally, they have received industry nods for their social trading app – SwipeStox – as well as a Best of Show award in the Finovate Europe 2016 awards. SwipeStox also received awards in the Red Herring Europe 2017 Awards and the AtoZForex Awards in 2017.
While industry awards will not make or break a platform, they certainly indicate that a company as new as NAGA Markets is heading in the right direction. New features such as the NAGA Card also show that they are continuing to innovate, which is an even better sign of things to come.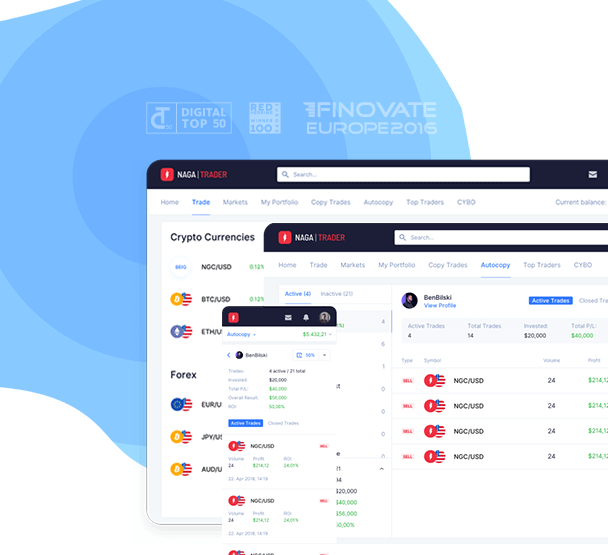 Recipient of several industry awards for the SwipeStox social trading feature
Award-winning social trading features
Highly regarded in an increasingly crowded space
Conclusion
Although they haven't even been around for five years yet, NAGA Markets have proven themselves to be one of the most exciting brokers around. Not only do they offer an incredibly solid service that scores highly in all the areas you would want them to—such as customer support and usability—they have also proven themselves to be one of the most innovative players in the market.
With a massive range of CFDs, indices, stocks, commodities, and cryptocurrencies on offer, NAGA Markets offer one of the most comprehensive trading platforms out there. It is always difficult to choose the best forex broker, particularly when there are so many high-quality trading platforms to choose from, but with the package that NAGA markets has put together, it firmly establishes itself at the top of these rankings.
Huge range of tradable instruments on offer
NAGA Trader, plus MT4 and MT5 trading platforms
Award winning mobile app
Fast, efficient, and effective customer support
Multiple industry awards to their name
Relatively young platform
Cryptocurrency offerings could be better
The various account levels can be slightly confusing
Test result
Broker