The Basics of Reading a Bitcoin Price Chart: Line vs. Candlestick Charts
Before you start looking at price charts for Bitcoin, take a few minutes to understand what they display. There are two main types of charts, lines and candlesticks. In either case, you should be able to adjust the time frame displayed, so if you want incredibly up-to-date information, you could opt for hourly points on the graph. If you prefer an overall view for the past few months, you could expand the view to days, weeks, months, or even years. The exact intervals available will depend on the website you view the chart on.
Of the two types, line charts are the most basic as they just show the price of Bitcoin as a line over time. They will give you a general overview of how Bitcoin prices have fluctuated recently. These are very straightforward to read and frequently allow you to hover over any point to see the specific time and price.
By contrast, candlestick charts are the preferred choice of most advanced traders. Every point on the chart will have a "candle" displaying the opening and closing prices as well as the lowest and highest prices within the time period. Candles are also color-coded to indicate if the opening or closing price was higher. In most cases, a higher closing price will be an "up-bar" that is green. Then, a lower closing price will be a "down-bar" that is red.
What Bitcoin Live Price Charts Can Tell You
The simple line charts will not give you a great deal of information regarding Bitcoin prices, but they will still let you know the current value in USD and GBP, as well as any recent changes. Without any analysis, just looking at a candlestick chart will also tell you the differences between the opening and closing prices, as well as the lows and highs for the day. It also shows whether Bitcoin increased or decreased in price within that period, as well as general trends.
If you take a closer look, you will be able to get even more information, especially if you are an experienced trader. Just at a glance, you can see the size of the changes in Bitcoin price within a given range based on the size of the candlestick.
Traders who know what to look for can look at the overall trends on the candlestick charts, including the patterns formed by the candlesticks, to evaluate the Bitcoin market as a whole. They can then determine if it is ranging sideways, bullish with rising prices, or bearish with falling prices. Even more technical analysis is possible based off of candlestick charts, particularly with advanced platforms, such as the GDAX trading platform from Coinbase.
Top 3 Crypto Broker Comparison
of 15 Crypto Broker
IQ Option

of 15 Crypto Broker
24Option

of 15 Crypto Broker
Plus500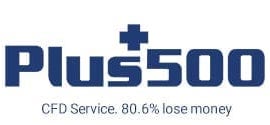 Viewing Line Bitcoin Price Charts on Coinbase
Coinbase recently launched GDAX for advanced traders and an account on either of those platforms works with the other, as well, with the ability to transfer funds between GDAX and Coinbase accounts. Because Coinbase is geared toward beginners and GDAX is for more expert traders, they use different types of charts. Coinbase sticks to a line chart, while GDAX opts for a candlestick chart.
For Coinbase's line chart, the default pair is Bitcoin and USD, so those who want both Bitcoin chart price live – Bitcoin to GBP & USD will need to look elsewhere. That said, the Coinbase line chart has all the features you truly need. It displays the live Bitcoin price, as well as the change in dollars and as a percentage within the last month (or time period you select). The default time range for the chart is the past month, but you can adjust it to one year, one week, one day, or one hour if you are more concerned with the overall picture or live price updates. Overall, it is a basic line chart, with the ability to hover over any point to view the specific date, time, and price.
If you are interested in another cryptocurrency, you can also easily change the Coinbase line chart to show information on Bitcoin Cash, Ethereum, or Litecoin instead of Bitcoin. Note that neither Coinbase nor GDAX require an account with their exchanges to view and use the charts.
Viewing Candlestick Bitcoin Price Charts on GDAX
In contrast with the Coinbase charts, the candlestick chart on GDAX is much more advanced, which is logical since it appeals to advanced investors looking to create crypto trading strategies. It also includes BTC/GBP. Keep in mind you can switch the GDAX chart to a line one if you prefer. Instead of just changes over the interval, GDAX displays the open, close, high, and low for the selected time interval above the chart. This allows advanced traders to track Bitcoin fluctuations more closely.
In addition to the chart type, even the intervals are designed for advanced traders in search of live prices, with the default set to 5 minutes. You can adjust the intervals to 15 minutes, 1 hour, 6 hours, or 1 day. As expected, hovering over any point on the candlestick chart will show you the specific price for that time. It will also adjust the information at the top regarding open, close, high, and low to the interval you hover over.
Interestingly, GDAX's candlestick price chart for Bitcoin offers two overlays, EMA12 and EMA26. These are extremely useful to traders since they show the average over the past 12 and 26 time intervals, respectively, displaying overall trends.
GDAX offers depth charts that are made of two line charts. The green line is for bids or buy orders, while the red line is for asks or sell orders. Each individual line chart indicates how many BTC you can buy or sell.
Viewing Line or Candlestick Charts on CryptoCompare
Another incredibly popular option for viewing live Bitcoin price charts is CryptoCompare, which displays information for converting Bitcoin to GBP or USD, along with other cryptocurrency pairs. Once again, you can make an account on CryptoCompare but do not need to in order to view and adjust the charts.
On the overview page for BTC/GBP or BTC/USD, you will see the market cap, 24-hour volume, open 24-hour price, low and high in the past 24 hours, and last trade, including which exchange was used. The default graph is a line chart with intervals of one day, although you can adjust it to one hour, one week, one month, three or six months, or one year. Hovering over any point gives specific information. Interestingly enough, all charts not only show the live Bitcoin price but also the live BTC trading volume, so you can see how two interact.
If you prefer, you can also view a candlestick chart, a logarithmic one, or an "Advanced Chart." This Advanced Chart is what expert traders who want true live figures will want to look at due to the wealth of information. It is similar to a candlestick chart. However, hovering over any point gives you the specific open, low, high, and close figures. There are also additional options, such as the ability to add chart indicators for BTC/GBP or BTC/USD and change the bottom chart from volume to another 13 options.
Viewing Line Charts or Candlestick Charts on Coindesk
Yet another option for Bitcoin chart live price – Bitcoin to GBP & USD is Coindesk, which displays the information in a line chart. The graph defaults to a line chart of the closing price with intervals of one day, with the option of changing this to one hour, 12 hours, one week, one month, three months, one year, or all.
Directly below the chart, you will see quick information, such as the current price of Bitcoin in your chosen fiat currency; the percentage change; the market cap; the supply; and today's open, high, and low. You can hover over any point on the chart for a specific reading of the date, time, and price. There is also the option to adjust the date range if you prefer to look at historical data instead of the live price.
Those who want more detail can switch to the OHLC chart, which is a candlestick. You will see the same information below the chart, but this type replaces the one-hour interval option with six hours. As expected, the candlesticks are green and red, and hovering over any of them will show you the open, high, low, and close for that interval.
Other Sources for Live Bitcoin Price Charts
Although the above resources are some of the most popular sources for charts in a crypto broker comparison, there are also dozens of other options. Because of the popularity of Bitcoin, you can find charts on XE as well as DailyFX, both of which are dedicated to foreign exchanges, not necessarily cryptocurrencies.
You can also find similar charts on UK-specific websites and general ones that include information on live Bitcoin pricing in a range of currencies. The UK-specific websites are the best option if you want to ensure BTC/GBP is included, but almost all websites with Bitcoin price charts will display BTC/USD. Options include LiveCharts.co.uk and Bullion By Post.
CoinGecko is an international website with live Bitcoin price charts in USD, GBP, and 26 other currency pairs, including fiat and cryptocurrencies. Although you can view the live price, the smallest range to display on the chart is 24 hours, so this website does not provide as much detail on recent fluctuations as some others.
Those in search of short intervals and a candlestick chart for Bitcoin to USD as well as GBP can also look at Kitco. It offers intervals of 1, 3, 5, 15, 30, or 45 minutes; 1, 2, 3, or 4 hours; and 1 day, week, or month. This website also allows for candles, lines, and 10 other chart types plus the ability to add indicators, making it a good choice for advanced traders who want to perform an analysis.
Utilizing Bitcoin Chart Price Live – Bitcoin to GBP & USD
Those who plan to purchase Bitcoin in exchange for GBP or USD, or who want to engage in trading between fiat and cryptocurrencies on a regular basis, can make good use of the various charts that display live prices. The available styles of charts range from simple line graphs displaying closing prices to more advanced candlestick charts with information on opening and closing prices as well as highs and lows. Those who want a Bitcoin chart price live – Bitcoin to GBP & USD that is actually live will prefer the more advanced options with smaller time intervals of just minutes. By contrast, the average person looking to buy Bitcoin for the first time should find it easier to understand and use a simple line graph. For those with other preferences, it is possible to find other live charts in different formats that are typically reserved for traditional trading. With an abundance of live Bitcoin price charts for GBP and USD, all that remains is choosing the chart you prefer and learning to put the information within to good use.