The AgileThought Inc (NASDAQ: AGIL) stock price surged 117.03% as of 7:35 EST, a day after the company announced that it was filing for a 90-day Chapter 11 bankruptcy restructuring of its business to emerge as a much stronger company than before the restructuring.
---
YOUR CAPITAL IS AT RISK. 81% OF RETAIL CFD ACCOUNTS LOSE MONEY.
---
The transaction is underpinned by an asset purchase agreement with affiliates of Blue Torch Finance, LLC ("Blue Torch"), the Company's senior secured lenders. The deal with Blue Torch will see the lender provide $22 million in new-money funding to AgileThought once the court approves.
Top Broker Recommendation
The IT services company will also go private via the same restructuring process as its lenders take over the company. AgileThought is a global provider of digital transformation services, agile software development, and next-generation technology solutions.
AgileThought will effectuate the transaction through a 90-day Chapter 11 reorganization process under the U.S. Bankruptcy Code to ensure a smooth transition and protection for all stakeholders.
The proven process under the Chapter 11 bankruptcy code will allow the company to execute the transaction and efficiently reorganize its finances, reduce its debt, and emerge with a healthier balance sheet.
The new money provided by New York-based Blue Torch Finance LLC will allow the company to maintain its high-quality standards and services. The company reiterated its commitment to its employees and customers, promising to continue operating seamlessly without interruption.
An affiliate of Blue Torch has agreed to act as the stalking horse buyer of substantially all of AgileThought's assets, subject to higher or better offers. The proposed transaction is subject to court approval and other customary closing conditions.
Manuel Senderos, AgileThought's CEO, emphasized: "We are excited about this transaction and what it means for our enhanced ability to deliver for our clients, people, and partners. This strategic financial reorganization will pair our already robust and thriving organization with a capital structure that matches, and this move will allow us to operate even more efficiently. Post-reorganization, we will emerge with significantly reduced debt and a private ownership structure, fortifying an even stronger and healthier AgileThought. The Company thanks Blue Torch for its continued support of the business and our future and welcomes its continued partnership."
The AgileThought (AGIL) stock price.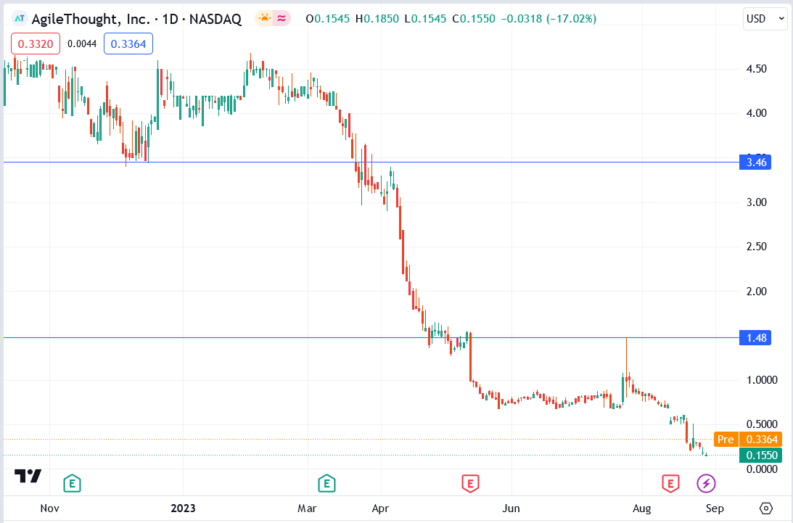 The AgileThought (AGIL) stock price surged 117.03% to trade at $0.3364, rising from Tuesday's closing price of $0.1550. 
---
YOUR CAPITAL IS AT RISK. 81% OF RETAIL CFD ACCOUNTS LOSE MONEY.
---