The Nio Inc – ADR (NYSE: NIO) share price has risen 5.9% in a month, leaving investors wondering if it is a buy. So, should you buy NIO shares? Read on to find out. The first thing to note is that NIO is an EV company that has taken a different route from what its competitors are doing.
---
YOUR CAPITAL IS AT RISK. 81% OF RETAIL CFD ACCOUNTS LOSE MONEY.
---
Earlier this year, EV industry leader Tesla started cutting prices, forcing other EV companies to do the same to compete effectively in the cutthroat global EV market. Still, NIO refused to cut the prices of its vehicles, saying that they are superior to Tesla's, something Tesla's fans may oppose vehemently.
Top Broker Recommendation
While the issue of NIO's EVs being superior to Tesla's may be debated forever, as investors, we need to look at the crucial hard facts when making investment decisions. Unfortunately, the latest data from NIO does not paint a good picture for the company, which appears to be struggling to maintain its previous sales figures.
The challenging economic times felt across the globe have driven consumers to look for deals, even in the EV market, if NIO's Apriel delivery numbers are anything to go by. The company delivered 10,378 vehicles in March before plummeting to 6,658 in April, marking a significant drop.
It remains to be seen what the company's May delivery numbers will be, but one can guess that they will not be as high as March's. Meanwhile, other EV companies continue to lower prices to keep up with the industry leader Tesla or risk losing market share.
Unless the current global economic environment changes drastically, which is unlikely, we can assume that NIO will continue losing market share and customers to its peers who have embraced the price cuts to remain competitive.
Analysts and shareholders should call for NIO to rethink its business strategy, but the company remains adamant. So we will have to wait for the May delivery figures to see if the downtrend in vehicle delivery numbers continues. 
*This is not investment advice.
NIO share price.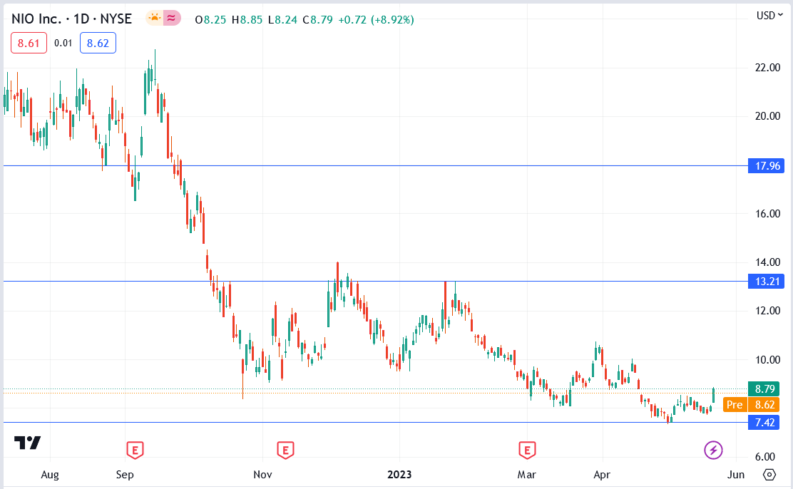 NIO shares were trading down 1.93% premarket at $8.62, falling from Monday's closing price of $8.79.
---
YOUR CAPITAL IS AT RISK. 81% OF RETAIL CFD ACCOUNTS LOSE MONEY.
---