The NVIDIA Corporation (NASDAQ: NVDA) stock price has risen significantly to bring its market capitalisation to almost $1 trillion, making it the most valuable chip manufacturer in the world. The company added about $184 billion to its market capitalisation on Thursday but traded sideways on Friday. 
---
YOUR CAPITAL IS AT RISK. 81% OF RETAIL CFD ACCOUNTS LOSE MONEY.
---
The chip manufacturer's stock price rally was driven by news that the company's quarterly revenues would rise to $11 billion, $53% higher than most analysts expected. The higher revenues are driven by the demand for the company's artificial intelligence (AI) chips.
Top Broker Recommendation
Nvidia now towers over its peers with firms such as Intel, with a market valuation of just $114 billion. Moreover, the AI chips being made by Nvidia are in high demand as companies rush to adopt AI.
The leading in-demand chip is the H100 data centre GPU, which, relative to its predecessor, the H100 is 9 times faster in AI training and up to 30 times faster in AI inferencing for transformer-based large language models such as Open AI's ChatGPT (generative pre-trained transformer).
Most analysts believe the data centre segment will primarily drive management's rosy Q2 revenue outlook of $11 billion. It is primarily driven by the H100 GPUs that will drive Q2 data centre revenue to $7.6 billion, representing 100% year-over-year growth.
AI models such as ChatGPT use thousands of GPUs to be trained, with competition between Microsoft, Google, and others supporting our updated growth projections.
Nvidia's CEO, Jensen Huang, said: "The computer industry is going through two simultaneous transitions — accelerated computing and generative AI. A trillion dollars of installed global data centre infrastructure will transition from general-purpose to accelerated computing as companies race to apply generative AI into every product, service and business process."
Q1 2023 sales declined 13% year over year and grew 19% sequentially to $7.2 billion. Gaming sales fell 38% yearly to $2.2 billion as the firm recovered from elevated channel inventories. Management believes the channel inventory correction for gaming GPUs is mainly in the rearview mirror.
*This is not investment advice.
NVidia share price.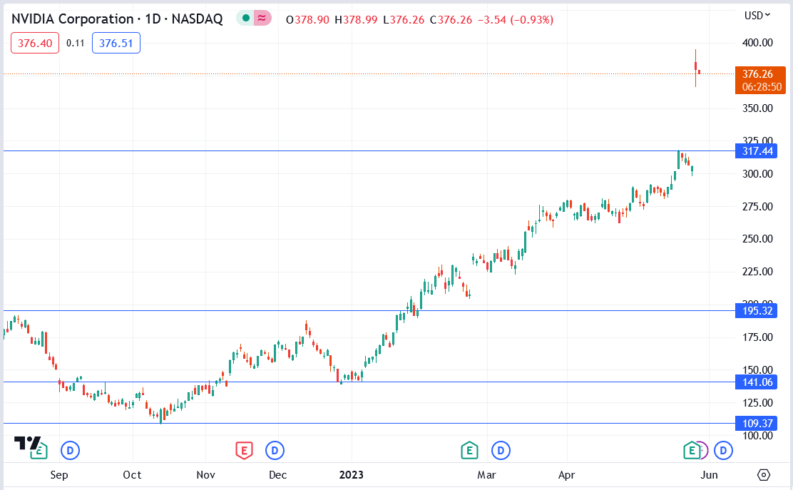 Nvidia's stock price was trading at $378.56, bringing its market capitalisation to $937.26 billion.
---
YOUR CAPITAL IS AT RISK. 81% OF RETAIL CFD ACCOUNTS LOSE MONEY.
---