The Royal Mail share price, whose parent company is International Distributions Services PLC (LON: IDS), fell after reporting a massive £1 billion loss. The news comes just five days after announcing that its CEO Simon Thompson, who came under fire for misleading MPs, would leave the firm in October.
---
YOUR CAPITAL IS AT RISK. 81% OF RETAIL CFD ACCOUNTS LOSE MONEY.
---
Royal Mail's sister company GLS made a £296 million profit, which, combined with the £1 billion loss made by Royal Mail, led to a net loss of £748 million for IDS. The financial results for the 12 months to 26 March 2023 were unsurprising, given that Royal Mail lost £1 million daily due to the strikes.
Top Broker Recommendation
The UK business faces an existential threat given that even without the £200 million it lost due to the CWU strikes, its operations remain loss-making as it lags behind its peers in the UK regarding technology adoption and work patterns.
As the company prepares to appoint its third CEO in five years, the need for change at Royal Mail could not be more significant. The company needs to change if it wants to remain operational. The next CEO will have to deal with these issues now that Simon Thompson is leaving.
Royal Mail made a profit of £250 million in the 2021-2022 financial year compared to a loss of £1,044 million in the 2022-2023 fiscal year. The company had suggested prioritising fast parcel delivery for higher pay, but the CWU fought the changes, which the CEO thought was critical for the company's survival.
As I have pointed out, most analysts have discounted Royal Mail's value to IDS, but it is hard to ignore the company's losses in the combined group. Such losses make the case for splitting the two groups so that GLS can be an independent firm.
Royal Mail noted that the Pay & Change agreement was ratified by CWU Postal Executive Committee and recommended to members. The agreement creates a platform for the next phase of stabilising the business whilst continuing to drive efficiency and change.
The company is looking to streamline its operations by improving quality of service and competitiveness, but this will have to happen under a new CEO.
*This is not investment advice.
Royal Mail (IDS) share price.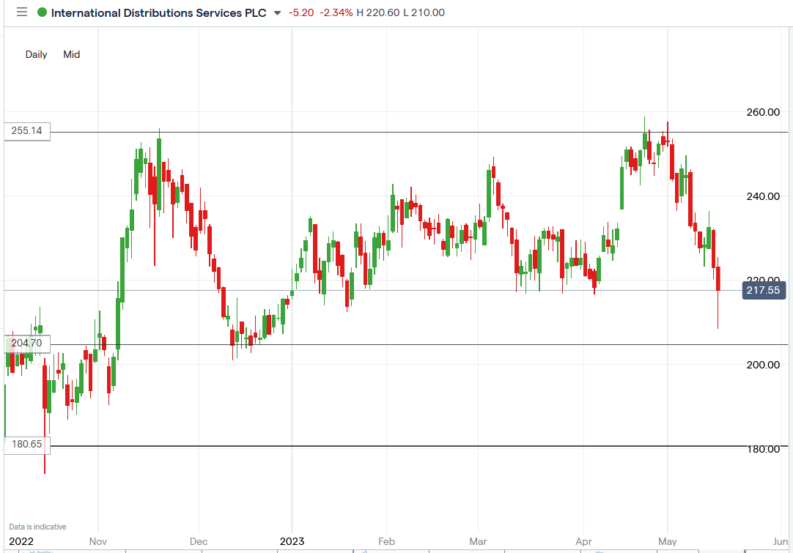 The Royal Mail (IDS) share price fell 6.55% to trade at 208.45p, from Wednesday's closing price of 223.05p.
---
YOUR CAPITAL IS AT RISK. 81% OF RETAIL CFD ACCOUNTS LOSE MONEY.
---