The Taiwan Semiconductor Mfg. Co. Ltd. (NYSE: TSM) share price fell during premarket trading after Apple Inc announced a multi-billion dollar deal with Broadcom to manufacture and supply 5G chips. The move comes as Apple works to divest its supply chain from Chinese-based manufacturing facilities.
---
YOUR CAPITAL IS AT RISK. 81% OF RETAIL CFD ACCOUNTS LOSE MONEY.
---
However, the move, celebrated by many, is just a tiny step away from China as most iPhone parts are still manufactured and assembled in China. Furthermore, the move comes as the US and China continue to battle for global supremacy, with the tech industry being a crucial part of the race for global supremacy.
Top Broker Recommendation
Interestingly, Warren Buffett sold all his TSMC shares the previous week, proving his uncanny ability to time the markets, as the move couldn't have come at a better time. The 5G chips will be manufactured at various locations in the United States, including Fort Collins, Colorado, where Broadcom has a massive factory.
The deal will see Broadcom develop 5G radio frequency components in collaboration with Apple for its iPhones. The company has been relocating its iPhone manufacturing away from China, with some operations now being based in India. However, the majority of iPhone manufacturing remains in China.
Broadcom shares were up 2.2% after the announcement, hitting a record high. The chipmaker is already a leading supplier of wireless components to Apple, with about 20% of its revenue coming from Apple in its two most recent fiscal years.
The two firms did not disclose the deal's value, keeping them private. The two companies had a previous three-year, $15 billion agreement that Bernstein analyst Stacy Rasgon said was set to expire in June.
Apple CEO Tim Cook said: "All of Apple's products depend on technology engineered and built here in the United States, and we'll continue to deepen our investments in the U.S. economy because we have an unshakable belief in America's future."
*This is not investment advice.
Taiwan Semiconductor (TSM) share price.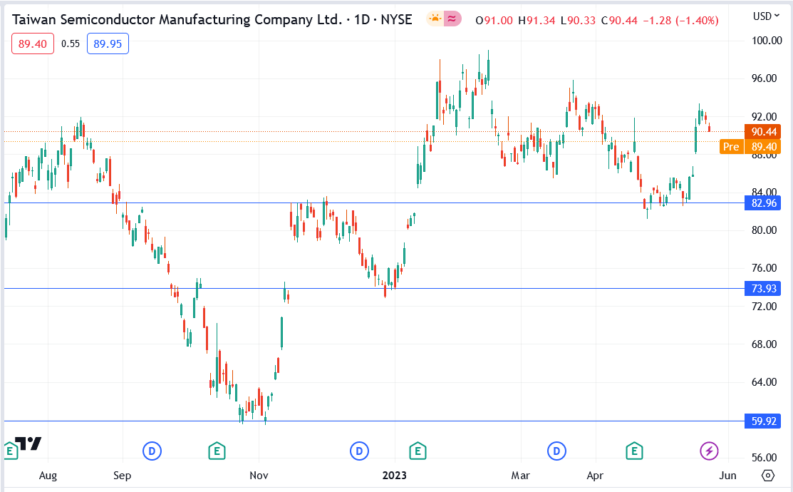 Taiwan Semiconductor (TSM) shares were down 1.04% to $89.40 from Tuesday's closing price of $90.44.
---
YOUR CAPITAL IS AT RISK. 81% OF RETAIL CFD ACCOUNTS LOSE MONEY.
---