Founded in 2011 by William Todd and Nick Hungerford, Nutmeg is our pick for the top digital wealth management service or robo-advisor available to UK residents.  They aim to democratise wealth management by building globally diversified portfolios for their clients based on how much they want to invest and their risk tolerance.  You can get started with Nutmeg in 10 minutes or less using its ergonomic web interface or app.
If you are interested in how we review, then read further to determine if the broker satisfies your investing requirements and if you want to invest with Nutmeg today.
Note that this is not a Nutmeg CFD review, a Nutmeg cryptocurrency review or a Nutmeg forex review since the robo-advisor does not currently offer trading products of that type to clients.
#

Robo-Advisor
| | | | |
| --- | --- | --- | --- |
| Min Deposit | App Support | Max Leverage | Trading Fees |
| £100 | 4 | 1:1 | Mid |
Using Nutmeg's robo-advisor service as a passive investor seems pleasantly straightforward. You start by answering some questions about your investment preferences and goals using either Nutmeg's web-based account interface or its mobile app so that the software can assess your risk level.
New investors need to have a minimum initial deposit of £100 ready to set up a Stocks and Shares Lifetime Individual Savings Account (LISA). If you prefer to set up a stocks and shares ISA, a general investment account (GIA) and/or a personal pension account, then you will need at least £500 to get started at Nutmeg.
Offers socially-responsible investing among the options it gives clients.  Such portfolios or "pots" feature social, environmental and governance (ESG) scoring so you can see how your investments match up to your values.
When you sign up, you will be asked to select the investment style you prefer from among fixed allocation, fully managed and socially responsible.  Once you have chosen your preferred option, wealth management software creates, manages and fine-tunes your portfolio using its proprietary algorithm.
Broker primarily uses high quality ETFs to gain exposure to a wide range of global assets that includes: equities, commodities, cash, and government and corporate bonds. By intelligently selecting among the 1,800 ETFs available from 24 providers in the UK, also gives you diverse investment choices while keeping costs low, since ETFs are cheaper to trade than the individual assets they contain.
What did our traders think after reviewing the key criteria?
Fees
Nutmeg aims to provide a simplified investment service to clients at a fraction of the cost of hiring a professionally financial account manager. The firm displays its pricing for doing so transparently on its website here.
If you want to speak to someone about your finances, then the firm gives you the opportunity to build a plan with a financial coach for a fixed price of £275. The firm does however make it clear that this consists of "personalised guidance, not financial advice."
When it comes to account management fees, you will pay 0.45% per annum for fixed allocation portfolios up to £100,000 and 0.25% per annum above that investment amount. You will also pay an average investment fund cost of around 0.17% and an average market spread of 0.06%.
The per annum fees for fully managed and socially responsible portfolios are 0.75% up to £100,000 and 0.35% beyond that amount. Those fees include VAT.  You will also pay an average investment fund cost of around 0.19% for the fully managed or 0.32% for the socially responsible styles, and an average market spread of 0.06% for both.
Broker does not charge account setup or exit fees, withdrawal or transfer fees, or trading fees.   The fees that are charged get debited from your account on a monthly basis based on the appropriate annualised rate.
Account Types
Nutmeg offers four account types and three investment styles for you to choose from. Many UK residents will want to open a standard Stocks and Shares Individual Savings Account (ISA).
A Lifetime ISA is a special type of account you can use if you are between 18 and 39 years old to save up for retirement or your first home. The UK government currently gives you a 25% bonus when investing in this way, so every £4 you invest gives you a £1 bonus. You can get up to £1,000 per year as a bonus with a Lifetime ISA.
You can invest as much as £20,000 per tax year in either type of ISA without having to pay capital gains tax or income tax on your earnings. You can also cash out at any time, but you can only have one ISA per year.
You can also open a basic General Investment Account (GIA), which is a good option for your balance if you have over £20,000 to invest and already have an ISA. Also lets you set up a pension plan if you wish to invest for retirement.
When it comes to the available investment styles you can choose among fixed allocation, fully managed and socially responsible portfolios.  Note that costs associated with the lower-maintenance fixed allocation portfolios are considerably cheaper than the other two styles that include proactive management by experts.
Platforms
Once you create an appropriate account and go through the initial online interview to choose your investment style, Nutmeg creates a portfolio for you automatically. You can then view and manage your account online using either the desktop or mobile app version that is available for both iOS and Android devices.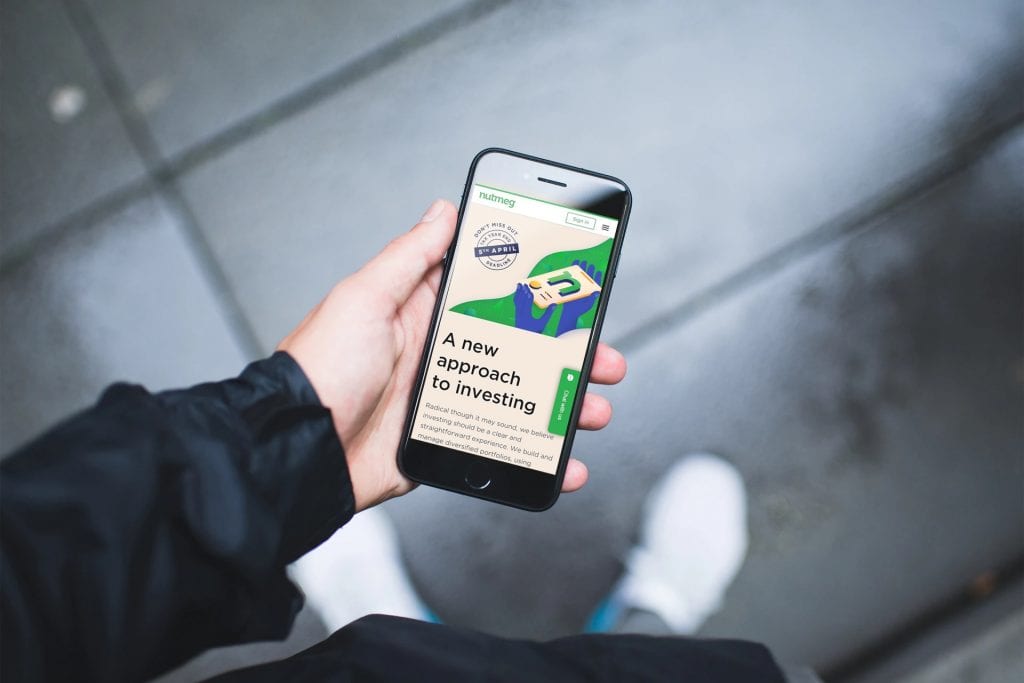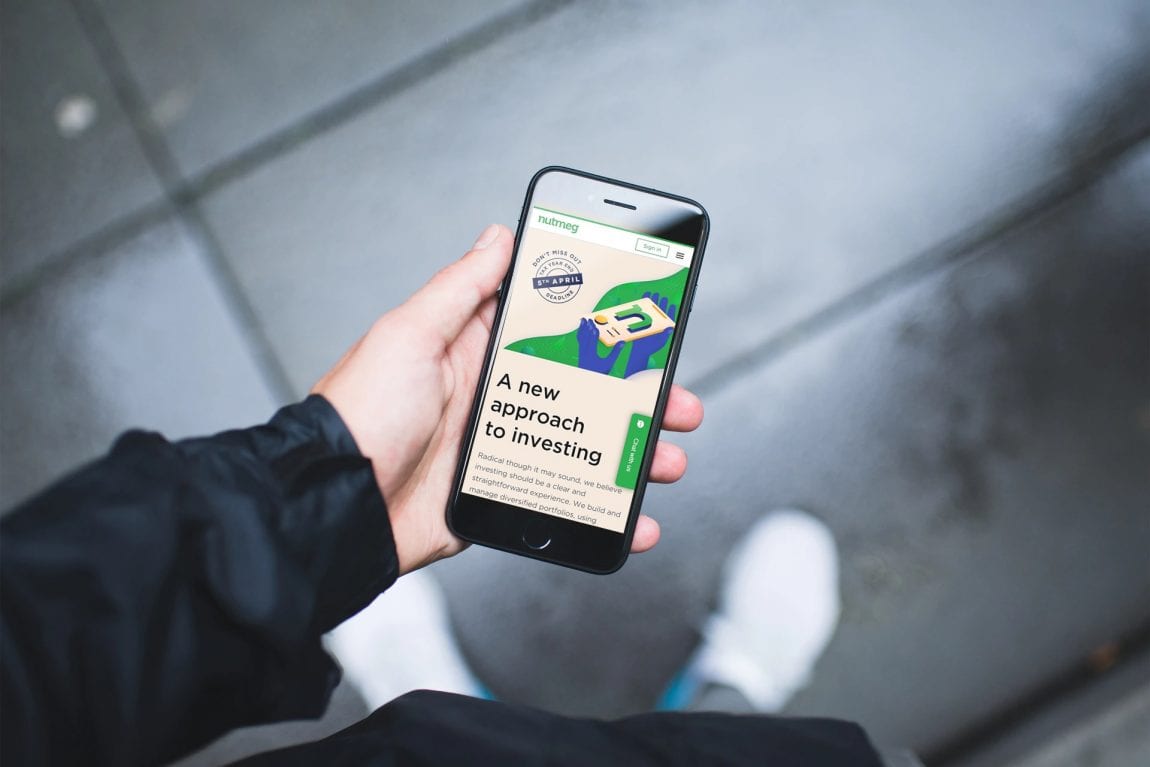 A screenshot of the app showing one of the account creation pages where you enter how much you wish to invest initially and then each month going forward is shown below.  Note the Chat with us feature shown in green at the side of the screen where you can ask for assistance during any stage in the process.
Passive investing means you do not trade or alter your portfolio's investments actively, so there are no tools to help you do that, although you can elect to change the investment style implemented in your portfolio or "pot".
Also offers a helpful calculator that enables you to compute an investment plan for your ideal pension goals. You can also use the mobile app to set up payments or withdrawals and to speak to your account manager.
Usability
Official website has a clean layout that seems very easy-to-read, so you can readily find what you are looking for. Nutmeg also provides a helpful FAQ and straightforward information about its fees.
The robo-advisor's website has a set of self-explanatory tabs with drop down menus on the top of the page that link to basic topics you can click on to read more. Its seven tabs are:  ISA, Lifetime ISA, Pension, General Investment, Advice, Resources and Blog. The first four refer to account types, while the last three provide information.
The tabs provide a sense of how the site is organised, while the associated pull-down menus give more detailed information to help with site navigation.  Each page also has Nutmeg's support phone number and Sign in and Invest Now buttons situated at the upper right corner. This is helpful if you are looking to open an investment account after reading this review.
Customer Support
Nutmeg provides customers several ways to get in touch via its website. In addition to phone, snail mail and email, Nutmeg has a very responsive Live Chat and a service called Nutmail that is a secure inbox where you can safely share personal information.
The company also provides an extensive FAQ you can use to get answers to common questions.
Their phone line is answered during the week between extended UK business hours of 8 a.m. to 7 p.m. Monday through Thursday and 8 a.m. to 4 p.m. on Friday. This means there is no phone support late at night or on the weekends.  A screenshot Contact us page is show below.
Keep in mind that customer support staff exists to help you with service-related issues, but they do not give financial advice, so you will need to make an appointment with a financial advisor instead to get that service.
Payment Methods
To make a deposit or withdrawal, you must log in to your account and choose your desired action from the Payments & Transfers menu. You then need to follow the easy steps provided.
The support payment methods at Nutmeg include debit card, bank transfer and Direct Debit. You can make one Direct Debit payment to your account each month by choosing Monthly payments in the account management software.
To make a withdrawal, you just log into your account and choose "withdraw" from the Payments & Transfers menu. You then need to follow the easy steps provided. Nutmeg does not charge clients to withdraw funds.
It typically takes three to seven working days for the cash to reach your bank account since your investments generally need to be sold first. If you want to transfer the invested assets via a so-called "in specie" transfer, then you will need to pay a fee of £20 per stock.
Best Offers
While Nutmeg minimises bonus offers to keep its costs low, a decent offer is associated with the Lifetime ISA. Qualifying individuals can get a 25% government bonus. This means that for every £4 they invest, they get a £1 bonus up to a limit of £1,000 per year. That amount can be put towards their retirement or first home purchase.
Furthermore, website has an active blog called Nutmegonomics that provides investor updates and articles written by financial experts. Topics of interest include: investing, the economy, inside savings, life, retirement, engineering and Brexit.
Also has active social media accounts. The UK robo-advisor's Facebook Page presently has almost 27,000 followers, while its UK Twitter account has around 20,800 followers. Its YouTube channel has 3,200 subscribers and hosts educational videos posted on a regular basis.
Regulation and Deposit Protection
Nutmeg has offices in London and is regulated by the Financial Conduct Authority (FCA) in the UK. This means the robo-advisor must follow the EU's Markets in Financial Instruments Directive II regulations and its rules regarding separating client funds from its own. Invested money is put into a custodian bank called State Street that holds £18 trillion worth of assets from financial organisations worldwide.
Also, UK investors should enjoy protection against any default up to £85,000 since it participates in the Financial Services Compensation Scheme (FSCS).  With respect to data security, Broker uses modern 256-bit TLS encryption, and it also has a two-step verification process to protect client accounts.
Awards
Nutmeg has received at least 35 awards for its top-rated digital wealth management services and its innovative use of technology over the eight years it has been operating. The commitment to excellence this robo-advisor has been widely lauded for helps explain why it generally receives favourable reviews from both financial industry press and its clients. Its recent prestigious awards include:
Best Digital Wealth Manager – Platforum Awards 2018
Best Online Stocks & Shares ISA Provider – Your Money 2018
Digital Wealth Solution – PAM 2018
Best Online Investment Platform – Shares Awards 2017
Best Online Stocks & Shares ISA Provider – Your Money Award 2016
Best ETF Advisor and Best Robo Advisor – ETF.com Awards 2016
Overall winner and Financial sector innovation of the year – FStech Awards 2016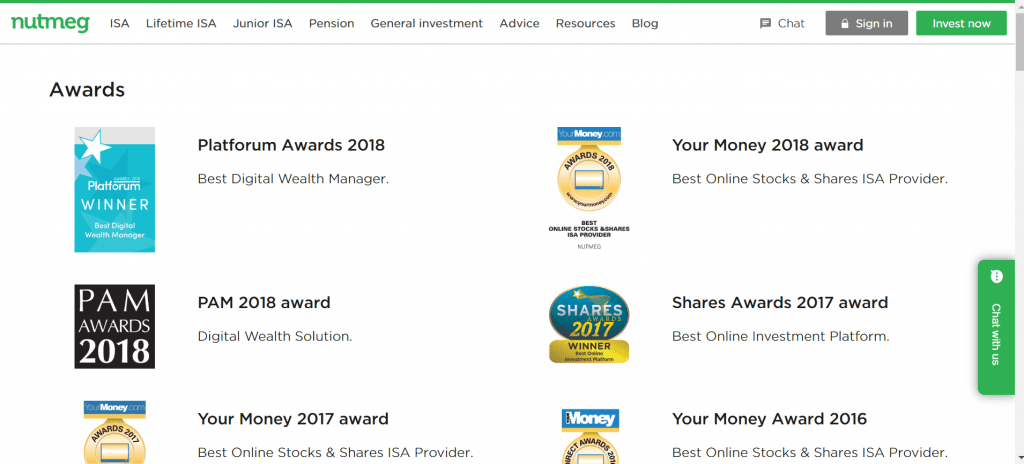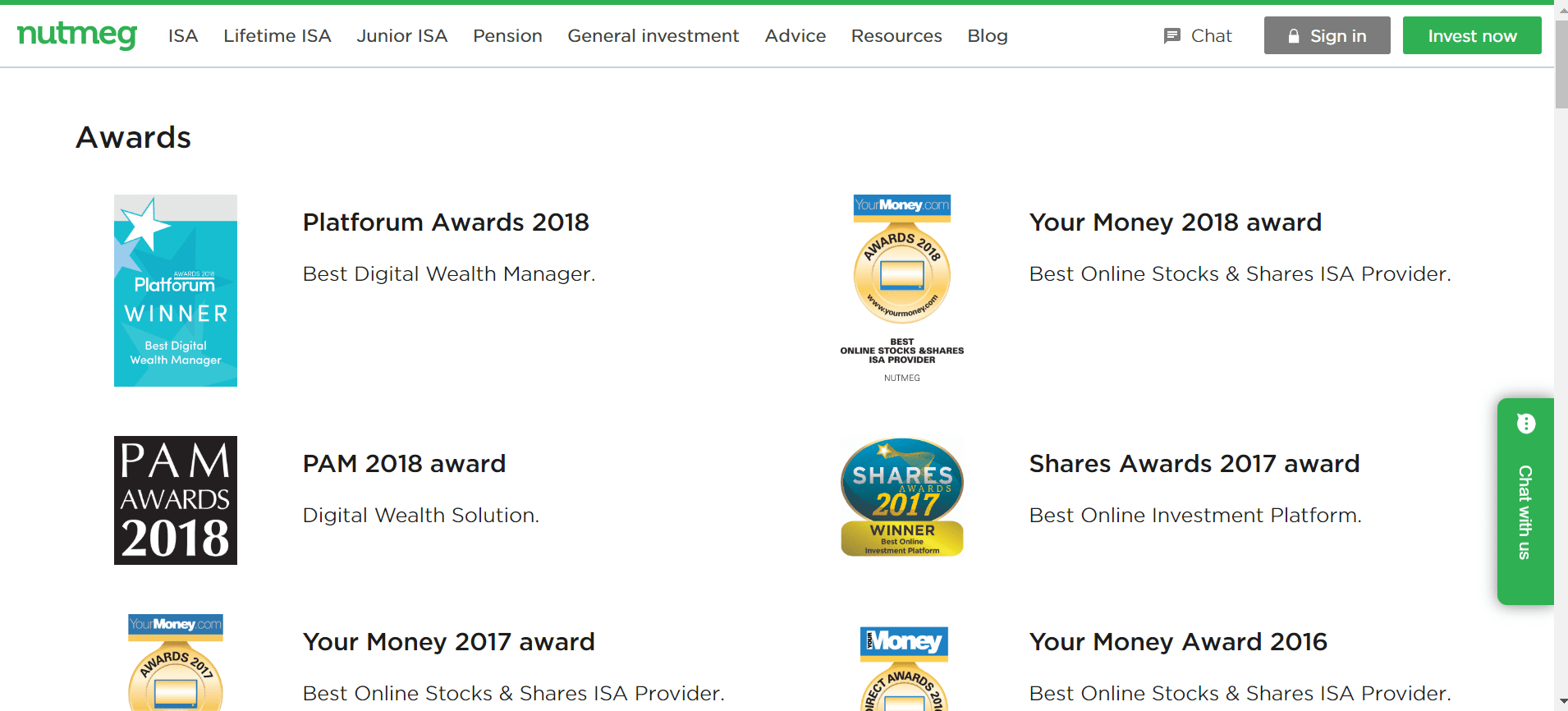 PEOPLE WHO READ THIS ALSO VIEWED: